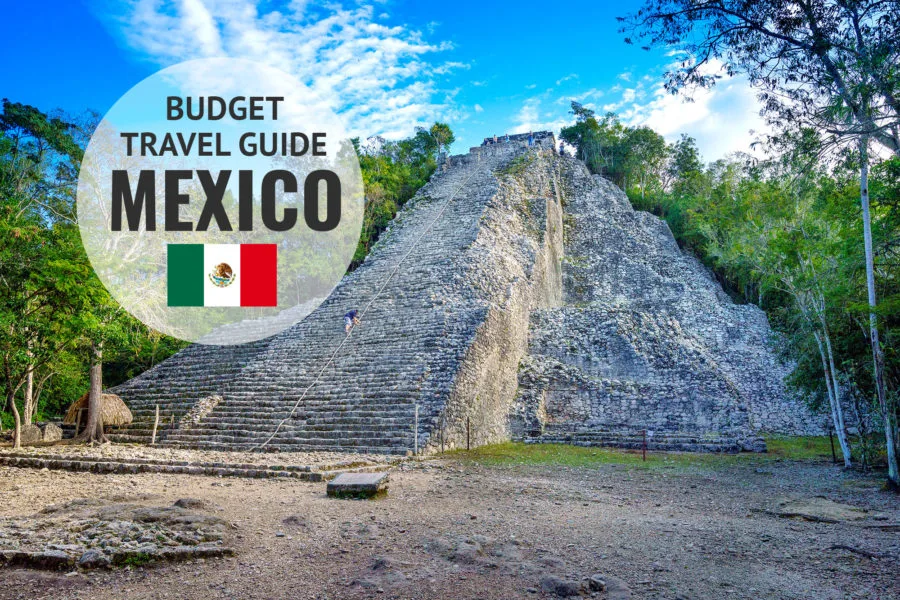 Mexico Travel Guide
Is it possible to travel Mexico on a budget? Learn how to plan your visit with my Yucatan Mexico travel guide — featuring travel tips, costs, things to do, where to stay, and more.
First of all, Mexico is huge. It's difficult to write a budget travel guide generalizing the entire diverse country.
So this guide focuses on the Yucatan Peninsula, as it's the region I'm most familiar with after living there for a few years.
In this article I'll share my favorite Mexican beaches, fun party towns, the best Mayan ruins to explore, where all the good cenotes are, and of course, give you tips on what kind food you need to try!
My Mexico travel guide is completely free! I've worked hard putting it together for you. If you find it useful, please use my affiliate links when you book hotels, rental cars or activities. I'll get paid a small commission, at no extra cost to you! Thanks.
Mexico Travel Restrictions 2022
Mexico has removed all COVID-19 entry requirements. Tests, vaccination details, and health forms are no longer required as of January 2022. However Americans still have to get tested in Mexico before flying back to the United States.
Most hotels, attractions, and private tours are open with new health & safety protocols in place, and you might have to follow certain guidelines (like wearing masks) depending on your destination.
You can find the latest updates on traveling to Mexico here.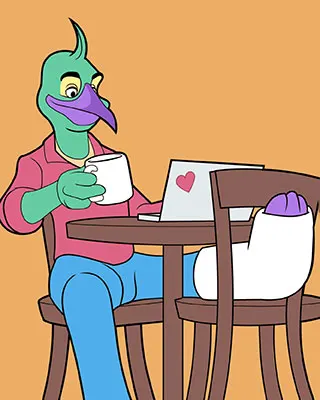 Get Travel Insurance
Protect yourself from injury, illness, or theft. SafetyWing offers affordable travel insurance that covers COVID-19 too!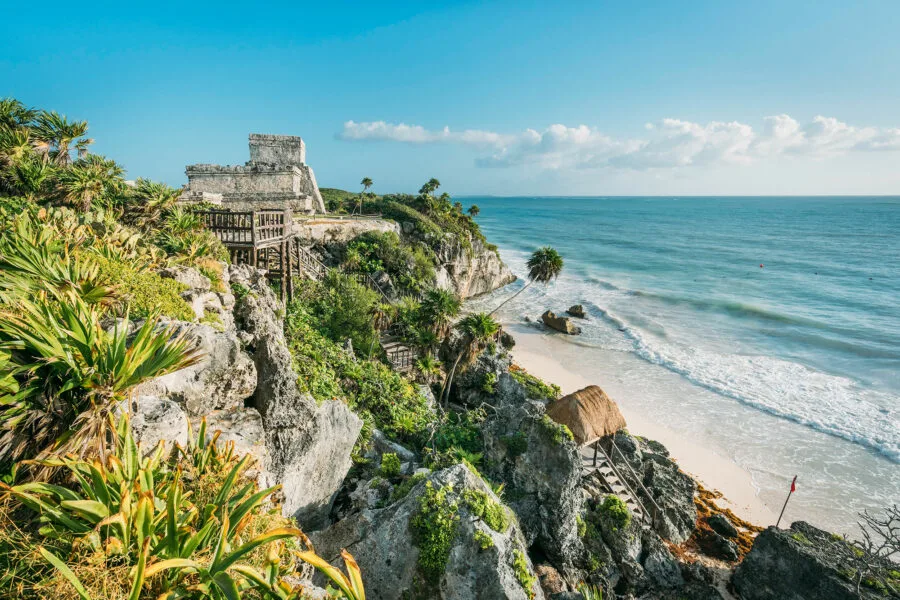 Mexico Budget Travel Guide
Mexico's Yucatan Peninsula has something for everyone. White sand beaches, ancient Mayan ruins, deep jungle wilderness, excellent cheap food, and fabulous scuba diving make it a great vacation destination.
There are many wonderful reasons to visit Mexico for your next vacation.
Mexico has suffered from a reputation of being unsafe due to the drug war in certain parts of the country, but I can say with confidence that the Yucatan is plenty safe for tourists.
Media outlets tend to only report on sensational news coming from Mexico, so many people assume the whole country is a dangerous place. It's not!
Planning A Trip To Mexico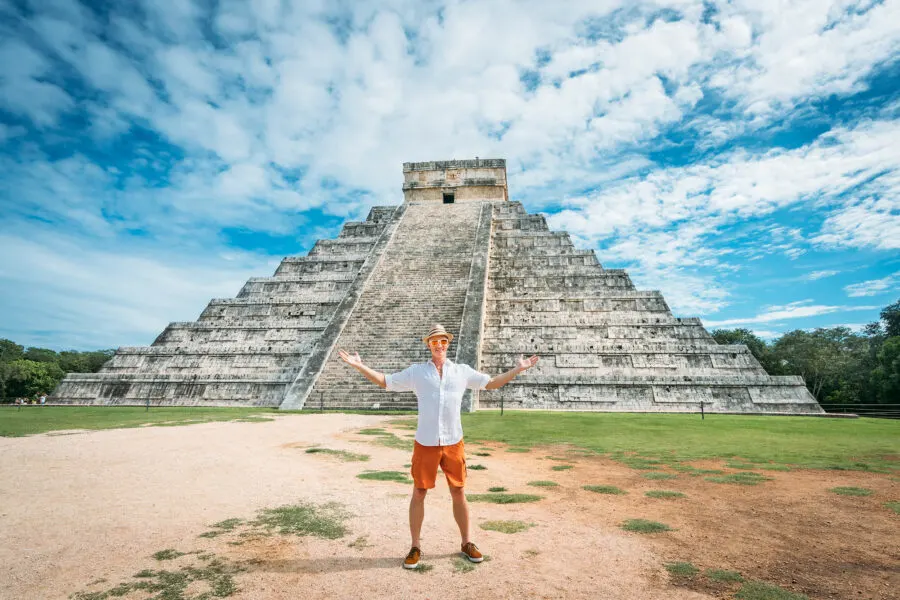 While knowledge of Spanish will obviously be a huge benefit, it's not absolutely needed to travel in Mexico. I was initially a bit worried about my lack of Spanish when I visited for the first time, and surely it was frustrating to communicate, but it wasn't impossible.
I carried a small Spanish phrasebook that covered the basics which worked fine. These days my basic grasp of Spanish is all I need to get around and make myself understood for simple situations.
For the most part, the people I've met here in Mexico were all incredibly friendly, hard-working, patient and generous individuals.
Complete strangers frequently offered to help me with directions, interpret bus announcements, or take me out for drinks and show me around.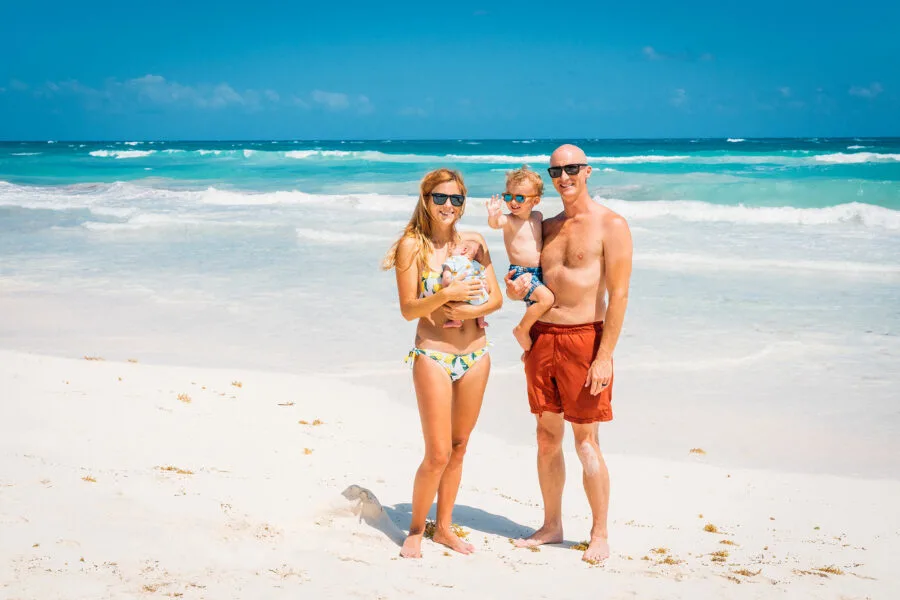 Example Mexico Travel Budget
Mexico is generally very affordable, but due to its popularity and location, the Yucatan is slightly more expensive than other parts of Mexico that receive less tourism.
Budget travelers can survive on around $30 – $40 USD per day.
Mexico's currency is Mexican Peso ($ – same symbol as the dollar sign) and it translates to 16 – 18 MXN for $1 USD. While US dollars are widely accepted and even available for withdrawal at some ATMs, it's recommended you convert your money to pesos as the conversion rate is lower.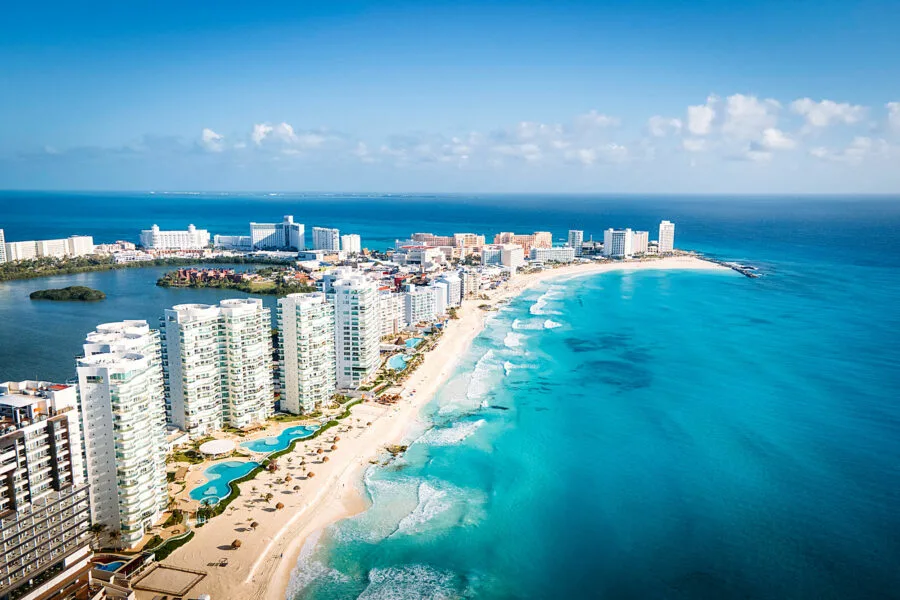 Where To Stay In Mexico
Mexico's Yucatan offers every type of accommodation you could think of. From tree-houses and hostels to luxury resorts. Accommodation prices in the Yucatan are similar whether you're staying in Cancun, Tulum or Playa del Carmen, but they can be 5X higher during high season and major holidays, such as Spring break and Christmas.
Here are some examples to help you plan according to your budget.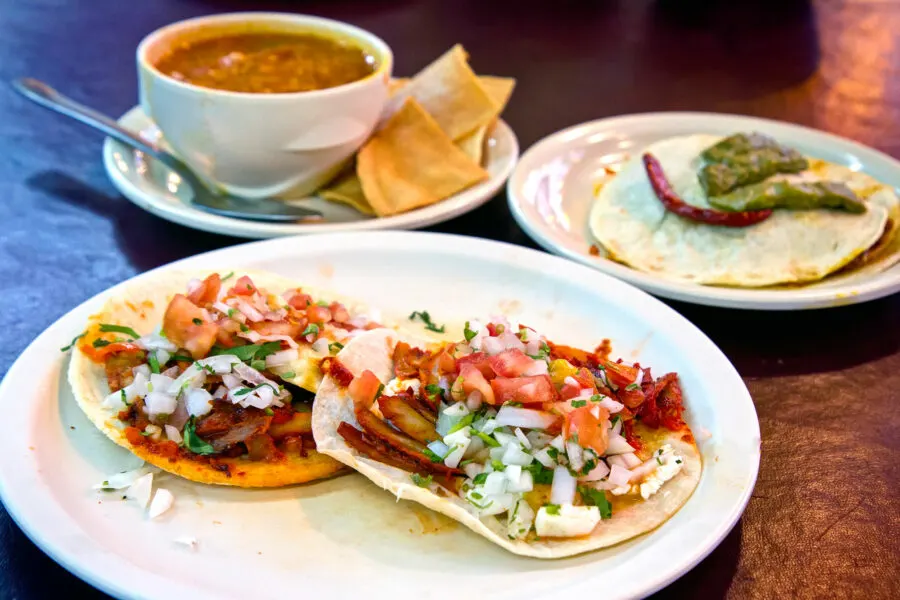 Local Mexican Food: What To Eat!
Mexico has one of the most delicious cuisines in the world. In fact, Mexican food has been added added to the Intangible Cultural Heritage of Humanity List by UNESCO.
Many people think that Mexican food is basically just tacos, nachos and burritos, but it's actually hard to find burritos in the Yucatan as they're more American and popular only in the northern parts of the country.
While tacos are the most popular, Mexican cuisine is very diverse.
You can get tacos on every street corner for as little as $1 for a meat taco and $1.20 for a seafood one. You can easily be full after eating three tacos, so dinner with a side of guacamole would cost you about $5.
However, if you're looking for a sit-down dinner you can pay $1 or $2 more to have a waiter deliver your tacos and drinks to the table.
If you're bored of tacos, try quesadillas and sopes. Quesadilla is a wheat tortilla filled with cheese and other stuffing, folded in half and then cooked on a griddle. Sope is round shaped and slightly thicker, topped with refried black beans and crumbled cheese, lettuce and cream.
Another tasty food option in the Yucatan is ceviche, a mix of fresh seafood cured in citrus juice and spiced with garlic and chili peppers, usually eaten with totopos (Mexican nachos). Ceviche usually costs between $4 – $10.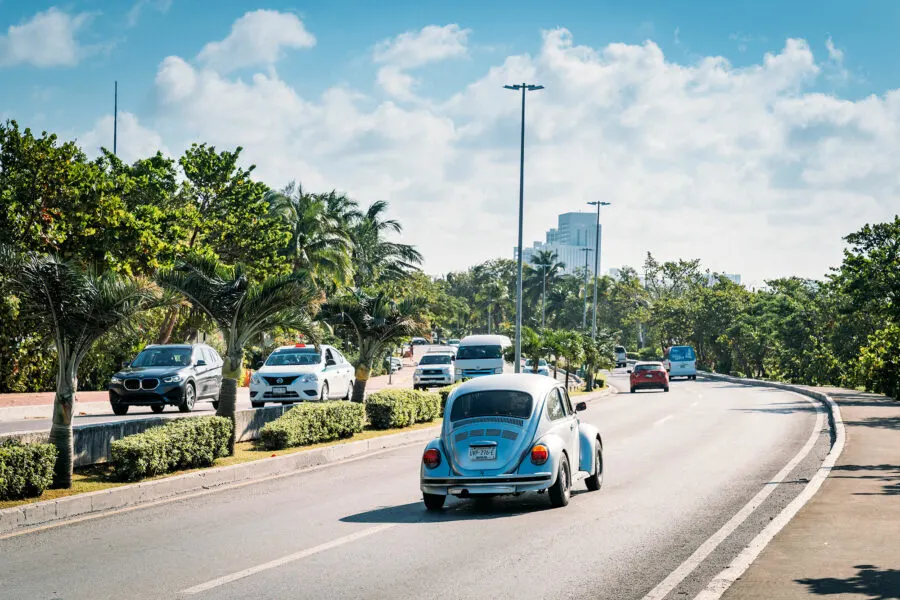 Transportation In Mexico
Most people get to Mexico's Yucatan area after flying into Cancun International Airport. Search for the cheapest flights to Cancun on Skyscanner.com. From the airport, you can book a private shuttle or take the public ADO bus to your next destination.
Rental Cars
The best site to book your car is with Discover Cars. They search both local and international car rental companies to help you find the best possible price. This is the easiest way to rent a car and drive in Mexico.
Renting a car offers the best flexibility to explore more remote and less touristy spots in the country. It's my favorite way to get around!
Budget Airlines
Flying around Mexico is affordable and local airlines are often more comfortable than many American carriers. You can get a flight starting around $25 USD by booking budget airlines in advance.
Colectivos
If you're on a tight budget, you might want to use a colectivo to get around. These shared minibuses/vans connect different towns, and you simplhour-longwith other riders, tell the driver where you want to get out, and pay once you reach your destination. The price varies based on distance, but an hour long ride costs about $4.
Buses In Mexico
When traveling longer distances between cities, a comfortable option is to use Mexico's fantastic ADO Bus System. Buses have AC, a toilet, reclinable seats, and Spanish language movies. They are faster & more comfortable than colectivos for long distances. An hour long trip costs about $12.
Mexican Taxis
Taxi drivers in Mexico generally don't have meters, so ask the price before you get in. Local rides within a city or town should cost between $1 – $2. It will be a bit more expensive to hail cabs from bus stations or tourist areas.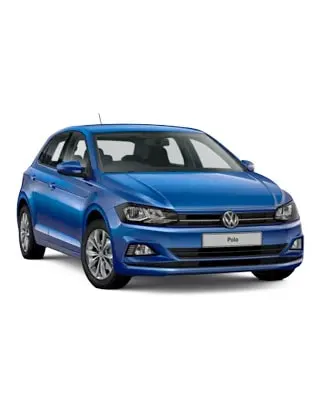 Rent A Car In Mexico
Search both local and international car rental companies to help you find a good deal.
Visa Requirements
US citizens and most EU passport holders can pick up a tourist visa on arrival that allows you to remain in Mexico for up to 180 days. Simply fill out the tourist card given to you on your flight, and remember to save the 2nd half in your passport, as you'll need to hand it in when leaving the country.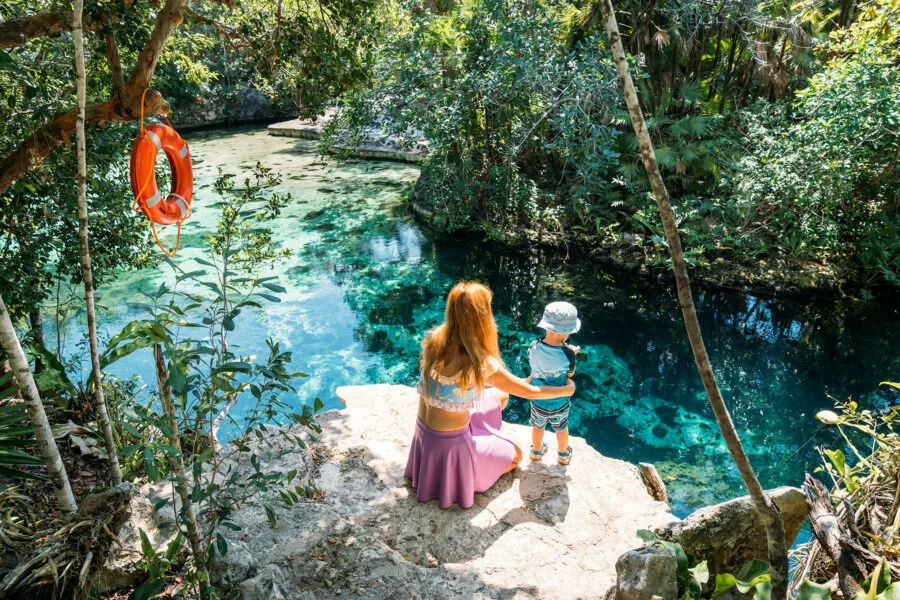 What To Do In Mexico
Cancun
Sitting on the Caribbean sea, Cancun is a popular destination in Mexico famously known for its beautiful white sand beaches and crystal clear water. Cancun is also incredibly rich in history and culture, with many ancient ruins scattered across the area.
If you are flying into Mexico from the United States or Canada, you will most likely arrive in Cancun, so I would highly recommend staying for a few days and enjoying some of the many activities they have on offer.
Highlights In Cancun
Playa Del Carmen
Located in the state of Quintana Roo, this Playa del Carmen is a popular tourist spot along the Yucatán Peninsula's Riviera Maya route. High season in "Playa" is from December through April, with many travelers trying to escape the cold weather in the northern hemisphere.
Playa is known for being less crazy than Cancun, while still having many great activities nearby. It's a perfect base for exploring other areas in the region.
Highlights In Playa del Carmen
Cozumel
The island of Cozumel, just 30 minutes by ferry from Playa del Carmen, has some of the best scuba diving in the Caribbean. A single tank dive costs around $50 – $60. In the winter, diving with bull sharks is possible.
Two of the main highlights of Cozumel are the Arrecifes de Cozumel National Park, where you can find the Museo Subacuático de Arte's submerged sculptures, and the Chankanaab, an eco park with underwater caverns where you can spot dolphins, manatees and sea turtles.
Highlights In Cozumel
Climb the El Mirador sea arch for a photo.
Scuba dive along the beautiful Mesoamerican Reef with tropical fish.
Go snorkeling at Money Bar Beach Club
Rent a car and go beach-hopping around the island.
Tulum
Tulum is a Mexican beach town that sits along the beautiful Caribbean ocean. Just a 1-hour drive south of Playa del Carmen, you can discover the fascinating history of Tulum as you explore their white sand beaches, cenotes, and ancient Mayan ruins.
While the exact origins of the Mayas is unknown, their extraordinary stone structures have remained intact since around 100 A.D. It is believed that Tulum was one of the last cities ever built and inhabited by the Maya, before the Spanish arrived in Mexico.
Highlights In Tulum
Valladolid
This beautiful city on Mexico's Yucatán Peninsula is filled with colonial buildings, ornate art and colorful architecture. Underneath the charming streets, you'll find the crystal-clear turquoise water of the underground X'kekén cenote, which leads you down to the famous stalactites. It's no wonder Valladolid was declared a UNESCO World Heritage Site back in 1998.
Highlights In Valladolid
Take a stroll through the streets with people watching at the main square, Plaza Principal
Pick up some lunch at the Mercado Municipal
Cool off at the local Cenotes Xkeken and Samula
Visit the Convent of San Bernardino of Siena, one of the oldest colonial buildings.
Merida
If you're looking for ancient stories and rich Mayan and colonial heritage, Mérida, the vibrant capital of Yucatán is a must visit. Named the American Capital of Culture for a second time, the city acts as the perfect base to explore Mexico's many UNESCO sites, eco-parks and villages.
If you drive 75 miles east of Merida, you'll find one of my favorite spots in Mexico – Chichén Itzá. The history of Chichén Itzá is not for the faint of heart. These Mayan ruins are shrouded in mystery and have a way of haunting you long after returning home from Mexico.
Highlights In Merida
Soak in Mayan history and culture at the Gran Museo de Mundo Maya Merida
Stop by the cool Mayan ruins of Uxmal.
Isla Holbox
Expect laid-back, bohemian vibes on this tiny island just north of Mexico's Yucatan peninsula. Isla Holbox is the perfect spot for anyone who just wants to sit back and relax on the beach. The island is famous for its slow-paced lifestyle and narrow sandy roads, ideal for barefoot walks. Pedestrians and Cyclists always have the right of way, but you can also hop on one of the many local golf carts to get around the island.
Highlights In Isla Holbox
Swimming with whale sharks in the Gulf of Mexico.
Relax in one of Holbox's famous over-water ocean hammocks
Love street art? Take a tour of the beautiful collection of murals in town
Rio Lagartos
There are many nature reserves in the Yucatan where you can go birdwatching, like around Rio Lagartos, famous for its flamingos. You'll also find flamingos at the crazy pink lake called Las Coloradas. The name 'Lagartos' actually means alligator, so you can expect plenty of them too in this small fishing village.
You won't find an ATM in this beautiful secluded spot, so you'll need to have cash at the ready to enjoy the many water activities, such as boat tours, snorkel excursions, kayaking and alligator sightings.
Highlights In Rio Lagartos
Visit the Pink Lakes, just a 30-minute drive from Río Lagartos
Catch a glimpse of 400 bird species in the Rio Lagartos Biosphere Reserve
Rent a mountain bike and explore the town.
Go on a deep-sea fishing trip and catch your own dinner.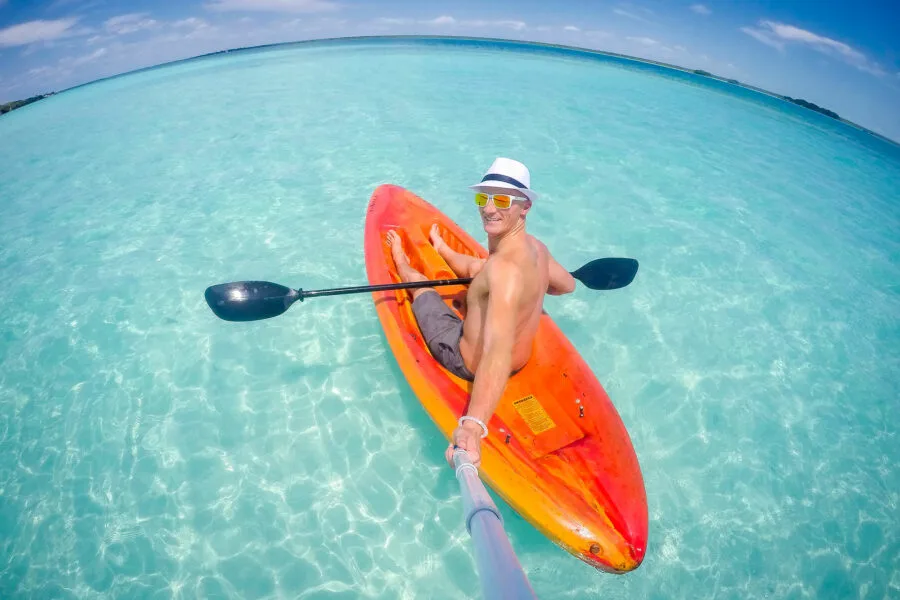 Budget Travel Tips For Mexico
Staying in dorms at backpacking hostels and traveling by 2nd class bus or public collectivos instead of taxis can save you a lot of money.
If you want to spend less money on food, consider eating at taco stands instead of dining at restaurants. Keep an eye out for stands with the most people, they're usually the best.
If you're flying from the US, book a domestic flight to San Diego, then cross the border to Tijuana and fly low-cost Mexican airline to Cancun to save money. Mexican airlines are much better than US budget carriers like Spirit/Frontier.
There are certain places where product prices are fixed and non-negotiable (like chain stores), but you can haggle for the price of souvenirs almost everywhere else.
Packing Tips For Mexico
So, you're getting ready for your trip to Mexico, but you're not sure what to pack? Here are some tips for things to bring with you on your journey.
Off The Beaten Path In Mexico
While the majority of tourists go to Isla Mujeres, locals prefer to visit the more quiet Isla Holbox for a day or two. The island is surrounded by blue waters and the shallow lagoon separating it from the mainland attracts migrating flamingos, pelicans and whale sharks (from June to September).
There are no cars allowed on Holbox, only golf carts which are also used as taxis. The island is a great place to relax in a hammock, eat fresh lobster pizza, or ride horses on the beach.
Best Time To Visit Mexico
January – April
Excellent weather, with lots of sun and mild temperatures in the 80's F. However this is also the high season, so there are many more tourists. Lots of Canadians and Americans come down for the winter.
May – October
These are the hottest and rainiest months of the year. The heat and humidity can be too much for some people. September and October is also hurricane season for the area. Far fewer tourists though.
November – December
This is my favorite time to visit Mexico, because the weather isn't super hot, hurricane season is over, but the high season for tourists hasn't started yet.
Internet & Cell Phone Service
There are four main cell phone providers: Iusacell, AT&T, Movistar and Telcel. Telcel is the most expensive, but it has the best coverage.
Getting a Mexican SIM card is easy – they are sold at cell phone stores, Sanborn's shops, or even at Oxxo (Mexican convenience store similar to 7-11). SIM cards cost 150 pesos (about $12) and include 75 pesos of credit for calls and texting.
Challenges To Be Aware Of
Walking further away from busy bus stations or main roads should help you land a cheaper cab. Always ask the price before getting in.
The weather in Yucatan changes a lot and there are thunderstorms regardless of the season. If you're planning some sightseeing make sure you check the weather forecast beforehand.
Certain parts of Mexico have problems with crime, however, the Yucatan is pretty safe in this regard. You can always ask your hotel or hostel which areas to avoid.
The beaches along the Yucatan Peninsula occasionally have a problem with seaweed washing up, called Sargassum.
Suggested Books & Movies
Books About Mexico
Movies About Mexico
Articles & Experiences From Mexico
Planning to travel to Mexico soon? Browse all my blog posts about Mexico for additional ideas & tips to help you plan an unforgettable vacation.
Enjoy Your Trip To Mexico!
If you can survive the occasional cold shower or a broken-down bus, Mexico will reward you with beautiful tropical beaches, historic Mayan ruins, and some of the best food on the planet.
Mexico is one of the best values for your money in adventure travel! ★
---
Enjoy This Article? Pin It!
---
Have any travel questions about Mexico? Other suggestions or tips? Join the conversation on Facebook, Instagram, or Twitter to share!