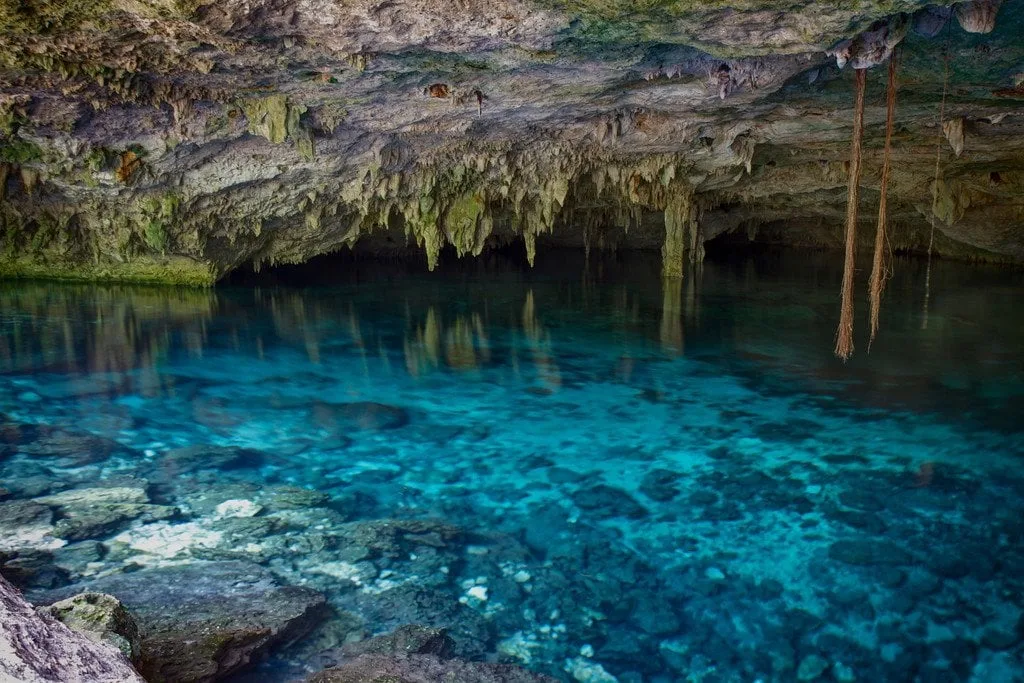 Tulum, Mexico
Brilliant blue light from the cave opening slowly faded away. Switching on our dive lights we swam deep into the darkness beyond. A mysterious alien world revealed itself.
Unlike wandering around the famous Mayan ruins of Chichen Itza, cave diving in Mexico has risks. Swimming through dark underwater passages in Mexico's cenotes can be claustrophobic and confusing.
With a roof of rock over your head, floating up to the surface in an emergency is not an option. You must go back out the way you came in.
In the past, this type of diving was only accessible to advanced divers with very specialized training.
But the rule was changed when the diving community made a distinction between Cave Diving & Cavern Diving.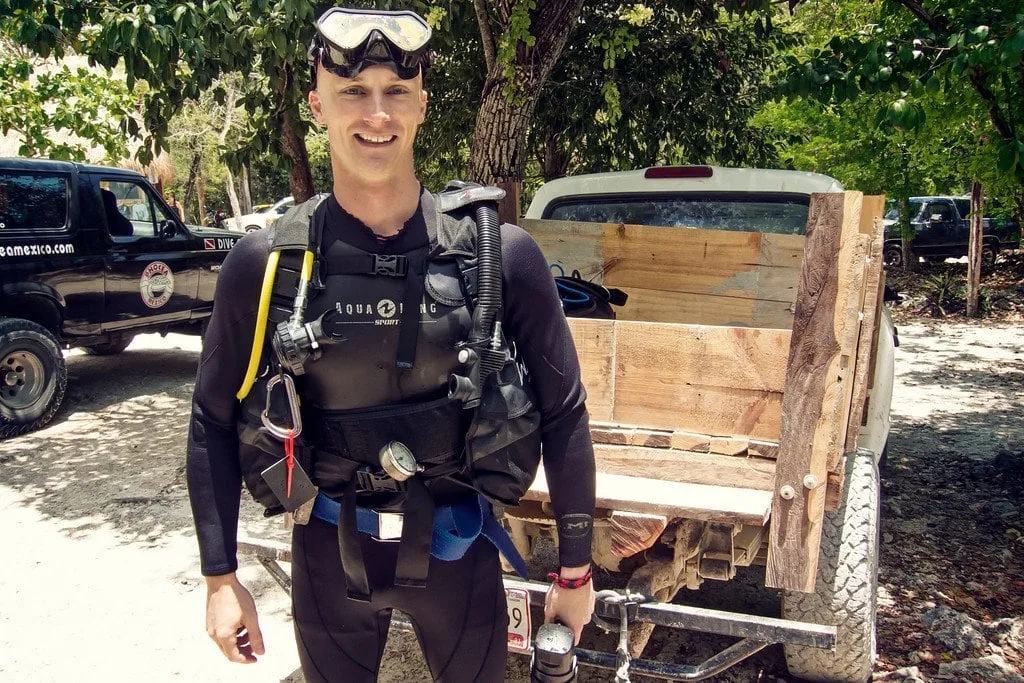 Difference Between Cave & Cavern Diving
To get more SCUBA divers interested in exploring caves, the sport was split into two different categories.
Cave Diving is when divers maneuver their way deep into underwater passageways with no easy access to the surface due to a ceiling of rock above their heads. There is zero natural light visible to the diver under the proper definition of cave diving. Individuals will often swim for many hundreds (even thousands) of meters from the cave opening, using multiple air tanks and a spool of penetration line to find their way back out.
Cavern Diving is similar to cave diving, the difference is that some natural light is visible to you at all times. So cavern divers don't go as deep into the passages as cave divers do. The cave opening doesn't need to be visible, just some sort of natural light emanating from that opening. The penetration limit for cavern diving is 200 feet (60 m) from the cave opening. Cavern divers also use a guideline to prevent getting lost, but it's already attached to the cave floor or wall.
Both cave & cavern diving requires the use of underwater flashlights, as the environment can get quite dark inside a cave. Even if you can see some daylight off in the distance behind you, it may be pitch black in the direction you're swimming!
Cave divers require a special set of additional certifications that the average recreational diver will not spend the time or money to get.
But cavern diving with a guide is available to anyone with a basic Open Water SCUBA certification, like me!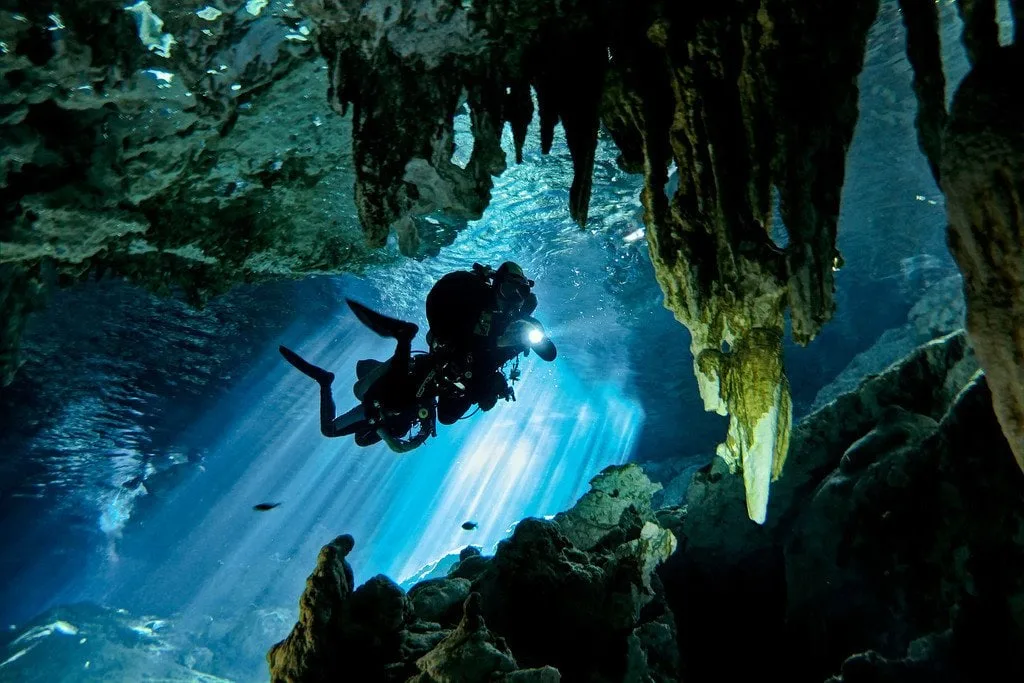 What Is A Cenote?
To go diving in these caves, you first have to enter the water through a cenote. Cenotes are freshwater sinkholes in the ground.
Sometimes the roof of these passageways will collapse, creating an entrance into the underground river hidden below.
Mexico's Yucatan Peninsula is littered with cenotes that are fed by the largest underground river systems in the world.
The source of this crystal-clear water is rainfall that filters through the earth.
These subterranean passages make up extensive underwater cave systems, like the Sac Actun system which is over 133 miles (232 km) long.
Cenotes are unique natural features to the Yucatan & Caribbean — it's estimated that there are over 6000 of them in the area. This makes it the best place on the planet to experience cavern diving.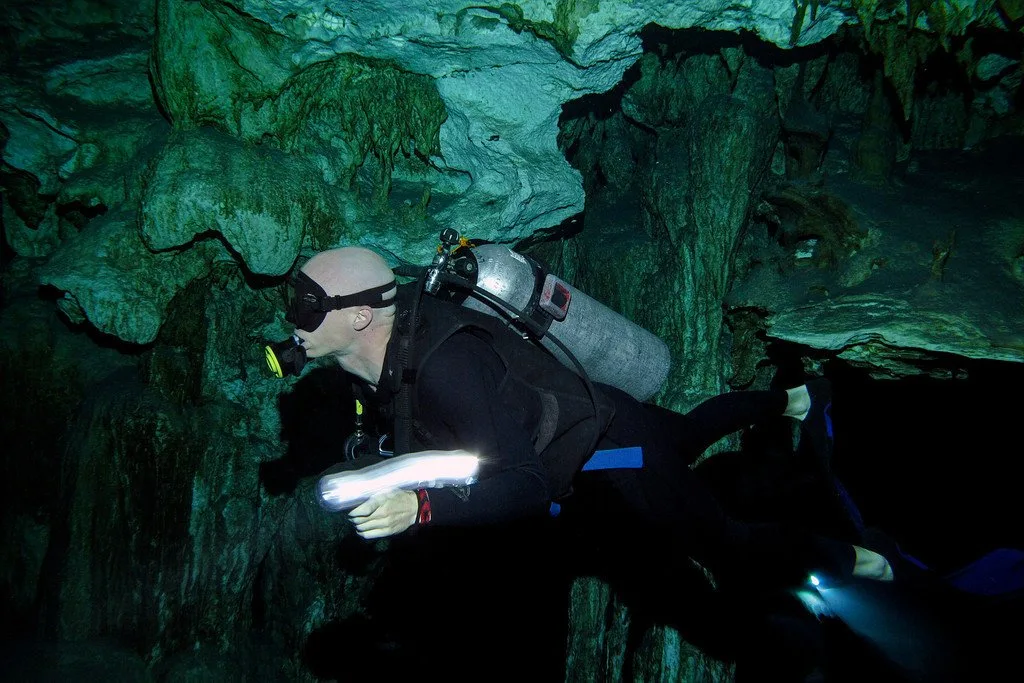 Dos Ojos SCUBA Shop
For my very first cavern diving experience, I decided to enlist the services of Dos Ojos Dive Shop. They had a great reputation online and with other local divers.
From the town of Playa del Carmen, it's a cheap 40-minute colectivo ride to the Dos Ojos Cenote located between Akumal & Tulum.
The area around the dive shop is actually home to many different cenotes, but the most famous is Dos Ojos, which means "two eyes" in Spanish. These caverns were featured in the IMAX film "Journey into Amazing Caves" as well as a horror movie called "The Cave".
I met with my professional dive guide Salvador Luna at the Dos Ojos shop to get fitted for gear. We then proceeded to drive 2 kilometers to the Dos Ojos cenote itself as he shared some interesting historical facts about the area.
Cenotes were once used by the Mayans for ritual human sacrifice — they believed them to be entrances into the underworld.
The remains of ancient human skeletons are still occasionally found in these underwater caves. Some of them are over 10,000 years old!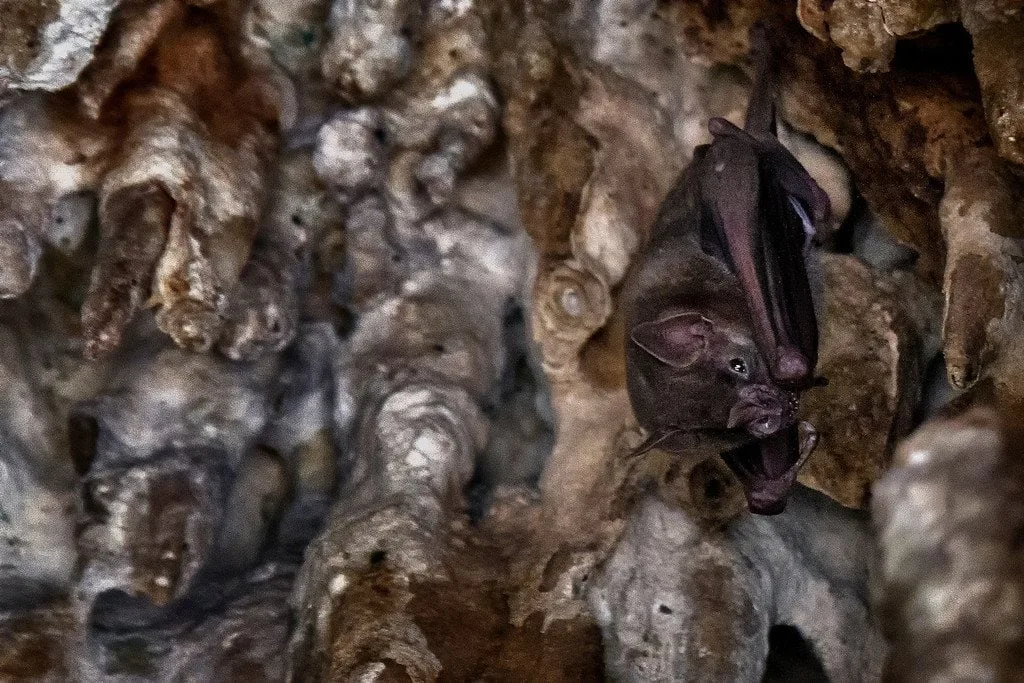 Welcome To The Underworld
If you think SCUBA diving an ocean reef environment is incredible, wait until you dive through a freshwater cave! It's equally as alien and mesmerizing.
After a pre-dive check and safety talk, we traversed two different underwater routes that day, each about 45 minutes long. The first took us down 30 feet (10m) deep, and made its way from one cenote opening to another (hence the "two eyes" in Dos Ojos).
Light from the cenote opening slowly fades away as you push forward into the veins of the earth.
Snaking our way around columns of rock, I followed Salvador with my dive light scanning the environment for strange fish, cave fossils, and other oddities.
Proper buoyancy control is very important when cavern diving in a cenote — you must maneuver through the cave formations without damaging them.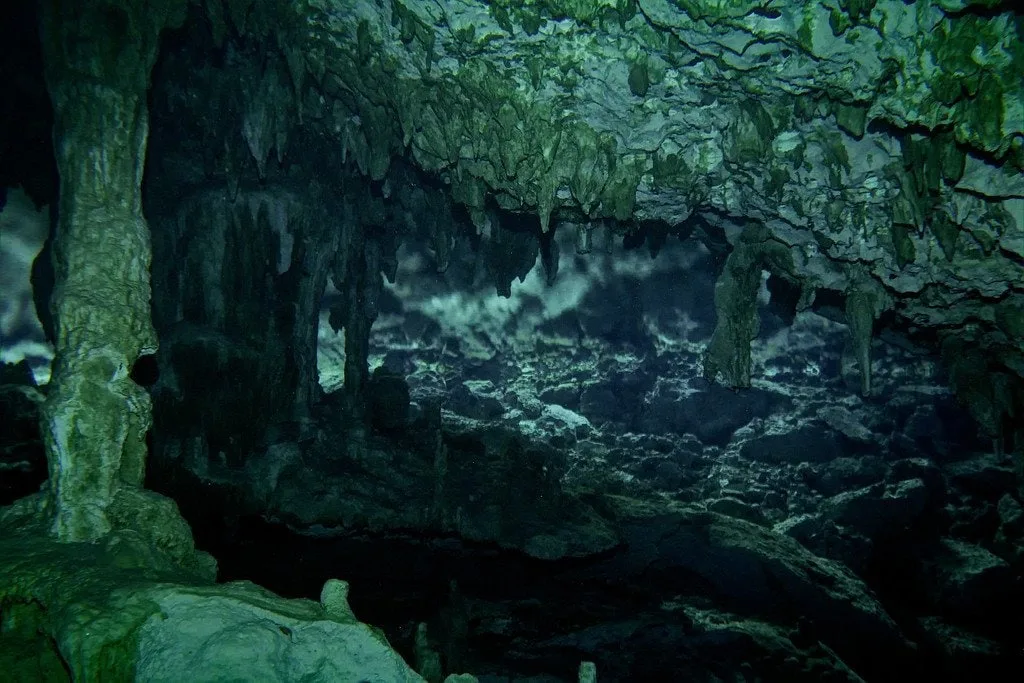 Unique SCUBA Adventure
One interesting feature you'll see on a cavern dive are the pools of air that collect on the cave ceiling above you. They look just like puddles of mercury!
Some crystal stalactite & stalagmite formations can be lit up like candles with your light.
Our second dive lead into The Bat Cave. This route floats through tight passageways full of cathedral-like pillars of limestone. It's almost pitch black swimming in this section and felt like a true cave diving experience.
You then surface into a dark cavern with a small skylight over your head.
The whole chamber is absolutely filled with bats!
Scuba diving Dos Ojos Cenote was a strange (but cool) travel experience. ★
Watch Video:

Dos Ojos Cenote Dive

Subscribe to my YouTube Channel for new Adventure Travel Videos!


(Click to watch Dos Ojos Cenote – Scuba Diving Mexico on YouTube)

[su_box title="TRAVEL PLANNING RESOURCES FOR MEXICO" style="noise" box_color="#333333″ title_color="#FFFFFF" radius="3″ class=""]
Location: Dos Ojos Cenote, Mexico
Company: Dos Ojos SCUBA Shop
Cost: $100 USD (2 tanks plus entrance fee)
Book A Flight: Learn how I find the cheapest airline flights
Rent A Car: Discover Cars is a great site for comparing car prices
Find A Hotel: My tips for booking affordable accommodation
Protect Your Stuff: WorldNomads.com can insure your trip & gear
Recommended Guidebook: Lonely Planet Yucatan
Suggested Reading: The Maya: Ancient Peoples & Places
[/su_box]
READ MORE MEXICO TRAVEL TIPS
I hope you enjoyed my guide to Scuba Diving Dos Ojos Cenote! Hopefully you found it useful. Here are a few more wanderlust-inducing articles that I recommend you read next:
Have you ever heard of cenotes before? Would you swim in caves? Share your thoughts in the comments below!