Cheap Flight Travel Tips
Travel doesn't have to be expensive, but airline tickets often are. Here's how to find the cheapest flights possible and get the best airline deals on your next vacation.
[su_note note_color="#DCEFF5″ text_color="#333333″ radius="3″ class=""]
COVID-19 UPDATE:
Flying from the US has become a bit more complicated with COVID-19, however there are still many countries accepting American tourists.
[/su_note]
Flying can be expensive if you don't know how to book cheap flights.
Plus, there are so many different airfare search engines and comparison sites these days, along with new airlines popping up — and others that suddenly disappear.
How do you find the cheapest tickets available for flying to your next destination?
After 10 years of traveling the world professionally, I've learned a few tricks and budget flying tips that will help you save money on your next flight — so you can arrive at your destination for a reasonable price.
So pack your bags and let's go find some low-cost flights!
How To Find Cheap Flights In 2020
1. Use The Best Flight Search Engines
Using a good airfare search engine is one of the easiest ways to find the cheapest flights possible. These sites search for tickets across many different airlines, and offer helpful tools like price prediction, price maps based on destinations, fare alerts by email, and more.
It's a good idea to check multiple flight search engines before you book a ticket though. You never know which site may have the best price for flights.
Some search engines offer better deals than others — so here are my top 5 that I use (in order) whenever I'm searching for my next flight.
My Favorite Cheap Flight Comparison Sites
Generally, my first stop is Skyscanner when searching for cheap flights.
When I find a good deal, before I book it, I'll also double check the other sites to ensure I'm getting the best price.
2. Get Error & Discount Fare Alerts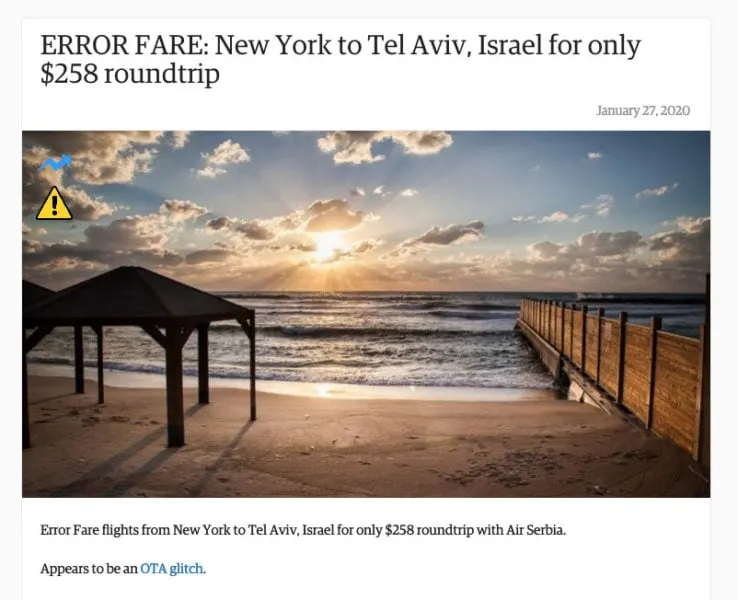 In addition to searching on multiple flight search engines, I also recommend you set up fare alerts for each one.
Punch in the details about your intended destination, a range of dates, and let the website alert you via email when prices drop.
There are also a few secret airfare hunting websites that scour the internet for the best deals possible, doing all the digging work for you.
Join Flight Deal Newsletters
Scott's Cheap Flights is a great service I use that hires a whole team of people to look for hidden airfare discounts. You can try them out for free to see if its worth getting a paid subscription (spoiler alert, it is!).
Browse Error Fare Alert Websites
What is an error or mistake fare? Basically, airlines frequently make mistakes when they price out certain routes.
But if they advertise that price, and you buy a ticket, they have to honor the price even if it was hundreds of dollars cheaper than it should have been. Score!
Mistake fares don't often last long, because the airline will fix it as soon as they realize their mistake. There are websites out there that track these mistakes, and share them with you when they happen. For example, listing a flight from New York City to Paris for $50 instead of $700.
If you check these sites regularly, or sign up for their newsletters, you can get lucky and score some huge flight deals that other people may never see!
3. Find The Cheapest Days To Fly
There are many theories out there about when are the best days or months to fly for the cheapest airfares. It's not an exact science, but in general the following hold true:
Book A Few Months In Advance
For international flights, booking 2-8 months in advance will land you the best airline deals. For domestic flights, booking 1-3 months in advance results in the cheapest flights.
Best Days To Fly
The best days to depart seem to be Tuesday, Wednesday, or Saturday because they're off-peak with less passengers and lower airfares.
Early morning flights or red-eyes (overnight) will usually be cheaper too.
Another way to save money on tickets is by flying during the off-season, or shoulder seasons, when there will be less demand. For example? Iceland in the Fall/Winter, or Mexico in the Summer.
The easiest way to figure it out though, is to get a visual guide on which days are the cheapest for your particular destination. Here's how to do that!
If you need to travel during a certain month, you can also search by month, to see which day has the best price.
4. Join Major Airline Newsletters
The best airfare deals are often available on the airlines' own web sites, and many come in the form of promo codes and special offers.
Signing up to the airline's newsletter gives you access to these deals, sometimes as big as 50% off the published fares!
Some airlines require you to be a part of their loyalty program to sign up for these special newsletters. Here's a list of some of my favorites:
[su_row class=""]
[su_column size="1/3″ center="no" class=""]
[/su_column]
[su_column size="1/3″ center="no" class=""]
[/su_column]
[su_column size="1/3″ center="no" class=""]
[/su_column]
[/su_row]
If you sign up for a bunch of airline newsletters like this, I recommend using your email filters to automatically move the emails into a specific folder so your inbox doesn't get overrun.
5. Book Tickets In January & February!
Some of the cheapest airline tickets I've seen are made available during the month of January & February. Round trip flights from the United States to Europe or Africa for under $500!? Yes please!
You don't need to travel during those months, it just means booking your tickets then.
Airlines seem to love offering cheap flights at the beginning of the year. Probably because people are out of money after the holidays and they're trying to boost demand.
Keep this in mind when planning your travels next year, and set aside some cash to book your summer vacation flights during the early months of January or February.
6. Check Alternative Airports
If you happen to live near a few airports, remember to check the fares for each of them, as well as alternative airports or large hubs near your intended destination.
Sometimes traveling by bus to or from a different airport can save you a lot of money on flights.
In the past I've saved a few hundred dollars choosing a $10 bus ride to New York rather than flying directly out of Boston. It takes longer, so you'll have to weigh the opportunity cost.
7. Try Flying Budget Airlines
In addition to searching the major airline booking sites, check which budget airlines (low cost carriers) fly to your intended travel destination. You may be surprised at just how cheap these flights can be…
Budget airlines are able to charge less for flights because they don't offer all the fancy services of the major airlines (or they charge extra for them). Things like free checked bags, snacks, drinks, extra legroom, etc.
Budget Airline Example Fares
NEW YORK CITY (JFK) – ROME (FCO) for $429 roundtrip with Norwegian Air.
LOS ANGELES (LAX) – BANGKOK (BKK) for $446 roundtrip with Air Asia.
Some budget airlines don't allow the big meta flight search engines to include their fares in search results, requiring you to visit the airline's official website.
Cheap tickets on budget airlines are often non-refundable and can't be changed — plus they may fly to smaller airports outside the main city, requiring additional travel time on the ground.
Top Budget Airlines
[su_row class="travel-gear"]
[su_column size="1/3″ center="no" class=""]
United States
Southwest
JetBlue
Porter
Allegiant Air
Frontier
Spirit
[/su_column]
[su_column size="1/3″ center="no" class=""]
Canada
Air Canada Rouge
Air Transat
Swoop
West Jet
[/su_column]
[su_column size="1/3″ center="no" class=""]
Europe
Norwegian
LEVEL
EasyJet
Eurowings
Ryan Air
Wizz Air
[/su_column]
[/su_row]
[su_row class="travel-gear"]
[su_column size="1/3″ center="no" class=""]
Asia
Air Asia
Asiana
Jetstar
Scoot
[/su_column]
[su_column size="1/3″ center="no" class=""]
Africa
FastJet
Mango
Kulula
[/su_column]
[su_column size="1/3″ center="no" class=""]
Latin America
Volaris
Viva Aerobus
Interjet
Spirit
[/su_column]
[/su_row]
Of course there's far more than this, and Wikipedia has an excellent list of low-cost carriers around the world.
8. Pick The Cheapest Destinations
The more flexible you are, the better your chances of discovering cheap flights. So try picking your destination based on where the deals are!
Some websites make this easy like the Skyscanner Inspire Map.
You are presented with a price map for different destinations based on your departure airport.
Flying to a random location can be a lot of fun too, and you may end up discovering an area of the world you hadn't planned on visiting.
Flexibility and spontaneity can save you money on flights.
9. Use A Good VPN Service
One sneaky way airlines attempt to make the most profit is by charging different fares for people in different countries.
For example, booking domestic flights from outside the country will often be more expensive than booking inside the country.
Prices may change based on where the transaction is completed, or the "point-of-sale". However you can beat them at their game using a VPN (Virtual Private Network) to hide your location or pretend to be somewhere else.
I use Private Internet Access VPN because it's easy, affordable, has a smartphone app, and doesn't slow down my connection.
While using a VPN can save you money on flights, it's a myth that airlines use website cookies to mess with your fares. Going "incognito" on your browser won't actually do anything… trust me, I've tried.
10. Hitchhiking On Airplanes?
Did I ever tell you about the time I hitchhiked on an airplane? Sure — I know this isn't practical for most people.
I just thought you'd like to see a unique way I was able to score a free flight once! And to check if you're still paying attention… haha.
Just like searching for the best deal on flights, hitchhiking on an airplane requires a mix of patience, flexibility, and a little luck too!
11. Book Flight Legs Separately
For long-distance flights, it can pay to book different legs separately rather than all at once. I discovered it was about $200 cheaper for me to fly from Boston to Copenhagen, followed by Copenhagen to Dublin on a budget airline, rather than book a multi-leg trip from Boston to Dublin all at once.
You may even save money on the same exact itinerary, just booking each section independently. Or by booking two one way tickets instead of one round trip. Spend 30 minutes experimenting and see what you come up with.
Remember though, it's important to keep an eye on arrival & departure times for these flights to give yourself enough time to transfer. Otherwise you might miss your flight!
12. Fly Free With Credit Card Miles
It took me a few years to get into travel-hacking (using points & miles to redeem for free flights), but now I try to recommend it to others whenever I can!
Last year my wife and I traveled to Antarctica, flying to Argentina for only $294 roundtrip. We were able to do this because we'd quickly built up a collection of airline miles that covered two(!) round-trip flights from New York, saving us over $2000 USD.
When you sign up for the right travel rewards credit cards, and use them wisely, it's easier than you might think to save up enough miles for a free flight — you only pay for taxes.
13. Open-Jaw (Round The World) Tickets
An open-jaw ticket is a round-trip airline ticket where the destination and/or the origin are not the same in both directions. Meaning you fly to one city, then travel to another city (or country, or many) before returning home.
These are also sometimes known as "RTW Tickets" or "Round The World" tickets.
With this option, you can visit many different cities during your trip, but it costs much less than booking all the flights separately. OneWorld is a great resource for booking a RTW ticket.
14. Don't Wait Until The Last Minute
So you've finally found the cheapest flights available for your destination, but you heard somewhere that if you wait and book at the last minute — the flights could be cheaper. Don't do it!
Sure, very rarely the prices might drop if you wait. But it's FAR more likely that they will increase!
Research shows that booking your flight 3-months in advance seems to be the optimal time to get cheap flights.
This is due to the airlines reducing the price in order to drum up demand — because the airplane is basically still empty. However once it starts filling up, they are able to raise them as people get increasingly desperate for the last spots.
More Useful Tips For Booking Flights
Enjoy Your Next Cheap Flight!
So, there you have it. These are the tactics & resources I personally use to find the cheapest flights around the world.
In fact, I recently scored round-trip tickets from Boston to Dublin, Ireland for only $614 using these techniques.
Flying doesn't have to be expensive if you know how to find the best deals and are willing to put in the effort.
Flexibility combined with spending an extra 30 minutes searching can save you hundreds of dollars. ★
[su_box title="Travel Planning Resources" style="noise" box_color="#333333″ title_color="#FFFFFF" radius="3″ class="resource-box"]
Packing Guide
Check out my travel gear guide to help you start packing for your trip.
Book Your Flight
Ready to fly? Here's how I find the cheapest airline flights.
Rent A Car
Discover Cars is a great site for comparing car prices to find a deal.
Cheap Accommodation
Learn how I save money booking hotels & vacation apartments.
Protect Your Trip
Don't forget travel insurance! Protect yourself from possible injury & theft abroad. Read why you should always carry travel insurance.
[/su_box]
Like This Post? Pin It!
[su_row class=""]
[su_column size="1/2″ center="no" class=""]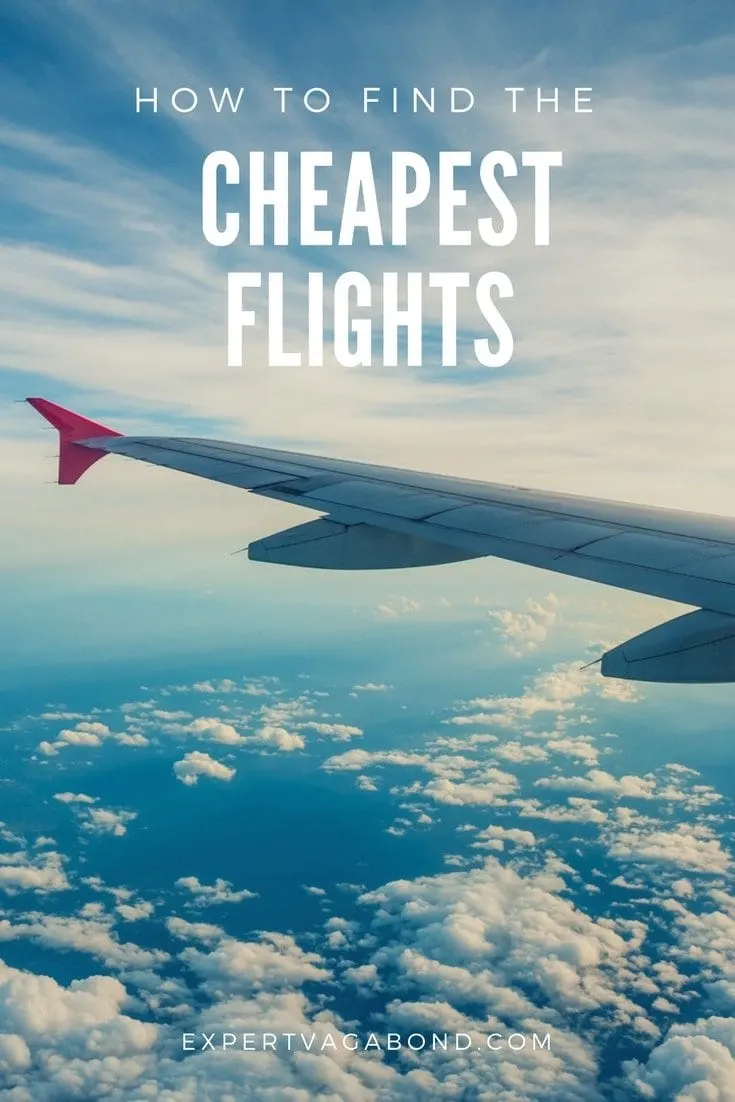 [/su_column]
[su_column size="1/2″ center="no" class=""]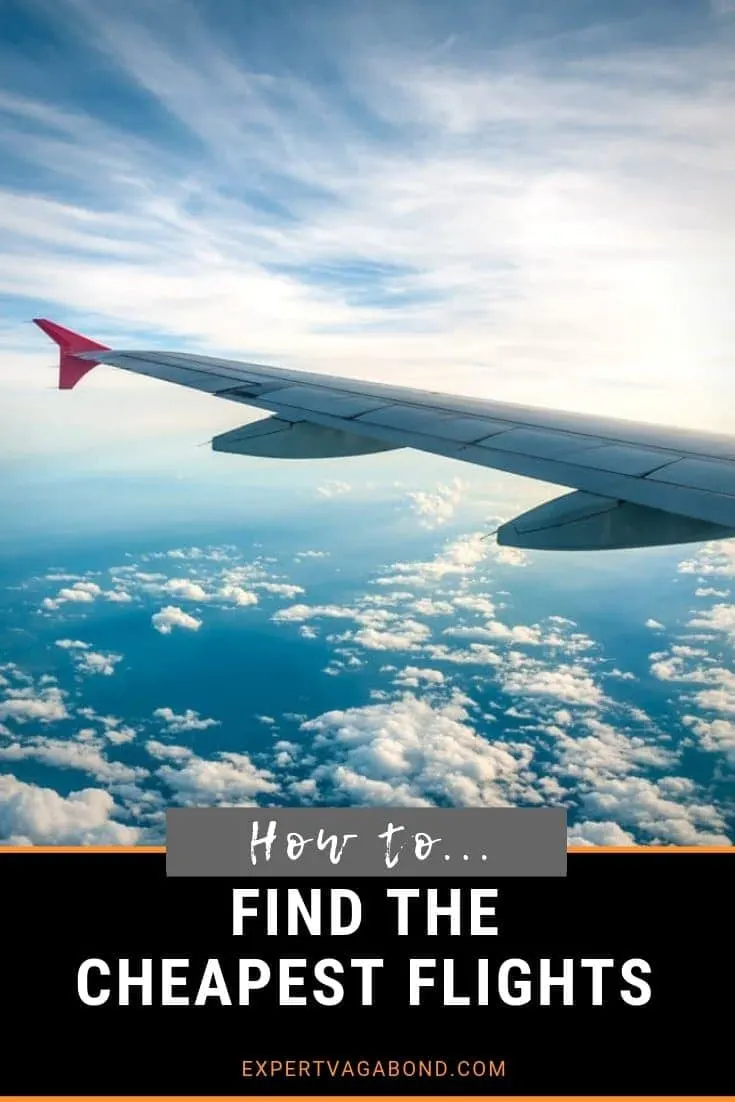 [/su_column]
[/su_row]
READ MORE BUDGET TRAVEL TIPS
I hope you enjoyed my guide to finding cheap flights! Hopefully you found it useful. Here are a few more wanderlust-inducing articles that I recommend you read next:
Have any questions about finding cheap flights? What about other suggestions? Join the conversation on Facebook, Instagram, or Twitter to share!