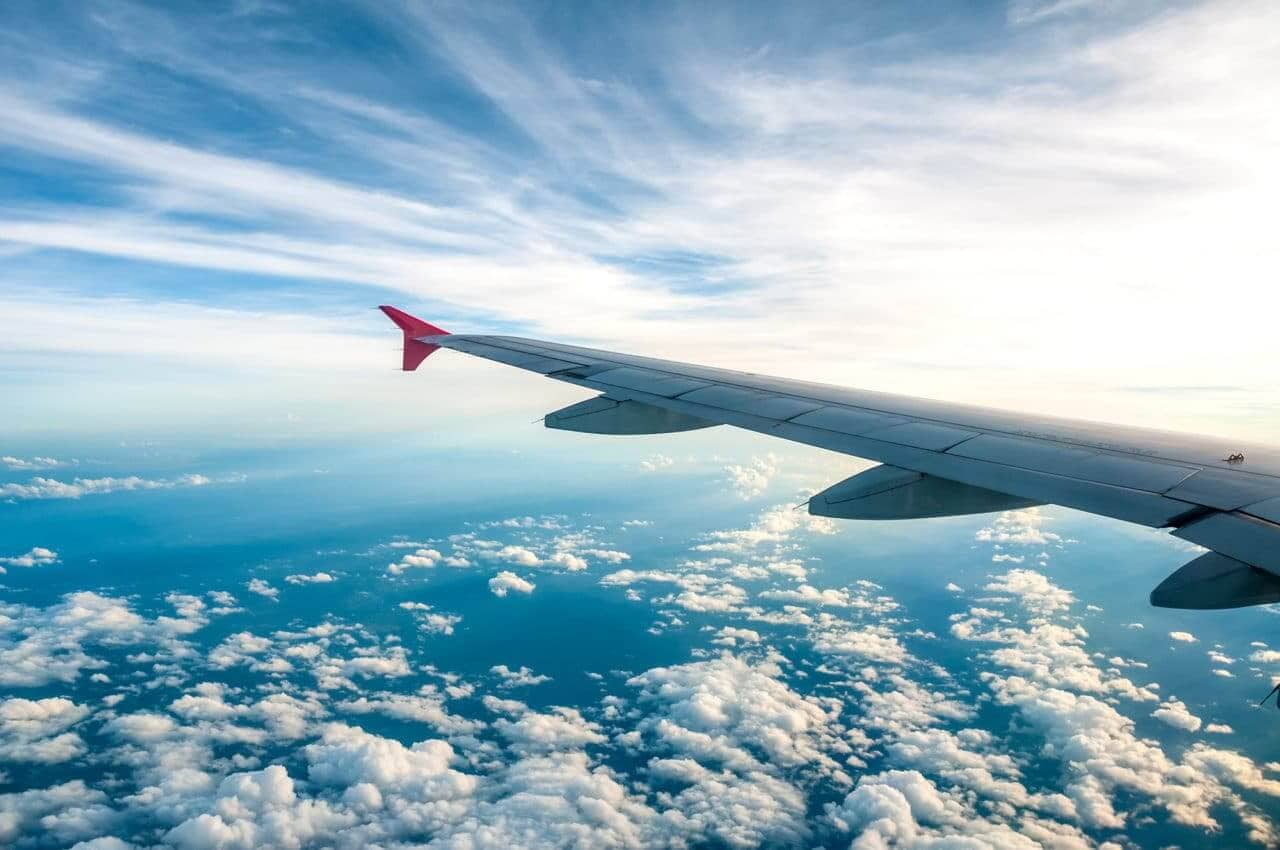 Cheap Flight Travel Tips
Travel doesn't have to be expensive, but airline tickets often are. Here are my favorite tricks for how to find cheap flights and get the best airline deals on your next vacation.
Flying can be expensive if you don't know how to book cheap flights. The price of airline tickets is actually increasing as companies merge and fuel costs rise.
The flight is often the most expensive part of your trip…
How do we reduce that cost and find the cheapest tickets available?
After 9 years of constant travel, I've learned a few tricks that will help you save money on your next flight so you can arrive at your destination for a reasonable price. So pack your bags and let's go!
Find Cheap Flights On Skyscanner
Best Airfare Search Engines
Using an airfare metasearch engine is quick & easy, and it can help you find the cheapest flights. These sites search for tickets across many different airlines and offer helpful tools like price prediction, price maps based on destinations, fare alerts by email, and more.
It's a good idea to check multiple flight search engines before you book a ticket. You never know which site may show you the best price and cheapest flights.
My Favorite Flight Search Sites
Generally, my first stop is Skyscanner when searching for cheap flights. When I find a good deal, before I book it, I'll also double check Momondo, Google Flights, Kayak, and finally the airline's official website.
You'll never know if another site may have something cheaper available unless you check! However in my experience, Skyscanner is usually the best.
Sign Up For Cheap Fare Alerts
In addition to searching on multiple flight search engines, I also recommend you set up fare alerts for each one. Punch in the details about your intended destination, a range of dates, and let the website alert you via email when prices drop.
There are also a few dedicated airfare websites you should definitely check on a regular basis, or sign up for. These sites scour the internet for the best deals possible, doing all the work so you don't have to.
Cheap Flight Newsletters
Dollar Flight Club is an awesome cheap flight alert service that scours the internet for deals, sent to you via email. There's a free version, and a subscription version.
Scott's Cheap Flights is another great service with a whole team of people looking for discounts. There's a free version and a subscription version.
Free Fare Alert Websites
Join Airline Newsletters
The best airfare deals are often available on the airlines' own web sites, and many come in the form of promo codes and special offers.
Signing up to the airline's newsletter gives you access to these deals, sometimes as big as 50% off the published fares.
Here's a handy list of US based airline newsletters to sign up for.
I simply use Gmail's email filters to automatically move these newsletters into a specific folder so my inbox isn't overrun, checking it weekly for deals.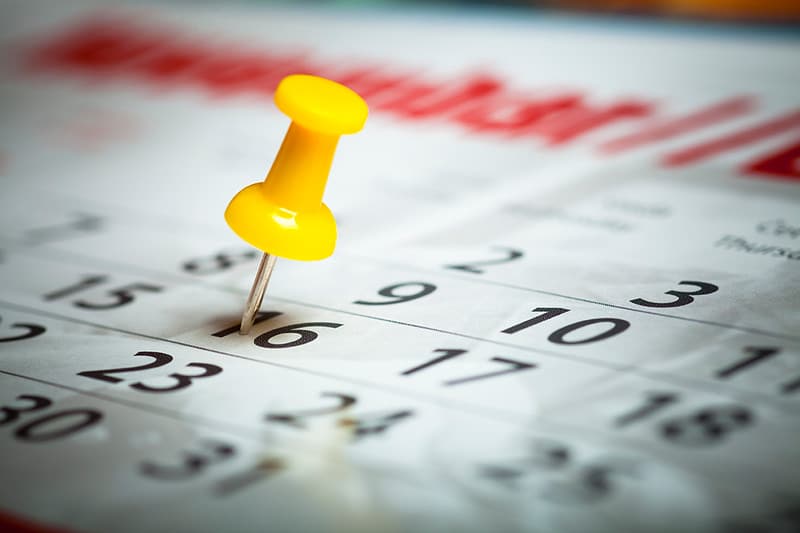 Be Flexible With Dates/Times
The best time to book a flight has been found to be 4-10 weeks in advance of your trip. The best days to depart seem to be Tuesday, Wednesday, or Saturday because they're off-peak with less passengers and lower fares.
Early morning flights or red-eyes (overnight) will usually be cheaper too.
Flights with long layovers are less expensive. Another way to save money on tickets is by flying during the off-season, or shoulder seasons, when there will be less demand.
For example? Iceland in the Fall/Winter, or Mexico in the Summer.
Book Tickets In January!
Some of the best flight deals I've ever seen are always available during the month of January & February. Round trip flights from the United States to Europe or Africa for under $500!?
You don't need to travel during those months, it just means you should book your tickets then.
Airlines seem to love offering cheap flights in January. Probably because people are out of money after the holidays and they're trying to boost demand. Keep this in mind when planning your travels next year, and set aside some cash to book your summer vacation flights in January.
Check Alternative Airports
If you happen to live near a few airports, remember to check the fares for each of them, as well as alternative airports or large hubs near your intended destination.
Sometimes traveling by bus to or from a different airport can save you a lot of money on flights.
In the past I've saved a few hundred dollars choosing a $10 bus ride to New York rather than flying directly out of Boston. It takes longer, so you'll have to weigh the opportunity cost.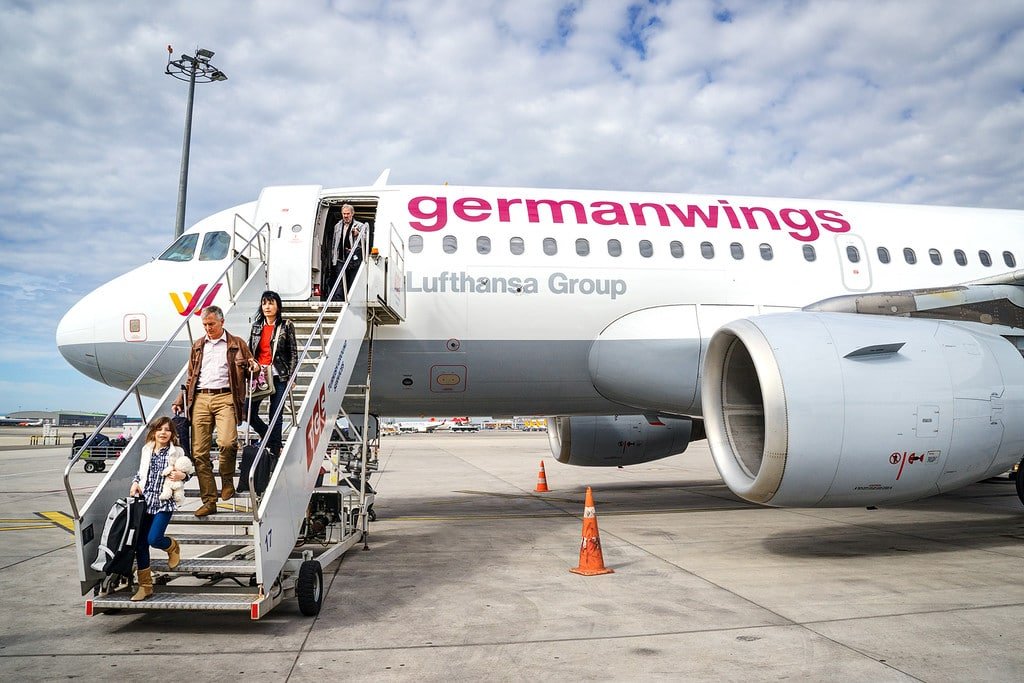 Try Flying Budget Airlines
In addition to searching the major airline booking sites, do research about which specific budget carriers fly to your intended travel destination. You may be surprised at just how cheap these flights can actually be…
Los Angeles to Thailand for only $307 on China Southern Airlines
Washington DC to Copenhagen for only $193 on WOW Airlines
Florida to Colombia for only $67 on Spirit Airlines
Pretty good, right?
Some budget airlines don't allow big meta flight search engines to include their fares in search results, requiring you to visit the airline's website.
Wikipedia has an excellent list of budget airlines around the world.
Many budget airlines charge extra for services that are normally free on larger airlines. Checked bags, snacks, drinks, legroom, credit card payment, printing a boarding pass, and anything else they can possibly think of. You can find this information on their website.
Cheap tickets on budget airlines are often non-refundable and can't be changed — plus they may fly to smaller airports outside the main city, requiring additional travel time on the ground.
All these factors need to be weighed before you book a ticket.
Pick Your Destination Based On Price
The more flexible you are, the better your chances of finding cheap flights. So try flying to where the deals are!
Some websites make this easy like Google Explore & Skyscanner Inspire Map.
You are presented with a price map for different destinations based on your departure airport.
Being flexible allows you to plan where to go based on how cheap the tickets are. Flying to a random location can be a lot of fun, and you may end up discovering an area of the world you hadn't planned on visiting.
Flexibility and spontaneity can save you money.
Use A Good VPN Service
One sneaky way airlines attempt to make the most profit is by charging different fares for people in different countries.
For example, booking domestic flights from outside the country will often be more expensive than booking inside the country.
Prices may change based on where the transaction is completed, or the "point-of-sale". However you can beat them at their game using a VPN (Virtual Private Network) to hide your location or pretend to be somewhere else.
I use Private Internet Access VPN because it's so easy, affordable, has a smartphone app, and doesn't slow down my connection.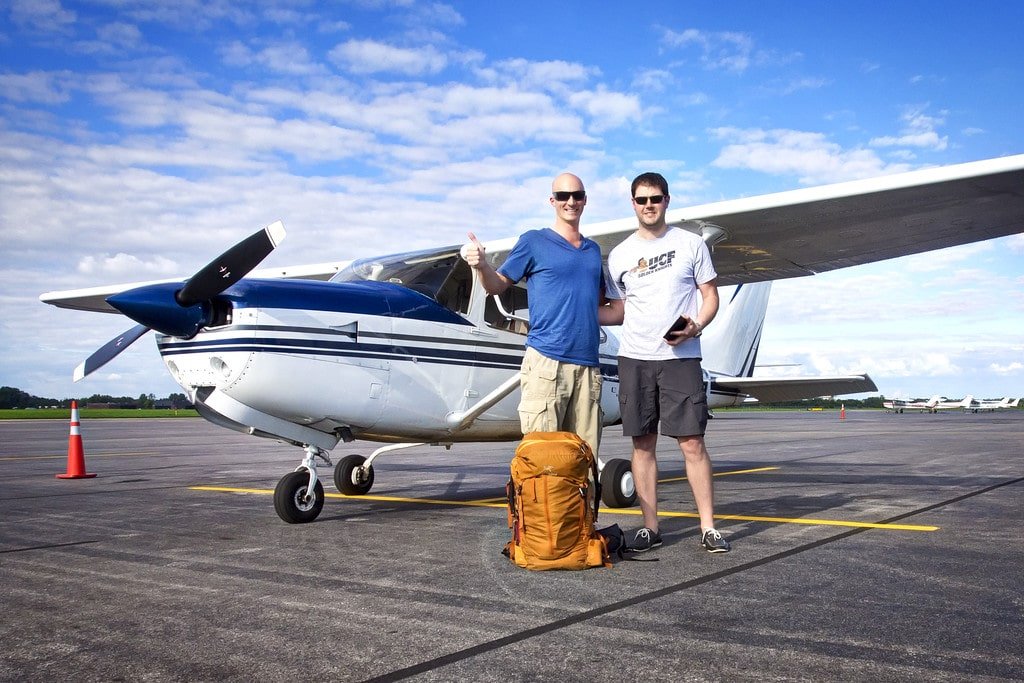 Hitchhiking On Airplanes?
Did I ever tell you about the time I hitchhiked on an airplane? I know, I know — this isn't practical for most people.
However, it IS possible to hitchhike on small private planes from municipal airports. You need a lot of patience, some flexibility, and a little luck to find a pilot willing to take you.
I only mention this to show you that just because you think something is difficult or impossible, doesn't mean that's the case.
There even used to be a website dedicated to flight-sharing if you just pitch in for gas! Sadly that closed down…
Book Cheap Flight Legs Separately
For long-distance flights, it can pay to book different legs separately rather than all at once. I discovered it was about $200 cheaper for me to fly from Boston to Copenhagen, followed by Copenhagen to Dublin on a budget airline, rather than book a multi-leg trip from Boston to Dublin all at once.
You may even save money on the same exact itinerary, just booking each section independently. Or by booking two one way tickets instead of one round trip. Spend 30 minutes experimenting and see what you come up with.
Remember though, it's important to keep an eye on arrival & departure times for these flights to give yourself enough time to transfer.
Proof Of Onward Travel Rule
Planning a long-term trip, not sure when you'll return? Or do you want to travel overland for a while? You should know that some countries/airlines want to make sure you aren't attempting to move there on a tourist visa and never leave.
It happens all the time here in the United States, and other countries too. They are trying to prevent illegal immigration. So many countries have adopted a rule called Proof Of Onward Travel.
Basically, they want proof that you have another flight leaving that country — that you aren't planning to stay forever. It's become a huge headache for people who prefer to book one-way tickets!
But there is a solution, which I share here: How To Provide Proof Of Onward Travel (So You Don't Get Kicked Off Your Flight!)
Cheap Flight Tips & Tricks
So, there you have it. These are the tactics & resources I personally use to find cheap flights around the world. In fact, I recently scored round-trip tickets from Boston to Dublin for only $614 using these techniques.
Like travel in general, flying doesn't have to be expensive if you know how to find the best deals and are willing to actually put in the effort.
Flexibility combined with spending an extra 30 minutes of searching can save you hundreds of dollars. ★
Travel Planning Resources
Packing Guide
Check out my travel gear guide to help you start packing for your trip. Pick up a travel backpack, camera gear, and other useful travel accessories.
Book Your Flight
Book cheap flights on Skyscanner, my favorite airline search engine.
Rent A Car
Discover Cars is a great site for comparing car prices to find the best deal. They search both local & international rental companies.
Book Accommodation
Booking.com is my favorite hotel search engine. Or rent local apartments on Airbnb ($35 discount!). Read my post for tips on booking cheap hotels.
Protect Your Trip
Don't forget travel insurance! I'm a big fan of World Nomads for short-term trips. Protect yourself from possible injury & theft abroad. Read more about why you should always carry travel insurance.

Like This Post? Pin It!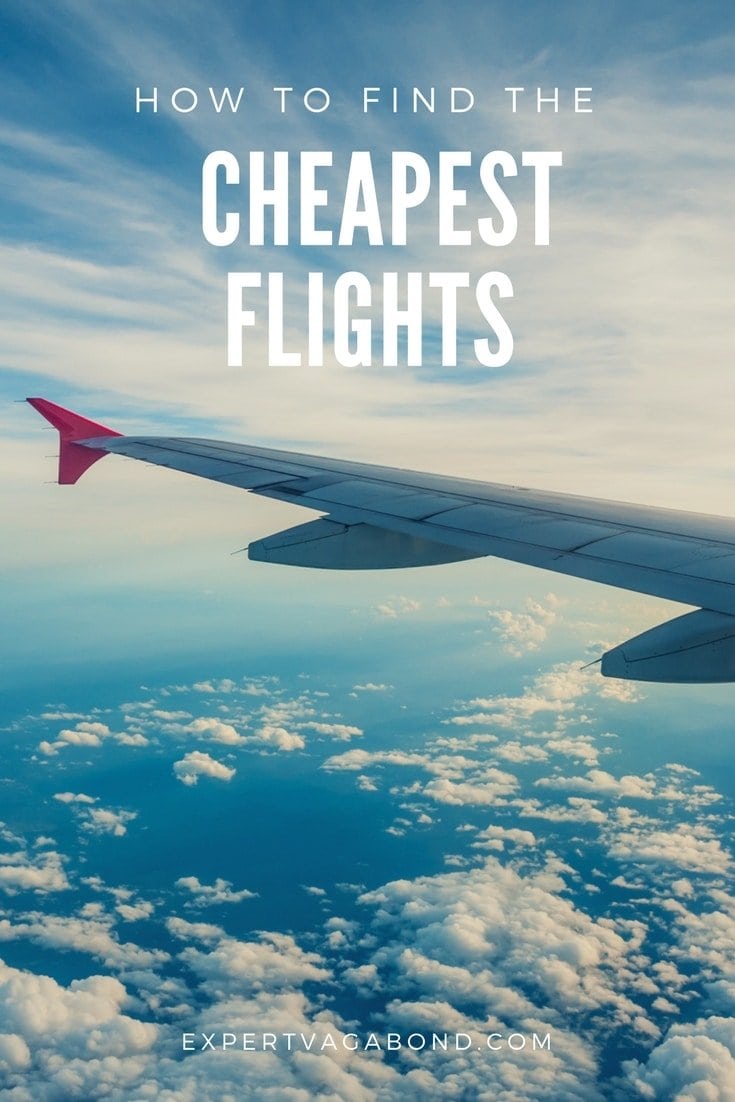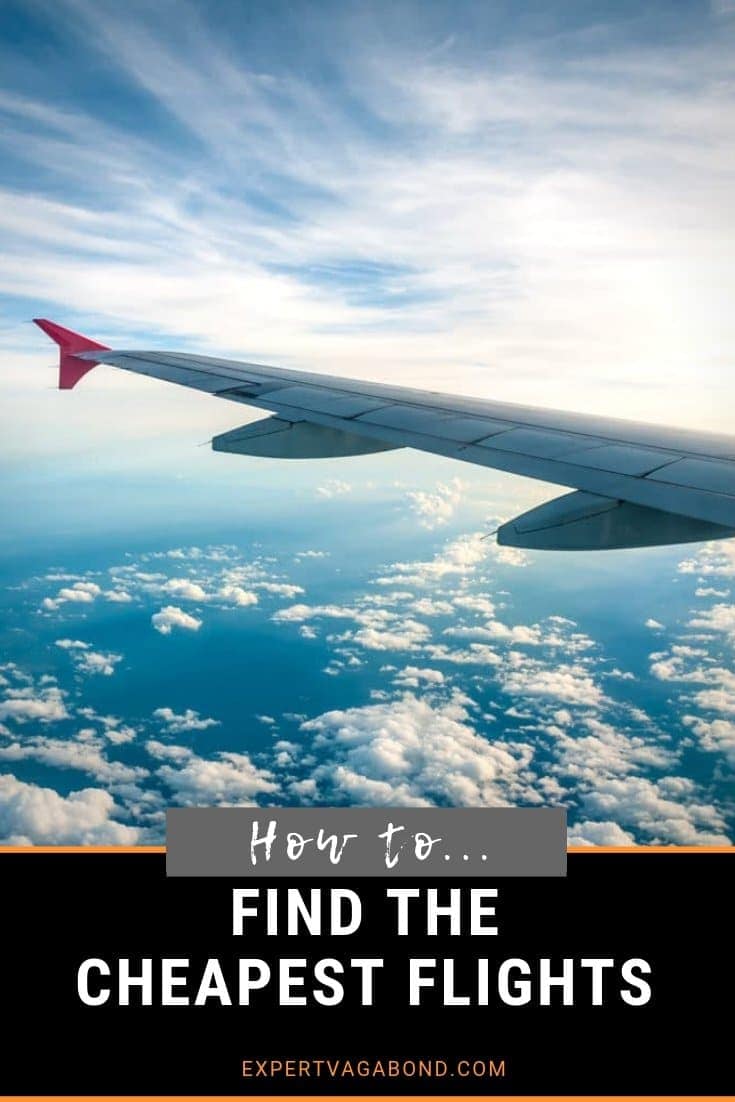 READ MORE BUDGET TRAVEL TIPS
I hope you enjoyed my guide to finding cheap flights! Hopefully you found it useful. Here are a few more wanderlust-inducing articles that I recommend you read next:
Have any questions about finding cheap flights? What about other suggestions? Drop me a message in the comments below!