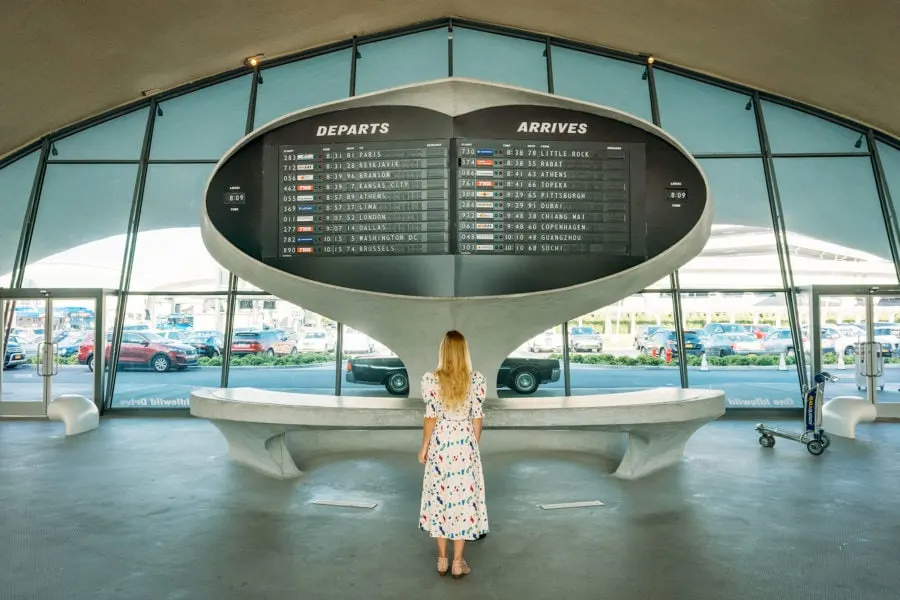 Flying Travel Tips
Want to save money on flights? Professional travelers have a secret trick called "mistake fares" which helps them find amazing airline deals that other people miss.
Although less common, error and mistake fares on flights do happen on a regular basis. If you know how to track and spot them, you can snag some of the cheapest flights possible.
In this guide I'll show you how to make use mistake fares to save hundreds of dollars on your next airline ticket!
What Are Error & Mistake Fares?
From time to time, airlines and travel sites make mistakes when listing their fares, and advertise a flight for significantly less money than intended.
If you can catch their mistake on time and book a flight, they are obliged to honor that posted price, and you can save hundreds of dollars on a flight.
For example, a flight from New York to Paris might be listed by mistake for only $100, a huge error from the normal price of about $1000 for a round trip ticket.
Error and mistake fares can occur for a number of reasons:
Human Error – The saying goes, "Everyone makes mistakes." Well, that's just as true in the travel industry. Like the case with that flight from Paris, the administrator likely forgot to add a 0 to the price tag.
Technology Glitches – These days, airlines use complex algorithms to automatically generate flight rates. Technology issues can lead to errors on their websites, resulting in mistake fares.
Miscommunication – Communication problems between the airline and third-party sellers, such as comparison sites, can result in flight errors, like incorrect fares.
Foreign Currency Conversion – Airlines may post rates in the incorrect currency, which result in error fares. Paying 1000 Indian Rupees for a flight definitely is a fraction of the cost for paying 1000 US Dollars, for instance.
Route Fees – Depending on the flight itinerary, airlines may need to include fees in their fares, such as fuel surcharges. Rerouting or forgetting to include these fees can cause a ticket price to drop by mistake.
How To Find Airline Mistake Fares?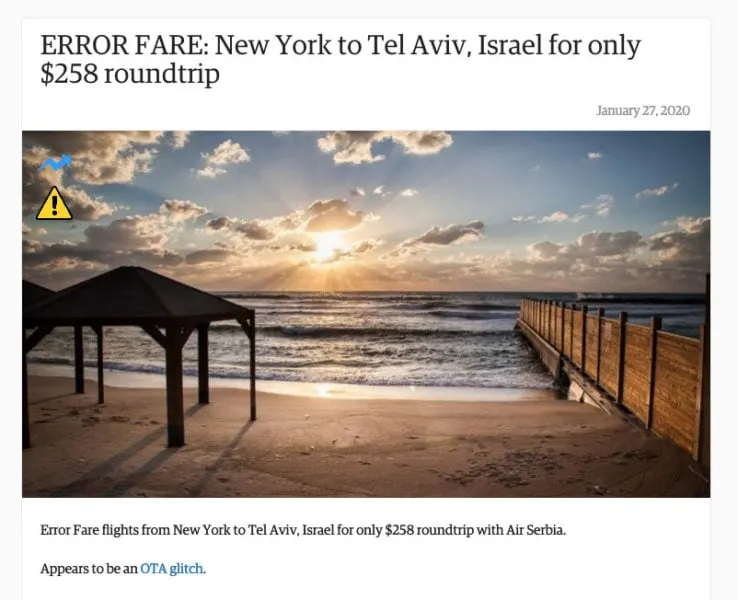 Error and mistake fares, while uncommon and unpredictable, still happen regularly enough to keep an eye out for them.
Special tracking sites can do this for you automatically — so you don't have to check flight prices manually (which would be crazy time-consuming).
You can sign up for mistake fare newsletters or follow the social media profiles of these tracker sites to get price alerts as soon as mistake fares happen.
Or, just check their website on a regular basis before planning a trip.
Taking advantage of mistake fares works best if you're flexible with WHERE you want to go on vacation.
For example, if you wanted to visit Venice, but find an awesome mistake fare deal for Iceland that would save you $500, are you willing to update your travel plans?
Best Mistake Fare Tracking Sites
Secret Flying
Secret Flying offers a free service to find flight and hotel deals. The Error Fare section lists current mistake fares for impressive savings. For example, a recent round-trip flight from Budapest, Hungary to Sao Paulo, Brazil mistakenly dropped to only 173 EUR.
Scott's Cheap Flights
Scott's Cheap Flights seeks out rare price drops and alerts you immediately. Those who travel often may want to invest in the Premium Subscription , which costs $49 per year, with special deals reserved for paying members only (I am one, and it's great!).
Fly4Free
Fly4Free regularly updates their page with the latest mistake fares on flights. Subscribe to their daily newsletter for updates, so you don't miss a good deal while it lasts.
TheFlightDeal
TheFlightDeal searches the web for some of the best deals on flights and other travel costs. Sign up for their newsletter to get mistake fares sent straight to your inbox, along with deals on credit card offers, hotels, and car rentals.
Airfare Watchdog
Airfare Watchdog will automatically send you alerts on the lowest flight prices and travel news. You can set up notifications linked to your favorite destinations by airport. On the website, search for deals on your next dream destination or browse through their list of current mistake fares.
Skyscanner
Skyscanner, my favorite flight comparison site, lists some of the lowest deals on flights. If you set up price alerts for your intended travel itinerary, Skyscanner will send notifications so you get good deals on flights and potential mistake fares.
Tips for Booking "Mistake Fare" Flights
Did you find a mistake fare for a fraction of the normal cost? Awesome. To lock in your lower rates, I suggest a few of the following tips:
Book Directly With The Airline
When you book with a third-party website, that travel site sends the booking to the airline for confirmation. Flight confirmation from the airline can take up to 24-hours, enough time for airlines to correct the mistake fare.
Booking directly with the airline cuts out the middleman and gives you a better chance of snagging that mistake fare flight deal.
Also, keep in mind that in the United States, passengers get a 24-hour cancellation period when booking directly with an airline. That gives you a little flexibility in case you change your mind about a flight.
Wait Before Booking Additional Travel Plans
Once you book your mistake fare, I suggest waiting a couple of weeks before booking any hotels or car rentals at the destination. You need to make sure that your sweet flight deal gets approved.
You'll receive an e-ticket number or 6-digit PNR code for your reservation.
Once you receive this confirmation, airlines are pretty much required to honor their ticket price, even if posted by mistake. Otherwise, they could suffer bad press and negative customer reviews.
Flying Doesn't Have To Be Expensive!
Error and mistake fares stand out as just one of the many ways to save money traveling. After 10 years exploring the world, I've discovered many ways to save on everything from hotels to day to day expenses.
[su_note note_color="#F7F7F7″ text_color="#333333″ radius="3″ class=""]
My Favorite Travel Tips
If you want to save more money on your next travel adventure, make sure to read my free ultimate guide to travel tips for beginners.
➜ Click Here For My Best Travel tips
[/su_note]
---
Enjoy This Article? Pin It!
---
READ MORE BUDGET TRAVEL TIPS
I hope you enjoyed my guide to mistake fare airline flights! Hopefully you found it useful. Here are a few more wanderlust-inducing articles that I recommend you read next:
Have any questions about booking mistake fares with airlines? What about other suggestions? Join the conversation on Facebook, Instagram, or Twitter to share!