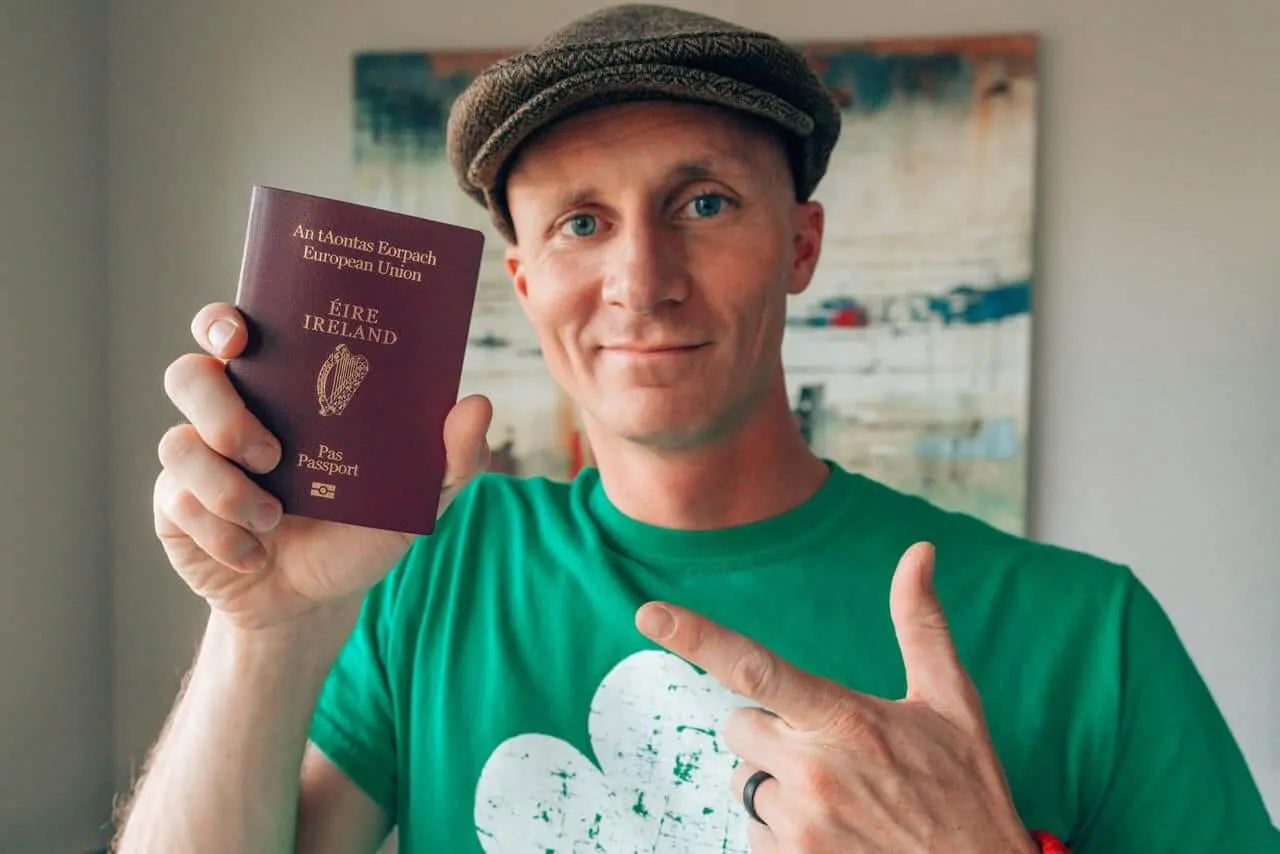 Nomadic Living
The Irish love to travel. For years, whenever I met someone from Ireland during my travel adventures, I'd proudly proclaim to them over a beer that "Hey, I'm Irish too!"
Apparently, I learned much later, the Irish hate this. Whoops!
But the United States is a country of immigrants, and most of us lack a truly long family history here. So we cling proudly to the heritage of our ancestors.
In my case, that would be Ireland — on both sides of the family.
I think we're subconsciously trying to anchor ourselves to places with more history & culture than our own young country has.
While I may not have been born in Ireland like my new Irish drinking buddies, I was just trying to start a conversation and find a way to relate.
However now, after a bit of work, it's official. I'm truly an Irish citizen!
How did that happen you ask? Well, I became an Irish Citizen by descent, and if you have Irish parents or grandparents, you can too.
The result is a 2nd (EU!) passport and all the benefits that entails. It's also particularly handy for digital nomads like me.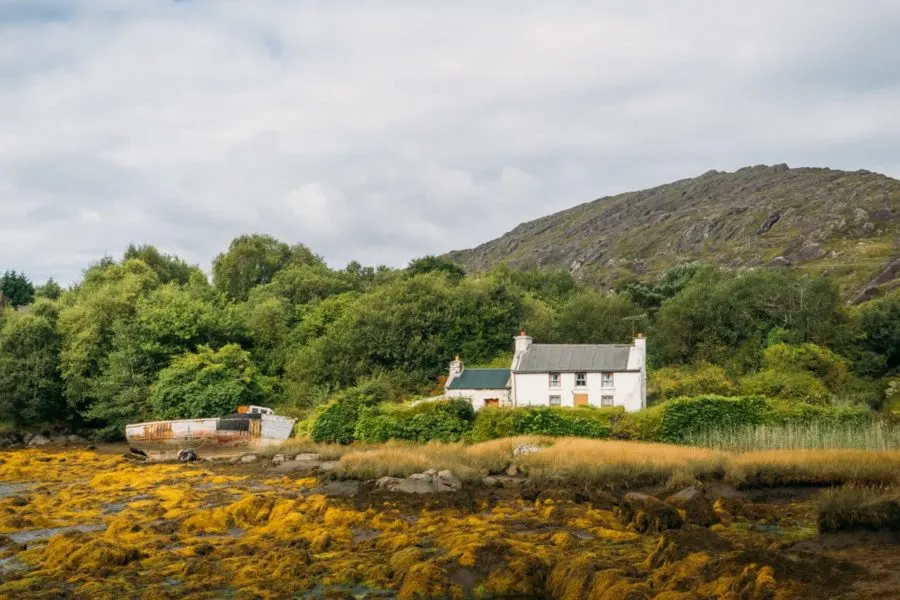 Irish Citizenship By Descent
There are something like 40 million people living with Irish heritage in the United States. I'm guessing many of them don't realize they might be eligible to become Irish citizens.
From 1820 to 1860, almost 2-million Irish immigrants made their way to America looking for a better life, and this mass migration has created a unique opportunity for Americans looking to gain Irish citizenship.
While most countries allow people to claim citizenship if their parents came from the country, Ireland goes several steps further.
Under the Irish Nationality and Citizenship Act of 1956, people born outside Ireland can claim citizenship, if their parents were born in Ireland, but ALSO if a grandparent was born there.
So if you're an American (or any nationality really) with an Irish grandparent, you have the right to claim Irish citizenship under this law.
This was my case. My Grandmother on my Father's side was born in Ireland, and immigrated to New York in 1930.
In some cases, a great-grandparent will work too. But only if your parent applied for their own FBR (foreign birth registration) before your birth.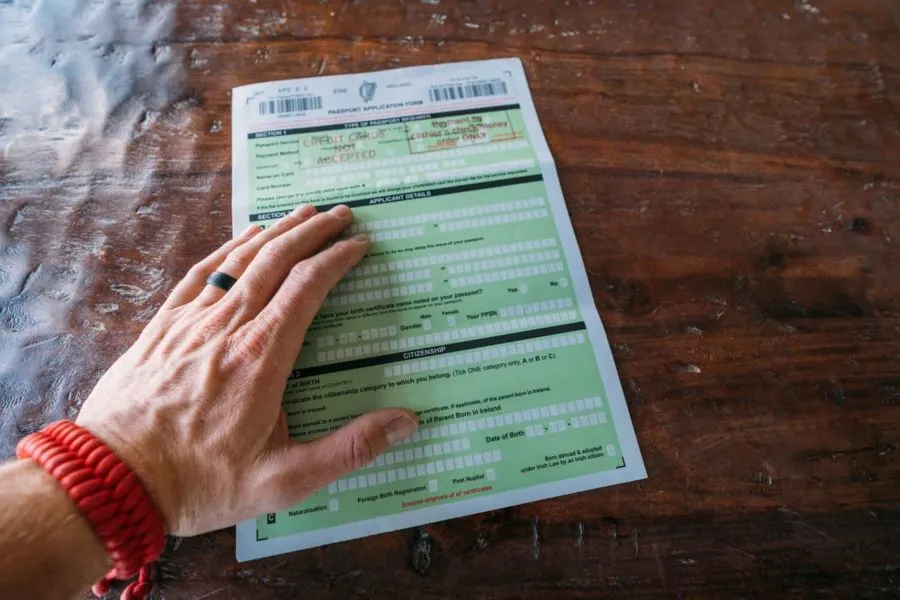 How To Apply For Irish Citizenship
If your parents were born in Ireland, you are automatically entitled to citizenship. But if you're applying because a grandparent came from Ireland, you have to establish proof of lineage with documentation.
I've covered the basics below, but for official instructions from the Irish Embassy, click here.
STEP 1: Collect Your Documents
ORIGINAL Birth Certificate of your grandparent
ORIGINAL Marriage Certificate of your grandparent
ORIGINAL Death Certificate of your grandparent (if applicable)
ORIGINAL Divorce Certificate of your grandparent (if applicable)
ORIGINAL Birth Certificate of your parent
ORIGINAL Marriage Certificate of your parent
ORIGINAL Death Certificate of your parent (if applicable)
ORIGINAL Divorce Certificate of your parent (if applicable)
COPY of parent's passport/ID (must be notarized)
COPY of your passport/ID (must be notarized)
Your ORIGINAL birth certificate
Your ORIGINAL marriage certificate (if applicable)
Your ORIGINAL divorce papers (if applicable)
(3) ORIGINAL documents showing Proof of Current Residence (utility bills, bank statements, lease) You don't need to live in Ireland.
(2) Passport Photos (must be signed by your witness)
Collecting all these original documents requires the most work out of this entire process. You may have to track down relatives who have them, or order new ones from the proper officials.
Baptismal Certificate Workaround
For me, locating an ORIGINAL Birth Certificate for my deceased Grandmother was the most difficult part. Because she never had one!
During the early 1900's, many children in Ireland never received official birth certificates, especially in more rural areas. Because doing so required traveling to the nearest big city (something not every family could do easily).
Instead, local churches recorded births with Baptismal Certificates. My Grandmother was one of these, being born in a small coastal village to a family of fishermen.
In this instance, you can still apply for citizenship, but you must first search for your grandparent's birth certificate through the General Registrar's Office anyway.
You'll receive a letter back saying they couldn't find it.
Finally, forward this "we can't find one" letter along with an original copy of the church baptismal certificate (with church stamp) when you send in your application and all your documents.
STEP 2: The Application
Once you have all your lineage documents ready, fill out the online citizenship application.
When finished, the application is submitted to the Irish government electronically. You'll also get a PDF version that you must print out and sign, which will be mailed in with all those documents you collected earlier.
But you won't mail everything in until after the next step…
STEP 3: Find A Professional Witness
You'll need a legal witness to help you complete the whole application process. They must fill out Section E of the application, sign your passport photos, witness you sign the application, and provide their professional contact information (business card) for follow up later.
There are only a few types of people who can be your legal witness:
Clergy/Priest
Police Officer
Lawyer
Medical Doctor
School Principal
Judge
Bank Manager
In my case, a police officer who's a family friend acted as my legal witness. However your primary care physician or local bank manager should be easy to convince too. It's not too difficult. It just can't be a family member. I've also been told recently that an official Notary will work too.
STEP 4: Mail Everything To Ireland
This can be a bit nerve-wracking. You're going to mail a bunch of personal, sensitive, original documents overseas to Dublin.
I recommend sending everything via FedEx, with tracking, just to be safe. It's not cheap, but you don't want that stuff getting lost in the mail!
Don't worry, once the whole citizenship process is complete, the Irish Government will send all those precious original documents back to you.
STEP 5: Apply For An Irish Passport
Once your Irish citizenship application is approved, you'll eventually receive an official Irish Foreign Birth Registration (FBR) in the mail.
Congratulations, you're Irish! Go have a Guinness to celebrate!
You'll need your new Foreign Birth Registration document to apply for an Irish Passport, which is a separate step.
The actual Irish passport application must be mailed to you from the nearest Irish consulate (you can't download them online).
Fill out the passport application.
Have a legal witness watch you sign it.
Provide 4 passport photos (2 signed by the same witness)
Include your ORIGINAL (American) Birth Certificate
Include your new IRISH Foreign Birth Registration
Include a COPY of your Passport/ID
Include (1) Proof Of Residency document (utility bills, bank statements, lease)
Pay Application Fee via Cashiers Check or Money Order
Mail Everything to the nearest Irish Consulate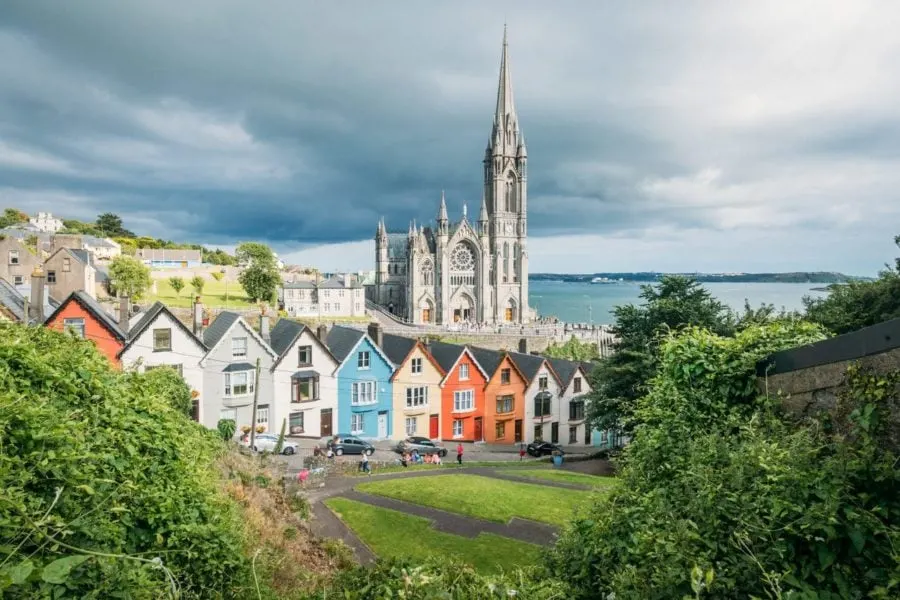 How Much Did Everything Cost?
Obtain Original Documents: $150 USD (varies depending on your needs)
Citizenship Application Fee: €287 Euros ($337 USD)
FedEx Everything To Dublin: $60 USD
Irish Passport Application: $125 USD
TOTAL COST:

$672 USD
How Long Did Getting Citizenship Take?
After first applying for Irish Citizenship, I received my Foreign Birth Registration document in the mail 5 months later. This was even after I was asked to fix part of the application (it needed a more recent signature).
Most reports online say it takes 5-6 months for this step.
Once I applied for my Irish Passport, it was an additional 4 months before that showed up at my door.
So the total process from start to finish took about 9-months, not including the time needed to track down any required family documents, like original birth/death/marriage certificates.
Irish Genealogy Services
Need help getting information about your Irish ancestors? Unable to track down the official paperwork needed from your family to become an Irish citizen? There are companies out there that will help you with this, like Eneclann.
Citizenship In Other Countries?
Ireland is not the only country with an ancestry law like this. While it may be one of the easiest 2nd citizenship's to obtain — Italy, Spain, and Portugal have similar laws on the books.
So if you have grandparents from any of those countries, I'd recommend doing more research and look into the requirements. You may still have a chance of snagging an elusive and coveted EU passport!
Just keep in mind that some countries do not allow DUAL citizenship like Ireland does, meaning that while you may be able to become a citizen of another country through ancestry, you might be required to give up your American citizenship in return.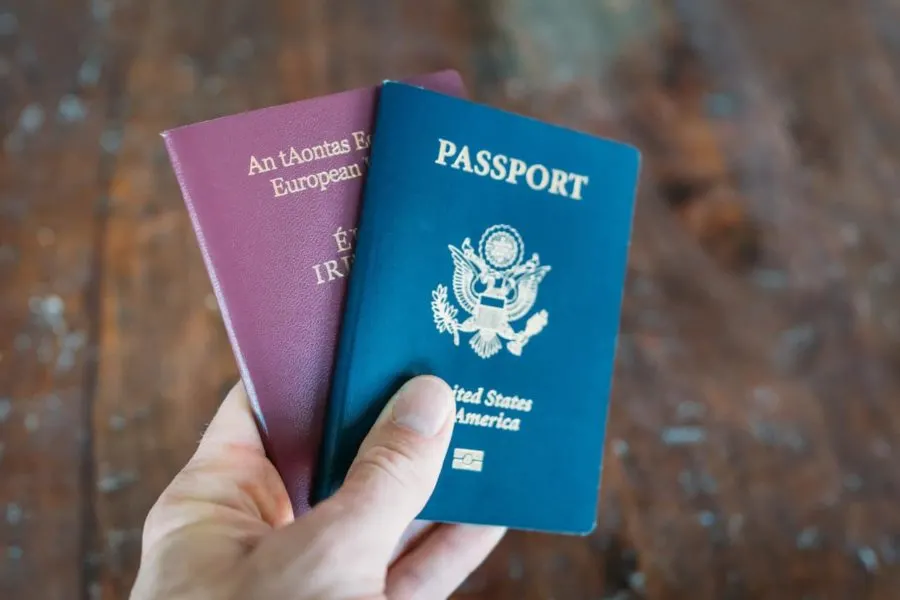 The Benefits Of Dual Citizenship
So why go through all this trouble to obtain a 2nd citizenship? Is having two passports even legal? These are questions I've been asked a few times now.
Yes, owning two passports is legal in most countries, including Ireland & the United States. However it depends on the country.
Dual citizenship has always been a dream of mine, mainly because it opens up your options. I mean, who doesn't want more opportunities in life?
It gives you additional freedom for travel and international living.
Freedom To Live In EU
The Republic of Ireland is a member of the European Union, and under EU rules, anybody with citizenship in one country is allowed to visit, settle, and work in other EU countries, without restrictions.
Ireland has a long, relatively peaceful history. It remained neutral during WW2, keeps out of global politics, and is one of the most relaxed places to live, should I ever choose to move there.
It has cheap universal health care (along with other EU countries), no mandatory military service, some of the lowest corporate tax laws in Europe, a friendly population, and a beautiful countryside.
Generally I try to keep this blog free of politics. But after the election of Trump, the Brexit vote, and a rising trend of nationalism worldwide, I don't mind admitting that it's nice to have the option of living in the EU.
I'm not the only one taking advantage of this Irish law. There's about 10 million non-resident Irish passport holders out there.
More people than ever are applying for Irish Citizenship too, especially after what's been happening in the United States and the United Kingdom.
It's Freaking Cool!
Yeah, I have two passports. Just like Jason Bourne and James Bond. How fun is that!? Where do I sign-up for my secret agent watch & Aston Martin DB5?
I'm proud of my Irish heritage too. Ireland is an amazing country, with fun traditions and a fascinating history. My family and I had a wonderful time tracing our roots in County Cork & visiting my grandmother's old house.
As an Irish citizen, I can pass this privilege on down to my kids one day, and they can pass it on to their kids. Who knows what our world will look like then.
Dual citizenship also helps me get one step closer to becoming a Citizen Of The World, someone who thinks & acts beyond borders. True freedom.
Travel Benefits
As a professional travel writer & photographer, having the option to travel on two different passports has perks too. Irish citizens get visa-free access to 175 countries, and Ireland's passport is one of the most powerful in the world.
For example, it's easier to visit some countries (Cuba, Iran, Bolivia) as an Irish citizen than it is as an American citizen.
Basically, dual citizenship from Ireland has some pretty unique benefits.
Many people spend years and tens of thousands of dollars trying to become EU citizens, so if you have the privileged option to do it in 9-months for $700, I highly recommend you take advantage of the opportunity!
You have nothing to lose, and everything to gain.
Now I just need to work on my Irish accent… Sláinte! ♧
Enjoy This Article? Pin It!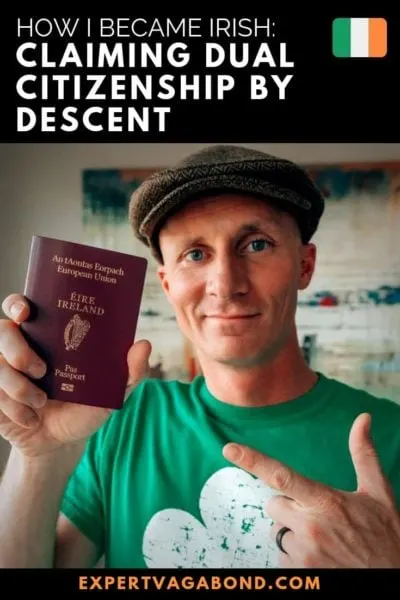 ---
READ MORE IRELAND TRAVEL TIPS
I hope you enjoyed my guide on claiming dual citizenship by descent! Hopefully you found it useful. Here are a few more wanderlust-inducing articles that I recommend you read next:
---
Any questions about obtaining Irish citizenship by descent? What's your opinion of dual citizenship? Join the conversation on Facebook, Instagram, or Twitter to share!