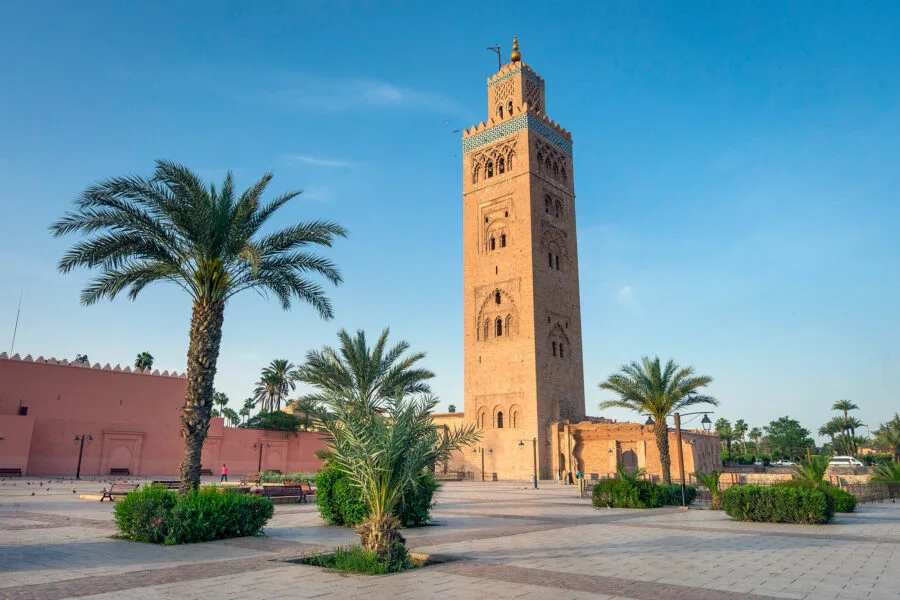 Marrakesh, Morocco
Marrakesh is a beautiful city in Morocco. The "Rose City" or "Red City" offers visitors an enchanting taste of old world charm and opulence. Here are some of the best things to do in Marrakesh.
Many travelers who visit Morocco spend at least a few days in Marrakesh, before moving on to other parts of the country. And there's a lot to see in the city.
Marrakesh (sometimes spelled Marrakech) is without a doubt one of the most exciting destinations in Northern Africa. The city has been an important trading hub for centuries and inside the walled Old City Medina, you'll find a maze of lively markets and a myriad of busy alleyways – a true feast for the senses.
There are smells, colors, flavors, sounds and textures to be devoured, and even though the hectic heart of the city can feel both enticing and overwhelming at the same time, there are places where you'll be able to enjoy moments of calm, such as the riad hotels, and several parks.
The city's bustling souks, theatrical street vendors, and mesmerizing performers are attractions in itself, but don't ignore the palaces, the mosques, and the food – here are my top picks for the best things to do in Marrakesh.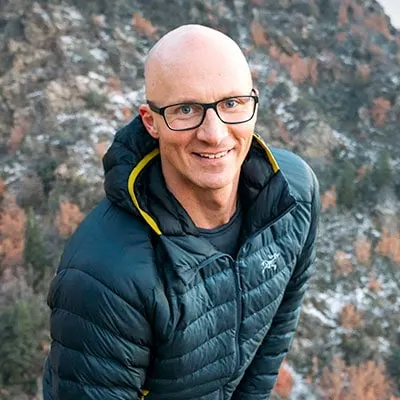 Hi, I'm Matthew Karsten
I've been traveling the world for 10+ years as a professional photographer & writer. I hope you enjoy my Marrakesh tips! If you find them useful, using my affiliate links to book something will give me a small commission, at no extra cost to you. Thanks!
Marrakesh Morocco Travel Guide
1. Exploring The Souks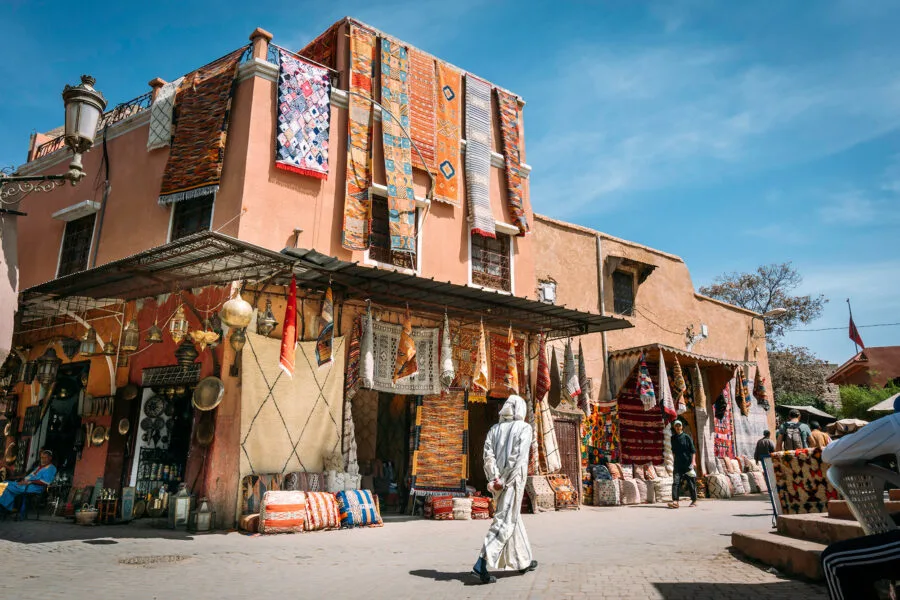 The Medina, Marrakesh's walled Old Town, is the most popular tourist attraction in Marrakesh: a labyrinth of small alleyways lined with shops (called souks) that sell anything from fruits and vegetables to Berber rugs and furniture.
You can spend hours wandering the streets here, and I recommend taking your time: soak up the smells, marvel at the old buildings, shop for souvenirs, and finish your visit with a tea in one of the rooftop cafes to take in the hustle and bustle from a different perspective.
The main souks, markets, are all located in the Medina, and are arranged according to the kind of product they're selling. Souk Semmarine is the main area of the market, which means it gets the most tourists.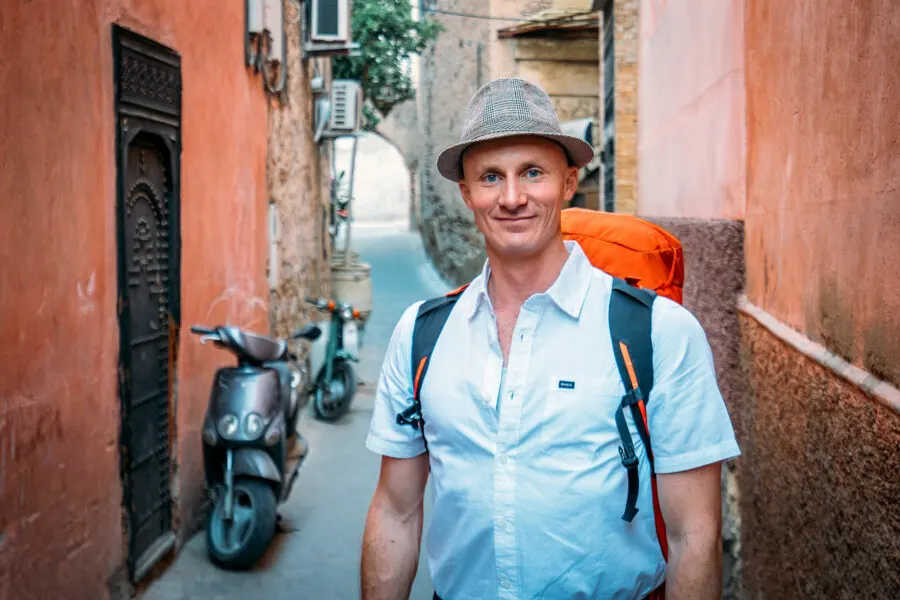 Go further away and you'll be able to get away from the crowds. There are over 3,000 market stalls and the endless maze of market streets can feel intense, but don't worry too much about getting lost and just enjoy the spectacle that Marrakesh's markets are.
However, if the thought of getting lost in the alleyways and the vast souks stresses you out, I recommend booking a tour. That way you won't get lost, and you also know that you won't miss any of the must-see places inside the Medina.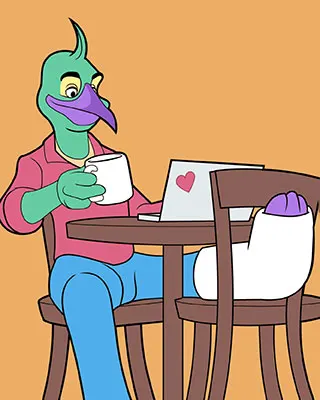 Get Travel Insurance
Protect yourself from injury, illness, or theft. SafetyWing offers affordable travel insurance on your vacation!
2. Jemaa el-Fnaa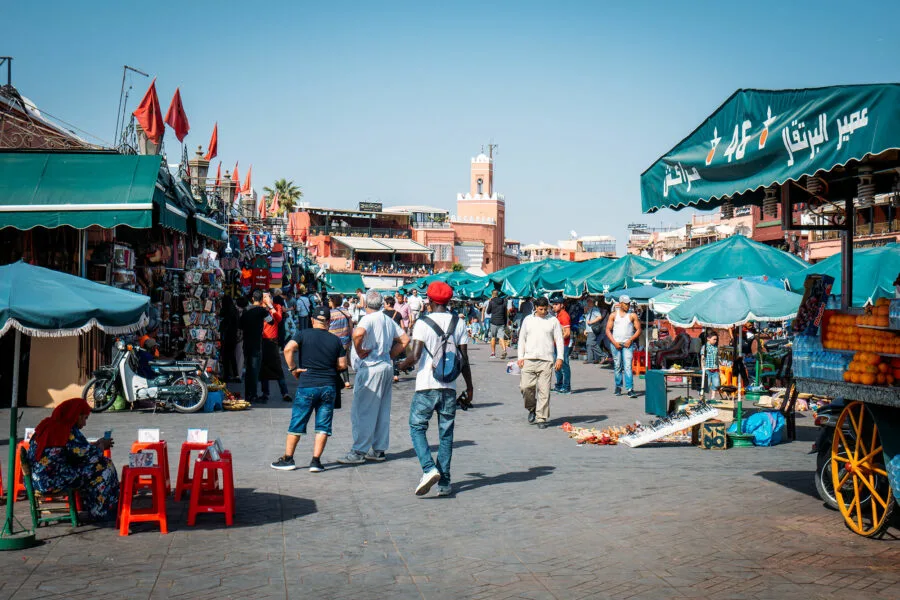 Jemaa el-Fnaa is the main square in Marrakesh's Medina. No matter what time of day or night you come here, there's street theater non-stop. From street food stalls to street performers and musicians, the square has always a show going on – especially at night!
Apparently, the market on this square is the busiest market in all of Africa and UNESCO recognized Jemaa el-Fnaa as World Heritage in 2001. In fact, it inspired UNESCO to create a whole new category: "Masterpieces of the Oral and Intangible Heritage of Humanity."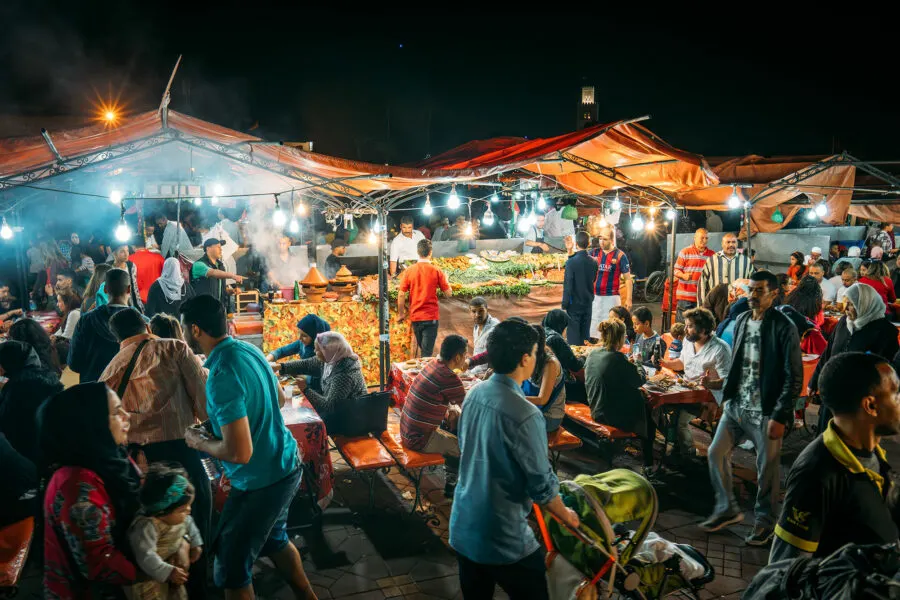 It is worth visiting Jemaa el-Fnaa during the day and then come back at night, because the entire atmosphere of the square changes depending on the time of day: During the day, it is much less crowded and less exciting, but you can take in the square itself. At night, Jemaa el-Fnaa really comes to life, and you can enjoy the performances of entertainers and musicians.
USEFUL TIP: Be aware of pickpockets in the Medina – always make sure your belongings are safe. Don't have any valuables on you, such as your passport. This is especially important if you go at night when the square gets very crowded.
3. Koutoubia Mosque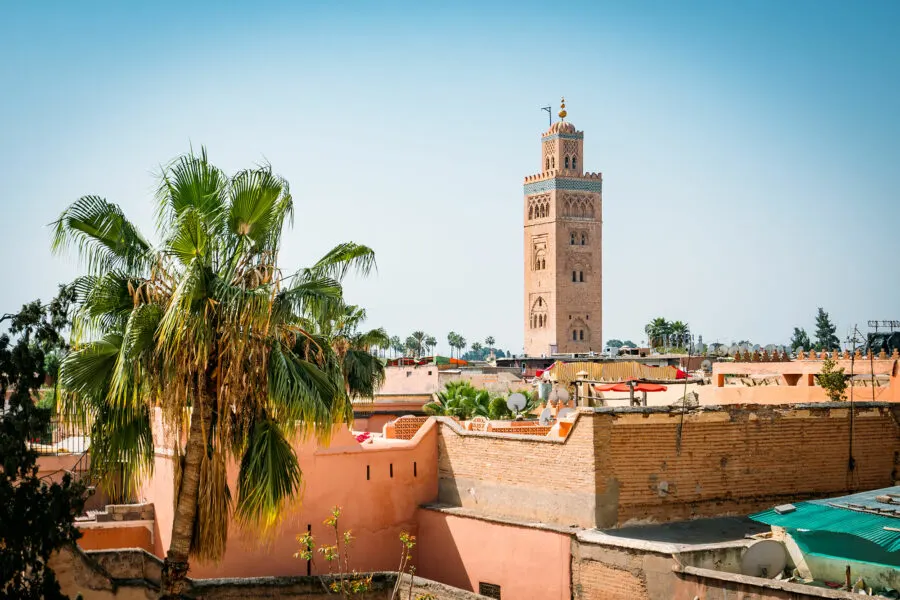 Koutoubia Mosque is the largest mosque in Marrakech, and even if you don't want to visit the mosque, it is impossible not to notice it while you're in town.
Koutoubia is Marrakech's most famous landmark, and the mosque's 250-feet (76 meters) high minaret towers above all the other buildings in the city. You also won't be able to escape the call to prayer: the muezzin calls the faithful five times a day.
Non-Muslims are not allowed to visit the inside of the mosque, but the outside of the building and the grounds are worth visiting for the spectacular Almohad architecture.
USEFUL TIP: Don't miss the gardens behind the mosque! Koutoubia Gardens is a lovely park and welcome retreat from the packed Medina. From the gardens, you also have a great view of the minaret.
4. Stay In A Traditional Riad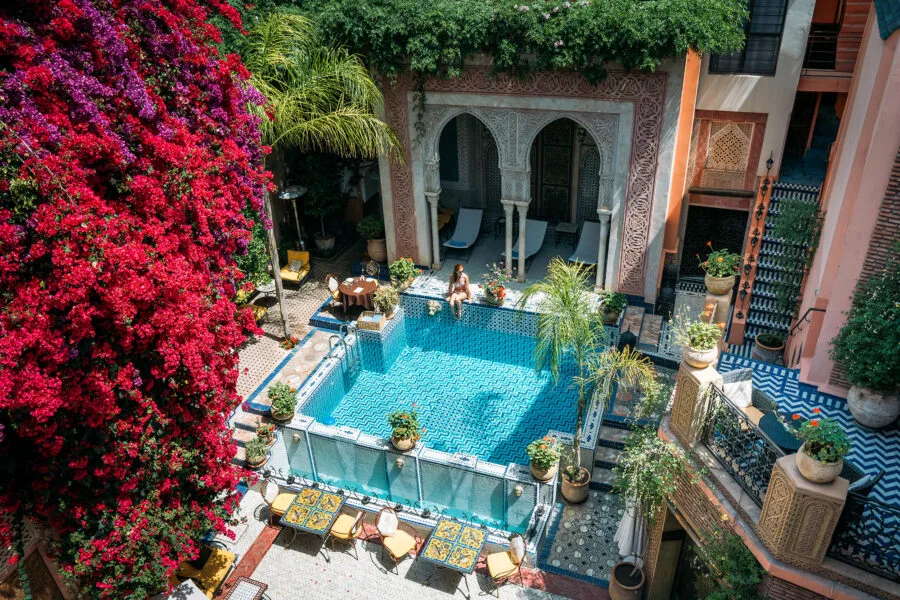 Staying in a riad, a traditional Moroccan guesthouse, is an unforgettable experience – it allows you to take in all the extraordinary details of Moroccan architecture.
A riad is a mansion that is typically set around a small swimming pool in a courtyard filled with plants – a tranquil oasis in this bustling city. The ambience of the riads with their ornate decorations and the traditional architecture is completely unique!
These are six of the best-rated riad hotels in Marrakech:
Riad Palais Sebban – Stunning riad with a beautiful pool. This is where we stayed.
Riad Sultan Suleiman – Double rooms starting at US$77 per night
Riad Janate & Spa – Double rooms starting at US$94 per night
Riad l'Oiseau du Paradis – Double rooms starting at US$124 per night
Dar Dama – Deluxe Suite from US$118 per night
Riad Melhoun & Spa – from US$154 per night
If you're traveling on a budget, check out the Rodamon Riad hostel (Dorm beds start at US$20)

5. Eat Traditional Moroccan Food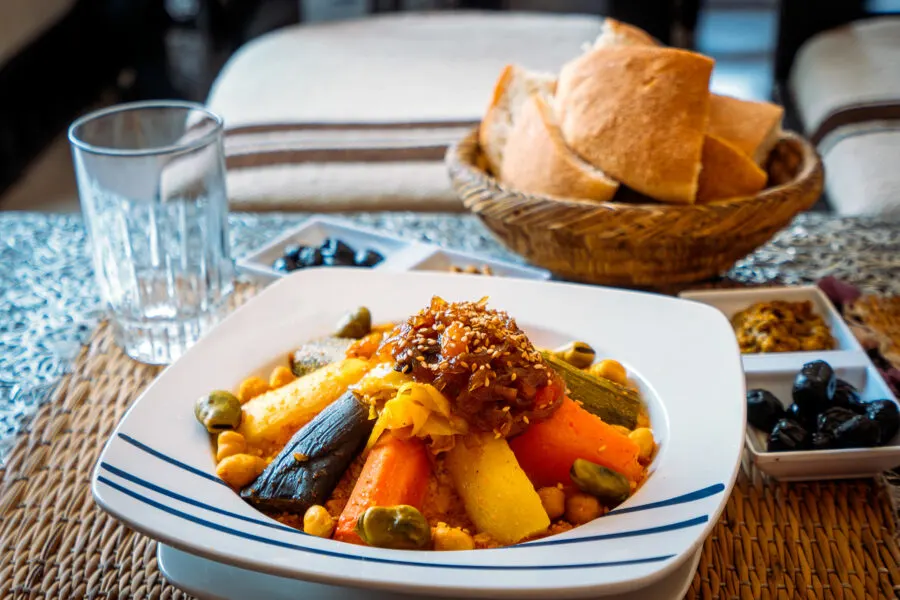 Moroccan cuisine is influenced by Berber, Jewish, Arab, Mediterranean and French cultures with hints of European and sub-Saharan influences. Moroccan food has savory, sweet, and sour flavors and is uniquely seasoned with a multitude of spices.
Try to eat as many traditional Moroccan dishes as possible while you're in Marrakesh – the obligatory ones are:
Tangia (a traditional dish in Marrakech: slow-cooked lamb is placed in a clay pot with lemon, garlic and saffron and then cooked in charcoal – not to be confused with tagine)
Tagine (a slow-cooked savory stew typically made with lamb, chicken or fish together with vegetables, often also nuts and dried fruit, cooked and served in the clay or ceramic pot it is named after)
Couscous (a processed grain derived from durum wheat semolina, served with vegetables and meat)
Bastilla (Moroccan chicken pie: saffron chicken, a spicy omelet stuffing and crunchy fried seasoned almonds are layered within a crispy pastry shell)
Taktouka (a zesty puree of tomatoes and green pepper)
Zaalouk (a dip made with eggplant, fresh tomatoes, garlic, olive oil, and spices like cumin, paprika, parsley and fresh cilantro)
Shakshouka (a popular Mediterranean breakfast dish for which eggs are cooked in a tomato sauce with peppers, garlic, onions, olive oil, and spices)
Harira (a tomato-based soup with lentils and chickpeas)
Fish Chermoula (a herb sauce used to marinate grilled fish)
Marrakech has hundreds of restaurants and trying to find the best ones can feel like a daunting task. Here are a few places that are worth eating at:
For the best slow-cooked lamb, head to Mechoui Alley, where local families roast mechoui – whole lamb or mutton – in an underground oven for four to six hours. You won't get a more authentic lamb experience than this in Marrakech.
Café des Épices, right on the edge of Rahba Kedima Square is a great place for a Moroccan breakfast.
For Tajine, visit Atay Café (62 Rue Amsafah) where you can try chicken, kefta (meatball) or lamb tajine. They also have a vegan tajine and vegan couscous. Café Clock (224 Derb Chtouka) is also a fantastic place to try traditional Moroccan dishes.
Nomad (1 Derb Aarjane) is a popular rooftop restaurant that has scrumptious Moroccan food, including tajine, lamb, fish and a vegetarian platter.
As for drinks: Moroccan mint tea is ubiquitous in Marrakech, and I guarantee that even non-tea drinkers will enjoy a delicious cup of it. The terrace of Café De France (Rue des Banques), which overlooks Jemaa el-Fnaa, is a great place to enjoy a cup of mint tea.
USEFUL TIP: For a more hands-on Moroccan food experience, join a cooking class!
You can learn how to make tajine with a local, which includes a visit to the market to source all the ingredients: Tagine Cookery Class With a Local
Hosts Khmisa and Kawtar show you how to make a broader range of Moroccan dishes that includes a market visit: Traditional Moroccan Cooking Class & Market Visit
If you don't want to get your hands dirty but still want to experience authentic Moroccan food, consider this street food tour: Street Food Tour by Night
6. Visit A Tannery (at your own risk)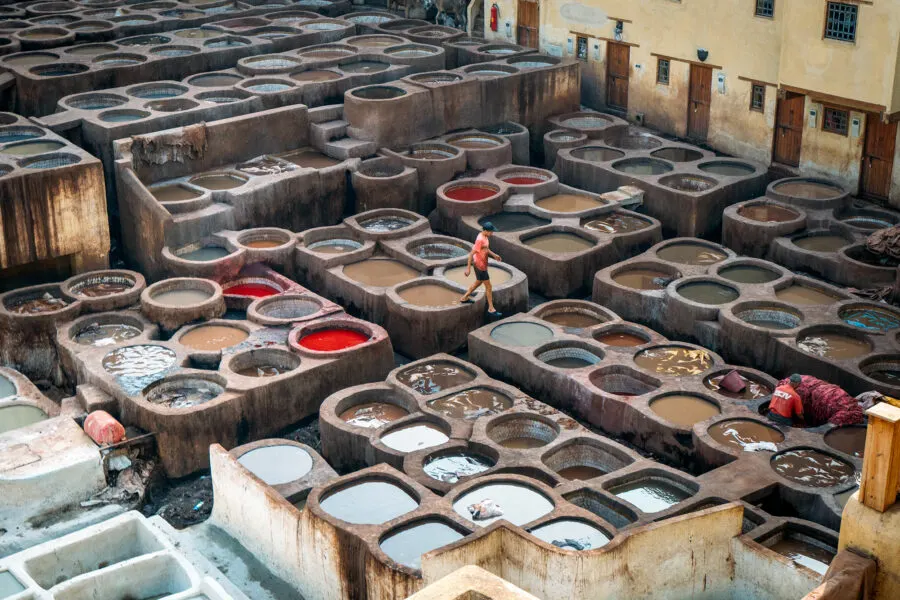 Bab Debbagh is the part of Marrakech where you find many tanneries. Leather tanning is one of Morocco's oldest crafts and watching the leather-makers in action will make you appreciate any leather goods you may buy there even more.
The leather is treated and dyed the old-fashioned way here, and the colorful tannery pools are a fascinating sight. I recommend visiting the tanneries early in the morning when most of the work is done. The best photos are from the rooftops of the shops surrounding it.
Of course, you can also buy leather goods here, from bags and jackets to leather poufs and traditional babouches (Moroccan slippers). Be prepared to use your haggling skills here.
IMPORTANT: Do not try to visit the tanneries on your own. Many people are scammed and/or harassed by fake local "guides" who try to extort way too much money from unsuspecting tourists. The area can be a bit dangerous too, and easy to get lost in. If you want to visit this area of the city, arrange for an official group or private tour with your hotel in advance.

7. Dar El Bacha Palace (Musee Des Confluences)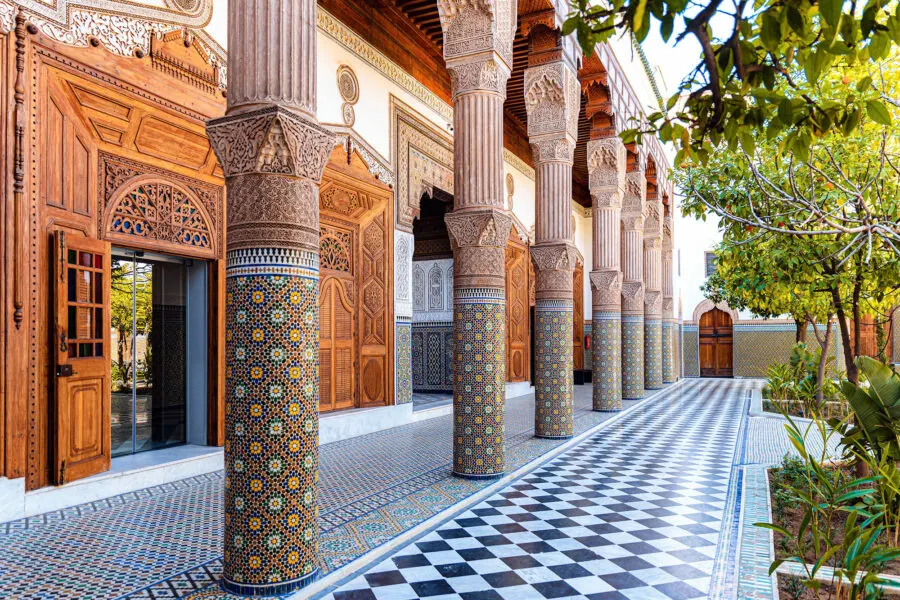 Dar El Bacha Palace is one of the best places to see some of the most beautiful riad architecture with incredible Zellige tiles, the geometric tile-work unique to Morocco.
Dar El Bacha was built in the early 20th century for Thami El Glaoui, who was the Pasha Of Marrakesh from 1912 to 1956. The palace is worth visiting it for the extraordinary interior design, the Moorish decorations, and the symmetrical courtyard. In addition to the interesting architecture, the palace also offers regularly changing art exhibitions and a well-preserved Hammam (Moroccan bathhouse).
If you're a coffee lover, make sure to stop at the swanky coffee house that is part of the palace: Bacha Coffee. It is on the pricier side, but the gorgeous interior as well as the specialty coffees and French baked goods are well worth the splurge. (The opening times are the same as for the museum).
Address: Rue Lalla Fatima Zahra
Opening times: 10am – 6pm; closed on Tuesdays
Admission: Adults pay Dh60 (around US$6); free for children.
8. Bahia Palace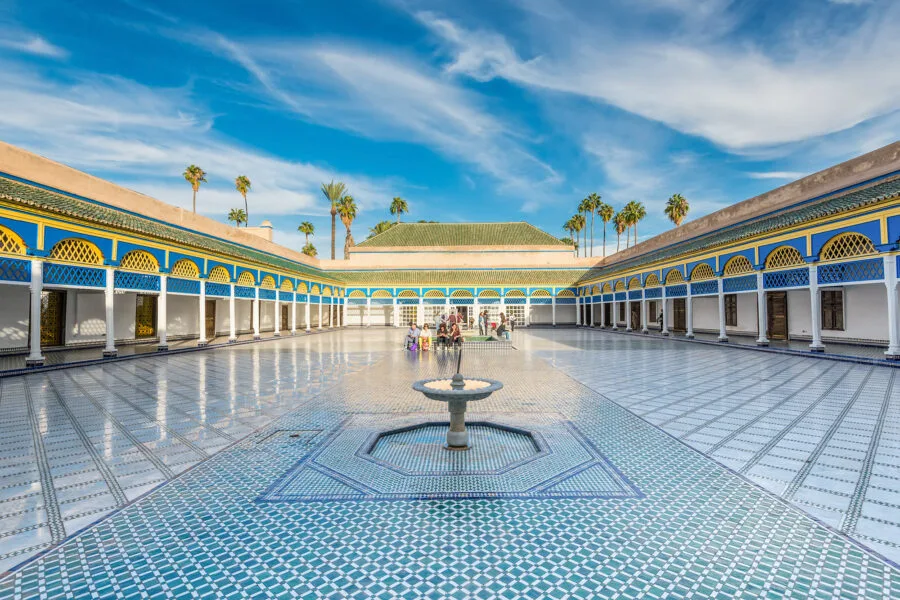 Bahia Palace is another palace where you can see some of Morocco's finest architecture, with Moorish and Andalusian influences.
The palace, which was built in the 1860s, has 150 rooms and several courtyards with marble floors, lined with orange trees and pretty fountains. Throughout the palace, there is impressive tile art, there are mosaics, muqarnas, arabesques and stucco carved with Arabic inscriptions.
If you're smitten by the architecture in Morocco, then definitely don't miss Bahia Palace – especially since it almost free to visit! Make sure to arrive early though; it can get crowded later in the day.
The blue colors of the tile here reminded me of another of my favorite Moroccan cities, the blue city of Chefchouen.
Location: Rue Riad Zitoun el Jdid
Opening times: Open daily from 9am – 5pm.
Admission: Dh10 (around US$1)

9. Badii Palace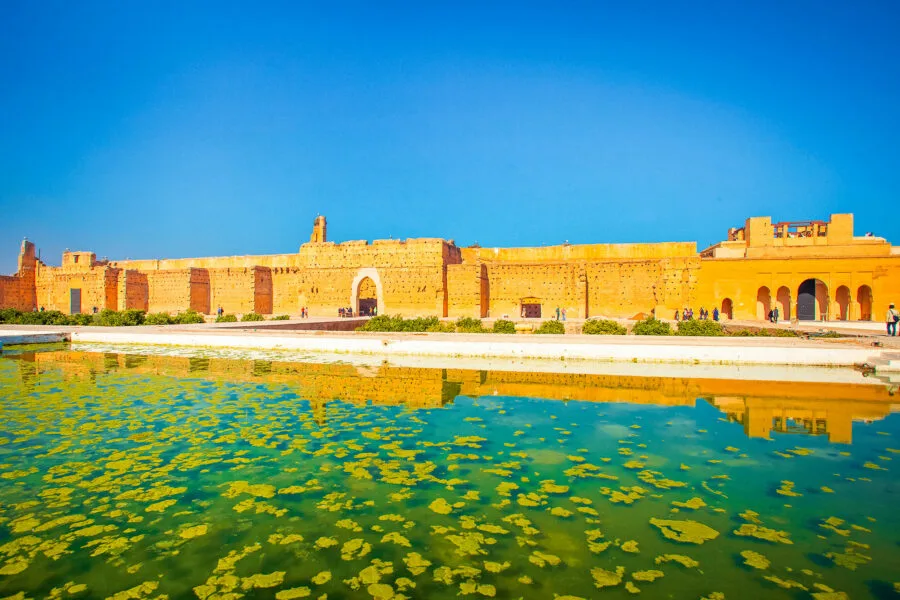 The third great palace in Marrakech is Badii Palace (full name El Badii-Ksibat Nhass Palace), which was built in the 1570s. The name translates to "The Incomparable Palace" and that is exactly what this palace was — once a dazzling palace with more than 350 luxurious rooms, today only the sandstone shell of the palace remains.
There are a few noteworthy intact features that make visiting the ruins worthwhile nonetheless: The four sunken orange orchards with the (empty) reflection pool, floor mosaics in some rooms, and several artifacts and original pieces of art.
USEFUL TIP: You can climb on top of some of the ruined walls for beautiful panoramic views of Marrakech city.
Location: Ksibat Nhass
Opening Hours: Open from 9am – 5pm. CLOSED on Saturdays.
Admission Cost: Dh10 (around US$1)
10. Saadian Tombs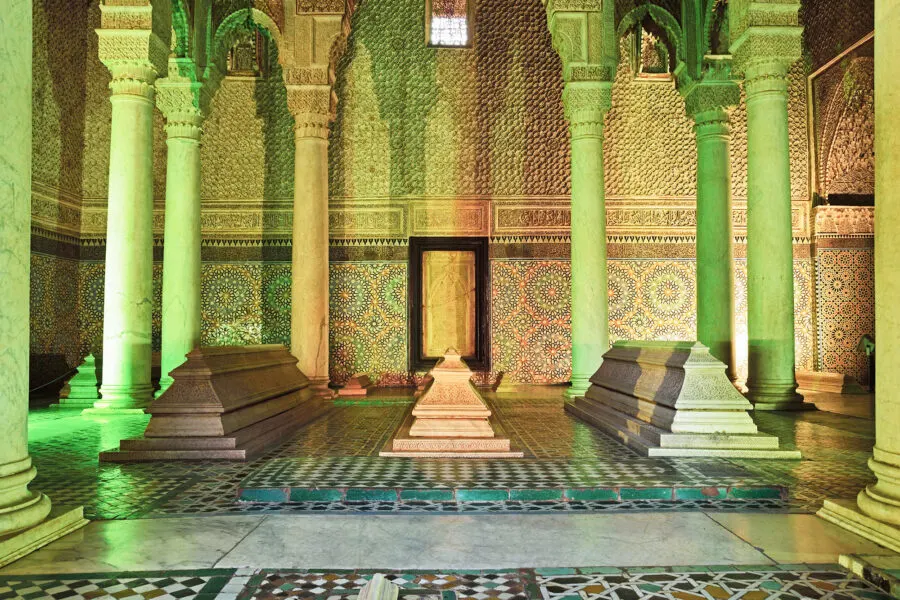 The Saadian Tombs are a royal necropolis that was created during the Saadian dynasty in the 16th century and comprises of around 170 mausoleums and tombs.
Ahmed el-Mansour, who ruled from 1578 to 1603, built the most lavish of the mausoleums: the Hall of Twelve Columns, which is his very own mausoleum. In total, 66 princes and other notable figures are buried here, plus more than one hundred chancellors and their wives.
You will see some of the finest classic Moroccan architecture and intricate details in the design, such as Italian Carrara marble, ornate wood carvings, beautiful tile mosaics, domed ceilings and gilding honeycomb plaster-work decorated with gold.
Location: The Saadian Tombs are located along Rue de la Kasbah on the south side of the Kasbah Mosque (not far from El Badi Palace).
Opening Hours: Monday to Sunday from 9am -5pm.
Admission Cost: Dh70 (around US$7)
USEFUL TIP: There is a combined tour of the Bahia & Badii Palaces as well as the Saadian Tombs with Skip-the-Line Tickets.
11. Jardin Majorelle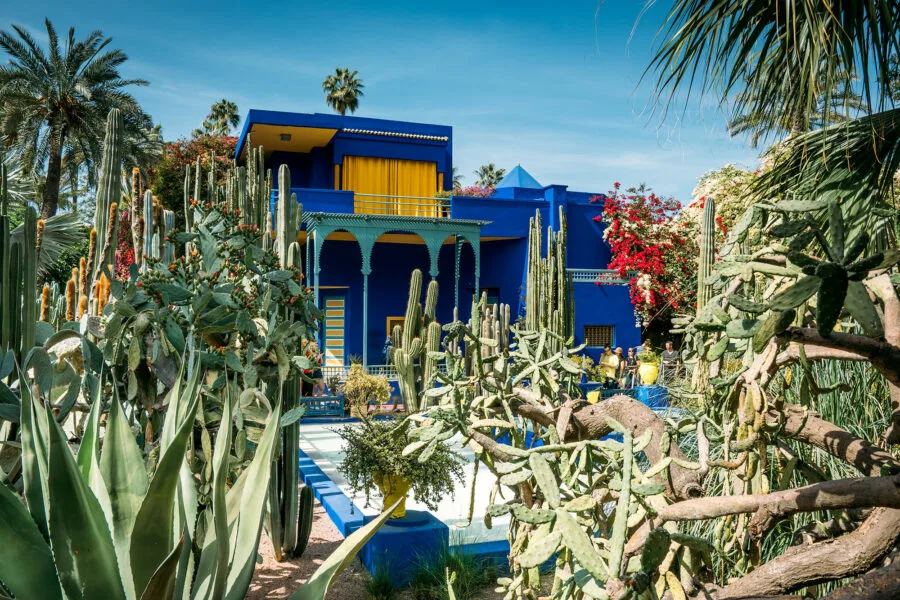 Jardin Majorelle are the most colorful gardens in Marrakech, set around a stunning, bright blue building and home to a variety of plants such as cacti, palm trees and bamboos. The gardens were created by French painter Jaques Majorelle and were later co-owned by fashion designer Yves Saint Laurent and his business partner Pierre Bergé.
In addition to all the beautiful plants and flowers, you'll get to admire Moorish-style archways, colorful tile art, fountains and pools.
There is also a small museum that outlines YSL's connection with Marrakech (his ashes were scattered in the rose garden at Jardin Majorelle when he died in 2008), worth checking out if have an interest in haute couture fashion.
Fun fact: The shade of blue the house is painted in was invented by Jaques Majorelle and is known as "Majorelle Blue". Allow about an hour to visit the gardens, or at least 90 minutes if you also want to check out the YSL museum.
Location: The Jardin Majorelle is located on Rue Yves St Laurent
Opening Hours: Open daily from 8am – 6.30pm.
Admission Cost: Dh70 (around US$7). The museum is an additional Dh30 (US$3).
12. Ben Youssef Madrasa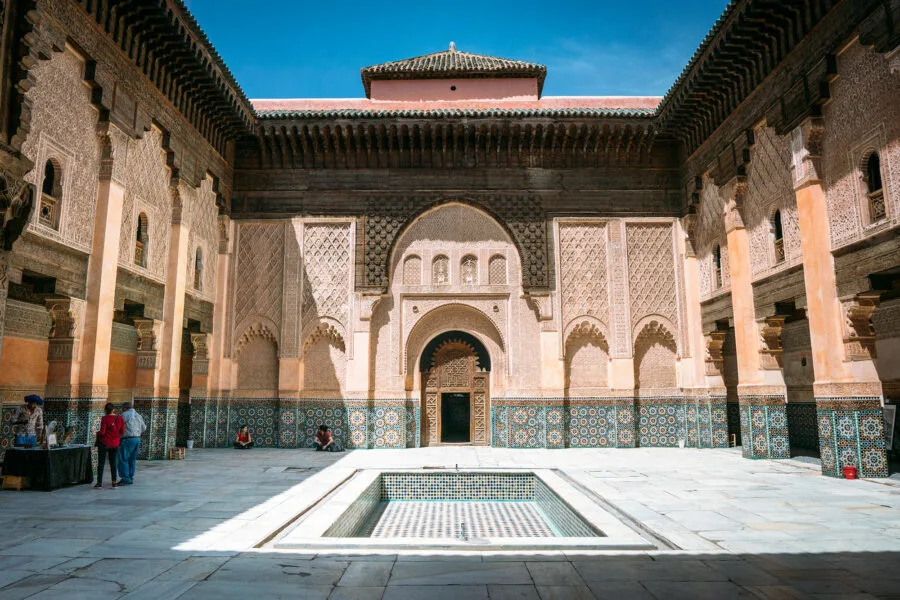 Ben Youssef Madrasa was built in the 14th century and used to be the largest Islamic college in all of Morocco with room for 900 students. Today it is a historical site that is visited for the stunning architecture and Islamic design – it is one of the most beautiful buildings in all of Morocco!
The artistry of the former school is incredible: a stunning marble-tiled patio with a reflection pool, remarkable mosaic tilework, stuccoes, latticed balconies, and a grand bronze doorway. Most of these ornate details were added during the Saadian dynasty, making it the most extravagant Islamic college in Northern Africa.
Allow about one hour for your visit.
Location: Rue Assouel
Opening Hours: Open daily from 9am – 6pm.
Admission Cost: Dh50 (around US$5).
13. Heritage Museum Marrakesh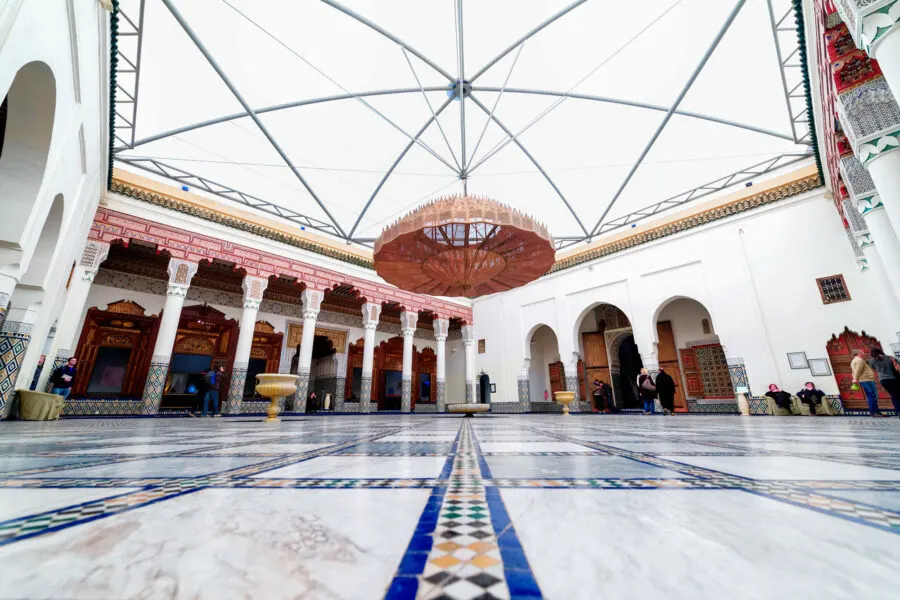 The small Heritage Museum (Musée de Marrakech) in the heart of the Medina, just a short walk from Jemaa el-Fnaa, is housed inside a 17th century riad and showcases Moroccan antique artifacts collected by the Alouani Bibi family. The collection includes many fascinating items, from jewelry to traditional Berber costumes.
Tip: There is a café on the rooftop which has fantastic views over the Medina – the Heritage Museum is worth visiting for those views alone!
Location: 25 Zinkat Rahba
Opening Hours: Open daily from 9am – 6pm.
Admission Cost: Dh50 (around US$5) for adults / Dh20 (around US$2) for children
14. Le Jardin Secret
Le Jardin Secret, which translates to Secret Garden, is a garden inside a small Riad right in the Medina. The origins of the gardens date back to the Saadian dynasty, more than 400 years ago!
The garden is a traditional Islamic Garden, so expect to see beautiful Moroccan architecture and tile art. The garden is much larger than you'd think and feels like a hidden oasis right in the Medina: the perfect place to escape the noise and the crowds for a while, and to enjoy the tranquility of the gardens.
In addition to the garden, there is a small museum, a shop and two cafes. The tower of the complex is the second highest tower in Marrakesh (after the minaret of Koutoubia Mosque) which means you'll have amazing views – you can see the Atlas Mountains on a clear day. If you're looking for a great spot to take photos from Marrakech from above, it is worth to pay the additional 30 Dirham (US$3) to climb to the top of the tower.
Location: 121 Rue Mouassine
Opening Hours: Open daily, between March and September from 9.30am – 7.30pm. Between February and October from 9.30am – 6.30pm.
Admission Cost: Dh80 (around US$8) for adults / free for children under 6

15. Visit A Hammam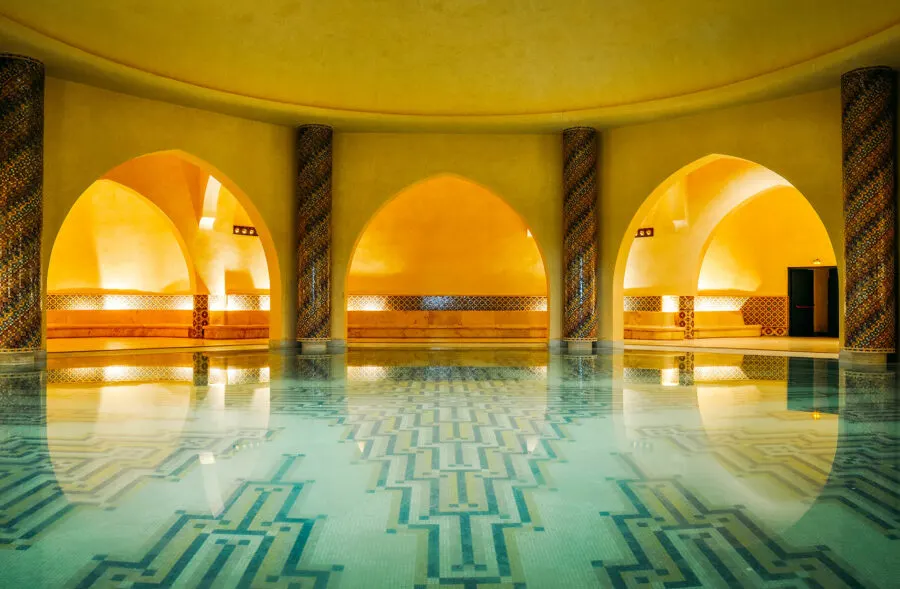 Visiting a Hammam – a Moroccan bathhouse – is a quintessential Moroccan experience and if you enjoy spas, you will not want to skip a Hammam visit. The Berbers have perfected their way of cleaning a body for thousands of years: you'll get a nice scrub-down and your skin and hair are treated with beauty products containing Moroccan argan oil and Moroccan black soap.
You can also get a massage but be aware that Moroccan massages involve a lot more scrubbing than your regular massage.
The antique hammams themselves are worth visiting for the simplistic architecture alone: a high dome, star-shaped vents and stone-paved or marble steam rooms.
Hammam Dar el-Bacha is the largest public hammam in Marrakech, but there are countless hammams in Marrakech, many of which cater to tourists.
Location: 20 Rue Lalla Fatima Zahra
Opening Hours: Open daily, separate entrance times for men and women. Men enter from 7am to 1pm; women enter between 1pm and 9pm.
Admission Cost: Dh10 (around US$1)
Additional Hammams in Marrakech
Royal Mansour (Rue Abou Abbas El Sebti) – owned by the King of Morocco
Hammam Mouassine (Rue Sidi el Yamani) – the oldest hammam in Marrakesh
Hammam de la Rose (Route Sidi Abdelaziz) – beautiful, elaborately decorated spa
La Mamounia Spa (Avenue Bab Jdid) – a posh hammam in a 5-star hotel
Les Bains de Marrakech (2 Derb Sedra)
Hammam Rosa Bonheur's (35 Derb El aarssa)
Le Bain Bleu (32 Derb Chorfa Lakbir)
Heritage Spa (40 Arset Aouzal Rd)
Price: Most hammams in the Old City cost between USD $10 – USD $30.

READ MORE MOROCCO TRAVEL TIPS
I hope you enjoyed my guide on what to do in Marrakesh, Morocco! Hopefully you found it useful. Here are a few more wanderlust-inducing articles that I recommend you read next:
---
Have any questions about things to do in Marrakesh? What about other suggestions? Join the conversation on Facebook, Instagram, or Twitter to share!