Flying Travel Tips
Everyone wants to save money when they travel, and flying can be expensive. Here's how I use budget airlines & low-cost carriers to score cheap flights around the world!
I'm always looking to save money when I travel, and I travel a lot. Booking the cheapest flights with budget airlines is a good way to accomplish this.
Most people book tickets with the airlines that they know best — Delta, United, British Airways, etc. Partly due to all the expensive marketing they do.
But there are many low-cost airlines that offer great flight deals too.
Budget carriers are able to provide cheaper tickets to many destinations around the world because they save money in other ways — for example by restricting free luggage allowances or meals & drinks on their flights.
They cut out some of the extra perks (while still maintaining high safety standards), in order to make their prices more competitive with the big airlines.
Some budget airlines are pretty bad, but others can be awesome!
I frequently use budget airlines to help save money while flying, and wanted to share some of my favorites with you for different popular destinations.
Budget Airlines Guide For 2020
Flying From United States To Europe
Norwegian Air
Norwegian Air has been voted the world's best long-haul, low-cost airline 5 years in a row by the SkyTrax World Airline Awards. And there's a good reason. Norwegian flies to over 100 destinations in Europe from a dozen different major cities in the United States. And they do it for cheap, too.
While they charge for checked baggage, they are one of the few budget airlines that offers a free personal item and carry-on bag. Another great reason to fly them is their fleet of modern aircraft like the comfy 787 Boeing Dreamliner.
EXAMPLE AIRFARE
NEW YORK CITY (JFK) – ROME (FCO) for $429 roundtrip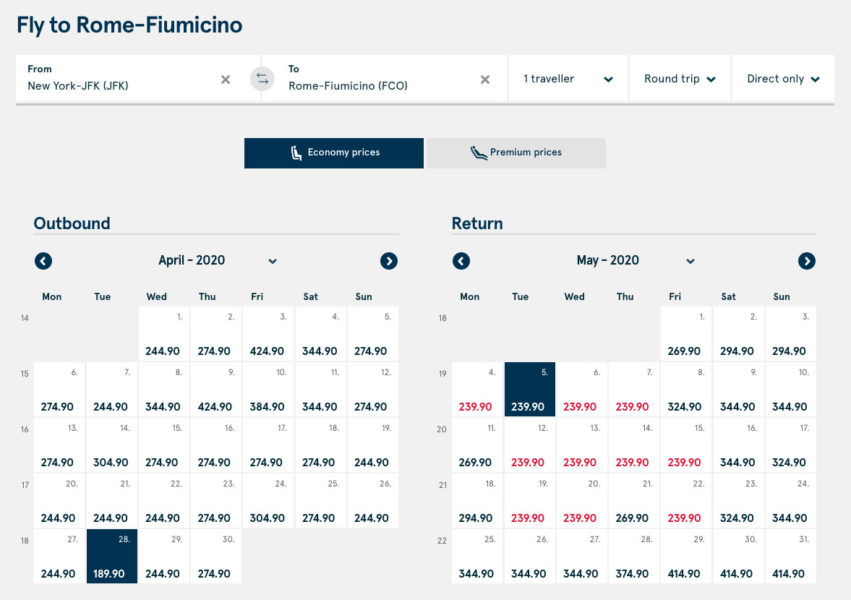 Other Budget Airlines In Europe
From US To Latin America & Caribbean
JetBlue Airlines
JetBlue doesn't just fly in the United States, they fly to 3 destinations in South America as well as all over the Caribbean and Central America. And unlike other low-cost budget airlines, they also provide economy passengers with free snacks, drinks, wifi, and in-flight entertainment.
They're definitely one of my favorite budget carriers to fly with — especially if you're close to one of their major airport hubs like New York, Ft Lauderdale, Boston, Long Beach, or Orlando.
EXAMPLE AIRFARE
FT LAUDERDALE (FFL) – QUITO, ECUADOR (UIO) for $299 roundtrip

Other Budget Airlines In Latin America
Flying From The United States To Asia
AirAsia X
Air Asia X flies from Honolulu to nearly 30 destinations around Asia, plus many connections at other popular destinations like Los Angeles. If you're going to be spending some time in Southeast Asia, it's a wonderful choice to fly cheaply. They charge extra for checked baggage and food, but they do offer a free carry-on bag.
EXAMPLE AIRFARE
LOS ANGELES (LAX) – BANGKOK, THAILAND (BKK) for $451 roundtrip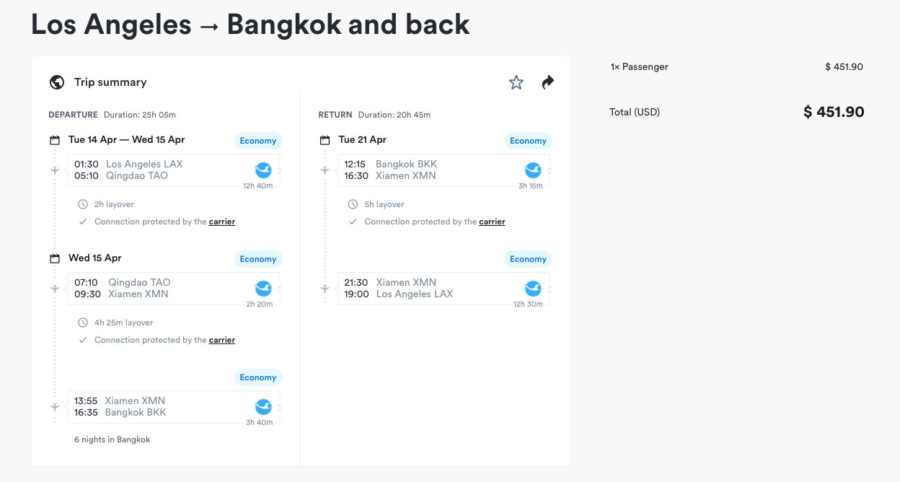 Other Budget Airlines In Asia
Flying From United States To Canada
Air Canada Rouge
Air Canada Rouge flies from many different US destinations to over 60 Canadian cities, plus a few international stops in Europe, Asia, and South America. It's basically a stripped down version of the larger Air Canada brand. They don't provide free in-flight entertainment (but you can rent an ipad). A checked bag will cost you $30, and a meal starts at $6.
EXAMPLE AIRFARE
NEW YORK CITY (LGA) – TORONTO, CANADA (YYZ) for $256 roundtrip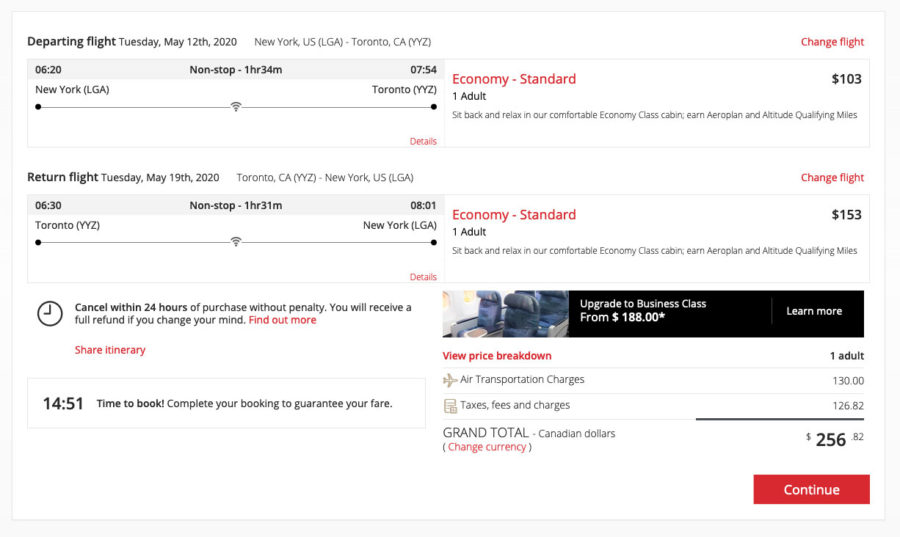 Other Budget Airlines In Canada
Top Budget Airlines In Africa
Flying Domestically Within The United States
Southwest Airlines
Southwest Airlines is the largest low-cost carrier in the world, and my favorite budget airline for traveling domestically within the United States. Not only are their flights super affordable, they offer TWO free checked bags standard (including golf bags and sports equipment), and some of the funniest flight attendants in the business!
EXAMPLE AIRFARE
NEW YORK CITY (LGA) – DENVER (DEN) for $168 roundtrip

Other Budget Airlines In The US
Tips For Flying With Budget Airlines
1. Budget Airlines Are Safe
While flying with a low-cost carrier will leave you without many of the perks of the larger airlines, what they don't skimp on is safety. In fact, many budget airlines have better safety records! Except Indonesia's Lion Air. Maybe skip them…
2. You'll Pay For Luggage
Always check the exact baggage allowance when flying a budget airline. You'll almost always pay extra for a checked bag, and frequently for a carry-on bag too. That means weighing your bags with a portable luggage scale, because unlike major airlines, they almost ALWAYS weigh every bag (and maybe you!). Check if it's cheaper to pay for your bags in advance too.
3. You'll Pay For Food
While some unicorn budget airlines offer free food (JetBlue FTW!), most don't. That means if you want to eat, you'll be paying extra. So either budget that into the cost of your flight, or plan to pack your own meal and snacks for the trip. Personally, this doesn't bother me too much because I prefer to bring my own food anyway. Airline food sucks!
4. The Airplane Interior Is Basic
Another way budget airlines save money is by keeping the interior of their planes pretty basic. Harder, less comfy seats. Possibly no in-seat entertainment system. Maybe less legroom. That's not always the case (Norwegian planes are awesome!) but it often can be. You get what you pay for after all.
5. Inconvenient Airports
One dirty little secret of flying budget airlines is that some of them use "alternative" airports that are located outside major cities. For example, Beauvais Airport is about 1.5 hours away from Paris, compared to the main international airport of Orly. Keep this in mind, and double check how far away the airport is and how much ground transportation is going to cost.
6. There Are Many Budget Airlines!
While I've listed my favorite budget airlines here, it's hardly all of them. If you really want to save money, you can research fares on every single one with the helpful Wikipedia guide organized by country. There's a lot!
Happy Flying!
So there you go, a quick guide to booking flights with low-cost airlines in order to save some money on your next trip. I hope you score a great deal, and if you do, feel free to let me know in the comments below!
[su_box title="Travel Planning Resources" style="noise" box_color="#333333″ title_color="#FFFFFF" radius="3″ class="resource-box"]
Packing Guide
Check out my travel gear guide to help you start packing for your trip.
Book Your Flight
Ready to fly? Here's how I find the cheapest airline flights.
Rent A Car
Discover Cars is a great site for comparing car prices to find a deal.
Cheap Accommodation
Learn how I save money booking hotels & vacation apartments.
Protect Your Trip
Don't forget travel insurance! Protect yourself from possible injury & theft abroad. Read why you should always carry travel insurance.
[/su_box]
Enjoy This Post? Pin It!
[su_row class=""]
[su_column size="1/2″ center="no" class=""]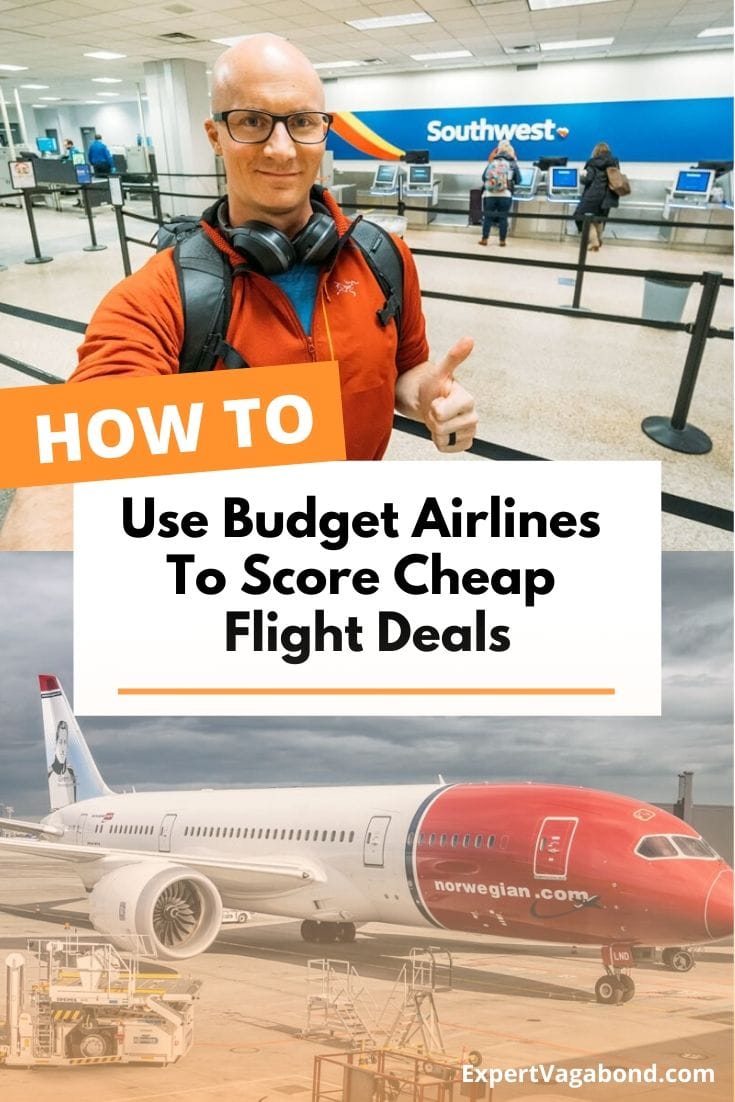 [/su_column]
[su_column size="1/2″ center="no" class=""]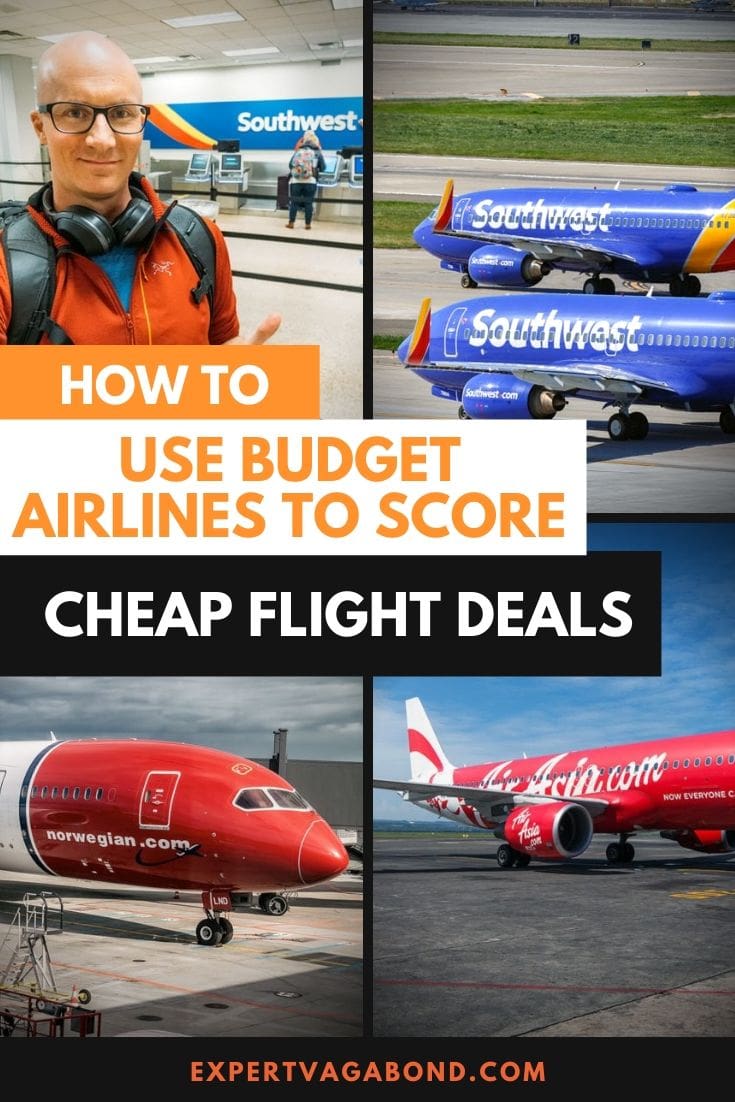 [/su_column]
[/su_row]
READ MORE BUDGET TRAVEL TIPS
I hope you enjoyed my guide to flying budget airlines! Hopefully you found it useful. Here are a few more wanderlust-inducing articles that I recommend you read next:
Have any questions about booking flights with budget airlines? Do you have any favorites? Let me know in the comments below!