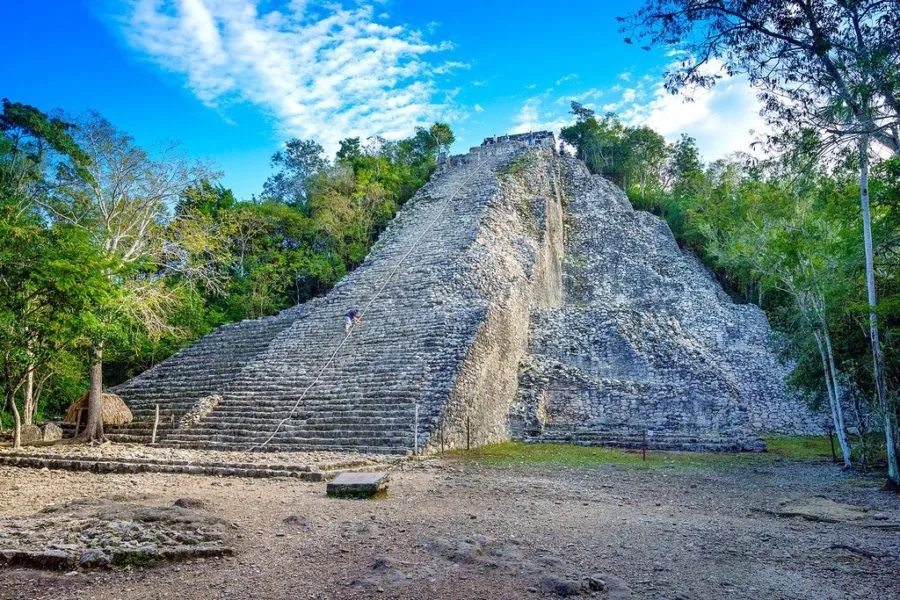 Coba, Mexico
From the top of Coba's ancient pyramid, the jungle looks like a living green carpet. The Mayan Ruins of Coba are one of my favorite archaeological sites in Mexico's Yucatan.
Archaeologists believe the Mayan ruins of Coba were an incredibly important city for the Maya people. The name itself means "waters stirred by the wind."
Due to Coba's remote location, the site is not as popular with tourists as other famous Mayan ruins in Mexico.
But there are many reasons to visit the City of White Roads.
Because Coba doesn't see as much tourism as places like Chichen Itza or the ruins of Tulum, so you can actually still climb some of the structures for a totally different and unique perspective. It's super fun!
Mexico Travel Restrictions 2023
Mexico has removed all COVID-19 entry requirements, including for Americans. It's the perfect time to visit the Yucatan Peninsula and Coba!
You can find the latest updates on traveling to Mexico here.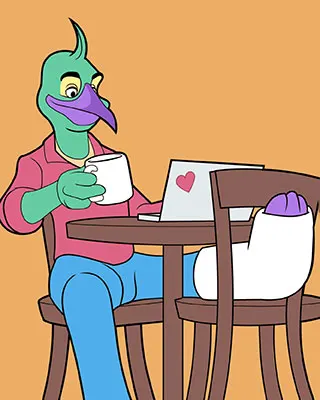 Get Travel Insurance
Protect yourself from injury, illness, or theft. SafetyWing offers affordable travel insurance that covers COVID-19 too!
Coba Mayan Ruins Travel Guide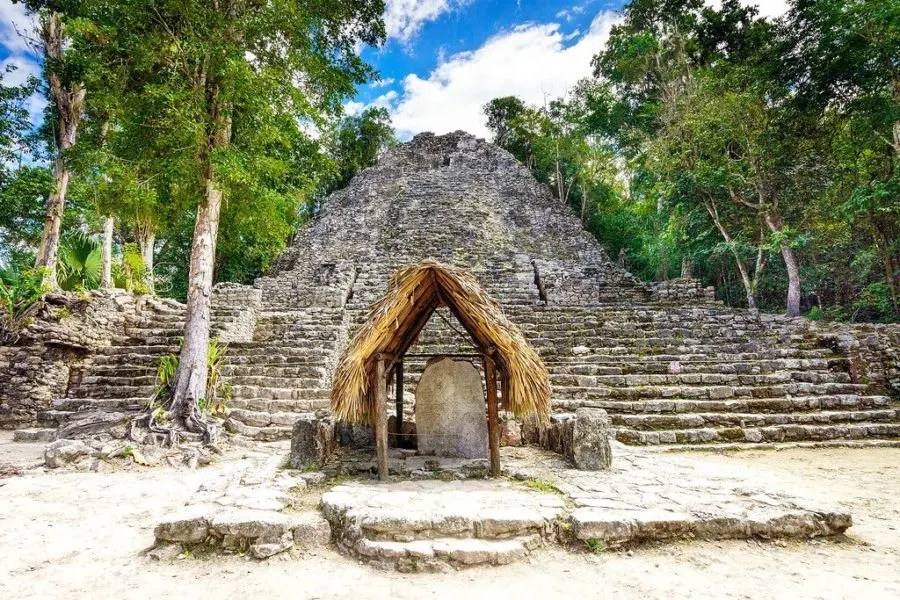 Coba's claim to fame is the largest network of stone causeways in the ancient Mayan world, called sacbes (white roads). Over 50 of these roads have been discovered at the site, with 16 of them open to the public.
The raised stone pathways connect clusters of residential areas to the main pyramid area of Nohoch Mul and small lakes used as a water supply nearby.
There are three ways to explore the ruins along these roads.
You can walk, hire a bici taxi, or my personal favorite, rent a bicycle.
Mysteriously no one really knows how the Maya transported goods along these roads. While scientists believe the Maya knew about the existence of the wheel, there's no evidence they actually used them.
One of my favorite reasons to visit Coba is that it isn't as excavated as other sites in Mexico, so you feel like you're wandering through a forest, with many structures still covered in trees.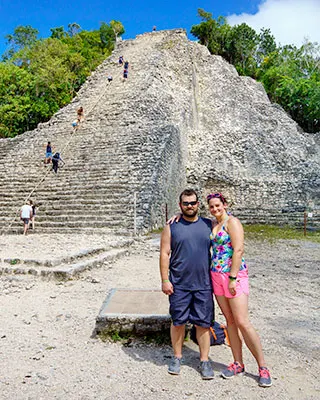 Coba Guided Tour
Explore two of Mexico's famous Mayan sites, Coba & Tulum, on a guided tour with lunch and cenote swimming.
Coba Opening Hours & Entry Fees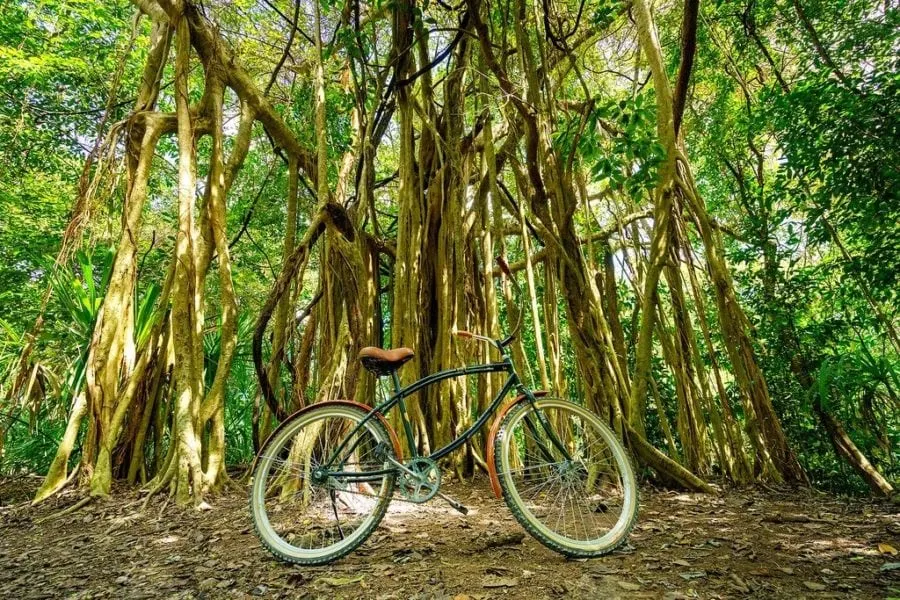 The ruins of Coba are open daily from 8am to 5pm. However remember that the drive to the ruins takes about 45 minutes from the town of Tulum, or 1.5 hours from Playa del Carmen. Also, they stop letting people into the ruins around 4:30pm.
Coba Entrance Fee: 80 MXN ($4 USD)
Coba Parking Fee: 50 MXN ($2.50 USD)
You can see the official tourist website for Coba here.
Climbing The Pyramid At Coba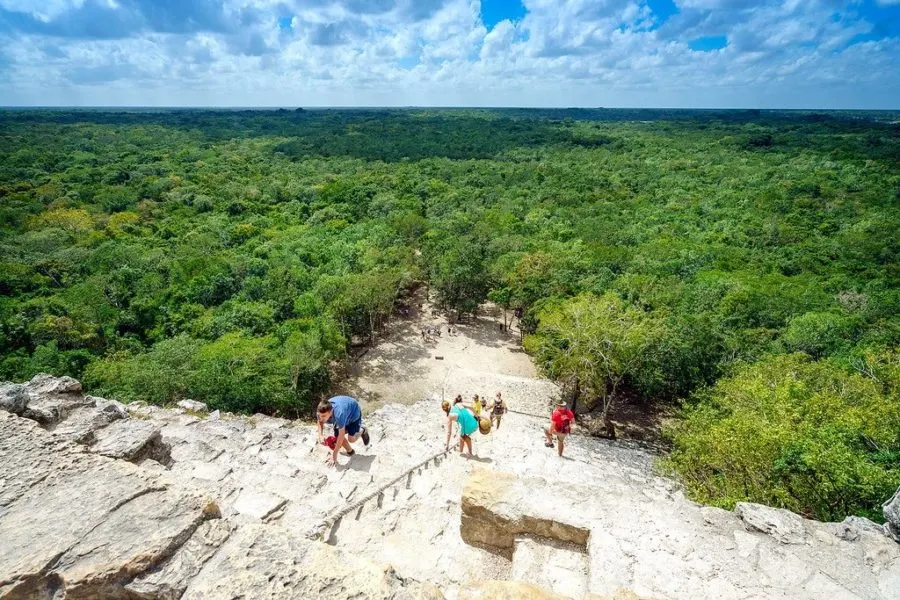 The largest pyramid at Coba is called Ixmoja, part of the Nohoch Mul group of buildings. The pyramid is 42 meters (138 feet) tall and was the heart of the city. Unlike other Maya sites, you can still climb this one, if you dare!
The 120 stone steps are much steeper than they look…
This is why there's a thick rope in the middle for safety. But the view from the top is totally worth the climb. A light breeze cools you off from the summit while gazing at the lush jungle landscape stretching out in all directions.
Plus, there aren't many places where you can climb a Mayan pyramid anymore. As a site gets more popular and tourism increases, authorities eventually restrict climbing to preserve structures and reduce accidents.
Be careful climbing down the pyramid, it's more difficult than going up!
Interesting History Of Coba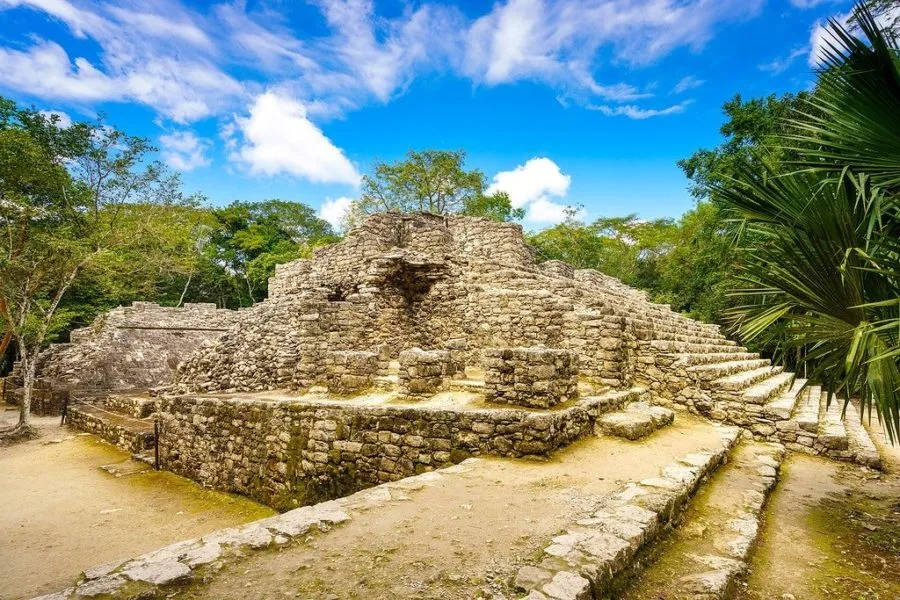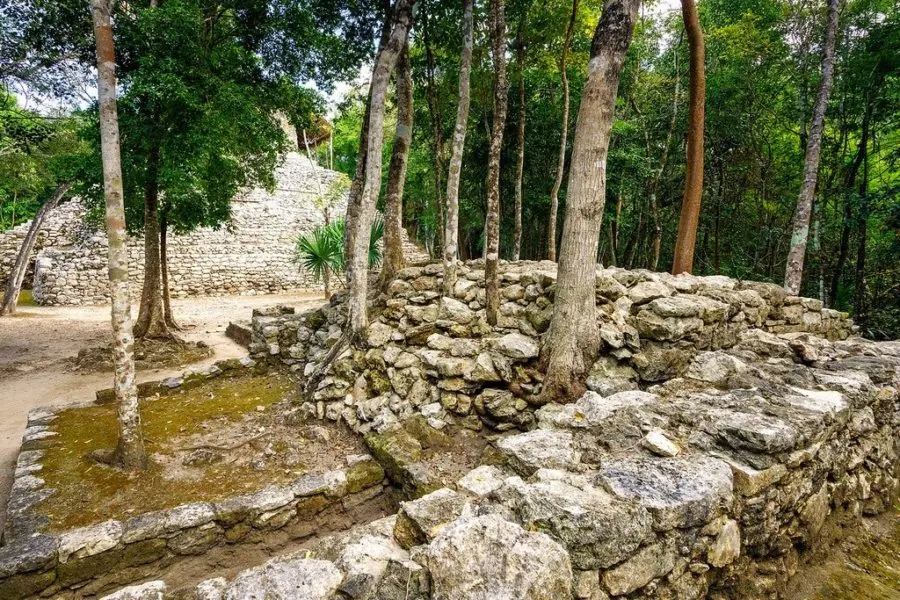 Coba is estimated to have had a population of over 50,000 at its peak. There are many tall stone carved monuments at the complex, called stelae. Some stelae here depict women, suggesting the city had many female rulers.
There are two well-preserved ball courts on the site too, used for playing ōllamaliztli, a traditional Mayan ballgame.
Specific rules differ depending on the time period, but basically players attempted to bounce a heavy rubber ball through stone rings using their hips.
Sometimes the captain of the winning team was ritually sacrificed to the gods.
The Mayan City of Coba was first inhabited around 100 AD and was eventually abandoned when the Spanish conquered the peninsula around 1550 AD.
However, the city was once the most powerful in the region, controlling farmland, trading routes, and important water sources.
Swimming In Cenotes Nearby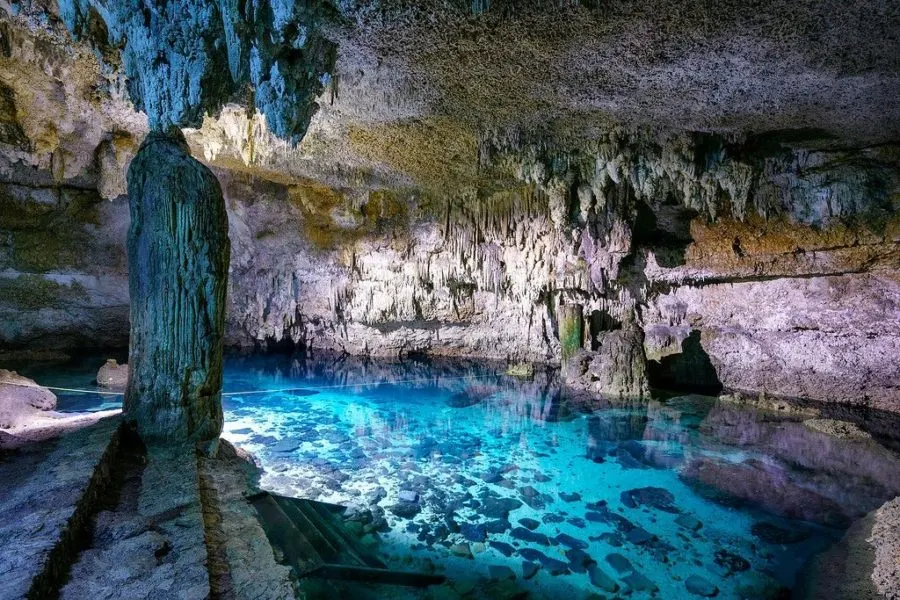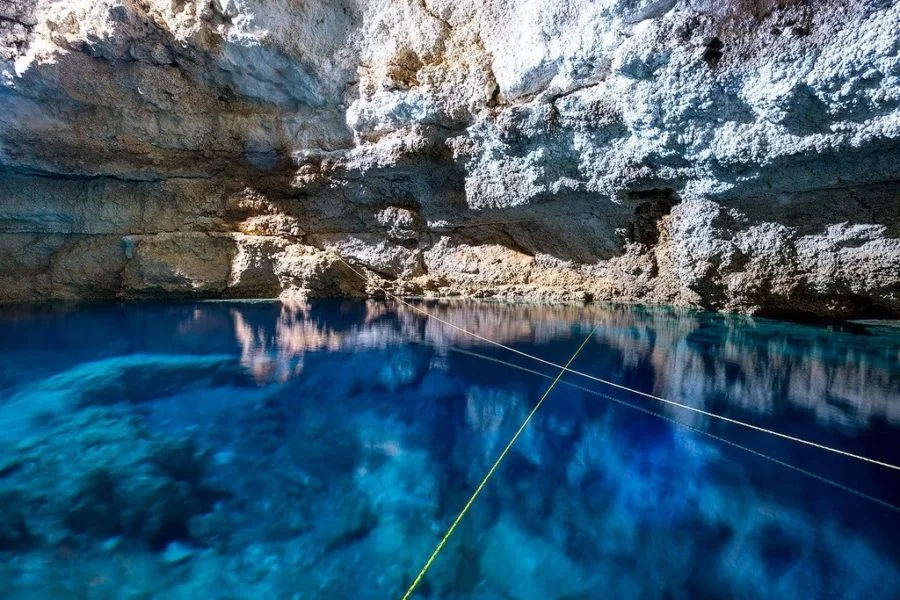 Speaking of water sources, no visit to Coba would be complete without taking a dip in the refreshing limestone cenotes nearby. Cenotes are underground sinkholes filled with fresh water, found all over the Yucatan Peninsula.
There are 3 fun cenotes just 10 minutes away from the ruins of Coba.
Cenote Choo-Ha
This shallow water cenote with crystal blue water and many stalagmites hanging from the ceiling. My personal favorite of the three. [MAP]
Cenote Tankach-Ha
A deep underground cavern with two fun jumping platforms at 5 & 10 meters (15 & 30 feet) high. [MAP]
Cenote Multun-Ha
This cool Mexican cenote is located a bit further away in the jungle and boasts a large wooden deck. [MAP]
The entrance fee for each of these cenotes is about 55 pesos ($3 USD). They are a wonderful way to cool off after a hot day exploring the Mayan ruins of Coba!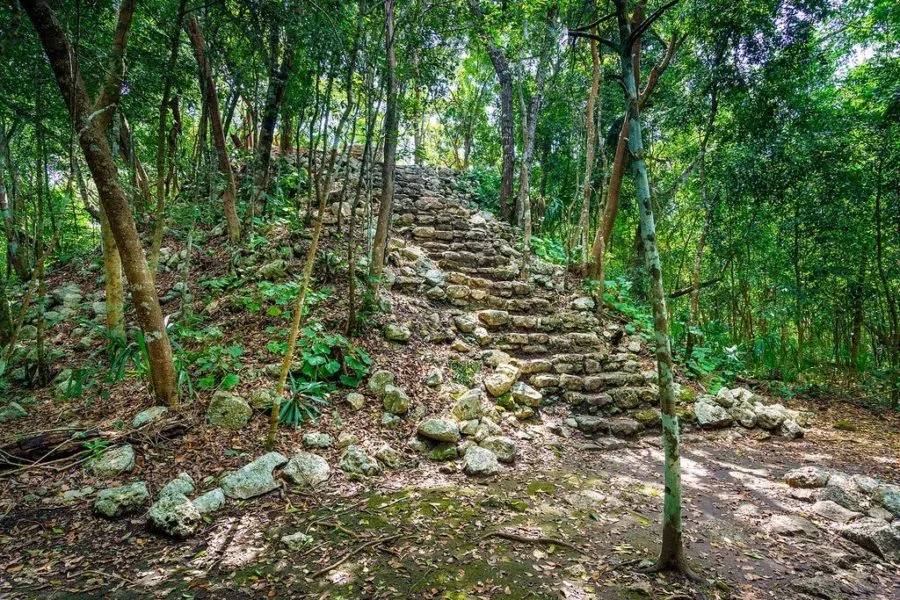 Getting To Coba
Coba is not difficult to reach, but there is a drive involved. I've visited 3-times now, all while using a rental car (it's much easier!)
Rental Car
The best site to book your car is Discover Cars. They search both local and international car rental companies to help you find the best possible price. This is the easiest way to rent a car in Mexico.
TULUM – Coba is 44 km (45 minutes) from Tulum by car.
PLAYA DEL CARMEN – Coba is 109 km (90 minutes) from Playa by car.
CANCUN – Coba is 134 km (2 hours) from Cancun by car.
By Bus/Taxi
There is a town at Coba, but it's tiny. The closest larger town is Tulum. It is possible to hire a taxi from Tulum to take you to Coba.
There's a second-class bus (Mayab) that leaves the ADO bus terminal in Tulum every day at 7:20 AM, a ticket costs 50 MXN, and the ride takes about an hour.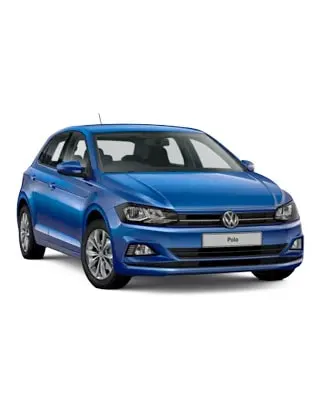 Rent A Car In Mexico
Search both local and international car rental companies to help you find a good deal.
Where To Stay Near Coba
While there are a few hotels around Coba itself, most people base themselves in the larger towns of Tulum, Playa del Carmen, or Valladolid. Tulum is the closest, only about 45 minutes away from Coba.
If you're wondering where to stay near Coba, here are my recommendations:
---
BEST ACCOMMODATION NEAR COBA
---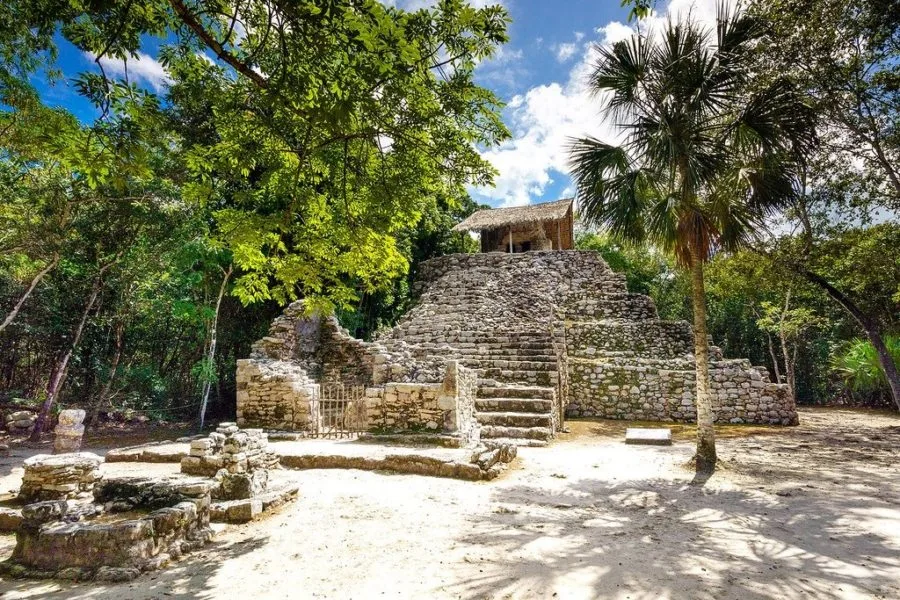 More Useful Tips For Visiting Coba
Hire a local guide to explain the history of Coba, or just wander on your own.
I highly recommend renting an old bicycle just inside the entrance for about 45 pesos to get around the site. It's big!
Bring plenty of water to stay hydrated! I'm a big fan of this eco-friendly filtered water bottle.
Visit early morning or late afternoon to avoid the crowds. While Coba isn't as popular as Chichen Itza or Tulum, it can still get busy.
Plan to spend at least 3 hours exploring the ruins of Coba, if not more.
---
Enjoy This Article? Pin It!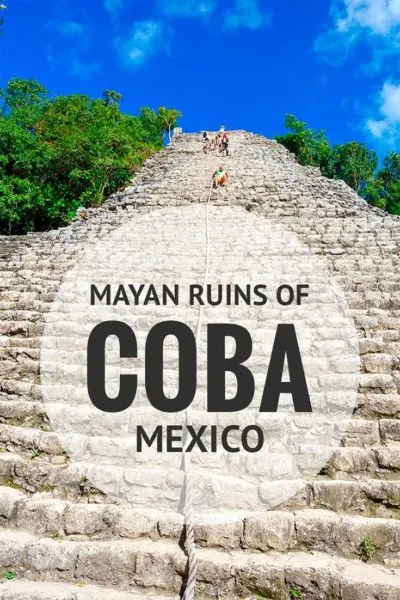 ---
READ MORE MEXICO TRAVEL TIPS
I hope you enjoyed my guide on the Ancient Mayan Ruins of Coba! Hopefully you found it useful. Here are a few more wanderlust-inducing articles that I recommend you read next:
---
Have any questions about the Mayan ruins of Coba? What about other suggestions? Join the conversation on Facebook, Instagram, or Twitter to share!