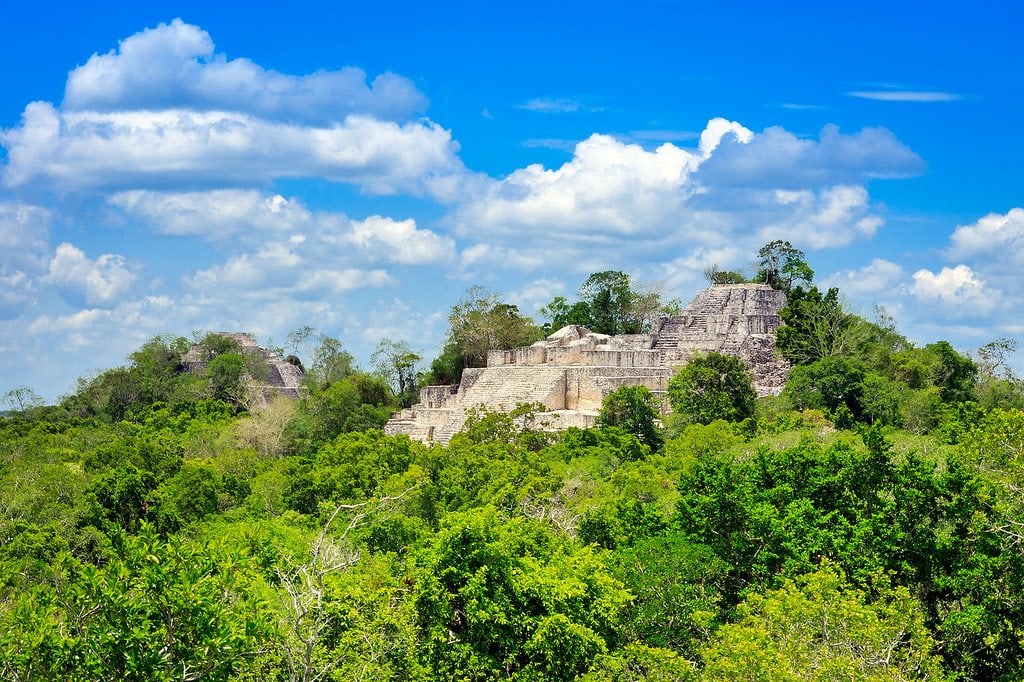 Campeche, Mexico
Calakmul is an ancient Mayan city located deep within the jungle on Mexico's Yucatan Peninsula. Not many people make it out this way due to it's remote location.
After getting denied entry at a military roadblock the day before, I was finally able to visit this incredible ancient Maya city.
The previous day I'd rode about 40 km to the roadblock and back, but today my body was just too exhausted to continue over the hills through the biosphere reserve.
So I decided to hitchhike.
But that's not as easy as it sounds. There aren't many vehicles passing through the middle of nowhere.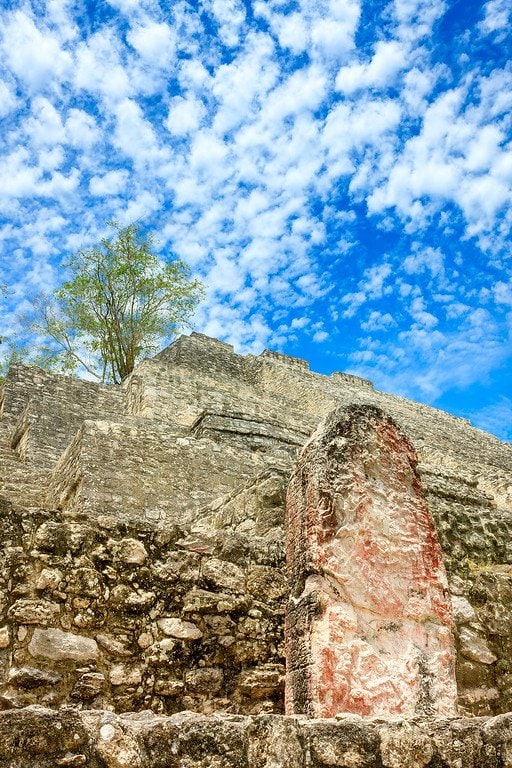 Visiting Calakmul Mayan Ruins
Miraculously I was picked up by a friendly nature-guide and his two clients from South Carolina. My seat in the bed of their old truck provided a beautiful fresh-air drive through the jungle.
Arriving at Calakmul, I proceeded to spend about 4 hours exploring the site.
Among the many interesting structures found there are two gigantic pyramids — with the largest one reaching 55 meters high (165 feet).
This makes it the 2nd tallest of all the Mayan pyramids ever found, and you can climb it! I spent a good half hour at the top taking in the vast jungle accompanied by some strong wind.
Another traveler eventually joined me at the top, a Bulgarian who also happened to hitchhike to the ruins. He's a permanent traveler who spends 8 months in each country he visits! Finding under-the-table work to support himself as he travels.
And I thought my year-long trip was a big deal…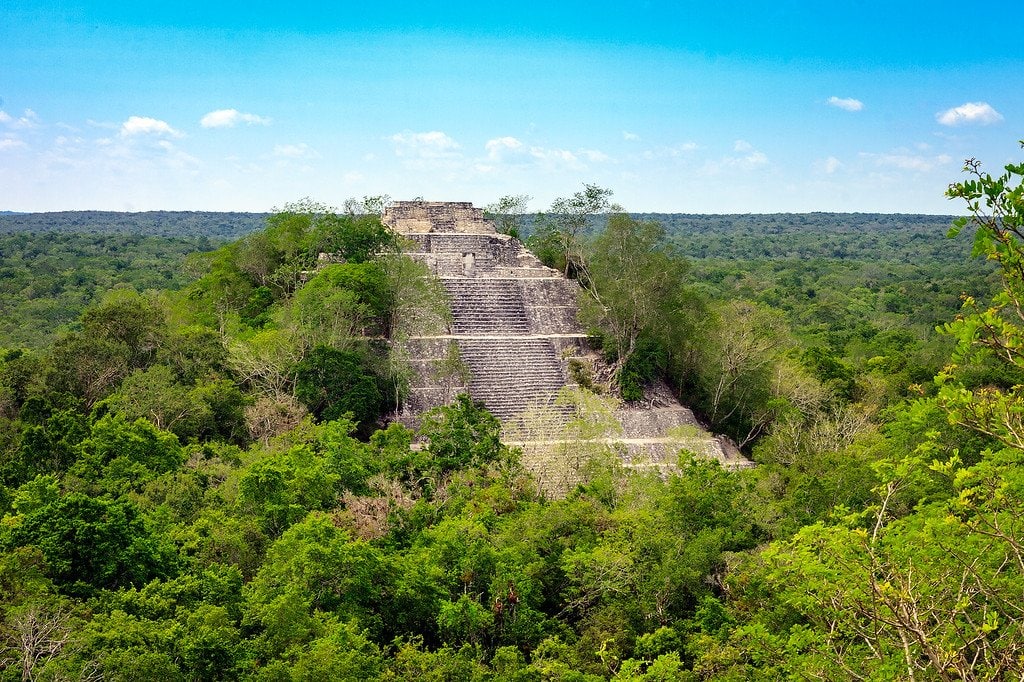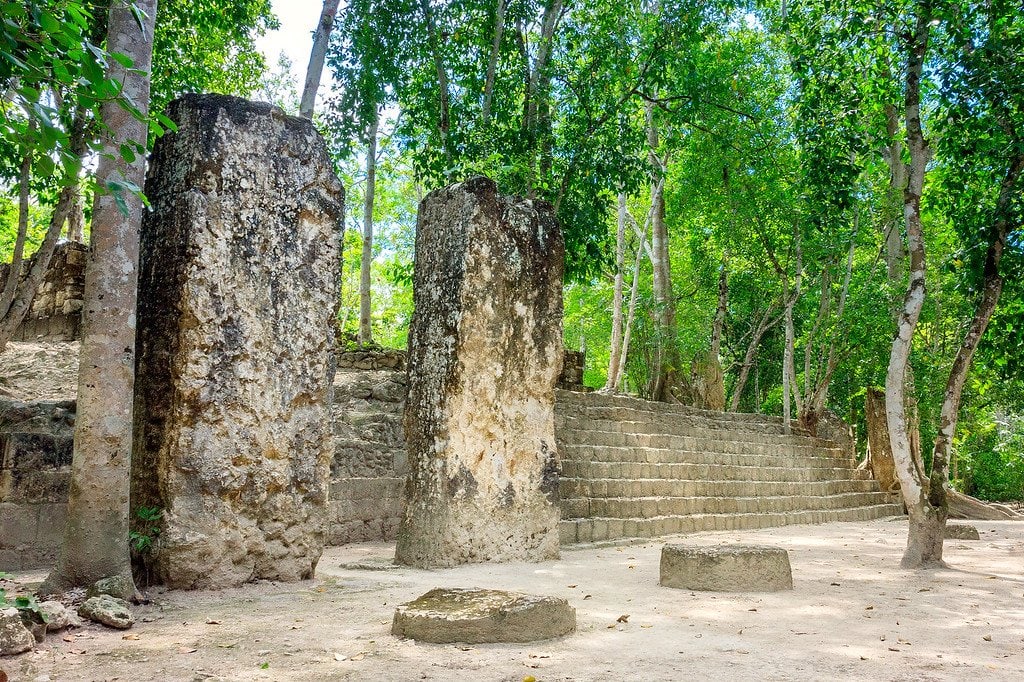 Ancient Mayan City
Calakmul is thought to have been populated with about 50,000 people. The ruins themselves are located right next to the Guatemalan border in an area that is not frequently visited by travelers.
Many great stelae can be found at this site too — large slabs of stone that have been intricately carved with pictures and glyphs. Unbelievably some of them still have their original color pigments showing.
The steps of the massive pyramids are steep, and not very wide either — maybe just the length of your foot. Some are narrower than that!
Climbing them in the blazing sun after all the biking I did was a bit scary and quite a workout..
So after finding a ride back to my campsite, I called for a taxi to bring me back into the town of Xpujil in order to rest. It was sorely needed! ★
Travel Planning Resources for Xpujil, Mexico
READ MORE MEXICO TRAVEL TIPS
I hope you enjoyed my guide to exploring the remote Calakmul Mayan Ruins! Hopefully you found it useful. Here are a few more wanderlust-inducing articles that I recommend you read next:
Have any questions about Calakmul? What are your favorite Mayan ruins? Drop me a message in the comments below!