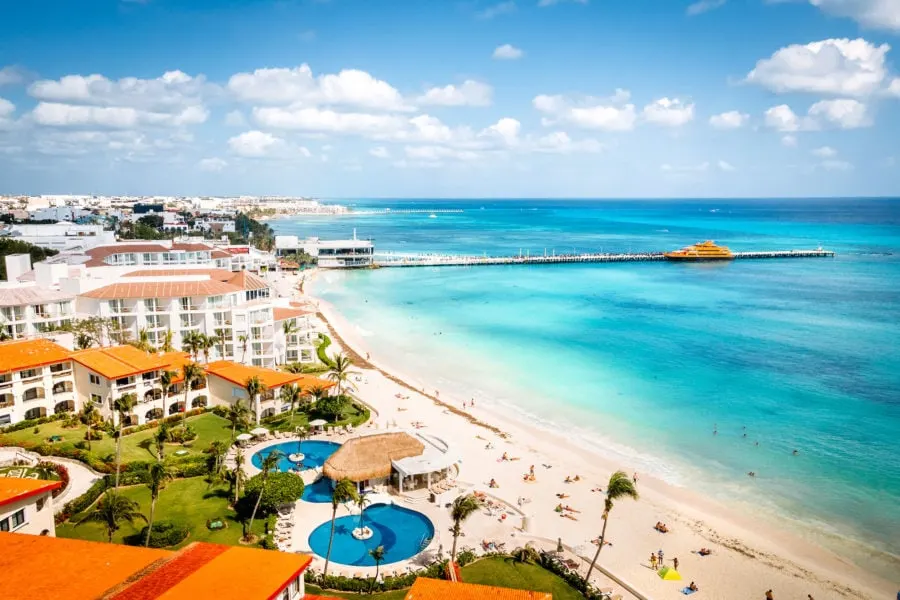 Playa Del Carmen, Mexico
I love Playa del Carmen! Below you'll find my favorite things to do after living here for over a year. The best beaches, swimming holes, Mayan ruins, delicious food, and much more.
Playa del Carmen is a fun beach town on Mexico's Yucatan Peninsula, part of the classic Riviera Maya route down the coast.
Smaller and less touristy than Cancun, it's becoming a popular travel destination for people looking for travel experiences that are more substantial than your typical all-inclusive resort.
I spent over a year living and working in Playa del Carmen as a digital nomad.
Lately, friends have been asking for vacation advice about this area of Mexico — so I wanted to share some my favorite things to do in Playa del Carmen!
My Playa Del Carmen itinerary is completely free! I've worked hard putting it together for you. If you find it useful, please use my affiliate links when you book hotels, rental cars or activities. I'll get paid a small commission, at no extra cost to you! Thanks.
Playa Del Carmen Highlights Map
HOW TO USE THIS MAP: Above you'll find a map of highlights in Playa del Carmen, Mexico. Click on the top left of the map to find separate layers marking the route and points of interest. You can hide and show different layers, or click icons on the map to see the names of places I mention in this travel guide. "Star" the map to save it to your own Google Maps, or open the map in a new window for a larger version. Enjoy!
Mexico Travel Restrictions 2023
Mexico has removed all COVID-19 entry requirements, including for Americans. It's the perfect time to visit Playa del Carmen!
You can find the latest updates on traveling to Mexico here.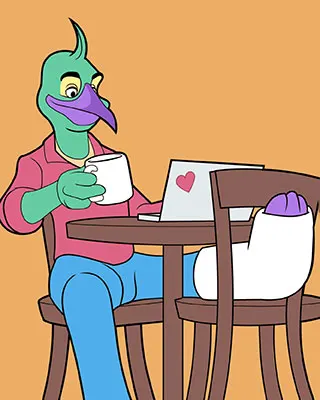 Get Travel Insurance
Protect yourself from injury, illness, or theft. SafetyWing offers affordable travel insurance that covers COVID-19 too!
Top Things To Do In Playa Del Carmen
1: Swimming At Cenotes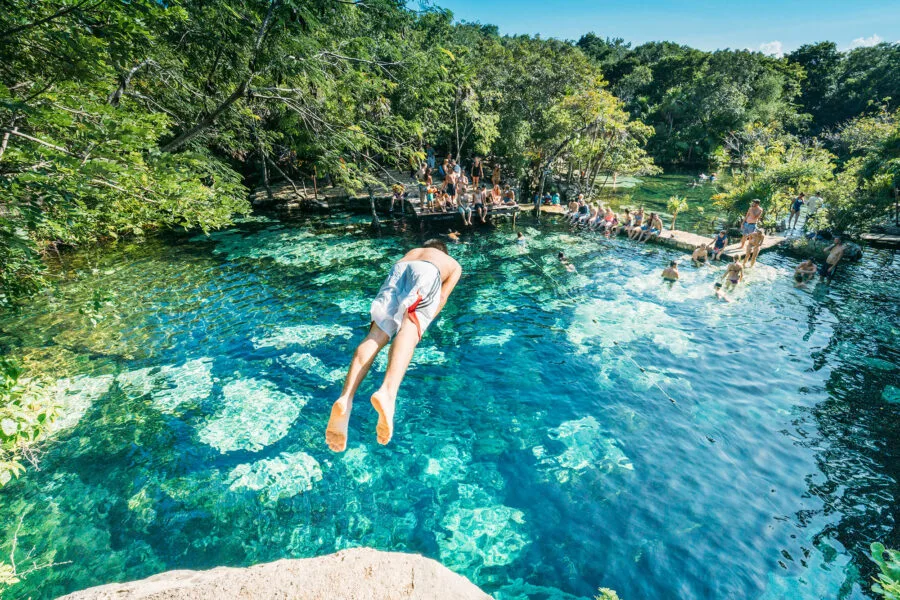 What's a cenote you ask? It's an underground cave filled with fresh water. The Yucatan has tons of them — sinkholes that open up into underground rivers with the clearest water you've ever seen.
If you have your PADI license, you can go scuba diving in these caves with a guide. Because there's daylight near the entrance, a more technical cave diving license isn't required.
Not a scuba diver? No problem. You can also go snorkeling or swimming at most cenotes. A couple of things to understand is that wearing sunscreen is not allowed, and most centoes have an entry fee of some kind, usually around $10 USD (sometimes more).

Some of my favorite Mexican cenotes near Playa del Carmen are:
➜ Read My Guide To Mexico's Best Cenotes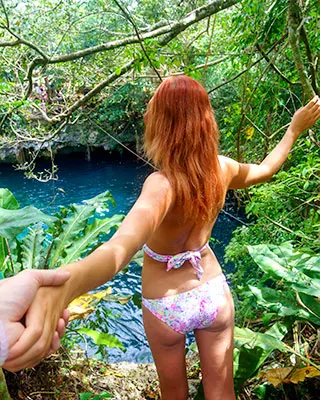 Cenote & Ruins Adventure
Prefer a guided tour? Explore some of Mexico's Mayan ruins, and go swimming in a beautiful cenote.
2: Visit Ancient Mayan Ruins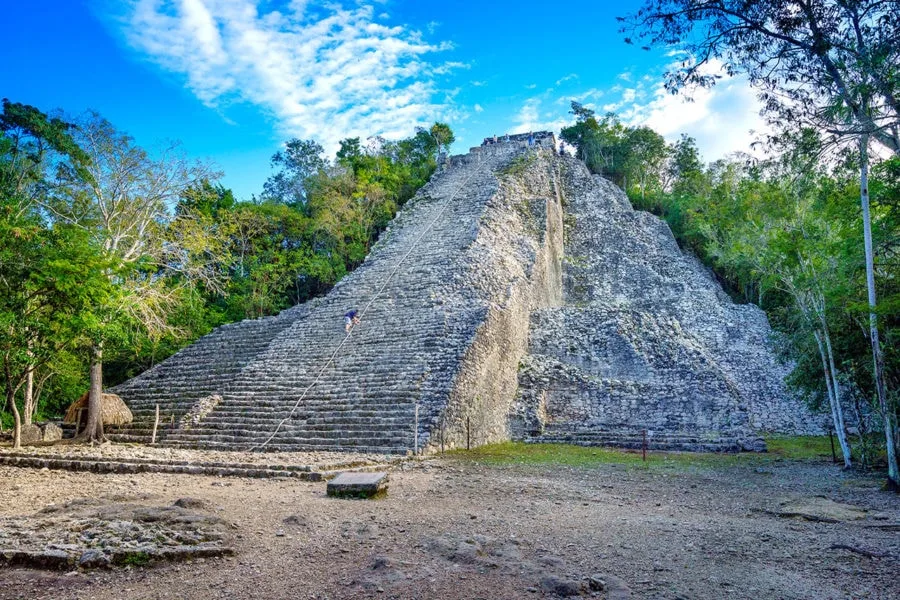 The ancient Mayan ruins of Tulum are located South of Playa del Carmen in the town of Tulum. Tulum was once a small but important port city that sits on the edge of a cliff, with a beach below where you can swim too.
Because Tulum is so popular, the ruins can be crowded unless you arrive early in the morning. Coba is another Mayan site near Playa del Carmen which sees less visitors. You can even still climb the pyramid there too!
Of course, everyone who visits the Yucatan Peninsula wants to check out Mexico's most famous ruins, Chichen Itza. This site is a bit further away, about 2 hours by car.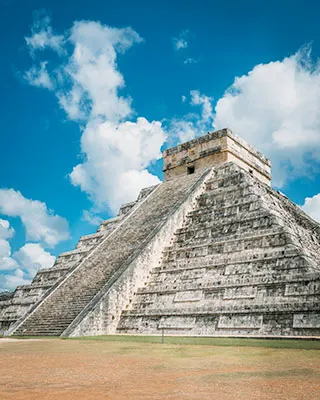 Chichen Itza Tour
Skip the line at Mexico's most famous archaeological site, visit a colonial town, and swim in a cenote.
3: Playa Del Carmen Nightlife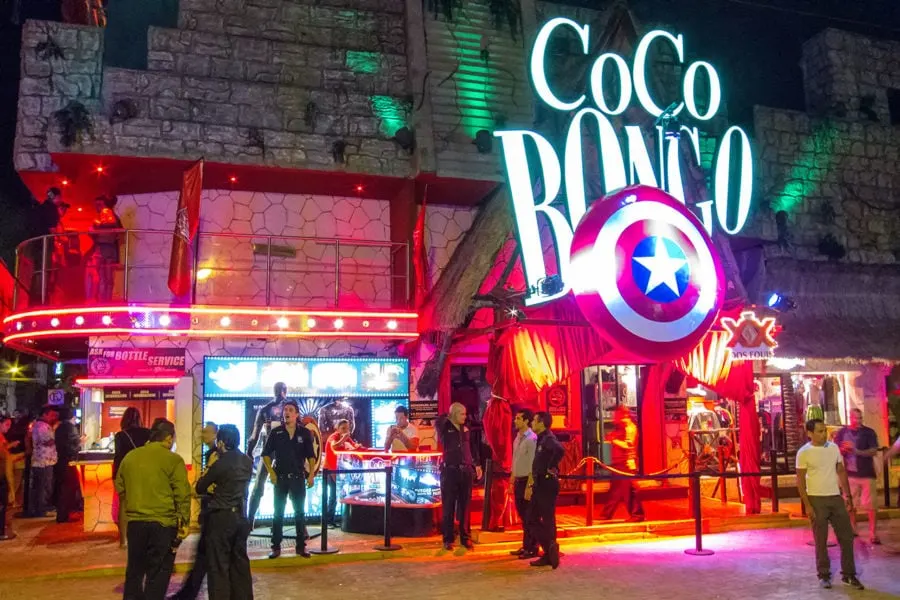 Playa del Carmen's nightlife is fun, but not quite as crazy as Cancun. Coco Bongo is one nightclub that I think is worth a visit.
Part Vegas show, part nightclub, and a bit cheesy — but it's still one hell of a party. You'll see flying acrobats, blockbuster movie characters, and rock-star impersonators take the stage in turns throughout the night.
Every ticket includes full open bar all night, so take plenty of photos because you probably won't remember what happened the next day!
A few other good nightclubs that I recommend are Mandala and La Vaquita (just look for the cow dancing in the street!)
4: Swimming With Sea Turtles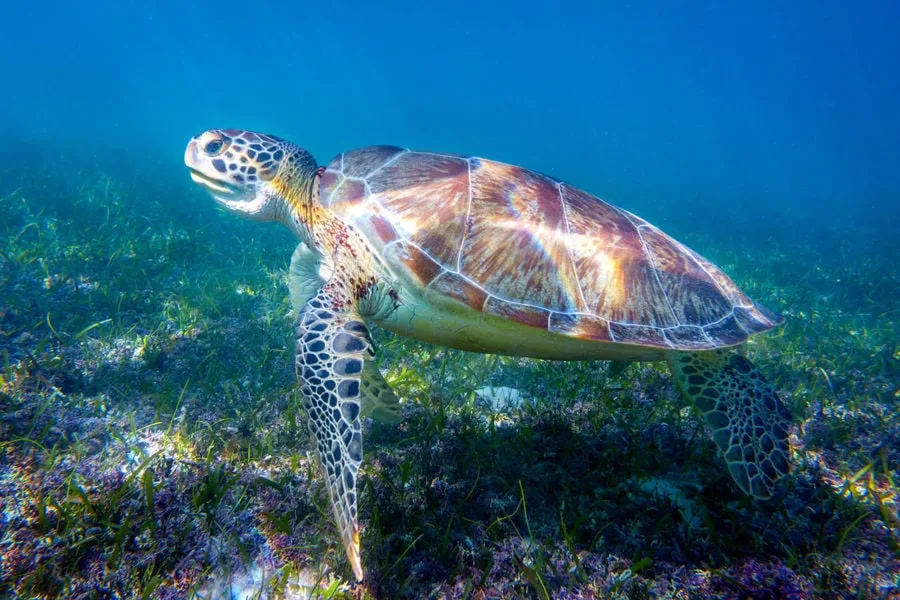 Who doesn't want to swim with sea turtles? I've always wanted to, that's for sure. I got my chance at Akumal beach, 30 minutes South of Playa del Carmen.
The shallow blue-green water here is home to Green, Hawksbill and Loggerhead sea turtles that you can swim with.
To visit Akumal, the cheapest way is to take a colectivo taxi headed for Tulum from the stand located on Calle 2 Norte between Avenida 15 and 20 in Playa del Carmen. Tell them you want to get off at Akumal.
From the highway, it's a 5-minute walk to Akumal Bay. Bring your own snorkeling gear, life jacket or rent some there. Swimming with the turtles is free!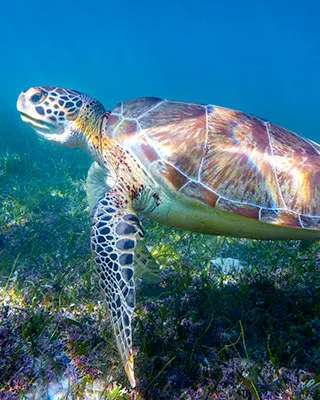 Sea Turtle Snorkeling Trip
Snorkel with sea turtles off the coast of Mexico. Jump in and see these creatures in their natural environment.
5: Parasailing Over The Ocean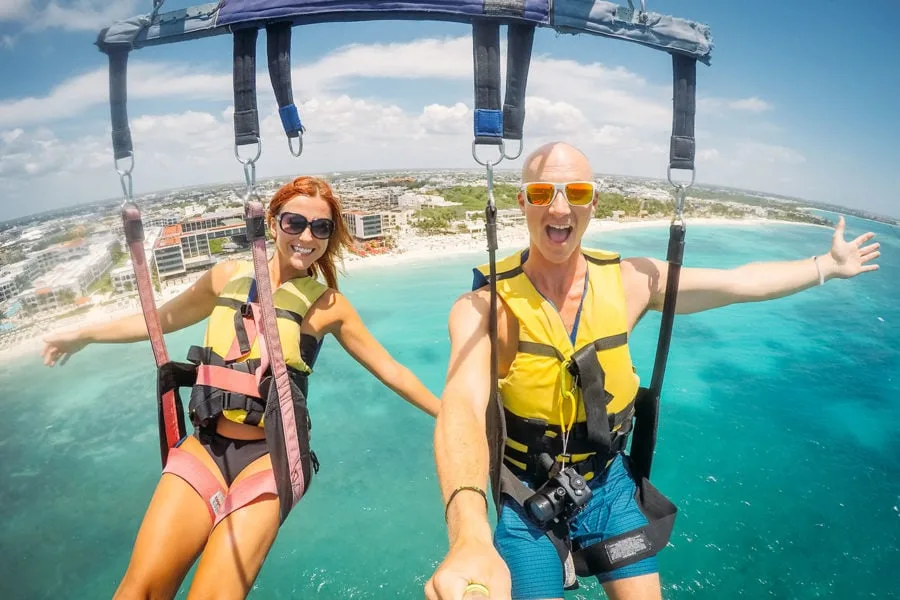 Ocean parasailing is a hugely popular activity in Playa Del Carmen, with many boats ready to tow passengers through the sky while hanging from a kite.
The take-off can be a bumpy ride, once you're up in the air, paragliding is one of the most serene and peaceful experiences on the busy beaches of Mexico.
As a bonus, parasailing gives you an excellent view of the coastline from above. Great for photos if you have a waterproof camera! Sometimes they'll dunk your legs into the ocean for fun…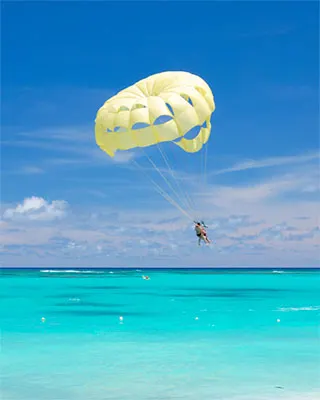 Parasailing Over Playa
Go parasailing off the coast of Playa Del Carmen. Awesome views of the beach from above!
6: Best Restaurants In Playa Del Carmen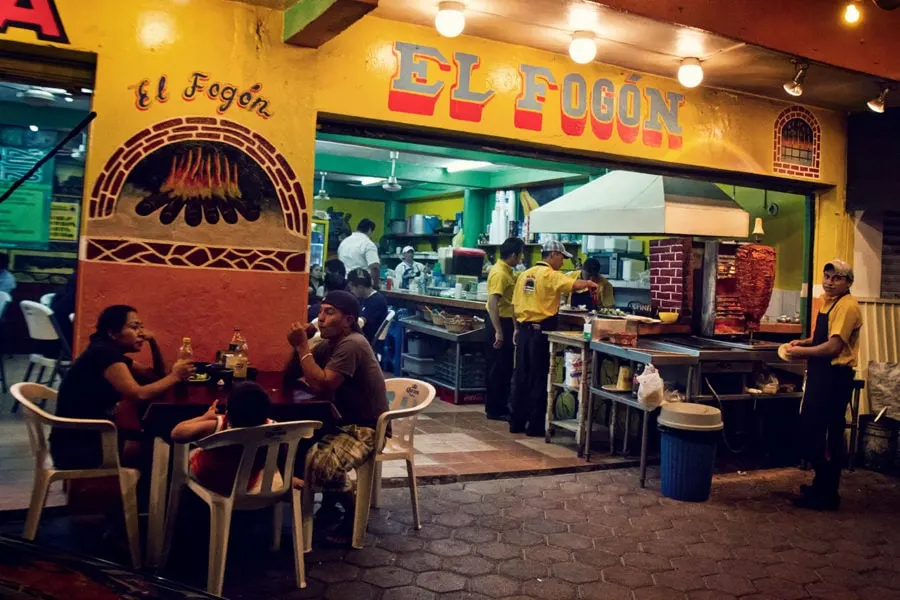 Hey, it's Mexico. Mexican food in the Yucatan is cheap & delicious. Here are a few of my favorite restaurants to eat at when visiting Playa del Carmen.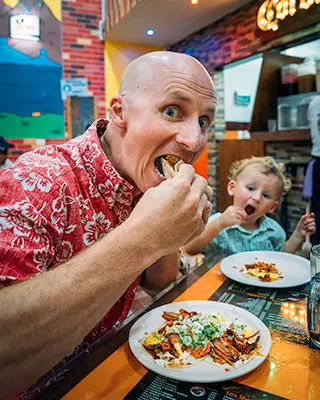 Playa Food Tour
Get an introduction to Mexican cuisine while eating many authentic local dishes in the Yucatan.
7. Explore Rio Secreto's Caves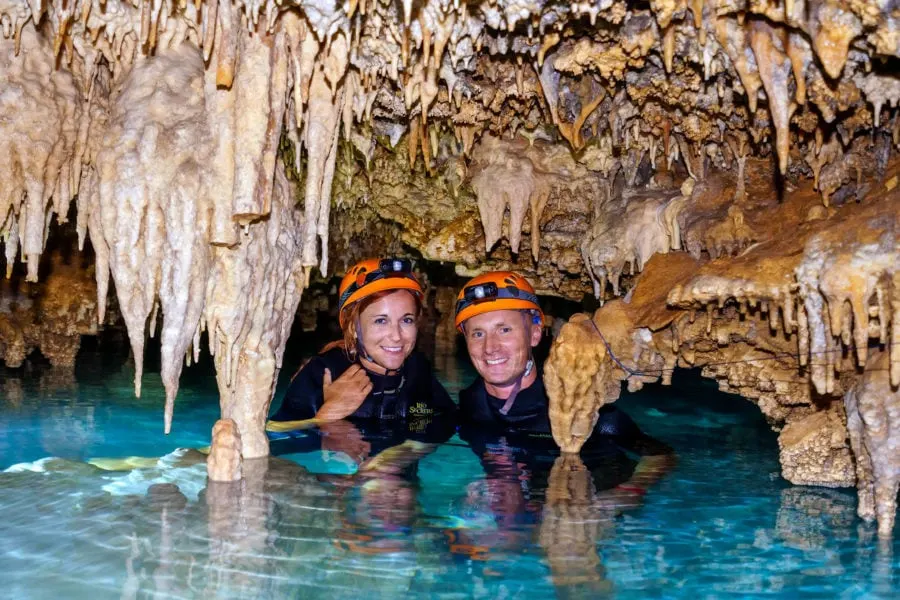 Rio Secreto is another adventure theme park on the Riviera Maya. A labyrinth of underground caves filled with water that you can explore.
Exploring them means putting on a wet suit, helmet, and headlamps (all provided) to hike & swim your way through this magical underground world.
Squeezing through narrow cave passages, sometimes with water up to your chest, or marveling at the massive chambers, full of stalactites, some large enough to fit a small house inside!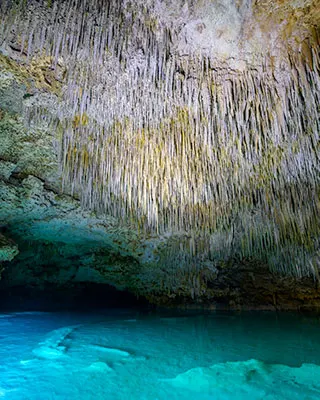 Rio Secreto Tour
Explore the Mayan underworld on a trip through mysterious water-filled caves.
8: Zip Line Adventure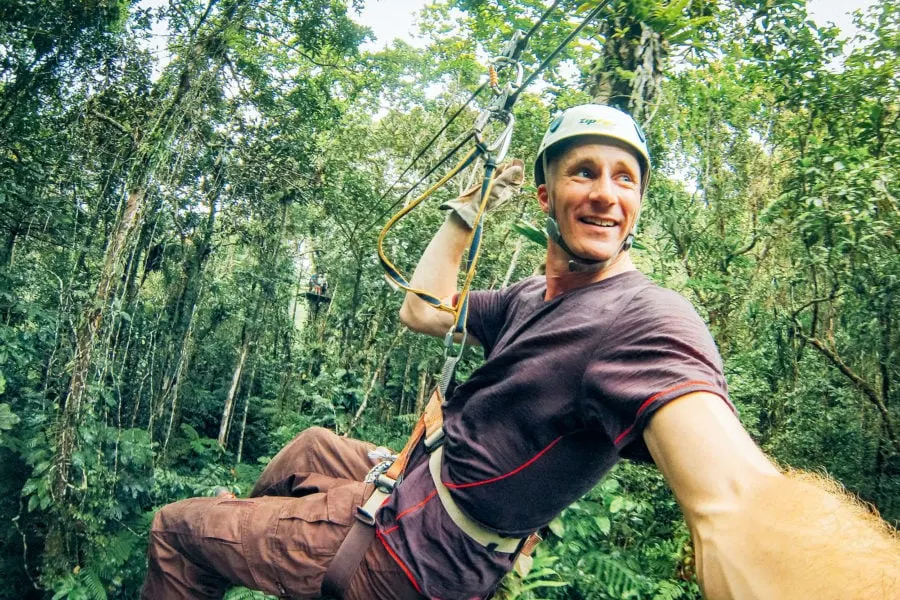 Zip lining is one of the hallmark adventures to do in Playa, so you can't miss it, even if you think you're afraid of heights. In fact, it's even better if you are!
There are a couple of different adventure theme parks near Playa del Carmen with zip lines. One of them is Selvatica. They offer multiple packages with 10 different zip lines.
Xplor Adventure Park also has two zip line circuits, each with 7 different routes, with the highest point at 45 m (147 ft). All these adventure parks usually have other activities too, like ATVs and cenotes.
9: Salsa Dancing At Zenzi
Zenzi is a beach bar and restaurant, located right off the sand in Playa Del Carmen. While of course the food and drinks here are great, the real attraction is salsa dancing!
They offer free salsa dancing lessons on Mondays, Thursdays and Saturdays at 9pm. A live salsa band plays as guests and visitors join in or simply watch as local dancers show off their best moves on the dance floor.
It's a great way to start the night off in Playa del Carmen before heading on to other bars and nightclubs around town.
10: Boat Trip To Cozumel Island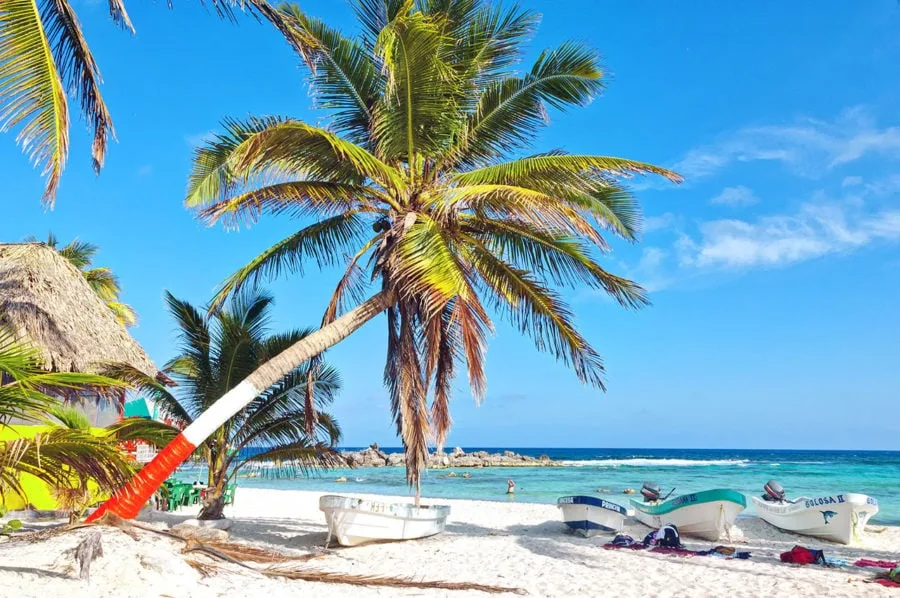 Cozumel is a small island off the coast of Playa del Carmen known for it's pristine beaches. Normally a stop for cruise ships, you can take a 45-minute ferry over on your own from Playa del Carmen for about $13 USD.
An easy & cheap day trip is renting a scooter and driving it around the island where all the best beaches are. Or, if you're feeling extra adventurous, you can try hitchhiking around the island instead.
As long as there isn't a cruise ship in port, you'll have those white sand beaches to yourself. Plenty of stops on the way for lunch & photos. Jump on the last ferry back to Playa del Carmen around sunset.
11: Parque Fundadores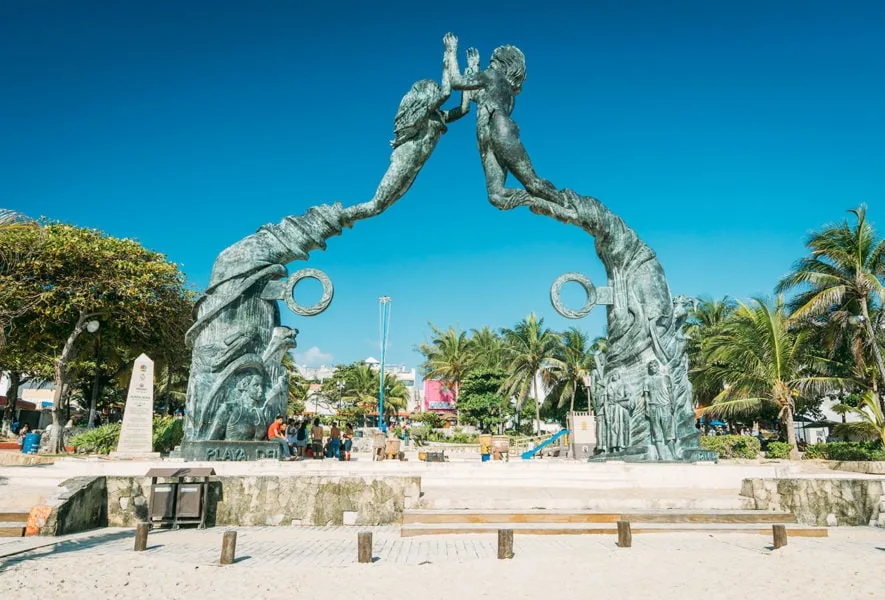 Parque Fundadores, or the "Founding Fathers Park", is a public park in Playa del Carmen just north of the Cozumel ferry terminal along the beach with entertainment for the whole family.
While a playground entertains children, adults can take a stroll down the beach and check out the Portal Maya statue, sitting over 50 feet tall.
You might also catch a Papantla Flyer's (Voladores de Papantla) performance in the park. A spectacular acrobatic show of men swinging from a 90ft pole by their feet! If you watch the whole thing, please remember to tip them.
12: Ride In A Colectivo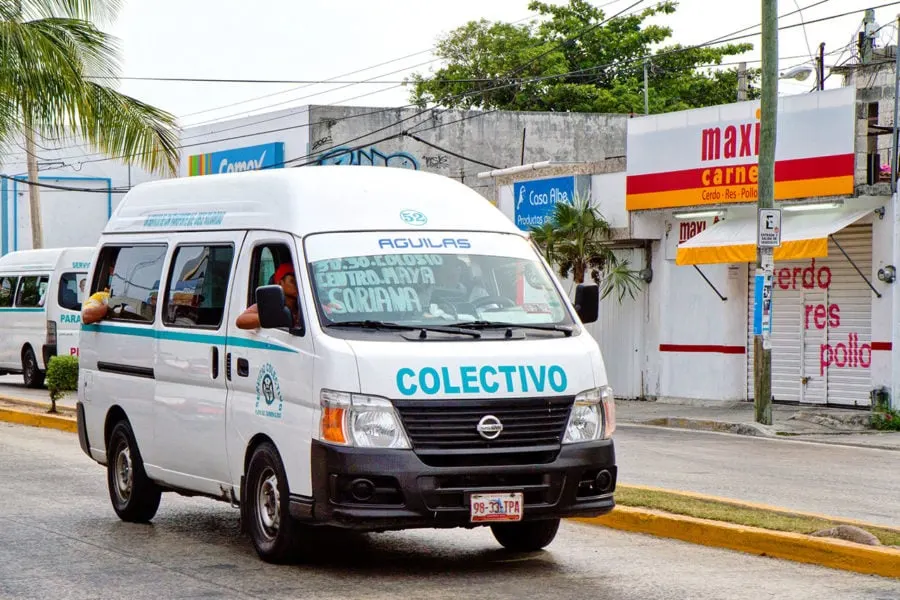 You can't visit Playa del Carmen without using a Colectivo (group taxi). You'll see these vans cruise down the street picking up locals. It's an interesting (and confusing) experience if you've never tried it before.
They stuff as many people as possible into these things, and rides can cost less than $1.
Destinations are written on the windshield, but if you don't know the names, it won't make much sense. A good place to start is by grabbing one at the Colectivo station on Calle 2 Norte from Playa del Carmen to Akumal beach (mentioned earlier).
Remember to tell the driver where you're going! It's cheap, fun, and will push you out of your comfort zone a bit.
13: Scuba Diving In Playa Del Carmen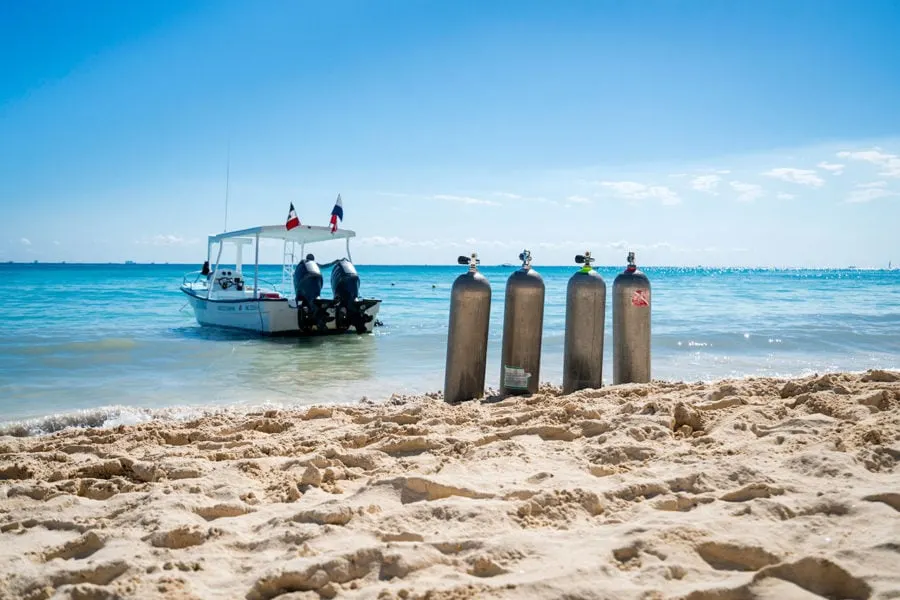 Playa del Carmen is a great place to base yourself if you're a scuba diver. Along with all the cool cenote cave diving areas I mentioned earlier, there are some decent reefs nearby too.
A few of the most popular are Pared Verde Ledge and Tortugas near Playa del Carmen itself, Gorgonians down near Akumal, Palancar Reef and Santa Rosa Wall off the coast of Cozumel.
There are tons of dive shops and schools in and around town, so if you've always wanted to get your PADI open water diving certification, Playa del Carmen is a great place to do it!
14: Visit Playa Del Carmen's Best Beaches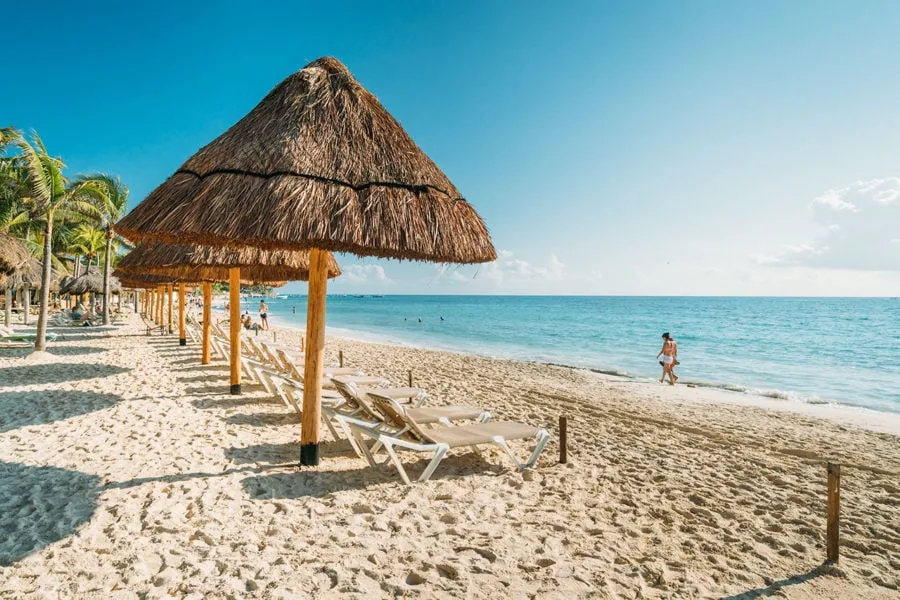 Playa del Carmen's beaches have been hit by erosion pretty badly over the past few years, and frankly the beaches down in Tulum or up in Cancun are a lot nicer.
But can still find a nice spot to soak up the sun while enjoying a fruity drink or going for a swim. Depending on where you're staying, you may need to take a taxi or drive a rental car to get to them. Another option is to hit up a full-service beach club.
15: Walk Playa's Famous 5th Avenue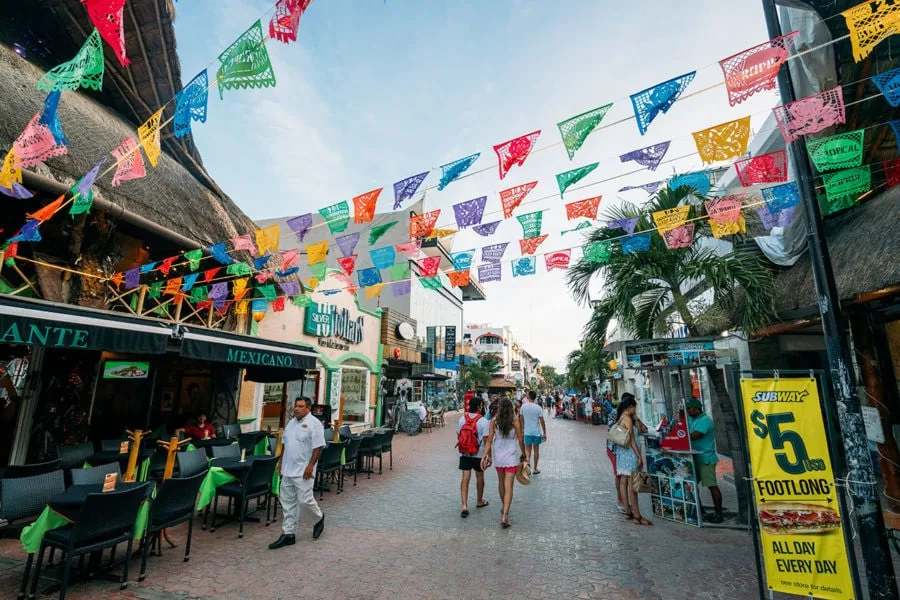 You can't visit Playa del Carmen and miss walking down La Quinta, aka 5th Avenue. It's the main walking-street lined with all manner of shops, beach bars, and restaurants.
The cobblestone street is where you'll find most of the city's nightlife. It's a lot of fun to find a bar or cafe, sit down, and watch the (sometimes strange) parade of people walk by.
You can spend hours wandering down the street, stopping into touristy shops, cafes, and trying different vegan smoothies. At night, street performers line the sides dressed in costumes, or break-dancing for tips.
16: Relax On A Rooftop Pool
After a busy day exploring the sights of Playa Del Carmen, what better than a cocktail while lounging at a rooftop pool.
Unlike many of the rooftop pools in the area, the Be Playa pool champions a laid-back atmosphere and provides a welcome escape from the loud music of the surrounding hotels.
Be Playa's rooftop is small but cozy and a real treat after a long day. There are even a few tables and chairs that sit in the shallow water. Non-guests of the hotel must spend at least 200 MXN to use the rooftop pool, and it's open from 10am to 8pm.
17: Xpuha Beach Day Trip
South of Playa del Carmen, but before Tulum, there are two great beaches that make for a great day trip away from the larger crowds.
A 20-minute drive will bring you to Xpuha Beach; a stretch of beautiful white sand lies interspersed with beach bars and restaurants.
The beach entry fee is 50 pesos, and you can rent beach chairs, umbrellas, snorkeling equipment, and kayaks here too.
18: Sunbathing At Xcacel Beach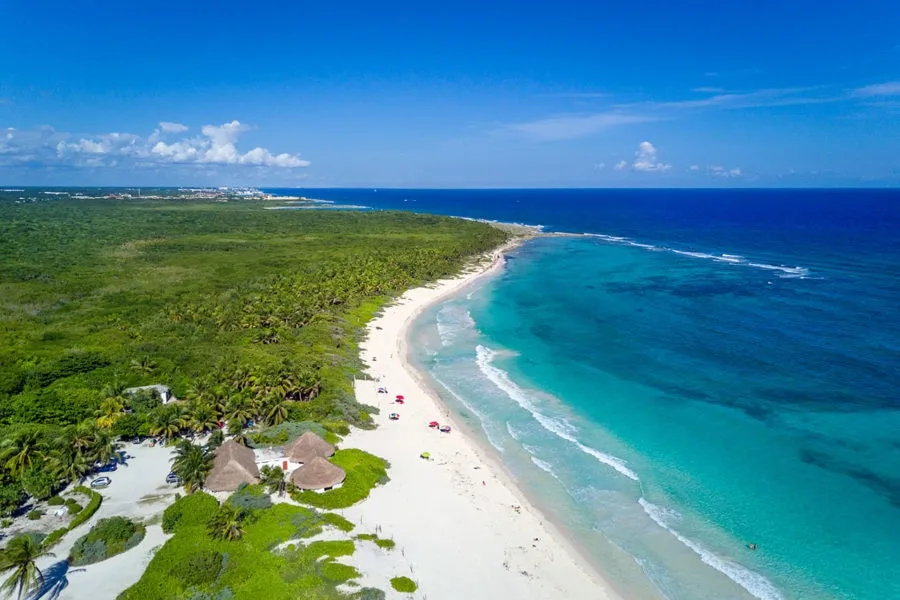 A bit further south you'll find Xcacel, one of my favorite beaches in the Yucatan Peninsula. The ocean is a bit rougher than at Xpuha, but there's also a freshwater cenote to cool off in.
May-October is sea turtle nesting season, and some areas of the beach may be roped off to protect buried turtle eggs. If you're a good swimmer, there is some decent snorkeling on the North side of the beach.
The entry fee for this beach is 10 – 20 pesos (for sea turtle protection). This remote beach doesn't really have many services, although there are bathrooms.
19: Alux Cave Restaurant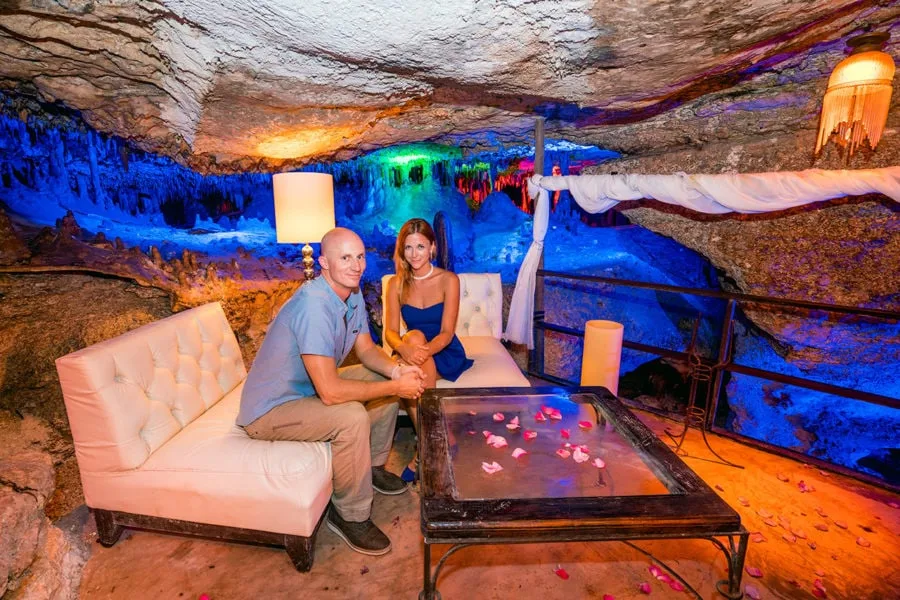 For an upscale dining experience check out Alux Restaurant — it's built inside an underground cave! This place isn't within walking distance from the main tourist area though, you'll need to take a taxi.
Aluxes are supernatural spirits who protect Mexico's sacred places.
Colored cave lights created a mysterious atmosphere, while waterfalls set the tone for a romantic evening.
After dinner, make sure to ask for a quick cave tour, because the whole complex is MUCH bigger than it first looks! You may even see a bat or two flying around…
20: Frida Kahlo Museum
Frida Kahlo is one of those artists you either know or you don't. A local icon in Mexico, Frida created portraits and self-portraits inspired by the nature and artifacts of Mexico; mixing realistic images with fantasy.
The Frida Kahlo Museum doesn't contain any original works of art, but it does embrace the life and works of Frida Kahlo; giving visitors a chance to learn about her controversial art through photos, videos, diagrams, and collages.
Everything is very artistic and colorful, right through to the inevitable tourist gift shop, and it's worth a visit if only for a little while!
21: Eat Some Street Elote Or Esquite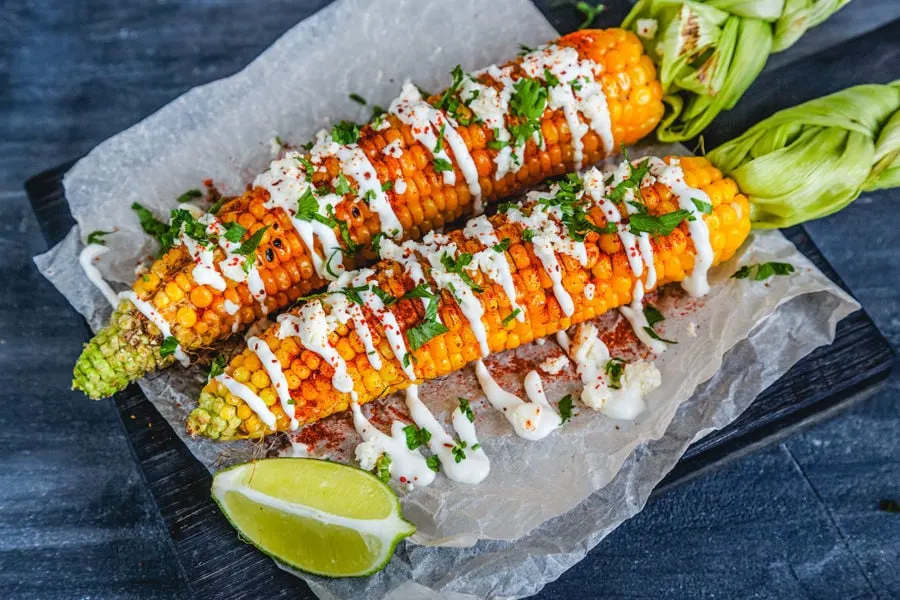 Elote is essentially corn-on-the-cob, roasted on an open grill with a decadent coating of salt, chili powder, butter, lime juice, cotija cheese and mayonnaise.
Esquite is basically the same, only the corn kernels have been removed from the cob, boiled, and are served in a little cup mixed with different ingredients.
The best elote and esquite in Playa del Carmen can be found sold from carts on the main drag of Avenida Benito Juarez — especially in the evenings.
22: Rent A Jet Ski In Playa!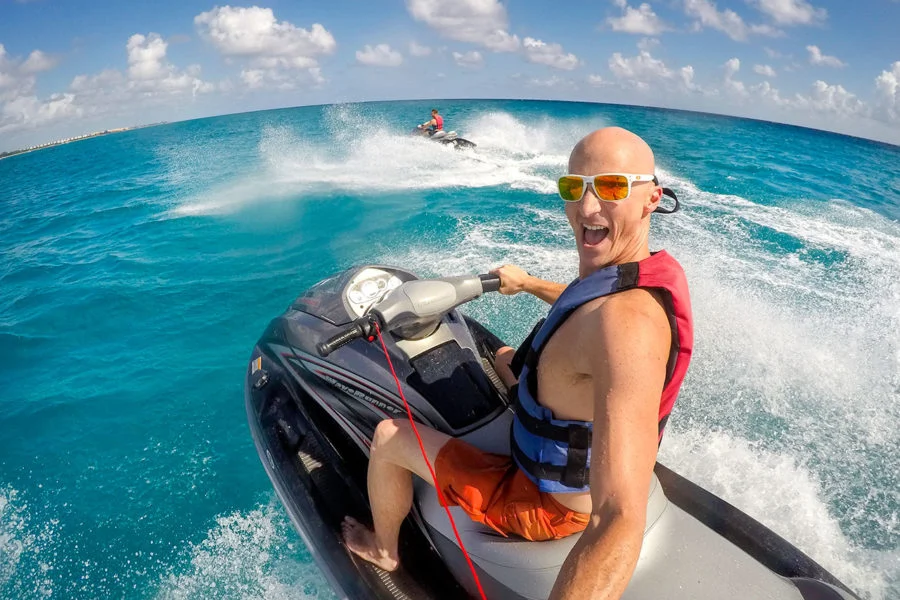 I'm sure I don't need to do much convincing here – who doesn't want to whizz around on a jet ski as part of their holiday? Particularly when the location is as stunning as Playa Del Carmen!
Mamitas Beach and Maroma Beach Club are probably the best place to rent a jet ski and "drive it like you stole it". The flat ocean offers a speedy and exhilarating ride, making jet ski hire worth the approximate $50 an hour rental fee!
23: Take A Sailing Trip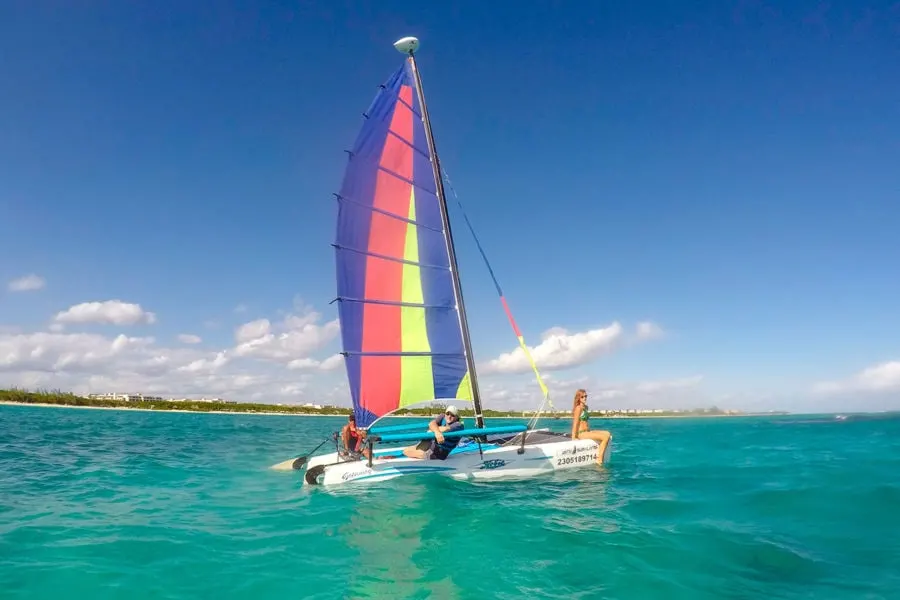 From booze cruises to full-day catamaran sailing tours, the opportunities for getting out on the water are never-ending in Playa Del Carmen.
While the booze cruises are great for spring breakers, I prefer more relaxing trips to coral reefs for snorkeling. For the most romantic option, there's also sunset sailing catamaran trips.
Another option is to simply rent a smaller sailboat (with a captain) right from the beach (like Mamitas) and cruise around the local reefs and do some snorkeling for an hour or two.
24: Stand Up Paddle Boarding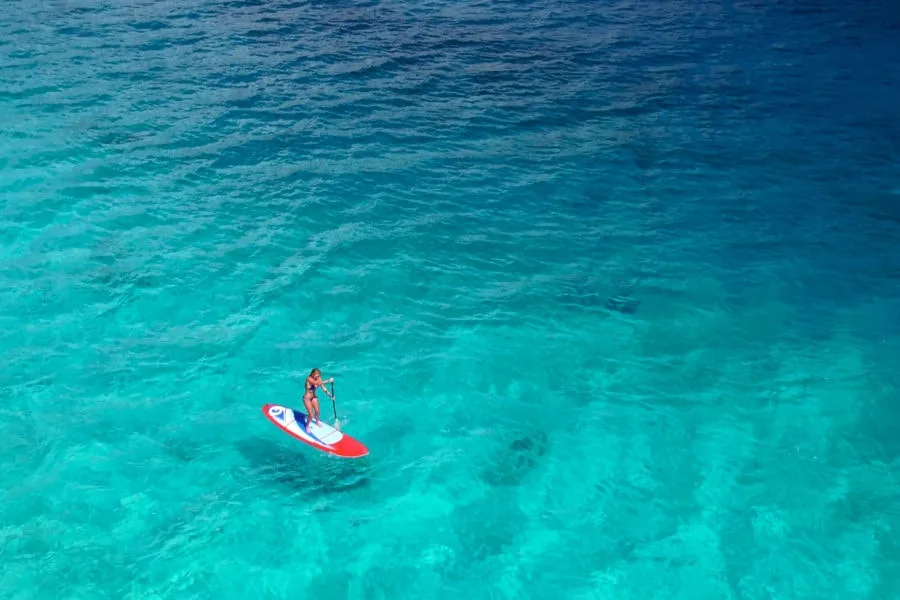 You still haven't seen the ocean in its true beauty until you do a sunrise paddle board session. The Aloha Paddle Club offers sunrise sessions for mixed groups.
Paddleboarding is available for all levels and abilities, with instructors present to provide guidance to anyone who may need it. An incredible way to appreciate the sunrise!
25: Volunteer Dog Walking
Voluntarios Perrunos is a local Mexican organization that shelters dogs who have been rescued from abuse and abandonment. On certain days of the week, they gather a group of volunteers to take the dogs on morning walks, to get them out of their cages. The dogs love it, and so do the volunteers!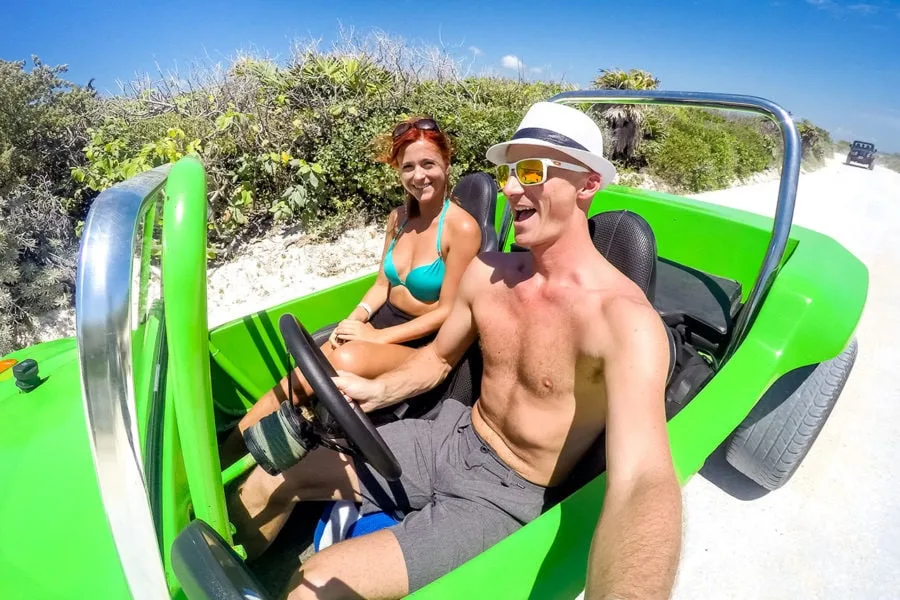 Getting To Playa Del Carmen
Flying To Cancun
Playa del Carmen has a VERY small airport. So the most economical way is to fly into Cancun and drive down (bus, shuttle, or rental car). Check for Cancun flight deals on Skyscanner and read my guide with tips for finding cheap flights. From the airport, you can book a private shuttle or take the public ADO bus. Buses leave frequently and cost about $10 USD. The trip takes about an hour.
Renting A Car In Mexico
The best site to book your car is with Discover Cars. They search both local and international car rental companies to help you find the best possible price. This is the easiest way to rent a car and drive in Mexico.
Renting a car offers the best flexibility to explore more remote and less touristy spots on the Yucatan Peninsula. It's my favorite way to get around!
Playa Del Carmen Airport Shuttle
There are a bunch of airport shuttle services offering rides from Cancun airport to Playa del Carmen, and they'll be sure to harass you at the airport exit (if you didn't book in advance). The most popular one is probably Cancun Airport Transportation.
Traveling By Bus
The cheapest way to get to Playa del Carmen from Cancun airport is the ADO Bus System. A ticket only costs about $10 USD and the trip takes just over an hour.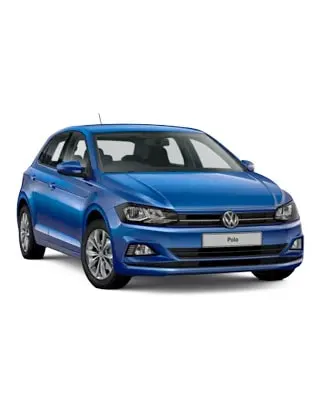 Rent A Car In Mexico
Search both local and international car rental companies to help you find a good deal.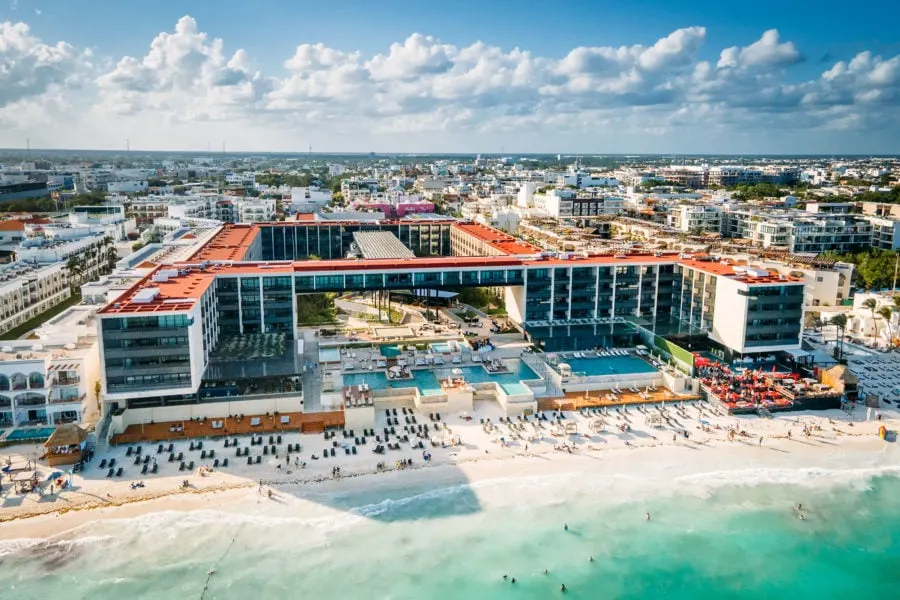 Where To Stay In Playa
Playa del Carmen has become a popular tourist hub for travelers to base themselves while exploring the Yucatan Peninsula. If you're wondering where to stay in Playa del Carmen, here are my top recommendations.
---
BEST HOTELS IN PLAYA DEL CARMEN
COOL AIRBNB'S IN PLAYA DEL CARMEN
---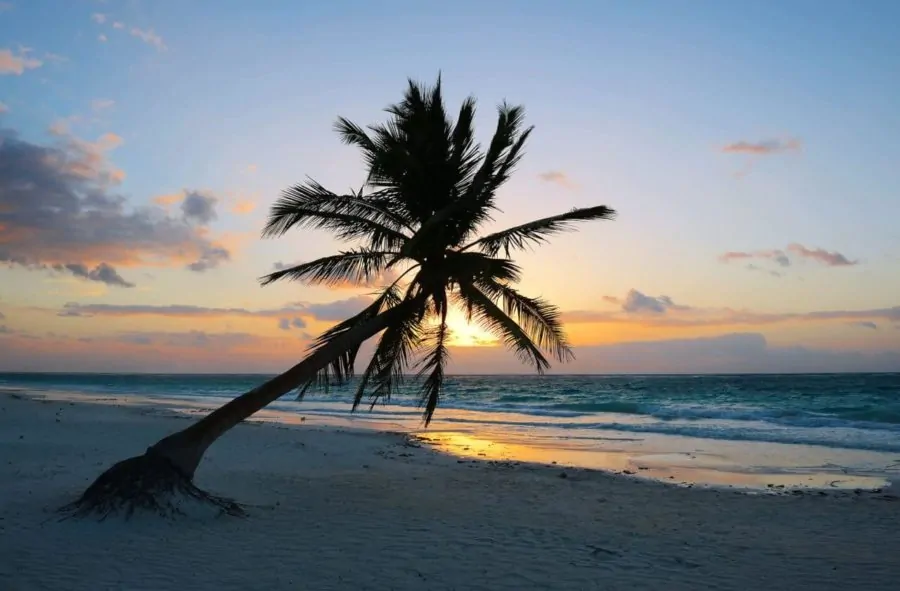 Useful Playa Del Carmen Tips & Advice
If you're vacationing in Mexico and want something different than Cancun, you really can't go wrong by basing yourself in Playa del Carmen to explore the best of what the Yucatan Peninsula has to offer. ★
FAQ: Top Playa Del Carmen Questions
---
Enjoy This Article? Pin It!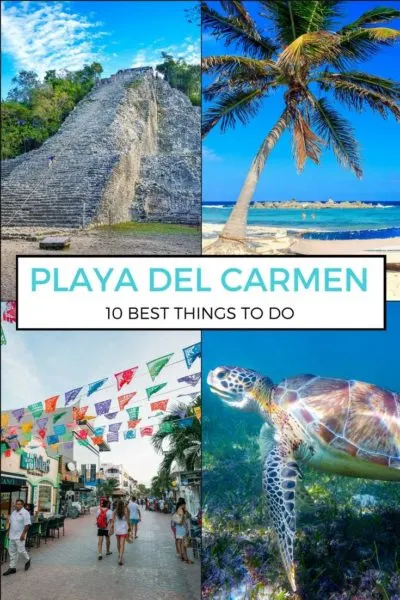 ---
READ MORE MEXICO TRAVEL TIPS
I hope you enjoyed my guide on things to do in Playa Del Carmen! Hopefully you found it useful. Here are a few more wanderlust-inducing articles that I recommend you read next:
---
Have any questions about things to do in Playa del Carmen? What about other suggestions? Join the conversation on Facebook, Instagram, or Twitter to share!