Playa Del Carmen, Mexico
Hiking in waist-deep water through dark caves at Rio Secreto, we turned a corner to discover a massive cavern decorated with incredible stalactites all over the ceiling.
Spelunking, or exploring caves, is one of my favorite adventure travel activities. I've hiked and crawled through natural underground passageways in South Africa, Guatemala, Iceland, and more.
But Mexico's Yucatan Peninsula is teeming with incredible caves too.
There is something exciting about wandering through the darkness, deep into the Earth, not sure what you'll discover around the next bend.
Visiting Rio Secreto gives you a taste of this rarely-seen and magical world.
We walked through the jungle to one of the cave entrances led by our guide "Ro", who told us camera traps nearby had recently captured images of wild jaguars that call the area home.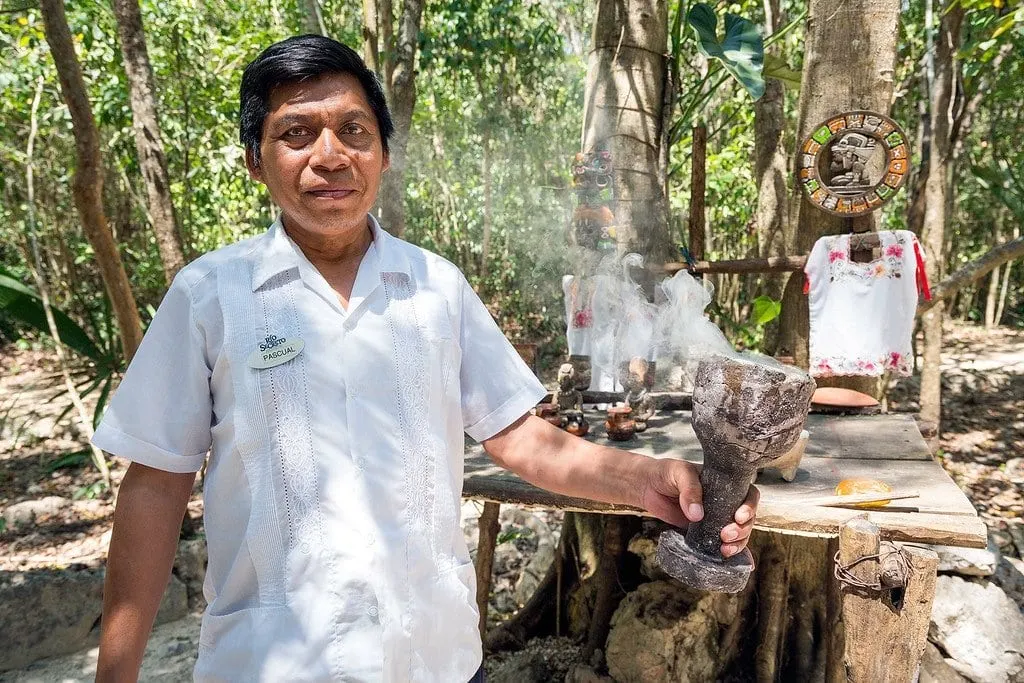 The Maya Underworld
Our adventure begins with a sacred Maya cleansing ritual using smoke. A local shaman asks Mayan death gods for permission for us to enter their domain.
The Maya consider these caves scared, a portal to Xibalba (aka "the place of fear") — the Mayan underworld.
Ancient skeletons, artifacts, and petroglyphs have been discovered in the cenotes and caves that cover the Yucatan Peninsula. Some date back 13,000 years!
Caves like this were often used for human & animal sacrifice, and even today many local Maya keep clear of them.
In 2007 Rio Secreto's owner decided to allow eco-tours through 10% of the natural reserve, in order to fund conservation for the rest of it.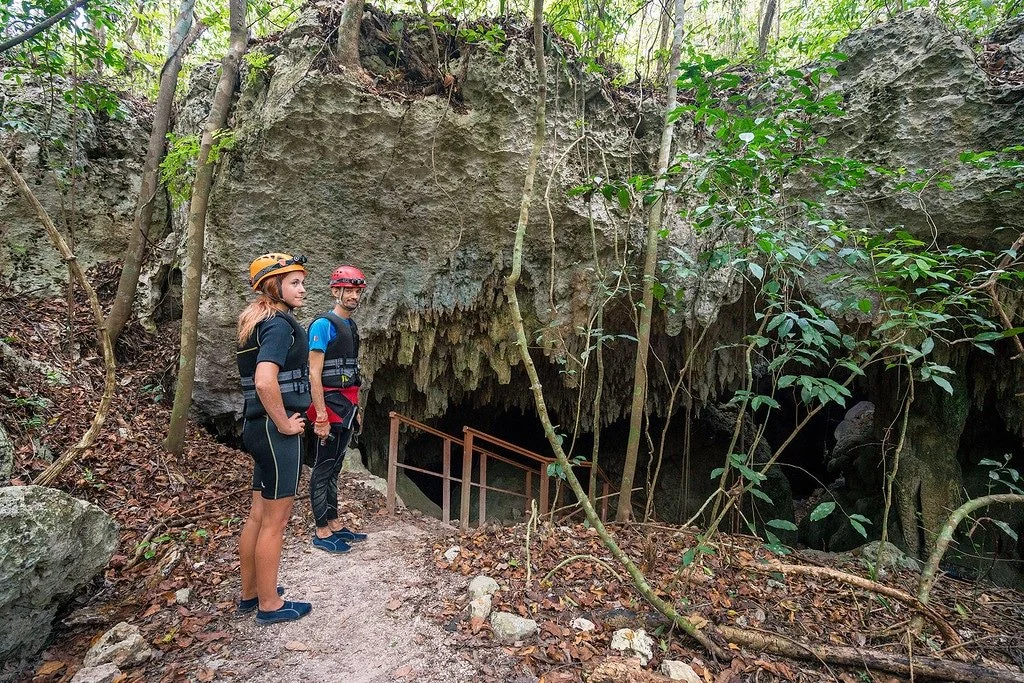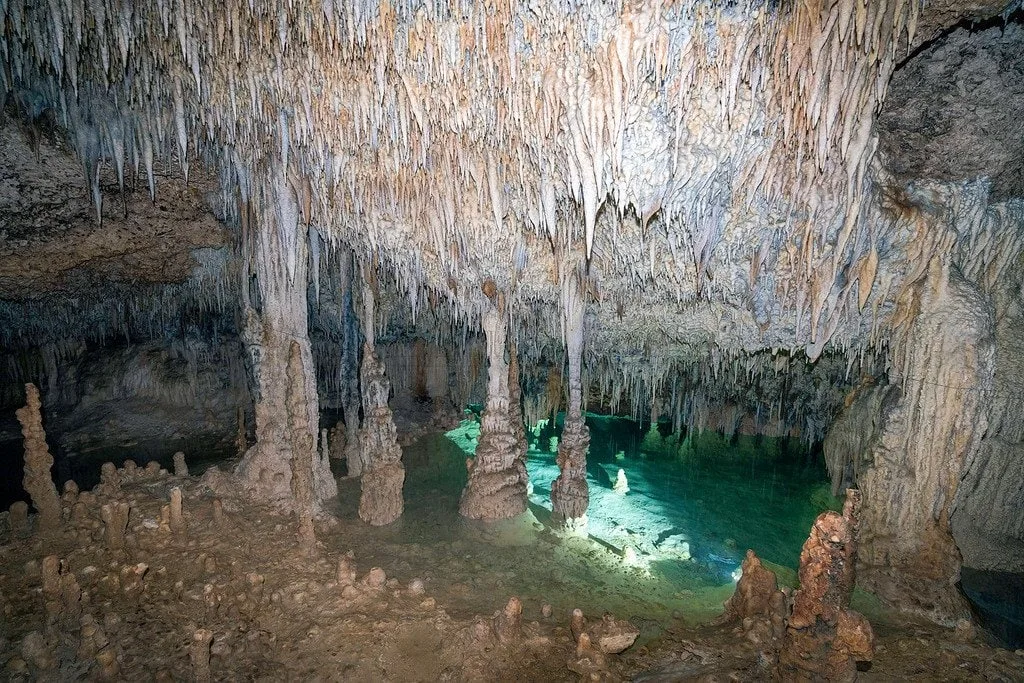 Exploring Rio Secreto's Caves
There are a few different entrances to the caves, covered in vines. Black holes ready to swallow us into the earth. We switch on our headlamps and head into the darkness, not sure what lies ahead.
Rio Secreto is a maze of passageways and dramatic mineral formations.
Water drips lightly from the ends of stalactites on the ceiling into the pristine blue pools at our feet. This water has slowly filtered through the porous rock, which is why it's so clean.
We're witnessing millions of years of geological history as we hike and swim through different chambers.
The water is cold, but the air is warm with humidity too. We squeeze through narrow cave passages, sometimes with water up to our chests. But there are also massive chambers, large enough to fit a small house inside.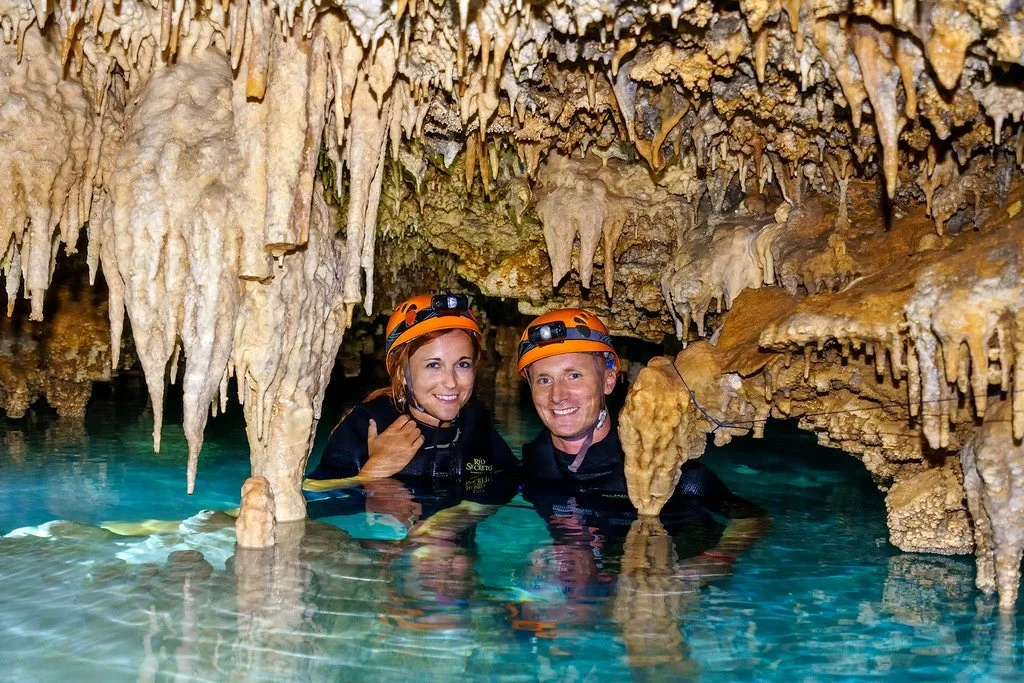 Underground River Systems
Limestone cave environments like this are very fragile. Rio Secreto has taken great pains to keep the area pristine, without installing concrete paths or tons of cheesy artificial lighting.
It's just you and your headlamp in the darkness.
You have to watch your footing though, as the cave floor constantly changes from wet and slippery to sharp and jagged. It feels like a proper caving adventure!
Our guide occasionally placed a couple of powerful waterproof flashlights into the water, turning it into a giant glowing river of blue light.
This water is part of an intricate network of rivers that flows beneath the Yucatan Peninsula's hollow limestone shell. It's actually the 2nd largest underground river system in the world.
Professional cave divers love the area's many underwater caves. But at Rio Secreto, the water level is shallow — allowing anyone to explore these caves on foot. No need for specialized scuba gear or expensive training.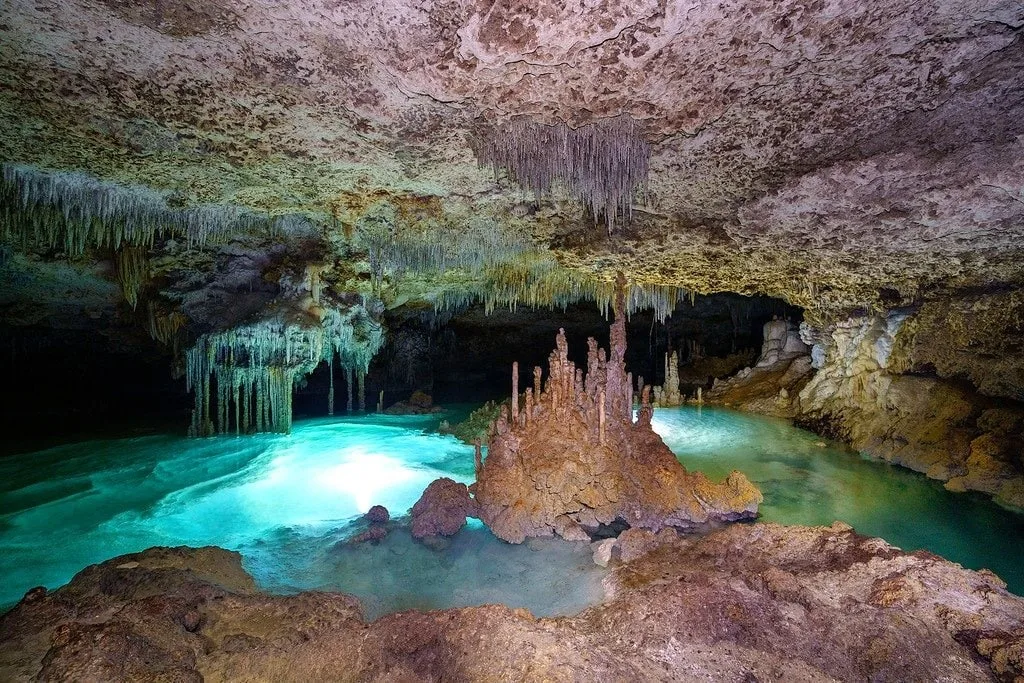 Getting There
Rio Secreto is located a few miles south of Playa del Carmen, off Highway 307 along the Riviera Maya. It's about an hour south of Cancun, or 40 minutes north of Tulum.
If you have a rental car you can drive there yourself, jump in a local taxi/collectivo van, or arrange for them to pick you up at your hotel.
Book Your Cave Tour
Ready to go explore some caves in Mexico? ➜ BOOK IT HERE
Rio Secreto Tips & Advice
If you don't get too claustrophobic and love exploring caves like me, then Mexico's Rio Secreto is a pretty awesome experience. You are going to get wet. But don't worry, that's part of the fun!
Make sure to bring a swimsuit and towel. Rio Secreto provides a wetsuit, water shoes, lifejacket, helmet, and light.
Cameras are not allowed because of the wet & hazardous cave environment. However trained staff can take photos with special equipment, which you can buy at the end of the tour.
Where To Stay In Playa Del Carmen
Playa has become a popular tourist hub for travelers to base themselves while exploring the Yucatan Peninsula. If you're wondering where to stay in Playa del Carmen, here are my recommendations depending on your budget.
---
BEST ACCOMMODATION IN PLAYA DEL CARMEN
---
The limestone cenotes and caves of the Yucatan Peninsula are very unique to this area, you won't find anything quite like them anywhere else around the world. They're one of my favorite tourist attractions in Mexico! ★
---
Enjoy This Article? Pin It!
---
READ MORE MEXICO TRAVEL TIPS
I hope you enjoyed my guide on Rio Secreto in Mexico! Hopefully you found it useful. Here are a few more wanderlust-inducing articles that I recommend you read next:
---
Have any questions about Rio Secreto? What about other suggestions? Join the conversation on Facebook, Instagram, or Twitter to share!