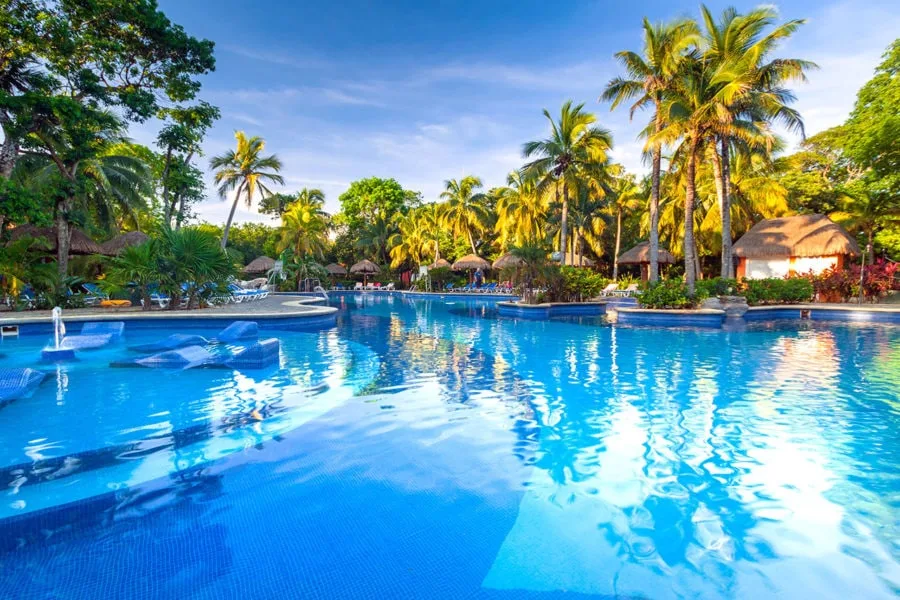 Playa Del Carmen, Mexico
Plan your Mexico trip with my advice for the best places to stay in Playa del Carmen (hotels, budget hostels, and resorts) for each unique neighborhood around the city!
Located on the Yucatan Peninsula, the Mexican city of Playa Del Carmen was once just a small ferry port for people on their way to the island of Cozumel.
Over the years it grew into a popular beach town in its own right due to a beautiful coastline, tasty Mexican cuisine, sunny weather, and central location along the "Riviera Maya" route.
Playa Del Carmen became a cheaper option than Tulum, and less busy than Cancun – exploding in popularity in recent years.
Visitors can explore nearby Maya ruins, swim in underground rock pools called "cenotes", or go scuba diving to see one of the largest reefs in the world.
For those planning a visit and wondering about the best places to stay in Playa del Carmen, I've put together this free guide to the city's best neighborhoods and accommodation options!
Mexico Travel Restrictions 2022
Mexico is open to most travelers again, including American tourists. However you do need proof of your COVID-19 vaccination(s) or a negative test result before being allowed entry.
Many hotels, attractions, and private tours are open with new health & safety protocols in place, and you still have to follow certain guidelines.
You can find the latest updates on traveling to Mexico here.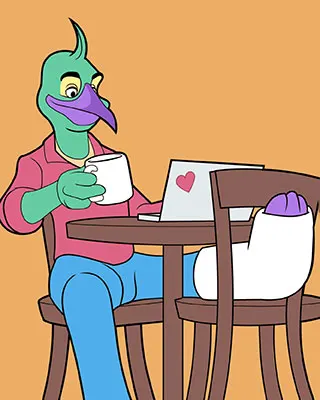 Get Travel Insurance
Protect yourself from injury, illness, or theft. SafetyWing offers affordable travel insurance that covers COVID-19 too!
Best Places To Stay In Playa Del Carmen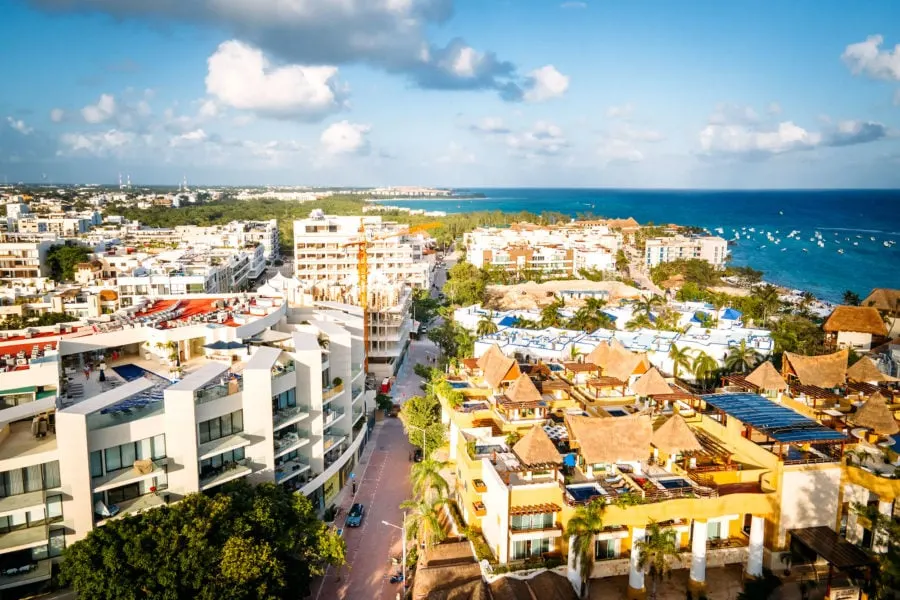 When it comes to finding a place to stay in Playa del Carmen, all-inclusive resorts are typical in Mexico, however, there are many other accommodation options like smaller hotels and guesthouses if you want to save money.
It's important to book Play del Carmen hotels early to get the best deals.
Especially if you plan to visit during the winter high season, when finding a good place to stay can be much more difficult.
In this guide, I'll cover everything from budget backpacker hostels to luxury Playa del Carmen resorts, vacation rentals, local guesthouses, and more — you'll learn exactly where to stay in Playa del Carmen to have a great time.
Best Neighborhoods In Playa Del Carmen
El Centro "Downtown" Playa
For the typical tourist experience of Playa Del Carmen, El Centro (downtown) is the place for you. This is where all the action is. Stay right on (or close by) La Quinta 5th Avenue for easy walking access to great restaurants, nightlife, and shopping. This is the beating heart of the city.
The North End
North of Avenida Constituyentes is where the city has been growing, and it's a little more "trendy". There are more condos and vacation rentals up here than hotels. It's a bit quieter than El Centro too — but still easily within walking distance to all the nightlife and action on 5th Avenue.
Playacar
Playacar is a residential development just South of Playa del Carmen. It's split into two "Phases". Playacar Phase 1 is quieter and more local, with just a few hotels (but some excellent beaches). Playacar Phase 2 is home to a variety of hotels, golf courses, an aviary park, and shopping centers targeted at tourists.
Luxury Resort Area
This area has a handful of luxury resorts for travelers with larger budgets. There are four Mayakoba resorts up here, as well as the Grand Velas. It's not really walkable from here into the city center, so you'd need to take a taxi or shuttle bus.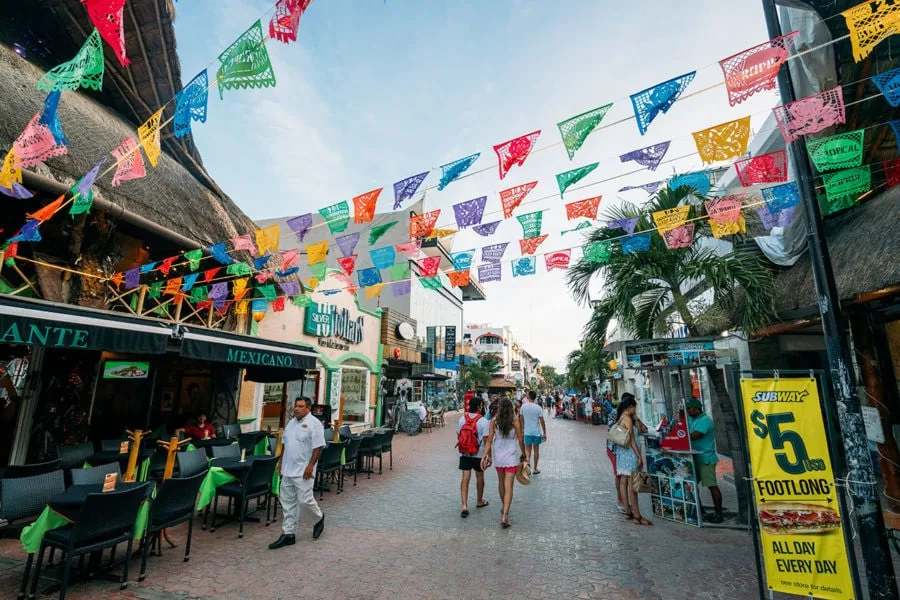 Where To Stay In Playa Del Carmen
Most people prefer to stay near Playa del Carmen's 5th Avenue walking street because that's where all the action is. There are a variety of accommodation styles when it comes to finding a place to stay. The following list showcases some of the best options no matter what your budget — from backpacker to baller.
Coolest Airbnb's In Playa Del Carmen
---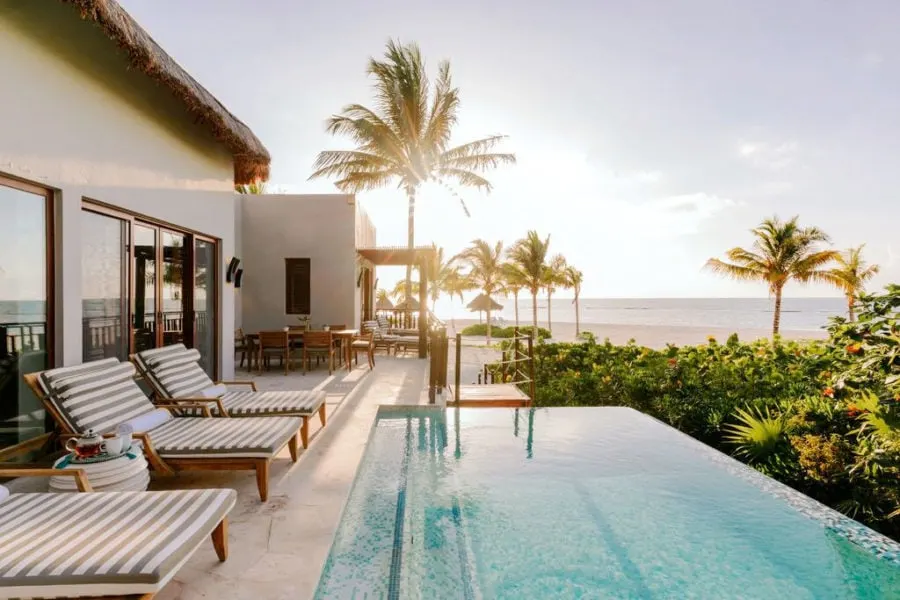 Luxury Hotels & Resorts In Playa del Carmen
A 5-star all-inclusive resort, Fairmont Mayakoba gives each party their own private terrace, access to water sports and bicycle rentals. This resort is one for the luxury-hunters, with every bedroom kitted out with everything from a flat-screen TV to free toiletries. Staff can welcome you in any language, and the on-site restaurant caters to all manner of dietary requirements.
The Thompson is located right on 5th Avenue, known for their great outdoor terrace infinity pool parties. All rooms have jet bathtubs and many have private terraces with Jacuzzis. Guests get free beach access through their sister property located only two blocks away. This hotel is pet-friendly too!
The Hilton Playa del Carmen is one of the top hotels in the city. Located right on the beachfront, with every room offering either an ocean or a garden view. The Hilton has a hot tub placed in every room, along with a great sound system, and a premium minibar.
Mid-Range Hotels In Playa Del Carmen
Looking for a romantic hotel in Playa del Carmen? Reina Roja is for adults only. Enjoy your free welcome cocktail before settling into one of their very quirky themed rooms or relax in the rooftop pool. Keep an eye out for the creepy mannequins too!
The Magic Blue has a great swimming pool and garden area, along with in-house massage services, and a selection of gourmet restaurants. You get excellent value for your money, with a perfect location only one block away from 5th Avenue.
Hotel Morgana features 20 rooms designed to reflect Mexican history and culture. Every room is completely unique and the furniture is custom-made. They also have a rooftop terrace with pool and solarium, along with a local crafts gallery featuring Mexican artworks.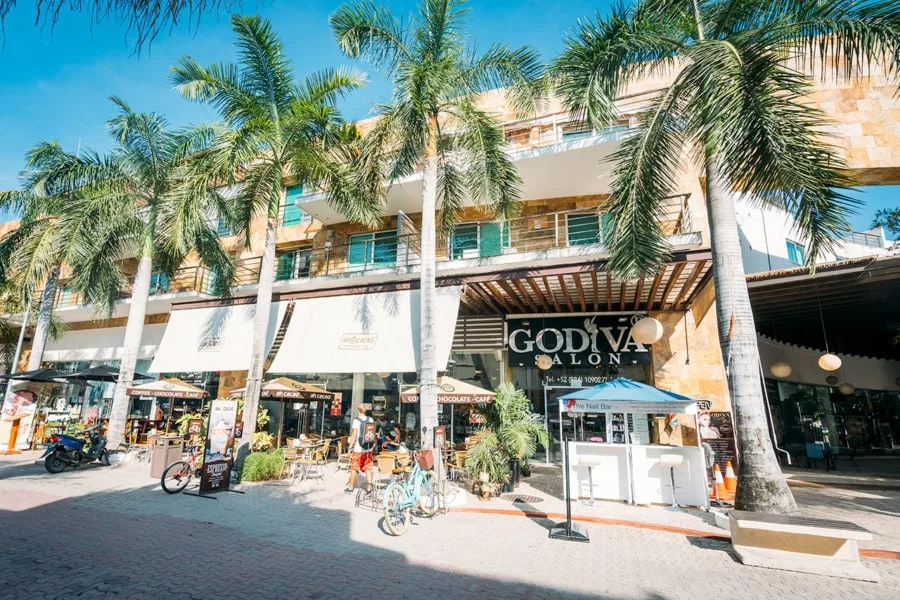 Budget Hotels In Playa Del Carmen
Hotel 52 is located right in the center of Playa del Carmen with fun decorative touches from the owner, including a rooftop pool and great beach views. They offer massage services and are completely smoke-free for the health-conscious!
One of my favorite places to stay in Playa del Carmen, it has a very tranquil atmosphere that really lets you escape the noise of downtown. The ornate hotel balconies frame a central swimming pool located right in the middle of the courtyard.
Despite being a budget hotel, Fiesta Inn has all the luxuries you might expect from a higher-priced place, including air conditioning in every bedroom and private showers. A shuttle to and from the airport is also very convenient.
Cheap Hostels In Playa Del Carmen
Located in the heart of Playa del Carmen, Hostal MX is right next to shopping, dining, nightclubs and the beaches. They have access to hammocks, a hot tub, good local transport and free wi-fi. A great place to stay if you're trying to save money!
The Yak Hostel offers a free breakfast to all its guests, with a bathroom for every bedroom and even a charming little book exchange. It's a simple but pleasant place to stay, close to the beach, and just around the corner from some of Playa del Carmen's best nightclubs.
One of the best things about Selina Hostel is its social atmosphere, including a great outdoor pool area (often with good parties), bar, lounge, and a restaurant with a shared kitchen. The hostel rents out bikes too.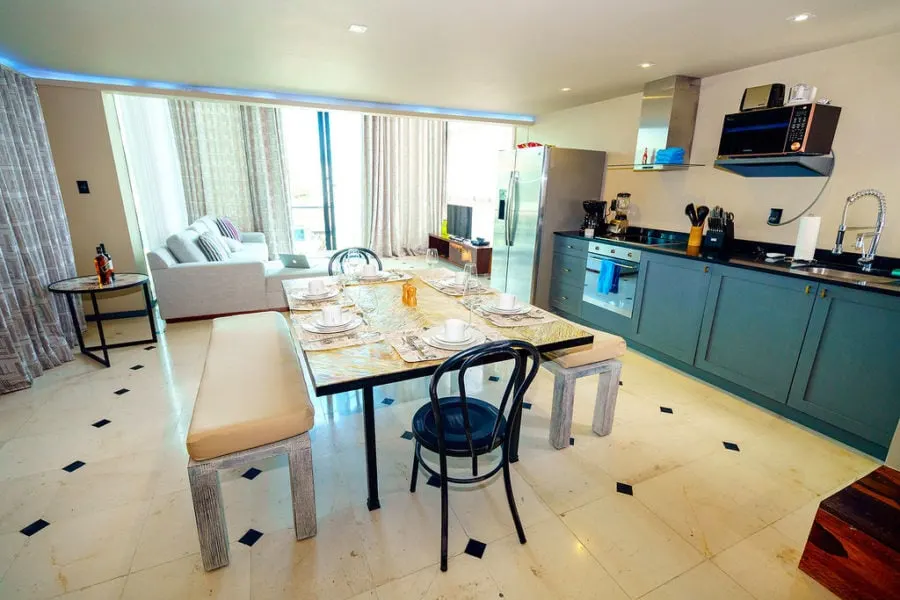 Vacation Rentals In Playa Del Carmen
Probably one of the coolest places to stay in Playa, we rented a condo here for 2-months! These vacation apartments come with everything you need to feel at home, as well as a massive pool, nice hot tub, and the best part — a private beach!

This complex has the only private beach in the area, so you'll always have plenty of sand to spread out (and no one trying to sell you stuff). It's located in the North End neighborhood, so it's quiet, but within walking distance to all kinds of great restaurants, coffee shops, and bars.
Choosing to stay in a vacation rental apartment is a great alternative to hotels, and might even save you money. They offer more space, better amenities, a kitchen, and give you a feeling of home.
I've rented from Bric Vacation Rentals before and had a great experience. They have options for all budgets.
Enjoy Your Trip To Playa!
So there you go, my roundup of the best places to stay in Playa del Carmen while on vacation.
Playa del Carmen is a perfect place to base yourself in Mexico, and each day will bring something new and entertaining to your trip – whether you prefer a relaxing holiday or a hefty dose of adventure. ★
---
Enjoy This Article? Pin It!
---
READ MORE MEXICO TRAVEL TIPS
I hope you enjoyed my guide on where to stay in Playa Del Carmen! Hopefully you found it useful. Here are a few more wanderlust-inducing articles that I recommend you read next:
---
Have any questions about where to stay in Playa Del Carmen? Are you planning a trip to Mexico? Join the conversation on Facebook, Instagram, or Twitter to share!