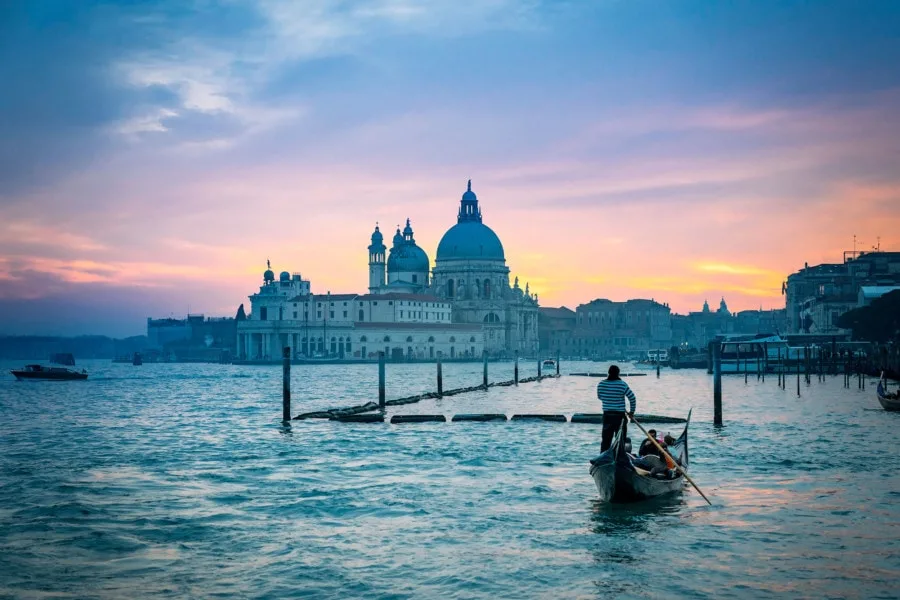 Venice, Italy
Plan your Italy trip with my advice for where to stay in Venice! Learn which neighborhoods, hotels, and hostel options are good depending on your budget & goals.
Italy is certainly one of the most romantic and historic travel destinations there is. And perhaps no Italian city captures that essence quite like Venice (ok, Rome does a pretty good job too).
Situated in Italy's northeast region between the Po and Piave rivers, Venice is actually a series of 118 islands linked by hundreds of bridges and water canals.
Home to Cassanova and Marco Polo, plenty of charm and lore surrounds this ancient city. Some of Venice's top highlights include St. Mark's Square, gondola rides, original Renaissance architecture and paintings, and of course sipping Negronis at outdoor cafes.
During your stay, you'll likely find yourself in renovated palaces and noble estates that have been turned into hotels furnished with antiques and Venetian art.
So where are the best places to stay in Venice? For those planning a trip and looking for some tips on where to stay, I've put together this list of the city's best areas and accommodations, for all budgets.
Italy Travel Restrictions 2021
Italy is open to most travelers again, including American tourists. However you do need proof of your COVID-19 vaccination(s) or a negative test result before being allowed entry.
Many hotels, attractions, and private tours are open with new health & safety protocols in place, and you still have to follow certain guidelines.
You can find the latest updates on traveling to Italy here.
Best Places To Stay In Venice 2021
When it comes to finding a place to stay in Venice, hotels aren't cheap, but you can still find unique, budget-friendly hostels and apartments with kitchenettes to save on eating out. Alternatives like guesthouses can help you save money.
It's important to book Venice accommodation early to get the best deals.
Especially if you plan to visit during the summer high season, or in February during the world-famous Carnival of Venice — when finding a good place to stay can be much more difficult.
In this guide, I'll cover everything from budget backpacker hostels to luxury Venice hotels, plus the best neighborhoods — you'll learn exactly where to stay in Venice to have a great time on your Venetian getaway.
Top Neighborhoods In Venice
Venice has six official districts, called sestieri, but I've also covered some more specific neighborhoods to help you pick the exact location to make the most of your trip.
Cannaregio (includes San Michele)
San Polo
Dorsoduro (includes Giudecca and Sacca Fisola)
Santa Croce
San Marco (includes San Giorgio Maggiore)
Castello (includes San Pietro di Castello and Sant'Elena)
San Marco – Most Popular Venice Neighborhood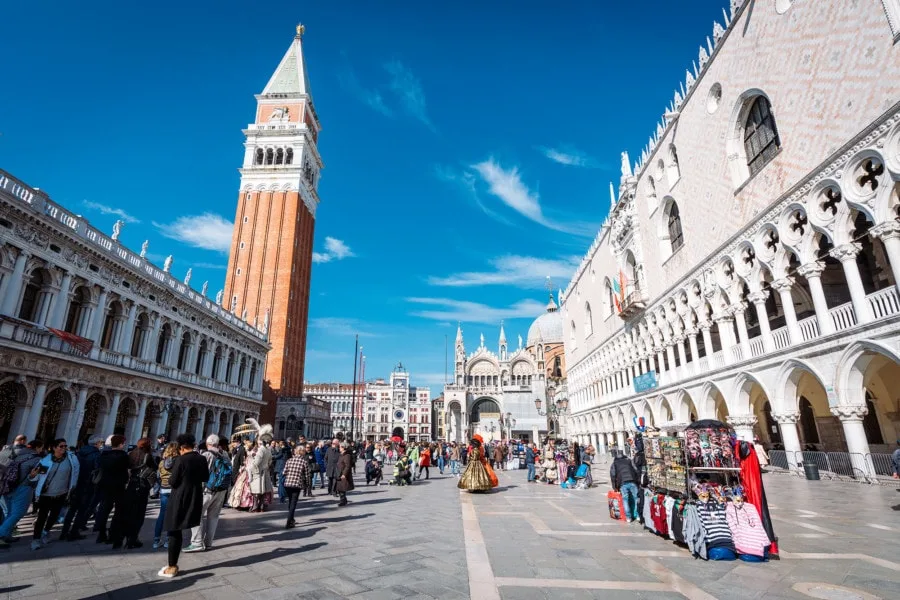 Every tourist eventually winds up in this neighborhood, where you'll find iconic sights like the Doge's Palace, Rialto Bridge, Harry's Bar, and Piazza San Marco (St. Mark's Square in English). The St. Mark's Basilica overlooks the large public square, typically filled with cooing pigeons. Cafes with outdoor seating offer the ideal spot for people watching and sampling a gelato.
Stay here if you've always dreamed of waking up to views of the Rialto Bridge from your hotel room. You'll have quick access to designer shops and the city's most popular destinations. Don't book a hotel in San Marco if you want to avoid the crowds and prefer a more authentic experience away from the souvenir shops and designer stores.
Where To Stay In San Marco
Experience exceptional quality in a hotel full of soul and history. This former noble palace dates back to 1475 and offers unrivaled elegance, just 1,650 feet from St. Mark's Square. Enjoy breakfast in a regal dining room with crystal chandeliers.
If you want comfortable accommodations in the middle of it all, go for Albergo San Marco. This 3-star hotel is just a stone's throw away from San Marco Square and Doge's Palace. You can relax after a day of sightseeing with a meal at one of the two restaurants on site or unwind at the hotel's cocktail bar.
This Bed & Breakfast Hotel puts you in the middle of the top tourist attractions, right next to St. Mark's Basilica. The 3-star accommodation comes with 24-hour service and complimentary continental breakfast. Enjoy views of the Grand Canal from your room, sip drinks at the on-site lounge bar, or unwind in the patio or library.
If you want to stay in the center of it all on a budget, you can't get much better than Youth Venice San Marco. Just two minutes away from St. Mark's Square, rooms come with a private or shared bathroom. It's even pet friendly!
Dorsoduro – Best Venice Nightlife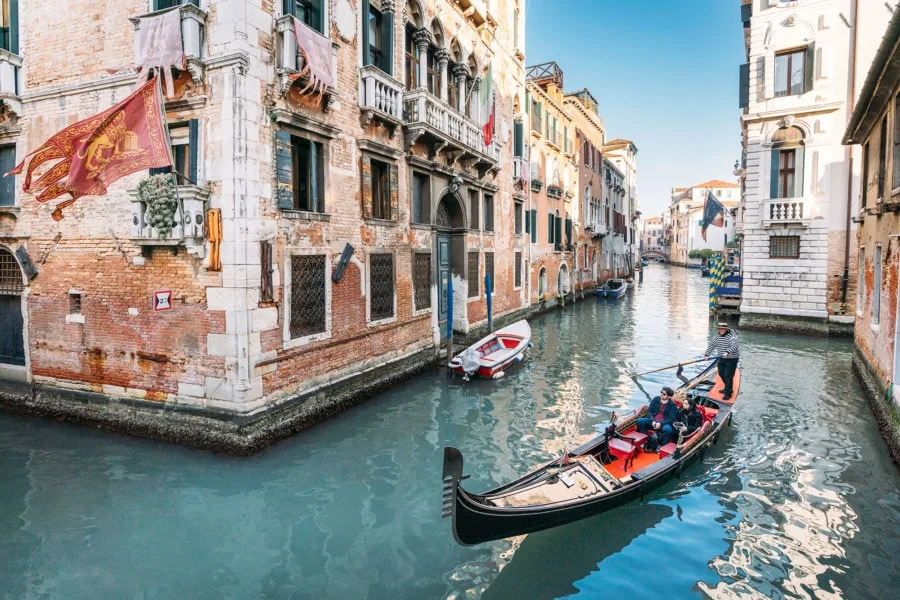 In Dorsoduro, you'll get a feel for the "real Venice", further from the crowds at a fraction of the cost. Home to Venice's Ca' Foscari University, the neighborhood has a student vibe. That also means you'll find more budget accommodations in this neighborhood, with lots of cozy bed and breakfasts.
The sestieri wraps around the neighboring San Marco, connected by the Accademia Bridge (Ponte dell'Accademia). Wander quiet streets and explore the many museums, galleries, and churches. At the Punta della Dogana, witness a Venetian highway with a stream of gondolas, water taxis, and cruise ships.
Do a bit of bar hopping at the bàcaros, Venice's version of a tapas restaurant. Art lovers can enjoy contemporary pieces at the Peggy Guggenheim Collection and some of Hieronymus Bosch's creepier works at the Galleria dell'Accademia.
Where To Stay in Dorsoduro
Beautiful and spacious, the stately Hotel Nani Mocenigo Palace is ideal for couples looking to indulge during their visit to Italy with terrace views of the city. The hotel serves a highly-rated breakfast buffet every day.
Enjoy beautiful views of Campo Santa Margherita in this affordably priced guest house. You won't have access to a front desk or concierge. Instead, you'll open your room with a security code. Rooms come with a coffee maker, kitchenette, and fridge, a great way to save on meals.
Experience old-world charm, without breaking the bank, at this affordable hotel in the heart of the city's museums. Although small, rooms contain antique furniture and fabric wallpaper with direct views of the Grand Canal. Accademia Bridge sits just around the corner, and you can easily walk to St Mark's Square within 10 minutes.
Hostel Silk Road offers a quiet, relaxing atmosphere for backpackers looking for some space. Rooms contain 4 comfortable beds (no bunk beds!) with views of the canals in a great location away from the crowded places.
Santa Croce – To Avoid The Crowds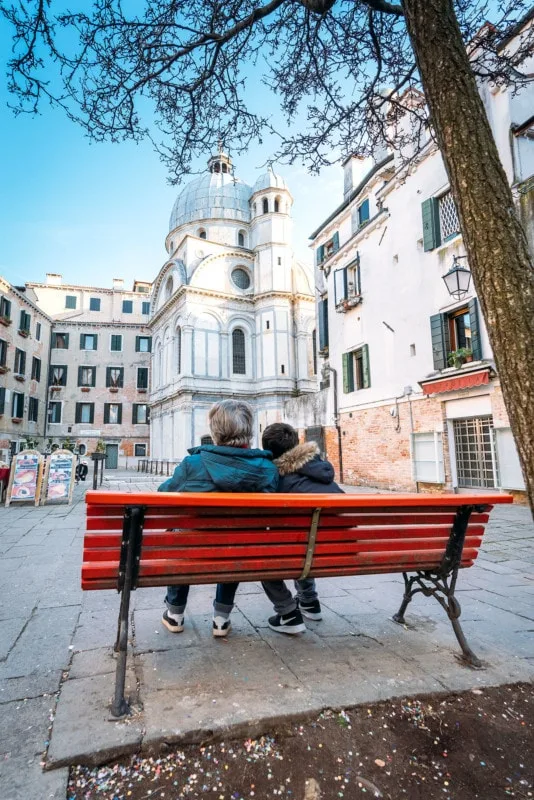 Santa Croce sits on the northwest part of Venice. As the city's least touristy sestieri, Santa Croce doesn't have a lot in terms of sightseeing and is more of a transportation hub than a place to stay. That means cheaper accommodations, but a lot of walking or buses if you want to explore the city.
Santa Croce's Piazzale Roma serves as the central bus station, accessible by bus from the Marco Polo Airport or Treviso Airport. Nearby, you'll find the Venezia Santa Lucia railway station, complete with its own water bus stop. It's also the only area of Venice that allows cars and includes the artificial island of Tronchetto created as a parking lot for tourists and locals to leave their cars while in town.
That said, you will find some spots worth checking out. Santa Croce has pretty churches, mostly in the eastern section. The Church of San Giacomo dell'Orio houses paintings by Lorenzo Lotto and Veronese. The Museum of Natural History now occupies the Fondaco dei Turchi, a 13th century palazzo that later serves as a one-building ghetto for the city's Ottomon Turkish population.
Where To Stay in Santa Croce
Situated directly across from the famous Grand Canal, this historic Venetian hotel will feel like a step back in time to the Renaissance, with rooms draped with tapestries and furnished with antiques.
Get the luxury experience without spending as much as you would on a 5-star experience. This highly-rated hotel has modern decor that still captures the decadent Venetian style. Customers love the friendly staff and the breakfast buffet.
Just a 15 minute walk from St. Mark's Square, Hotel Al Ponte Mocenigo puts you in the center of it all around the corner from Rialto Bridge. Tucked away in a quiet corner, the 18th-century Venetian palace blends traditional decor and modern amenities, with low prices on twin rooms during slow seasons.
Just over a mile walk from St. Mark's Square, Il Veliero Romantico sits in a peaceful neighborhood with clean and comfortable accommodations. All rooms come with a private bathroom, linens, and towels with free continental breakfast and coffee.
San Polo – Best Place For Famlies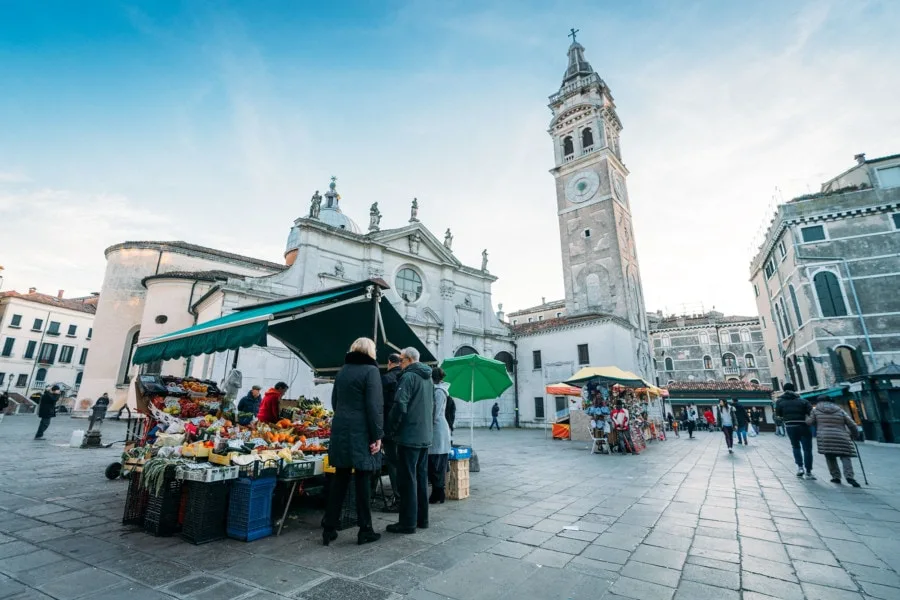 Have fun getting lost in San Polo, and you likely will get lost in this tiny neighborhood full of dead end allies. The central location means you can easily access top destinations like the Rialto Bridge.
Venice's smallest sestieri neighborhood also has the city's second largest piazza after San Marco called the Campo San Polo, once a venue for bullfights and masquerades. Do as the Venetians do: bring along a bottle of wine or craft beer, order a pizza to go, and enjoy the outdoor atmosphere sitting in the square and mingling with friends.
An ideal neighborhood for art lovers, San Polo has the Church of Santa Maria Gloriosa dei Frari, home to important paintings by Titian (who is also buried here). The Church of San Rocco contains paintings by Tintoretto. San Polo is also home to the Church of San Giacomo di Rialto, one of the oldest churches in Venice.
Where To Stay in San Polo
For a truly decadent experience, splurge on a stay at the Aman Venice, located right in the heart of Venice in the Grand Canal. Built in 1550, the grand Baroque-style Palazzo Papadopoli drips with luxury—Rococo frescoes, restored Neo-Renaissance decor, a private garden. Top-drawer staff serve guests in the private gardens, ballroom, game room, library, spa, and gym.
Floor to ceiling drapes in bright red, gold wallpaper, terraces with canal views—Ca' San Polo's lavish decor perfectly suits a Venetian vacation. This elegant hotel requires 10 minutes to reach the railway Saint Lucia.
This budget-friendly hotel features Murano glass chandeliers and a rooftop terrace. You'll enjoy a 24-hour concierge, sun terrace, and free breakfast included. All the top landmarks like Ponte di Rialto and Scala Contarini del Bovolo are within a half a mile.
The Domus Civica Hostel has private rooms and beds in dormitories with shared bathrooms, which come with free bed linens and a towel. Guests can mingle and soak in the sun on the shared terrace.
Cannaregio – Venice On A Budget
Experience Venice like a local in the quiet streets of Cannaregio. Cannaregio has a youthful, down-to-earth vibe where Venetians meet up with friends to snack and sip drinks at the local bàcaros.
The historically significant Jewish Ghetto sits in the heart of Cannaregio. The synagogues of the ghetto paint a cultural tapestry of the diverse population that once lived here, with each temple showcasing the unique culture of Jews from different parts of Europe and the Mediterranean.
Where To Stay in Cannaregio
Spend the night in a former noble palace, now a 5-star hotel from Autograph Collection. Inside, you'll have access to a secret garden, restaurant, and luxury spa. Guests love the breakfast and elegant Venetian-style decor.
Situated in a restored monastery, Hotel Abazzia has a historic atmosphere, with modern touches. During the summer, the kitchen serves breakfast in the courtyard. Head inside to the bar to admire an original wood-paneled dining hall painted by monks.
You'll feel as though you stepped back in time and into a palatial Venetian household, with 18th century furniture, fresco ceilings, and private garden. This budget-friendly hotel sits in the quieter Cannaregio district, serving a large continental breakfast. Book during the off-season, as this hotel gets pricier in the summer.
Located in a renovated 12th-century convent, Combo is the only hostel in Venice with canal views that has a stylish design with exposed brick and lots of light. Guests can mingle in the communal areas including a library, study room, restaurant/bar, and terrace. Formerly We_Crocieri, Combo Hostel has dormitories, private rooms, and apartments available with 24/7 reception.
Castello – Most Unique Venice Neighborhood
Dating back to the 13th century, Castello is the city's largest sestieri that grew up around a naval dockyard. You'll see nonnas from their balcony spying on the neighbors or kids kicking around soccer balls in the piazza, called campi in Venice.
The western part of the neighborhood feels more touristy, as it borders San Marco. But the eastern edge teems with thrift shops, bars, and specialty food stores selling dried meats and artisanal cheeses. Keep in mind if you stay in the heart of Castello, it can take 10-20 minutes to walk to some of the most popular attractions in town.
Where To Stay in Castello
Enjoy a candle-lit dinner with views of the lagoon at this 5-star stay. Rooms capture the charm of the city with antique furniture and luxury linens. You can enjoy dinner at the contemporary restaurant or relax at the citrus garden with a 14th century well shaded by palm trees.
The stylish 4-star boutique hotel on the south-eastern corner of Venice has a modern, refined elegance. Guests love sitting in the gardens and praise the friendly staff. Enjoy a restaurant and bar on site. The hotel also welcomes pets.
Situated on a lovely property filled with floral gardens and sculptures, this budget-friendly 3-star hotel in a 16th century building consistently receives high ratings from guests. Customers enjoy the breakfast, room service, and antique furnishings.
These budget-friendly rooms and apartments are a 15 minute walk from St. Mark's Square. Backpackers can meet other travelers. Rooms have private or shared bathrooms. Apartments come with a fully equipped kitchen and situated separately throughout the Castello district.
Giudecca
Part of the Dorsoduro sestiere, Giudecca is possibly one of the best kept secrets in Venice, with its renovated historical residences turned resorts and enchanting religious architecture.
Here, you'll find one of the most famous churches in the city, La Chiesa Del Redentore, a perfect example of Renaissance buildings designed by Andrea Palladio. The celebrated 16th-century church honored a terrible plague that took some 50,000 people (about 30% of the population) between 1575-77. The famed Redentore festival honors the end of the plague, which the church celebrates to this day every July with fireworks and feasting.
The avenue on the north side of the island provides an ideal place for a stroll while admiring views of the city. Keep in mind that you can only access the small series of islands by ferry or boat.
Stay here if you want peace and quiet away from the bustling tourist areas. Hotels on the island can get quite expensive because of the rise in tourism in recent years.
Where To Stay in Giudecca
Inside a fully restored, former flour mill, The Molino Stucky from Hilton Hotels has over 300 guest rooms. The grand, brick building features a famous rooftop bar and one of the best outdoor views of the lagoon. Although the rooms feel a little lackluster, you'll get the familiar service of Hilton with full amenities including 7 restaurants, spa, and rooftop pool.
Wood-beamed ceilings bring character to this mid-range Venice hotel. Air conditioned rooms include a mini bar and satellite TV. The hotel serves a breakfast buffet, and guests also have access to a small on-site cafe.
Experience Venice from a Yacht moored in Giudecca. Yacht Sarah has 9 charming guestrooms that won't break the budget. The B&B style accommodations offer views of the city from your cabin, with private bathrooms and breakfast served each morning.
With the main island just minutes away, Generator Venice offers backpackers a budget-friendly stay in an unbeatable location. The history of the building makes this more of a luxury hostel. Each room in the former granary has modern updates, mosaic flooring, and incredible views of the city. This is definitely more of a party hostel!
Mestre
If you want to enjoy Venice for longer than a day trip, Mestre stands out as a great budget option. The suburb sits on the mainland to the west of the Venetian islands, and hotels tend to cost less. Stay in the Piazza Ferretto lined with restaurants and cafes, a perfect way to experience quintessential Italian life.
To get to Venice, you can take a 10-minute bus ride from the Piazza. Or you can book a hotel nearby public transportation and travel to Venice for a few Euros. Keep in mind that buses, trains, and water taxis can get crowded and hot during peak travel season (May through August).
Where To Stay in Mestre
This distinctive hotel faces a marina and consists of two buildings, connected by a transparent glass roof, one of the largest of its kind in Europe. You can enjoy meals outdoors with live music and cocktails at night.
This 4-star hotel in Mestre consistently receives positive reviews. Right around the corner from the Mestre station, this hotel offers city views, plush towels, and access to an onsite bar and restaurant. The kitchen serves an "excellent" buffet breakfast. If you're road tripping to Venice, the Leonardo Royal has a private parking lot nearby. Pets are also allowed.
This newly built 3-star hotel opened in 2009. Single, double, triple, and quadruple rooms are minimalist and modern. Hotel Aaron serves a breakfast buffet every morning and has private parking available.
Just a 5 minute walk from the Mestre train station, Anda Venice has 8 floors and 119 rooms, making this an ideal spot for single travelers or groups in for a bachelor party to meet and mingle. The industrial-chic hostel has dorm style rooms with spacious, stylish communal areas.
Enjoy Your Venice Trip In Italy!
Possibly one of the most photogenic places in Italy, the "floating city" of Venice means Italian cuisine, impressive religious architecture, art from the Renaissance, and romantic strolls along Venice's famous canals.
Keep in mind that summer is the busiest tourist season for Venice. Popular areas can get crowded, and hotels and gondolas charge their highest rates. For the best prices and more options, try booking as early in advance as possible or going during the off seasons.
---
Enjoy This Article? Pin It!
---
READ MORE ITALY TRAVEL TIPS
I hope you enjoyed my guide on where to stay in Venice! Hopefully you found it useful. Here are a few more wanderlust-inducing articles that I recommend you read next:
---
Any questions about where to stay in Venice Italy? Do you have other suggestions? Join the conversation on Facebook, Instagram, or Twitter to share!