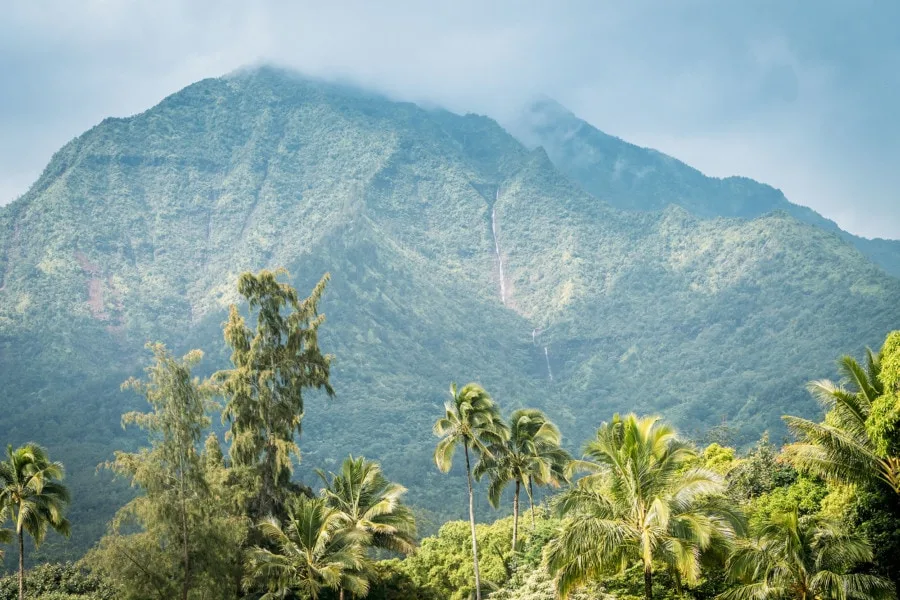 Kauai, Hawaii
The Hawaiian island of Kauai is the perfect place for active travelers looking to escape to a tropical paradise. Here are some of the best things to do in Kauai during your visit!
Not as touristy as Oahu and much smaller than The Big Island — Kauai is actually one of the oldest islands in the Hawaiian chain.
The lush wet landscapes and unique wildlife on Kauai has earned it the nickname "The Garden Isle".
You can explore dense jungles with rare orchids and other flowers. Trek along steep cliffs for breathtaking views. Then sip Mai-tais and snack on the best poke bowl you've ever had while watching monk seals sunbathing!
If you're planning to visit Hawaii soon, I wanted to recommend a few fun and unusual things to do on Kauai, no matter what time of year you're there.
Kauai Highlights Map
HOW TO USE THIS MAP: Above you'll find a map of Kauai's highlights. Click on the top left of the map to find separate layers marking the route and points of interest. You can hide and show different layers, or click icons on the map to see the names of places I mention in this travel guide. "Star" the map to save it to your own Google Maps, or open the map in a new window for a larger version. Enjoy!
Hawaii Travel Restrictions 2022
Hawaii is open to most travelers again. However you do need proof of your COVID-19 vaccination(s) or a pre-travel negative test in order to bypass the state's 10-day mandatory self-quarantine.
The vaccination record document must be uploaded to Safe Travels Hawaii and printed out prior to departure and must have a hard copy in hand when arriving to the islands.
You can read the latest updates on traveling to Hawaii here.
Best Things To Do In Kauai Guide
1. Kayak The Wailua River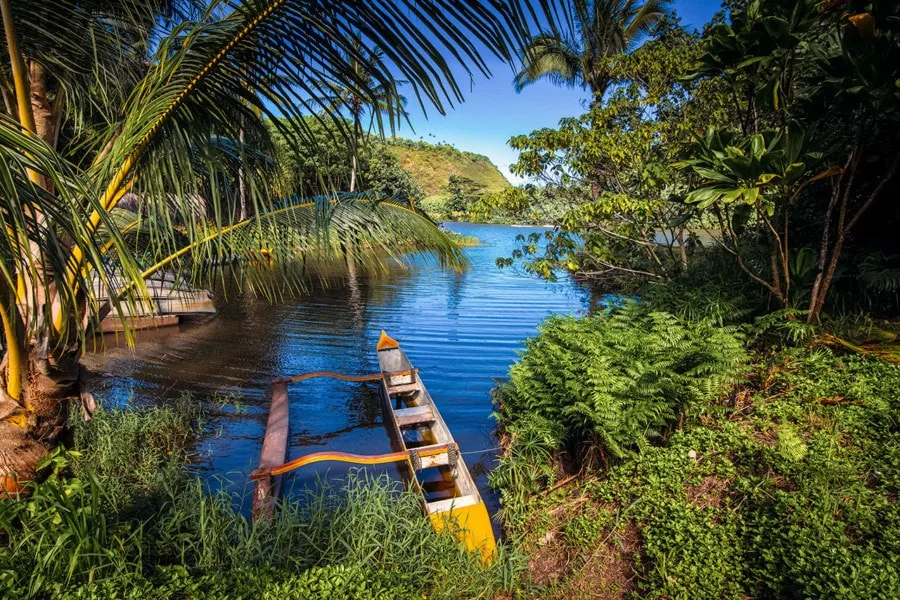 Kauai's Wailua River weaves 20 miles through the lush Wailua River Valley. Paddle your way into the center of the island, passing by waterfalls and ruins of old Hawaiian temples, called heiau, along the way.
Many tour operators run through here, but you can also rent a kayak, SUP, or outrigger canoe from your resort or Airbnb host for a self-guided excursion, which is what I did.
If you aren't up for a trip on the river itself, you can also get a great view overlooking a dramatic bend in the river from the Wailua River Overlook.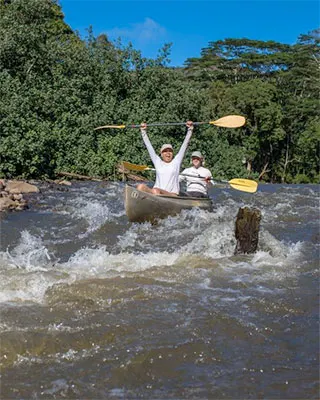 Kauai Kayaking Adventure
Join a kayaking adventure tour on Kauai, with professional photos and lunch included.
2. Waimea Canyon (Hawaii's Grand Canyon)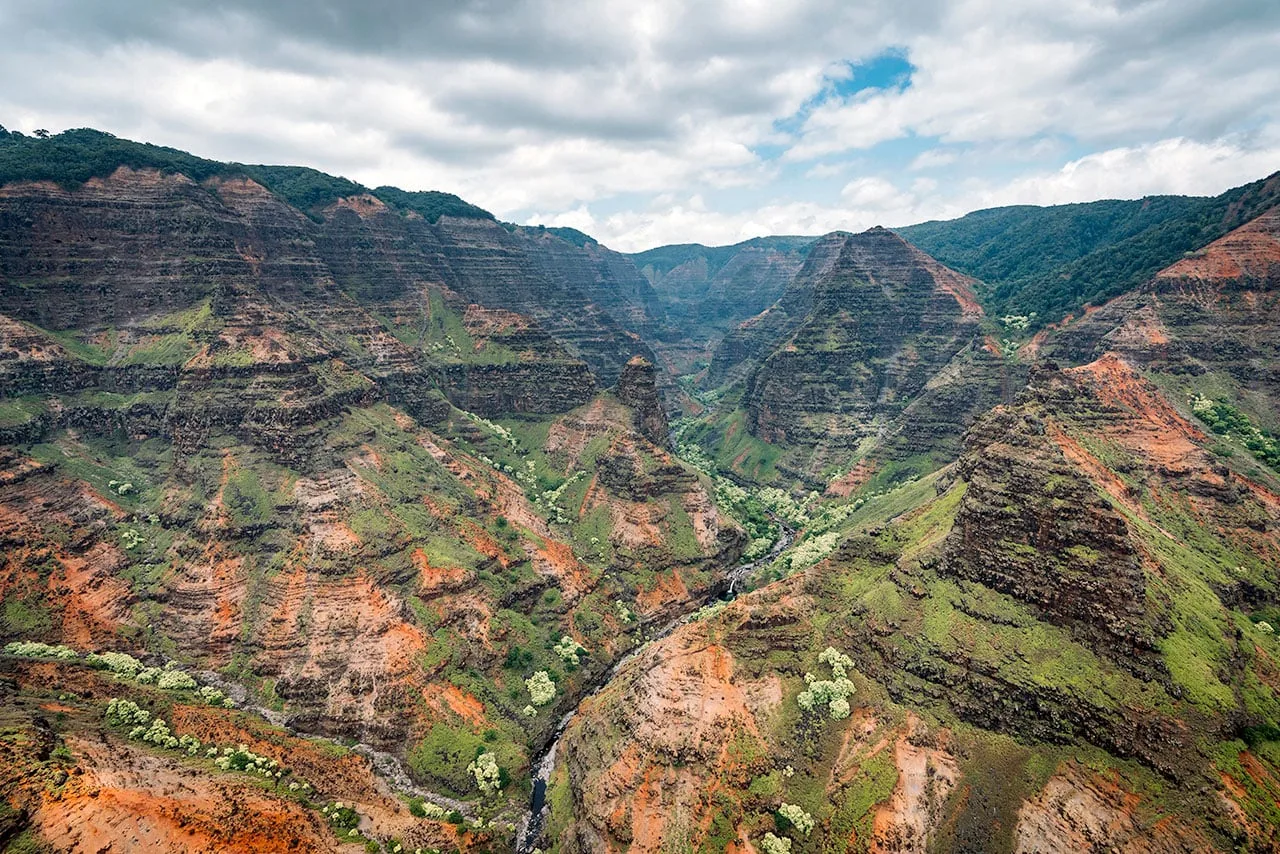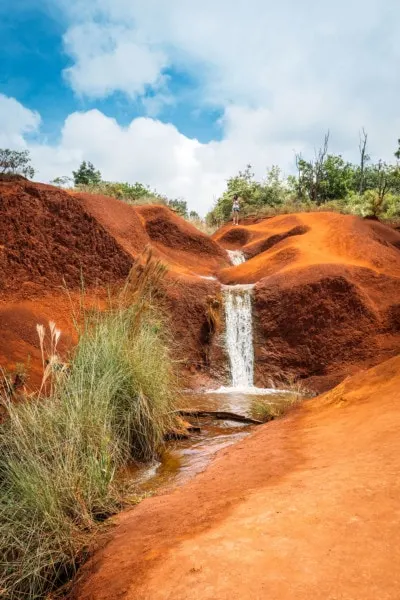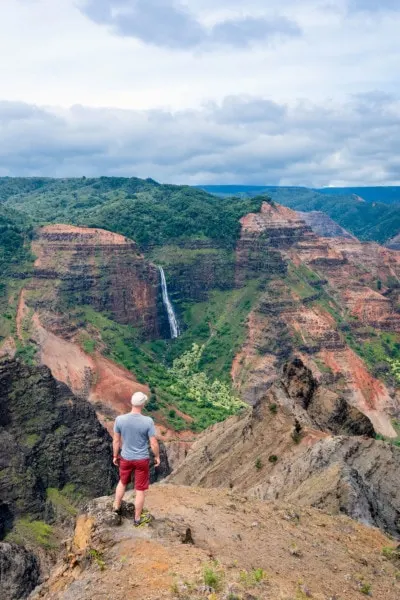 Drive to Kauai's west side for some great hiking and photo opportunities through beautiful Waimea Canyon, nicknamed the Grand Canyon of the Pacific. This unique red and green volcanic formation is 10 miles long, 1 mile wide, and 3,500 feet deep.
High elevations mean the temperature changes noticeably from the bottom as you head to the top. So bring a rain jacket or windbreaker. Wear hiking boots with lots of traction to handle the rocky, muddy terrain.
Even if you aren't a hiker, driving along the canyon walls and stopping at lookout spots is super fun. Keep in mind that parking at popular areas can fill up fast, so try to arrive early, before 9 AM.
➜ Read My Waimea Canyon Travel Guide Here
Kauai Hiking Trip
Hike along Waimea Canyon to the stunning Napali Coast via Kōkeʻe State Park on the cliffs above the ocean.
3. Explore The Nāpali Coast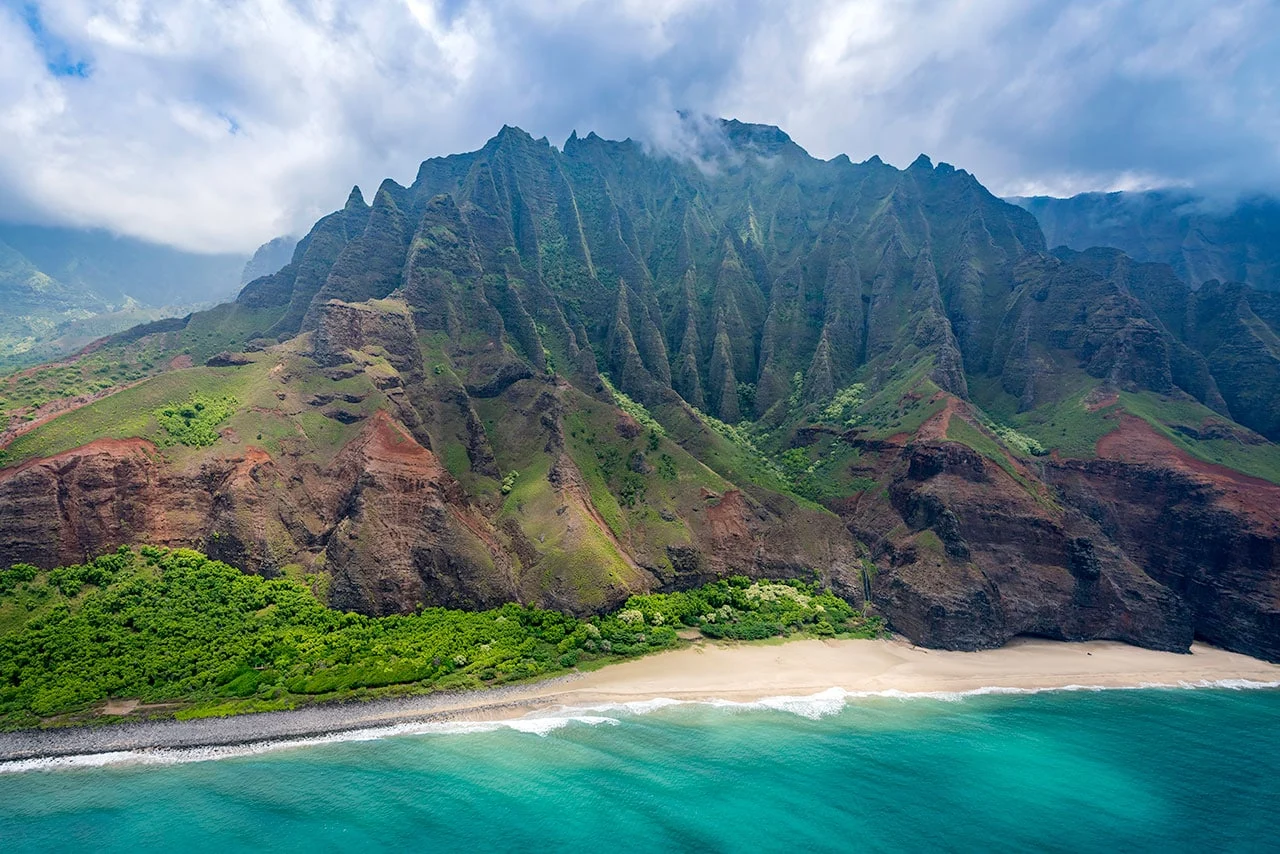 A must on your Kauai travel itinerary is to see the Nāpali Coast State Wilderness Park, with one of the most recognizable coastlines in the world. Defined by spectacular green mountains that rise dramatically from the ocean.
There are a few ways to enjoy this coastline: by land, sea, or air.
The Kalalau Trail
Advanced hikers with their own gear can attempt an 11 mile hiking adventure along the famous Kalalau Trail, which involves some overnight camping. The trek can get intense and requires a special permit at least a day in advance through the Hawaiian Park's website.
Sail The Coastline
Get an up close view of the Nāpali coast on a sailing catamaran boat. Dolphins sometimes play alongside the catamaran, and most boats offer snorkeling too. Keep an eye out for humpback whales breaching during peak whale watching season, December through April. A great way to see the coastline!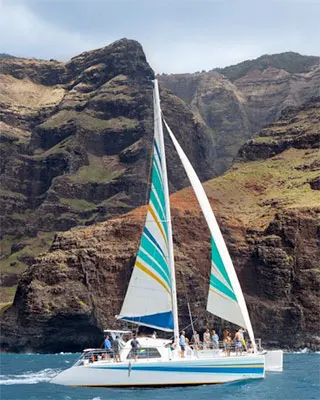 Napali Sailing Trip
Set sail along Kauai's majestic Napali Coast on a custom sailing catamaran to witness the beauty of Kauai.
Napali Helicopter Tour
Finally, although pricey, a Kauai helicopter tour gives you a 360 bird's-eye view of the lush greenery and cascading waterfalls of Na Pali. For the adventurous, they even offer open-door flights! This is what we did — it was amazing.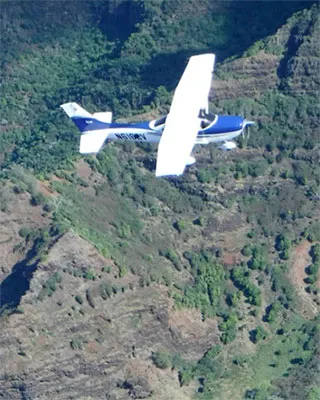 Napali Coast By Air
Enjoy Kauai from above in a private luxury airplane. Get views of Waimea Canyon, the Napali Coast, and more.
4. Cool Off With Hawaiian Shave Ice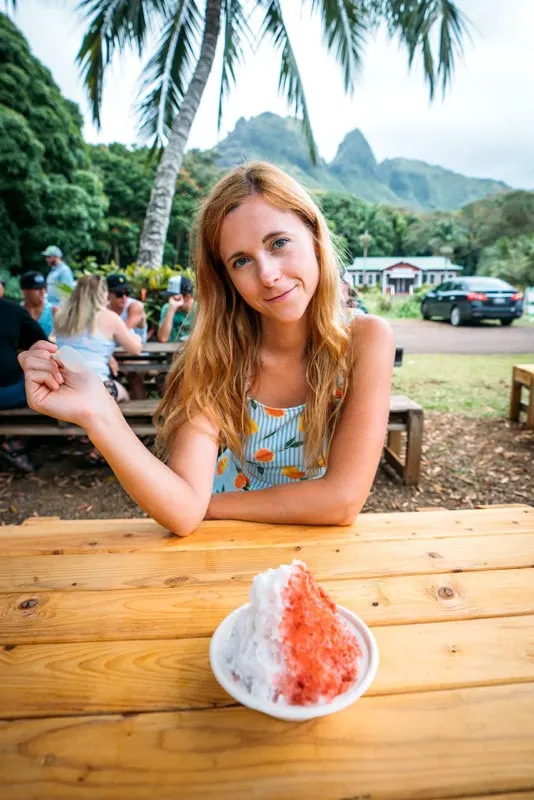 No visit to Kauai is complete without a stop at the famous Kalalea Juice Hale for some classic Hawaiian Shave Ice. You can also pick up all kinds of fresh organic juices, or a tasty Acai Bowl to get recharged for the rest of your day.
Hale (pronounced HA-leh,) means house, and this bright orange building sits right under Kalalea Mountain (aka King Kong Mountain). Shave ice is a staple dessert in Hawaii, with little shacks selling the tasty treat in every town. Not to be confused with a snow-cone, which is crushed ice (rather than shaved).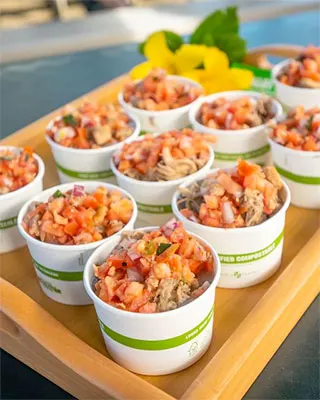 Kauai Food tour
Embark on a tasting adventure through Kauai's vibrant neighborhoods and visit local foodie hot spots.
5. Hiking In Kokee State Park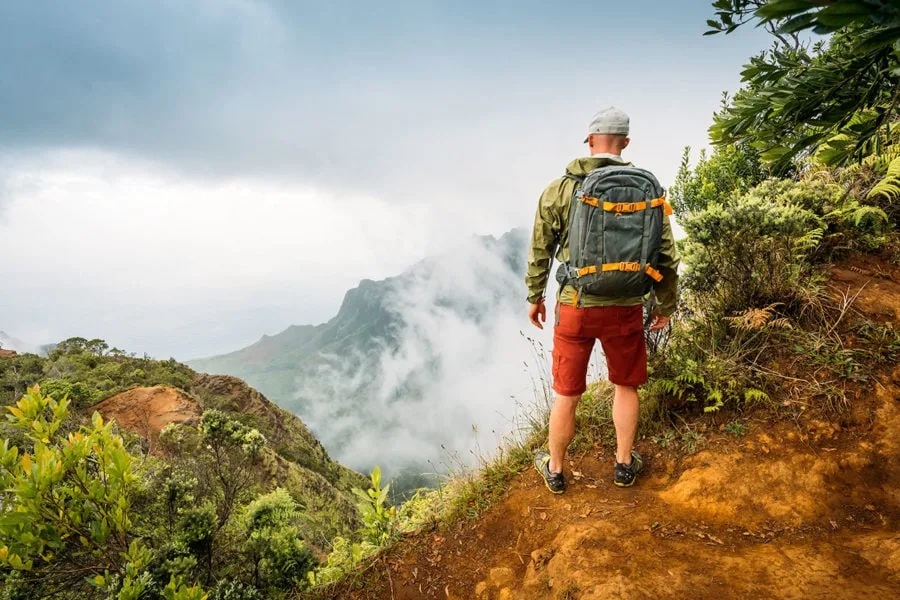 After visiting Waimea Canyon, keep driving North and you'll end up in Kokee State Park. This is basically the backside of the Na Pali, where you can look down on the coast from high in the mountains.
Kokee has a bunch of cool hiking trails and lookout points to explore. Some notable ones include the popular Kalalau Valley Lookout, Kalepa Ridge Trail, Puu O Kila Lookout, plus there are campsites in the park too.
Because parts of the park sit above 4000 feet, it's much cooler than other parts of the island, and gets a lot of rain too. So make sure to bring a rain jacket!
Kauai Hiking Trip
Hike along Waimea Canyon to the stunning Napali Coast via Kōkeʻe State Park on the cliffs above the ocean.
6. Meditate At Kauai's Hindu Temple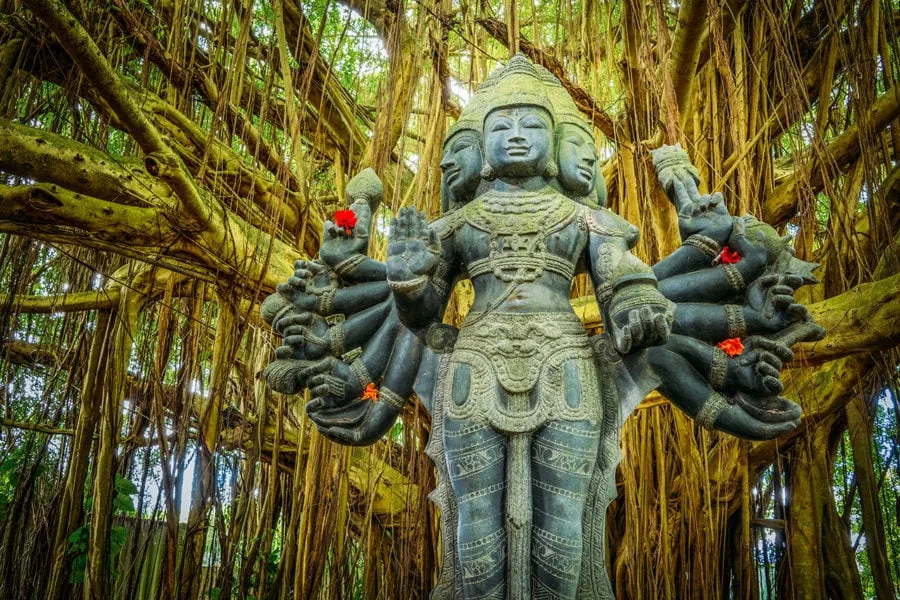 Between the jagged peaks, pristine beaches, and abundant wildlife, a visit to Kauai feels a bit like a spiritual experience in and of itself. Which makes the Kauai Hindu Temple a perfect addition to this tropical paradise.
The hand sculpted, white granite Iraivan temple overlooks the banks of the Wailua River before a backdrop of the Kapa Mountains. About 35-40 minutes from Kukui'ula, people from all walks of life come to admire the peaceful scenery and impressive architecture.
The temple features a rare 700-pound quartz crystal and impressive granite sculpture of the six-faced deity, Lord Shanmuga, standing in front of a giant banyan tree. The monastery asks that guests dress modestly by wearing loose fitting attire and covering legs and arms.
7. Swim At Tunnels Beach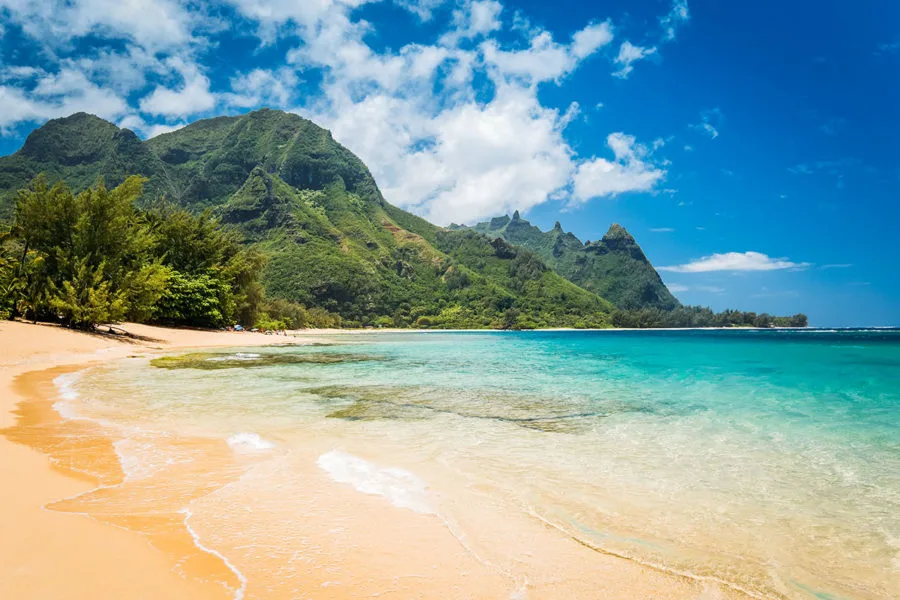 Probably my favorite beach on Kauai, Tunnels Beach (Makua in Hawaiian) on the North Shore is a wonderful place to go snorkeling or scuba diving. It has a very large and shallow reef full of colorful fish.
However the real highlight at Tunnels is the very dramatic jagged green mountains in the background. If you want that perfect Hawaiian postcard photo for Instagram, this is the place to get it!
The parking sucks though, and spots fill up quickly, so get there early or you'll have to park half-a-mile away. Waves get big and rough here in the winter, so the snorkeling gets dangerous (but it's great if you want to watch pro surfers).
8. Visit Famous Jurassic Park Falls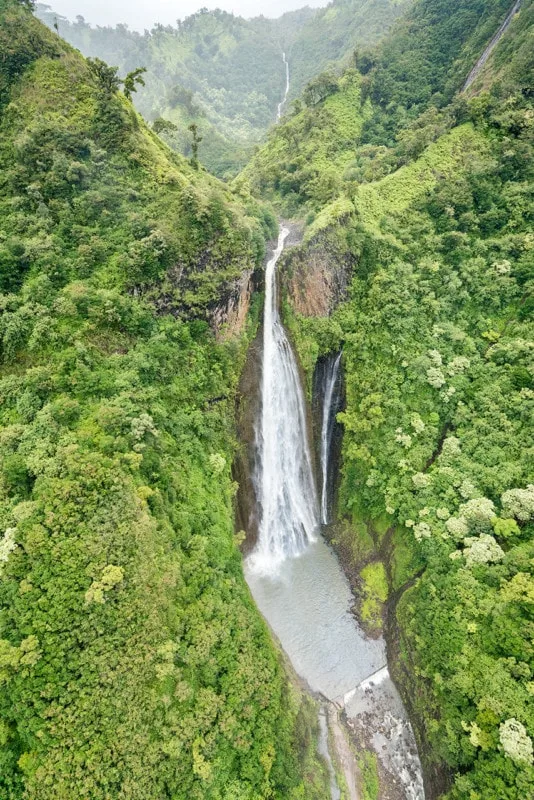 Movie fans will recognize Kauai from the iconic scene of Jurassic Park, when the helicopter lands at the base of a cascading waterfall. You can recreate the cinematic experience by taking a chopper tour to Manawaiopuna Falls.
Some special helicopter tours will even land here and let you walk around, but because it's located in a very remote part of Kauai's Hanapēpē Valley, the only way to see this dramatic waterfall is via helicopter.
9. Eat A Hawaiian Poke Bowl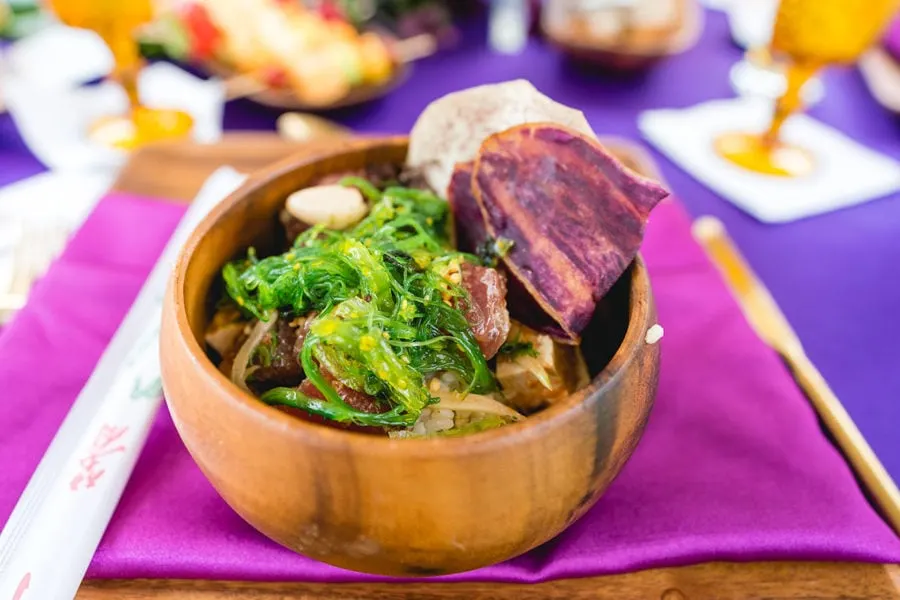 Poke is my favorite Hawaiian food, and I even learned how to make fresh ahi-tuna poke with a professional chef once. So whenever I visit Hawaii, I can't resist a chance to eat plenty of this diced raw fish Hawaiian cuisine.
I usually go for the traditional style made with sashimi grade ahi tuna, sweet onions, soy sauce, sesame oil, chopped macadamia nuts, and scallions. It's sooooo good! You can find it at many restuarants and some dedicated food trucks on Kauai.
I suggest heading to some of the local markets, like in The Ishihara Market in Waimea, which some consider the best poke joint on the island. Try a mix of fish flavored with shoyu, citrus, and spicy mayo. You can even find quality poke at the island's grocery stores too.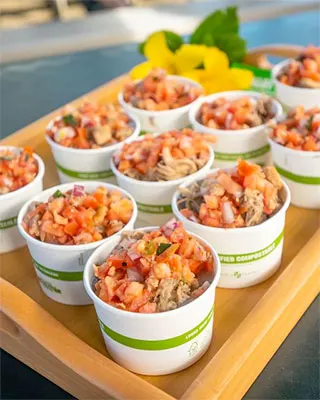 Kauai Food tour
Embark on a tasting adventure through Kauai's vibrant neighborhoods and visit local foodie hot spots.
10. Surfing At Hanalei Bay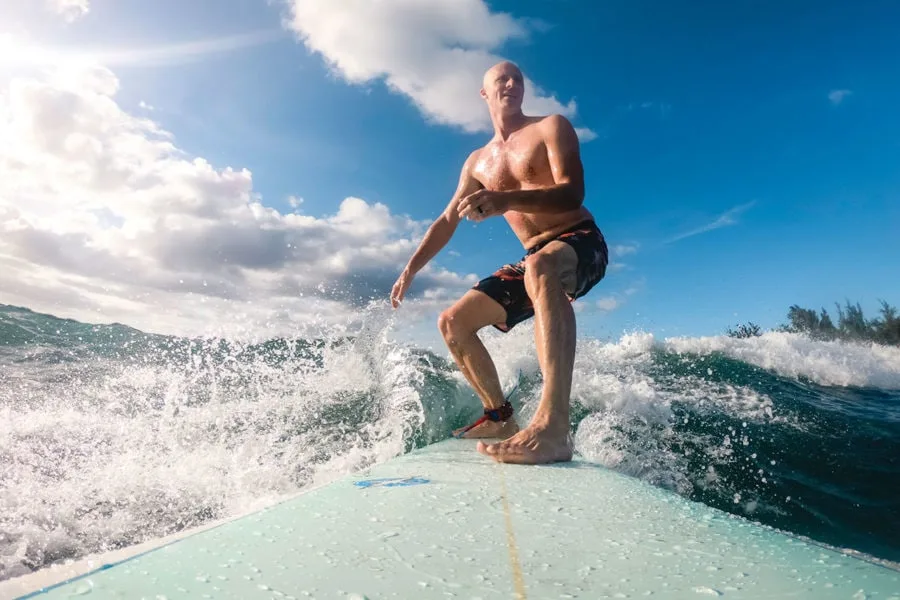 Beautiful mountains overlook coconut palms and a sparking surf at Hanalei Bay. This laid back, surfer town is known for its art galleries, beaches, great food, and live music venues.
The crescent shaped beach inspired the 1960's folk song Puff the Magic Dragon, based on the legendary sleeping dragon in the mountains that protects the bay. If you plan to hit the waves, the surf can get intense, so make sure to check advisories.
Cool off on a hot day at the Aloha Juice Bar Hanalei with a Reefer Smoothie made of blended strawberry, mango, banana, and guava. At night, head over to Tahiti Nui to dine on Tahitian cuisine, listen to nightly live music, and sip mai tais.
While in the area, also check out Hanalei Valley Lookout in Princeville to admire the green taro fields, one of the most photographed areas on the island.
11. Kīlauea Point Lighthouse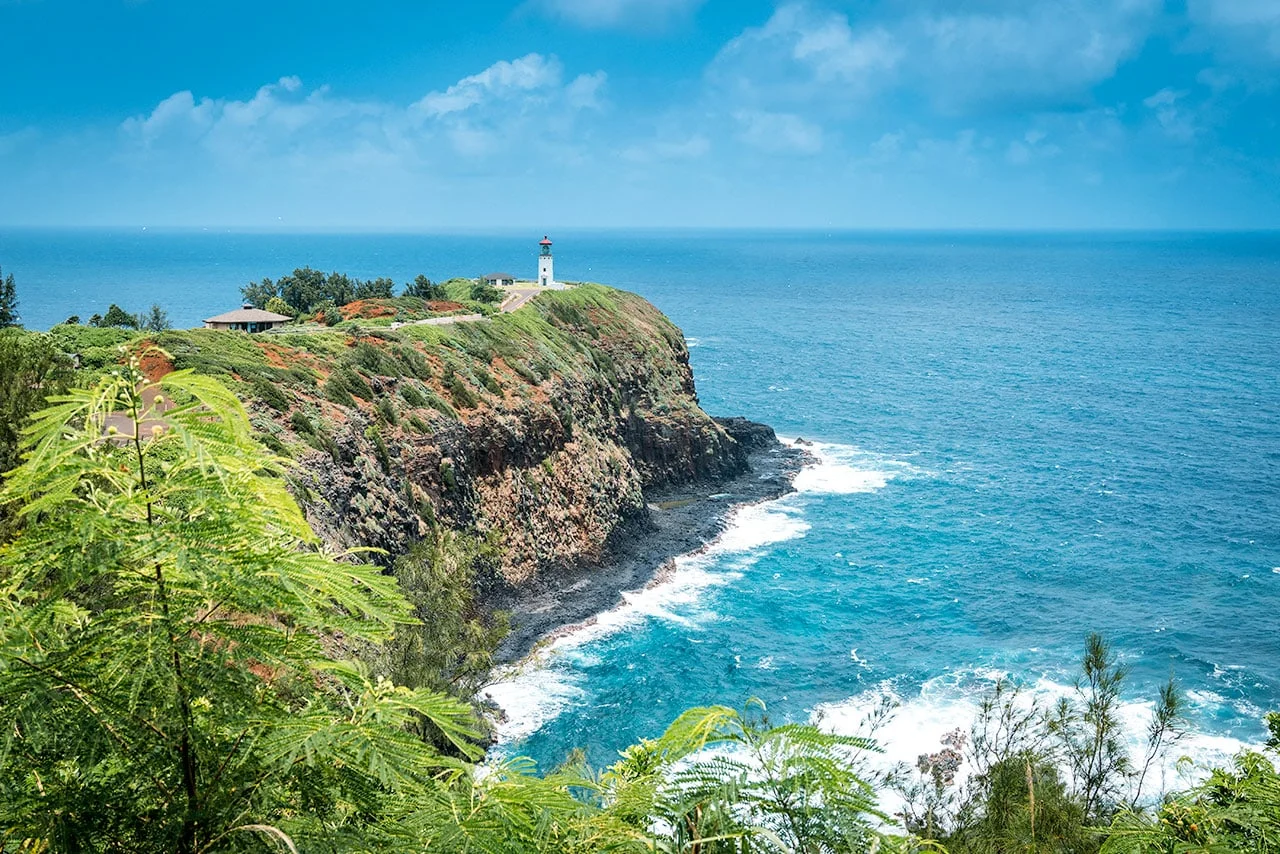 Just a 20 minute drive from Hanalei Bay sits Kilauea, a tiny historic town on the island's northeastern shore. Escape from the crowds for snorkeling, swimming, and windsurfing at exclusive beaches like Kauapea (Secret's Beach), Anini Beach, or Ka'aka'aniu (Larsen's Beach) in Kīlauea.
The town grew up around a sugar plantation from the late 1800s and attracted migrant workers from countries from Portugal to Japan. Experience the cultural heritage at the Kong Lung Historic Market Center which hosts uniquely local art exhibitions, restaurants, and craft vendors.
You'll also spot the 52-foot Daniel K. Inouye Kīlauea Point Lighthouse. Built in 1913, the lighthouse has become a part of the Kīlauea Point National Wildlife Refuge, a haven for the island's many rare bird species.
12. Watch A Hula Dance Performance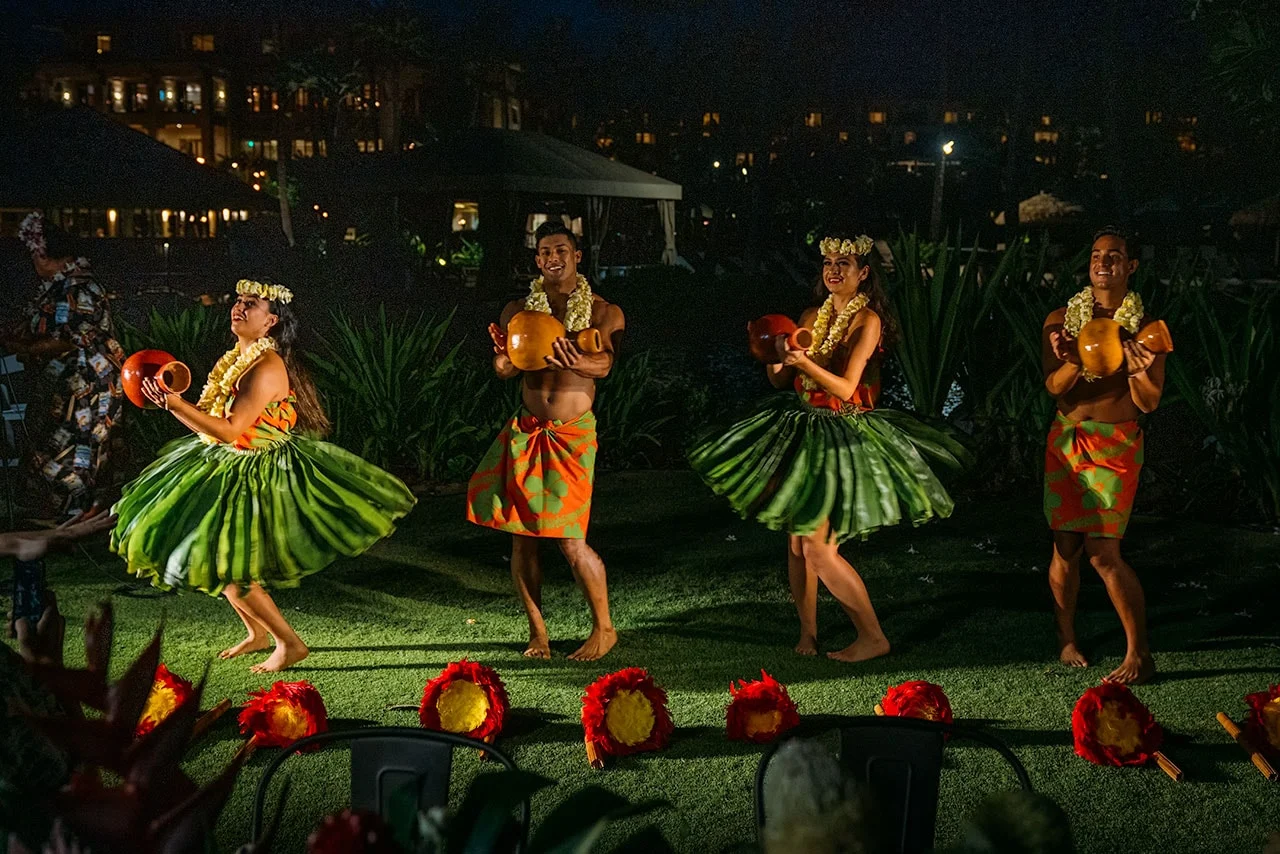 For thousands of years, hula dance has been a part of Hawaiian culture. The dance tells the history of Hawaiian people through movement, often with slow, sentimental music or lively beats.
Rumor has it that the dance may originate from Kauai, and you can catch an authentic show during a visit. Dancers perform at many of the resorts. But for a truly authentic experience, visit Keahualaka Heiau, an area dedicated to Laka, the goddess of hula, just around the corner from the Kalalau trailhead.
Another popular spot to watch a hula performance is the Grand Hyatt Resort Kauai if you happen to be staying there.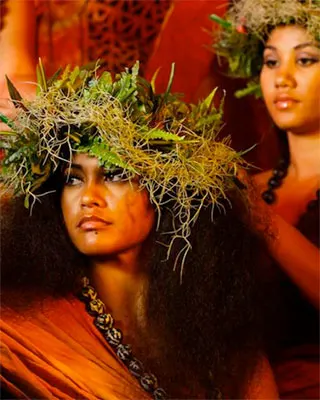 Luau Kalamaku Experience
A traditional Luau featuring graceful Hula dancers, fire dancing, buffet of local delicacies and vivid storytelling.
13. Sunbathe At Poipu Beach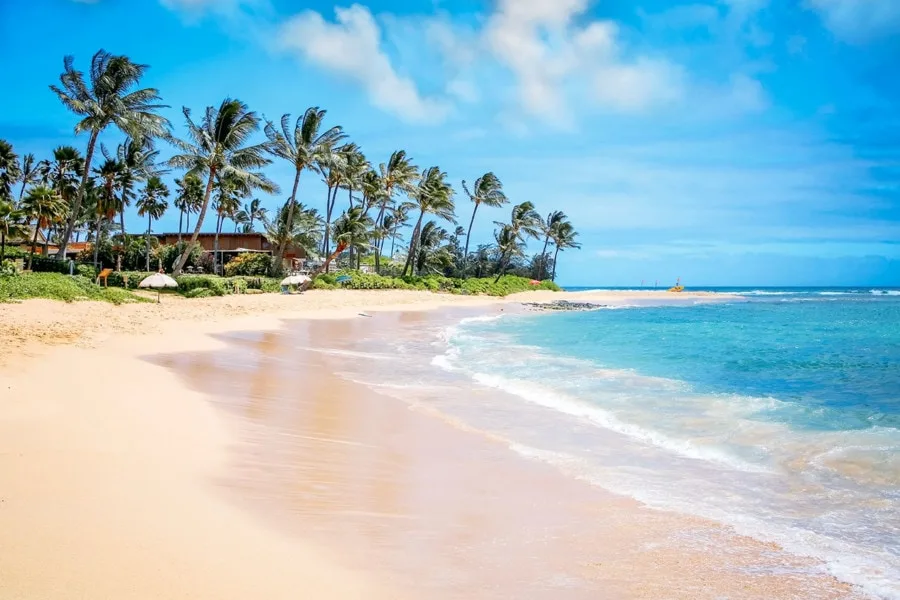 Listed as the Travel Channel's Top 10 Beaches In The World, Poipu Beach sits on the island's south side. Nicknamed "the sunny side of paradise", this is a haven for aquatic wildlife like seals, whales, dolphins, and giant sea turtles.
On an island with mostly rocky beaches, Poipu Beach welcomes sunbathers with its sandy shores. Poipu actually consists of two beaches, split in the middle by a narrow sand bar. To the left: calm, shallow waters offer a spot ideal for families with kids. Small swells to the right side invite body boarders and beginner surfers to hit the waves.
The west facing beaches give perfect views of the sunset over the water. Rent a surfboard or snorkel for the day. You might even catch one of the beach natives: a Hawaiian monk seal.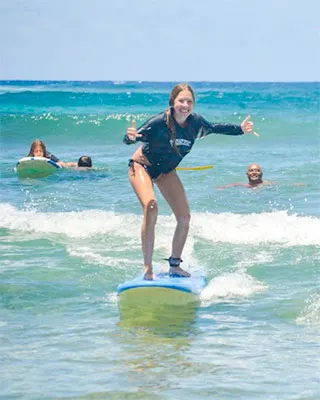 Poipu Beach Surf Lessons
Pick up some wave-riding skills, gain awareness of the ocean, and improve your surfing ability.
13. Cliff Jumping At Shipwreck's Beach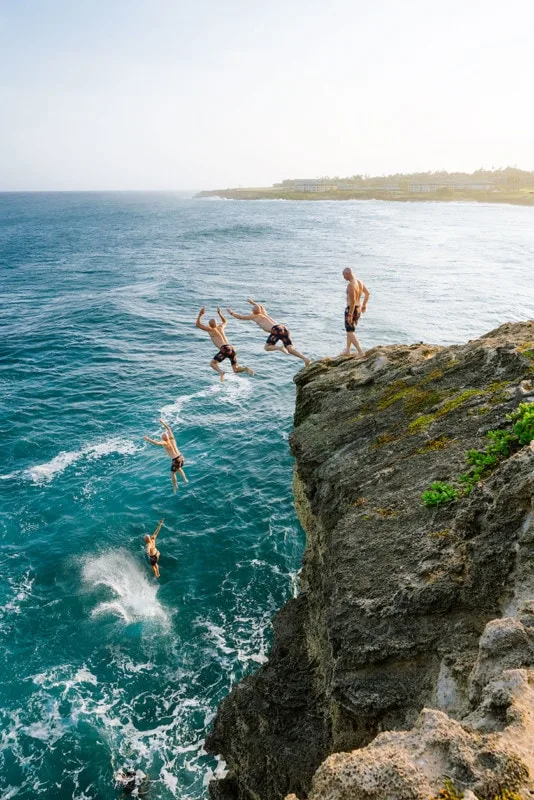 Not far from Poipu, make sure to stop by Shipwreck's Beach (no, not the one in Greece) located next to The Grand Hyatt Kauai. This rocky beach earned its name after an old wooden ship sank off the coast many years ago. It's also access the start of the Mahaulepu Heritage Trail, a hiking route that explores the coastline.
The beach itself is full of local surfers, which can be fun to watch if you don't surf. There's also a large 40 foot cliff nearby that's used for cliff jumping. However it's not a great spot for beginners, as the waves can get rough and the swim back to shore after jumping is pretty long. Be very careful!
14. Visit Queen's Bath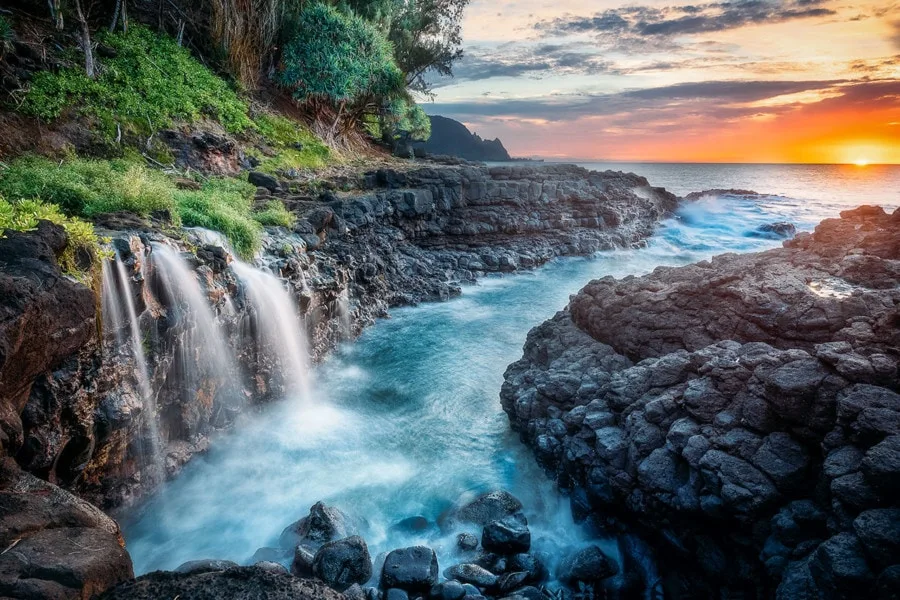 On Kauai's north shore in Princeville sits the Queen's Bath, a rocky tide pool surrounded by black lava rock. The hereditary rulers of Hawaii, called ali'i, would come to these sacred waters to bathe.
If you plan to visit, be very careful: the turbulent tide pools and strong waves make this a dangerous place for swimming. Rouge waves have been known to knock people off the rocks too — there's a sign listing all the drownings. Bring proper footwear and keep your guard up.
15. Sample The Food Trucks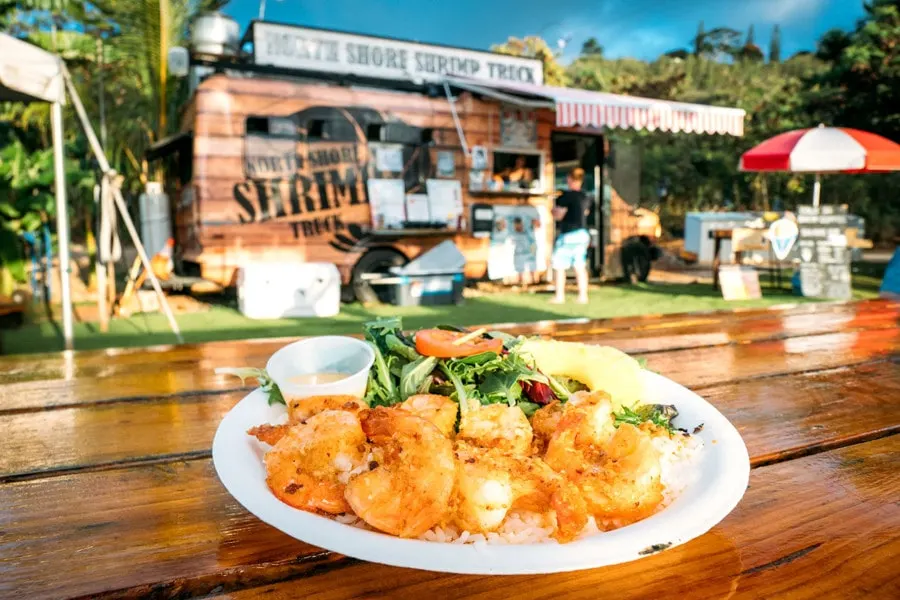 The food truck scene is a must during a visit to Kauai to enjoy the local cuisine, at a bargain. You can try them all over the island, but the charming town of Kapaa stands out as one the best spots to feast on food trucks.
Like Nixtamal Kauai, a Kapaa favorite serving Mexican street food and seafood. Known for their tamales served with spicy habanero salsa, the chicken tamale contains shredded machaca marinated chicken with roasted green chile.
Or try the refreshing Shave Ice Tege Tege serving hand cranked shaved ice mixed with condensed milk and local mango, dragon fruit, and passion fruit.
16. Hanapepe's Historic Art Walk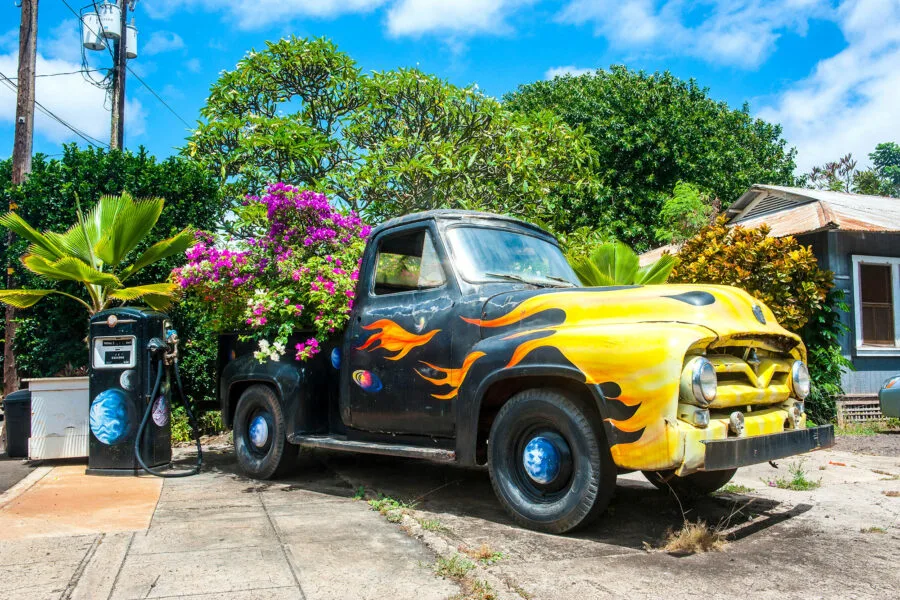 Take a break from the sunshine with an artistic evening in Hanapepe. On Friday nights, the historic town hosts an art night featuring vendors, live music, and, of course, more food!
Taste one of OnoPop's Ulu (breadfruit) popsicles, a non-dairy vanilla flavored ice treat. For something heartier, head to Midnight Bear Breads Bakery and Cafe for your choice of homemade pizzas, breads, and pastries, like the sweet, nutty macadamia nut cinnamon swirl roll.
For another food truck, head to Porky's Kauai, voted one of the best local restaurants. Keeping it simple, the truck serves just 3 dishes: tangy, sweet Kalua pork pineapple sausage, the beef frank and pulled pork bun, and Hawaiian style pulled pork grilled cheese sandwich.
17. Bike The Koloa Heritage Trail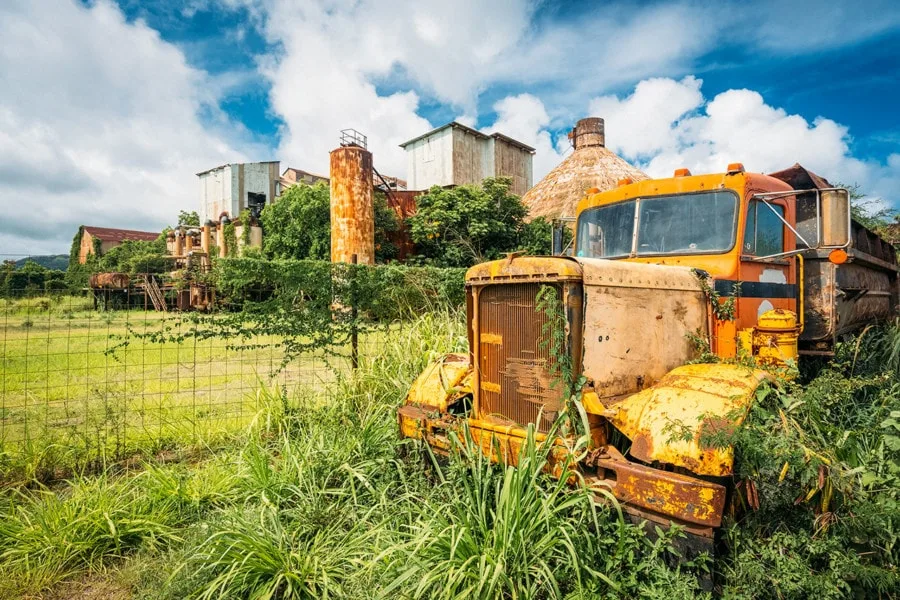 Admire lava cliffs dating back 5 million years along the Kola Heritage Trail. Located in the historic town of Koloa, the pathway takes you past 14 different stops and monuments including sugar and pineapple plantations dating back to the mid 1800s.
There's also the Spouting Horn blowhole—or puhi, as the locals call it. More stops include Pu'uwanawana Volcanic Cone, and Harpa Road, an emergency route dating back to World War II.
For some Hawaiian fusion food, stop by Kiawe Roots, a family owned restaurant serving dishes like Hawaiian jerk pork ribs with spiced Kauai honey barbecue sauce.
18. Visit Kauai's Moir Gardens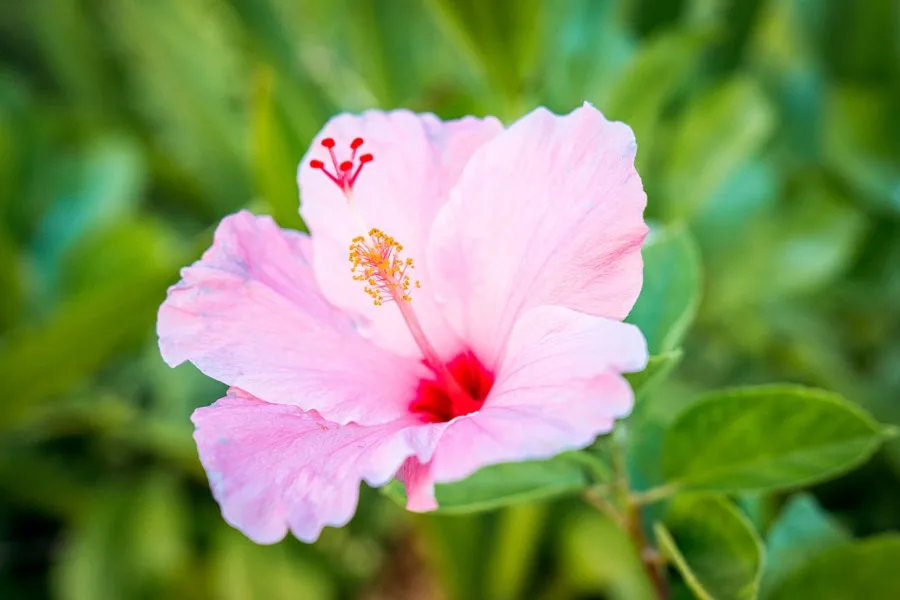 Also one of the stops on Kola Heritage Trail, make sure to swing by Moir Gardens located on the grounds of the Outrigger Kiahuna Plantation. Open daily with free entry.
These rich gardens are full of exotic succulents, cacti, bromeliads, orchids, and water lilies which grow on the 35-acre historic estate. While much of Kauai gets battered with rain each year, Poipu is a dry part of the island. So most of the plants here thrive in dry conditions.
19. Check Out Alekoko Fishpond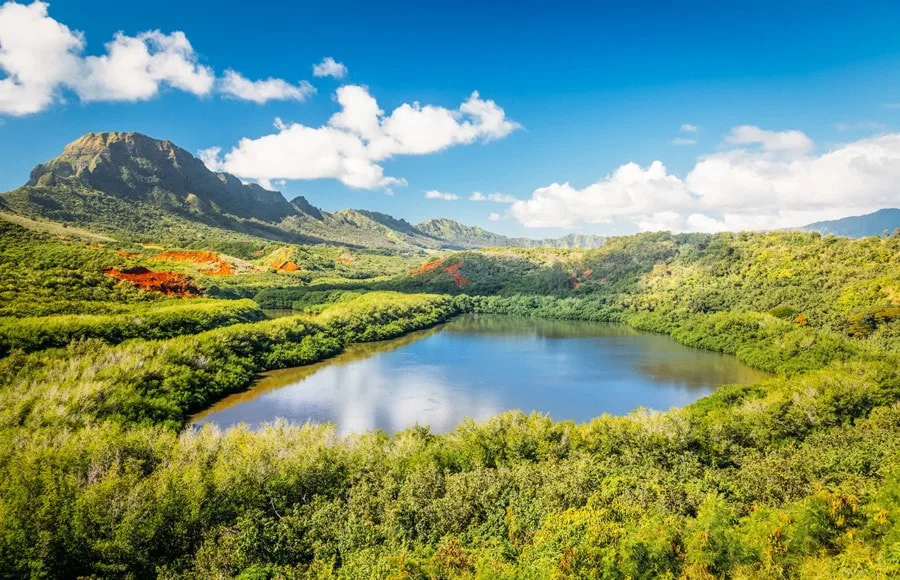 The Hawaiian Islands have passed on legends of ghostly stories for generations. So you don't want to miss your chance to see some of the local mythological landmarks, like Alekoko Fishpond.
According to legend, mischievous little people called the Menehune inhabit the island. These mythical creatures allegedly build the fishpond in one night by lining up over 25 miles and passing lava stones hand to hand!
True or not, this man-made pond has been used for fishing for 1,000 years, and it's a cool example of ancient Hawaiian aquaculture. Today, you can see the Fishpond from a viewing platform near the road to Huleia National Wildlife Refuge, home to many endangered bird species.
20. See The "Wettest Spot On Earth"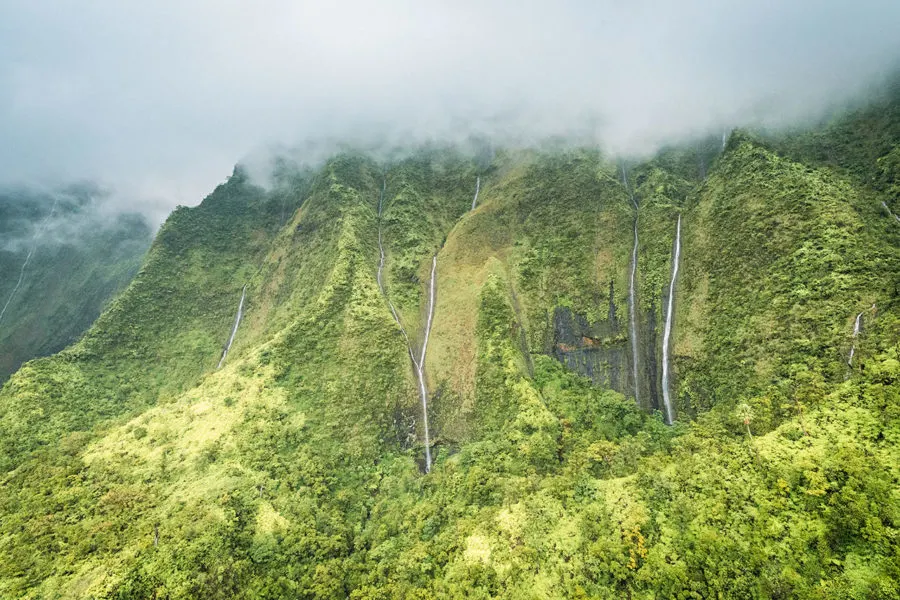 Often called the wettest spot on earth, Mount Waialeale averages 450 inches of rainfall annually. In 1982, 666 inches of rain were recorded on the peak, establishing an official record, which explains why the locals call it Wai'ale'ale, meaning "overflowing water".
Clouds often enshroud the 5,000 foot mountain, and many legends surround this mystical peak. Although it seems impossible to climb, stone ruins at the 5,000 foot high summit, Kawaikini Peak, suggest that ancient inhabitants would climb to the top to give offerings.
Tourists can view the dormant shield volcano by helicopter or explore the two trails on the eastern side of Waialeale.
21. Wailua Falls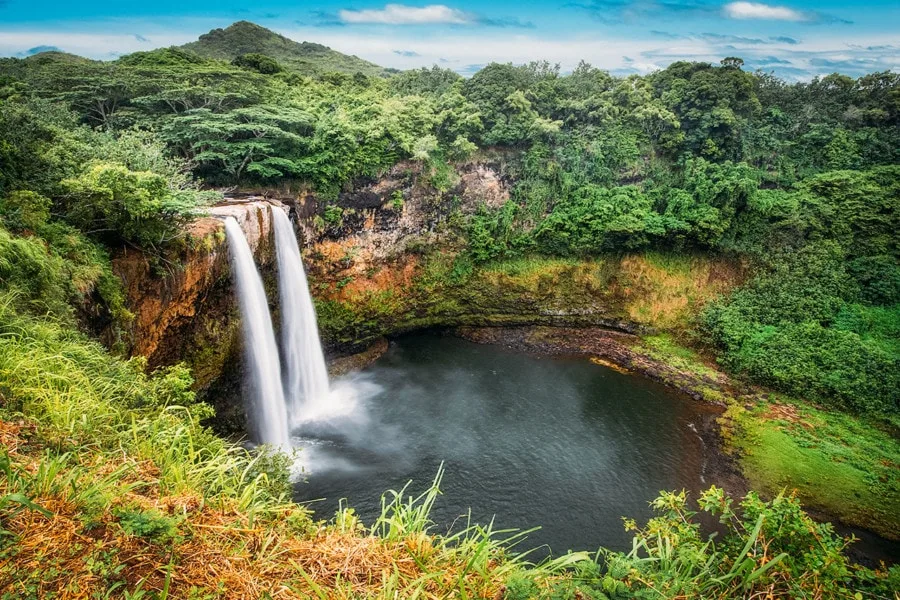 Further up the Wailua River mentioned earlier is a large waterfall called Wailua Falls. This is probably the most popular waterfall on Kauai, due to its easy access right next to a road. No hiking required!
This beautiful 80 foot tall double waterfall is located in Eastern Kauai behind the Kalepa Mountain Forest Reserve in Hanamā'ulu. Legends tell of Hawaiian royalty who used to test their endurance by jumping from the top of the falls into the shallow pool below, and some didn't survive.
There's an unofficial (illegal) trail that winds down to the base of the falls from the road, however it is extremely slippery and steep. Attempt it at your own risk.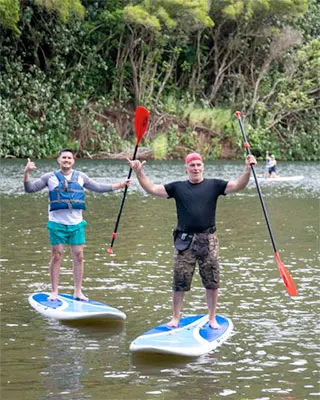 Waterfall Paddleboard Trip
Explore the secret rivers and waterfalls of Kauai alongside a trained naturalist and wildlife photographer.
22. Beachfront Camping At Polihale Park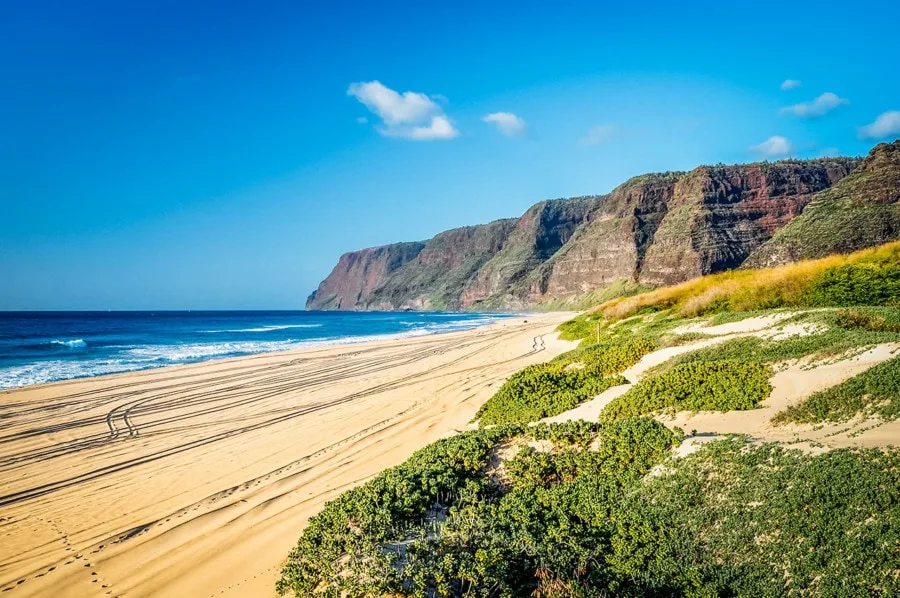 Hawaii draws tourists from all over the world looking to reconnect with the natural beauty of this tropical paradise. Those who love the outdoors can't pass on a trip to Polihale State Park.
Locals spend weekends here, often riding ATVs along the 2 mile stretch of beach. Set up your tent along the beach to enjoy saffron and crimson sunsets before sleeping underneath the stars. Added bonus: alcohol and campfires are permitted.
The strong current means swimmers should take caution. But the southwestern side has a cove, ideal for swimming and snorkeling. The 5-mile road getting here is rough, and only suitable for 4X4 vehicles.
23. Kauapea Beach (AKA Secret Beach)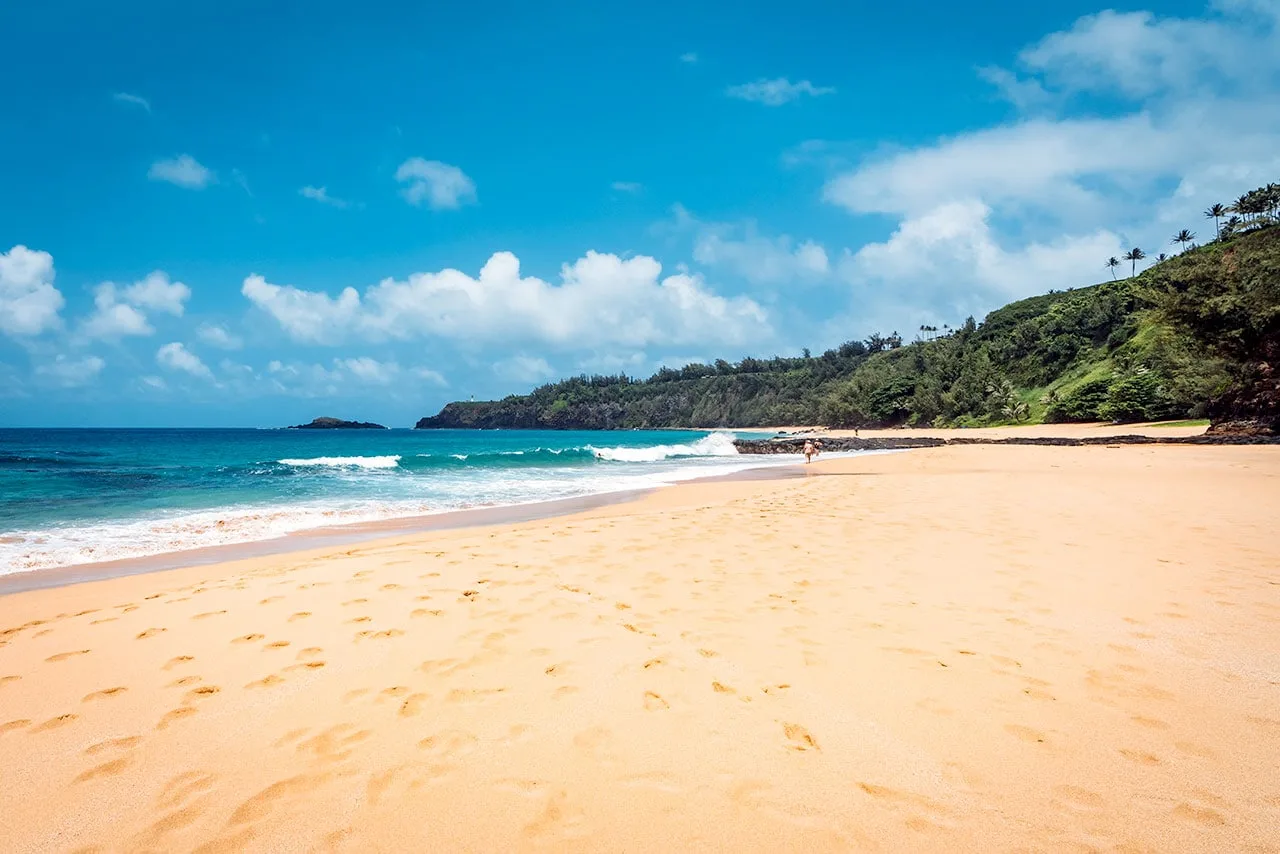 Secrets is a massive beach on the North Shore of Kauai near the town of Kilauea. The beach is located at the bottom of steep cliffs, and isn't the easiest place to access. There's a well-used trail, but it's often muddy and tricky to get down.
But the hike down is worth it, because even if there's 100 people on the beach, it's so massive that you can find a quiet place all to yourself if you just keep walking. If you walk for long enough, you'll eventually stumble onto a cliff-side waterfall and a "clothing optional" area of the beach.
24. Grand Hyatt Resort Pools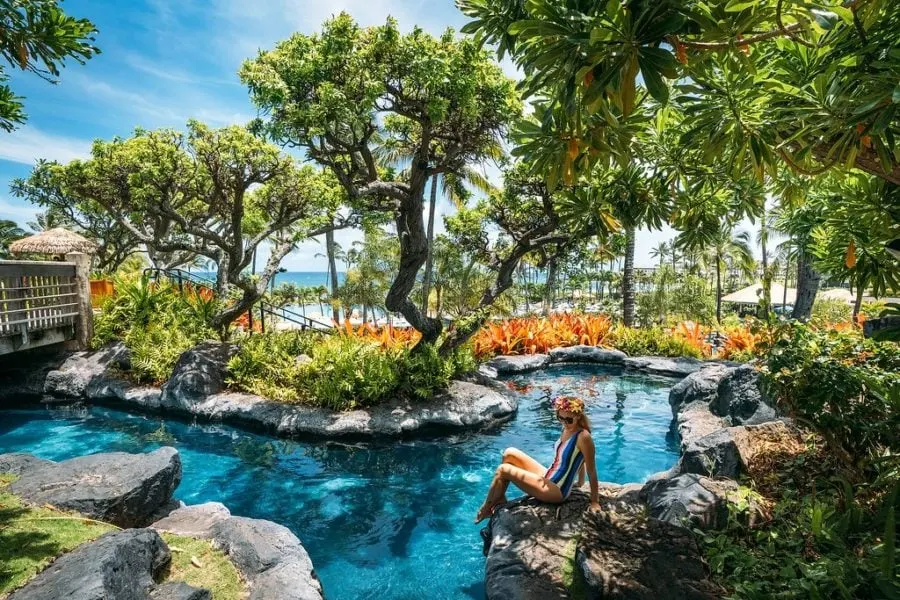 Even if you don't stay overnight at Kauai's beautiful Grand Hyatt Resort, it's still possible to visit their amazing tropical pools, lazy river, and private beach with a special Day Pass. A wonderful place to relax in the sun.
The area behind the resort is an oasis of flower gardens, freshwater pools, waterfalls, shaded cabanas, a salt water lagoon, multiple jacuzzis, watersides, and even a lazy river! You can easily waste hours here, ordering fancy drinks and taking dips in the pools.
25. Wai'oli Hui'ia Church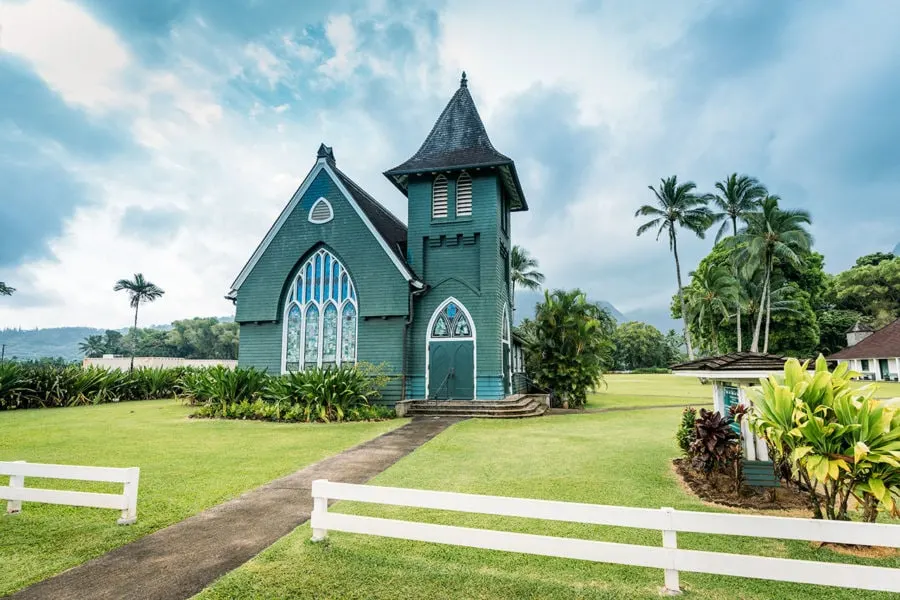 Waioli Church in Hanalei stands out from many other churches I've visited around the world. Founded by protestant missionaries in 1912, the green building blends in perfectly with the tropical Kauai mountains in the background.
It's a popular stop for photos if you're driving around the island. Feel free to go inside and have a look around if it's open.
26. Kauai's Glass Beach & Cemetery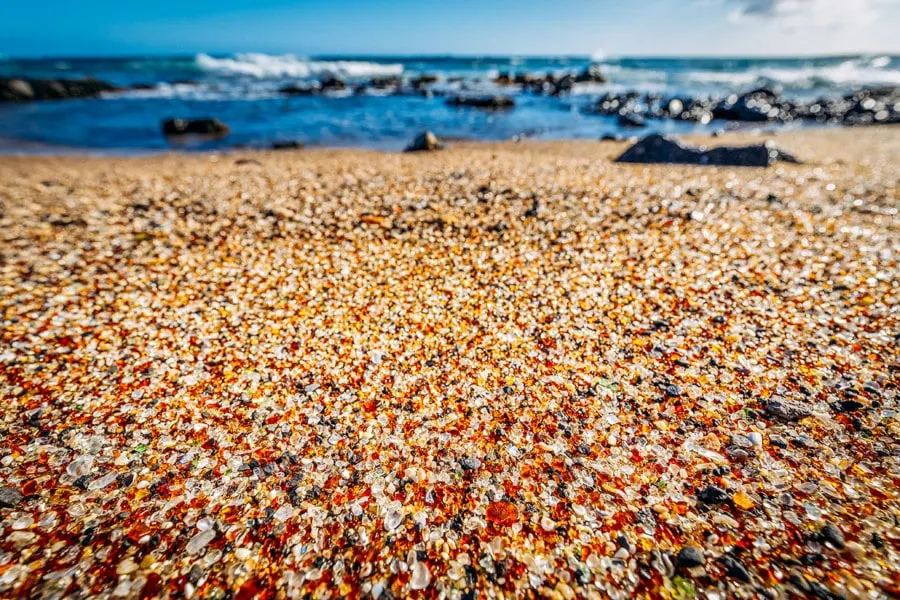 This unique beach is located in the town of Eleele, in an industrial part of the island. Instead of regular sand, this beach is covered in small pieces of multicolored sea glass! Sea lions also like to hang out here, so you may catch a glimpse of them too.
The beach isn't big, and it's not a nice place for sunbathing (big ugly oil tanks behind it), but if you're already in the area, it can be an interesting stop for a photo. Make sure to check out the nearby cemetery too, with old red headstones carved in Japanese writing.
27. Visit Mark Zuckerberg's Beach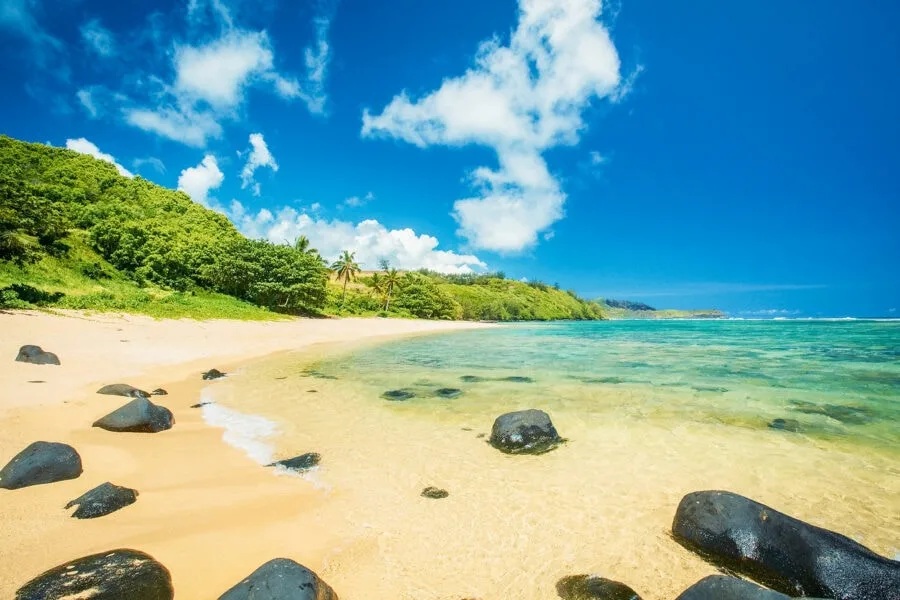 Sick of Facebook invading your privacy and selling your personal data? Why not give Zuck a taste of his own medicine, and invade HIS privacy by visiting the public beach under his 700-acre estate on Kauai!
Pila'a Beach is very difficult to get to, because it's surrounded by Zuckerberg's private land, however if you're up for a challenge, it's possible. There's a hidden access road that leads to a cliff side, which if you climb down, you can then walk along a rocky shoreline for about 1200 feet to reach the beach.
Sorry Zuck. It's totally legal! Maybe you should have read the island's complete terms of service before you bought land on Kauai… all beaches are public.
28. Maliuhi Tree Tunnel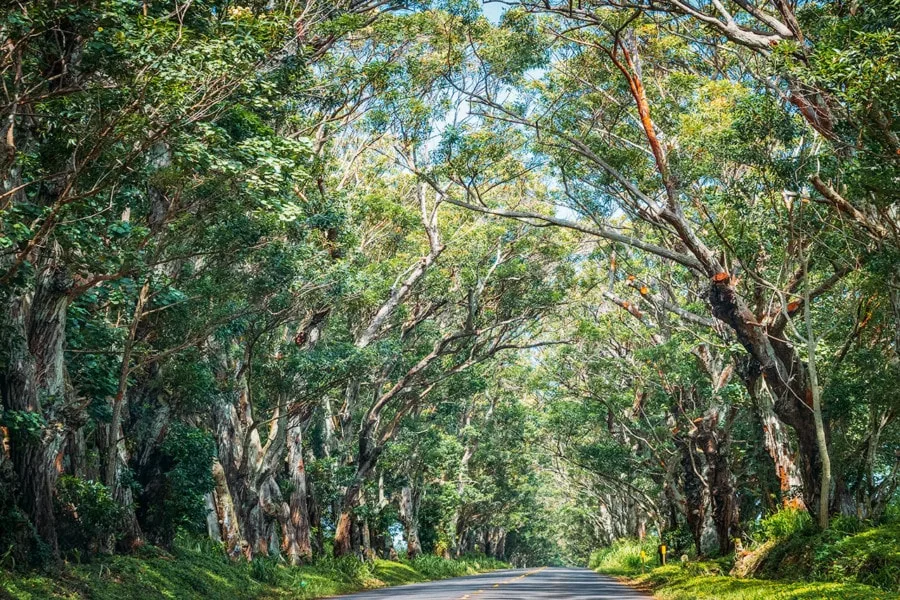 On the south shore of Kauai there's a long road lined with green eucalyptus trees. It's called the Maliuhi Tree Tunnel, and it's pretty cool to drive through. The trees cover about a mile of highway 520 as you drive to Poʻipū.
The tree tunnel was planted back in 1911 as a gift to the community from Walter McBryde, a rich and powerful pinapple baron. At one point it was 3 times longer than it is now.
29. Wild Chicken Spotting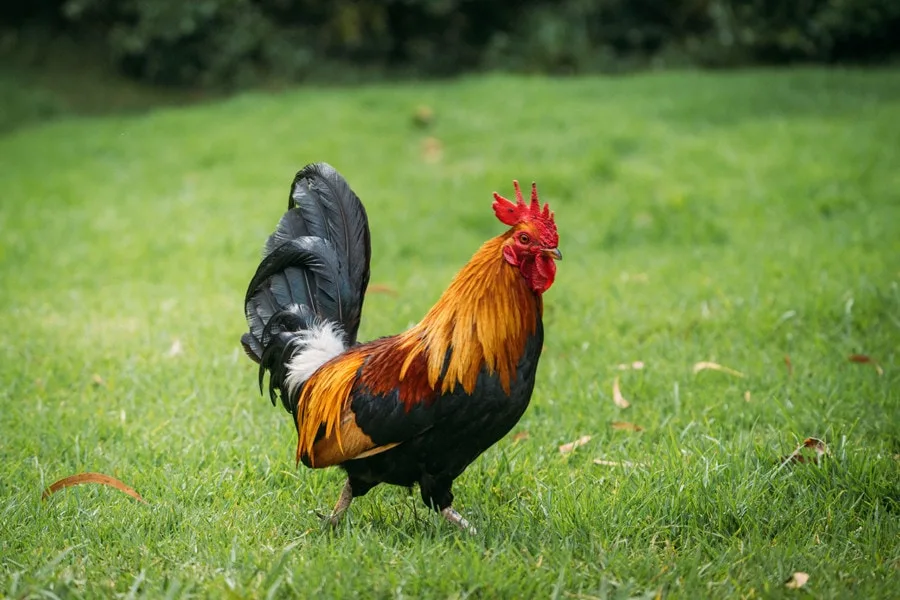 When we first got to Kauai, I was struck with the island's wild chicken population. There are thousands of feral chickens roaming around EVERYWHERE. You'll find them in front yards, crossing roads, parking lots, etc.
As is the case for many islands, once a non-native species gets brought over, sometimes it can lead to unintended consequences. Other Hawaiian islands have exploding populations of wild pigs and cattle — Kauai has chickens.
Between the original Polynesians, the voyages of Captain Cook, and Filipinos working on sugar cane plantations who kept birds for cockfighting, the island's chicken population grew. A series of hurricanes in the 80's set them all free!
30. Maha'ulepu Heritage Trail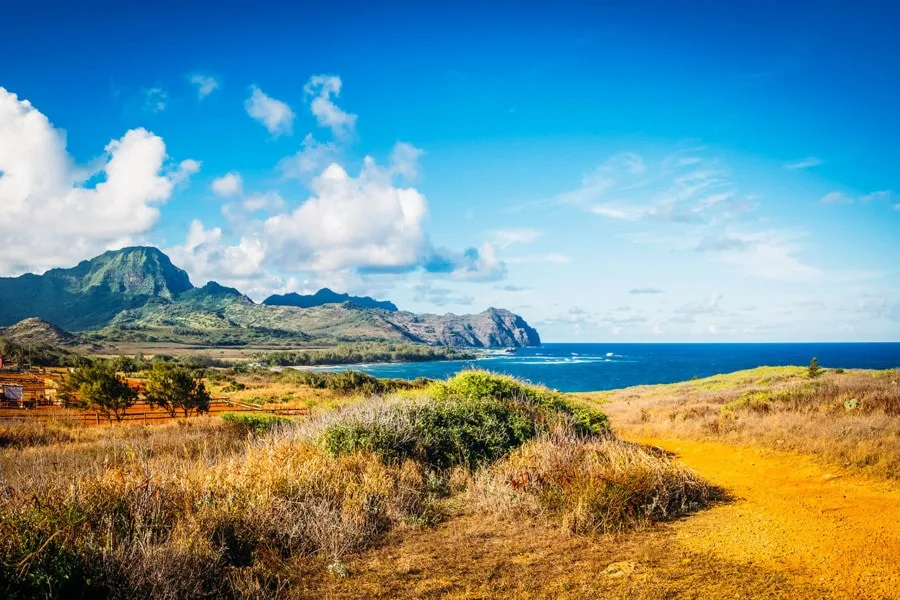 The scenic cliff-side hike of Maha'ulepu Heritage Trail starts from Shipwreck Beach and winds its way along the undeveloped coast of the South Shore. The trail is not too difficult, but very exposed to the elements.
While hiking this rugged part of Kauai, you'll encounter sand dunes, caves, ancient ruins, and eventually you'll reach Mahaulepu Beach, a remote stretch of sand that doesn't see many visitors. While it's not a great beach for swimming, Humpback whales and sea turtles can often be spotted around here.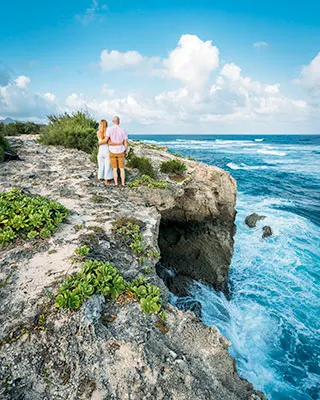 South Shore Cliff Hike
Hike from ocean cliffs down to caves along the shore while looking out for giant land tortoises sunbathing.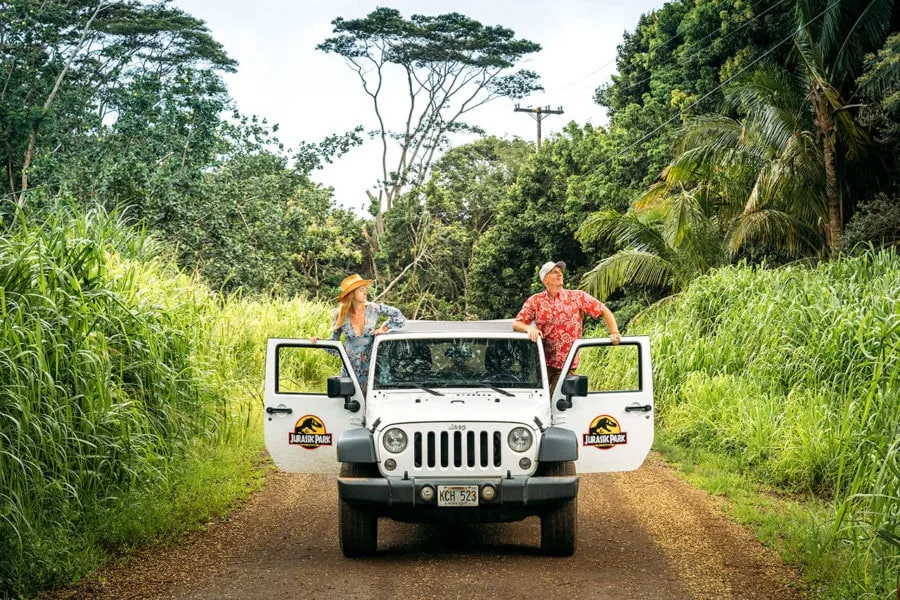 Transportation Around Kauai
Rental Car
The best site to book your car is with Discover Cars. They search both local and international car rental companies to help you find the best possible price. This is the easiest way to rent a car and drive on Kauai.
Renting a car offers the best flexibility to explore remote spots on the island. Kauai has two major highways, Kaumualii and Kuhio. It can take an hour to get to the other side of the island.
Bus
The Kauai public bus system runs from Kekaha to Hanalei. A ride costs $2 per trip. You can also purchase a one day pass ($4) or monthly pass ($45). Although inexpensive, the bus system is more for locals going to work, and they don't stop at many tourist attractions.
Taxi
Although you will find taxis near the Lihue Airport, you won't likely see many throughout the island. That said, the island has its local taxi service, although difficult to hail. LYFT and Uber also run on the island. You can also book shuttles or private tours. Fares start at $3 for the first tenth mile then becomes $0.30 cents for every tenth mile thereafter.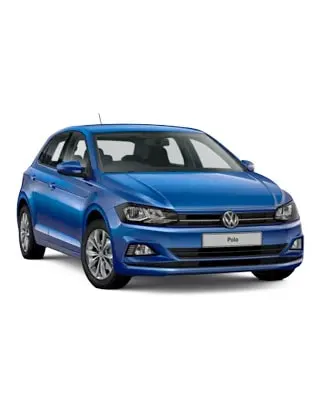 Rent A Car In Kauai
Search both local and international car rental companies to help you find a good deal.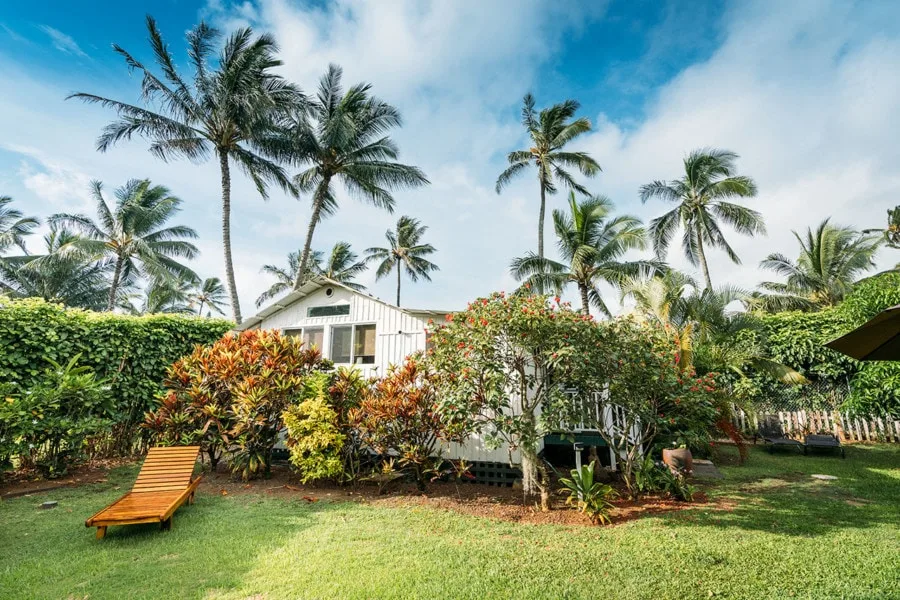 Where To Stay On Kauai
Accommodation on Kauai is expensive. There's just no way around it. Kauai is a small island, so hotels can charge a premium. Here are suggestions for good places to stay during your trip to Kauai Hawaii…
---
BEST HOTELS IN KAUAI
BEST AIRBNB'S IN KAUAI
---
Useful Kauai Travel Tips & Advice
Bring a pair of hiking boots that you don't mind getting dirty for some of the many rocky, muddy trails on the island.
Known as the rainiest island in Hawaii, Kauai's tropical climate means daytime showers. The weather is always changing from sunshine to rain, so pack an umbrella and windbreaker or light rain jacket.
Car rentals are in high demand, particularly during peak tourist seasons in the winter and summer, so make sure to reserve your rental in advance.
Kauai locals are pretty territorial, and don't take kindly to tourists showing up on their private property or roads, so pay particular attention to signs and stay off other people's land.
---
Enjoy This Article? Pin It!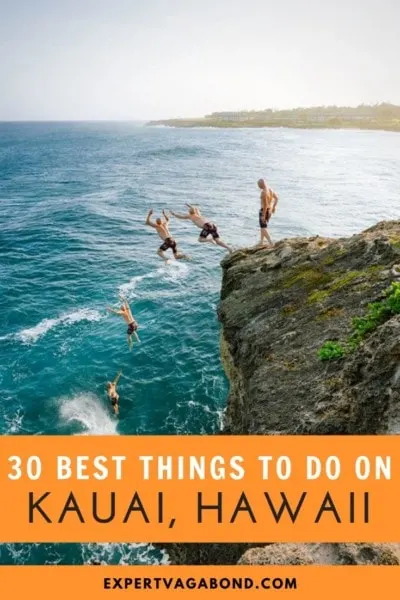 ---
READ MORE HAWAII TRAVEL TIPS
I hope you enjoyed my guide on what to do in Kauai! Hopefully you found it useful. Here are a few more wanderlust-inducing articles that I recommend you read next:
---
Any questions about things to do in Kauai? Do you have other suggestions? Join the conversation on Facebook, Instagram, or Twitter to share!