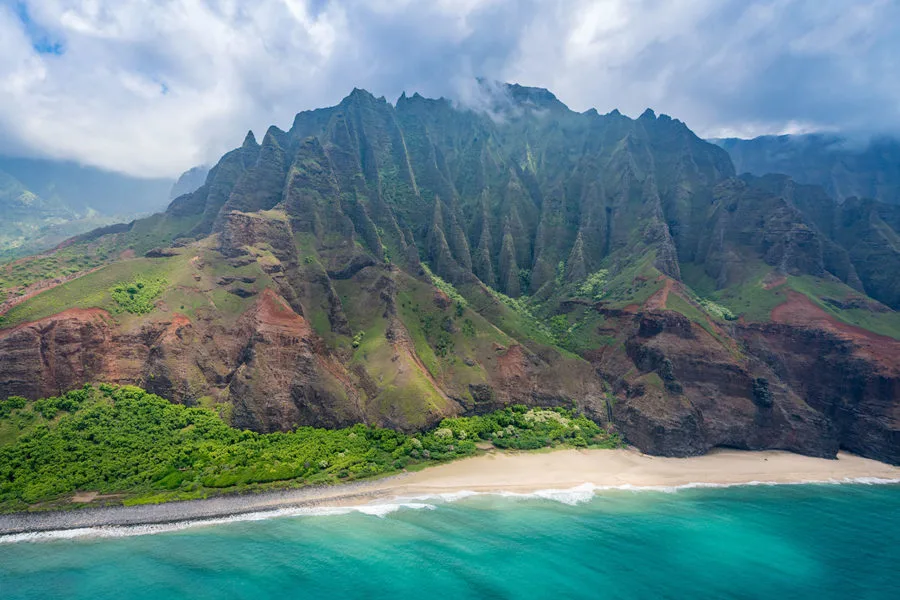 Kauai, Hawaii
One of the best ways to see the Hawaiian islands is by air, and a doors-off Kauai helicopter tour of the Na Pali coast is an epic aerial photography experience!
If you don't know by now, I absolutely love helicopters. In fact, I used to want to be a helicopter pilot as a kid (ok, maybe I still do).
So on our recent trip exploring the Hawaiian island of Kauai, I couldn't pass up the chance to fly over the island's famous Na Pali coastline in a helicopter!
Soaring through the sky, hovering over landscapes, and able to take off and land almost anywhere — helicopters are super cool.
While helicopter tours can be expensive, some places are just made to be photographed from a helicopter, like the Grand Canyon, New York City, and Cape Town for example.
We decided to take a helicopter tour of Kauai with the doors off for an extra adrenaline rush!
Kauai Helicopter Tour Guide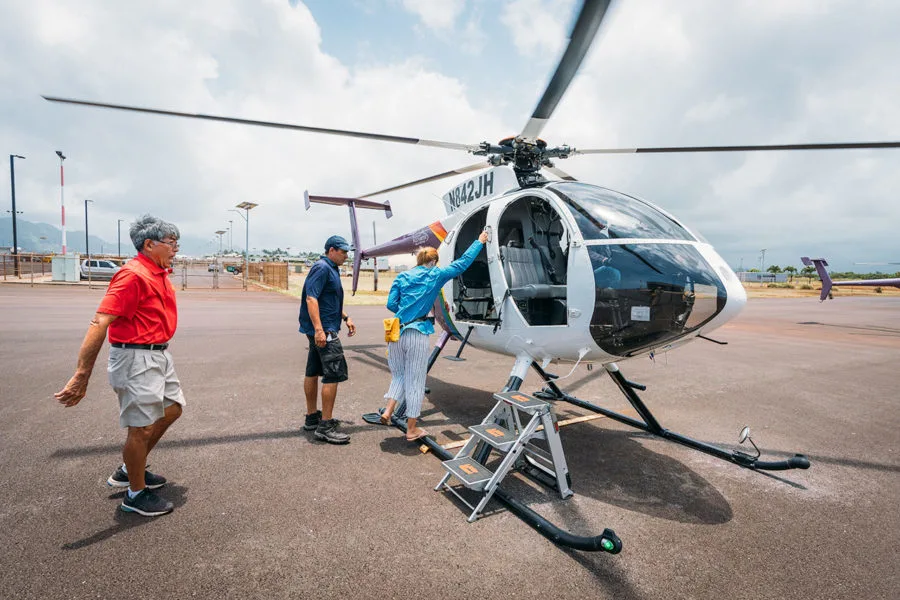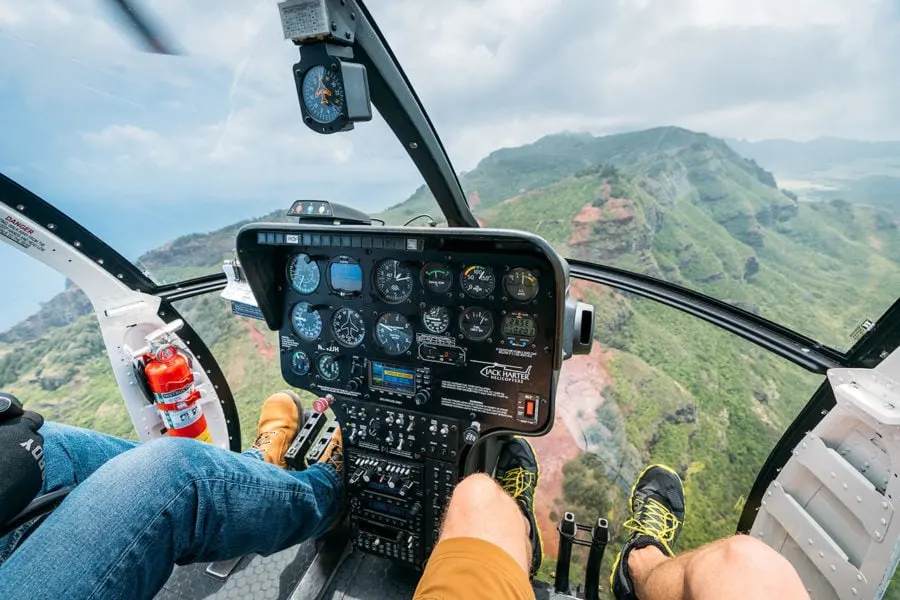 Best Helicopter Tours On Kauai
Doors-Off Tour
Anna and I decided to book a 60-minute open door helicopter tour with Jack Harter Helicopters. There are only 2 companies who offer this in Kauai, the other is Mauna Loa Helicopters. It's great for photographers, because there's no glass to get in the way of your shots. But you're exposed to the elements!
Doors-On Tour
Most people choose to fly with the doors on, the normal way. It's a bit more relaxing, and not as windy/cold. There's a great Waimea Canyon & Na Pali Coast helicopter tour that covers all the top highlights. ➜ BOOK IT HERE
Sightseeing Plane
If you're traveling to Kauai on a budget, but still want to fly over the Na Pali coast, a cheaper option is to book a Na Pali sightseeing airplane flight, which costs under $200 (about half the price of a helicopter). ➜ BOOK IT HERE
There is SO much cool stuff to see on Kauai that I definitely recommend the 60-minute option rather than the shorter flights.
An hour might sound like a lot, but it goes by very quickly when you're having fun!
Beautiful Waimea Canyon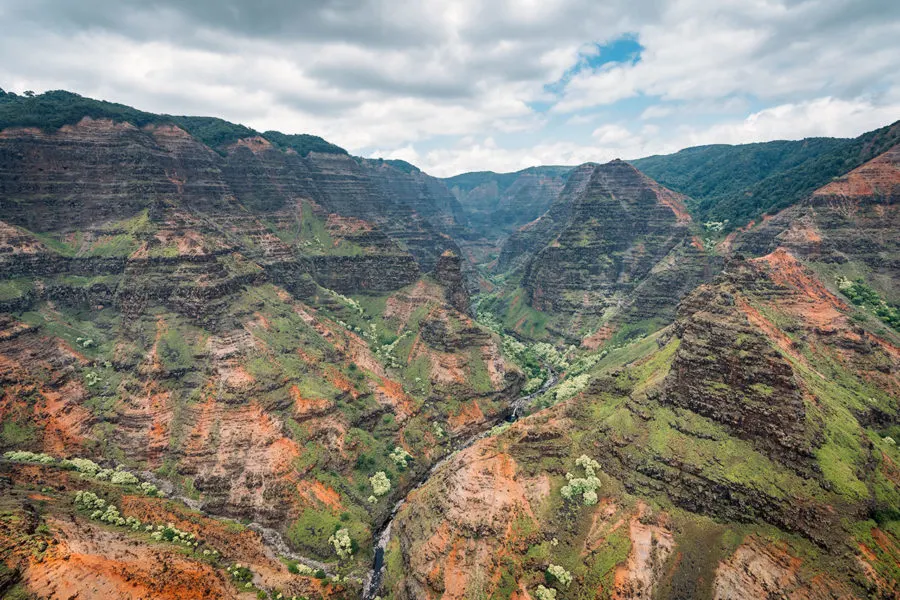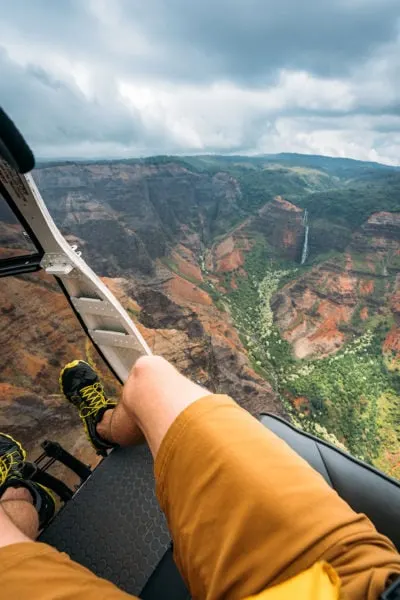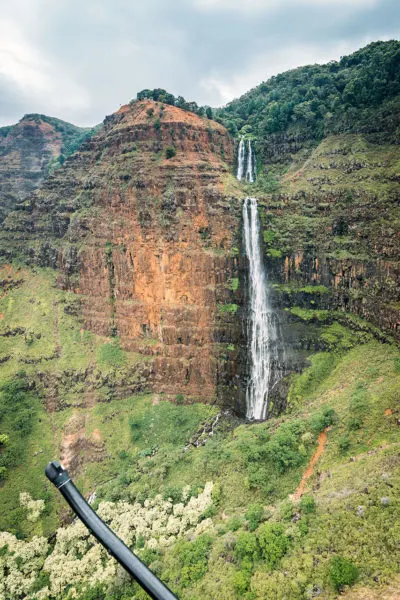 After leaving Lihue Airport, our Kauai helicopter adventure began by flying into Waimea Canyon — aka "The Grand Canyon" of the Pacific (thanks Mark Twain!).
At 14 miles long, and one mile wide, Waimea Canyon was one of my favorite destinations on Kauai. While you can drive and hike along the canyon walls, flying over it in a helicopter was extra special!
It's made up of rugged cliffs with contrasting colors in orange, red, and green. The canyon basically covers the whole western side of the island — with 45 miles of hiking trails too.
The highlight is Waipo'o Waterfall, a massive 800-foot tower of water. Most Kauai helicopter tours will make two passes so everyone gets a chance to photograph it.
➜ Read My Waimea Canyon Travel Guide Here
Kauai's Best Waterfalls From Above!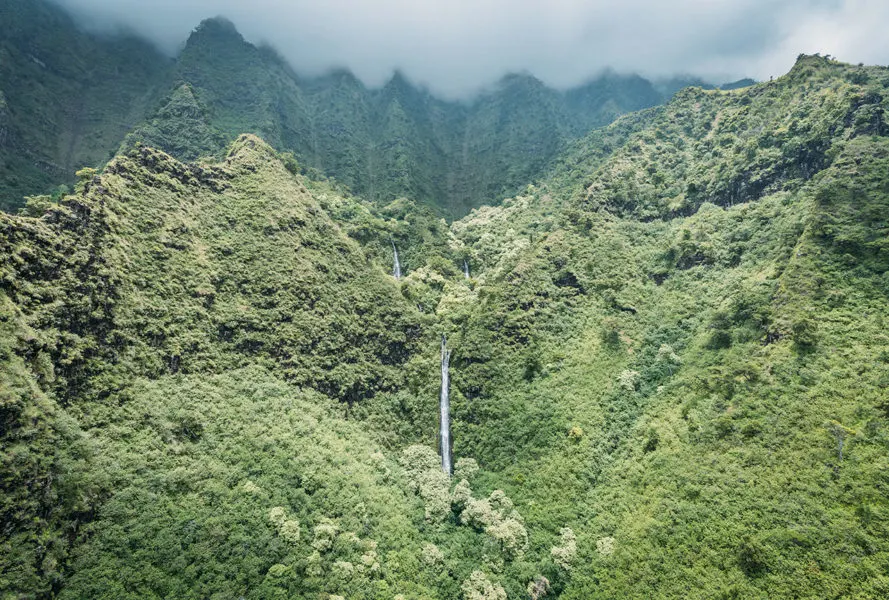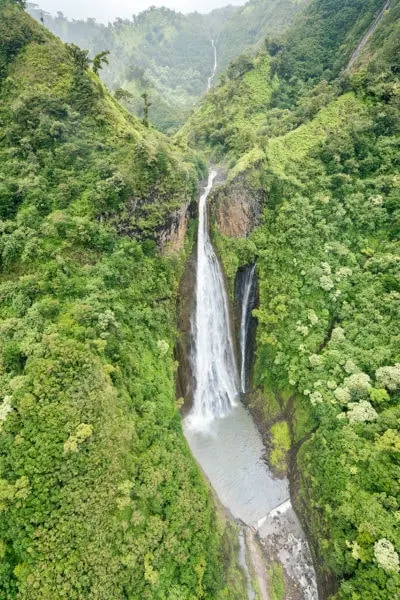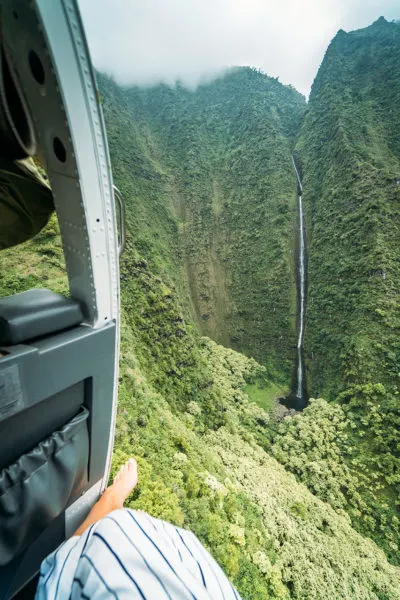 There are SO MANY waterfalls on Kauai! From the ground, you'll only be able to experience some of them. But from the air… that's when you can really appreciate the best waterfalls on the island.
Our Kauai helicopter flight took us over Hanapepe Valley, home of the famous Jurassic Park waterfall.
Its Hawaiian name is Manawaiopuna Falls, the same 400-foot waterfall that was featured several times in the original 1993 Jurassic Park movie.
It seemed that there was some kind of massive waterfall (or 10) cascading into every valley we flew over!
The Stunning Na Pali Coastline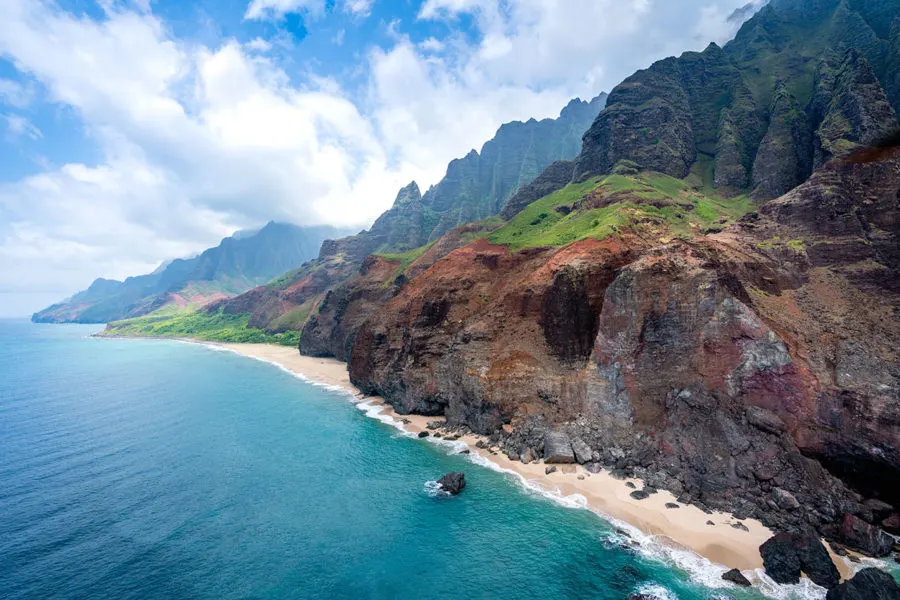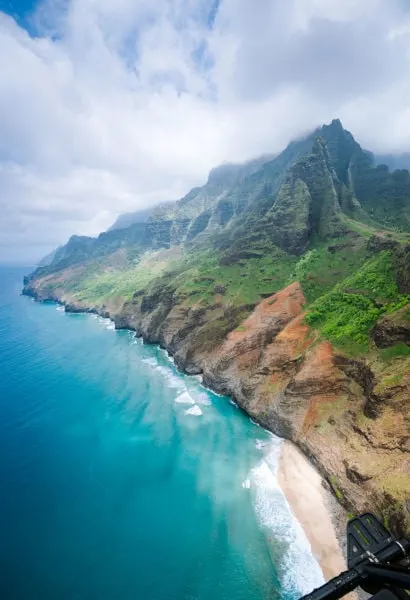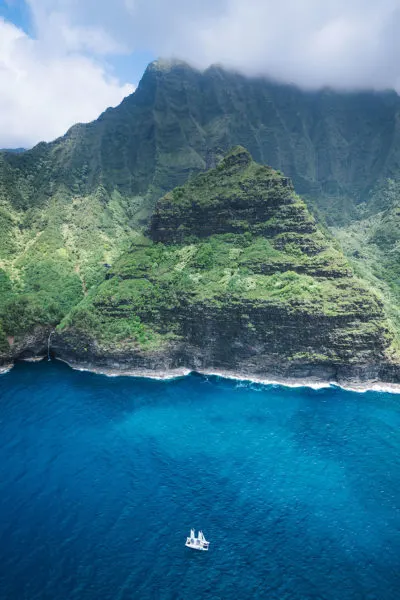 The most epic section of our helicopter flight came next. Kauai's stunning Na Pali Coast State Park on the north end of the island.
Often regarded as the most beautiful part of the Hawaiian islands, Na Pali (which means "the cliffs") is a 17-mile stretch of lush emerald green cliffs and jagged mountain peaks.
Pristine white-sand beaches dot the border between land and ocean. The water is a deep turquoise blue color.
Keep an eye out for "Cathedrals", a spectacular wall of knife-edge ridges.
This is also where the Kalalau Trail is located, a rugged (and sketchy) 2-3 day hiking & camping trek along the coast of Kauai.
Mount Waialeale's "Weeping Wall"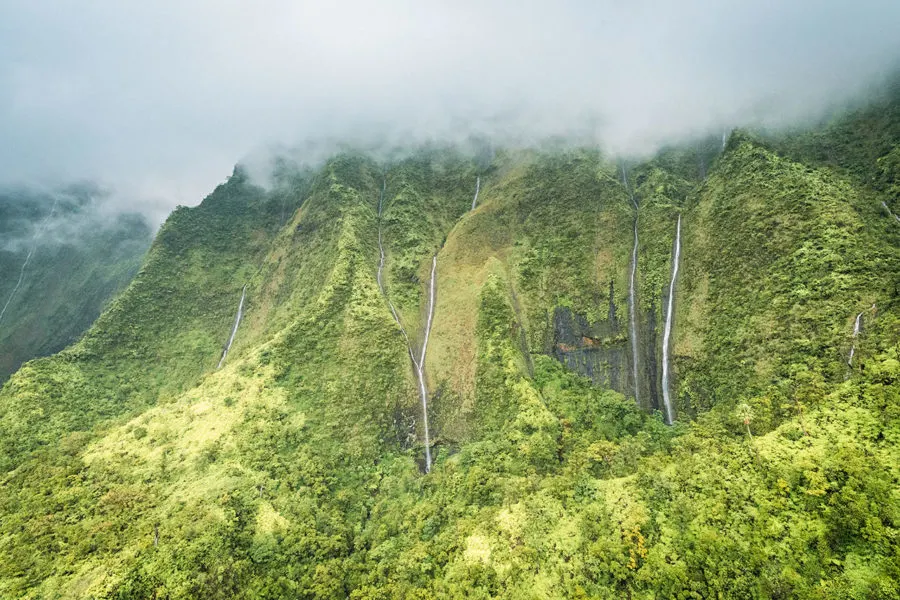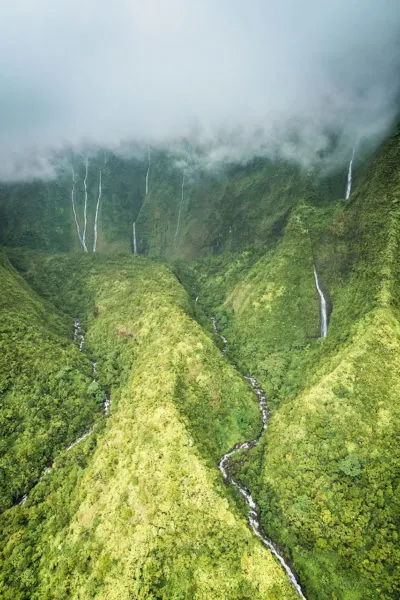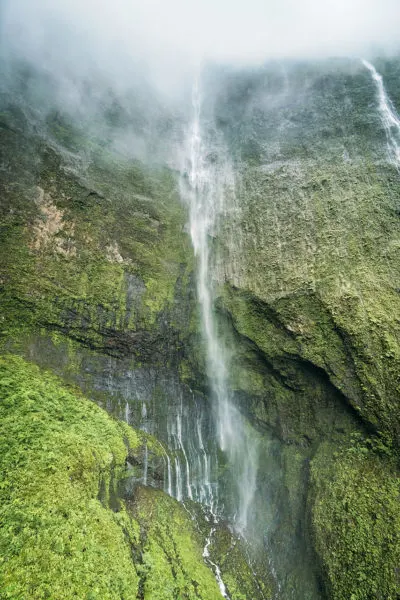 Finally, we flew into the rainy Hanalei Valley towards the Mount Waiʻaleʻale Volcano, one of the wettest spots on earth.
It's here where over 20 different waterfalls funnel down the steeps sides of the long-dormant volcano, into a river far below.
The weather here is frequently bad, and today was no exception. The summit of Waialeale is visible for only about 20 days per year.
We flew below the clouds, into the rain, and right up next to the "Weeping Wall" itself. With the doors off, it was extremely cold, windy, and wet!
If you are looking for a difficult hike in Kauai, you can hike to this wall of water, sometimes called the Blue Hole Hike. It's a tough (and wet) full-day trek.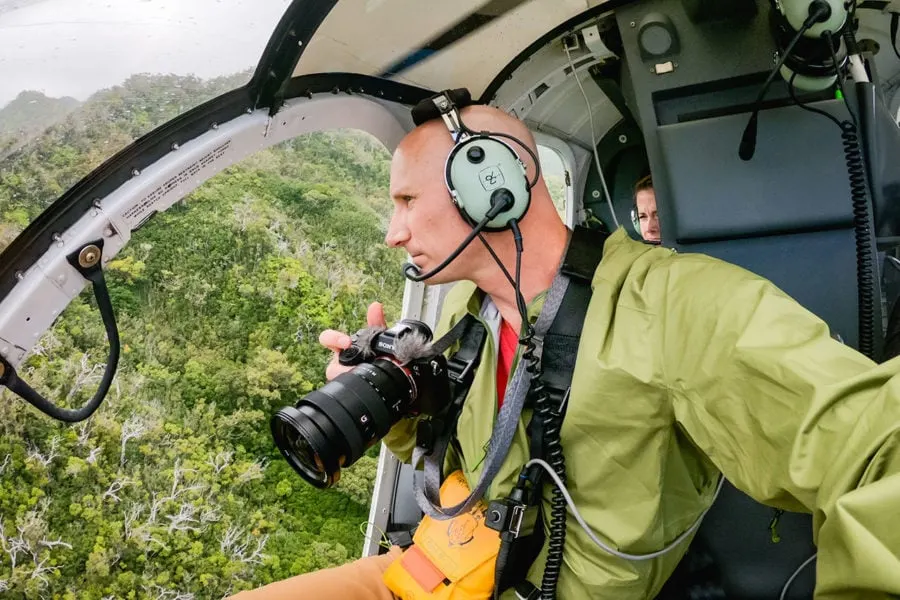 Kauai Helicopter Photography Tips
While I love my Mavic 2 Pro Drone, aerial landscape photography from a helicopter with the doors off is so much fun! But it can be tricky too.
Use Shutter Priority Mode
I'm a big fan of shooting photos in Manual Mode. But in some situations, things are moving too fast to adjust manually. Helicopter photography is like this. I generally recommend keeping your shutter speed at 1/1200 (or higher) so your images aren't blurry. Auto ISO is handy too!
Fire Away!
Shoot as many photos as possible, on rapid fire mode. Helicopter tours can move quickly, and there's often not much time to compose your shot. You need to work fast, and shoot TONS of photos. Make sure to pack a spare battery and a large (plus fast) memory card that can handle all the images.
Polarizer & Lens Hood
If you're flying in a helicopter with the doors on, you'll need to shoot through the windows. This glass can cause unwanted glare & reflections. Using a polarizing filter and a lens hood can help reduce this.
Camera Gear
If you own two camera bodies, I'd recommend bringing them both. Or renting a 2nd one from LensRentals.com (it's actually super affordable).
Keep one camera with a wide-angle lens (like 16-35mm), and another with a telephoto zoom (like 70-200mm). If you can only bring one camera/lens, pick something that's in the middle, like a 24-70mm.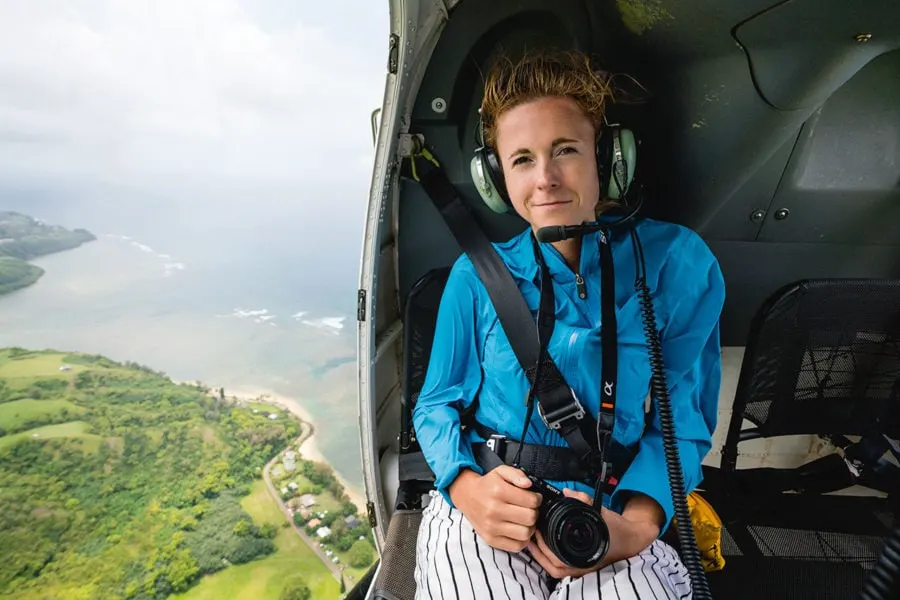 More Hawaii Helicopter Advice
Helicopter Safety
Over the last few years, there have been some high-profile helicopter sightseeing crashes, some of them with the doors off. However, I consider them very rare events, just like plane crashes.
That said, many helicopter tour companies have started banning sticking your hands and feet out from the open doors. While I was allowed to do this in NYC, we couldn't do it on our Kauai helicopter trip. Always listen to your pilot!
How Much Does It Cost?
Helicopter tours on Kauai can cost anywhere between $250 – $400 per person, depending on the length of the trip, the type of helicopter used, and the company.
Best Time For A Helicopter Trip
Kauai isn't called the Garden Island for no reason! The winters here can be very wet & stormy. So summer is generally the best time of year to go on a helicopter tour. You have more chances for good weather.
As for light, because the Na Pali coast is on the Northwest side of the island, the sun hits the mountain peaks in the early afternoon. Just before sunset is another good time to go. ★
---
Enjoy This Article? Pin It!
---
READ MORE HAWAII TRAVEL TIPS
I hope you enjoyed my guide to helicopter tours in Kauai! Hopefully you found it useful. Here are a few more wanderlust-inducing articles that I recommend you read next:
---
Have any questions about Kauai island helicopter tours? Have you ever been in a helicopter? Join the conversation on Facebook, Instagram, or Twitter to share!