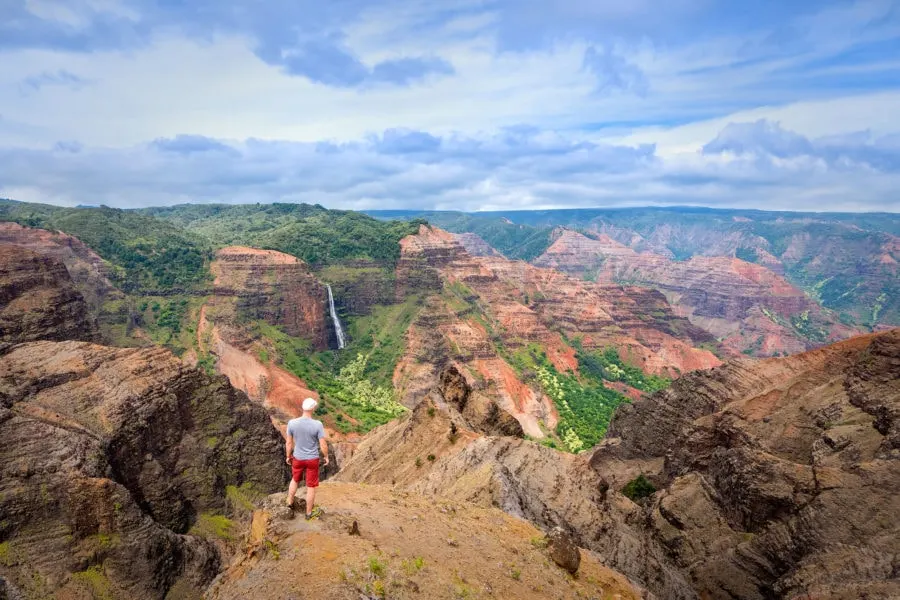 Kauai, Hawaii
While the garden island of Kauai is certainly a lush green tropical paradise, it also boasts a massive red & orange canyon called Waimea — the Grand Canyon of the Pacific.
Waimea Canyon is not the kind of landscape most people associate with the islands of Hawaii. Stretching 14 miles long, one mile wide, and around 3,600 feet deep — it's quite impressive.
One of the reasons Kauai is my favorite Hawaiian Island is because of the diversity of things to do there. You could easily spend a whole day just visiting the different viewpoints and hiking trails in Waimea Canyon State Park if you wanted to!
Hawaii Travel Restrictions 2021
Hawaii is open to most travelers again. However you do need proof of your COVID-19 vaccination(s) or a pre-travel negative test in order to bypass the state's 10-day mandatory self-quarantine.
The vaccination record document must be uploaded to Safe Travels Hawaii and printed out prior to departure and must have a hard copy in hand when arriving to the islands.
You can read the latest updates on traveling to Hawaii here.
Waimea Canyon Travel Guide
The Grand Canyon Of The Pacific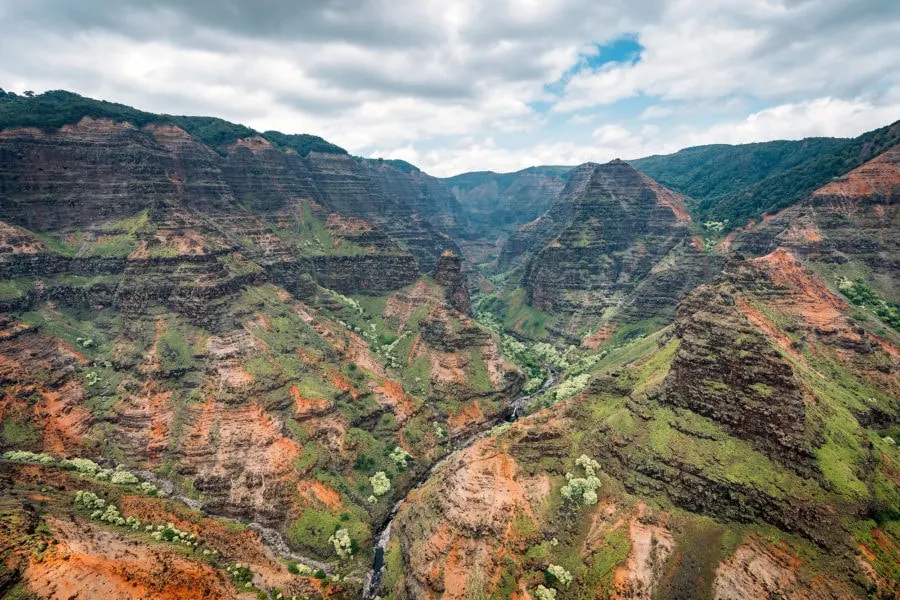 Carved by the Waimea River over millions of years, the canyon's name means "Reddish Waters" in Hawaiian. The river water is stained red/orange by the canyon's red, eroding volcanic walls.
While much smaller than Arizona's famous Grand Canyon, the views are equally impressive — which led writer Mark Twain to nickname the area "The Grand Canyon of the Pacific" after he saw it for the first time.
Waimea Canyon Lookout Points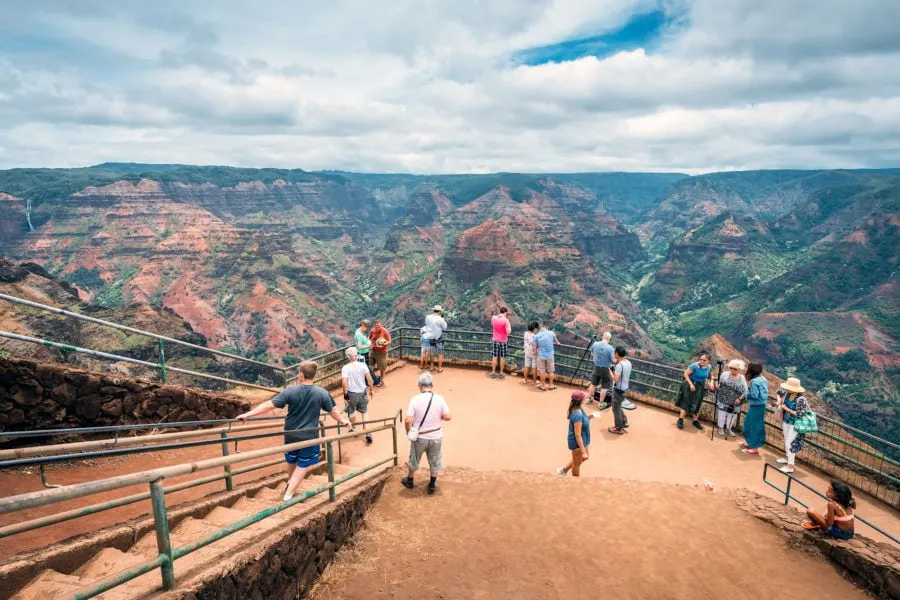 Red Dirt Waterfall – To the right, Waimea Canyon opens up below. To the left is a quirky little waterfall pouring over red volcanic dirt with a few short trails.
Hohonu Awawa Lookout – The first large established platform overlooking Waimea Canyon State Park.
Waimea Canyon Lookout – This lookout probably has the best view of the canyon. They've built a large viewing platform here.
Pu'u Ka Pele Lookout – One of the best viewpoints of Waipo'o Waterfall.
Pu'u Hinahina Lookout – A final stop that gives you some more great views, with a slightly different perspective. Also the start of the popular Canyon Hiking Trail which I mention below.
Kalalau & Puu O Kila Lookouts – These aren't technically part of Waimea Canyon, they are located in Kokee State Park a few miles further North. Just make sure to keep driving and check out these incredible viewpoints of the famous Na Pali Coast!
Waimea Canyon Hiking Trails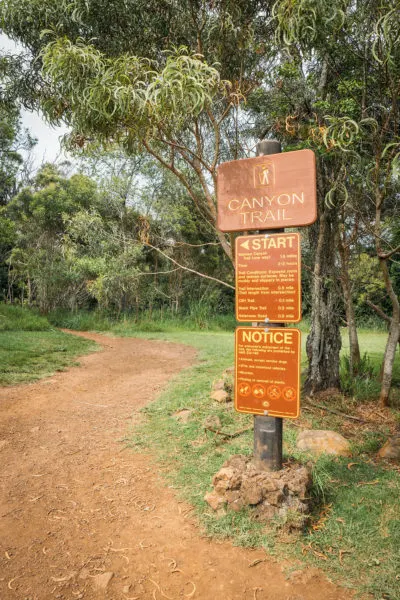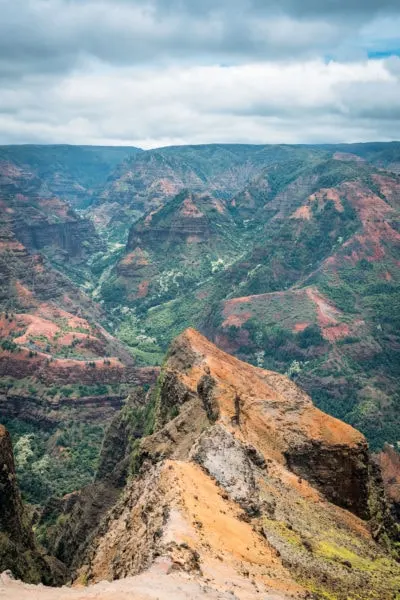 Iliau Nature Loop – A short 1/4 mile loop hike that showcases some of the area's plant life and bird watching. Keep an eye out for the local Iliau Plant! If it's in bloom, you're super lucky.
Kukui Trail – This trail takes you down to the river at the very bottom of the canyon. It's steep, and can get very treacherous when wet due to the red clay. Recommended for experienced hikers who might want to camp at one of the campgrounds at the bottom of the canyon.
Canyon Trail (Waipoo Falls) – This hike takes you to the top of Waipoo Falls, the stunning 800 foot waterfall you see as you drive along the canyon rim. Standing at the top isn't the best place to be for a photo of this waterfall, however the hike still has great views, and only takes about an hour round-trip.
Flying Over The Canyon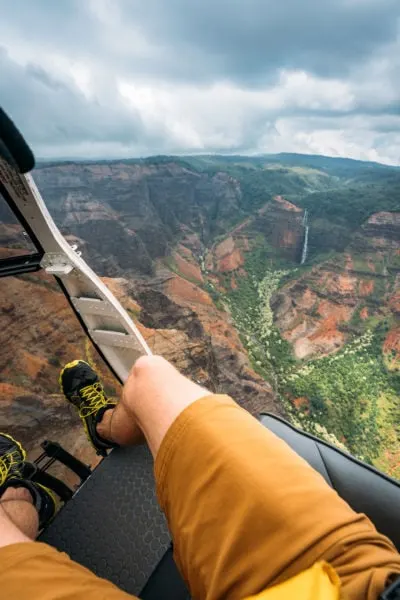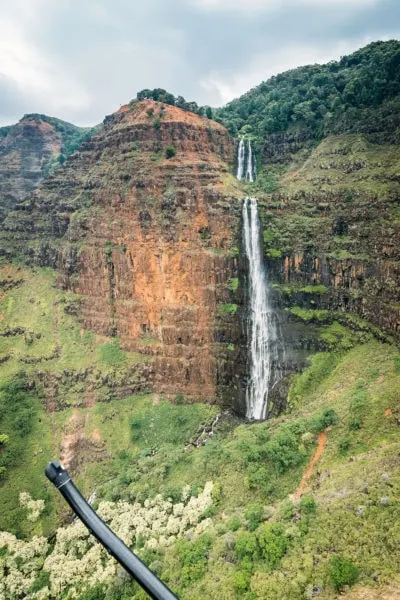 Another cool way to experience the immensity of Waimea Canyon is flying through it in a helicopter! The gorge is often part of island helicopter tours, and whipping through the canyon, especially with the doors off, is pretty amazing.
Flying up close to the massive Waipoo Falls was fantastic, and our pilot flew super close to the canyon walls, which was quite a thrill too.
Getting to Waimea Canyon State Park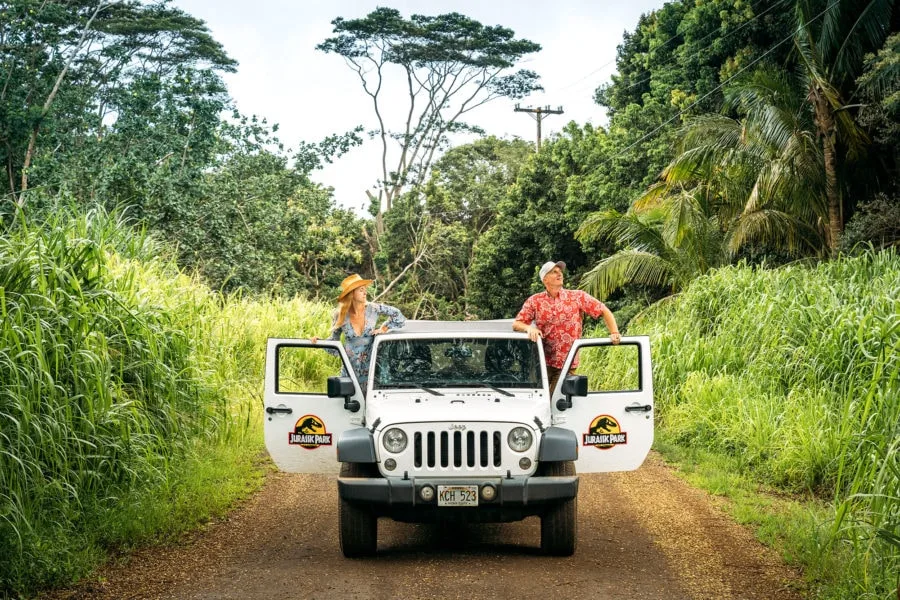 There are two routes for driving up to Waimea Canyon from the town of Waimea — Waimea Canyon Drive or Kokee Road (Highway 550). They eventually meet before you enter the canyon rim, so it really doesn't matter which you choose.
Entrance into Waimea Canyon State Park is free (no permit required), however there may be a fee for parking in certain popular areas near viewpoints.
Rental Car
The best site to book your car is with Discover Cars. They search both local and international car rental companies to help you find the best possible price. This is the easiest way to rent a car and drive on Kauai.
Renting a car offers the best flexibility to explore remote spots on the island. Kauai has two major highways, Kaumualii and Kuhio. It can take an hour to get to the other side of the island.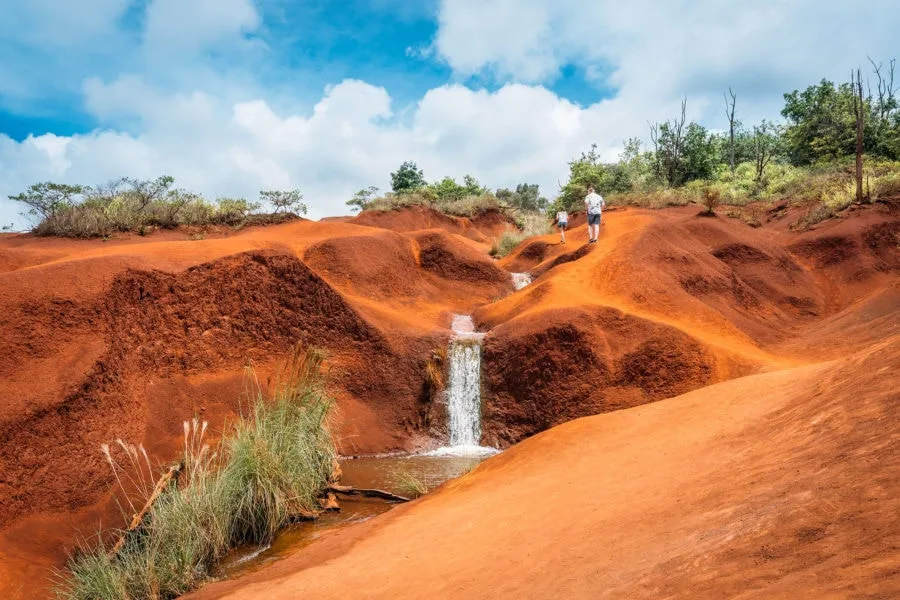 Useful Tips For Visiting Waimea Canyon
The temperature gets much cooler on the high canyon rim. Bring a rain jacket or windbreaker. Wear shoes with traction to handle rocky, muddy terrain.
Parking spots at lookout points can fill up fast, as it's a popular tourist destination. Try to arrive early, before 9am if possible.
How much time do you need to explore? I'd set aside at least half a day, but if you want to do a bunch of hikes, you could easily spend a full day here.
After exploring Waimea Canyon's trails, continue driving North and visit Kokee State Park. If the weather's good, you'll have awesome views looking down on the Na Pali coastline!
READ MORE HAWAII TRAVEL TIPS
I hope you enjoyed my guide to Waimea Canyon on Kauai! Hopefully you found it useful. Here are a few more wanderlust-inducing articles that I recommend you read next:
---
Have you ever heard of Waimea Canyon? What's your favorite Hawaiian Island? Join the conversation on Facebook, Instagram, or Twitter to share!