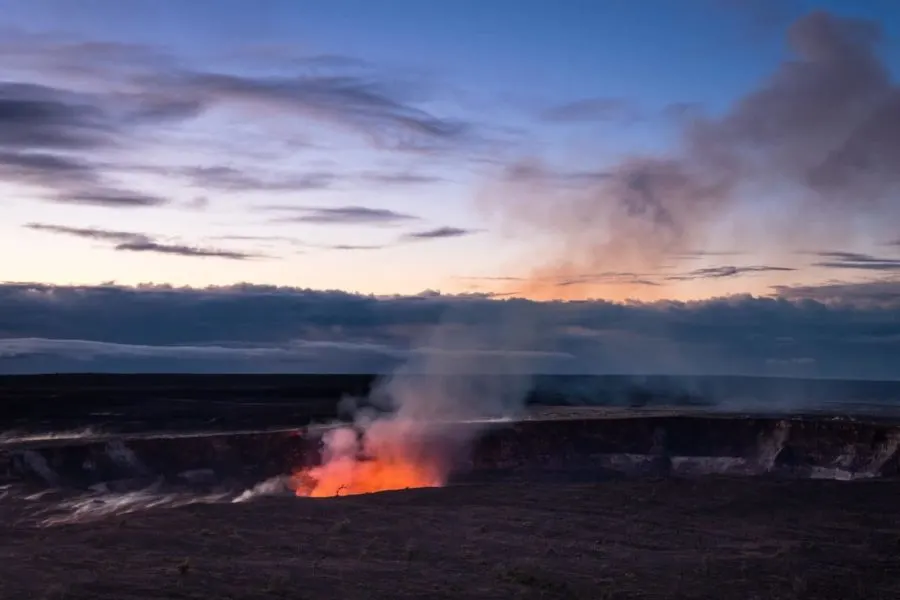 Big Island, Hawaii
We spent 5 amazing days exploring Hawaii's waterfalls, beaches, volcanoes, and wildlife. Here are some of the best things to do on the Big Island Of Hawaii during your visit!
Oahu might be the most popular and busiest Hawaiian island, but The Big Island of Hawai'i is the largest, and incredibly it's still growing!
When I lived on Oahu many years ago, I was a broke college student who couldn't afford to visit other islands of Hawaii…
After our epic road trip on the Big Island, I now realize what I was missing!
With so many adventure activities, a laid-back attitude, and far fewer people, it really demonstrated how different the Hawaiian islands can be.
If you're planning to visit Hawaii, I wanted to recommend a few fun and unusual things to do on the Big Island, no matter what time of year you visit.
Big Island Hawaii Highlights Map
HOW TO USE THIS MAP: Above you'll find a map of highlights on the Big Island of Hawaii. Click on the top left of the map to find separate layers marking the route and points of interest. You can hide and show different layers, or click icons on the map to see the names of places I mention in this travel guide. "Star" the map to save it to your own Google Maps, or open the map in a new window for a larger version. Enjoy!
Hawaii Travel Restrictions 2022
Hawaii is open to most travelers again, including American tourists. However you do need proof of your COVID-19 vaccination(s) or a negative test result before being allowed entry.
Many hotels, attractions, and private tours are open with new health & safety protocols in place, and you still have to follow certain guidelines.
You can find the latest updates on traveling to Hawaii here.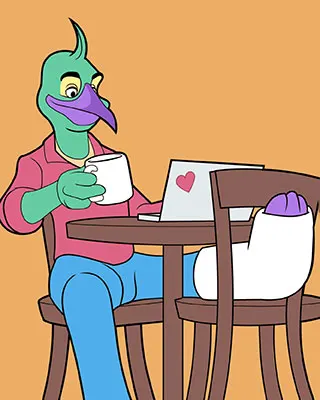 Get Travel Insurance
Protect yourself from injury, illness, or theft. SafetyWing offers affordable travel insurance that covers COVID-19 too!
Best Things To Do On The Big Island
1: Hawaii Volcanoes National Park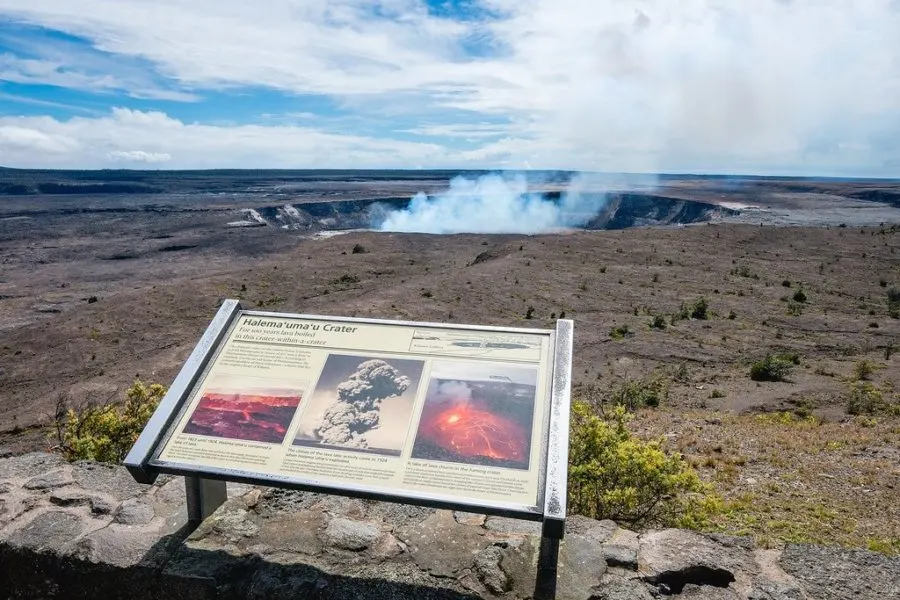 If you want to know what to do on the Big Island first, you can't go wrong with a trip to Hawaii Volcanoes National Park. In the Hawaiian religion, Pele is the goddess of fire who lives in the active Halemaʻumaʻu crater of Kilauea Volcano.
The Hawaiian Islands are essentially a chain of massive volcanoes, and The Big Island is over the hot-spot right now, so the island is still being formed by these active lava flows & eruptions. The most recent was in the summer of 2018!
Volcanoes National Park is pretty big, with tons of different things to do. It is open to the public 24-hours a day, year round too. Which is great for early-bird landscape photographers like me.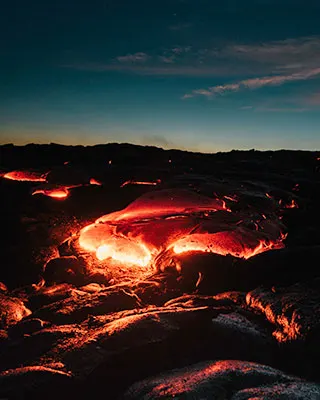 Volcanoes National Park Tour
Visit a Kona coffee farm, black sand beach, and Hawaii Volcanoes National Park on a professionally guided tour.
National Park Highlights
Crater Rim Drive – Driving your car along this route is the easiest way to see the park, it's an 11 mile route full of scenic overlooks and interesting stops.
Jaggar Museum – A museum on volcanology with displays of equipment used by scientists to study the volcano. Also one of the best views of Halemaumau Crater!
Thurston Lava Tubes – A cool lava tube/tunnel you can explore after a 20 minute walk through a tree fern forest.
Kīlauea Iki Trail – This 4 mile (6.4km) loop trail takes you into a former lava lake that erupted with 1900 foot tall fountains of lava back in 1959.
The park is pretty big, and there are professionally guided tours that will allow you catch the highlights if you don't have a lot of time.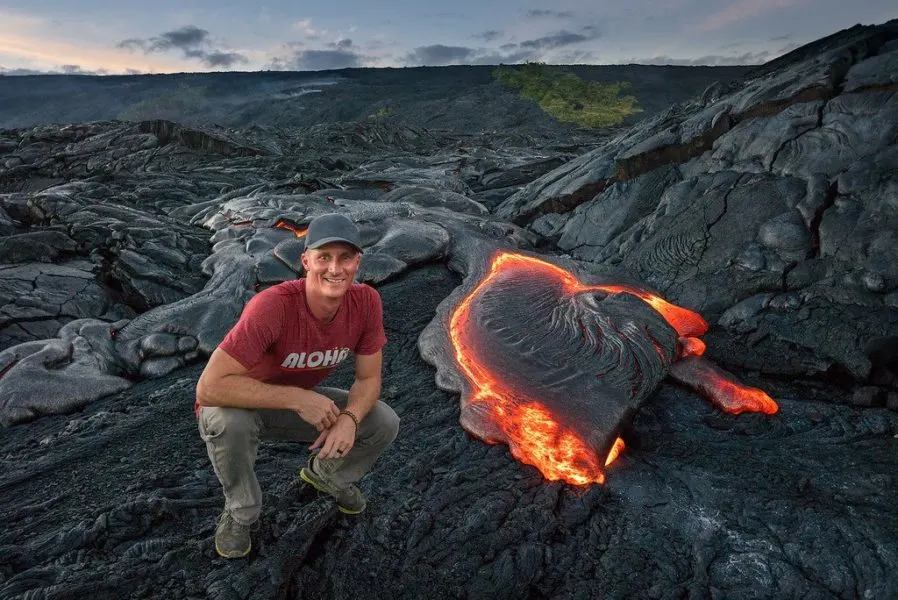 Where To See Volcanic Lava Flows?
If you drive up to Jagger Museum at Halemaʻumaʻu Crater, you might catch a glimpse of lava bubbling in the distance. But nighttime is the best time to visit, as the whole crater glows with red light.
To see lava up close, you'll need to visit the Kalapana Lava Viewing Area, an hour long drive away from the National Park entrance (and closer to the town of Hilo). After the road ends, it's another 3 miles by foot or rented bicycle.
To find the lava flow at Kalapana, you can either join a tour, or you can explore on your own like we did. The bike rental places will give you a basic map with instructions on how to find the lava.
The National Park Service also posts daily volcano updates here.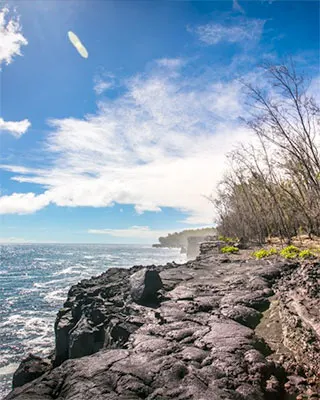 Kilauea Lava Flow Hike
Hike across the active volcano of Kilauea. See historic lava flows dating from 1881 to the most recent flow from 2018.
2: Punalu'u Black Sand Beach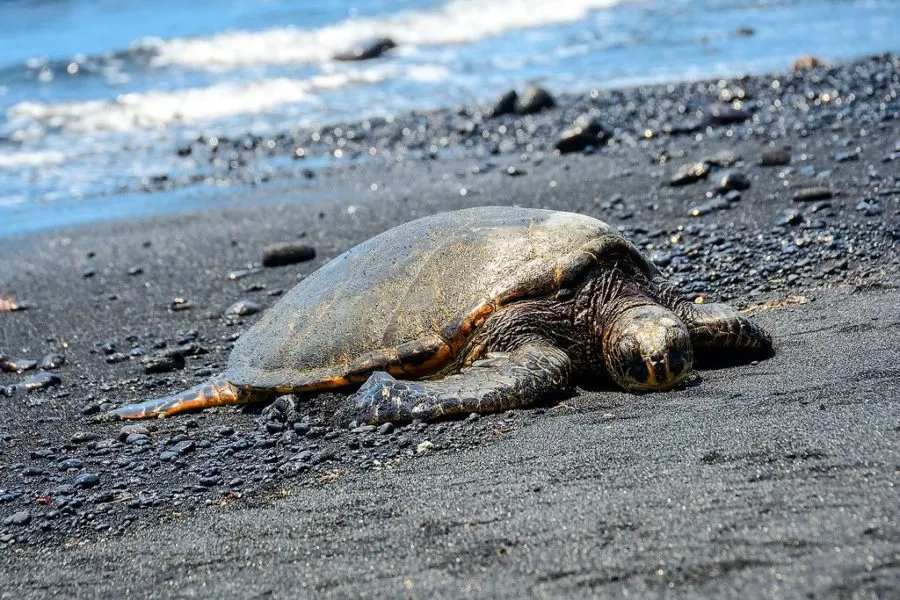 The dark black sands of Punalu'u Beach is the result of the Big Island's long history of volcanic eruptions. It formed over time as hot lava flowed into the ocean, exploding into tiny fragments and washing ashore.
The beach is home to endangered Hawksbill Turtles and Hawaiian Green Sea Turtles that like to sunbathe on the warm black sand.
While it's a wonderful spot to see these incredible creatures in person, just remember not to get too close.
There are rules in place to protect the turtles from human harassment.
Aside from checking out the turtles, Punalu'u is also good for swimming, snorkeling tours, walking, or even camping (with a permit of course).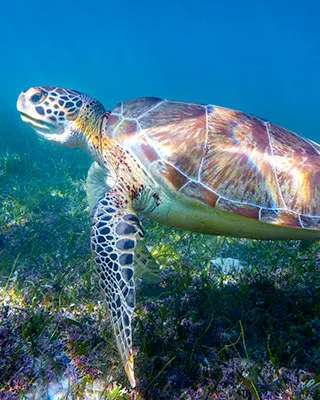 Sea Turtles & Black Sand Beach
Swim in a lagoon full of sea turtles, colorful fish, and sometimes dolphins on this beach snorkeling tour.
3: Snorkeling Kealakekua Bay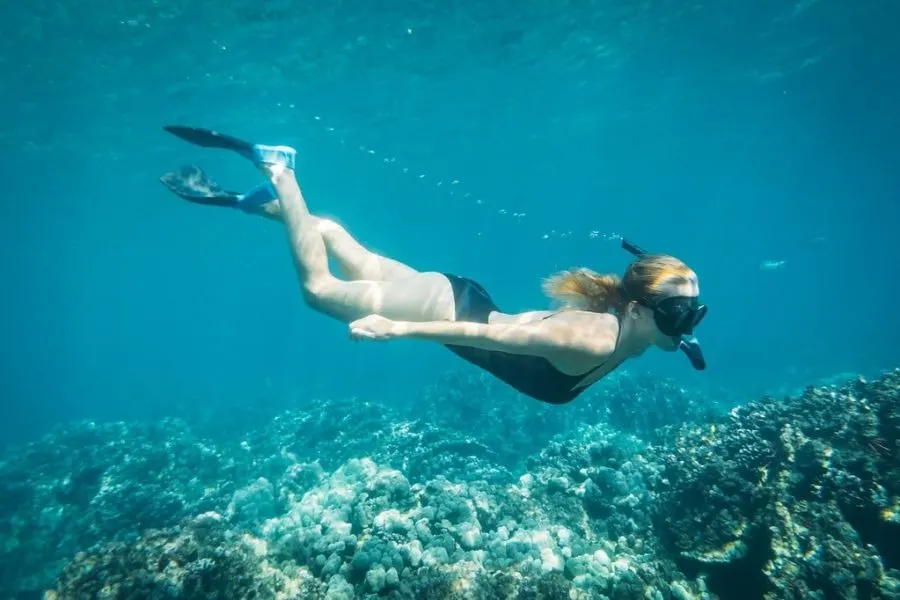 The water of Kealakekua Bay is crystal clear, and full of colorful fish and coral reefs. It's also where Captain James Cook, the first Westerner to visit Hawaii, was killed in a skirmish with Native Hawaiians.
The bay is one of the best places to go snorkeling on the Big Island. Most people book snorkeling tours by boat, but for the more adventurous, you can also rent a kayak and explore on your own.
Anna & I rented a two-person kayak from Kona Boys (we had a rental car) and spent the morning swimming with tropical fish.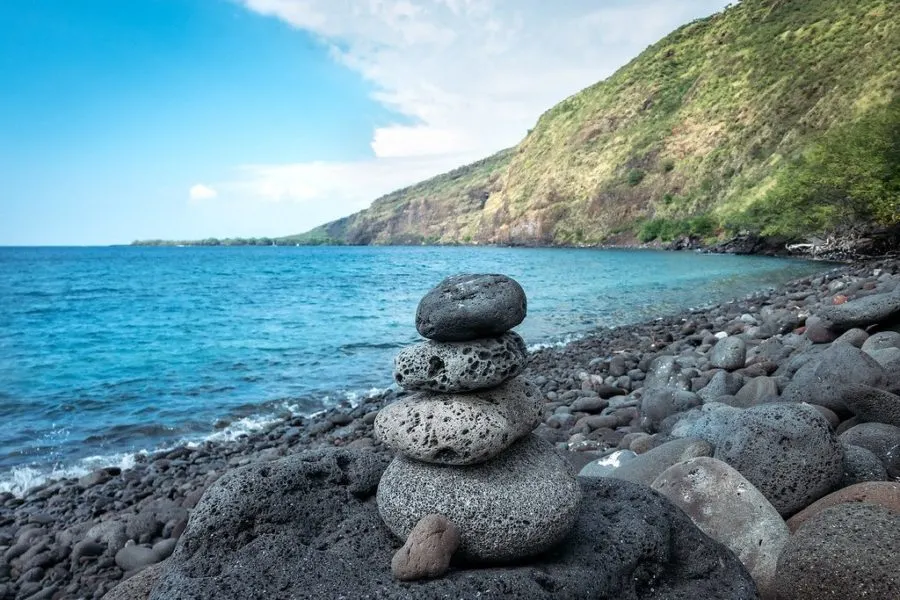 Dolphin Spotting In The Bay
Occasionally you can even find spinner dolphins and sea turtles in the bay! Unfortunately, we didn't see any dolphins that day… but we heard they were spotted further down the coast.
On the East side of the bay you'll find the ruins of a Hikiau Heiau (sacred temple) dedicated to the Hawaiian fertility and music god Lono.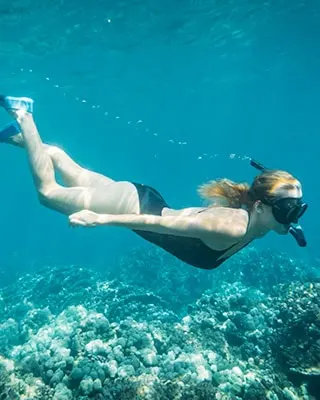 Hawaii Snorkeling & Dolphin Trip
Discover Kona's underwater paradise on this 4.5-hour snorkeling cruise and dolphin watching trip.
4: Sunset On Mauna Kea Volcano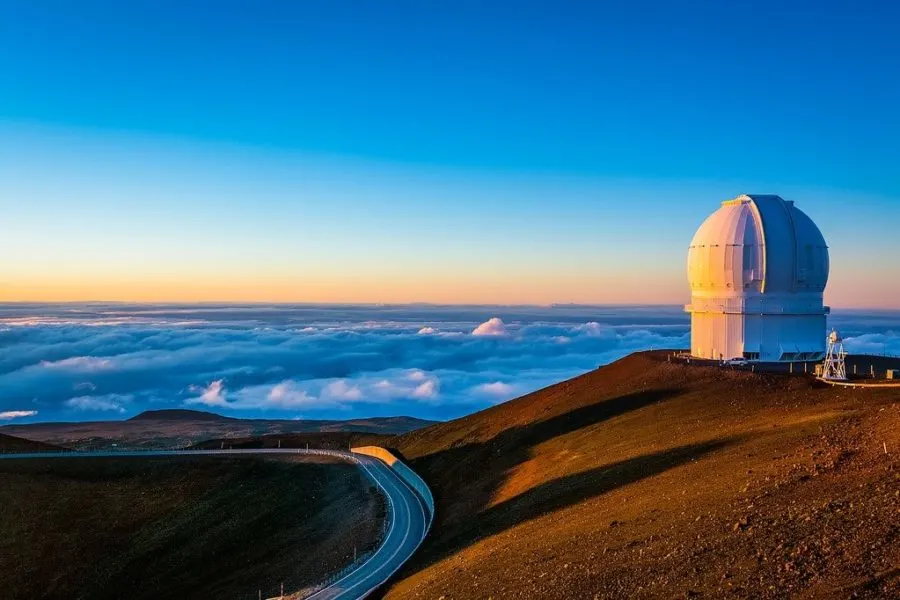 Did you know that it actually snows in Hawaii? And that Hawaii is technically home to the tallest mountain in the world? Well now you do!
Mauna Kea Volcano is Hawaii's tallest mountain, at 13,796 feet (4205 meters). But most of the volcano is actually underwater. If measured from the sea floor, Mauna Kea towers 33,476 feet (10,204 meters).
That's even taller than Mount Everest!
At the summit of this long dormant volcano lies the Mauna Kea Observatory, a collection of 13 high-powered space telescopes.
Driving up to the observatory for sunset is a popular activity, and so is late-night stargazing trips. There are also a few short hikes around the top of the volcano. In the winter, the summit can be covered with snow.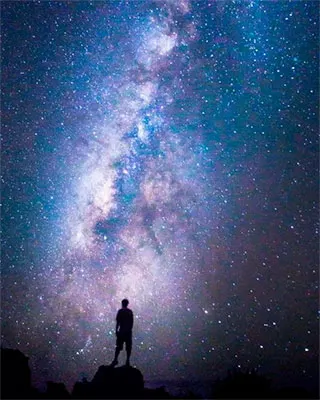 Volcano Star Gazing Tour
Observe the deep sky through a large aperture telescope on the summit of Mauna Kea with a professional astronomer.
5: Unwind In Holualoa Town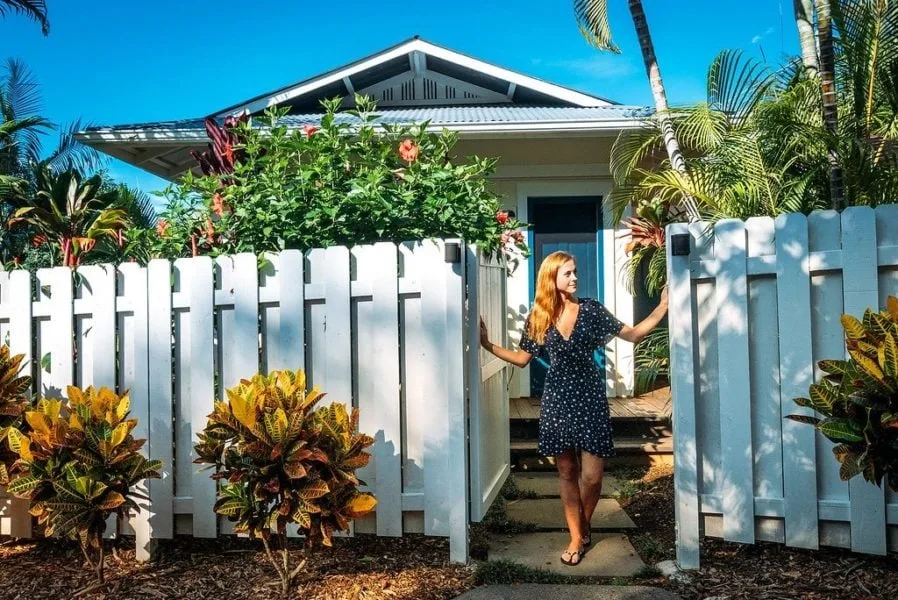 Sitting along the fertile slopes of the Hualalai Volcano above Kailua-Kona lies the artist-friendly town of Holualoa, where we based ourselves on the western side of the Big Island.
Holualoa has tons of small-town charm, with a winding two-lane road lined with art galleries, coffee shops, and friendly locals. It was the perfect place to relax after our different adventures.
We stayed at the Holualoa Inn, in the heart of Kona Coffee Country. In fact, the inn grows its own coffee, fruits, vegetables, and collects eggs from a chicken coop out back.
When not off exploring the rest of the island, we were strolling through Holualoa Inn's zen gardens, sunbathing by the pool, or getting a massage on our cottage's lanai.
6: Papakolea Green Sand Beach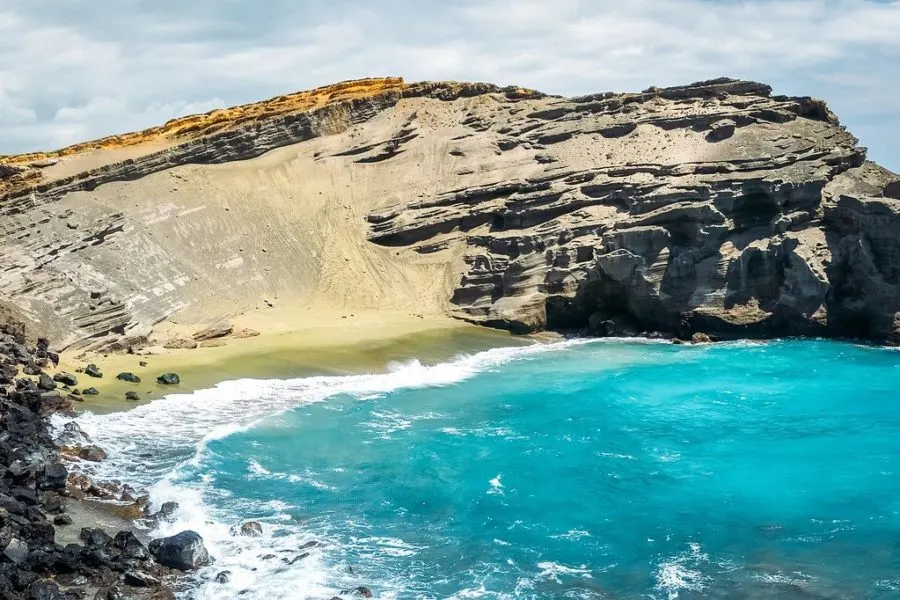 The Hawaiian islands are full of beautiful beaches, but one of the most peculiar is the green sand beach of Papakolea located on the South West coast of the Big Island.
This 49,000 year old cinder cone belonging to the Mauna Loa volcano contains billions of green crystals called olivines that give the beach its name.
Papakolea is a bit off the beaten track, and not easy to reach. The hike out is 5-miles (about two hours) round trip, so be prepared with plenty of water. There's nowhere to hide from the sun either.
However, this also means only the most adventurous souls make the trek — limiting the number of people out there.
7: Snorkel/Dive With Manta Rays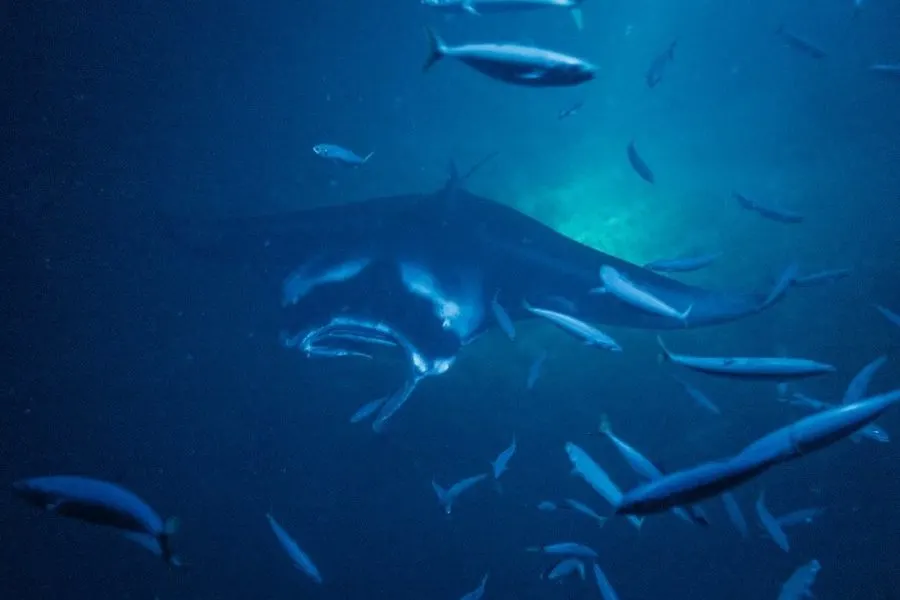 Just off the coast of Kona, groups of huge 20-foot (6 meter) wide manta rays soar through the water hunting for plankton to eat. It's possible to jump in the water at night and watch them feed.
Our night-time manta ray snorkeling tour began by chasing a stunning pink & orange sunset along the coastline on a sailing catamaran.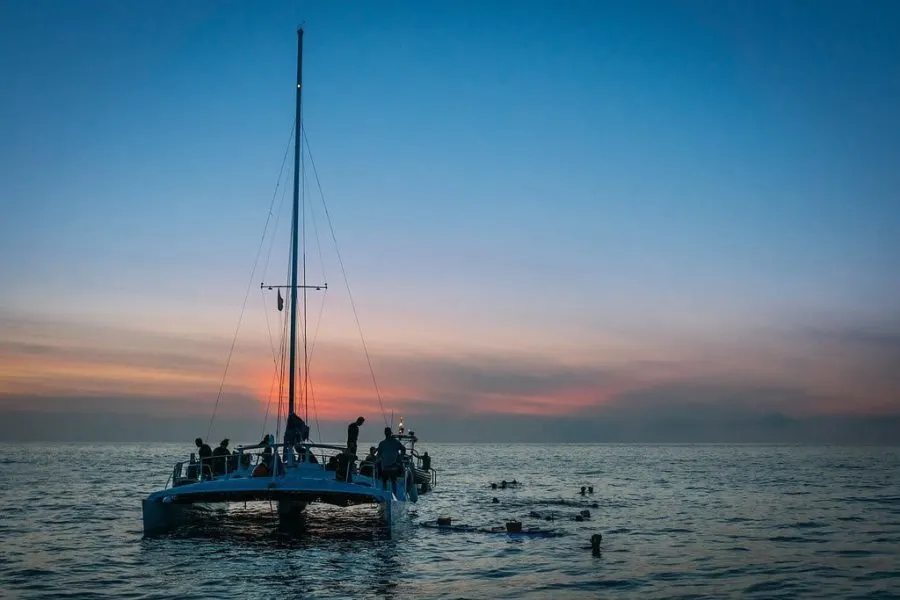 After the sun went down, we jumped into the ocean and grabbed onto a custom floating SUP board with hand holds. The board also has an ultraviolet light shinning down onto the ocean floor.
The light attracts millions of microscopic plankton, and the graceful manta rays swim under you to scoop them up in their massive mouths. It's a magical experience! Scuba diving with the mantas is also possible.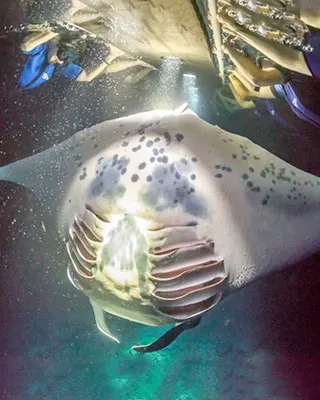 Manta Ray Snorkeling Trip
Enjoy a magical moment at night with huge manta rays gracefully gliding through the water under you.
8: Coffee Tasting In Kona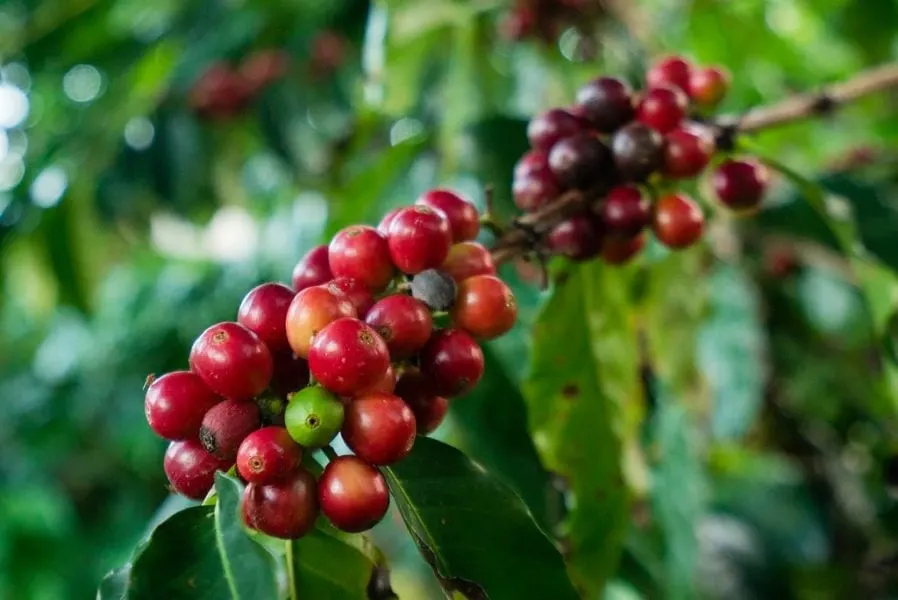 You can't leave the Big Island of Hawaii without getting your caffeine fix at one of the world's most famous coffee towns. Kona's rich volcanic soil helps produce smooth coffee with low acidity.
There are roughly 600 coffee farms in the Kona area, and many offer tours to the public, some are free! The most famous one is probably Greenwell Farms.
Or, if you just want to visit some great local cafes, make sure to check out some of our favorites including Holuakoa Gardens Cafe and Kona Haven.
As a hardcore coffee lover, I was in heaven trying all the different types of Kona coffee around town. Make sure to bring some home too!
9: Visit Akaka Waterfall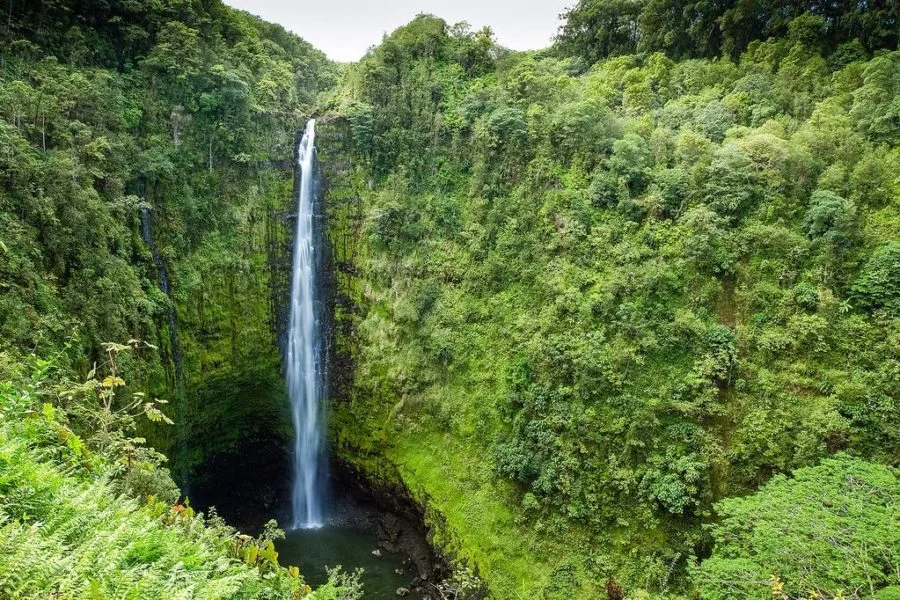 At a towering 442 feet tall, Akaka Falls is Hawaii's largest waterfall. It's located in Akaka Falls State Park, about 11 miles north from Hilo. Entry into the park costs only $5 per car.
The easy 0.4-mile loop hike takes you through a lush jungle filled with orchids, bamboo trees, and a stream-eroded gorge. You can complete the whole thing in about 30 minutes.
Along with the famous Akaka Waterfall, there's a second "smaller" 100 foot waterfall called Kahuna Falls. You can also join a guided waterfall tour.
Akaka Waterfall can be viewed from several points along the trail through the park, but the best spot is from high above on the edge of the gorge. Late morning is a good time to visit so the sun will be shining on the falls.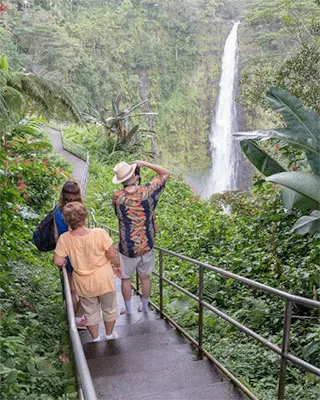 Big Island Waterfall Tour
Explore the sacred Waipio Valley, see the tallest waterfall on the island, and visit an ancient lava cave.
10: Pu'uhonua o Honaunau National Park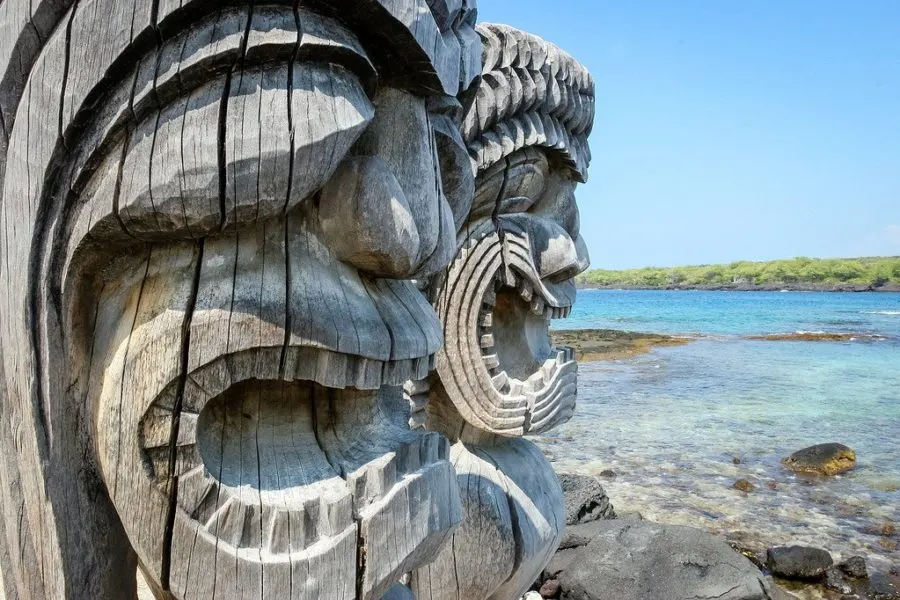 In ancient Hawaii, long before it became a state, local sacred laws or kapu governed every aspect of Hawaiian society. The penalty for breaking these laws was death…
But if the criminals managed to get themselves to a pu'uhonua, or place of refuge, they were absolved of their crimes and could return to normal life.
Today you can visit Pu'uhonua o Hōnaunau National Historical Park to experience the history of this place, still considered a sacred site.
The Hale o Keawe temple located here contains the bones of chiefs that infuse the area with their mana (power). Dramatic looking wooden statues called Ki'i act as guardians to the bay and nearby temple.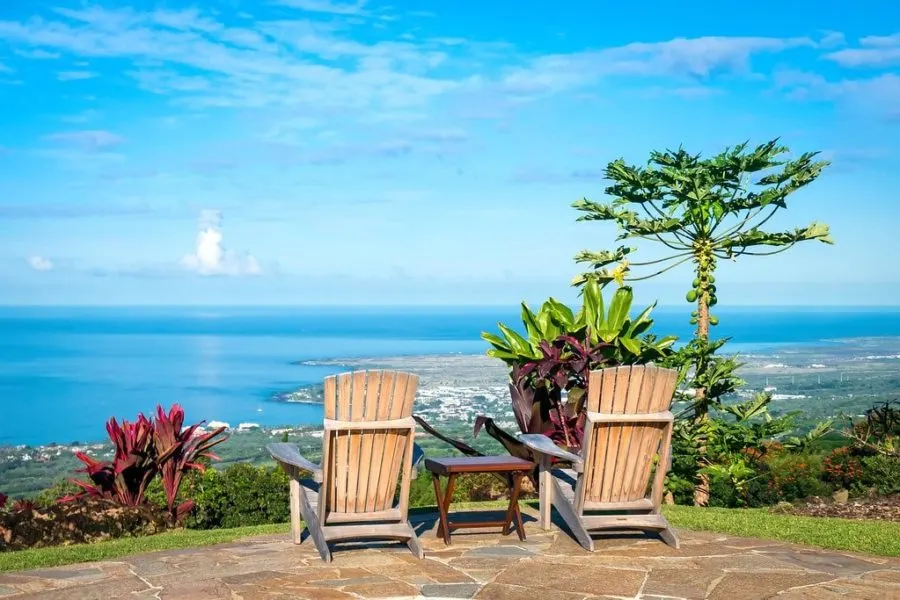 Getting To The Big Island
There are two main airports on the Big Island of Hawaii. Kona International Airport (KOA) to the west, or Hilo International Airport (ITO) in the east.
You can try flying directly to these airports, or hop on a short 40-minute flight connecting from Honolulu. We flew into Hilo and rented a car to drive around the island on a road trip.
Renting A Car In Hawaii
The best site to book your car is Discover Cars. They search both local and international car rental companies to help you find the best possible price. This is the easiest way to rent a car in Hawaii.
Roads on the Big Island can be narrow and winding. So it can take longer than you think to drive around it. Traveling from Hilo to Kona on Highway 11 takes about 3 hours, and driving Highway 19 around the north shore takes 2 hours.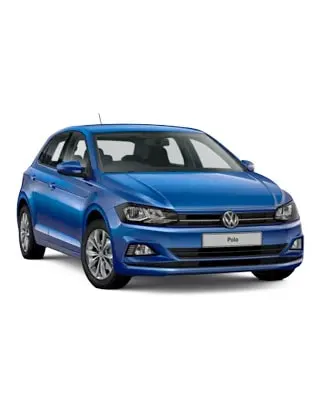 Rent A Car In Hawaii
Search both local and international car rental companies to help you find a good deal.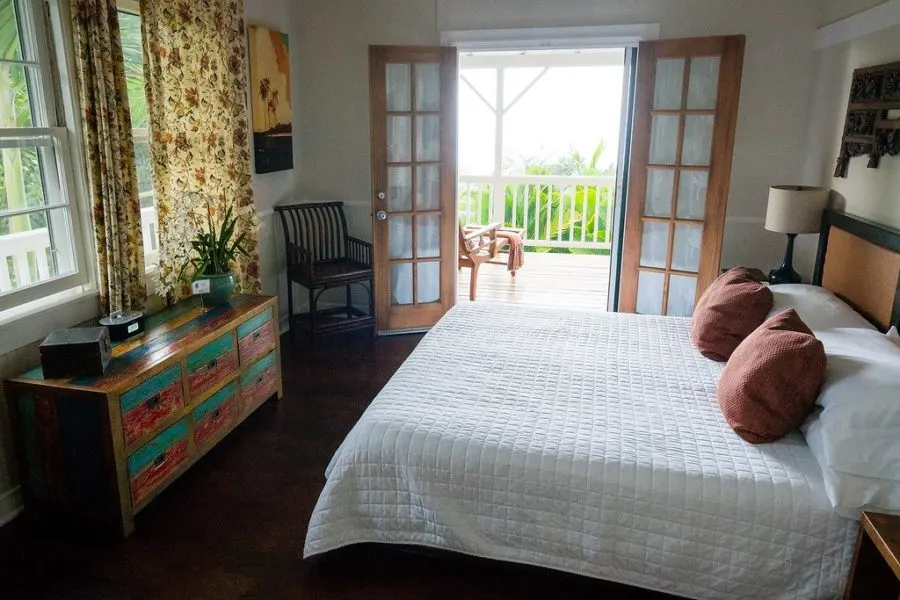 Where To Stay In Hawaii
For most of our trip, we stayed at the beautiful Holualoa Inn outside Kona in the small village of Holualoa. It was the perfect place to relax after exploring the island.
But here are some other suggestions for good places to stay during your trip to the Big Island of Hawaii too.
---
BEST ACCOMMODATION ON THE BIG ISLAND
---
Big Island Travel Tips & Advice
We spent 5 days exploring things to do on the Big Island, but I wish we'd stayed longer — at least a week. There was a lot to see!
Make sure to check out the Hawaiian cowboy countryside of the Kohala Coast and the thick tropical jungle and waterfalls of Waimea Canyon.
Because the Big Island of Hawaii is so big (4,028 square miles, about the size of Connecticut) — driving around it takes a long time.
While the Big Island has some nice beaches, it's really not a typical "beach" destination like Oahu is. Most people travel to the Big Island for the many volcanoes — both active and dormant.
Another highlight of the Big Island is fewer tourists, and a laid-back country vibe — making it a great place to relax if that's what you're after.
I know we'll be back to the Big Island one day, because the amazing Hawaiian Islands are one of my favorite travel destinations in the United States. ★
---
Enjoy This Article? Pin It!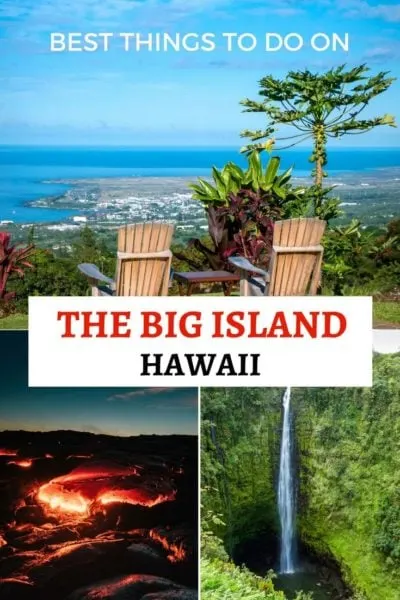 ---
READ MORE HAWAII TRAVEL TIPS
I hope you enjoyed my guide on what to do on the Big Island of Hawaii! Hopefully you found it useful. Here are a few more wanderlust-inducing articles that I recommend you read next:
---
Have any questions about the Big Island of Hawaii? What about other suggestions? Join the conversation on Facebook, Instagram, or Twitter to share!