Before I started my own adventure travel blog 9 years ago, I was inspired to explore the world after reading other people's travel blogs online. Travel blogs are a wonderful source for cool ideas & advice if you're planning a trip!
Below you'll find some of my favorite travel blogs, plus many more I've discovered over the years. I hope you enjoy the variety of travel stories, photography, and videos these travel bloggers publish from around the world!
Are you a travel blogger? Want to be featured here? Contact Me
---
My Current Top 15 Travel Blogs
What makes a great travel blog? Well, it's going to be subjective. Everyone will have their own opinions. And that's ok.
Personally, my favorite blogs about travel blend a difficult-to-achieve combination of good writing, great photography, helpful advice, and smart webdesign. They all might not be the most popular blogs, but they get me excited to discover and learn about new places.
So in no particular order, below you'll find my favorite travel blogs for 2020. Follow them if you'd like to escape from reality for a while during your work break — and maybe get inspired for your next trip in the process!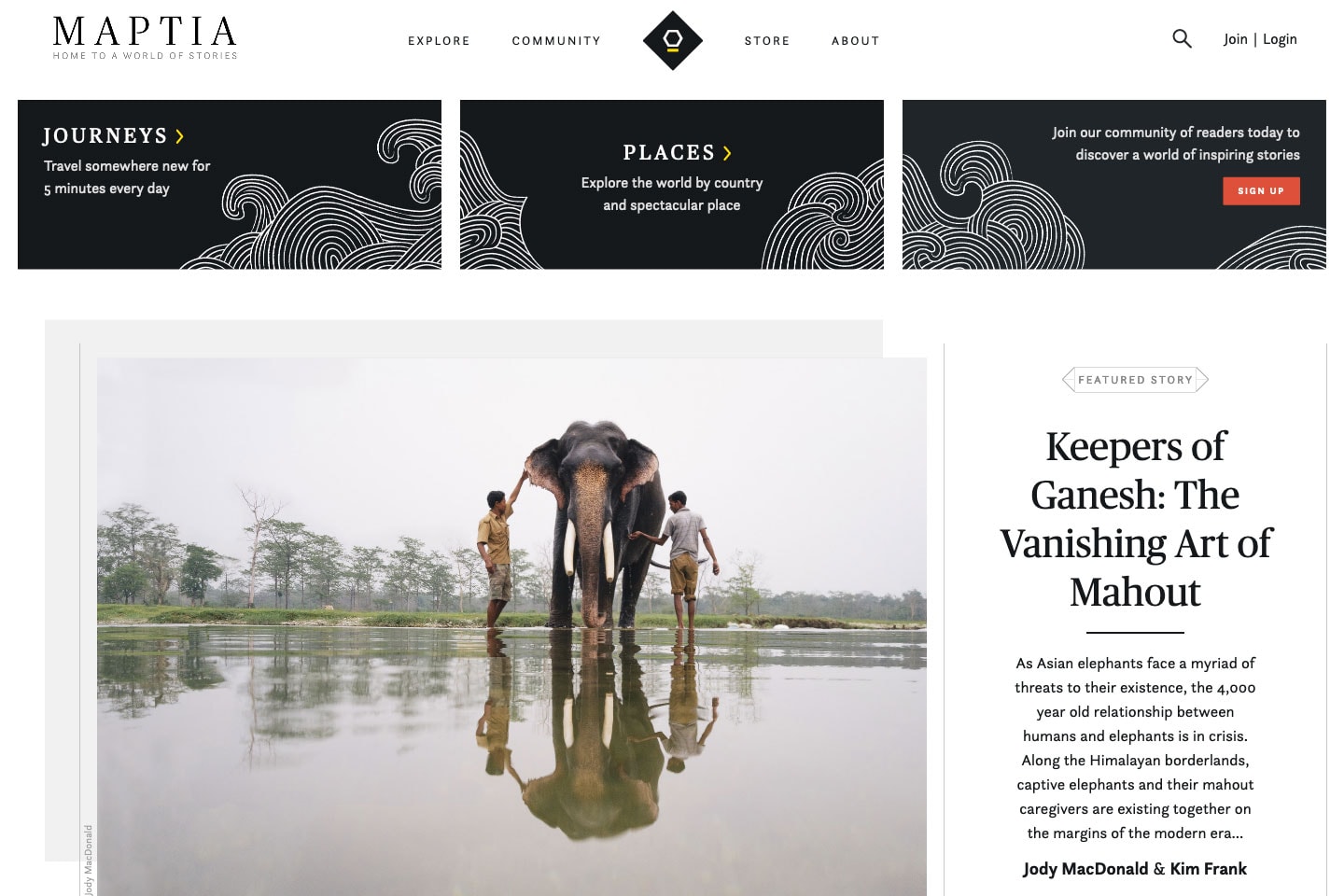 Maptia is a collaborative project with a diverse group of photographers, writers, adventurers, and conservationists, who bring their readers a world of inspiring and thought-provoking stories. They are a volunteer-run travel blog spending hundreds of hours over the past 4 years to self-publish impactful travel stories in an independent, ad-free environment.
CURRENT FAVORITE POST: Life Among The Trees
---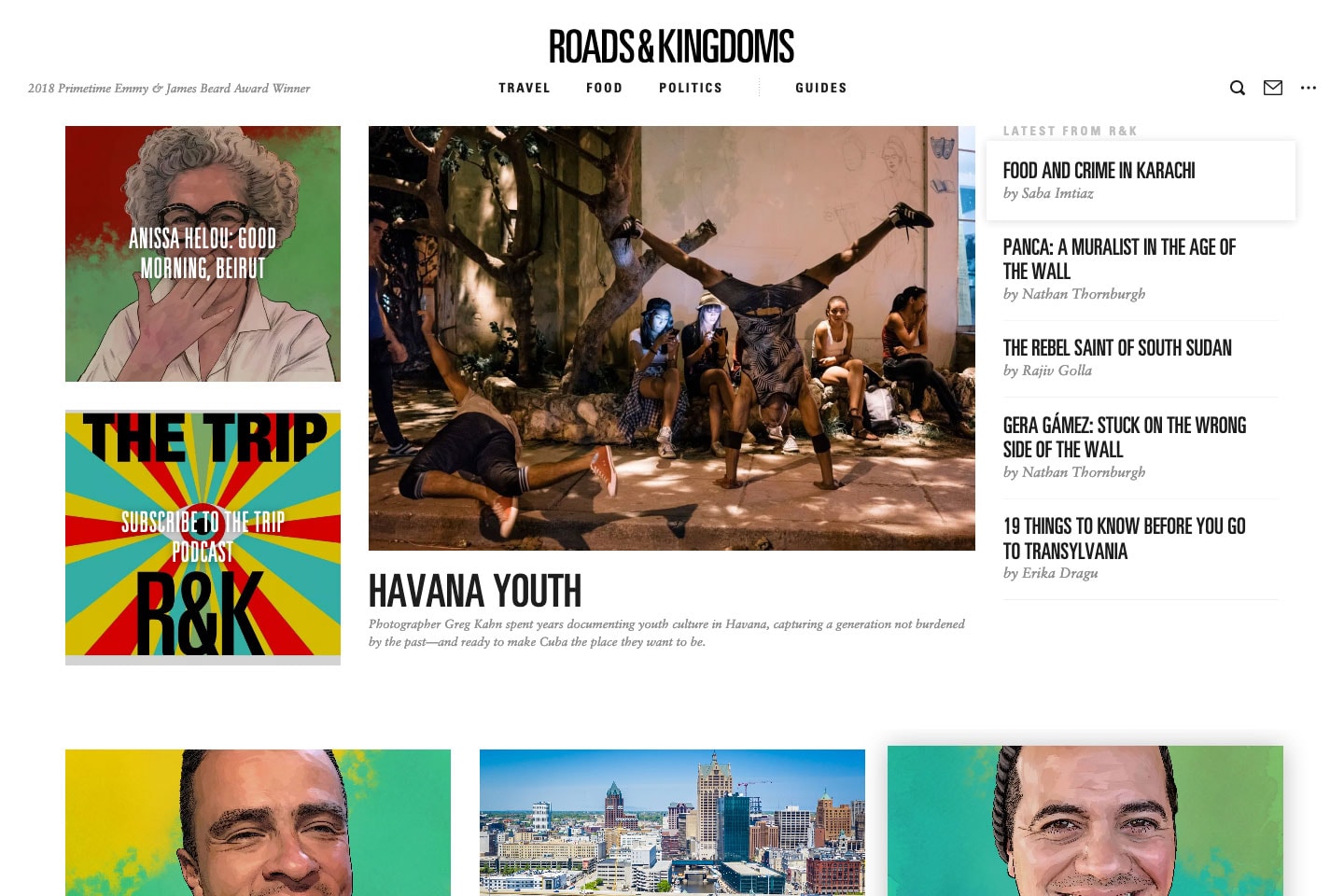 Roads & Kingdoms' message is simple: the more you know, the better you travel. R&K use talented local journalists, deep storytelling, and the good things in life —- food, music, booze — to inform and inspire about destinations around the globe. Winners of a 2018 Primetime Emmy, a 2019 National Magazine Award and the 2017 James Beard Publication of the Year award.
CURRENT FAVORITE POST: The Bootleggers Of Madagascar
---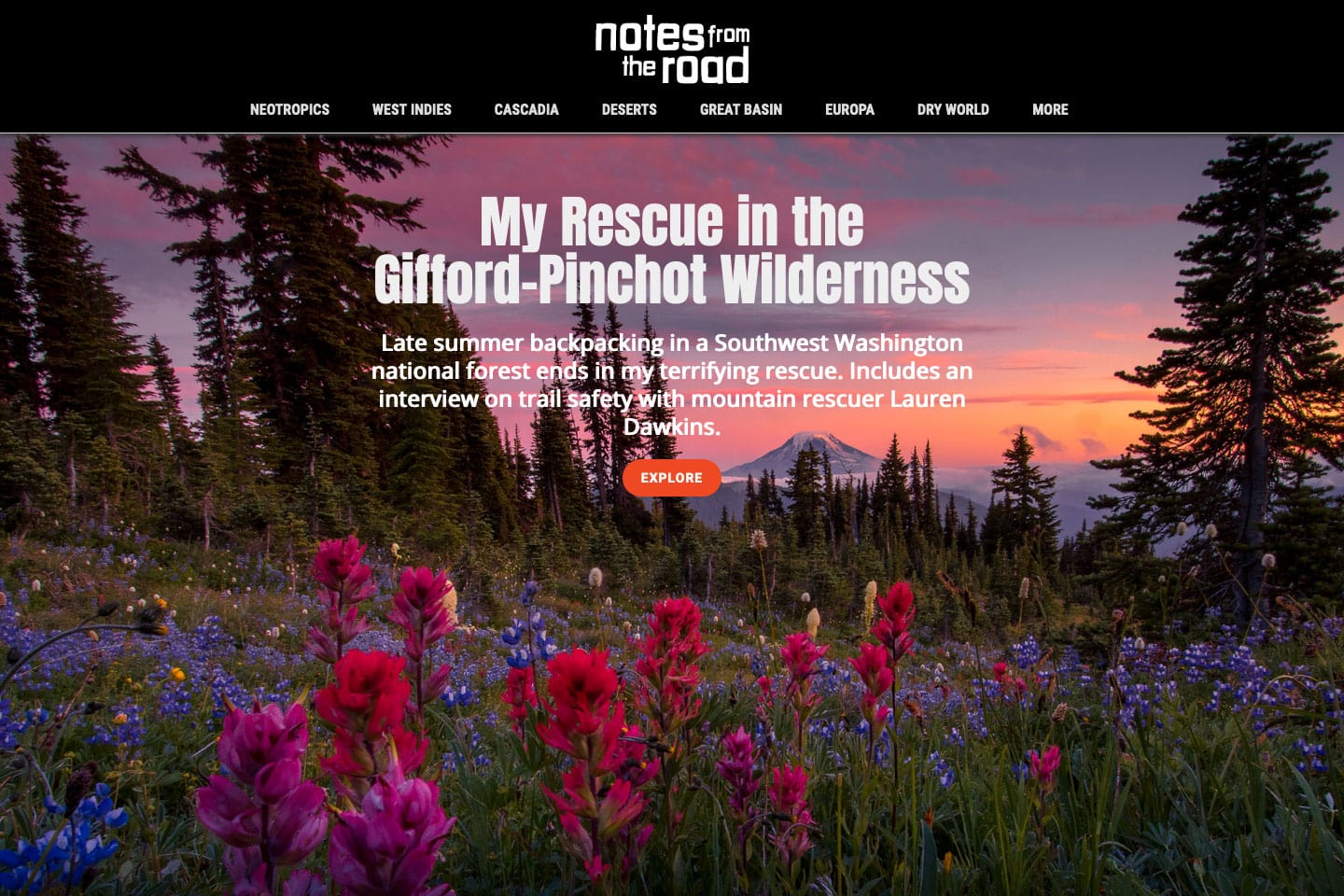 By road, by kayak, by seaplane and most of all on foot, Erik Gauger tackles the themes of city and country in the modern world on his blog Notes From The Road. Erik shares "the messy truth of travel, told by a regular guy." His photography and writing are some of the best I've seen online from an independent travel blog. You'll get lost for hours reading his stories.
CURRENT FAVORITE POST: Sancti Spiritus & The Psychedelic Flyer
---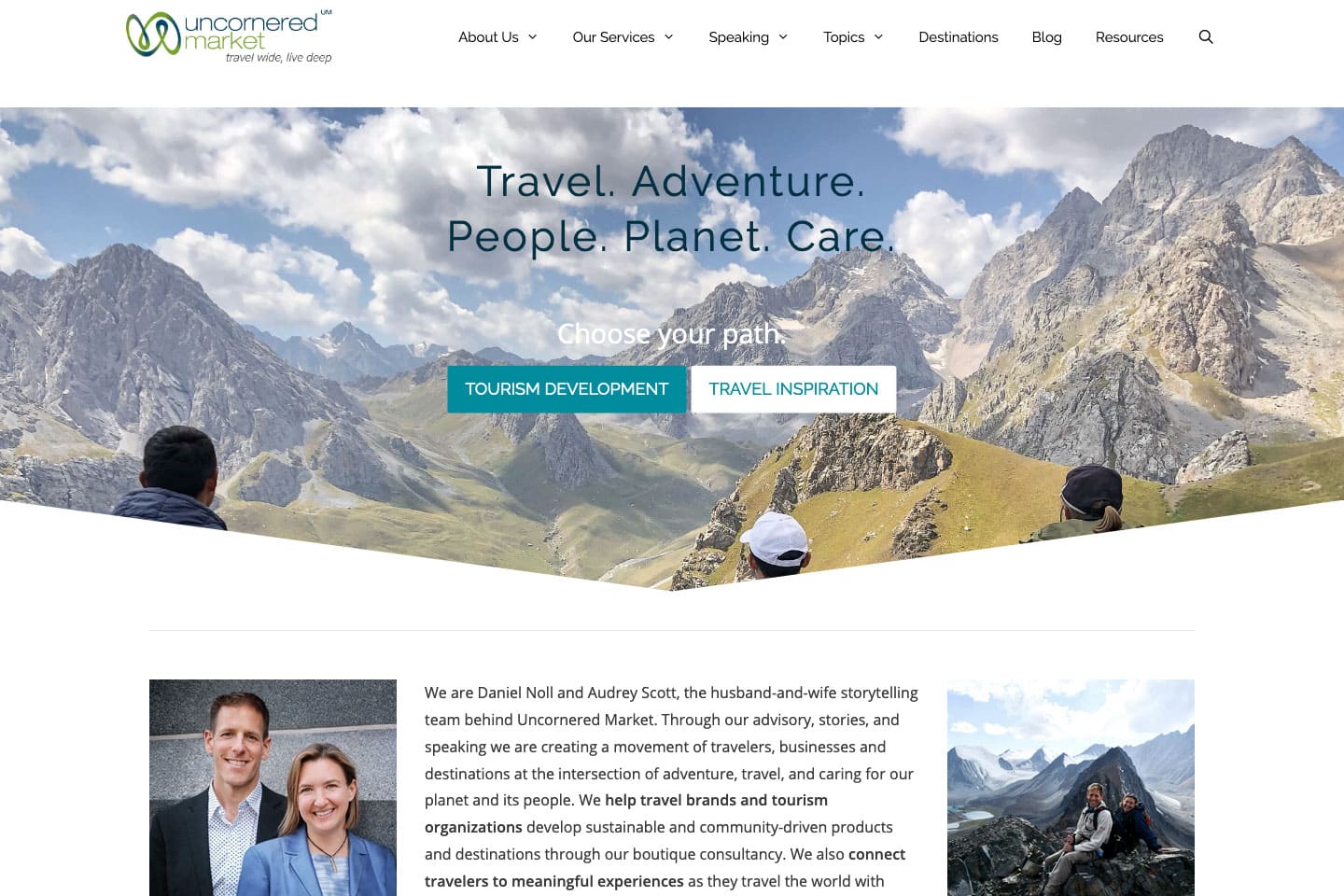 Originally from the United States, Daniel Noll and Audrey Scott are the husband-and-wife storytelling team behind Uncornered Market. Through their stories, and speaking about sustainable tourism, they are creating a movement of travelers who live at the intersection of adventure, deep travel and life experiences. More than 90 countries later, they are still going… and still married.
CURRENT FAVORITE POST: How To Be A Good Global Traveler
---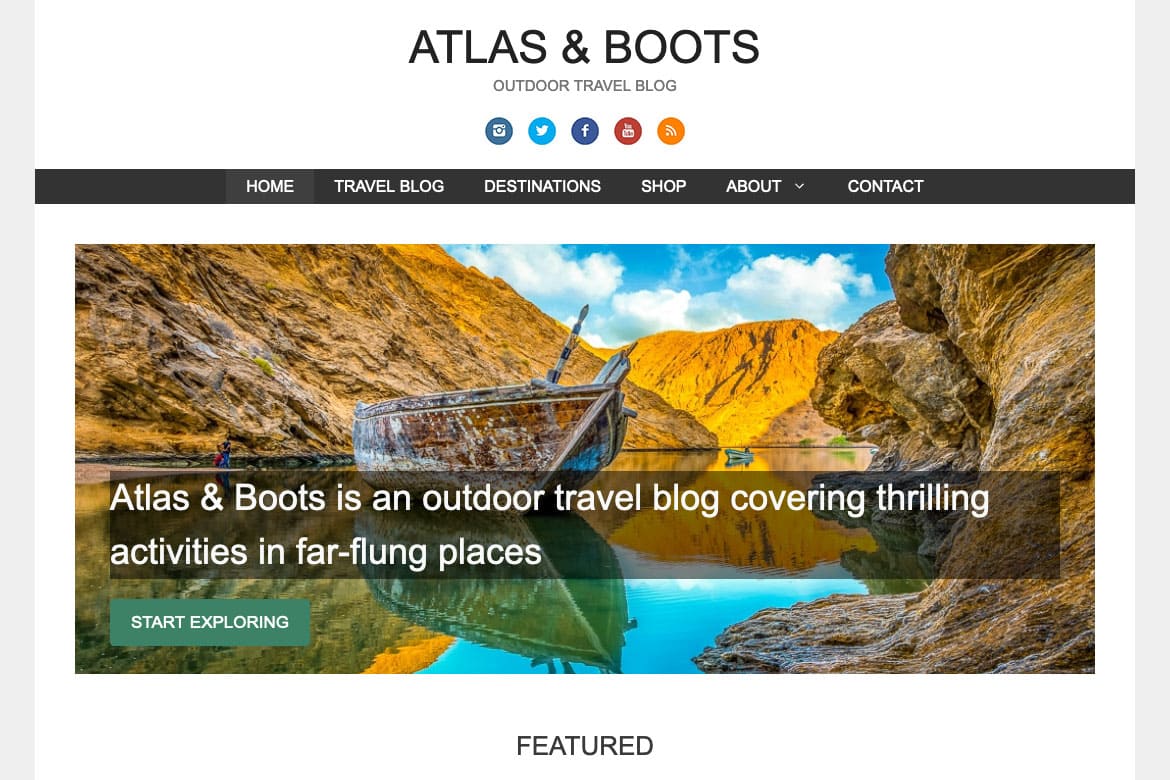 Atlas & Boots is an outdoor travel blog covering thrilling activities in far-flung places be it swimming with whales in Tonga or trekking volcanoes in Vanuatu. Although Peter Watson and Kia Abdullah started on opposite ends of the outdoor spectrum, over the years they drew each other towards the middle; to what they describe as outdoorsy-ish.
CURRENT FAVORITE POST: A Walk Among Giants In The Karakoram
---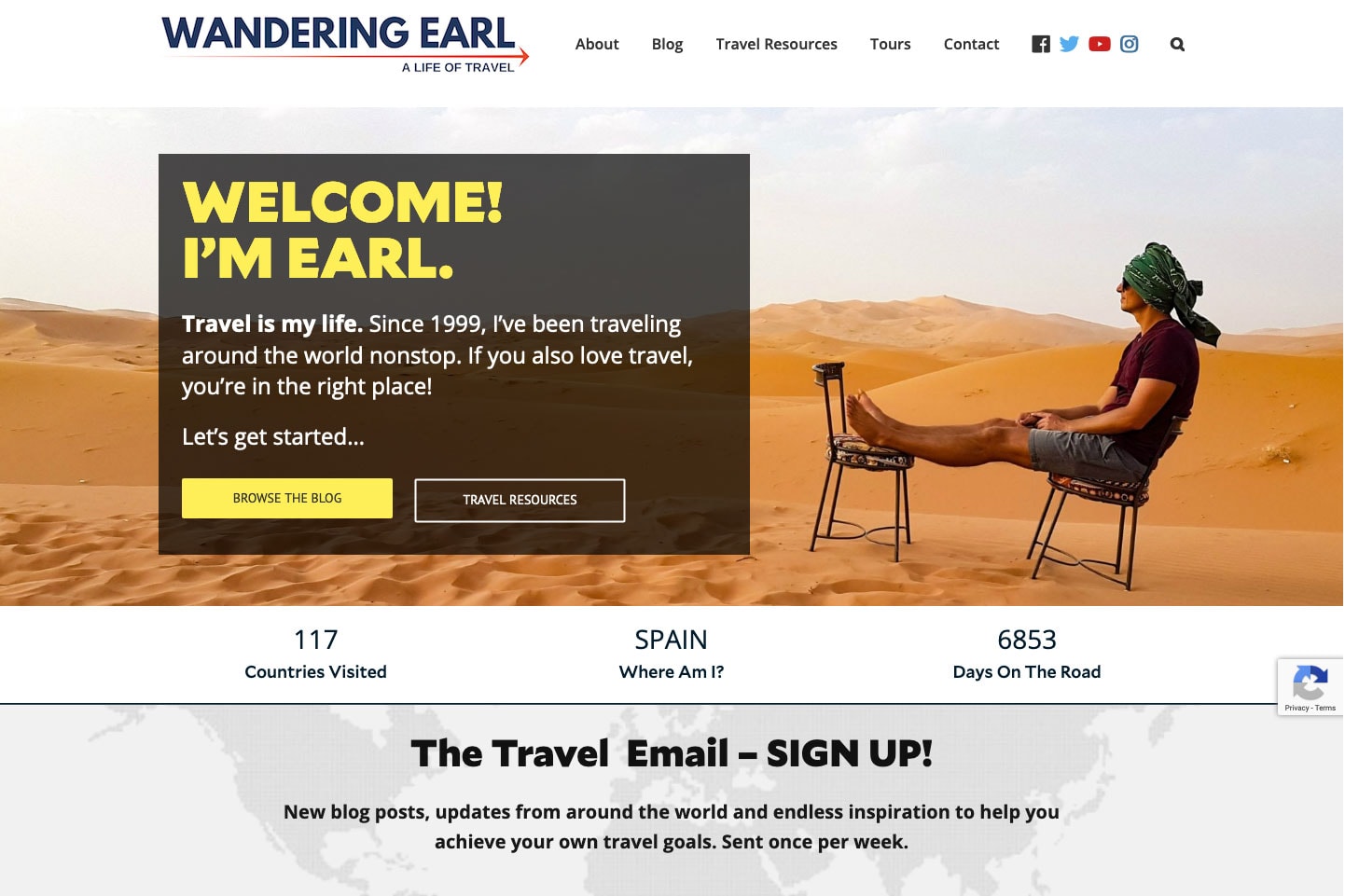 In 1999, Derek left the United States for a three-month, post-graduation trip to Asia. The idea was to backpack around Thailand, Cambodia and Vietnam and then return home. However that adventure is still going on today. It's now been over 18 years of nonstop travel and Derek has visited 100+ countries, sharing his experiences & thoughts on a wonderful travel blog called Wandering Earl.
CURRENT FAVORITE POST: US Customs Found A Bullet In My Pocket
---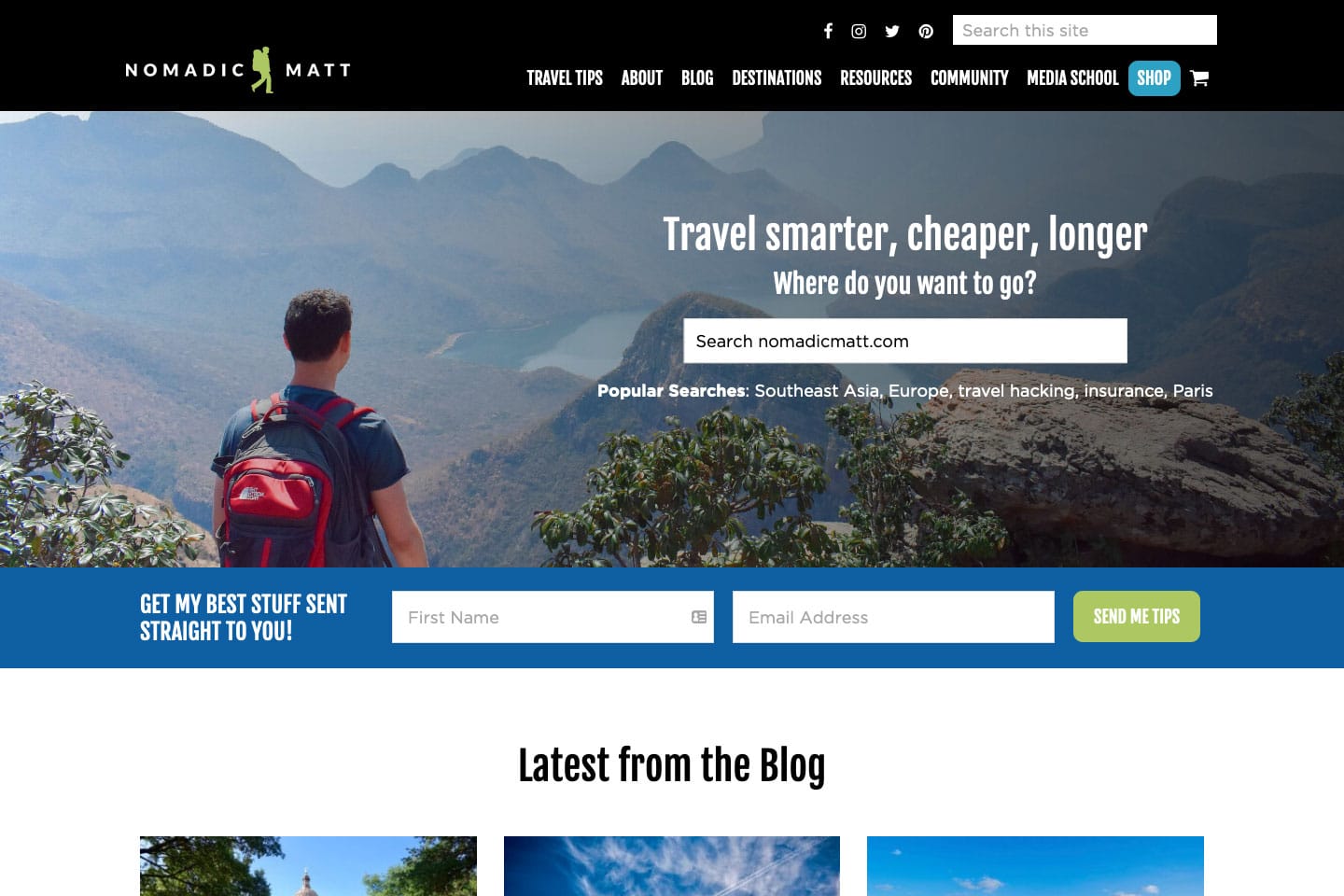 Growing up in Boston, Matt didn't take his first overseas trip until he was 23, but he is certainly making up for it now. As a New York Times best-selling author of How to Travel the World on $50 a Day and founder of one of the biggest travel blogs online, Nomadic Matt has helped millions of people to travel more with his useful tips and advice. I've been reading his blog for years!
CURRENT FAVORITE POST: Is Flying Really Bad For The Environment?
---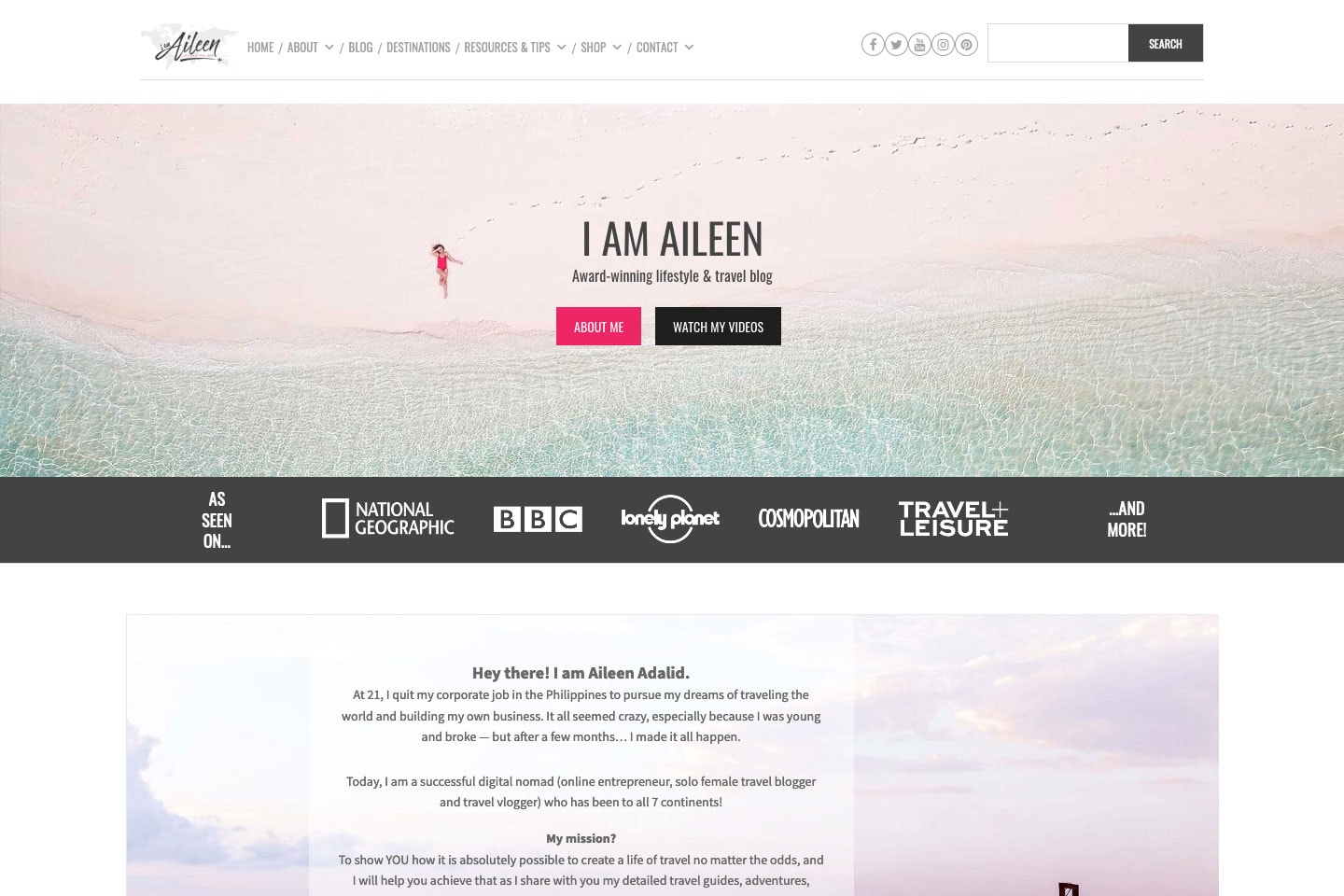 Aileen Adalid is a Filipina travel blogger behind the cool site I Am Aileen. Along with a wonderful design and great photos, she shares helpful tips from her travels around the world, as well as advice for becoming a digital nomad (she sells custom gear on Amazon). I particularly love her content from Japan and Antarctica.
CURRENT FAVORITE POST: Exploring Kyoto With The Last Samurai
---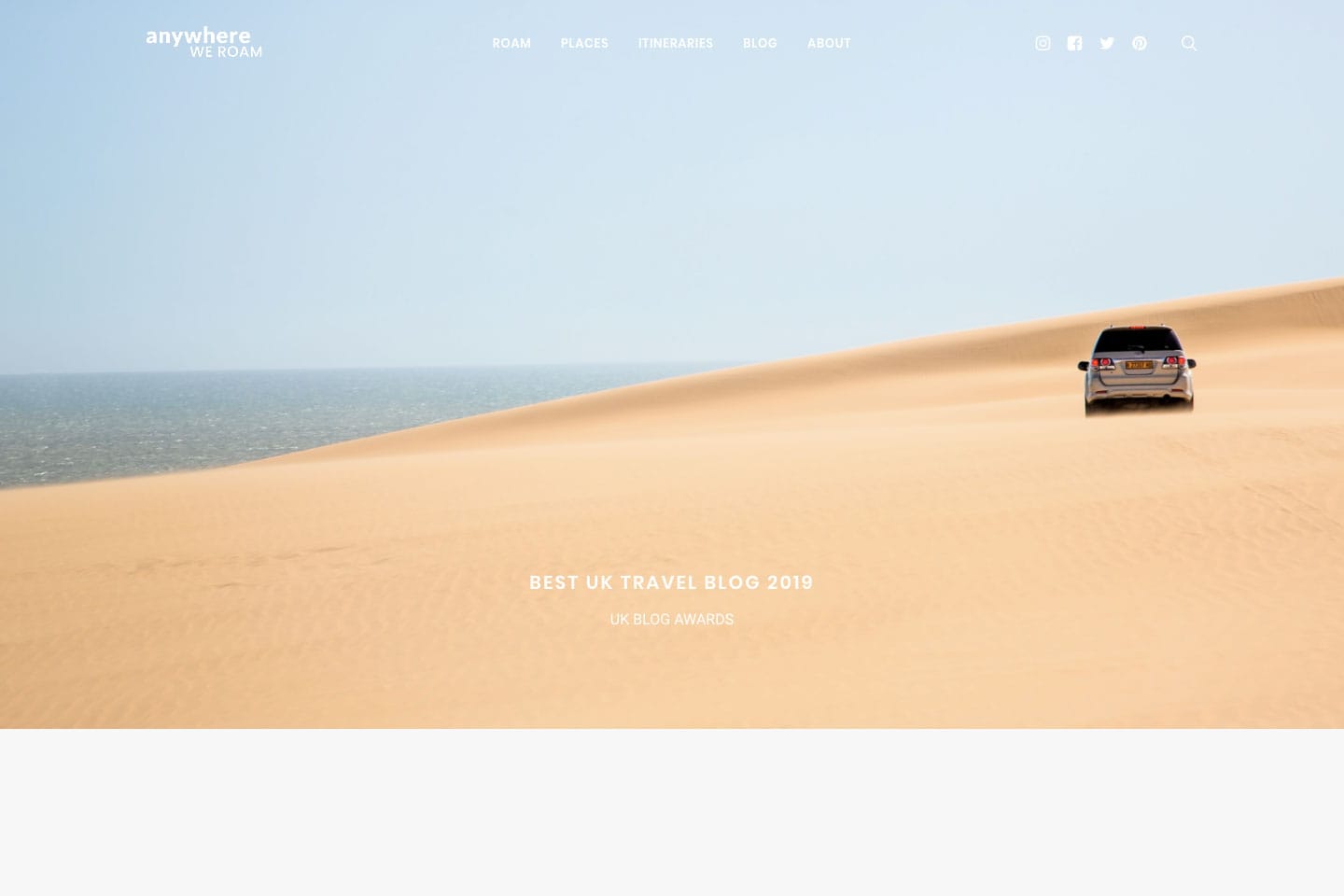 Mark and Paul are always looking for answers. Whether discussing politics with locals in a city bar, understanding unusual rock formations in spectacular scenery or working out the meaning of life in an obscure gallery in the middle east. Their questions drive their passion for independent travel and invoke their curiosity to see the world through the eyes of locals — and sharing it with you.
CURRENT FAVORITE POST: Hiking Cappadocia: Three Favorite Walks
---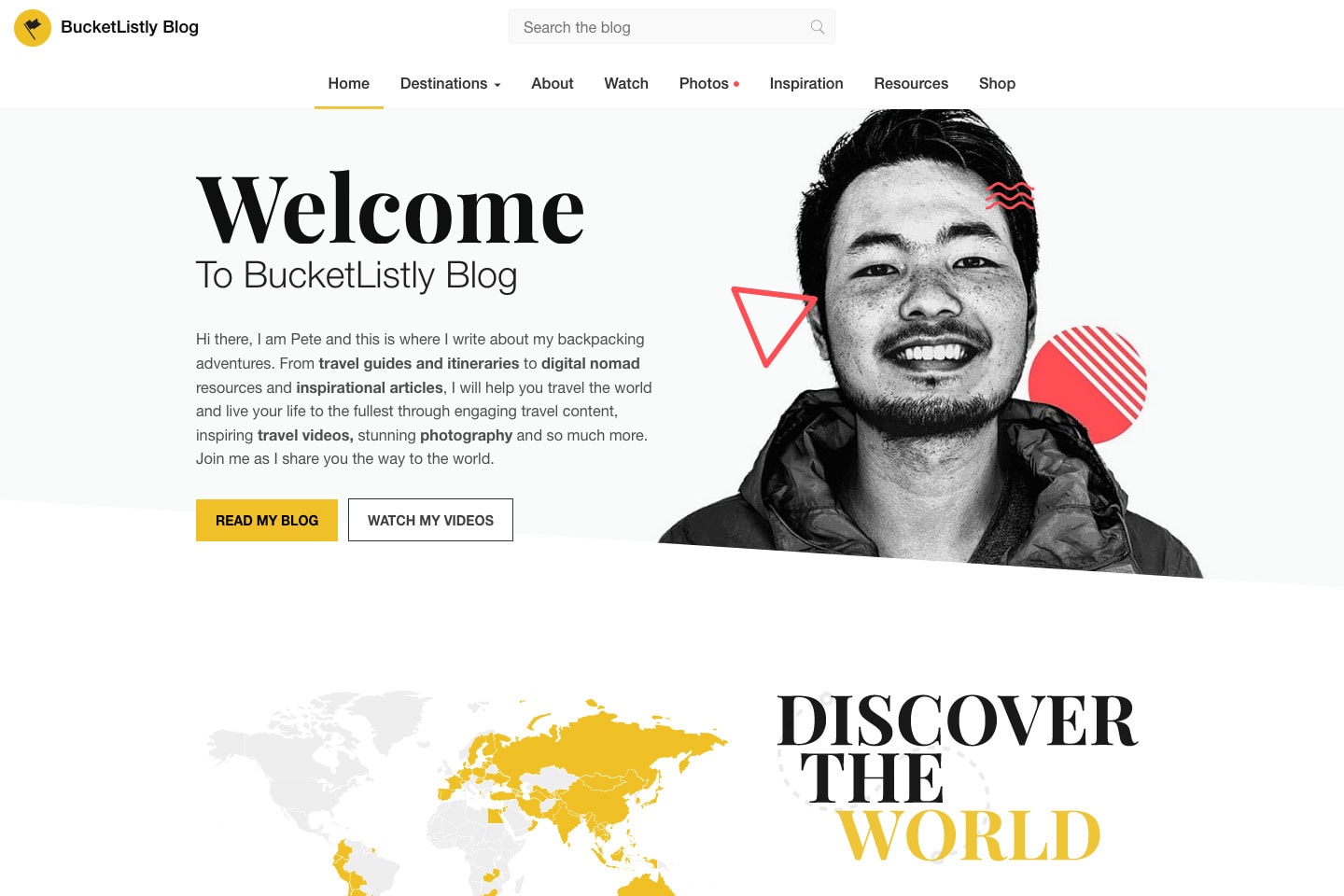 ---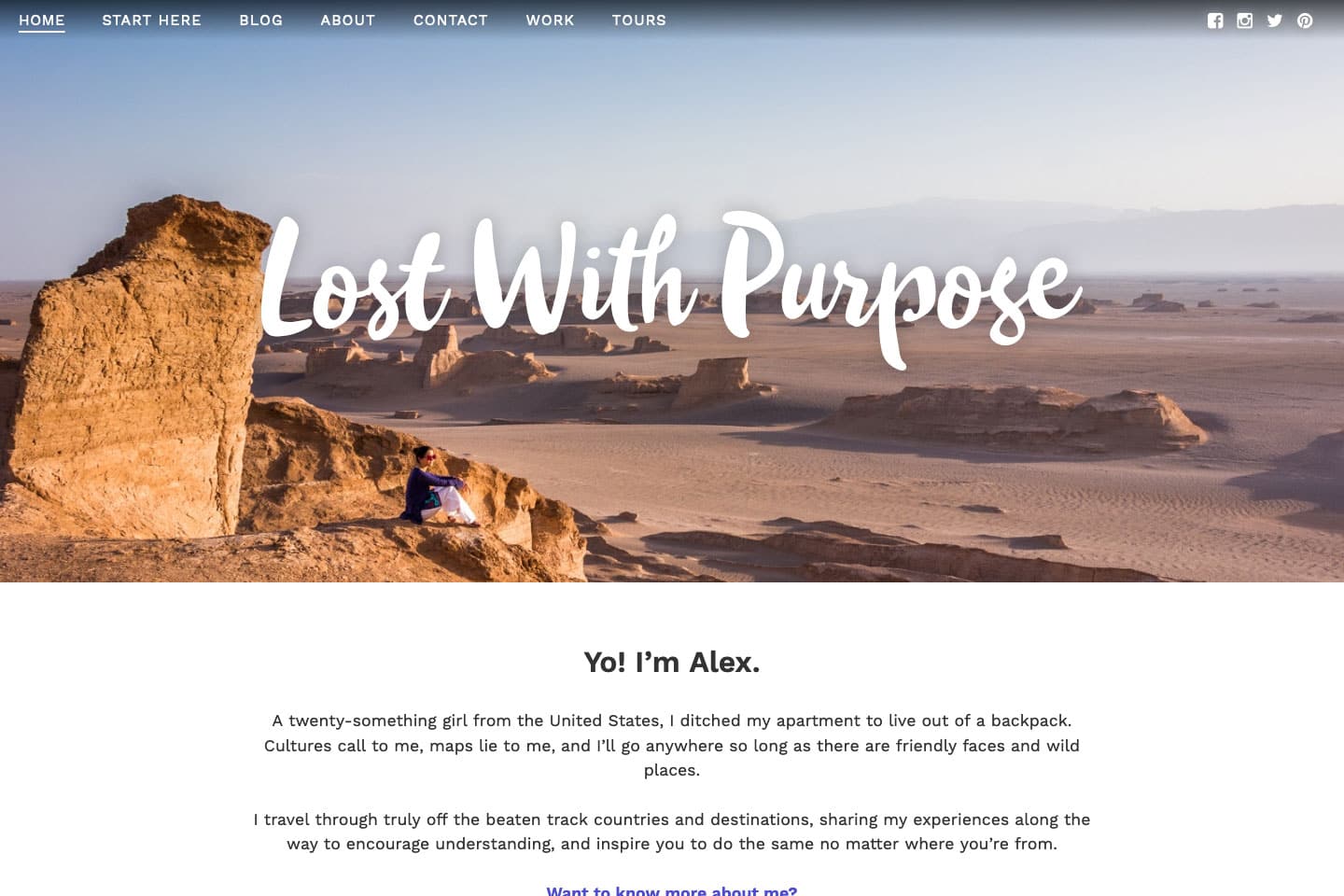 ---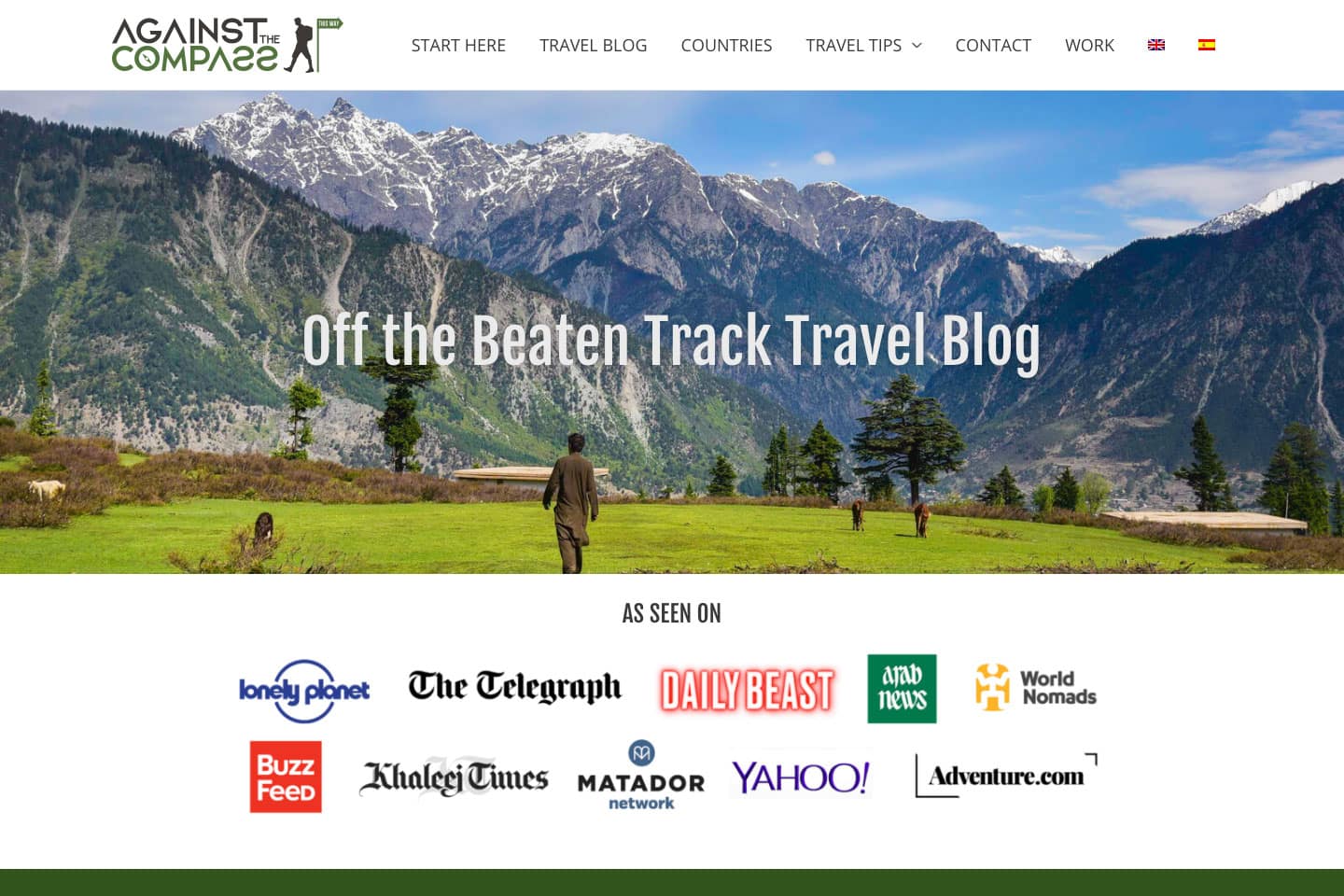 ---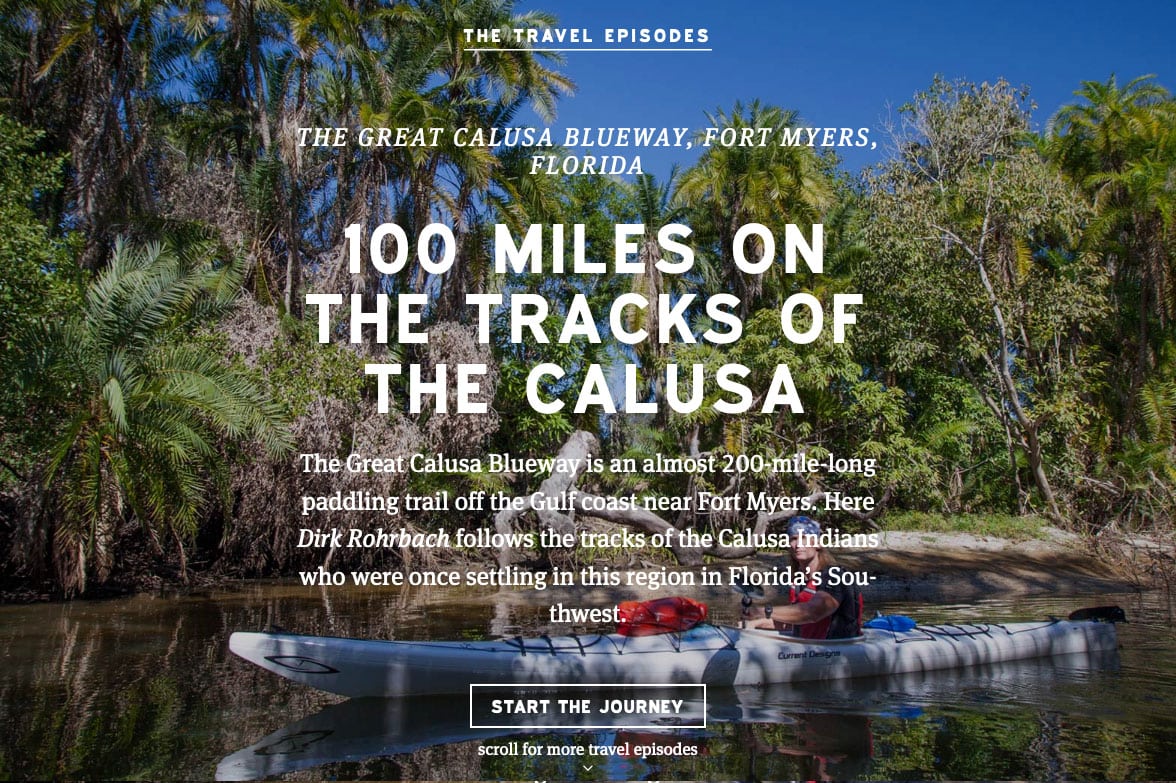 ---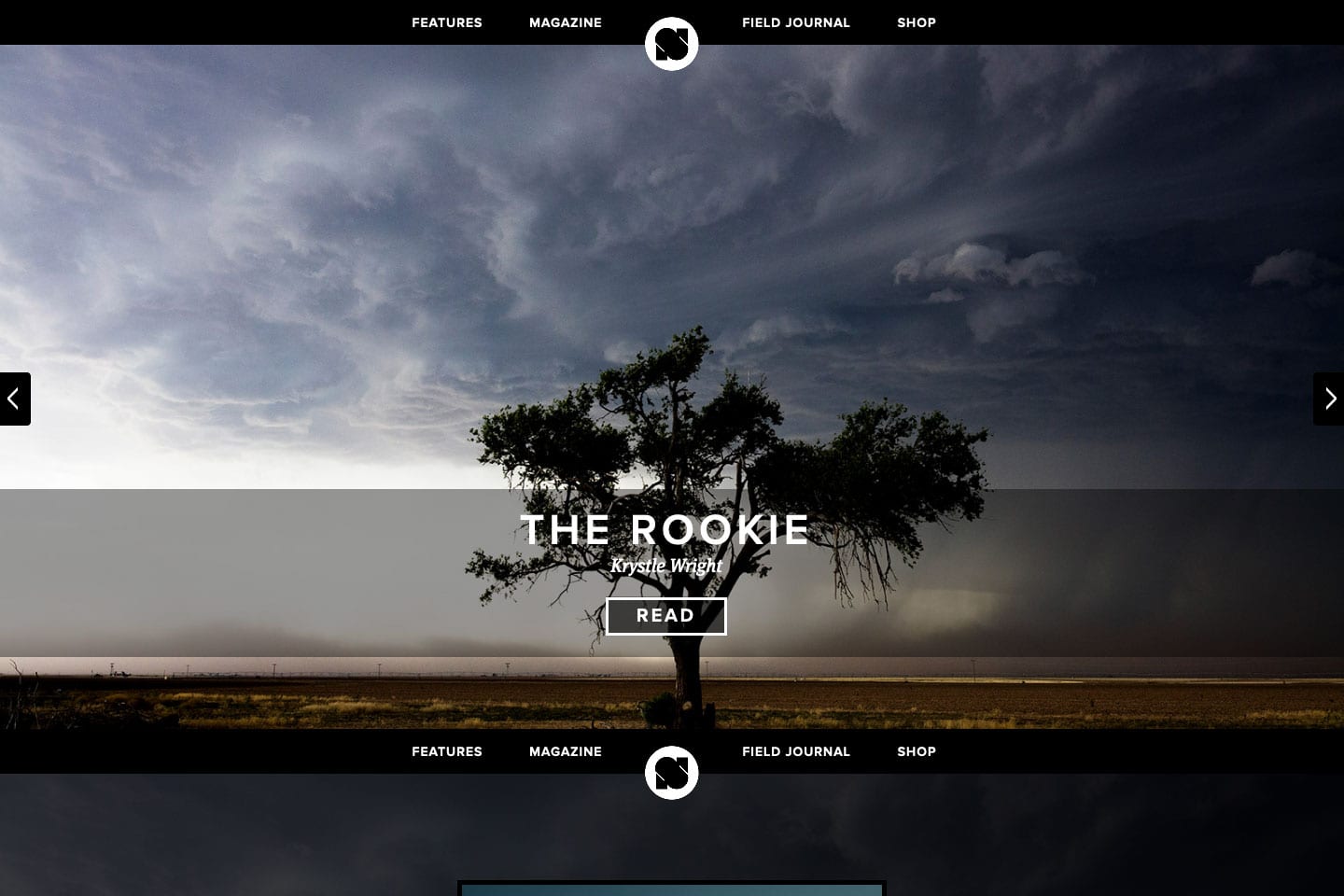 ---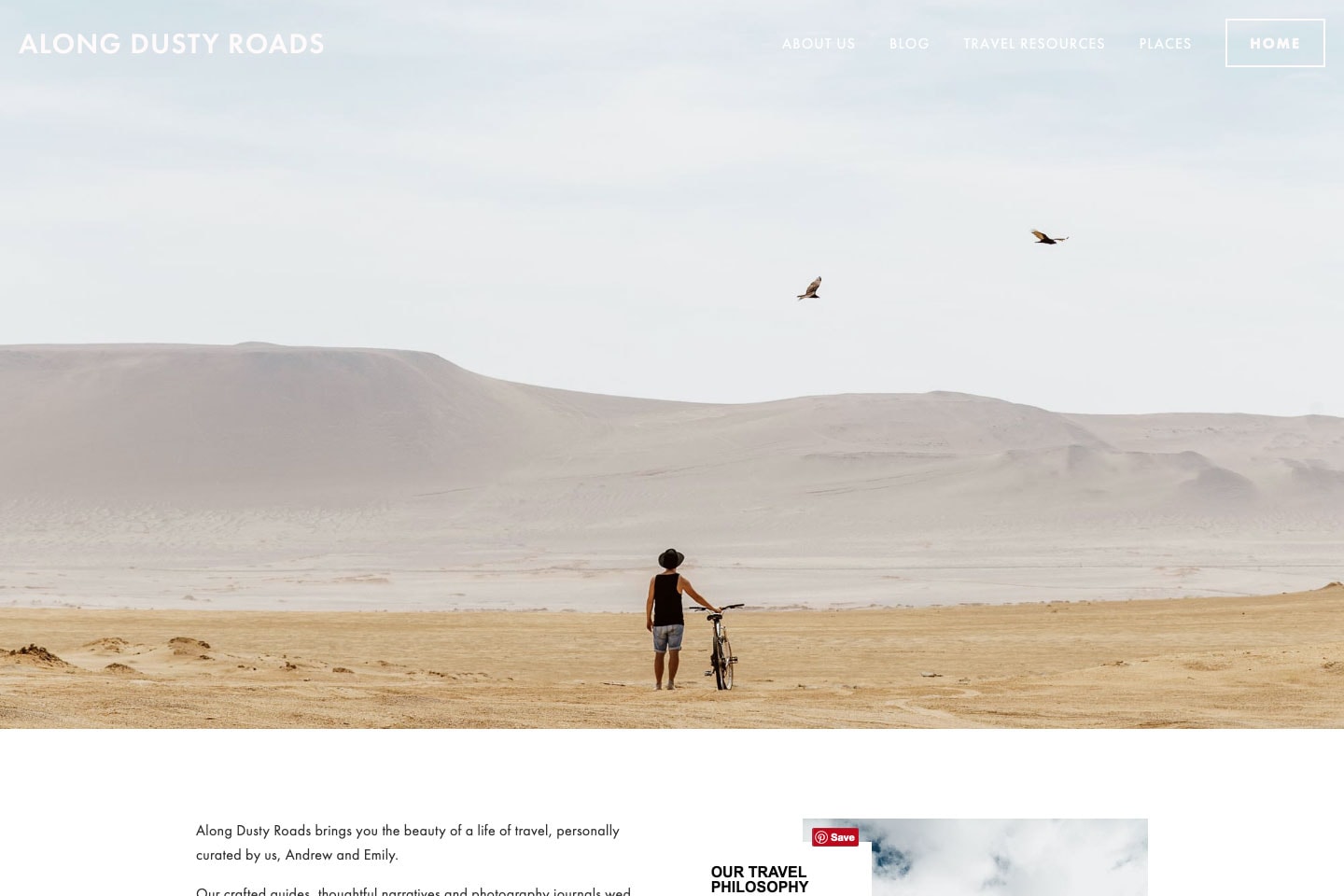 ---
Travel Blog Directory List (2020)
It doesn't matter if you're interested in budget travel, luxury travel, adventure travel, LGBT travel, or travel ideas for the deaf & disabled among us — you'll find someone who travels just like you, blogging about their experience.
There are thousands of travel blogs & bloggers out there on the internet these days. The list below represents some of the most active travel blogs online, and I update it on a regular basis. Enjoy!
— A —
Absolutely Lucy – Adventure Seeker, From Backpacking to Luxury Treats
A Couple For The Road – Cultural Travel Blog
Active Planet Travels – Traveling the World
The Adventure Junkies – Don't Dream It, Live It
Adventure Mom – Adventure Travel and Lifestyle
Adventure on Yall – Honest Opinions Helping People Plan Vacations
Adventurous Kate – Solo Female Travel Blog
Adventures Around Asia – Travel & Expat Lifestyle Blog
Afaranwide – Married couple, with experience as expats, travellers and tourists.
Against The Compass – Off The Beaten Path Travel Blog
The Agape Co. – Adventure and budget travel
Alex in Wanderland – Working & Playing Around the World
Alexandra Luella – For the Love of Writing and Story Hunting
Alex Trendz – Discover the best places to go in Japan
Alison's Adventures – Your Passport To The World
Along Dusty Roads– Guides, Photography, Travel
Always Wanderlust – Eat, Sleep, Travel, Repeat
Amateur Traveler – The Best Places to Travel
American Travel Blogger – An American Exploring the World
Am I Nearly There Yet – Travel Inspiration, Photography, and Advice
Angie Away – Travel the World with the Girl Next Door
Anna Everywhere – Chic Adventure Travel Blog. Travel with Purpose
Anxious & Abroad – Travel Guide for the Anxious Backpacker
Anywhere We Roam – We Love To Travel
Around the World in Katy Days – Environmentalist Adventuring on a Budget
Around the World "L" – Learning & Loving Global Education
Art of Non-Conformity – Unconventional Strategies for Life
Atlas & Boots – Outdoor & Adventure Travel Blog
Aussie on the Road – In Search of a Life Less Ordinary
The Aussie Flashpacker – Aussie Girl & English Boy Travelling
Away Go We – Inspiration from less-developed countries
Autumn Aquarius Adventures – Adventures and Dreams of a Girl that Travels
— B —
Backpack ME – India meets Portugal & Sets Off to Travel the World
Backpacking Africa For Beginners – Traveling In Africa For the First Time
Backpacking Man – Adventure Solo Male Travel Blog
Backpacking Matt – Budget Travel Advice, Inspiration, & Ideas
Backpacking Travel Blog – Overseas Abroad Adventures
A Backpacker's Tale – Hitting the Road Bumps so You Don't Have To
Bacon is Magic – Culinary Travel Sit About the Best Food Around the World
The Barefoot Nomad – Travel, Tech, Family & Fun
BBQ Boy – Travels of BBQ Boy & Spanky
Become Nomad – Long Term Travel & Digital Nomad Lifestyle
Be My Travel Muse – Off-Beat Solo Female Adventure Travel
Been Around The Globe – What It's Like To Travel As A Black Person
Be on the Road – Travel & Photography Blog
Bearfoot Theory – Exploring the Best in the West
Bel Around the World – Travel Resources & Inspiration for Millennial Travelers
Belize Adventure Travel – Travel in Belize
Blissful Guro – Adventures Of A Public School Teacher
The Blog Abroad – Chronicles of an Adventure Junkie
The Blonde Abroad – Hopelessly in Love with the World.. and Bikinis!
Blue Sky Traveler – GenX Travel Blog
Bohemian Trails – Global Art & Culture for the Avant-Garde Traveler
The Boho Chica – Cultures, Cuisines & Hiking Trails
Borders of Adventure – Destination Inspiration with a Social & Cultural Twist
Breathe Dream Go – India Oriented
Breathe With Us – Cultural & Nature Travel Adventures
Breathing Travel – Travel more & take your career on the road
Brenda Explores – Travel stories and tips with humor!
Bren On The Road – Travel More, Spend Less, Enjoy Life
Bridges & Balloons – Digital Nomad Tales, Tips and Inspiration
A Brit and A Southerner – Explore the World One Weekend at the Time
Brit on the Move – See and try everything – while maintaining a day job!
The Broke Backpacker – Traveling the World on the Cheap
A Broken Backpack – Budget Backpacking & Long Term Travel
Bucket List Journey – List Worthy Experiences From Around The World
BucketListly – Pete's Backpacking Adventures
Bunch Of Backpackers – Extraordinary Adventures and Travel Advice
Bucket List Publications – Travel, Adventure, and New Experiences
— C —
California Through My Lens – Hiking & Road Trips in California
Camels & Chocolate – Female Tales from a Travel Addict
Camel Oasis – Travel Advice for Oman
Candice Does the World – Personal Stories of Misadventure
Caravan Spirits – creating community and travel support
Captain & Clark – Adventurous Lovebirds with Severe Cases of Wanderlust
Caroline in the City  – Escaping the Expectations of the 'Real World'
Casual Travelist – Balance a Full-Time Career With my Love of Travel
A Capricious Compass – Experiences From the Road and Yum Food
Castaway with Crystal – Alternative Lifestyle with Budget Green Travel
Celebrate the Weekend – Boston-Based Family Travel & Leisure Blog
Charlie on Travel – Sustainable Slow Travel
Chasing Coconuts – Travel Blogger from Auckland New Zealand
Chasing Departures – Teaching English in Japan
Changes in Longitude – Field-Tested Travel Tips
Chasing The Donkey – Travel Croatia Like a Local
Chasing the Unexpected – The World Beyond the Guidebook
The Cheeky Traveler – Travel Like A King
Cheryl Howard – European Travel & Expat Life for Women
Chronicles In Wonderland – Tales Of Traveling
Ckanani – Luxury Travel & Adventure Blog
Claire's Itchy Feet – Solo Female Travel Blog
Confessions of a Scorpio – Travel Blog with a Touch of Love, Lust & Food
Confidently Lost – Choose To Fly
Cookie Sound – A Travel Photography Blog
Couple's Coordinates – Couples Travel Blog
Couple Travel The World – Travel, Romance and Making Dreams Reality
Crazy Sexy Fun Traveler – Crazy Travel, Fun Adventures & Sexy Photos
Cultureur – On the Cusp of Luxury Travel and Local Culture
Curb Free with Cory Lee – The World from a Wheelchair User's Perspective
— D —
Daily Travel Pill – Detailed guides, packed with tips & tricks
A Dangerous Business – One Ordinary Girl, Life's Extraordinary Adventures
Darling Escapes – Female Travels
David's Been Here – Leave Your Mark on the World
Destinations Unkown – Dark tourism, wildlife, nature and UNESCO sites.
Dispatches From South America – Stories from South America
Dish Our Town – Traveling the World, One Dish at a Time
Ditch the Map – American couple who sold everything to travel the world
Disrupting the Rabblement – Waging War on Thoughtless Living
Divergent Travelers – Life is Either a Daring Adventure or Nothing
Don't Forget To Move – Travel Deeper For Cheaper
Dream Big Travel Far – For couple backpackers and type 1 Diabetics
Drifter Planet – A Backpacker Couple
Drink Tea Travel – Canadians On A Sustainable Lifestyle Mission
Dutch Dutch Goose – Family Friendly Travel in Europe
— E —
Earth's Attractions – Travel guides, tips and news
Eat Like a Girl – Food From Around the World by a Solo Female
Embolden Adventures – Encouraging Travel Around the World
Emelie's Travels – Adventures, Travel Stories and Photography
Escaping Abroad – Escaped a Busy U.S. lifestyle to Travel the World
Escaping Reality – Escaping To Travel More
eTramping – Traveling the World on $25 a Day
Etsy Explores – Slow Travel and Off the Path Adventures
Erika's Travels – Budget Blog Covering Off-the-Beaten Path Destinations
Euriental – Luxury Travel & Style
European Diaries  – Exploring Cultures, Places, Food and History in Europe
Event Traveller – Featuring Events
Every Steph – Green & Glamorous Travel & Lifestyle
Everything Everywhere – Exploring the World's UNESCO Sites
Everything Zany – Photography & Lifestyle of Dual Citizen
Explorista – Female Travel. Digital Nomad
Exsplore – Best Camping and Hiking Trips
Explore With Erin – Traveling the World with Kids
Eye & Pen – Inspired Travel
— F —
Fab Meets World – UK Travel & Food Blogger
Faith's Travels – Budget Travel With a Mom and a Down Syndrome Sister
The Family Without Borders – Biggest European Family Travel Blog
The Fashion Matters – Source of Inspiration to Travel in Style
Finding the Universe – Travel Tales, Photography, & Humor
A Feeder Travels – Food Fueled Adventures Around the Globe
Feet Do Travel – Scuba Diving, Wildlife & Photography
Feet on the Map – Focus on Himalayas, Offbeat Journeys, Responsible Travels
Fernweh Sarah – Unspoiled beaches, luxury hotels & experiences
Ferreting Out the Fun – Adventurous Spirit. Open Mind. More Fun.
Five Adventurers – A Family of 5, Who Love to Explore the World
Flashpacker Family – Traveling with the Family of 4
Fleeting Life – Lifestyle Hacks & Travel Deals
Floating My Boat – Solo Female Outdoors & Photography
Fluent in 3 Months – Travel & Learn Languages
The Fly Away Life – Encouraging Women to Pursue Their Passion
Food Travelist – Ambassadors of World Food Tourism
Footloose Dev – All about budget and adventure travel experiences
Fotostrasse – Travel Blog by Berlin based Brazilian Couple
For Two, Please – A Blog for Food Lovers and Adventure Seekers
Former Tourist – Engaging Travel Folks
From Ice to Spice – Tales of Two Icelanders
1 Fun Girl Travels – A Penchant for the Offbeat
— G —
Gaijin Crew – A Minimalist Travel Blog
Gallop Around the Globe – Independent and Cultural Exploration on a Budget
Gap Year Escape – Inspiration to escape the ordinary
Getting to Nowhere – Adventure Cycling Around the World
Getting Stamped – Figuring Out Life One Stamp at a Time
Go Backpacking – Around the World Travel Blog
Gone Sun Where – Part Time Londoner, Part Time Tourist
Go See Write – Overland Travel Adventures
Geeky Explorer – Travel Geek Sharing The Best Value
Girl Eat World – An Adventure in Food & Travel
Give into Adventure – Mountains, Hiking, Outdoor Adventure
The Global Curious – First time travel, Expat life and New Zealand travel tips
Global Grasshopper – Travel Photography, Tips and Inspiration
Globo Treks – It's all out there. Step outside.
Globetrotter Avenue – Travel Stories from Around the World
Globetrotter Guru – Solo Female Traveller, Helping You to Earn Online
Globetrotting Mama – See the World. Build A Life. Bring Your Family.
Girl Gone Travel – Travel Inspiration for Friends, Family, and Lovers.
The Girl with the Map Tattoo – Solo Female Travel and Expat Life
Girl vs Globe – Stylish female travel and lifestyle
Goats on the Road – Turning Travel Into Lifestyle
GoFam Travel – Traveling With Kids
Gomad Nomad – Travel Mag for Independent Travelers
Go – The Travel Podcast
Green Global Travel – Ecotourism & Nature/Wildlife Conservation
Grown-Up Travel Guide – Helping You Change a Backpack for a Suitcase
Grrrl Traveler – Imperfect Adventures of a Solo Traveler
— H —
Half Half Travel – Travel With Becca & Dan
Half This World Away – Luxury Travel Blog
Happy Frog Travels – Don't Be A Tourist, Be A Traveller
Happy to Wander – Practical Advice on Balancing Travel with Real Life
Haute Fashion – Travel Blog About Textiles, Tribes and Traditional Dress
Heart My Backpack – Backpacking Off the Beaten Path
Heart of Everywhere – Your Guide to Discover the Portuguese Hidden Gems
Heather On Her Travels – Travel Inspiration & Destination Information
Hecktic Travels – No Possessions. No Plans. Just Travel.
Helen in Wonderlust – Life is an Adventure. Live It!
Her Coffee Diaries – Nw Blog About Budget Travel As a Student
Het Is De Merckx – A travel blog born out of the passion to make people laugh
Hippie in Heels – A Glamorous Travel Blog Mostly About India
Hole in the Donut – Epic Adventures at an Affordable Price
HollyDayz -Travel Experiences, Tips, Food, Reviews
HoneyTrek – World's Longest Honeymoon
Hot Mama Travel – Family Travel Adventures
— I —
I Am Aileen – Lifestyle & Travel Blog
In Due Time – Travel, Fertility, Fitness
I Luv 2 Glove Trot – A Travel Site Focusing on Stories of Trotting the Globe
In My Suitcase – Travelling As a Freelance Digital Nomad
India Travel Blog – Travel Bloggers from India
Indie Traveller – Inspiration & Honest Advice for Independent Travellers
Inside Our Suitcase – Maximise your travels regardless of your budget
Inside the Travel Lab – Unusual Journey & Luxury
Inside Out With Rahul Yuvi – About Travel & Life
The Intrepid Guide – Explore the World with Languages
I Share These – Offbeat Locations, Food and Culture from India
I Should Log Off – Family Travels
Interlude Journey – Blogzine for Tips and Itineraries
Island Girl in-Transit – Travel Blog Specializing in Caribbean Destinations
Infinite Juice – Driving Along the Pan-American Highway
— J —
Jack and Jill Travel – World Travelers & Climbers
Jasmine Alley – Travel the World with a 9 to 5
A Jaunt with Joy – Outdoor Tips, Wildlife Conservation and Getting Into Nature
Jessie on a Journey – Taking you Beyond the Guidebook
Jet Set Citizen – Interviews with Real People Pursuing Remarkable Lives
Jet Set Chick – Travel, Food & Lifestyle Blog
Joey L – Photos from the Road
Johnny Jet – Travel Deals
Jon is Travelling – The Light (and sometimes dark) Side of Travel
Jones Around the World – Global Adventures & Music Festivals
Journalist on the Run – Stories of Solo Adventures
Journey Wonders – Culture & Adventure Travel Blog
Journey To Design – Travelling from a Designer's Perspective
Journeys with Jessica – Travel Blog Focused on UK & European City Breaks
Joy and Journey – Female Expat Life and Exploration
Jungles In Paris – Stories of Nature & Culture
Just Go Places – Cultural, Luxury and Family Travel
Justin Goes Places – Solo Male Travel Blog
Just One Way Ticket – A Travel and Lifestyle Blog
Just Travelous – A Bilingual Travel Blog
— K —
Kaleidoscopic Wandering – Stories & Contemplations
Kami and the Rest of the World – A Solo Female Off the Path
Karolina Patryk – Couple Travel & All Inclusive Life
Katie's Postcards – Travel like a girl
Katrinka Abroad – Capturing Culture with Analogue Photography
Keep Calm & Travel – One Girl, One World, One Adventure.
Ken Kaminesky – Travel Photography
— L —
Land Lopers – Exploring the World. One Adventure at a Time.
Lash World Tour – Cultural Insights, Travel Tips, and Adventure
Lavin Was Here – Female Backpacker and Adventure Travel
Legal Nomads – Sharing Travel Experiences through Food
Learning Escapes – Family Travel Blog
Lee Abbamonte – The Youngest American to Visit All Countries in the World
Letters To Barbara – A Travel Blog
A Little Adrift – Journey Toward Knowledge & Perspective
Live, Dream, Discover – Travel and Lifestyle Blog
Live Like It's The Weekend – Creative soul's incurable case of wanderlust
Live Share Travel – Liberating luxury for the smart traveller
Longest Way Home – Going Beyond Travel
Los Viajes de Paula – The Travels of Paula
Love and London – Expat Life in London
Local Adventurer – Exploring New Cities
Location 180 – Work from Anywhere
The Lost Backpack – Getting Lost is Half the Fun
Lost With Purpose – Backpacking Off The Beaten Path in Eurasia
Love Adventures – Dream Less, Adventure More
Love & Road – We Travel, We Live, We Love
Luggage Tags and Ticket Stubs – Travel & journalism adventures
Lulu Meets World – Fashion & Travel
Luxury Backpack – Dedicated to Luxurious Travels on a Shoestring
— M —
Maiden Voyage Travel – Travel for 20 Somethings
Make Time to See the World – Awesome Experiences for Time-Poor Travellers
Mallory on Travel – Making Every Day an Adventure
Man on the Lam – Shake the Shackles, Escape through Travel
Man vs. Clock – Putting a Time Limit on Fear
Mapping Megan – Adventure Travel Couple
Maps 'n Bags – Travel tips & Inspiration from an International Couple
Maria Abroad – Culture, Food and Craft Beer
Matt Gibson – Outdoors Adventure Travel Writer & Photographer
Microadventure Family – Travel Adventures In Your Backyard
Midlife Milestones – Navigating Life's Changes
Midlife Road Trip – Food Travel Adventure
Midnight Blue Elephant – Travel Stories, Luxury, Solo Travel
Migrationology – Ultimate Food Blog
Miles and Smiles Away – Travel Photography and Hotel Reviews
The Mind of Court – Life & Adventures of an Expat
The Mindful Mermaid – Insider Travel Tips & Living Mindfully
Mindful Travel by Sara – Travel & Photography Around the World
Minority Nomad – Adventure & Culture Travel
Mint Notion – Travel and Personal Finance Blog Empowering Women
Mom The Muse – A Family Travel Blog With a Humorous Twist
Mountain Leon – A Travel, Camping, and Hiking Blog
Multiculuriosity – Exploring Food Traditions Through Travel
Muslim Travelers – Experience The World As A Traveler
My Faces and Places – For Mature Travellers
My Feet are Meant to Roam – Slow Travel and Responsible Tourism
My One Big Planet – Created to Inspire the Wanderlust in All of You to Travel
My Peace Love Life Blog – A Hippie Lifestyle Blog About Travel & Fashion
My Tan Feet – Making Travel Fun & Worry Free
My Travel Affairs – Crazy Polish Girl Visiting One Country at a Time
— N —
Natpacker – Backpacking With Nat
Nattie on the Road – Travel Stories and Road Tested Tips
A Nerd at Large – The Geektastic Travel Blog
Never Ending Footsteps – Traveller, Writer and Walking Disaster
Never Ending Voyage – Life is Short and the World is Large
The Next Somewhere – Life's a Journey
Nicole Buzzing – Lifestyle and Travel Blog from a Canadian Girl
Nomad Revelations – Travel Blog & Adventures
Nomadic Boys – Gay couple travelling the world
Nomadic Samuel – Best of Every Place
Nomadical Sabbatical – A Nomad's Musings on Long-Term Travel
Notes From The Road – Travel, Blogging and More
— O —
1 Dad, 1 Kid – One Crazy Adventure. Giving my Kid the World.
Off Path Travels – Inspiration, tips, and solid advice for your next adventure
Off With The Kids – Family Travel Blog
Oh Darling, Let's Be Adventurers – Travel Photography and Adventures
Once in a Lifetime Journey – Online Destination for Luxury and Offbeat Travel
One Lucky Traveller– Bucket List Travel
One Step 4Ward – Dream Big, Travel Far, Live Full
One Way One World – Travel Guides, Photography & Fashion
Oneika the Traveller – Where to Next?
Ordinary Traveler – Adventure Travel Blog
Our Awesome Planet – Filipino Food Blog
Out of Town Blog – Online Magazine with Travel News
Owl Over the World – Travel More & Worry Less
— P —
Packs Light – Travel Young and Pack Light
Paper Planes & Caramel Waffles – Travels for Those Who Love Beaches
The Passport Lifestyle – Photography for Travelers
Pauline Travels – Solo Female Travel Blogger
Pause The Moment – Travel from Around the World
The Pink Backpack – Female Travel and Adventure Blog Featuring Photography
Pinoy Adventurista – Adventure Blog of a Filipino Male
PhilaTravelGirl – Affordable Luxury Solo Travel with a Side of Points
The Planet D – Adventure Travel Couple
Planit NZ – Budget Travel Guide for New Zealand
Points & Travel – Where Luxury Travel & Value Intersect
The Poor Traveler – Traveling at Any Cost
Postcards from the World – Travel and Expat Life Blog
Practical Vagabonds– Exploring Life Outside the Box
Practical Wanderlust – Down to Earth Approach to Your Head in the Clouds
Pretravels – Your Journey Begins Here
— R —
Rachel Nicole – Mix of Fashion and Travel
The Radio Vagabond – Travel Podcast From Every Country In The World
Real World Runaway – Professional Avoider of the Real World
Renee Roaming – Let's Get Lost
The Restless Worker – Part-Time Travel for Professional
Rexy Edventures – Adventures of Handsome Backpacker
Roads & Kingdoms – Travel, Photography, Food
Rob Greenfield – Inspiring a Happy, Healthy Earth
Roaming Required – Traveling on Weekends & Short Breaks
The Roaming Street – A Young Female Traveller in Africa
Roaming the Americas – Responsible, Sustainable, Ethical Travel
Roar Loud – Adventure Travel Blog Based Out of New England
Rolling Fox – Resource for Camping and Hiking
RTW Bound – Travel tips and stories from a full time traveller
Runaway Brit – International Teacher Trying to Find Home
The Rover – Travel, People, and Culture
— S —
Sabrina Andrea Sachs – Minimalist and Meaningful Travels
Sailing with Totem – A Family's Nomadic Journey
Salt In Our Hair – Awaken Your Wanderlust
The Savvy Backpacker – Europe on a Budget
The Savvy Globetrotter – Travel Smarter
Scrapbook Journeys -Exploring the Hidden Gems in Kenya and Beyond
Screw the Average – Be An Outlier
Seasalt Secrets – A Former Australian Expat Now Back in America
Silks Road and Beyond – Adventures of Carly
Silverspoon London – Luxury Travel & Food Blog
Simply Travelled – Travel Tales
Six Year Gap Year – Solo and Long-Term Budget Travel
She Goes Global – Solo Mindful Travel for the Modern Woman
The Shooting Star – A Girl Who Travels
Skinny Backpacker – Step Into the Real World
Slower Travel – Whizzing around the UK on local buses
Snow in Tromso – Life & Travels in Scandinavia
Solitary Wanderer – Tales and Tips from Solo Female Traveler
Solo Traveler Blog – Solo Tips and Stories
So Today We Found – A Travel Blog For Curious People
A Speck In Time – With A Curious Mind & Wandering Heart
Steph the Wayward Pilgrim – Wandering the World, One Dream at the Time
Sticky Mango Rice – An illustrated journey around the world
Stop Having a Boring Life – Travel Blog for People Chasing Dreams
StreetTrotter – Travel & Lifestyle Touching a Meaning of Life
Sugar and Stamps – A SF Based Travel and Food Blog
Suitcase & Heels – Adventures of a Value-Conscious, Style-Minded Traveller
Sunset Travellers – Travelling the World One Sunset at a Time
Sunshine Seeker – Budget Travel Guides & Tips
Swedish Nomad – Every Day is An Adventure
— T —
Tales From a Fork – Travel and Lifestyle Blog for Foodies
The Tales of a Traveler – Luxury Travel, Offbeat Locations and Road Trips
Tapped Out Traveller – Exploring Europe with the Little Ones and Military Life
Teacake Travels – An Honest Solo Female Travel Blog
Teaching Traveling – Stories to Help Teachers Travel
Tenacious Travel – Treks, cultural adventures and nomadic stories
That Wanderlust – Travel Blog with Captivating Stories
There & Back Again – Extraordinary Travel for Extraordinary People
There She Goes Again – Slow, Stylish Travel
Think Elysian – Lifestyle Blog for Stylish Travelers
This Battered Suitcase – Travel Opinions, Fashion, and Lifestyle
This FP Planet – Budget Traveller Trying to Escape the 9-5
Thompson Woofed – The Travel Writings of Thompson Woofed
The Thought Card – Make Travel a Financial Priority
Thomas & Clay Get Away – Couples Adventure Travel
Time Travel Turtle – Go Beyond the Brouchure
Tofu Traveler – Solo Travel and Finding Cultural Experiences
The Toronto Seoulcialite – Life as an Expat in Korea
Trails Unblazed – Outdoor Adventures in Lesser Known Destinations
Trans-Americas Journey – Road Tripping the Americas
Trav Monkey – Travel Addict Living in London
Travels and Curiosities – Live smarter with this photo-driven travel blog
Travel and Keep Fit – Travel and Healthy Lifestyle Blog
Travel Babbo – Take Your Kids Everywhere
The Travel Bite – Food Travel Fun
Travel, Books and Food – Female Solo Travel and Food Experiences
Travel Break – Connecting Travelers
Travel Dudes – For Travelers, By Travelers
Travel. Experience. Live. – Travel Experiences & Photography
Travel Food Atlas – Interesting & delicious foods from around the world
The Travel Hack – Affordable Luxury & Weekend Breaks
Travel Is Life – Encouraging You To Travel More
Travel Junkie Julia – Journey of Adventurous Solo Female
Travel Lemming – Let's Travel the World!
Travel Made Simple – Overcome the Hurdles that Keep You from Traveling
The Travel Mamas – Explore the World with Kids
Travel Passionate – Around Greece & Beyond
Travel Squire – Travel Therapist
The Travel Tart – Offbeat Tales of Travel Addict
Travel with the Smile – Adventure Travel Blog Focusing on Outdoors
Travel with Bender – Family Travel Blog
Travel With Bird – Our Travel Impressions
Travel Yourself – A World Travellers Web Series
Traveling 9 to 5 – Get Out from Behind Your Desk
Traveling Colognian – Off the Beaten Path & Popular Places
Traveling Honeybird – Eat Well, Travel Often, Drink Coffee
The Traveling Squid – Traveling Awakens the Dreams in Us
Traveling Weasels – German and British Couple Travel the World Slowly
The Traveller World Guide – Guide to Balancing Tequilla and Travel
The Traveller's Guide By #ljojlo – Aussie Couple Set to Embark on a Journey
The Travellina Hams – A family of 4 eating their way across the world
Travellina – Hungarian Traveler & UNESCO Lover
Travelling King – Australian Blog on Travel & Finance
Travellous World – Stories About London and Travel
Travel World Notes – Travel tips for your next trip
Treksplorer – Smarter Urban Travel in Two Weeks or Less
TripHackr – Travel Hacking for the Non-Travel Hacker
The Trvl Blog – Budget Travel Blog
Two Bad Tourists – Peer-to-Peer Travel Tips & World Adventures
Two Birds Breaking Free – shoestring Budget Adventure Travel
Two Find A Way – Young Couple's Travel Adventure Through Life
Two Monkeys Travel – Sustaining a Life of Travel
Two Scots Abroad – Full-time Workers with a Life-Long Travel Habit
Typing To Taipei – Your One Stop Taipei Guide
— U —
Uncharted Backpacker – Traveling To Uncharted Destinations
Uncornered Market – Travel Wide, Live Deep
Universal Traveller – Luxury Adventure Travel
Unnavigated – Stories & Destination Guides For Travelers
Un Poco de Sur – Adventure, Budget and Slow Travel
Untold Morsels – Travel Inspiration with Culture, Food and Family
— V —
Vagabond3 – A Family Travel Blog for Adventure Lovers
Vagrants of the World – Inspiration & Ideas for Lovers of Travel
Veronika's Adventure – Best Adventures from Asia and Europe
Voyage dy Vinec – Sailing the World with a Hen
— W —
Walkaboot – Adventure Travel Blog for Wild Hearted
Walk About Wanderer – Helping Budget Backpackers
Walk Beside Me Blog – A Travel Couple Story
Wander the Map – Adventure Travel Couple
Wander Your Way – Learning to Get Off the Beaten Path in Europe
Wandering On – Couple's Adventure Travel
Wandering Soul's Wander Tales – Travel and Photography
Wandering Redhead – Traveling the World While Working as a Nurse
Wandering Trader – Design Your Tomorrow
Wanderer of the World – Inspiring the Next Generation of Female Wanderers
WanderLuce – Travel Blog for Stylish Female Travelers
Wanderlustingk – Adventure and Off the Beaten Path Travel Guides
Wanderlust Chloe – Stylish Travel Blog for Solo Travelers
The Wanderlust Effect – Inspiring Destinations for Global Citizens
A Wanderlust for Life – Expat and European Travel Blog
Wanderlust Logs – Caution is No Virtue in the Young
Wanderlusters – Live for Adventure
The Wayfarer's Book – Beyond Paris, Miami and Bangkok
Wayfaring Rachel – Travel, Fashion, Wellness for Bold Women
Wayfaring Views – Alternative Itineraries and Offbeat Adventures
We Travel Around the World – Photos & Interviews from Around the World
We're The Russos – RV Living & Van Life
What About Her – Personal Storytelling About Traveling
What Boundaries – Live Your Dream, Find Your Inspiration
What's Dave Doing? – Living the Travel Dream
Where In The World Is Rebecca? – Life as an Immigrant Away from Family
Where Is Czarina – Travel tips, guides, and budget traveling
Where Is Next – Travel, Food & Adventure While Holding a 9-5
Where Is Tara – Affordable Luxury, Adventure, Art & Culture
While I'm Young and Skinny – Expat Life in Dubai World Travel
While Out Riding – Exploring the World by Bicycle
While You Stay Home – There Is A World Out There
Who Needs Maps – Making Long Distance Relationship Work Through Travels
Why You Wander – Work smart, travel better
Wild About Travel – Travel Tales by Solo Addict
Wild Junket – Travel Light, Travel Far
Will Fly For Food – Exploring the World Through Food
The Wrong Way Home – Long Term Travels and Local Culture
Women On The Road – Solo Female Travel Resource
World As I See It – Canadian Gal Exploring Europe & Her Backyard of Ontario
The World Travel Guy – Beautiful destinations, experiences, & hidden places
World Travel Toucan – Travelling the world, one holiday at a time
World in Paris – Off the Beaten Path Sights and Budget Travels in Paris
The World Incorporated – Travels Fueled by Weekends and Vacation Days
A World to Travel – Unique Travel Experiences
The World Pursuit – Travel Different
World Of Wanderlust – Home is Wherever you Rest your Head
World on a Whim – The Perfectionist's Guide to Spontaneous Travel
— Y —
You Could Travel – Adventure Seekers and Japan Lovers
Young Adventuress – Solo Female Travel Blog
Yomadic – Wanderlust Commune
Y Round The World – Travel Experiences from 150 Countries
Y Travel Blog – A Family Travel Blog