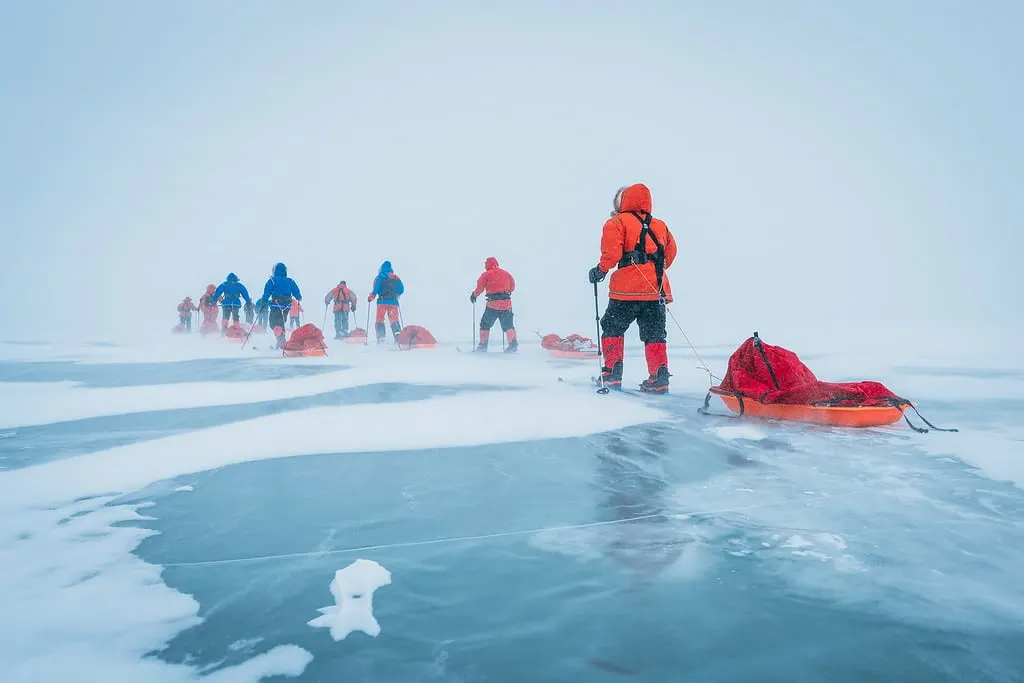 Manitoba, Canada
It's -16 degrees Fahrenheit outside, and we're pitching tents on a thick layer of ice, preparing for a night of extreme cold weather conditions. Welcome to polar expedition training!
Twelve strangers from around the world traveled to Manitoba, Canada to spend a week camping and skiing across Lake Winnipeg, simulating the cold weather conditions of an expedition to the North Pole.
Leading our group is professional polar explorer and arctic guide Eric Larsen. Eric is no stranger to traveling in extreme winter conditions. He's spent the past 20 years visiting some of the coldest places on earth.
In fact, he's the only person to have trekked overland to the North Pole, the South Pole, and summited Mount Everest, unsupported, all in a single year!
Eric runs a Level 1 Polar Training Course in Canada to help prepare other adventurers for the unique challenges of camping and trekking in cold weather situations.
This year, Citizen Watches invited me to tag along and document the training, while also sharing some winter camping survival tips with you.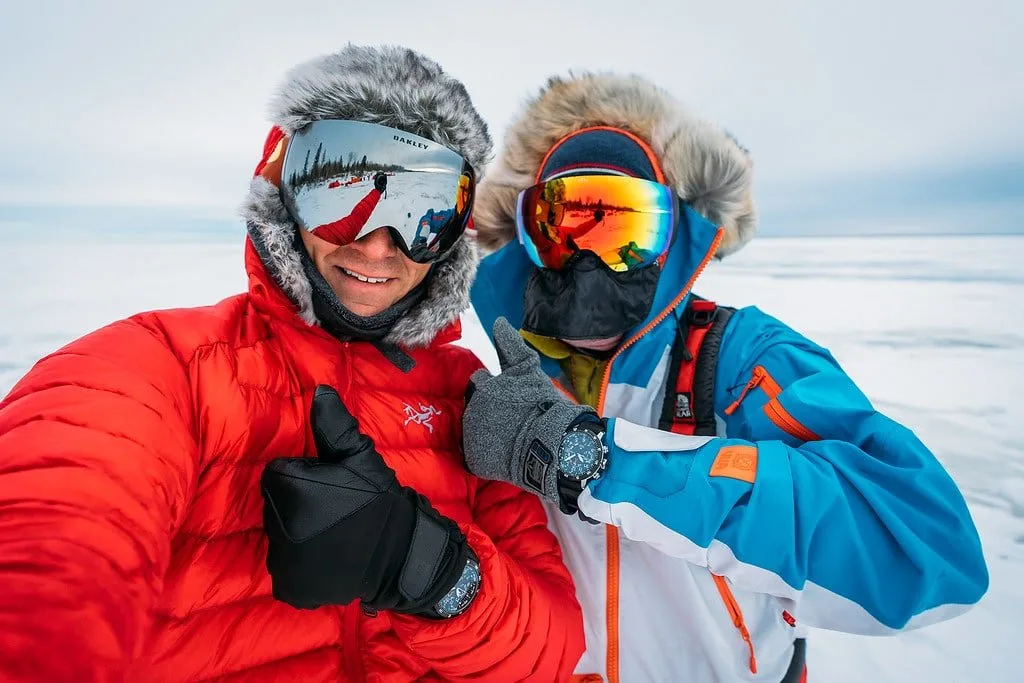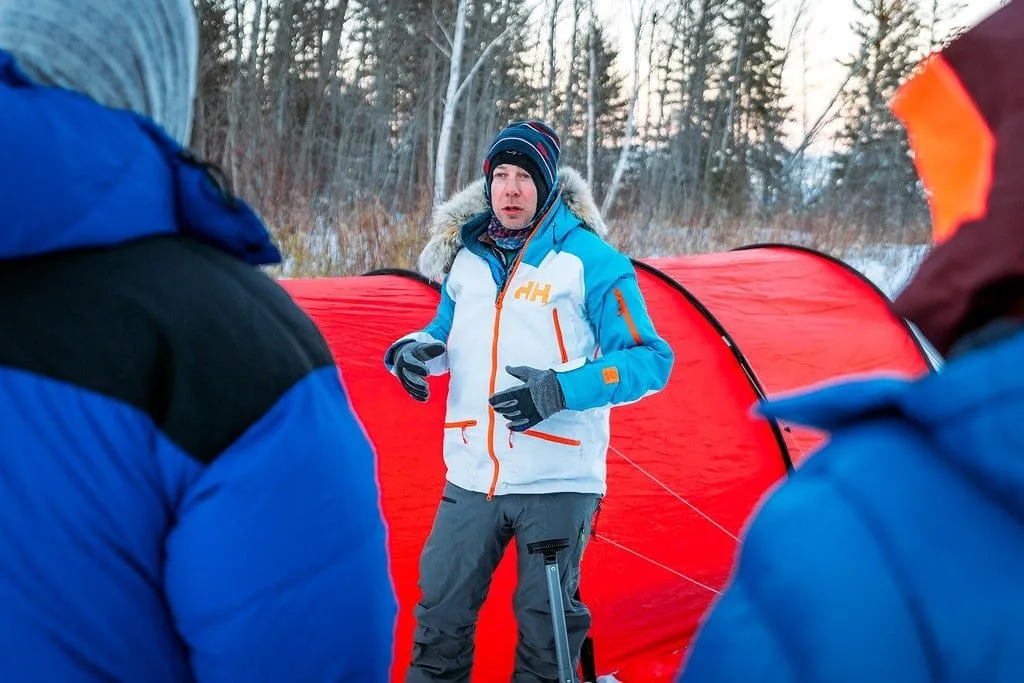 Cold Weather Survival Tips
Who in their right mind would want to go hiking and camping in the ice and snow? Not many. However winter travel gives hardcore wilderness-lovers the challenge they crave, and a completely different outdoor experience.
Staying safe in these freezing conditions requires a bit more planning, a unique set of survival skills, and the proper gear.
If you do it right, like Eric does, you shouldn't actually feel cold — the thing preventing most of us from enjoying winter adventures in the first place.
Being prepared for cold weather is the difference between a great trip, and a miserable one.
While I love a good winter backpacking trip, I don't have much winter camping experience. Especially in extreme cold. So I was eager to learn how Eric stays warm on his epic long-distance polar adventures in the middle of nowhere.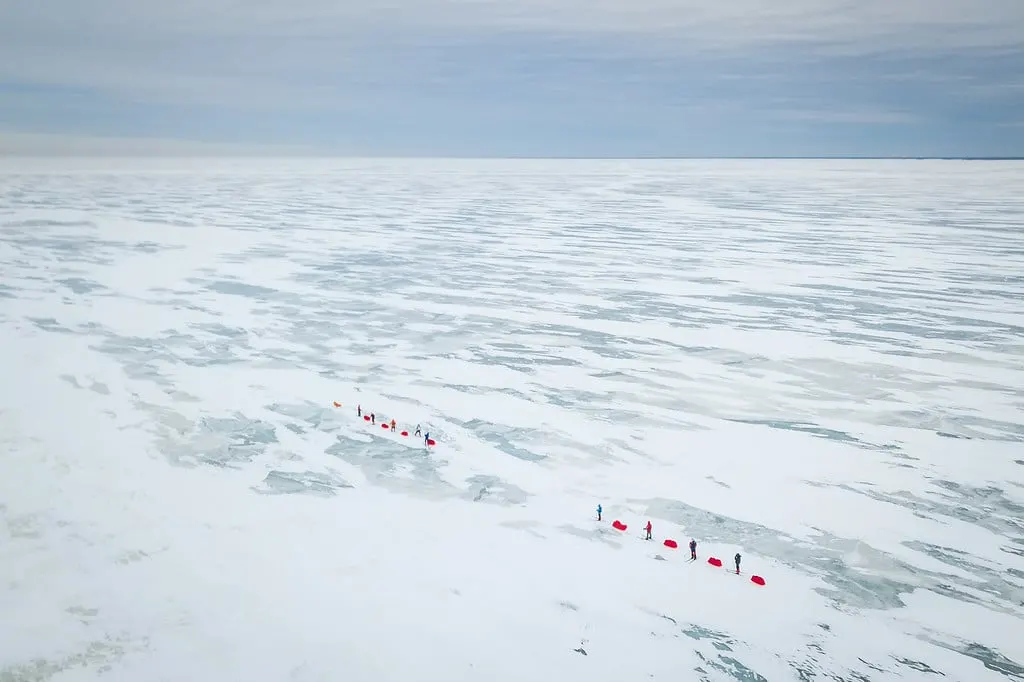 Layering Is Critical
What does layering mean? Basically, regulating your body's temperature by adding or removing different layers of clothing.
Because while you don't want to get cold, you also want to prevent getting so hot that you start sweating. Sweat sucks heat away from the body, eventually making you colder.
So staying warm requires a fine balancing act. This is why wearing multiple layers helps, as you can add or remove layers depending on your level of activity.
Eric recommends a 3-4 layer system, starting with a synthetic moisture-wicking base layer to draw sweat away from your body.
Next up is a warm insulating layer, preferably fleece. Now if it's REALLY cold, you may want to add a 2nd, thicker base layer under the fleece.
Finally, a windproof, waterproof, and breathable shell jacket (like GoreTex) to protect against the outdoor elements (wind, snow, rain).
On his extreme North & South Pole trips, he also brings an oversized expedition down jacket to throw on during breaks, because your body heat quickly drops once you stop moving.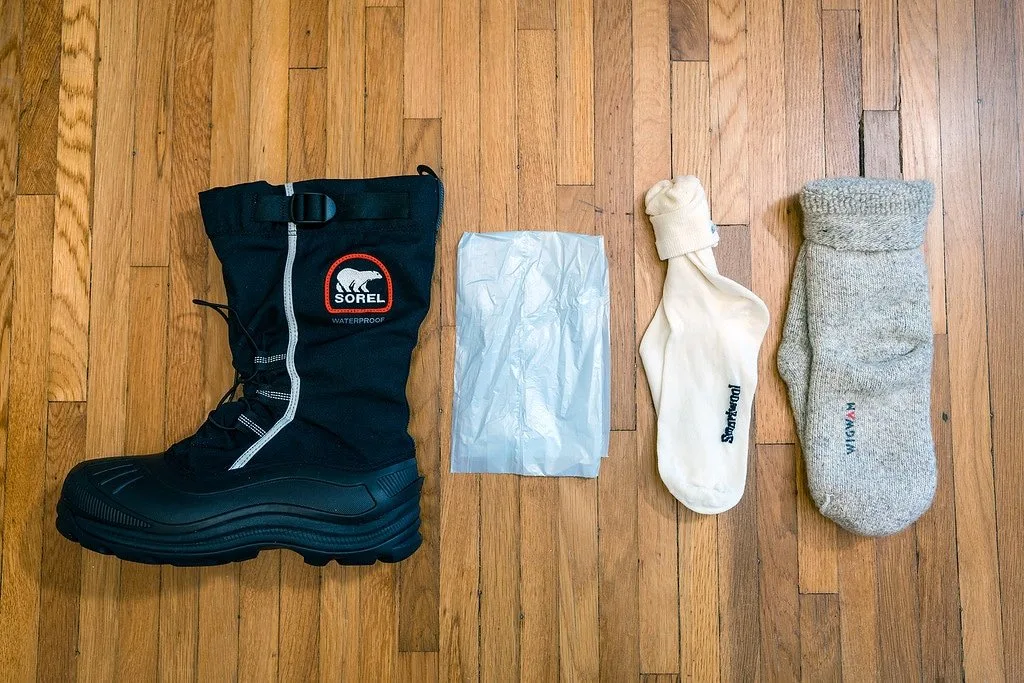 Keep Your Feet Warm
If you're trudging through ice and snow, you need to take care of your feet. The frozen ground will quickly suck heat away from them without proper insulation, risking frostbite on your toes.
It's wise to wear a proper winter-rated boot. Something that includes a removable insulation layer if possible, which helps you dry them out later.
Don't pick boots that fit too tight, as you'll need room for at least 2 layers of socks. And tight fitting boots means less blood-flow to your toes.
Eric recommends wearing thin liner socks, followed by a thicker pair of wool ones. Plus a 2nd set for sleeping in while the others dry out.
In extreme temperatures, you can also wrap plastic bags on your bare feet, wearing socks over them. This "vapor barrier" traps in heat while also preventing your socks from getting soaked with sweat.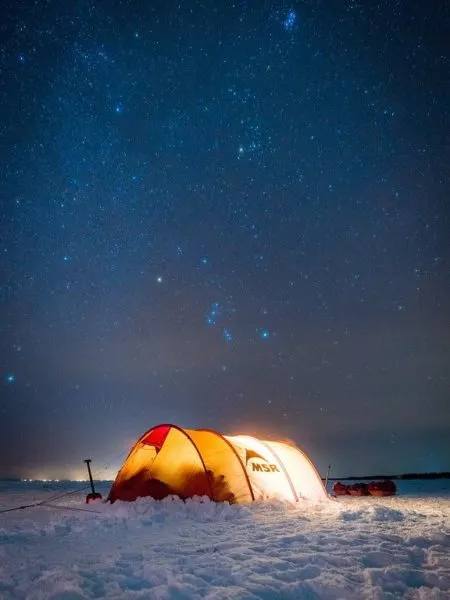 Remember To Hydrate
It's sometimes easy to forget drinking water is important in the cold, because we're so used to feeling thirsty in hot weather. But staying well hydrated is an important part of any outdoor winter adventure.
Eric recommends taking a break every hour from your activity (hiking, skiing, etc.) for a drink. Make it a regular routine. Proper hydration maintains good blood flow and other bodily functions — helping you stay warm.
Filling a bottle up with hot water helps prevent it freezing, as does using an insulated container or cover of some kind. Drinking warm water keeps your body warm from the inside.
There are different types of cold too. For example, at the North Pole, the air is wet & humid (feels much colder). But Antarctica is basically a dry desert — so staying hydrated in that environment is more difficult.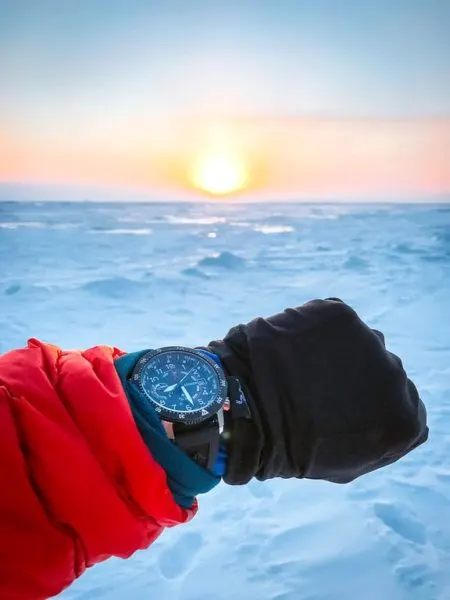 Stay On Schedule
In cold winter camping situations, setting up and taking down your campsite takes longer than it does in the summer. It's important to stay aware of what time it is.
For example, stopping early enough to prepare camp before the sun goes down. Timing regular snack and soup breaks to keep you warm during the day. But not too long — or you'll quickly get cold standing around.
Using a weather-proof watch like the Promaster Altichron from Citizen, the same watch Eric uses on his expeditions, really makes this easy.
Not only does the watch hold up to the extreme -40 F temperatures found at the North Pole, it's also powered by the sun, which means you never have to worry about dead batteries.
The Altichron features an integrated compass and altimeter too. Having backups of these adventure tools on your wrist, in something that won't run out of battery power in cold weather, is handy for peace of mind.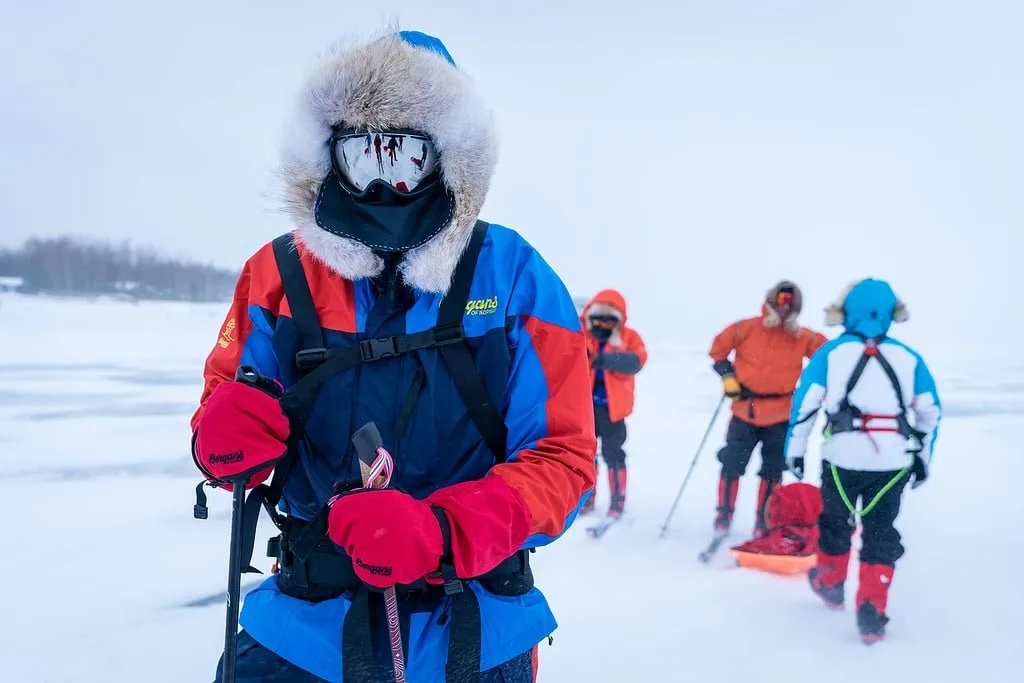 Head & Neck Protection
There are many blood vessels near the skin's surface on your head and neck. Exposing them to cold weather cools your blood down quickly, which then flows into the rest of your body lowering overall temperature.
Obviously a good winter hat that covers your ears is required. Fur lined hats or jacket hoods with a fur ruff work especially well, which is why they're common in places like Siberia and Alaska.
Another piece of gear Eric recommended is a simple balaclava ski mask that only exposes part of the face.
Stretching a buff over everything holds your head warmth system together, in addition to providing yet another layer of protection. Remember, layers!
If it's going to be windy, winter goggles and a face mask or homemade "nose break" will protect the last of your exposed skin while still allowing you to breathe freely.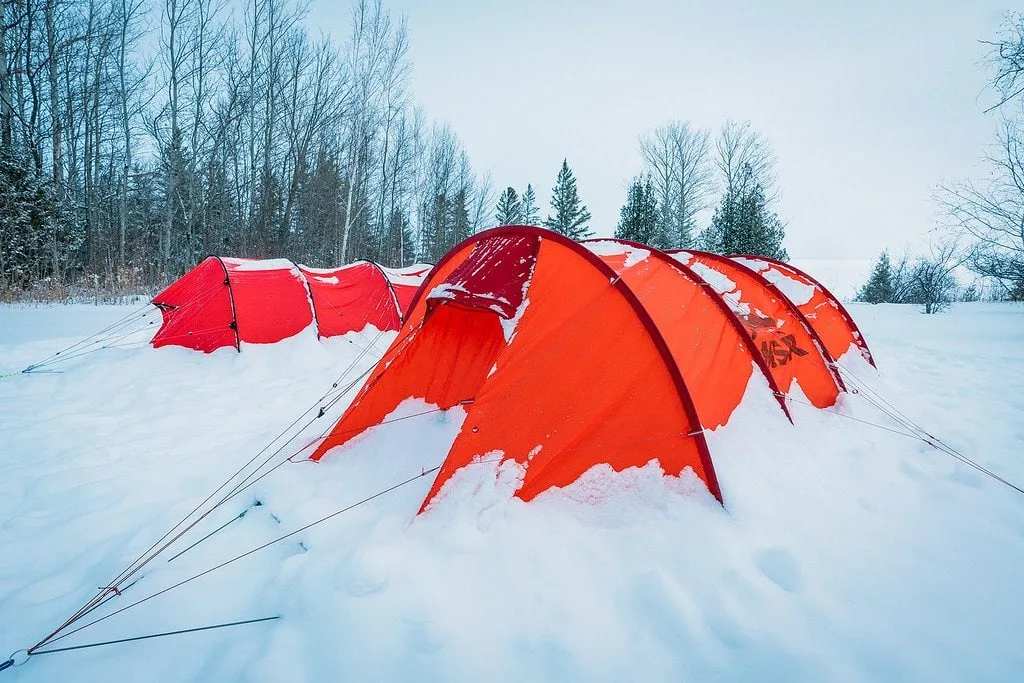 Winter Shelter Systems
You wouldn't think the thin nylon walls of a tent would protect you much outside in the winter, but it can. In fact, even a shelter made of snow can keep you alive!
When choosing a shelter for survival in cold temperatures, pick a 4 seasons rated tent. A tent that's specifically made for camping in the Spring, Summer, Fall, and Winter.
Four season tents have less mesh netting than 3 season tents, meaning they hold heat in better. Winter tents also come with larger vestibule areas where you can keep snow-covered boots and outerwear, outside.
Tramp down the snow to create a firm & level base for setting up your tent. Place the tent door perpendicular to the wind. Pile snow onto the bottom outside edges as an additional wind barrier.
Snow is a great insulator! So if you ever find yourself stuck in the wilderness without a tent, building an emergency snow-cave shelter may help you survive the night.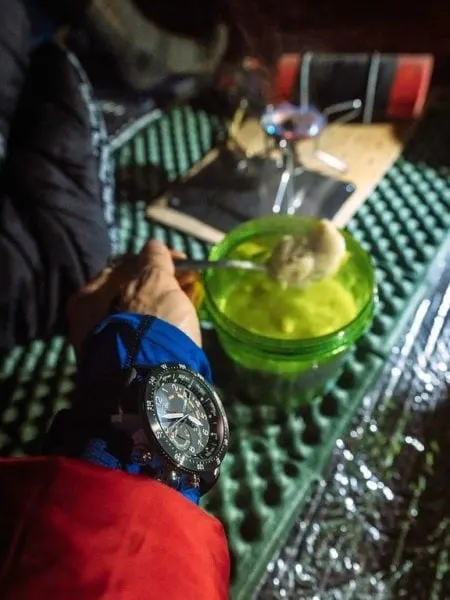 Fuel Your Body
On Eric's two month long ski expeditions to the Earth's poles, the weight of his sled full of supplies can top 300 pounds. So maximizing food calories while also minimizing weight is essential.
To be as efficient as possible, he prefers to remove meals from their original fancy packaging, using thin plastic bags instead. He also packs each day's meals together for easy & quick access.
Choose foods that can be eaten cold or require very little prep time. Granola. Salami. Cheese. Trail mix.
Eating food is like putting fuel on a fire. Your metabolism kicks into action to digest it, heating up your core body temperature and radiating outwards through the bloodstream.
Instant soup is also a regular staple of Eric's arctic diet. He prepares it in the morning, storing in an insulated flask for later. Eating hot soup is wonderful for emotional support, hydration, and warmth.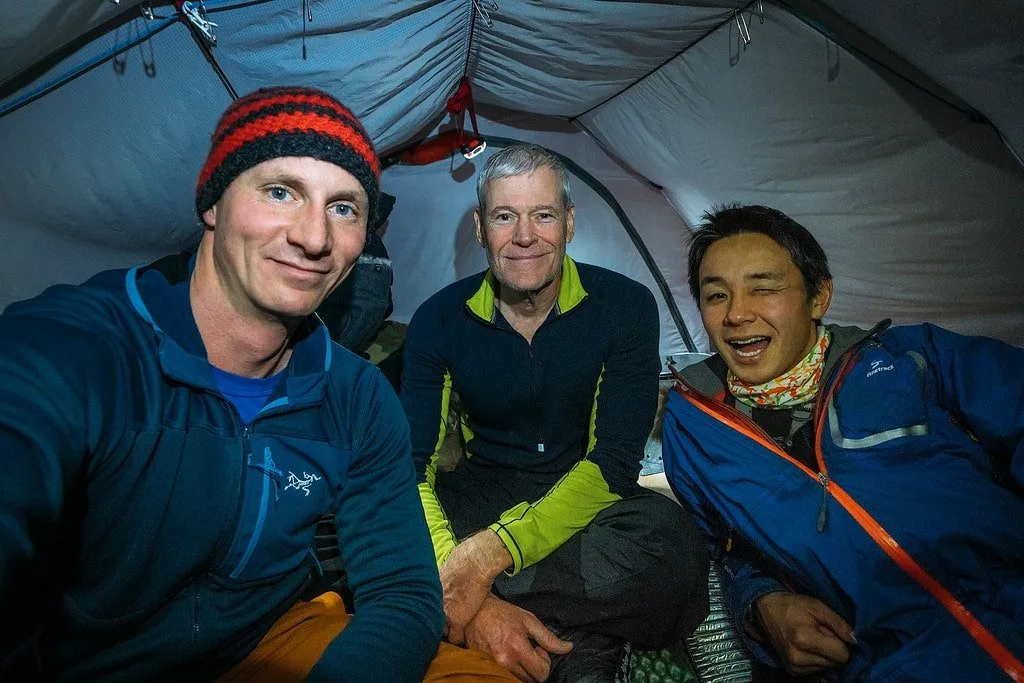 Sleeping In The Cold
You are not going to have a great time on your cold weather adventure if you can't recharge with a good night's sleep! That's why it's so important to pack a warm & comfortable sleep system.
You lose way more heat from the ground through conduction than you do from the air. So during our training we used two sleeping pads — at least one made of closed-cell foam, the other can be an insulated inflatable type.
To stay warm in -16 degree F temperatures, I used a 0F/-18C down sleeping bag that cinched up close to my face keeping the heat inside, as well as a 20F bag over that. This way if any frost builds up inside the tent, it doesn't penetrate into your main bag.
Before going to bed, we also filled a Nalgene bottle with boiling water and placed it inside our sleeping bags. This makeshift hot-water bottle will radiate heat for about 5 hours of bliss.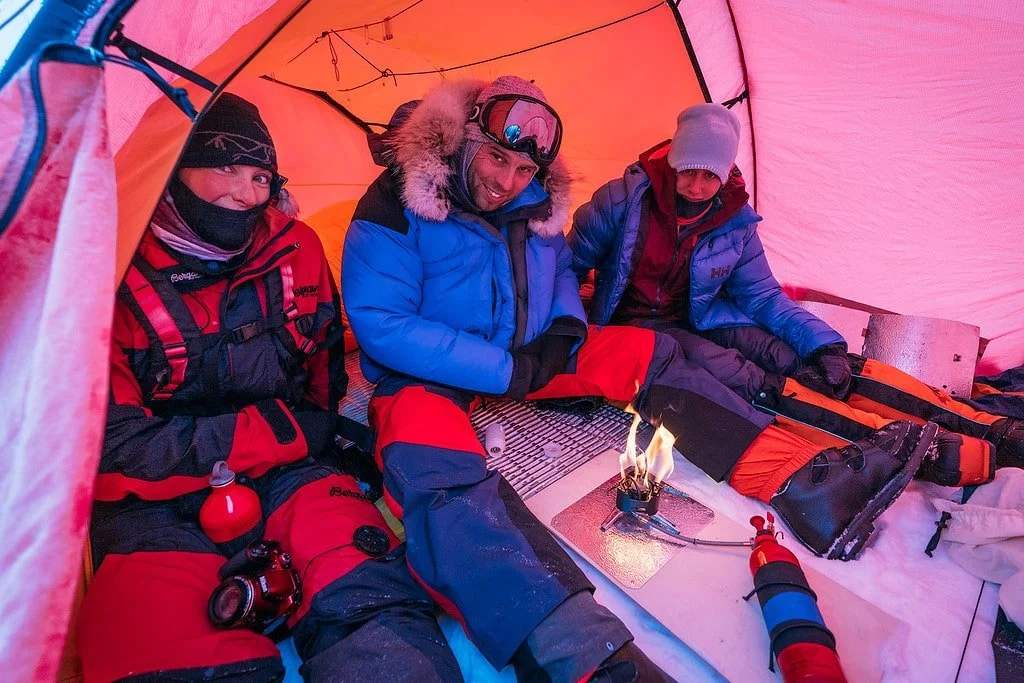 Frostbite & Hypothermia
The dangers of cold weather travel are real, and include frostbite and hypothermia. So I wanted to talk a bit about how to identify and treat these conditions.
Frostbite is when yo­ur skin falls below the freezing point, causing ice crystals to form in your cells, killing them. Your skin will change color to red, then white, and if it's really bad, black.
It's very important to warm your skin gradually. Sticking your fingers or toes into hot water can make it worse! Instead, try your armpits. Or soaking in luke-warm water.
Hypothermia is when your body loses more heat than it produces, and your core body temperature drops. Symptoms include slurred speech, loss of coordination, uncontrollable shivering, and mental confusion.
To treat hypothermia, it's important to remove wet clothing and put on dry stuff, get into a sleeping bag, break out the emergency space blanket, start a fire, etc. Warm up as soon as possible.
Eric believes in the importance of being "selfish" during cold-weather adventures. In order for the whole team to function, each member needs to pay attention to their own health & comfort.
So if you're feeling a bit cold, it's ok to stop the group and put on another layer — before it turns into more serious problems that will affect everyone later (like caring for frostbite or hypothermia).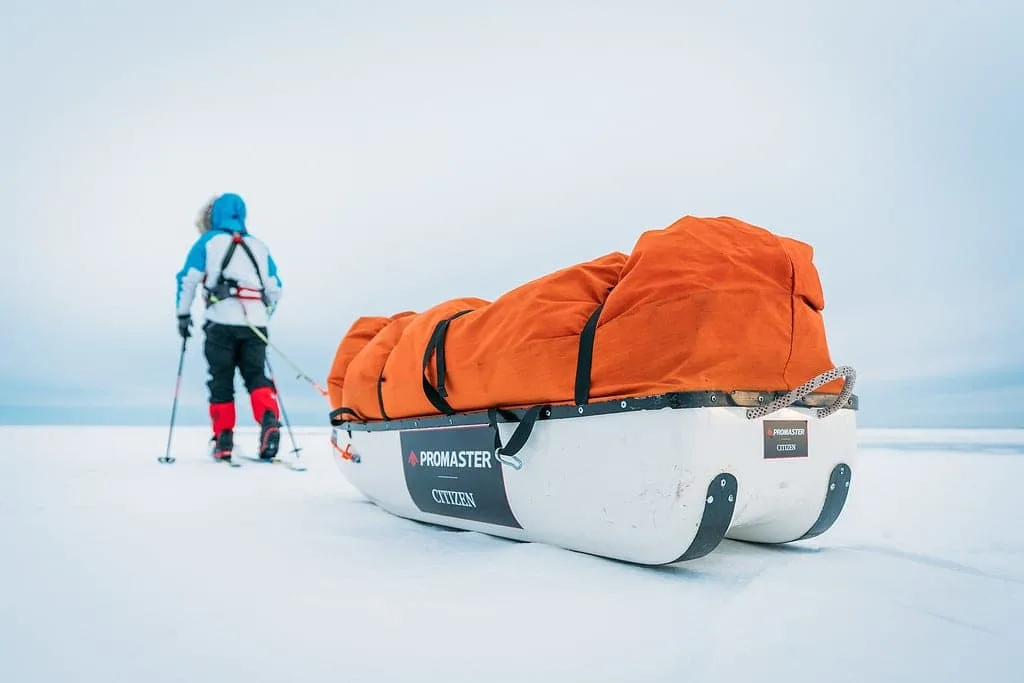 Emergency Cold Weather Gear
Maybe you aren't planning a trek to the North Pole. Or even spending one night winter camping. But on regular winter day hikes or car trips, you should still have some basic cold weather emergency gear with you:
Fire-starting kit with waterproof matches & lighter
3/4 piece of closed-cell foam pad insulation
Emergency bivy bag and space blanket
Spare hat & gloves
Extra fleece mid-layer
Chemical hand-warmers/heat packs
Your chances of surviving the night outside in the cold without these essentials drops significantly, so it's wise to pack them with you just in case.
Maybe you get injured. Maybe the weather changes. Maybe you get lost. Maybe your car breaks down.
No one ever plans on getting into trouble. It just happens!
North Pole: The Last Degree
Trekking around Manitoba's frozen Lake Winnipeg and learning polar expedition skills from Eric stoked my enthusiasm for future cold-weather adventures. His advice has really helped me become better prepared.
Many of my fellow students are planning expeditions of their own to the North Pole, South Pole, or crossing Greenland's ice cap! Hanging out with them was pretty inspiring.
Right now Eric is leading his next Arctic expedition, a North Pole Last Degree trip.
This means participants fly up to the 89th parallel and then proceed to ski the last 60 nautical miles to the Geographic North Pole. It takes about 12 days.
You can follow along on his latest polar journeys through his blog and Instagram feed. ★
---
Enjoy This Article? Pin It!
---
READ MORE TRAVEL TIPS
I hope you enjoyed my guide on how to survive cold weather like a polar explorer! Hopefully you found it useful. Here are a few more wanderlust-inducing articles that I recommend you read next:
---
Any questions about Eric's winter survival tips? Do you have any other suggestions? Join the conversation on Facebook, Instagram, or Twitter to share!