Hawaii, United States
The aloha spirit is alive and well on the tropical islands of Hawai'i. With delicious food, cultural experiences, beautiful beaches, and outdoor adventures — there's something for everyone in the rainbow state.
[su_note note_color="#F7F7F7″ text_color="#333333″ radius="3″ class=""]
This post brought to you by Hawaiian Airlines & Barclays.
[/su_note]
Last week Anna & I visited the islands of Oahu and Kauai with Hawaiian Airlines to celebrate the re-launch of the Hawaiian Airlines World Elite Mastercard, issued by Barclays.
Hawai'i and I go way back. Back to my college days, when I took a break from school and moved to Honolulu to become a beach bum. I lived in Waikiki for a year, and had such a great time!
Days were dedicated to surfing and hiking, while nights were spent working the front desk of an international backpacker's hostel.
Temporarily living in Hawaii, I was able to experience ho'okipa — Hawaiian hospitality. I also fell in love with the state's natural beauty. So many epic beaches, jungles, mountains, waterfalls, and waves to explore!
Even though I no longer call Hawaii home, I return every chance I get.
Flying With Hawaiian Airlines
To kick off the adventure in style, we flew Hawaiian Airlines first class from Los Angeles to Honolulu on the A330. I don't fly first-class often, but it definitely helps with getting some good sleep on overseas flights.
Especially with lie-flat seats like the ones we had on this trip! As a side-sleeper, the ability to stretch out makes a HUGE difference in whether I get any sleep on a plane.
Free mai-tais and tasty Hawaiian-inspired meals prepared us for the start of our island hopping journey on both Oahu and Kauai.
In July, Hawaiian re-launched their Hawaiian Airlines World Elite Mastercard. It offers 30,000 bonus miles to new cardmembers after their first purchase, no foreign transaction fees, first checked bag free, and an annual $100 companion ticket discount on Hawaiian Airlines flights.
It's a great way to earn miles towards free Hawaiian Airlines flights with 3x miles on Hawaiian Airlines purchases, 2x miles on gas/groceries/dining, and 1x miles on all other purchases using the card.
Exploring Waikiki
Our first stop in Hawaii was the island of Oahu, and the capital city of Honolulu. We stayed at the beautiful new Ritz Carlton in Waikiki.
Honolulu's Waikiki neighborhood has some of the most famous beaches in the world, and it's where most tourists stay during their first trip to Hawaii.
Waikiki is also where I learned to surf many years ago, just beyond the bronze statue of Duke Kahanamoku, known as Hawaii's father of modern surfing.
The area is home to many high-rise hotels, restaurants, and nightclubs. One restaurant you shouldn't miss is Roy's Waikiki.
Hilton Hawaiian Village
It's said the Duke himself learned how to surf the same waves in front of where the Hilton Hawaiian Village now stands. This slice of pristine white sand is full of history, and a fun sunbathing beach in Waikiki.
Along with the awesome beach, there's also Kahanamoku Lagoon which is open to the public for swimming, kayaking and stand-up paddle boarding. Anna and I rented a water bike and paddled around the calm lagoon soaking up the sun.
Every Friday night, the hotel launches an awesome free fireworks display around 8pm. The best place to watch is from the lagoon, where fireworks explode right over your head!
Ma'o Organic Farms
Maʻo Organic Farms is based in Wai'anae on the west coast of Oahu. We visited to learn how they are growing sustainable, organic produce for some of Hawaii's best restaurants — and giving back to the community in the form of college scholarships for local students who volunteer there.
Before Europeans landed in 1778, the Hawaiian Kingdom (with a population of up to 1 million) was self-sufficient at producing its own food supply using a sustainable agricultural system called ahupua'a.
These days Hawaii basically imports about 80% of its food from elsewhere, and being so remote, it's very expensive to ship it there. For example, a gallon of milk can run $7!
There's been a growing movement on the islands to produce more food locally, and small farms like Ma'o are teaching a new generation how to grow sustainable agriculture as their ancestors did.
Aloha Shirt Fridays
Do you know the history of the Hawaiian shirt (aka aloha shirt)? It all started back in the 1920's, when clothing manufacturers from Honolulu's Chinatown started making colorful, gaudy shirts out of Japanese silk kimono material.
Eventually, in the 1930's, aloha shirts were mass-produced for tourists, worn after a day at the beach in Waikiki, and taken home as souvenirs. In the 1940's, some local companies began allowing employees to wear more relaxed clothing during the hottest months of the year.
Then came "Aloha Fridays" in the 1960's. Wearing aloha shirts was typical business attire on Fridays all over Hawaii.
One of the most famous Hawaiian shirt makers is Reyn Spooner. We toured their offices and learned how they make these iconic shirts from scratch (and, I happen to be wearing mine right now as I type this).
[su_row class=""]
[su_column size="1/2″ center="no" class=""]
[/su_column]
[su_column size="1/2″ center="no" class=""]
[/su_column]
[/su_row]
Koko Head Cafe
If you're looking for a good bite to eat in Honolulu, you need to visit Koko Head Cafe for their famous brunches. Chef Lee Anne Wong is an executive chef for Hawaiian Airlines, overseeing the airline's in-flight meal program.
You may also recognize her as a contestant on Bravo's popular reality show, Top Chef. Chef Wong prepared us a huge assortment of Hawaiian dishes, from raw fish pupus (bite-size appetizers) to slow-roasted Kalua pig.
Kualoa Ranch
Kualoa Ranch is a 4,000 acre Private Nature Reserve and cattle ranch that's open to the public on the East coast of Oahu.
The area is made up of jagged green mountain ridges and a series of three lush valleys, an ancient and sacred training ground for Hawaiian royalty in the art of war & history.
Because of its incredible natural beauty, Kualoa has been the backdrop for countless Hollywood movies and TV shows like Jurassic Park, Jurassic World, Kong: Skull Island, 50 First Dates, Pearl Harbor, Jumanji, LOST, and more!
We spent an afternoon touring the ranch in the back of a 4×4 truck, checking out all the famous movie set locations. Like the Indominus Rex padlock from Jurassic World!
My favorite stop was probably the giant ape "graveyard" from Kong: Skull Island. Massive and realistic-painted bones made of foam were scattered about under tall green cliffs.
Learning How To Make Poke
One day for lunch, we learned how to make fresh ahi-tuna poke with Foodland Supermarket's corporate chef Keoni Chang.
Poke is raw fish salad served as an appetizer in Hawaiian cuisine, and sometimes as a main course with rice.
There are many different ways to make poke, but I think the traditional style was my favorite. Chunks of raw ahi-tuna, seaweed, sea salt, and crushed Kukui nuts.
Hawaiian Rum Tasting
Hawaii has a long history of sugar cane production, first initiated by ancient Polynesian voyagers during their migration from the South Pacific. The first commercial sugar production began in 1935, and with it, the first batches of Hawaiian Rum.
After jumping on a Hawaiian Airlines flight from Oahu to Kauai, one of our first stops on the Garden Island was a free rum tasting session at Koloa Rum, located at the old Kilohana Plantation in Lihue.
Dark rum, spiced rum, coconut rum — we learned which types of rums pair best with different mixers, or on their own. Koloa Rum is distilled twice using a vintage 1,210-gallon copper-pot still from 1947 with a copper column and condenser.
Grand Hyatt Kauai
Checking into the Grand Hyatt Resort on Kauai was quite a treat… this place was stunning. Set right on the beach, with flowers and palm trees in all directions. It has its own lazy river, waterslides, and a salt-water lagoon.
Anna and I learned how to make traditional Hawaiian flower "leis", attended a luau with traditional hula dancing and mountains of poi, and spent time floating down the lazy river to relax and cool off in the tropical heat.
Shipwrecks Beach
Right next to the Grand Hyatt there is a public beach called Shipwrecks, a local favorite for surfing and body surfing.
The waves can get quite big, and break close to the shore, so it's usually not the best beach for swimming — but fun for watching the locals brave the massive water.
There's a great lookout point over the coastline from a cliff not far away, where you can watch locals fishing or just catch the sunrise.
You can access the cliffs from a trail at the end of the beach. There are sea turtles that swim below the cliffs too, so keep an eye out for them if you can!
Get Closer To Hawaii Every Day
Well, I hope I've inspired you to visit Hawaii soon (like you didn't already need another reason)! These Pacific islands are incredibly beautiful, diverse, and full of memorable things to do on your vacation.
And if you're interested in collecting miles & points for a free flight to Hawaii, make sure to check out the all-new Hawaiian Airlines World Elite Mastercard issued by Barclays Bank and get closer to your goal every day.

Enjoy This Post? Pin It!
[su_row class=""]
[su_column size="1/2″ center="no" class=""]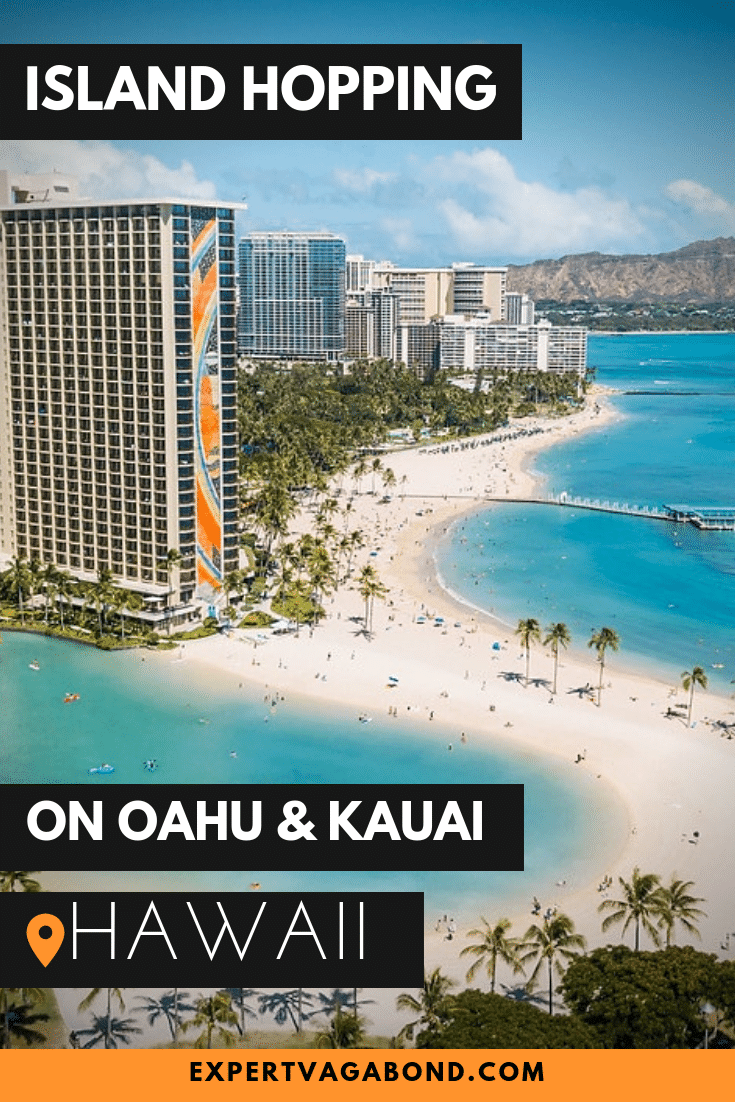 [/su_column]
[su_column size="1/2″ center="no" class=""]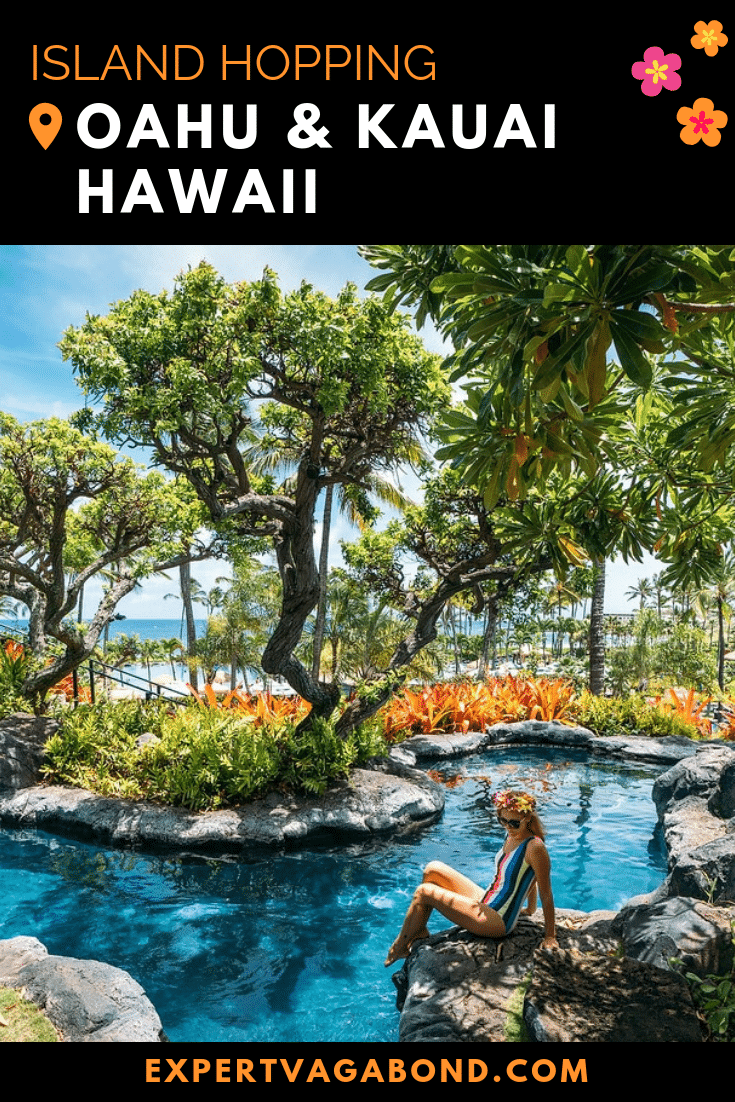 [/su_column]
[/su_row]
READ MORE TRAVEL TIPS AND STORIES
I hope you enjoyed my guide on island hopping on Oahu & Kauai! Hopefully you found it useful. Here are a few more wanderlust-inducing articles that I recommend you read next:
Have any questions about traveling to Oahu or Kauai? Have you ever flown with Hawaiian Airlines? Join the conversation on Facebook, Instagram, or Twitter to share!