Las Vegas, Nevada
The helicopter's rotor fired up, whirring above our heads. Our pilot took the controls and we suddenly began to hover off the ground, rising into the sky above Las Vegas.
It was early in the morning, about 7am, just after sunrise at Henderson Executive Airport in Las Vegas.
Anna and I were flying out to the Grand Canyon with Maverick Helicopters after they'd picked us up from the Venetian Hotel.
I love helicopters. When I was a kid, I wanted to become a pilot (ok, I still do).
Scenic helicopter flights like this are one of the things I sometimes splurge on when I travel. Not only is it a super cool experience just flying in them, but the aerial photography opportunities are excellent too!
I was especially looking forward to flying over the Grand Canyon in a helicopter. After traveling the world for years, this was actually going to be my very first trip to the Grand Canyon!
Leaving Las Vegas
The journey started as we flew above the Las Vegas strip in Maverick's 8 person ECO Star EC-130 helicopter. It was fun looking down on the casinos and landmarks of Vegas from the aircraft's large windows.
Iconic hotels like the the Venetian, the MGM Grand, and even the golden (and gaudy) Trump Tower.
Flying away from Vegas, we entered the desolate and beautiful Nevada desert. A vast dry mountain landscape stretching on for miles. We passed over Fortification Hill, an extinct volcano that was formed about 13 million years ago as the crust around Lake Mead stretched thin.
Next it was on to the impressive Hoover Dam, where we circled a few times to admire this marvel of engineering and labor built during the Great Depression that employed 21,000 workers.
A massive 60-story wall of concrete and steel, the Hoover Dam provides electricity to cities nearby using the power of the Colorado River. When it was built, it was the largest concrete structure in the world.
Lake Mead & The Valley Of Fire
The Hoover Dam holds back the bright blue waters of Lake Mead, the largest fresh-water reservoir in the United States. It's difficult to get a sense of just how large this lake is until you fly over it.
Lake Mead National Recreation Area provides many opportunities for boating, hiking, cycling, and camping within its boundaries.
Another landmark we passed on our helicopter journey to the Grand Canyon is the Valley Of Fire, a stunning & colorful valley in the Mojave Desert full of strange Aztec sandstone outcrops.
This magnificent red sandstone landscape was formed by great shifting sand dunes during the age of the dinosaurs more than 150 million years ago.
While flying over it was awesome, driving through the Valley Of Fire is a wonderful day trip or weekend getaway from Las Vegas if you want to get away from the city!
Landing In The Grand Canyon!
Finally, the West Rim of the Grand Canyon itself came into view. I knew it was going to be epic, and wasn't disappointed.
The canyon was formed by the Colorado River cutting channels through layers of rock over millions of years, exposing colorful bands of rock that reveal a rich geological history of the Earth.
But we didn't just fly over the Grand Canyon, oh no. We descended and flew THROUGH it, cruising past steep canyon walls on each side of the helicopter. So much fun, and perfect for sharing on this blog!
Then, as if that wasn't enough excitement, we landed inside the Grand Canyon itself. A special remote area of Hualapai Indian Territory, perched on a cliff 300 feet above the Colorado River.
Here we watched the morning sun crest over the walls of the canyon with champagne and snacks. Hiking around to admire the natural scenery and taking photos before taking off again for Las Vegas.
Grand Canyon Helicopter Tour
This was the Wind Dancer Grand Canyon Tour from Las Vegas. It includes a Grand Canyon landing with champagne and snacks.
While there are many different time-slots, we choose the early morning one to avoid crowds and for the pleasant morning light, which is usually better for photography.
The Grand Canyon helicopter flights are popular, and the landing zone can accommodate multiple helicopters. Because we chose the first flight of the morning, we had the whole place to ourselves!
Maverick offers other types of helicopter flights too, like a shorter Las Vegas Strip Tour (available both during the day or at night) plus a HeliYoga Tour. ★
[su_box title="Travel Planning Resources For The Grand Canyon" style="noise" box_color="#333333″ title_color="#FFFFFF" radius="3″ class="resource-box"]
Packing Guide
Check out my travel gear guide to help you start packing for your trip. Pick up a travel backpack, camera gear, and other useful travel accessories.
Book Your Flight
Find cheap flights on Skyscanner. This is my favorite search engine to find deals on airlines. Also make sure to read how I find the cheapest flights.
Rent A Car
Discover Cars is a great site for comparing car prices to find the best deal. They search both local & international rental companies.
Book Accommodation
Booking.com is my favorite hotel search engine. Or rent apartments from locals on Airbnb. Read more about how I book cheap hotels online.
Protect Your Trip
Don't forget travel insurance! I'm a big fan of World Nomads for short-term trips. Protect yourself from possible injury & theft abroad. Read more about why you should always carry travel insurance.
[/su_box]
Enjoy This Post? Pin It!
[su_row class=""]
[su_column size="1/2″ center="no" class=""]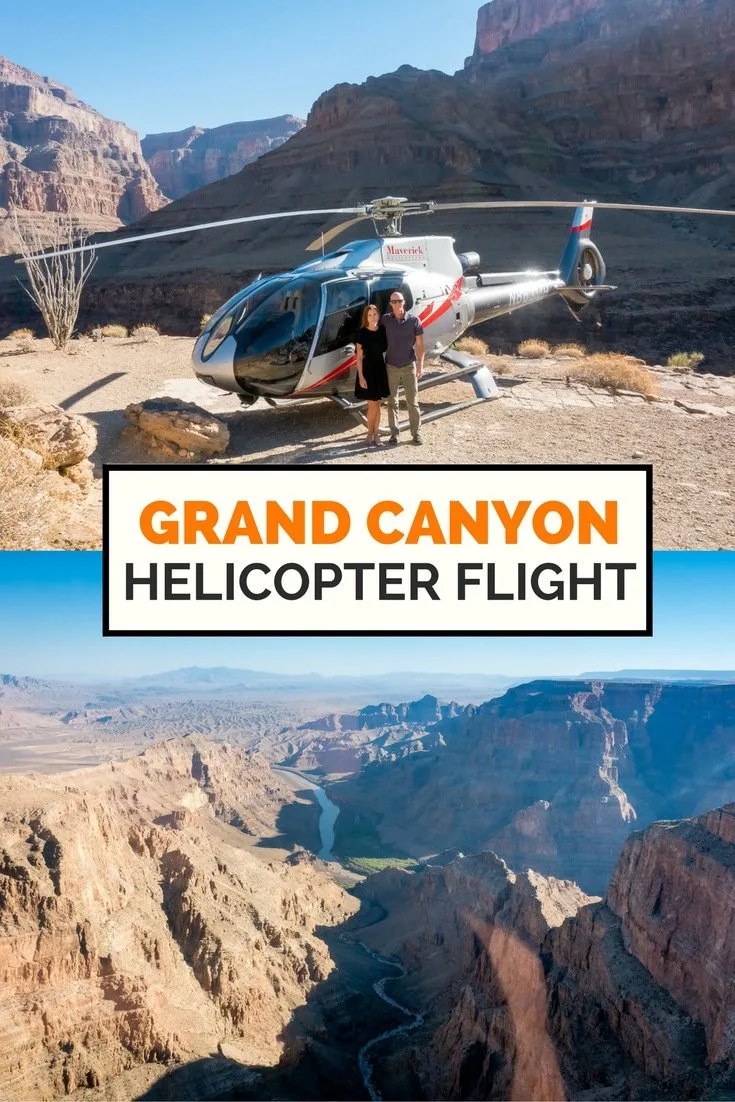 [/su_column]
[su_column size="1/2″ center="no" class=""]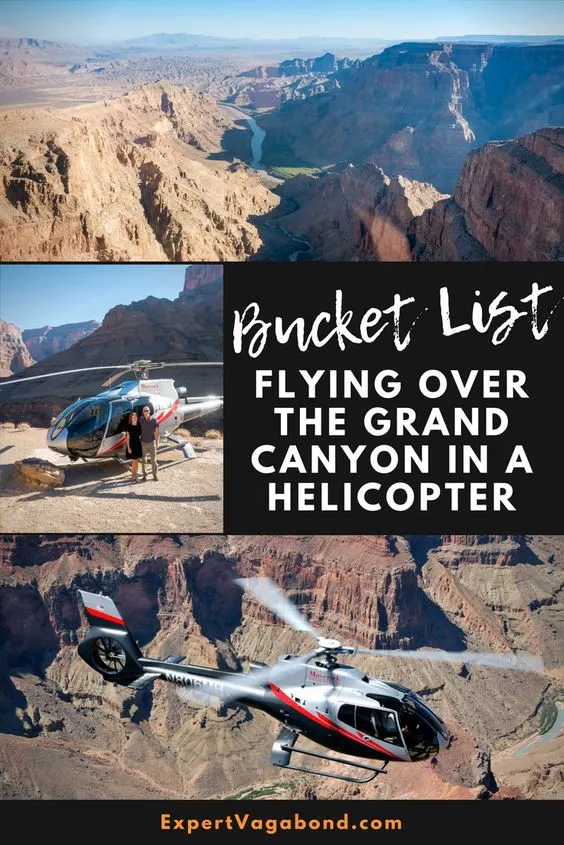 [/su_column]
[/su_row]
READ MORE USA TRAVEL TIPS
I hope you enjoyed my story about flying over the Grand Canyon in a Helicopter! Hopefully you found it useful. Here are a few more wanderlust-inducing articles that I recommend you read next:
Have any questions about my helicopter flight over the Grand Canyon? Have you ever been before? Join the conversation on Facebook, Instagram, or Twitter to share!