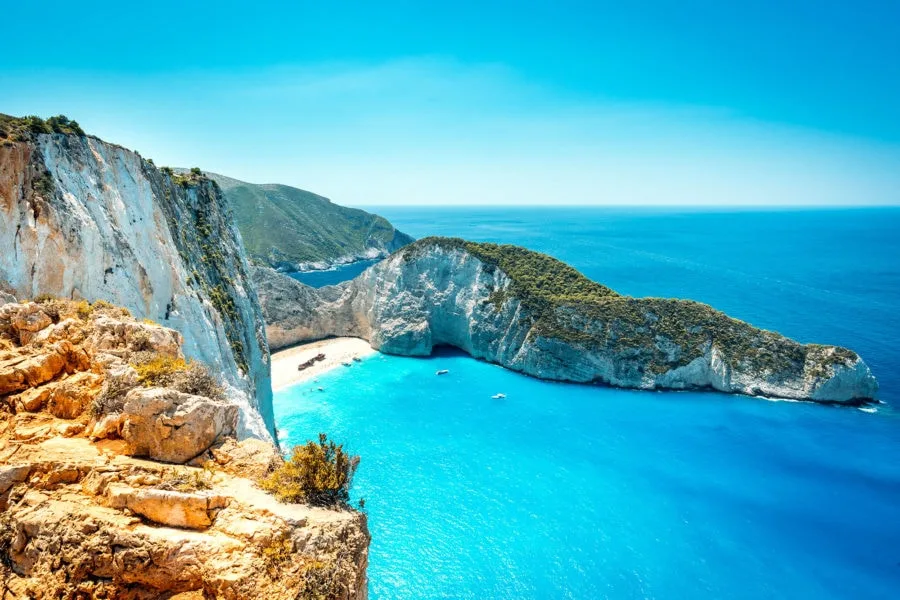 Zakynthos, greece
Navagio Beach (aka Shipwreck Cove) on the Greek Island of Zakynthos is arguably one of the most beautiful beaches in the world! Here's how to see shipwreck beach for yourself.
The island of Zakynthos off the southwest coast of Greece is one of the country's quieter islands. However it has one particularly incredible highlight called Navagio Beach (also known as Shipwreck Beach). A sandy little cove surrounded by towering limestone cliffs — plus the rusting remains of an old shipwreck.
This stunning Greek beach surrounded by brilliant blue ocean water is an Instagram favorite, and many travelers include Zakynthos on their itinerary specifically to visit this amazing beach in Greece.
We spent 3-days exploring Zakynthos with a rental car, including a few trips to Shipwreck Beach, and wanted to put together a little guide for you.
Where Is Shipwreck Beach?
Shipwreck Beach, known locally as Navagio Beach, is located on the North West corner of Zakynthos Island. The island is about 250 km west of Athens in the Ionian Sea.
To reach Zakynthos, you can fly directly from Athens or take a ferry from Kyllini on the mainland. Ferries to Zakynthos run 7 times per day between 5:30am and 10:30pm and cost about €10 per person each way, or €35 if you're taking a car.
How To Get To Shipwreck Beach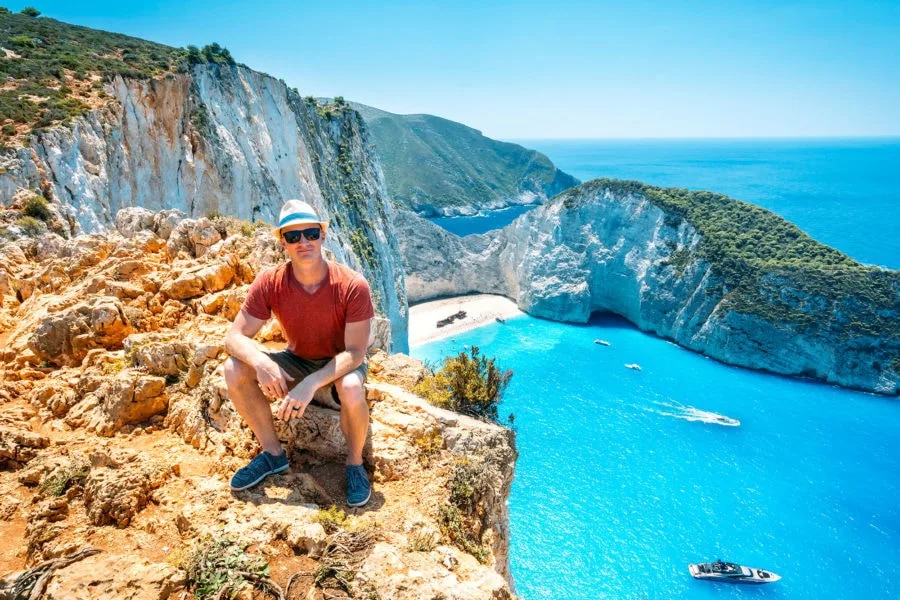 Cliff Top Viewpoints
The most popular postcard photos of Shipwreck Beach come from the top of the 200 meter (650 ft) tall cliffs that overlook it, rather than on the beach itself. While the beach is awesome to visit in person, the views from the cliffs are much more spectacular.

However keep in mind that Navagio beach is located on another side of the island from the capital city of Zakynthos (same name as the island). So the best way to get out there is to either rent a car, like we did, or find a tour company that will take you out there in a van. It's also possible to hire a taxi from the capital, but it will cost around €100 EURO round trip.

The drive from Zakynthos town out to Navagio Beach takes about 45 minutes. Once there, you'll head down an entrance road to the parking area, where there are a few stalls selling food, ice cream, drinks, and souvenirs. Parking is free.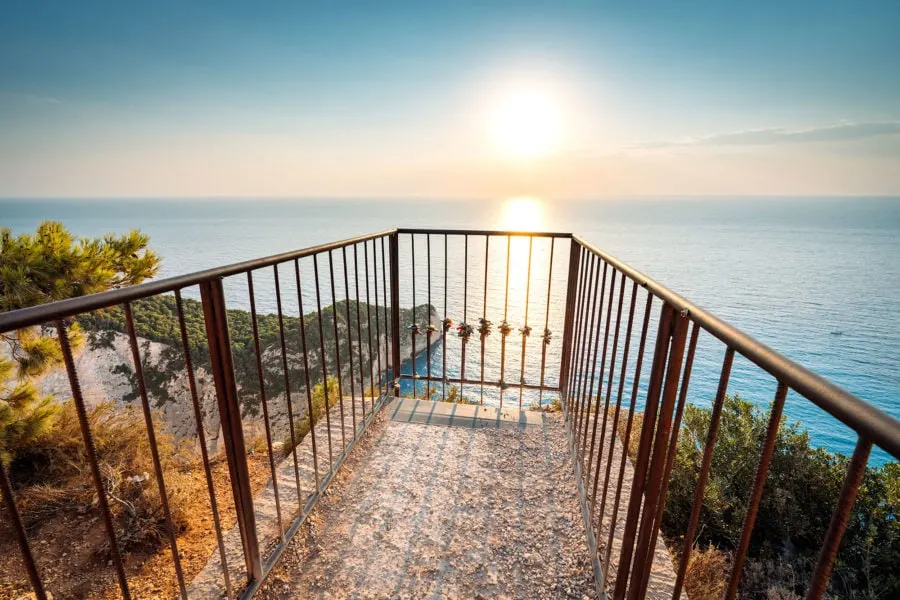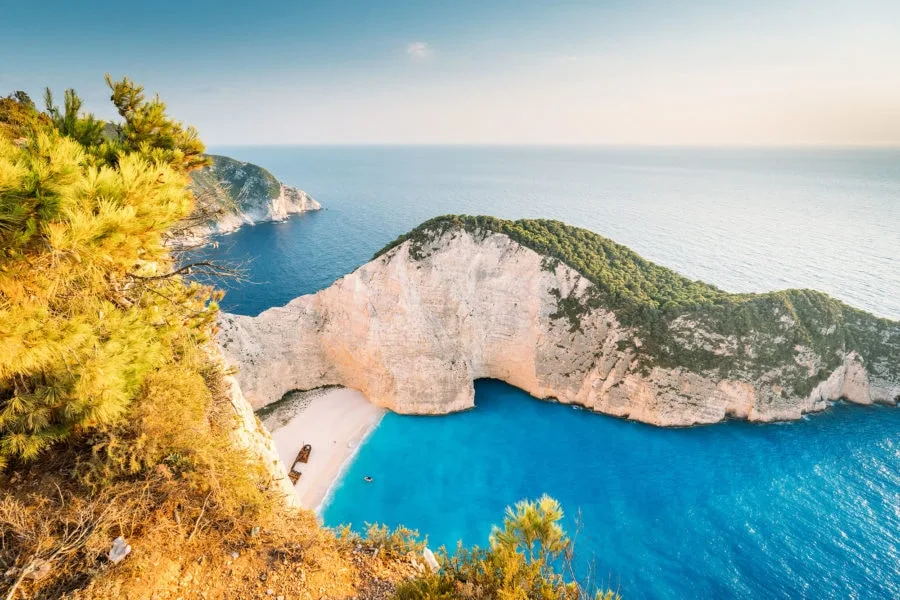 The Viewing Platform
There is an official viewing platform located right below the parking area. It's safe, secure, and there's usually a long line to get a photo.
However the photos you get from this platform are not that great! You don't get a full view of the whole beach. Tourism officials really need to improve this platform if they want to avoid people from walking out on the side trail… where the view is much better.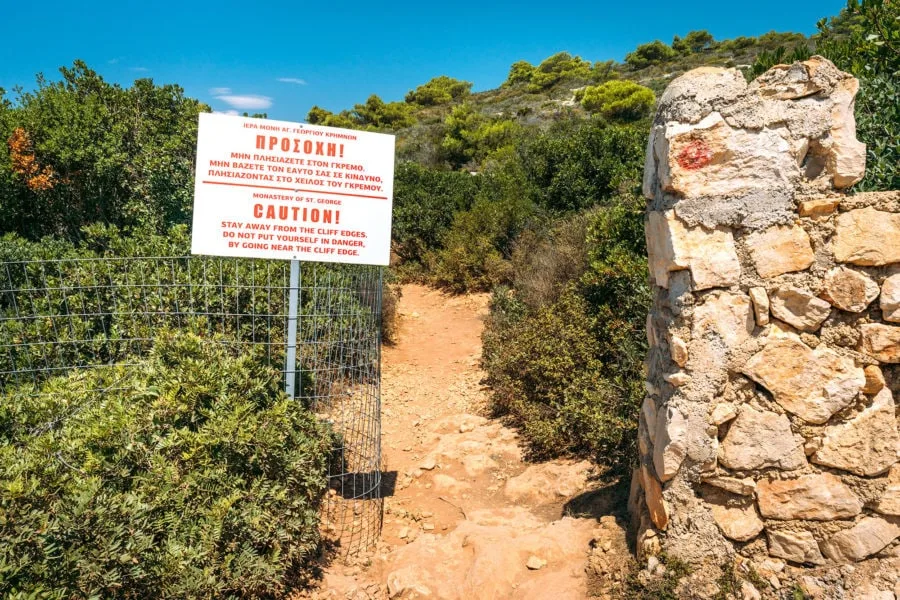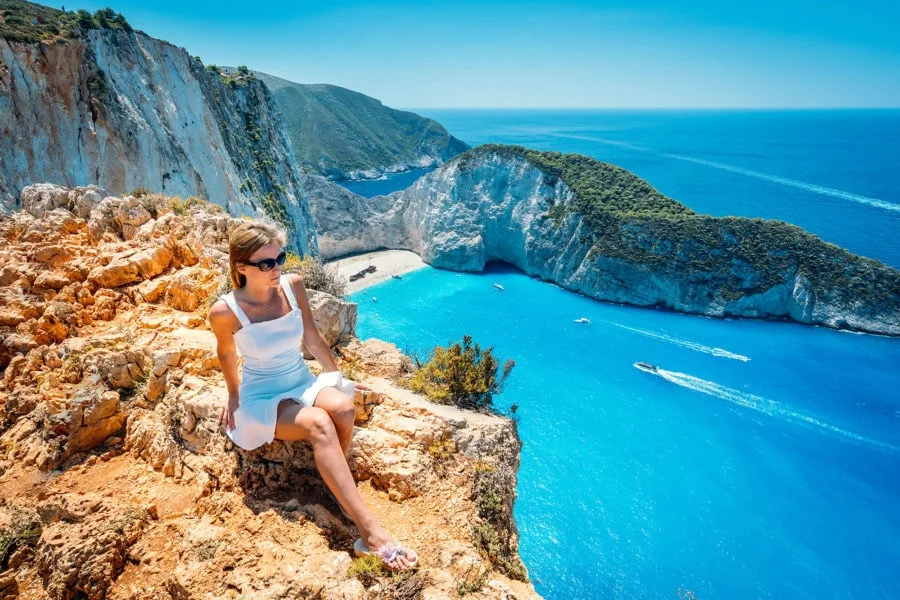 The Cliff Walk
To reach the best place to get photos of Shipwreck Beach, you need to go for a little hike. Beside the viewing platform (to the right) there is a fenced off area, with a single entrance (and plenty of warning signs).

Walking out this way, you'll find a rough path that leads away from the parking lot and tourist shops. The path is not really maintained, and probably isn't safe for older people or super little kids. It's a long walk over jagged rocks, in the hot sun, with no benches or shade nearby.
The best time of day for photos of the beach is around noon, when the sun is directly overhead (and the cliffs aren't casting a shadow). Sunset is also a wonderful time to visit.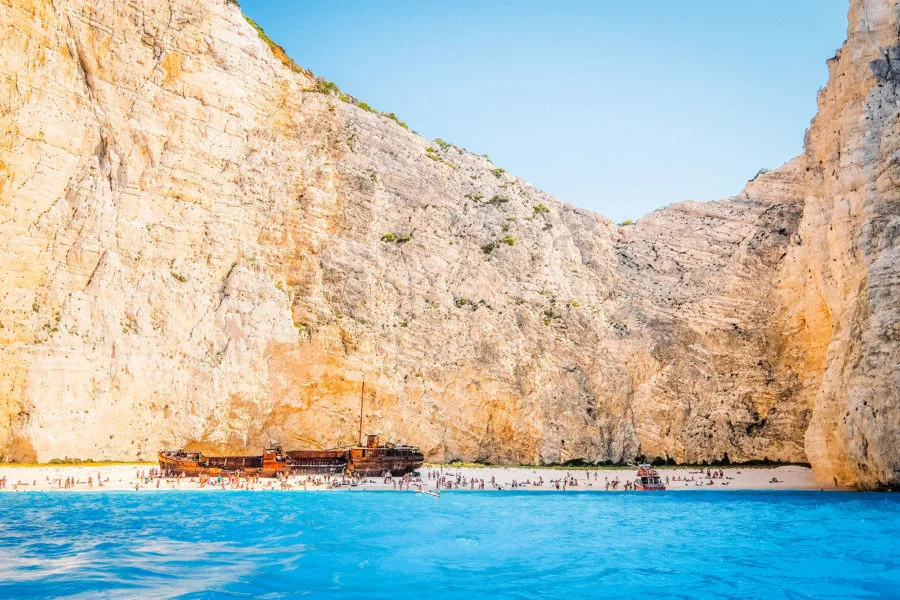 Visiting The Beach By Boat
To actually step foot on the beautiful secluded Greek beach at Shipwreck Cove, there's only one way. By boat. There are multiple tour companies that offer affordable boat trips to this most famous beach in Greece.
Some of these boats leave from the nearby town of Agios Nikolaos (where you can even rent and captain your own boat, if you have experience), but others start directly in Zakynthos Town.
During the boat trip to Navagio Beach (Shipwreck Cove), you'll also visit other beautiful places off the Zakynthos coast, like the Blue Caves and Xygia Sulfur Beach.
Keep in mind that Shipwreck Beach is the most popular tourist attraction on the island, so the beach gets pretty packed. And you won't actually get to spend too much time on the beach itself (about 20 minutes), as they shuttle tourists in and out throughout the day.
To visit the beach with the fewest number of people, or to stay as long as possible, take the earliest tour you can — or even better, rent a private boat.
USEFUL TIP: Boat trips to Navagio Beach can sometimes be canceled or delayed due to strong waves or bad weather. So just keep that in mind when planning your trip.
History Of The Shipwreck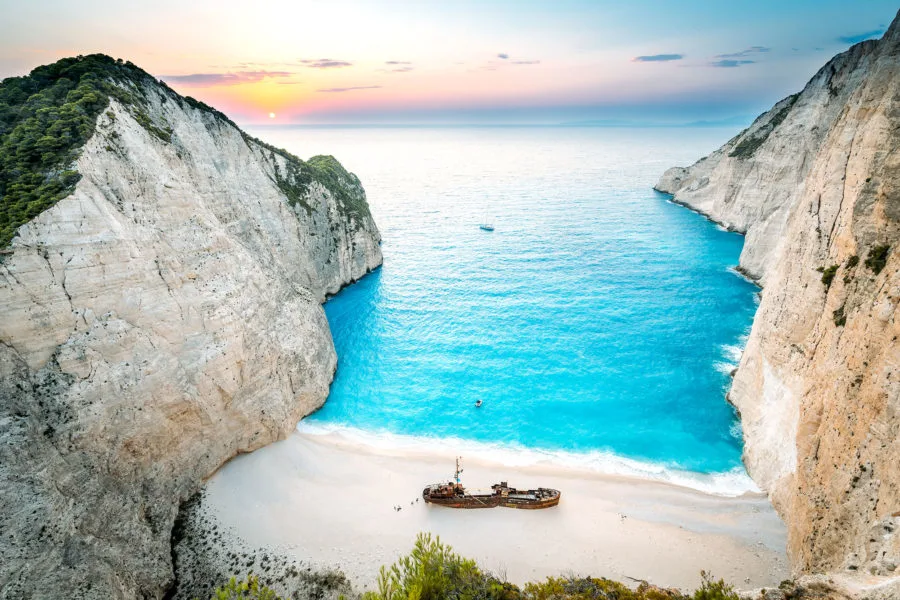 So, where did the shipwreck at Shipwreck Cove come from? On October 2nd, 1980 a 157 foot shipping vessel known as the MV Panagiotis ran aground here.
Apparently the ship was smuggling cigarettes from Turkey for the Italian mafia when the Greek Navy started chasing it in bad weather. The crew ditched the boat in Navagio cove to try and get away. Ever since the crash, its rusting hulk has been slowly falling apart.
It's also why the beach is sometimes referred to as "Smuggler's Cove" too.
While Navagio Beach was already beautiful on its own, the addition of the abandoned shipwreck adds an element of mystery and intrigue to the beach. Like right out of some kind of pirate tale!
Staying Safe On The Cliffs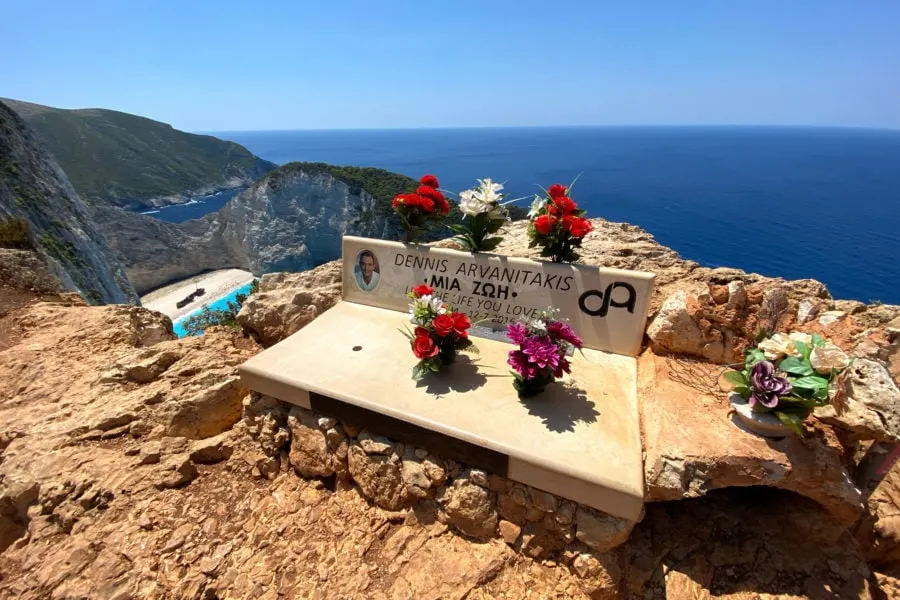 Over the last few years there have been a few tragic tourist deaths from the 200 meter tall limestone cliffs above shipwreck cove. Like all popular tourist destinations, you'll always get some people pushing the limits of what's safe, or just not thinking at all.
There is a memorial bench that has been built out near the end of the trail, but contrary to popular belief, it's NOT for someone who died falling from these cliffs. Dennis Arvanitakis was an Australian of Greek descent who died in Spain, and his family from the island built this monument because it was his favorite spot.

However the cliffs around Zakynthos could be treacherous if you get too close to the edge. Occasionally sections of rock crumble away into the ocean below due to geology and natural erosion. Winds can pick up suddenly, or people can simply lose their balance.

So if you do decide to hike out to the best viewpoint, just make sure to stay far enough away from the bleeding edge of the cliff. You can still get plenty of amazing photos from a safe distance! ★
Bonus Video:

Base Jumping Shipwreck Beach!
Subscribe to my YouTube Channel for new Adventure Travel Videos!
---
Enjoy This Article? Pin It!
---
READ MORE GREECE TRAVEL TIPS
I hope you enjoyed my guide on visiting Shipwreck Beach in Greece! Hopefully you found it useful. Here are a few more wanderlust-inducing articles that I recommend you read next:
---
Is there anything else you want to know about Shipwreck Beach on Zakynthos? Join the conversation on Facebook, Instagram, or Twitter to share!