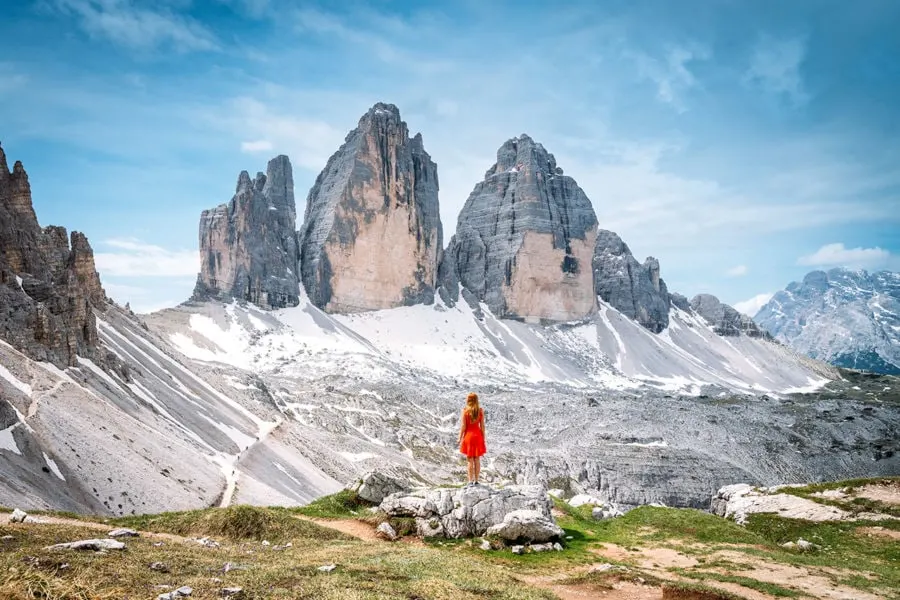 South Tyrol, Italy
Tre Cime di Lavaredo (Three Peaks) is a famously beautiful and pretty easy alpine day hiking loop in the Italian Dolomites that winds through jagged limestone mountains.
The Dolomites are a range of mountains in the Italian Alps covered with hundreds of hiking trails, but the Tre Cime di Lavaredo loop is one of the most accessible for beginners.
The three peaks themselves – Cima Piccola (2857 m), Cima Grande (2999 m) and Cima Ovest (2973 m) – are the symbols of the whole Dolomites UNESCO World Heritage Site.
In this Tre Cime Lavaredo hiking guide, I'll share details about the hike and tips to help you have a good experience in Italy. Let's go!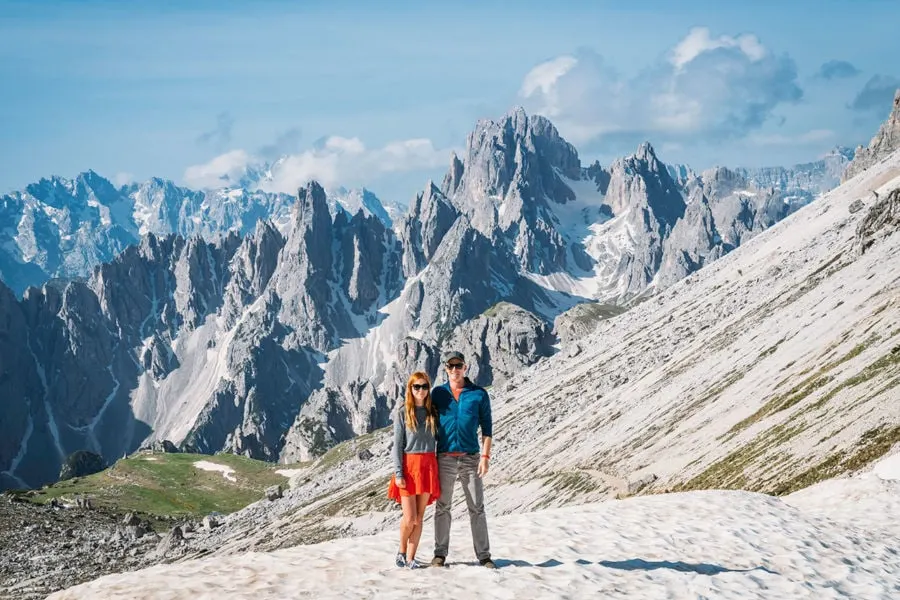 Tre Cime Italy Hiking Guide
HIKING TRAIL DETAILS
Distance: 6.4 miles (10.3 km) loop
Time: 3-4 hours
Elevation Gain: 1300 feet (400 meters)
Difficulty: Easy/Moderate
Map: Tobacco 10
Like Lago di Braies, Tre Cime is one of those "must do" experiences in the Dolomites. The hike is relatively easy, and the reward-to-effort ratio is high.
While it can be busy in the summer due to its popularity and moderate elevation gain, the awesome views of the surrounding mountains and high alpine meadows more than makes up for the extra foot traffic.
The loop hike starts from the parking lot of Rifugio Auronzo, where you can choose to travel in a clockwise or counter-clockwise route around the three peaks.
Hiking counter-clockwise is usually preferred, as it keeps the three peaks massif in front of you for most of the journey.
Anna & I began our hike early, just after sunrise to help avoid the summer Italy crowds — which worked well. Early June meant snow on some portions of the trail.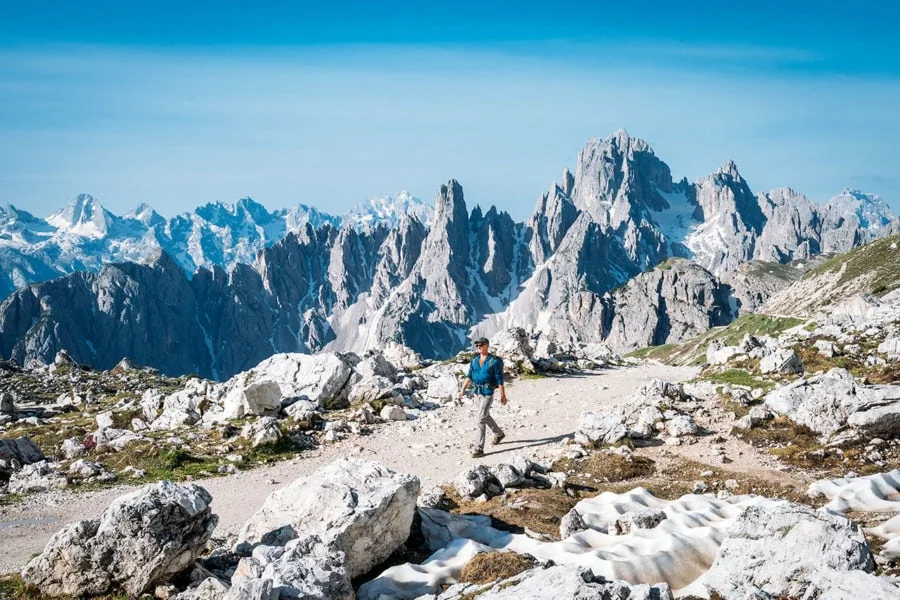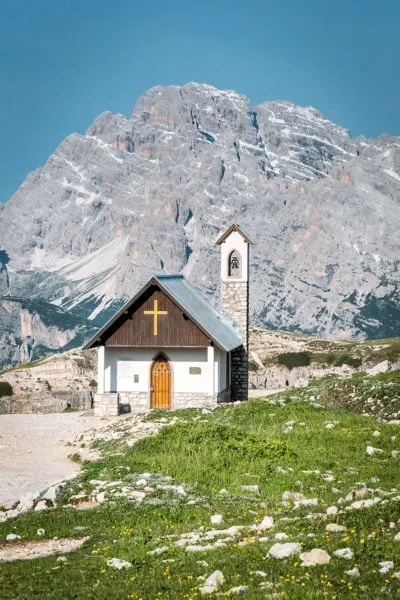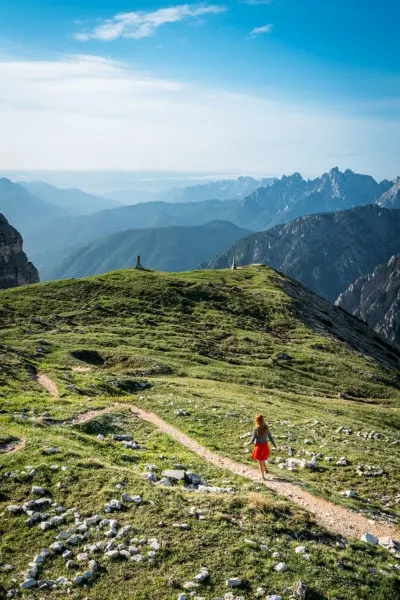 An Iconic Hike In The Dolomites
Following the well-maintained Path 101, we made our way around the base of the three peaks, past a small mountain chapel with huge panoramic views of jagged mountains behind us.
Another Refugio appeared soon after, Refugio Lavaredo. Still too early in the season to be open, we pushed on (and up) the side of a slope to the epic viewpoint of Forcella Lavaredo.
This is a perfect rest stop, with a wonderful view of the Tre Cime monolith as well as an expansive valley and jagged mountain ranges beyond.
The perfect first hike to welcome us to the Dolomites!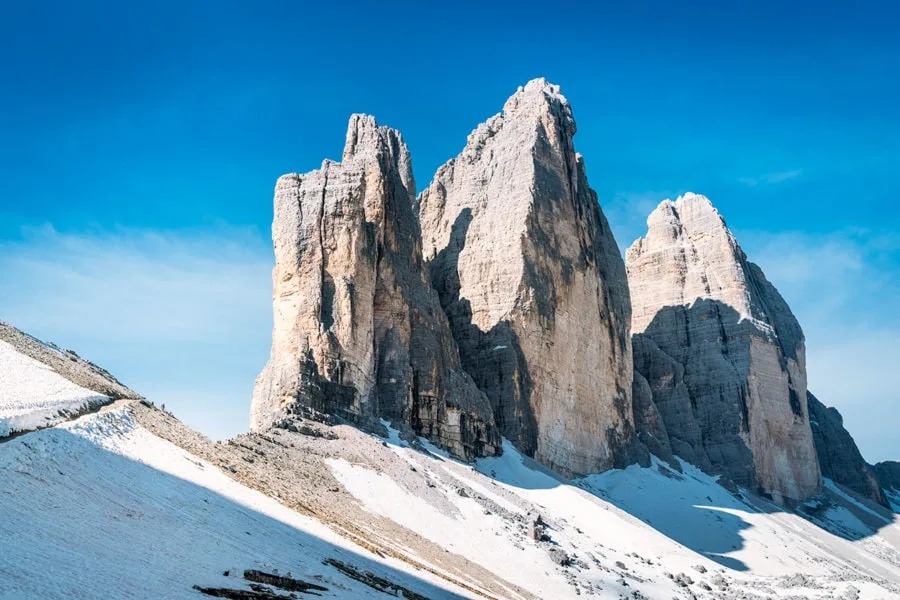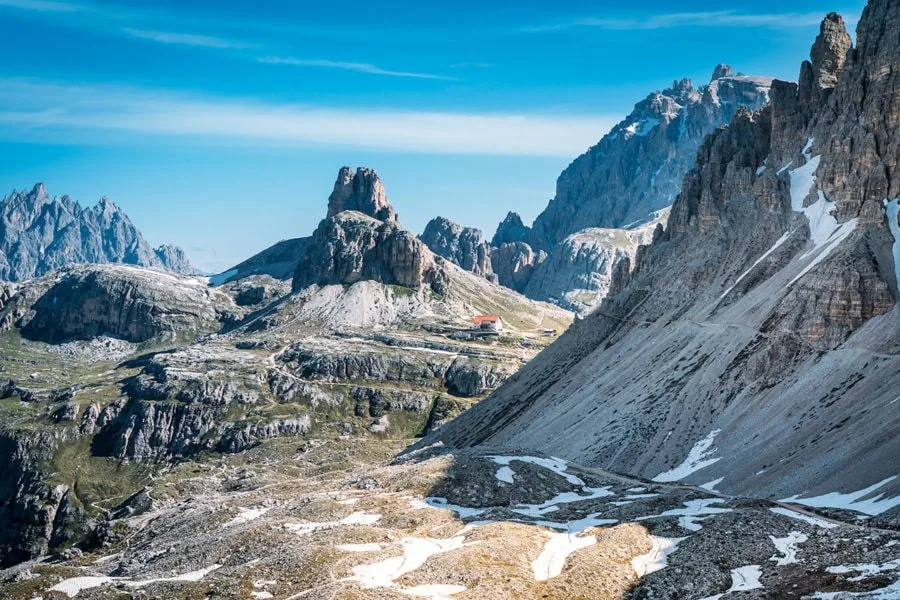 Enjoying The Epic Mountain Views
Far in the distance, I could just make out the red rooftop of Rifugio Locatelli, the next big stop along the hike.
From Forcella Lavaredo, the trail splits in two. A larger, better traveled lower section, and a less-traveled upper section.
Both ultimately lead to the Rifugio, although the upper one is slightly more difficult (with fewer people).
Via Ferrata Innerkofler is another option, which takes climbers up a more adventurous route to the right.
But for that, you need proper Via Ferrata equipment and an extra few hours.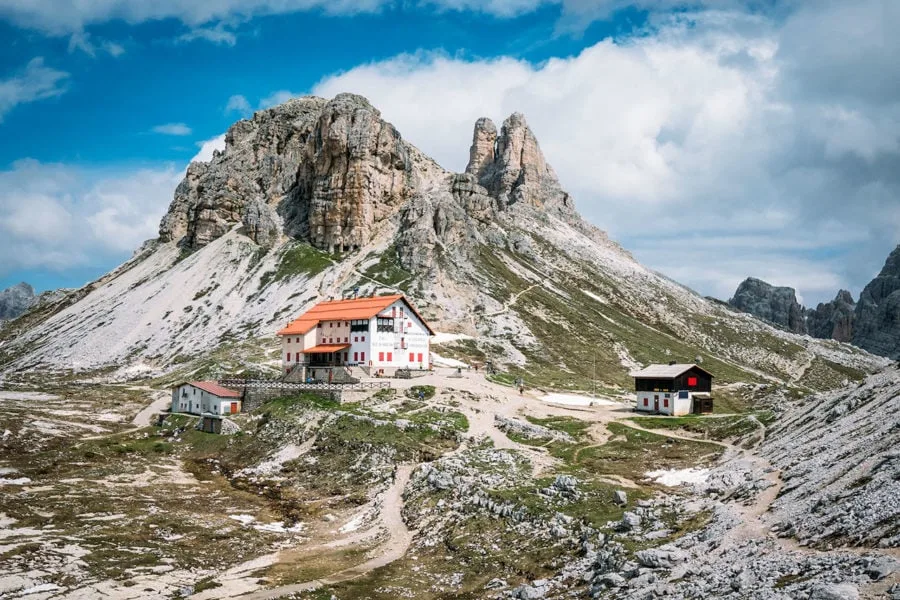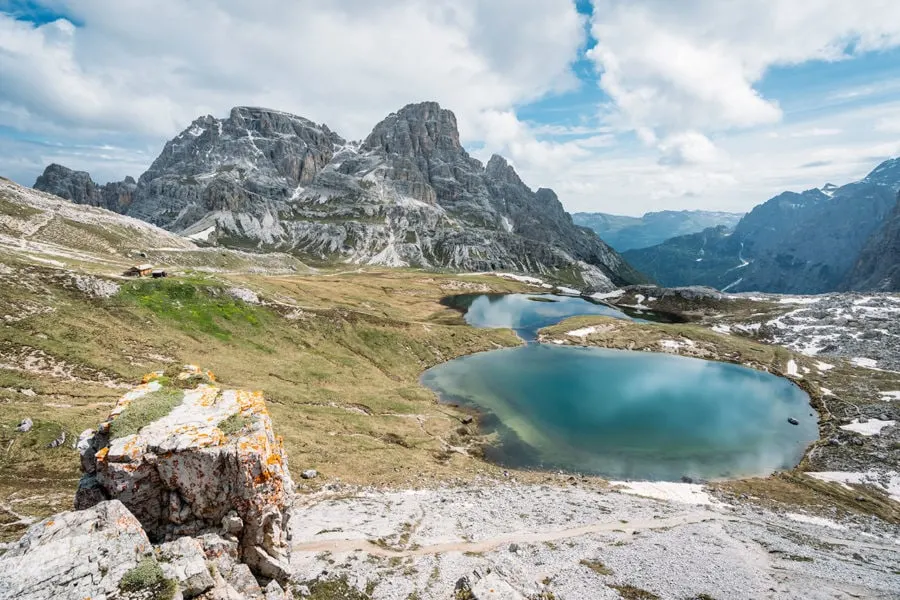 Rifugio Antonio Locatelli
After about 45 minutes we found ourselves at Rifugio Locatelli mountain hut (Dreizinnenhütte), which has an excellent view of the three peaks.
It's a good place to stop for lunch/brunch, and from June – September you can even order a sandwich, soup, and coffee or rent one of the bunks to spend the night.
Coming from the United States, having the option of buying hot food/coffee/beer in the middle of a hike was quite strange! But nice too.
If you have some time to wander, there's a set of pretty blue lakes and some cool WW1 caves just a short walk away from the Rifugio too.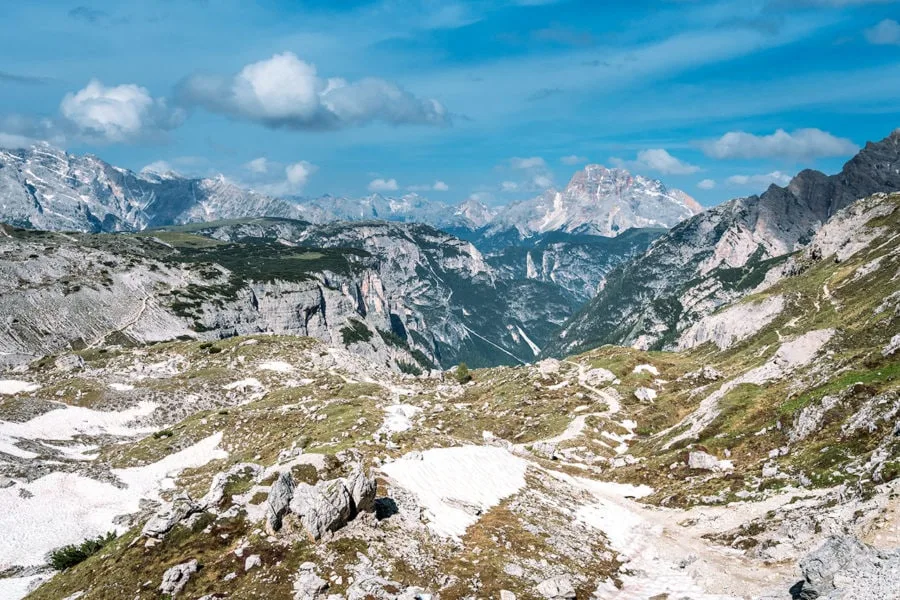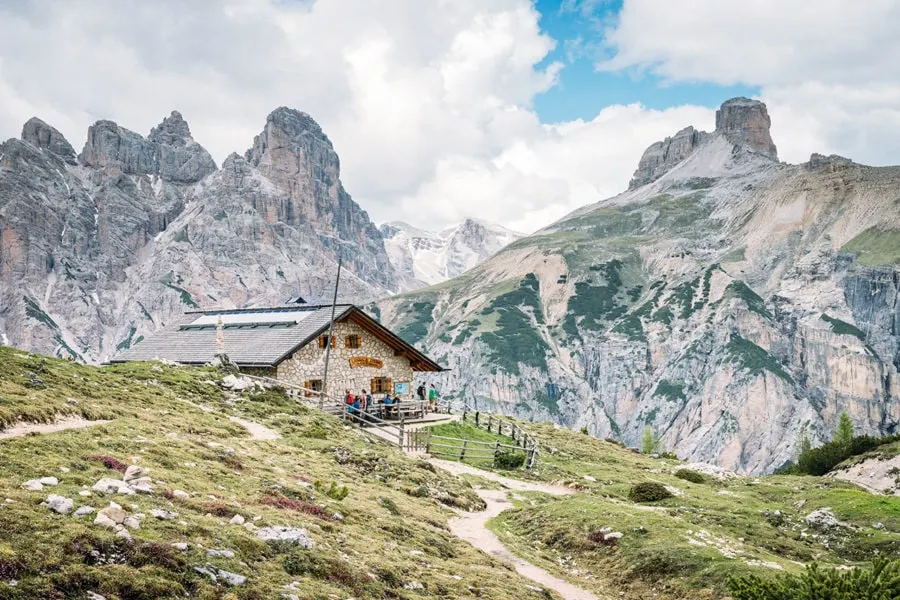 Hiking Down To Malga Lange Hut
The next hour-long leg of the hike takes you zig-zagging down Path 102 into a rocky valley, probably the steepest part of the trip.
If you're lucky, there will be wildflowers blooming from patches of grass.
You'll come to a convergence of trails, where you'll switch to Path 105 and make your way up to another mountain cafe/hut called Malga Lange.
You can't spend the night here, but you can order food!
We stopped for a quick beer and some cake (luxury hiking!) before continuing on to the Forcella Col Di Mezzo ridge, and finally back to Rifugio Auronzo, our starting point.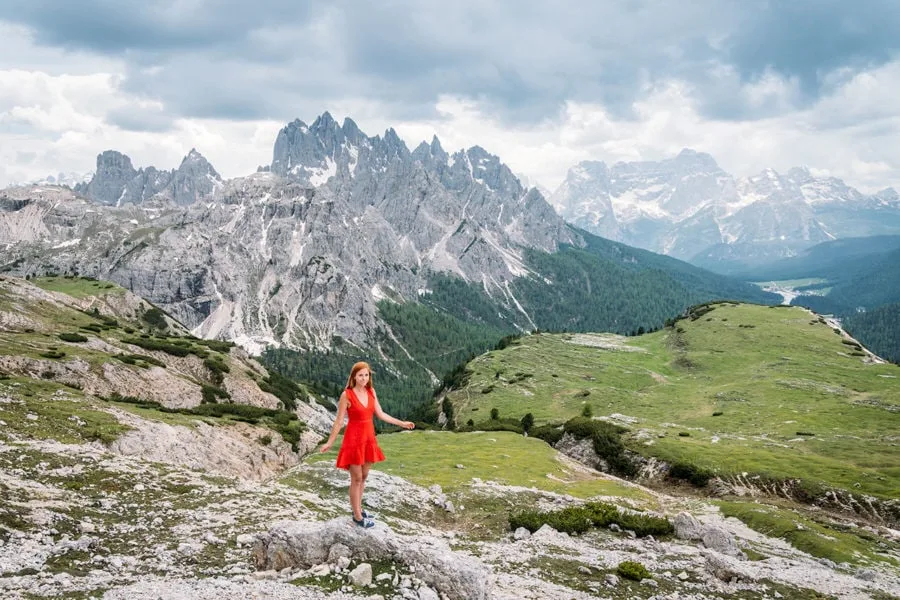 Getting To The Trailhead
Renting A Car In Italy
The best site to book your car is Discover Cars. They search both local and international car rental companies to help you find the best possible price. This is the easiest way to rent a car in Italy.
CORTINA D'AMPEZZO – Tre Cime is 22 km (45 minutes) from Cortina by car.
The Tre Cime di Lavaredo loop hike starts from Rifugio Auronzo [MAP], where there is a parking lot. But to get to the parking lot, you must use an expensive mountain toll road that costs €30 EURO.
The gate to this toll road is open between 8am – 5pm (but you can leave at any time).
To avoid the toll, another option is to park near the gate and walk up, which takes about 90 minutes.
Traveling By Bus
There is a local bus from Cortina (Bus #442) for €8 EURO (round trip). You have to change onto #444, and then #031 also.
Best Time To Hike Tre Cime Loop
The Dolomites hiking season starts in late May and continues into October depending on which mountains you're hiking. Summer has the best weather, but it's also the most crowded.
The rifugios/huts here are only open from mid-June until the end of September.
Anna and I hiked this route in early June, and only one of the huts was open. Plus there was a bit of snow still on the trail. In my opinion, June or September have the best combination of good weather and light crowds.
To avoid lots of people, start your hike as early as possible.
Where To Stay Near Tre Cime
There are no hotels right next to the Tre Cime hike, only mountain huts. Many people traveling through the dolomites base themselves from the town of Cortina d'Ampezzo. It's a great central location from which to explore the area!
---
BEST ACCOMMODATION IN CORTINA D'AMPEZZO
---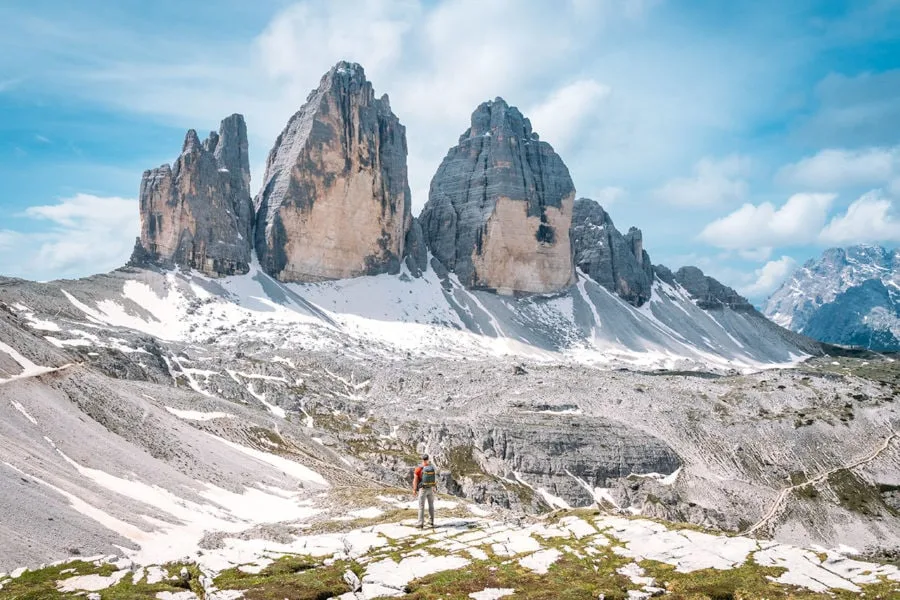 Packing List For Tre Cime
Packing for day hike of Tre Cime isn't that difficult. You just need to make sure you're prepared for the ever-changing weather up there. To see what I pack on longer hikes, check out my free backpacking gear checklist.
Clothing
I recommend packing layers for hikes. You can add or remove them to stay comfortable in all sorts of conditions. I generally wear a pair of rugged hiking pants or a lightweight quick-dry version.
Along with a t-shirt or long-sleeve base layer, I pack a warm & lightweight fleece sweatshirt, and a rainproof/windproof shell jacket. A thin pair of gloves and a buff are good for when temperatures drop.
Footwear
This is not a hike to do in your flip-flops! I usually wear a pair of trail running shoes or backpacking boots on my hiking trips.
Equipment
This is a day-hike, so you don't need a giant backpack. A decent daypack should be fine. Read my tips for choosing a good travel backpack here. Depending on the hike, sometimes I bring hiking poles too. Because my Irish skin burns easily, I always have sunscreen and a hat.
Food/Water
I usually stock up on healthy, high-calorie snacks like Pemmican Bars or homemade trail mix. Sometimes I'll bring a small backpacking stove to make mountain coffee. And of course, my trusty filtered water bottle!
---
Enjoy This Article? Pin It!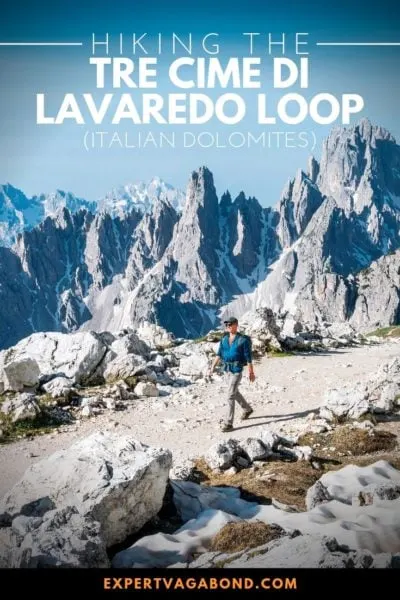 ---
READ MORE ITALY TRAVEL TIPS
I hope you enjoyed my guide about hiking Tre Cime! Hopefully you found it useful. Here are a few more wanderlust-inducing articles that I recommend you read next:
---
Have any questions about hiking the Tre Cime Loop? Planning a trip to Italy? Join the conversation on Facebook, Instagram, or Twitter to share!