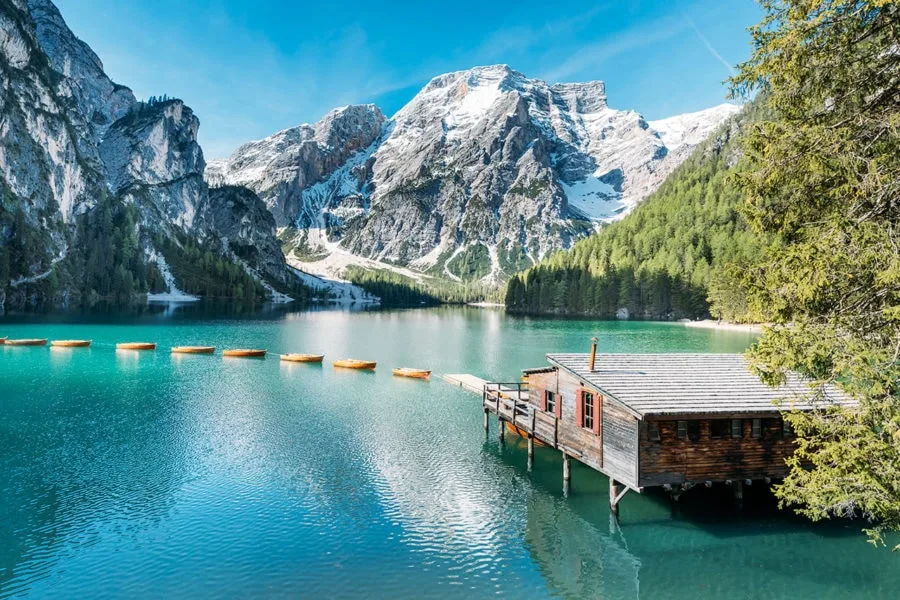 South Tyrol, Italy
Arguably one of Italy's most beautiful lakes, Lago di Braies is a bright blue mountain lake in the heart of the Dolomites. Here are some tips for visiting & having a good time!
No trip to the Dolomites in South Tyrol Italy is complete without a stop at Lago di Braies, (aka Pragser Wildsee in German).
I've seen a lot of mountain lakes during my travels, but this one is pretty spectacular! It has become a popular Instagram photography spot.
You can hike around the lake taking in different views of the mountains above, or rent a row-boat and float on the surface of its deep blue-green water.
I've been to this lake a few times now and wanted to share some tips for visiting Italy's Lago di Braies on your own!
Lago Di Braies Travel Guide
Lake Braies is part of the Fanes-Sennes-Braies nature park, in a side valley next to the Val Pusteria.
At an altitude of 1,496 m (4,908 ft), the 77-acre lake makes for a wonderful half-day trip while traveling through the Prags Dolomites.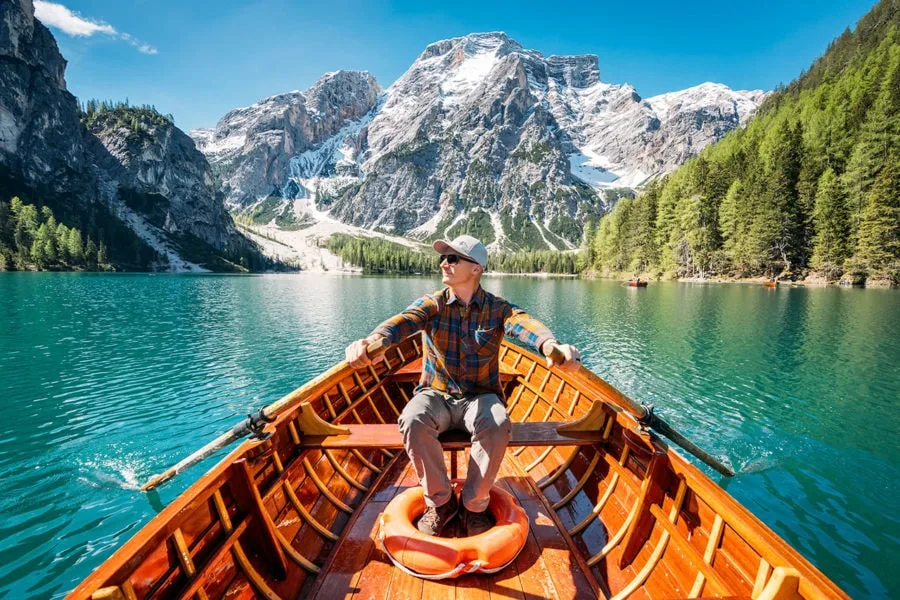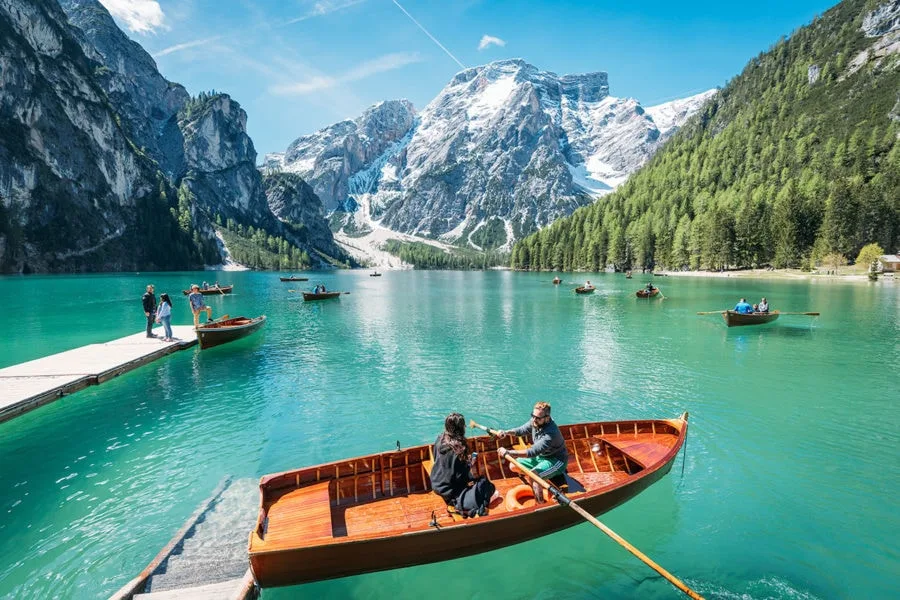 Boat Rentals On The Lake
Probably the most popular activity to do on the lake is rent one of the cool wooden row-boats and cruise around the photogenic emerald-colored waters.
I'd say it's even more fun than riding a gondola in Venice.
Row your boat all the way across to the beach on the opposite side, or just sit in the middle of the lake for an hour drinking in that epic mountain view!
There are many boats available to rent, but in recent years, they often run out after 11am when the big crowds start to arrive — forcing you to wait a bit.
This is why I recommend getting there early if you can, preferably right before the boathouse opens around 9:30am.
Boat Rental Season: June – September
Opening Hours: 9:30am to 5pm
Price: €25 EUR for one hour, €15 EUR every 30 minutes after that.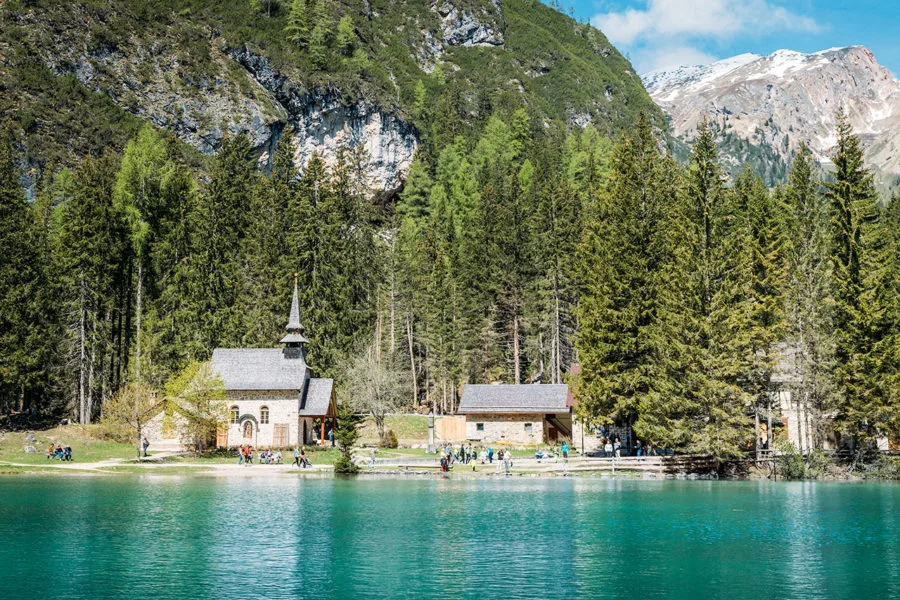 The Lakeside Chapel
On the West side of the lake, there is a small chapel that was built in 1904. The location has a curious bit of history, in that during World War II a German SS commander chose it as a meeting place for a prisoner exchange to ensure his own safety.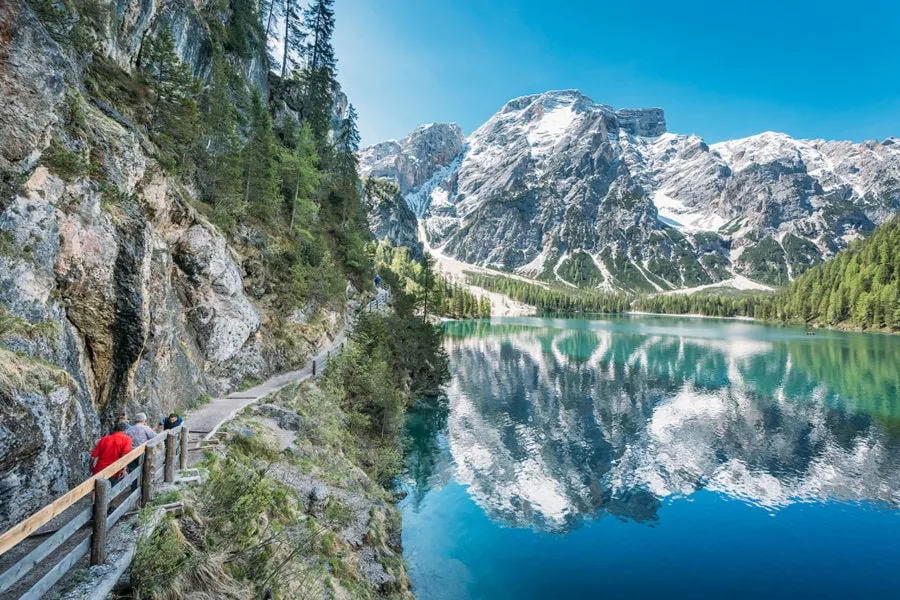 Hiking Around The Lake
There is an easy hiking trail loop that circles the lake. The walk takes about an hour depending on your pace, with a few nice lookout points and even small beaches for sunbathing.
At the South (back) end of the lake, additional hiking trails head up into the mountains (Croda del Becco) for people who are interested in a more challenging trek.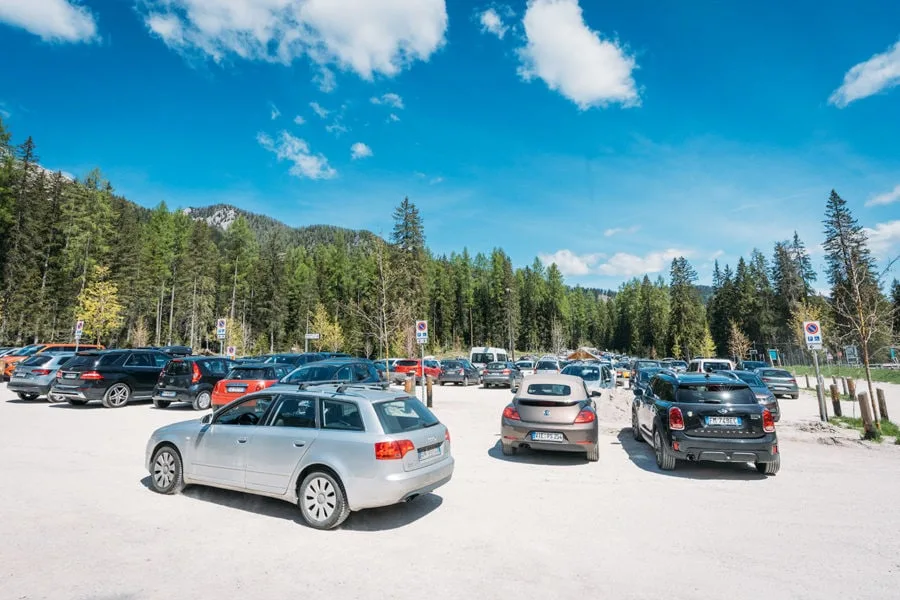 How To Get To Lago Di Braies
The lake is located in the municipality of Braies/Prags in the Dolomites of South Tyrol, Northern Italy. Braies itself is pretty small, the closest city nearby is Bolzano, Italy. ➜ CLICK HERE FOR MAP
Rental Car
The best site to book your car is Discover Cars. They search both local and international car rental companies to help you find the best possible price. This is the easiest way to rent a car in Italy.
MILAN – Lago di Braies is 377 km (5 hours) from Milan by car.
VERONA – The lake is 252 km (3 hours) from Verona by car.
VENICE – The lake is 207 km (3 hours) from Venice by car.
AUSTRIA – The lake is 29 km (30 minutes) from the Austrian border by car.
Parking at the lake is free for the first hour, then after that, it's €8 EURO per day.
➜ Tips For Renting A Car In Europe
By Train
Many people reach the Italian Dolomites by taking a train from Milan to Bolzano, which takes about 3 hours. Once you're in Bolzano, you can either rent a car, or jump on another train to Niederdorf (Villabassa). From there you can take a bus.
By Bus
There is a local bus (Bus #442) from the Niederdorf (Villabassa) train station that stops off at Lago di Braies between June 20th and September 20th.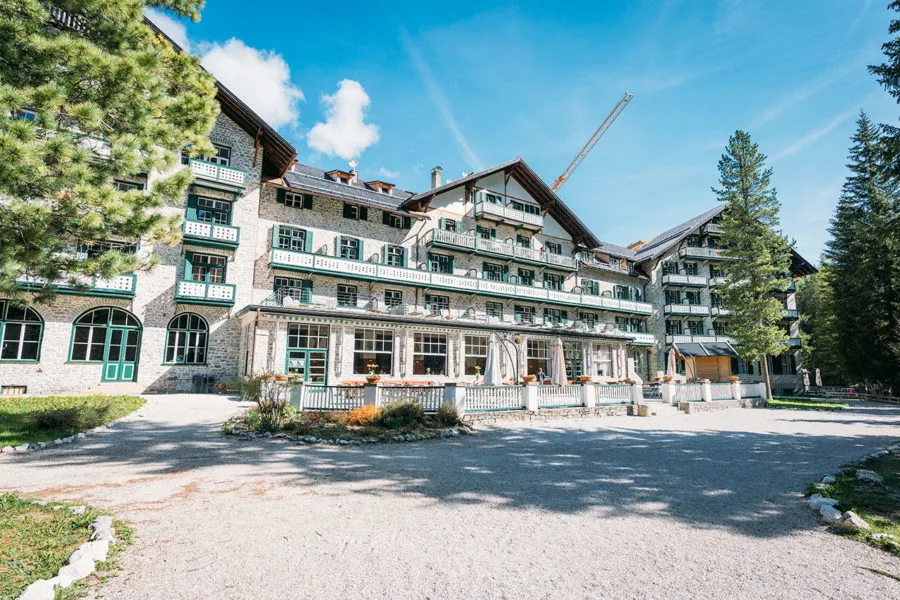 Where To Stay Near Lake Braies
Lago di Braies actually has its own hotel right on the lake called Hotel Lago di Braies (minimum 3-night stay). However there are other options nearby too, so here are some additional hotel recommendations:
---
BEST ACCOMMODATION FOR LAGO DI BRAIES
---
Camping Near The Lake
There are two camping/RV areas near the lake: Camping Olympia and Camping Al Plan. It is not possible to camp on the grounds of the lake itself.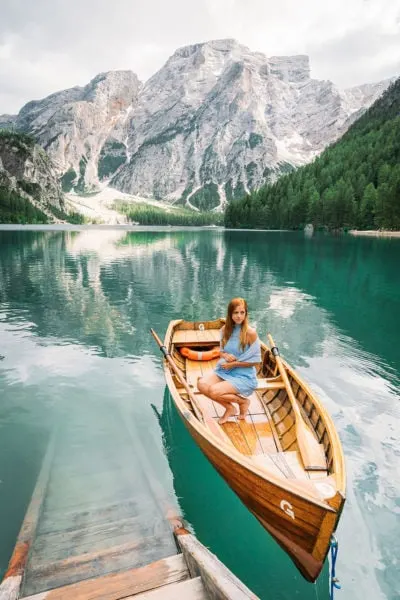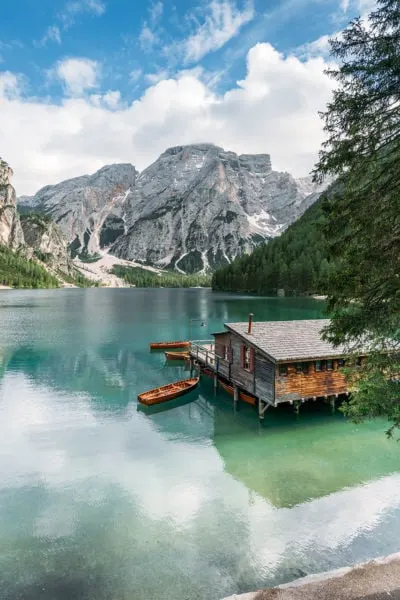 Tips For Visiting Lago di Braies
You can buy lunch or snacks at the hotel next door, plus there is a little restaurant/bar at the entrance to the lake too.
The best time for landscape photography at Lago di Braies is early morning. In the summer, the morning sun lights up the water around 8:30am.
Due to the lake's popularity, large crowds begin showing up around 10am.
Drone flying is not allowed at the lake. The area is private property, and there are "no drone" signs posted.
---
Enjoy This Article? Pin It!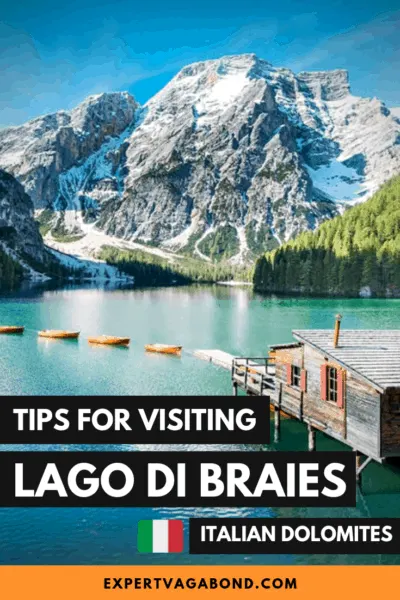 ---
READ MORE ITALY TRAVEL TIPS
I hope you enjoyed my guide to Lago di Braies! Hopefully you found it useful. Here are a few more wanderlust-inducing articles that I recommend you read next:
---
Have any questions about traveling to Lago di Braies? Planning a trip to Italy? Join the conversation on Facebook, Instagram, or Twitter to share!