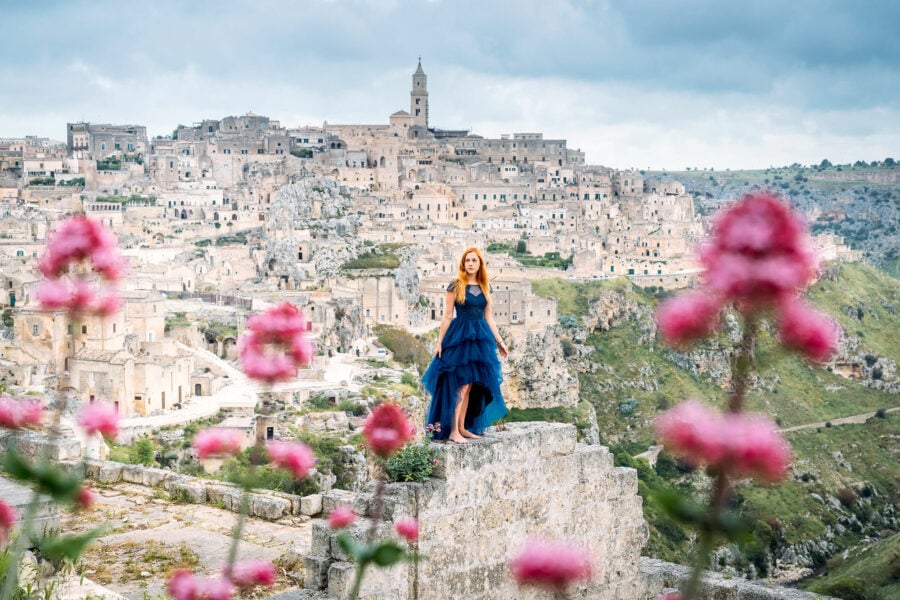 Matera, Italy
Matera is one of the coolest places we visited in Italy. An ancient town made of caves, carved into the side of a ravine! Here are some tips for cool things to do in Matera.
The town of Matera, Italy has a long and fascinating history. And I mean loooong.
It is one of the oldest continually inhabited settlements in the world, estimated to be settled in the 10th millennium BC (that's about 10,000 years ago!). And sporadically settled for another 400,000 years before that…
So you'd think that because Matera is considered the 3rd oldest city in the world, it would be much more popular than it is.

But for a long time the poor people of Matera were forgotten and left to fend for themselves. The great "Shame Of Italy" it was called.
Once a painful reminder that Italy was considered a third-world country, with its residents living in squalor underground and sleeping next to livestock.
However Matera has seen a drastic turnaround and has been transformed into a unique tourist destination, along with being featured in the latest James Bond film "No Time To Die".
After spending 3-days exploring this very cool town, I wanted to share some of the best things to do in Matera Italy if you're planning a visit.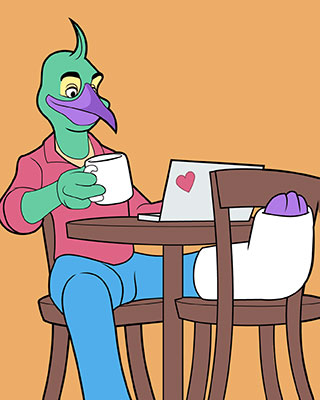 Get Travel Insurance
Protect yourself from injury, illness, or theft while on vacation. SafetyWing offers affordable travel insurance!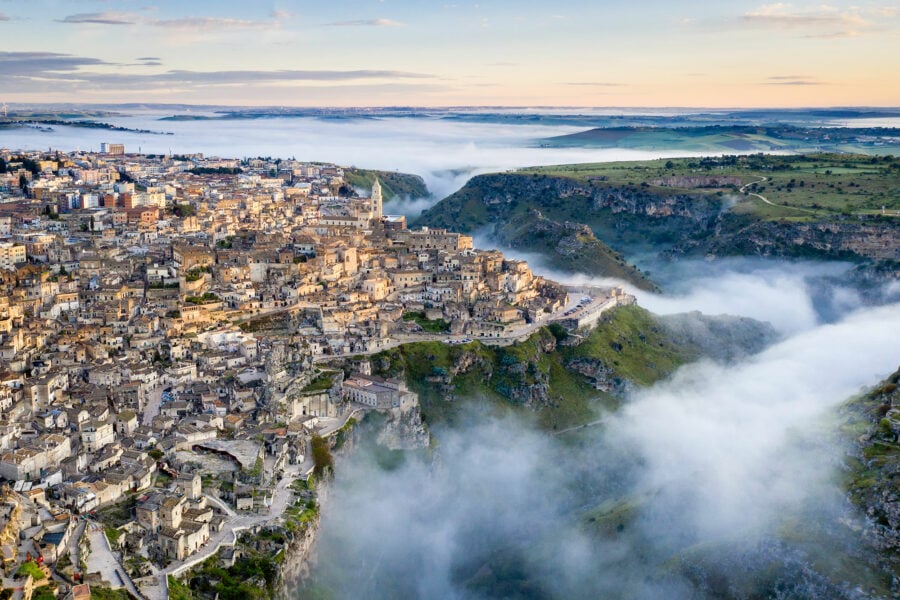 Best Things To Do In Matera, Italy
1. Get Lost Exploring Sassi Di Matera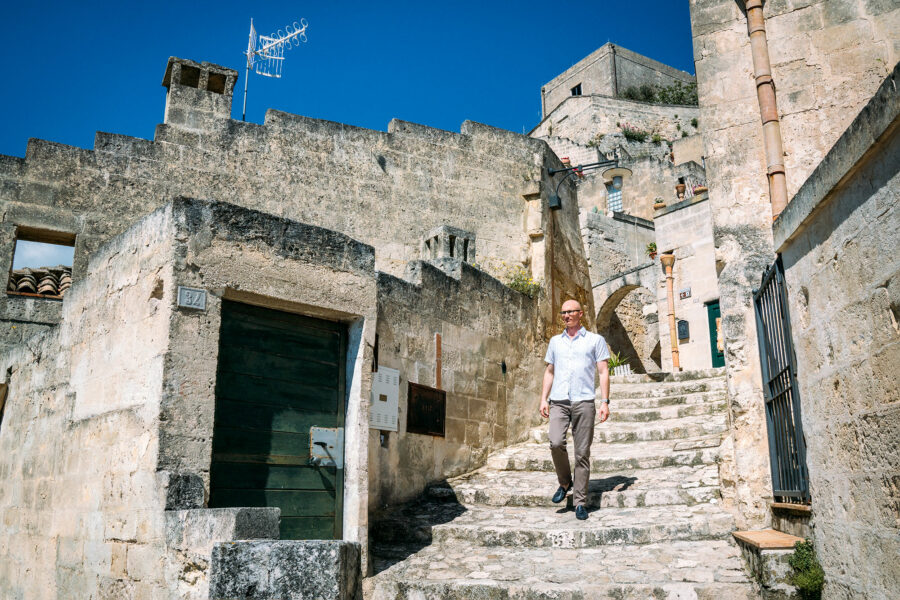 There are a few different versions of Matera you'll encounter on your trip. The modern town, and two ancient neighborhoods known locally as sassi. The spectacular part of Matera are these sassi areas (a UNESCO World Heritage Site) — Sassi Barisano and Sassi Caveoso.
Matera's sassi are grottoes carved out of limestone with homes built out in front of them. Buildings stacked on top of each other facing in all directions. Each neighborhood is a labyrinth of narrow alleys, staircases, and courtyards. It's very easy to get lost! But that's half the fun.
Sassi Barisano is the more developed of the two ancient neighborhoods, full of traditional restaurants, cave hotels, and art galleries. Sassi Caveoso on the other hand, has plenty of abandoned caves that give you a glimpse of what life really looked like here not that long ago.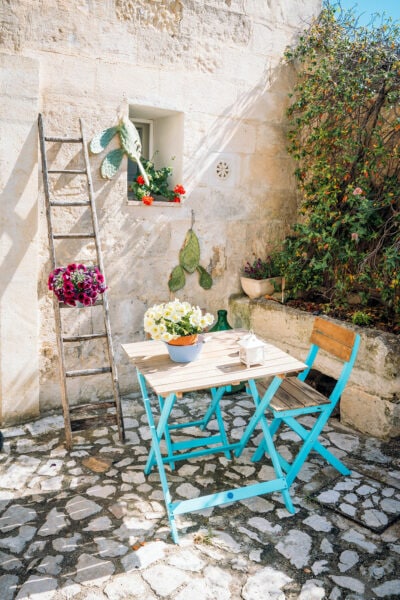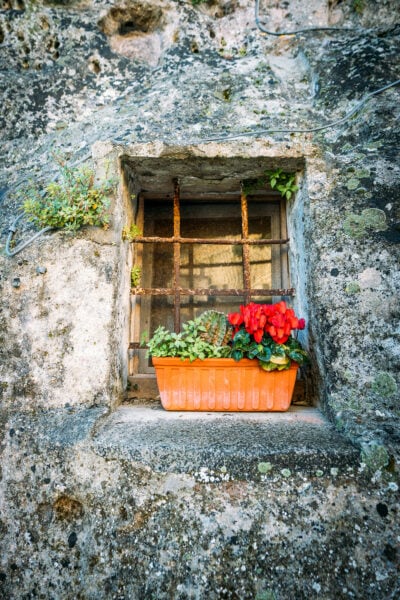 2. Visit The Rock Church & Crypt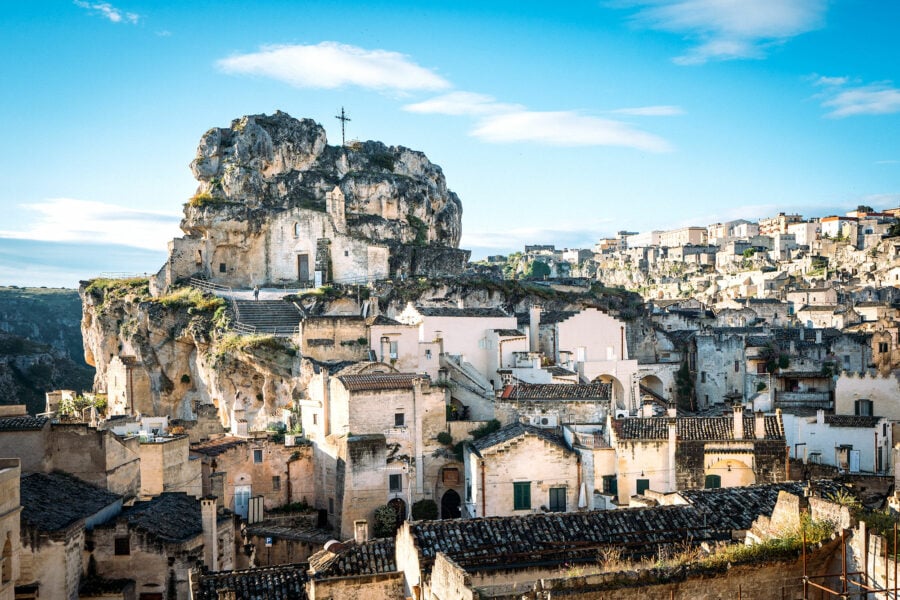 The Church of Saint Mary of Idris is one of the most unique attractions in Matera. Composed of two parts, one excavated from the rock itself, and one built, this church houses some colorful preserved frescoes painted between the 12th to 17th centuries.
San Giovanni in Monterrone is a crypt that's attached to the church via a narrow tunnel. The entry fee for both the church & crypt complex is €5 EURO, and unfortunately no photos are allowed of the ancient frescoes within (a similar rule to that of Rome's Capuchin Bone Crypt).
3. Church of Saint Peter 'Caveoso'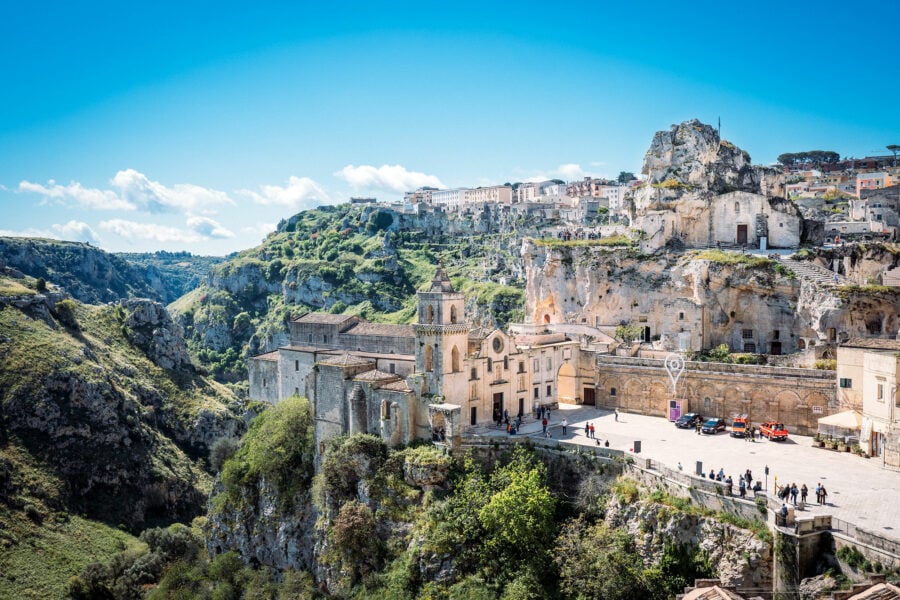 Church of Saints Peter and Paul, also known as "Caveoso", is a church in Matera located in the Sasso Caveoso neighborhood. It was built back in the 13th century, but had been updated since then.
It sits on the edge of the ravine, giving it a pretty dramatic appearance. You can visit the church during normal daily liturgical celebrations.
Inside, there are 4 side chapels on the left side. There used to be 8, but some were demolished to make room for the construction of an oratory.
4. The Casa Noha Exhibit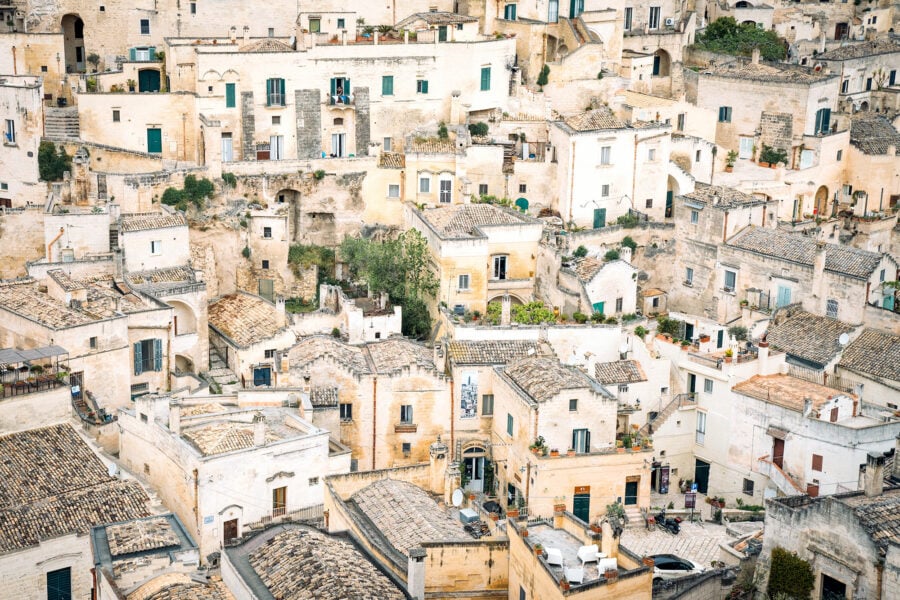 Casa Noha is a small museum and multimedia exhibit that gives you a glimpse of the slightly shocking history of Matera. The reason it was called the "Shame of Italy". It's a 30-minute experience split across three rooms and four different videos telling the story of Matera from the neolithic period to present day.

Located within an authentic cave house in the heart of the Sassi Barioso, the videos describe the heartbreaking poverty residents had to endure here — like families of 8 people forced to live in a 16-square foot cave with no running water, electricity, or proper sewage disposal. Or sleeping next to their livestock.
It's an excellent introduction to Matera, and gives you more context for the rest of your visit as you wander through the town.
5. Belvedere di Mugia Timone Viewpoint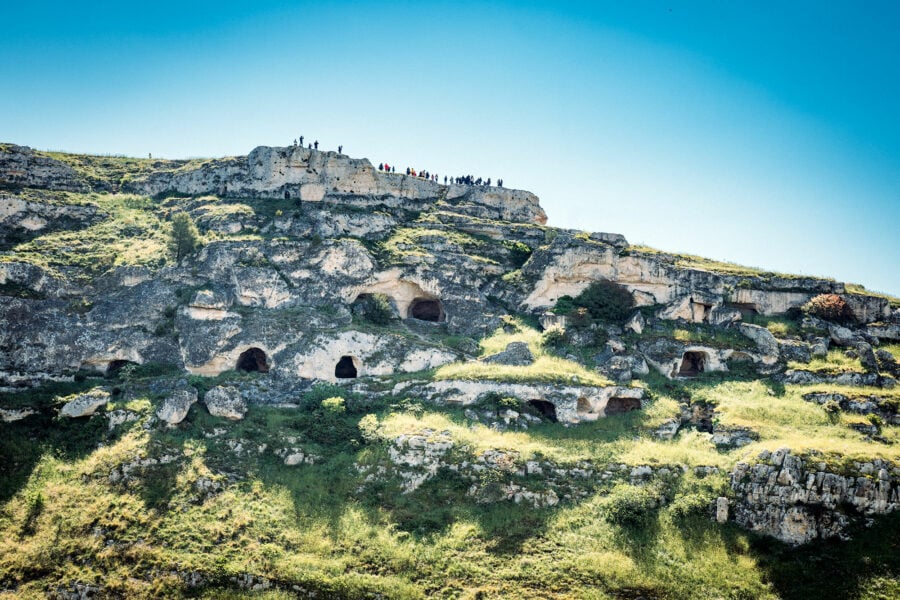 If you look carefully across the ravine from Matera, you'll notice a series of caves built into the side of a green hill. These caves are the original homes of the first Paleolithic settlers here, carved out over 10,000 years ago.
It's possible to hike down some steps to a bridge over the ravine from Parcheggio via Madonna delle Virtu', cross, and hike a trail back up this hill to see the caves and the incredible viewpoint above called Belvedere di Mugia Timone.

If you want an easier way to visit this viewpoint, you can also visit by car, but it will require you to leave Matera and arrive on the opposite side of the ravine via the Taranto-Laterza Road SS7.

Both sunrise and sunset are beautiful times to be up here for photos.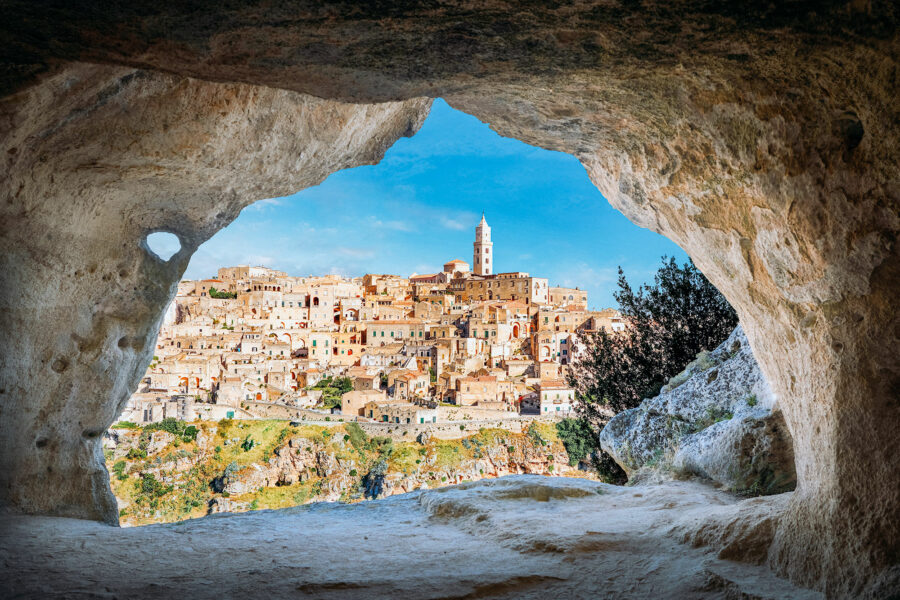 6. Spend The Night In A Cave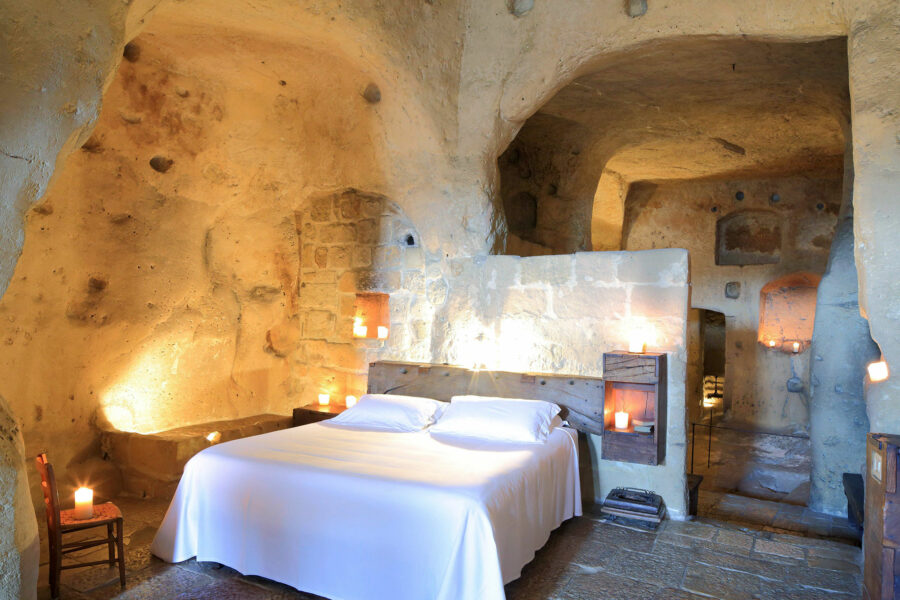 As part of its transformation, many of the cave homes in Matera have been turned into beautiful hotels and Airbnbs for tourists. We stayed in one, it was very cool! Literately cool, because you're sleeping in a cave — LOL!
You'll find a bunch of accommodation options at the end of this post if you'd like to stay in a cave hotel during your own visit (I highly recommend it). Staying in a boutique cave hotel is an experience everyone should have at least once, and there really aren't that many destinations like Matera where you can do it.
7. Matera's Apulian-Romanesque Cathedral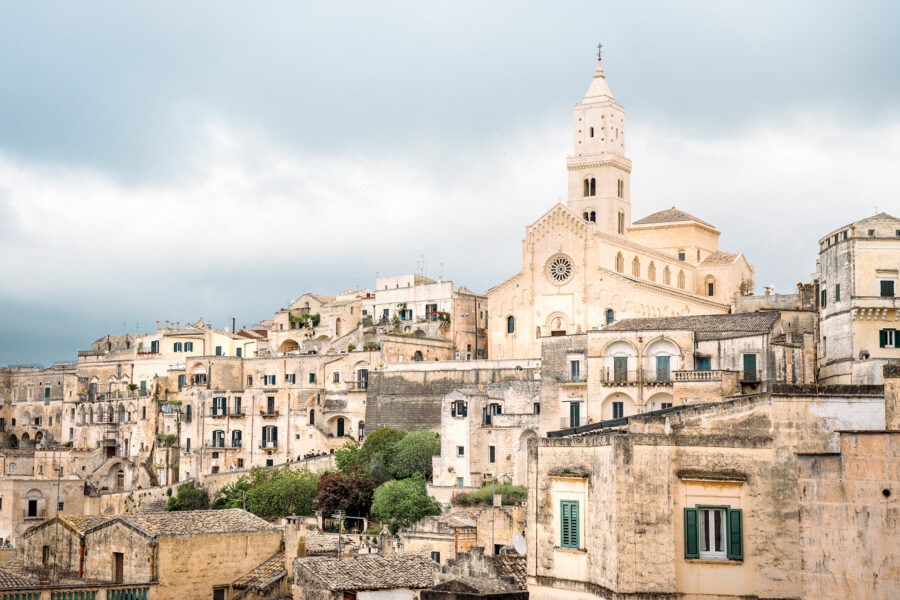 Probably the most prominent building in Matera's sassi, the 13th-century Cathedral of the Madonna della Bruna and Sant'Eustachio has excellent views of the area. It was built on a ridge that forms the highest point of the city of Matera and divides the two sassi neighborhoods.
The front of the church is dominated by a rose window with sixteen rays, surmounted by the Archangel Michael. The interior of the cathedral is full of amazing stained glass, sculpture, intricate alters, golden ceilings, and colorful frescoes.
Coming from someone who doesn't get very excited about churches, I think it's definitely worth a look inside this one.
8. Visit Musma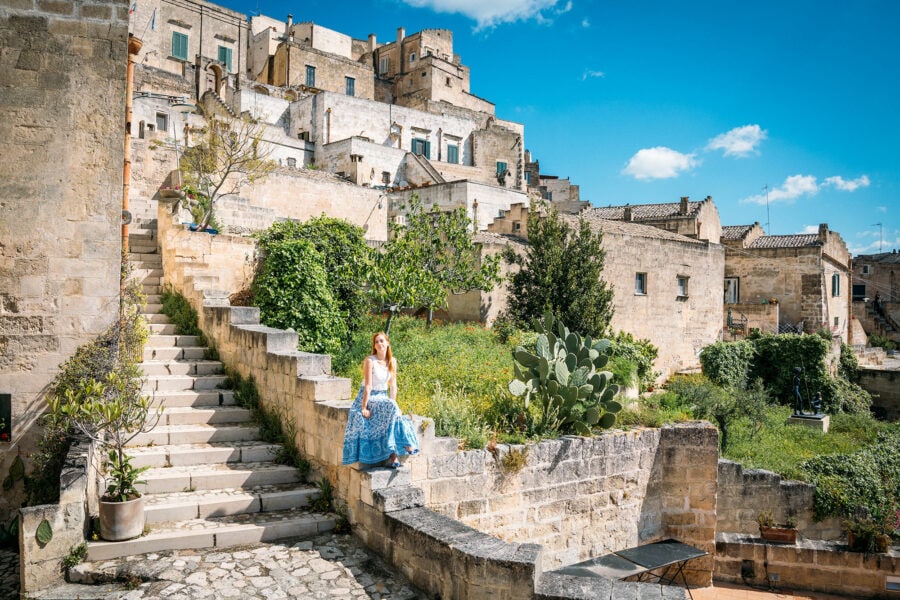 MUSMA is Matera's Museum of Contemporary Sculpture, partially located in the impressive Palazzo Pomarici building (known locally as the hundred-room palace). It showcases contemporary art from within the grottoes of the Sassi.
Sculpture presented in underground vaults and small niches carved in the calcareous walls, displayed on blocks of volcanic tuff rock.
9. Eat Some Local Materan Bread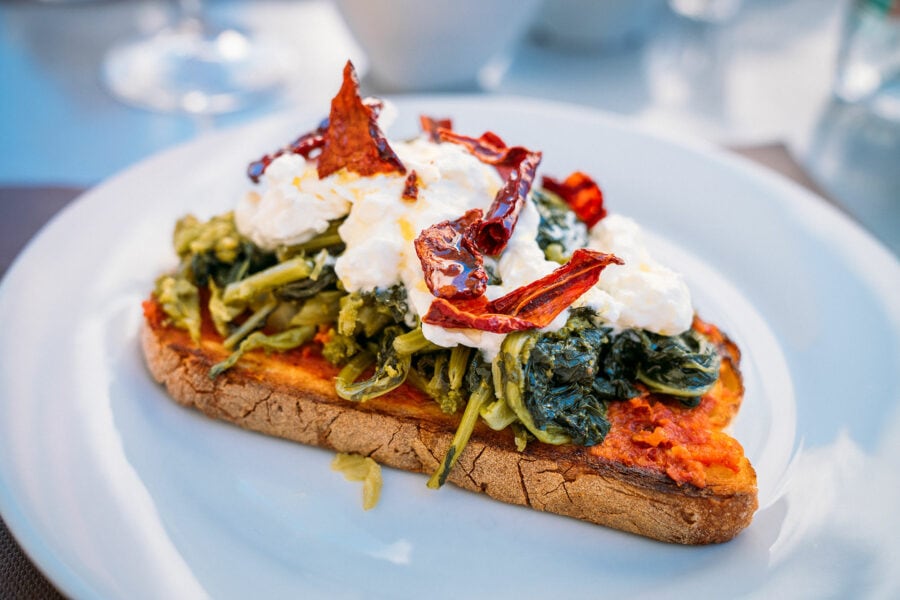 While much of Italy is known for its delicious pizza and fresh pasta, Matera has a slightly different traditional cuisine — bread! Pane di Matera is a sourdough bread made from semolina dough, natural yeast, salt, and water.

Throughout Matera you'll find restaurants that serve their special local bread in all kinds of ways. The unusually-shaped (much like a stone) loaf can be served with cheese, as bruschettas, or in local dishes like Cialledda Materana ( featuring onions, tomatoes, and soaked Matera bread flavored with oregano and olive oil).
10. Check Out Casa Cava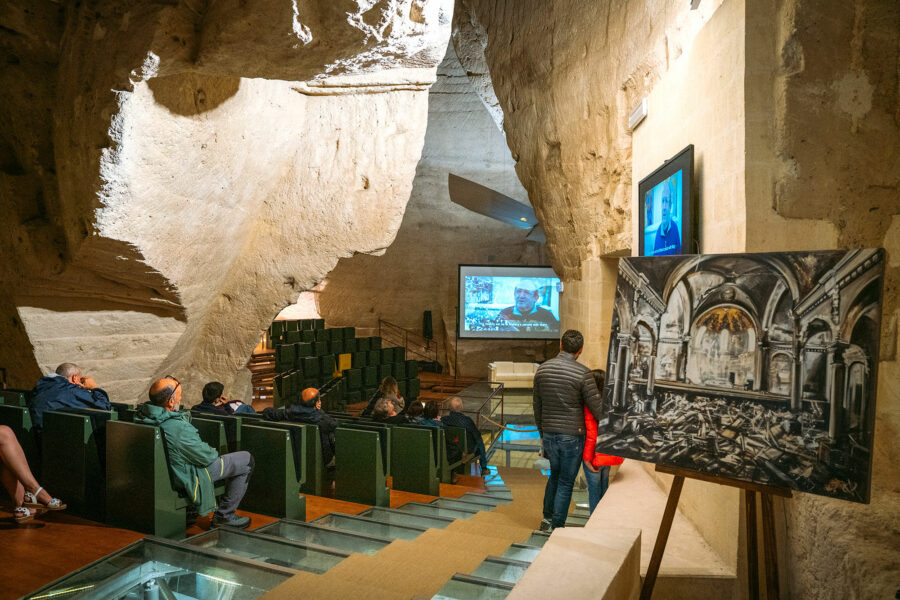 Casa Cava is a unique underground cultural center and auditorium located in the heart of Matera's Sassi. It was originally a quarry for excavating "tuff" — a light, porous rock formed by volcanic ash. Tuff is the material used to build Matera's homes.
Now it's an auditorium that can accommodate 150 people. It's used for concerts, performances, multimedia displays, art, and more. There was video presentation when we visited (in Italian with English subtitles) which explains the history of Matera and is very interesting.

There is a small €3 EURO entry fee.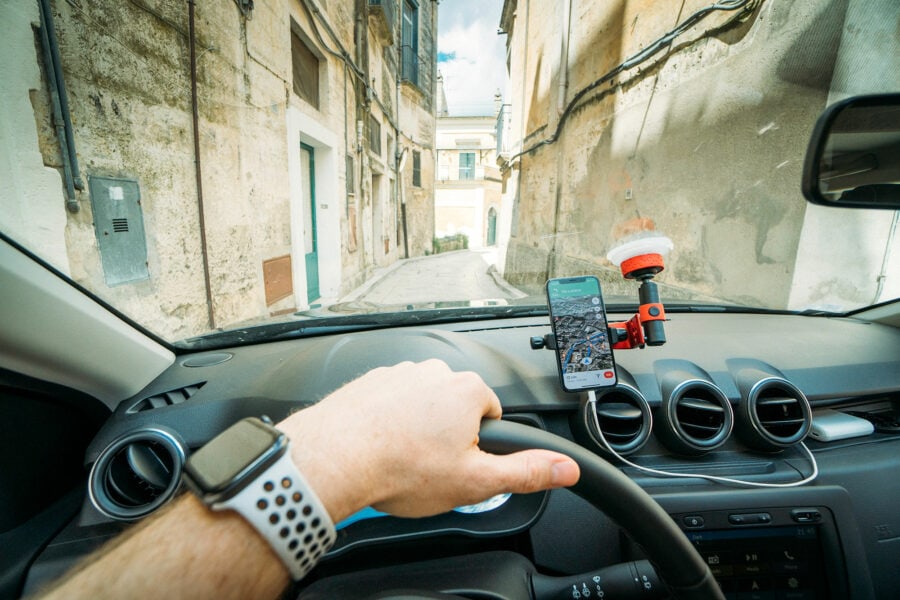 Getting To Matera
Most people get to Matera through the city of Bari, where there's a major train station and airport. Search for the cheapest flights to Bari on Skyscanner.com. From Bari, you can rent a car like we did, or take a slow commuter train to Matera.
Rental Car
The best site to book your car is with Discover Cars. They search both local and international car rental companies to help you find the best possible price. This is the easiest way to rent a car and drive in Italy.
Renting a car in Europe offers the best flexibility to explore more remote and less touristy spots in each country. It's my favorite way to get around when I travel!
By Train
You can take a train to Bari from other major cities in Italy. From Bari, there's a private commuter train the leaves from the Bari FAL train station that takes about 1.5 hours to reach Matera. Tickets cost about €5 EURO each way.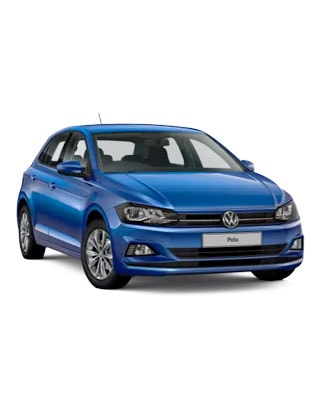 Rent A Car In Italy
Search both local and international car rental companies to help you find a good deal.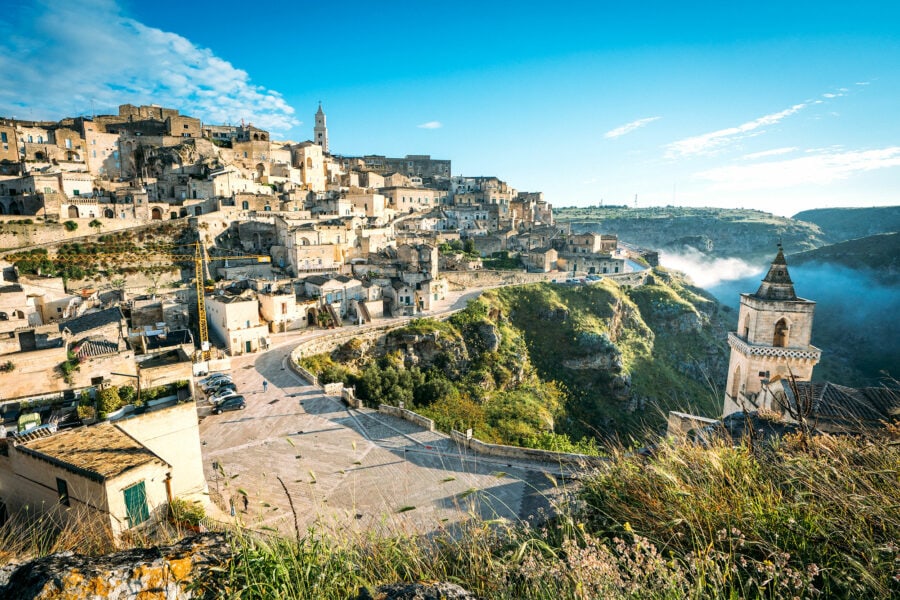 Where To Stay In Matera
Accommodation in Matera can range from budget to luxurious. There are two sections of the city, the "new" town, and the "old" town (called Matera Sassi). The Sassi neighborhoods are where all the cool cave hotels are located.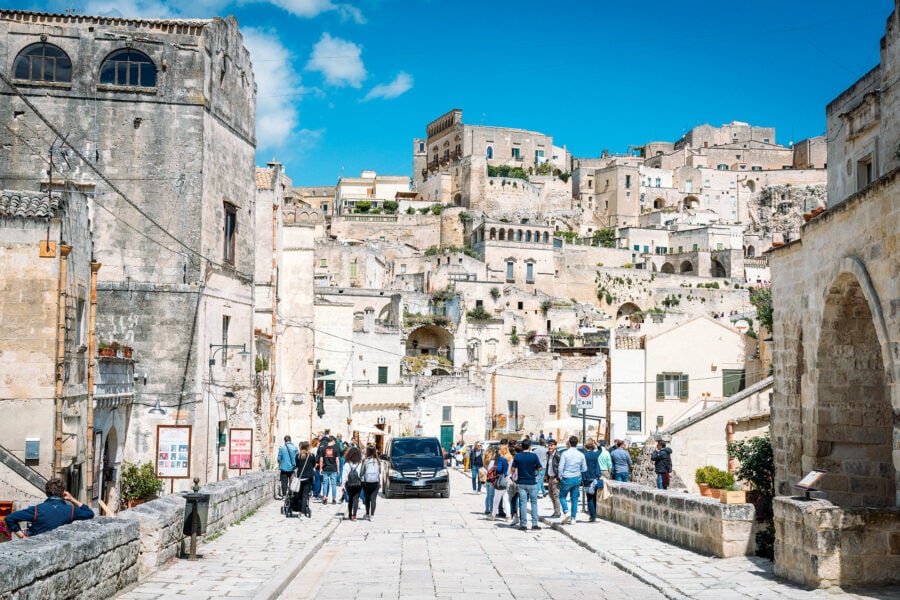 Matera Travel Tips & Advice
While I recommend renting a car to actually get to Matera and explore the surrounding region of Puglia, actually driving around Matera itself is not easy due to limited parking and very narrow streets. The best way to explore is on foot!
Matera can get busy as busloads of tourists stop by on a day-trip, but they usually don't show up until mid-day. If you want to avoid them, get up early to have the town to yourself.
If you don't have the energy to hike down the ravine and up the other side, you can hire a taxi or drive your rental car to visit the excellent viewpoint on the opposite side.
There's a lot of interesting things to see and do in Matera, but you can cover most of the highlights in 2-3 days.
---
Enjoy This Article? Pin It!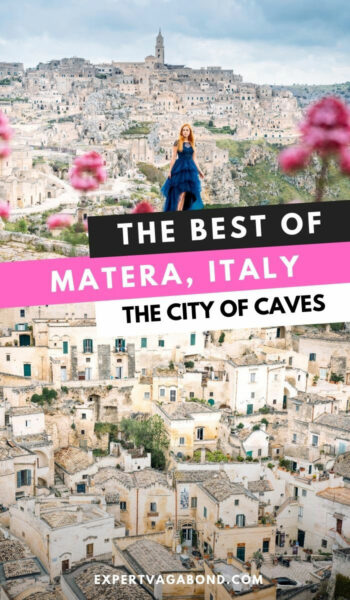 ---
READ MORE ITALY TRAVEL TIPS
I hope you enjoyed my guide to visiting Matera Italy! Hopefully you found it useful. Here are a few more wanderlust-inducing articles that I recommend you read next:
---
Any questions about things to do in Matera, Italy? Do you have other suggestions? Join the conversation on Facebook, Instagram, or Twitter to share!