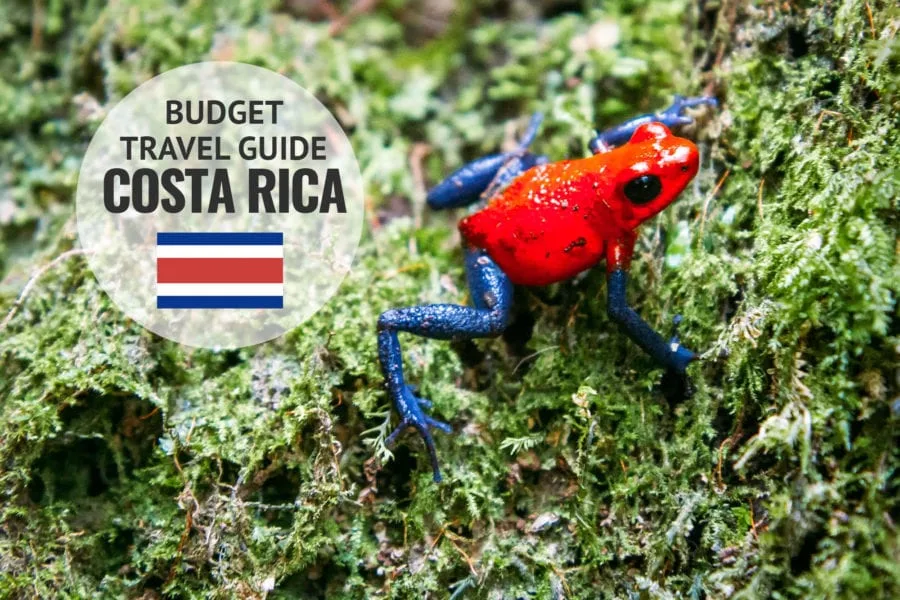 Costa Rica Travel guide
Is it possible to travel Costa Rica on a budget? Learn how to plan your visit with my Costa Rica travel guide — featuring travel tips, costs, things to do, where to stay, and more.
Named "The Rich Coast" (Spanish: Costa Rica) by Spanish conquistadors, Costa Rica is one of the planet's most biologically diverse places.
From stunning beaches and incredible rain-forests to the charm of small towns nestled between volcanoes, Costa Rica is a nature lover's paradise.
In this article I'll share my favorite Costa Rican surf beaches, wildlife opportunities, the best waterfalls to explore, and of course, give you tips on what kind food you need to try!
My Costa Rica travel guide is completely free! I've worked hard putting it together for you. If you find it useful, please use my affiliate links when you book hotels, rental cars or activities. I'll get paid a small commission, at no extra cost to you!
Costa Rica Travel Restrictions 2022
Costa Rica is open to most travelers again, including American tourists. However you do need proof of your COVID-19 vaccination(s) or a negative test result before being allowed entry.
Many hotels, attractions, and private tours are open with new health & safety protocols in place, and you still have to follow certain guidelines.
You can find the latest updates on traveling to Costa Rica here.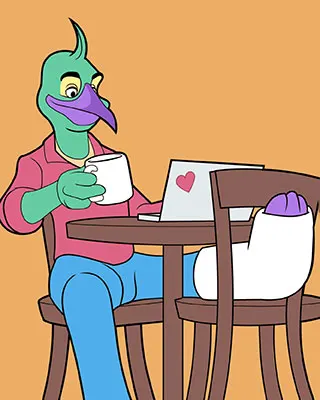 Get Travel Insurance
Protect yourself from injury, illness, or theft. SafetyWing offers affordable travel insurance that covers COVID-19 too!
Costa Rica Budget Travel Guide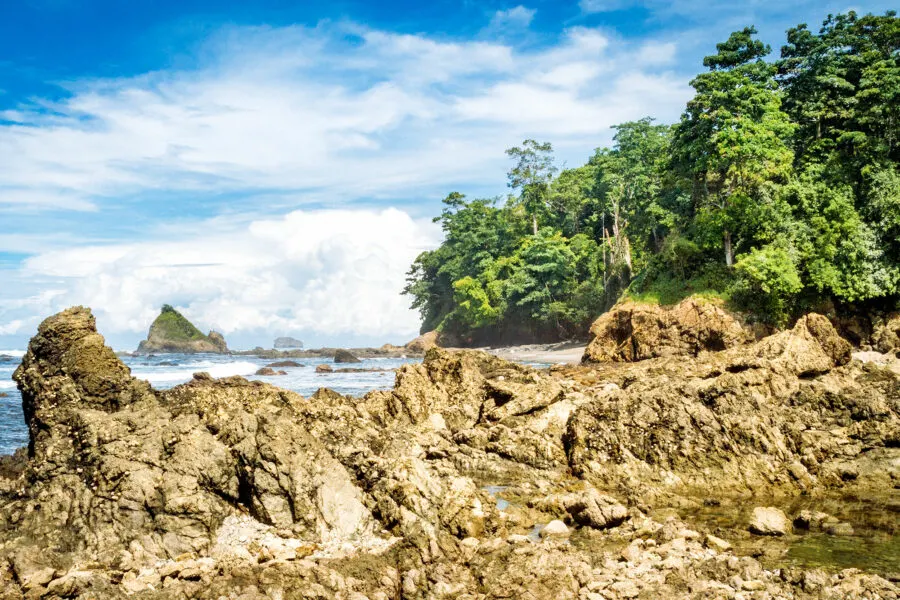 Everywhere I traveled in Central America, I kept hearing the same thing. "Skip Costa Rica" they said. "It's expensive and touristy". But one lesson I've learned in my travels is to never believe everything you hear from others.
Costa Rica surprised me in a good way. Sure, there were plenty of expensive tourist-friendly types of activities that other backpackers warned me about. For example: I've never seen so many advertisements for zip-lining!
But I soon found out there are a variety of ways to experience the best of the country even on a backpacker's budget.
You just need to dig below the surface a bit.
Planning A Trip To Costa Rica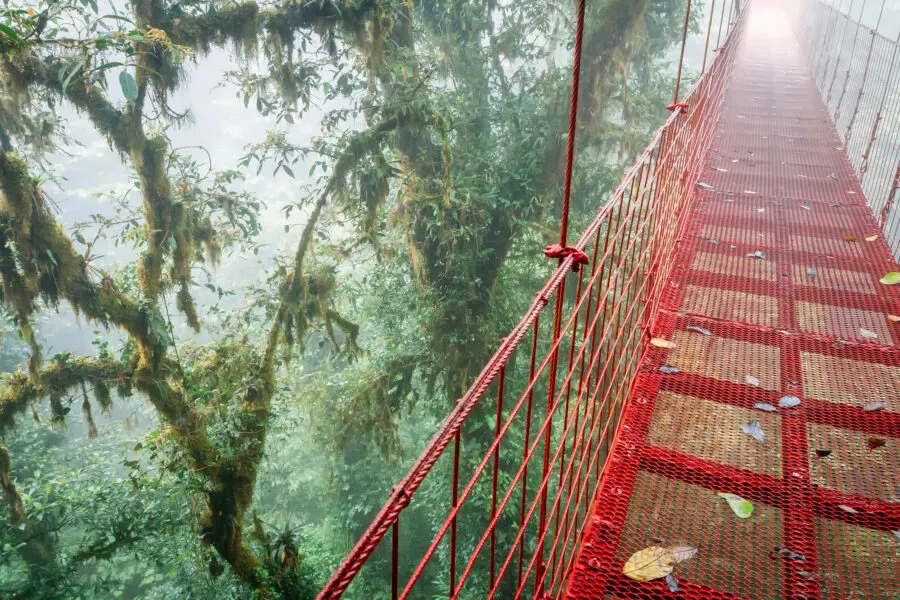 While knowledge of Spanish will obviously be a huge benefit, it's not absolutely needed to travel in Costa Rica. I was initially a bit worried about my lack of Spanish when I visited for the first time, and surely it was frustrating to communicate, but it wasn't impossible.
I carried a small Spanish phrasebook that covered the basics which worked fine. These days my basic grasp of Spanish is all I need to get around and make myself understood for simple situations.
For the most part, the people I've met here in Costa Rica were all incredibly friendly, hard-working, patient and generous individuals.
Complete strangers frequently offered to help me with directions, interpret bus announcements, or take me out for drinks and show me around.
Example Costa Rica Travel Budget
TOTAL DAYS =
34
TOTAL SPENT =
$1,100 USD
DAILY AVERAGE =
$32 USD
Please use these numbers as general guidelines only. Remember, everyone travels differently. Your personal travel budget in Costa Rica may vary.
Costa Rica may be more expensive than some other Central American countries, but you can certainly experience the country on a backpacker's budget if you take the time to investigate low-cost sleeping options like camping, hostels and small locally-owned guest houses.
Budget travelers can survive on around $30 – $50 USD per day.
Costa Rica's unit of currency is the Colon (520 – 550 colones / $1 USD).
While US dollars are widely accepted, changing your currency to colones is recommended to avoid overpaying for things in dollars.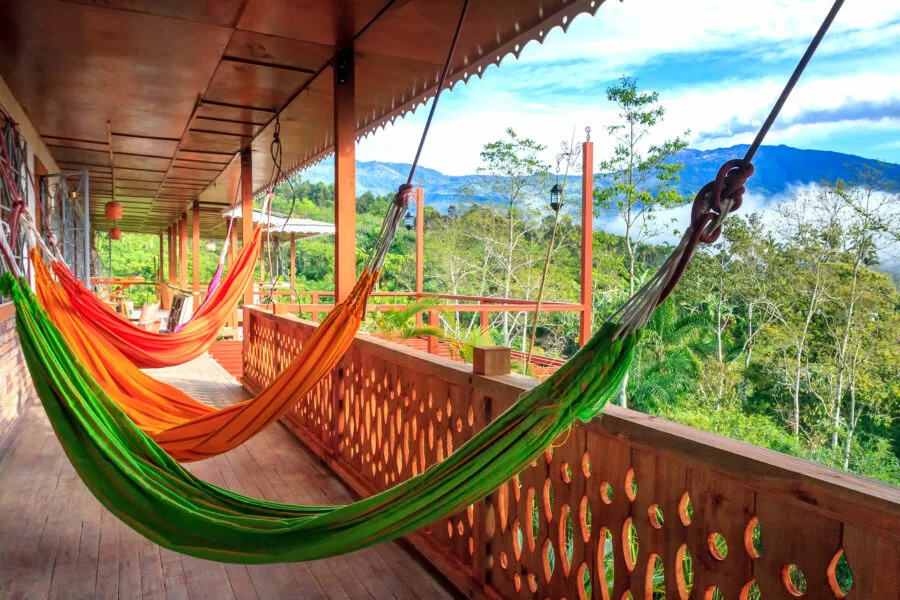 Where To Stay Costa Rica
Costa Rica offers a wide range of accommodation, so everyone can find a perfect place to stay. Prices of accommodation vary depending of the region (prices are highest in well-established tourist towns such as San Jose, Manuel Antonio, Arenal and Tamarindo) or time of the year.
Here are some examples to help you plan according to your budget.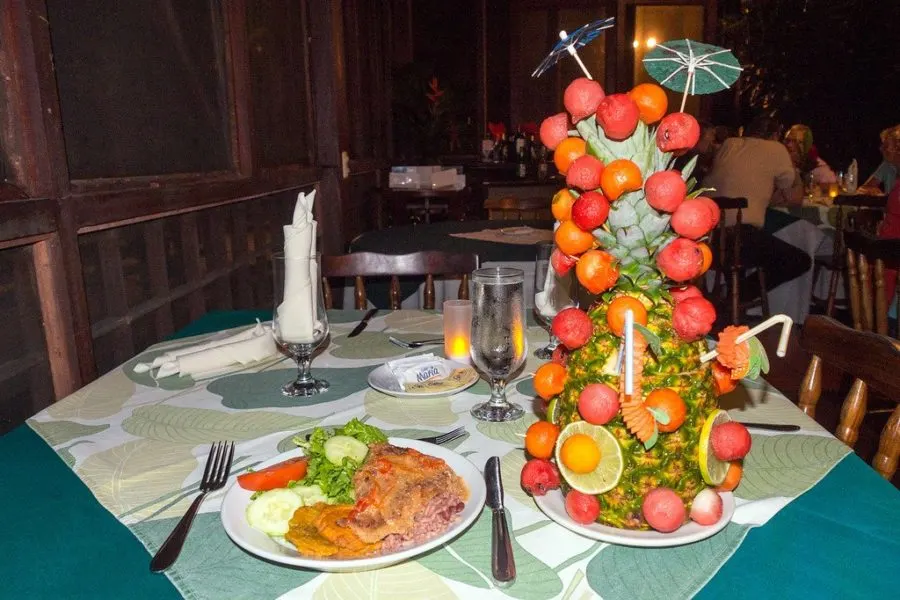 Local Costa Rican Food: What To Eat!
Rice and beans are the foundation of most low-cost Costa Rican meals. If you never get sick of eating it over and over again, this will help you save on food.
You can buy a hearty plate of beef, pinto, & fried plantains for about $3 at small local establishments. Yuca (also known as cassava) is another inexpensive starchy root vegetable that is served frequently.
A great money-saving option that might give you insight into the local culture is sodas – local family run restaurants that serve typical Costa Rican cuisine for as little as $5 – $8 for a gigantic plate of food.
They're a bargain compared to restaurants that cater to tourists, so you'll definitely want to follow locals to the busiest spots if you're on a budget.
If you want something a little fancier, meals at the best restaurants begin at around $20 USD. Most restaurants already include a 10% gratuity fee, so there's no need to tip more.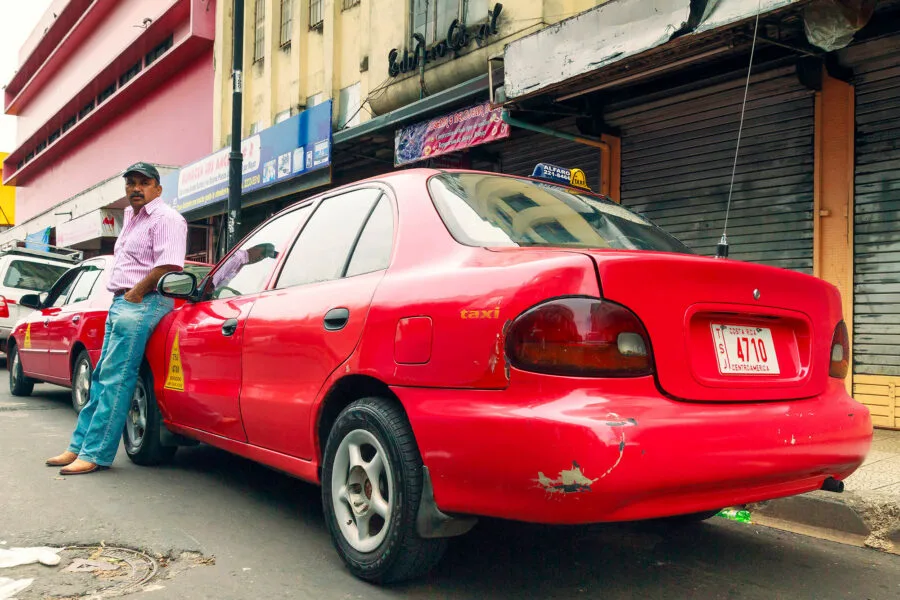 Transportation In Costa Rica
Most people get to Costa Rica after flying into Juan Santamaria Airport just outside the capital city of San Jose. Search for the cheapest flights to San Jose Costa Rica on Skyscanner.com. From the airport, you can book a private shuttle or take the public bus or taxi to your hotel.
Rental Car
The best site to book your car is with Discover Cars. They search both local and international car rental companies to help you find the best possible price. This is the easiest way to rent a car and drive in Costa Rica.
Renting a car offers the best flexibility to explore more remote and less touristy spots in the country. It's my favorite way to get around!
By Bus
The main ways to get around in Costa Rica are by public bus, rental car, taxis, shuttle minivan or small planes. Public buses are the cheapest option, but they aren't always convenient.
While the buses aren't luxurious, the ride is definitely doable. You can expect to pay around $3 to go from one town to the next or to up to $20 USD to travel across the entire country.
Shuttle buses cost about $40 – $80 USD per person from one town to another.
Flying Within Costa Rica
If you're short on time and willing to spend some extra money you may want to travel using small domestic planes from local airlines NatureAir and Sansa. You can get a flight starting around $30 by booking in advance.
Alternatively, there are many multi-day and day tours in Costa Rica that can drive you from your hotel to the most famous attractions.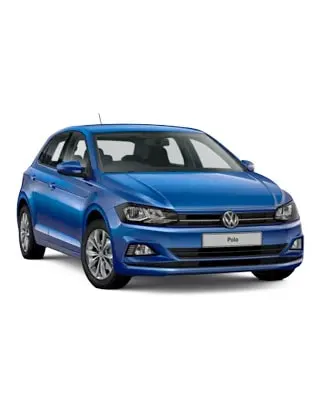 Rent A Car In Costa Rica
Search both local and international car rental companies to help you find a good deal.
Visa Requirements
Citizens of the United States and most European nations don't need a visa to visit Costa Rica unless the length of your stay exceeds 90 days. Visitors must pay a Costa Rican departure tax of $29 when leaving the country.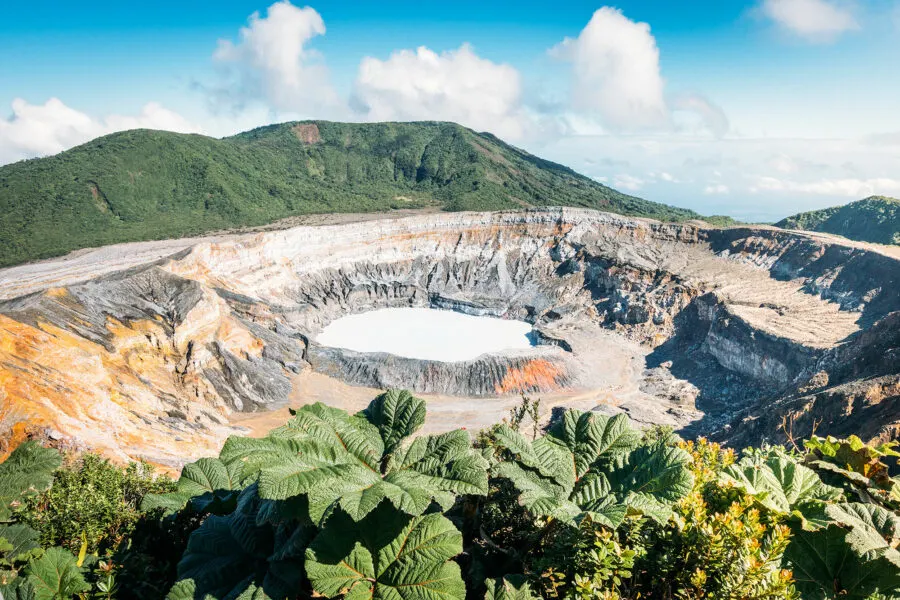 What To Do In Costa Rica
Costa Rica has plenty of less-traveled towns and national parks that offer travelers numerous adrenaline-fueled or wilderness activities – and they won't break the bank either.
The country's system of national parks and reserves protects approximately 25% of the country, one of the highest in the world! Here are some examples of just a few of the cool things you can do in Costa Rica:
Tortuguero National Park
Ever dreamed of seeing sea turtles? Tortugero National Park is the place to go because endangered green turtles are breeding on the beach here. Tortugero is also home to many birds, crocodiles, monkeys, sloths, and manatees, so if you're a fan of the jungle you'll love it! Boat or kayak tours through the jungle will cost you between $40 – $60.
Monteverde Cloud Forest
Monteverde is one of Costa Rica's most popular natural parks with a lot of activities, such as walking through the tree canopy, zip lining ($50 – $90) over the forest, coffee plantation tours ($10 – $30) or hiking and wildlife spotting. The park is gorgeous and shouldn't be missed. It's easy to hike Monteverde on your own and save money.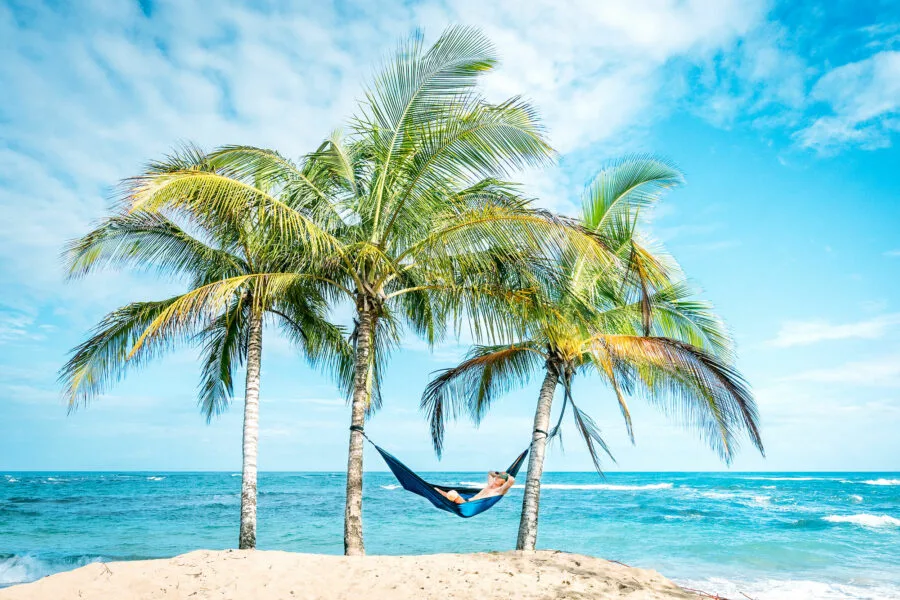 Puerto Viejo
Puerto Viejo de Talamanca is a laid back Caribbean beach town boasting beautiful beaches, lush jungle, and plenty of good restaurants and nightlife. It's also a decent surfing destination. Chill out on one of the stunning beaches like Playa Negra or Playa Punta Uva, then head down to Cahuita National Park for a little hiking & wildlife spotting.
Arenal Volcano (La Fortuna)
Costa Rica is home to many active volcanoes with Arenal being the most visited one. Volcano hiking is a must, but unfortunately, you can't see lava oozing out of the volcano anymore. There is also whitewater rafting ($70 – $130), relaxing hot springs, or walking through the treetops on suspension bridges ($60 – $80).
Playa Tamarindo
Lively Tamarindo is a hyped-up surfing and water-sports beach with wild nightlife. Most visitors come here to surf and learn Spanish. The beach is gorgeous and shouldn't disappoint you.
Corcovado National Park
Corcovado is for adventure lovers, where you can hike through the jungle searching for unique Costa Rican wildlife like tapirs, toucans, and pumas. The largest of Costa Rica's parks, it covers one-third of the Osa Pensinsula. While you can't hike the park on your own anymore, it's possible to hire a local guide to show you the way.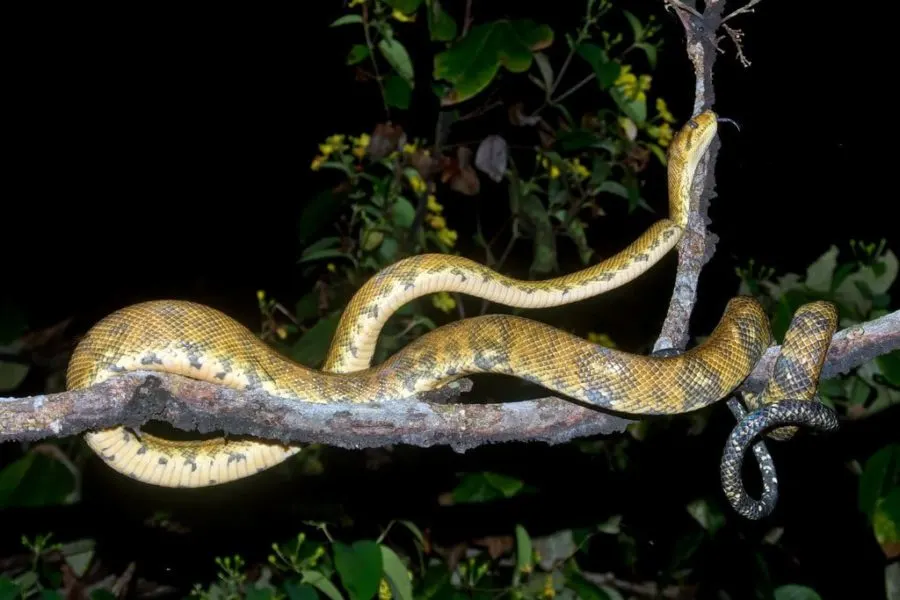 Budget Travel Tips For Costa Rica
If you're on a strict budget in Costa Rica, consider bringing your own tent for camping, instead of paying for a bed every single night. Campsites in Costa Rica are cheap (about $5) and the landscapes are often gorgeous.
You could also look into homestay style lodging, as locals are starting to open up their homes to travelers in an effort to make a little extra money.
Packing Tips For Costa Rica
So, you're getting ready for your trip to Costa Rica, but you're not sure what to pack? Here are some tips for things to bring with you on your journey.
Off The Beaten Path
For an off-the-beaten path experience in Costa Rica you might want to check out Cocos Island, a UNESCO World Heritage site located 300 miles southwest from the Pacific coast. Cocos is part of the same chain of underwater volcanoes as the Galápagos Islands and activities include scuba diving with dolphins, hammerhead sharks, giant rays, or exploring over 200 waterfalls.
Best Time To Visit Costa Rica
Costa Rica is rainy pretty much all year round, so make sure to bring a light rain jacket or poncho no matter when you're planning to visit.
December through April is generally considered the dry season, but this is also high-season and the most expensive time to visit, so keep that in mind if you're on a budget.
However, visiting during the rainy season between May and November is a wonderful way to experience Costa Rica's best nature reserves without large crowds – if you don't mind occasional wet hiking conditions.
The busiest times to travel to Costa Rica are during Christmas break, as well as the week leading up to Easter Sunday (also known as Semana Santa). It's also the least economical time to travel, as accommodation prices are high.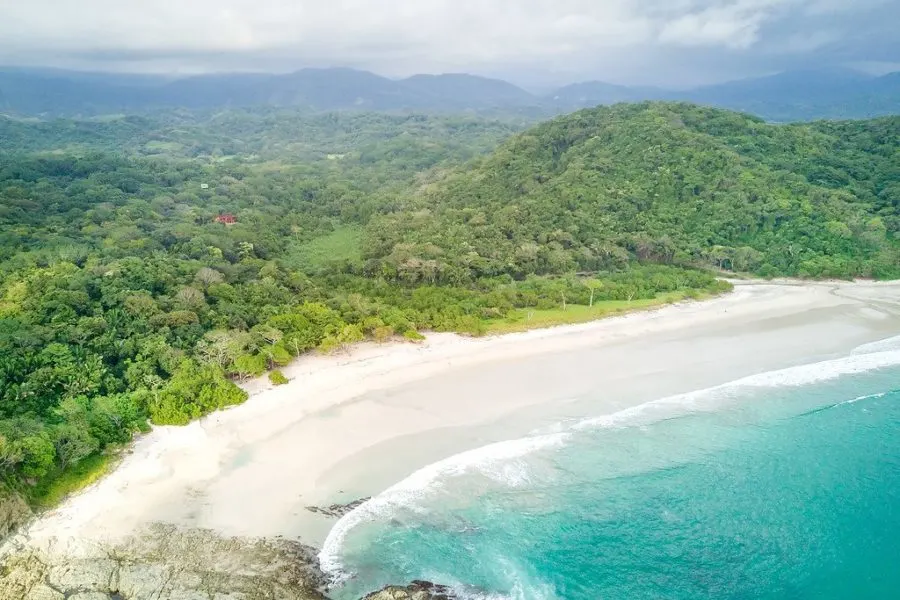 Challenges In Costa Rica
San Jose isn't the safest city in the world, and taxi scams are rampant (especially the "broken meter" scam). Some national parks, such as Manuel Antonio, can be flooded with tourists at peak times/seasons.
Keep in mind that during the rainy season many unpaved roads could be impassable for regular cars, making getting to remote places more difficult.
Internet & Cell Phone Service
If you have an unlocked cell phone, you can purchase a local Costa Rican SIM card and prepaid data package with 4G coverage/internet. The airports in San Jose and Liberia both have cell service booths from the country's largest carriers — Kolbi and Movistar.
Suggested Books & Movies
Books About Costa Rica
Movies About Costa Rica
Articles & Experiences From Costa Rica
Planning to travel to Costa Rica soon? Browse all my blog posts about Costa Rica for additional ideas & tips to help you plan an unforgettable vacation.
Enjoy Your Trip To Costa Rica!
Despite what you'll hear about Costa Rica being expensive, you can certainly experience the country on a backpacker's budget if you use low-cost sleeping options like camping, hostels, and small guest houses.
Spend a few weeks exploring the diverse biology, mountains, beaches, and rain-forests of Costa Rica and I promise you won't be disappointed! ★
---
Enjoy This Article? Pin It!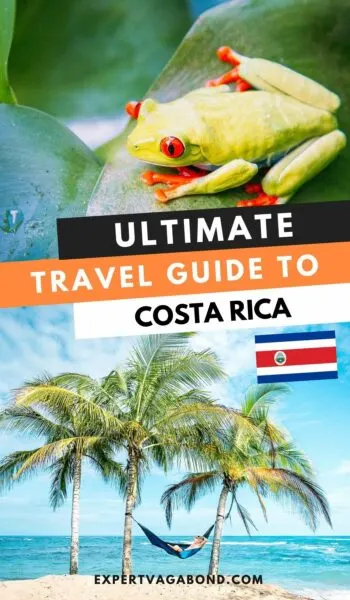 ---
READ MORE COSTA RICA TRAVEL TIPS
I hope you enjoyed my travel guide to Costa Rica! Hopefully you found it useful. Here are a few more wanderlust-inducing articles that I recommend you read next:
---
Have any questions about traveling in Costa Rica? What about other suggestions? Join the conversation on Facebook, Instagram, or Twitter to share!