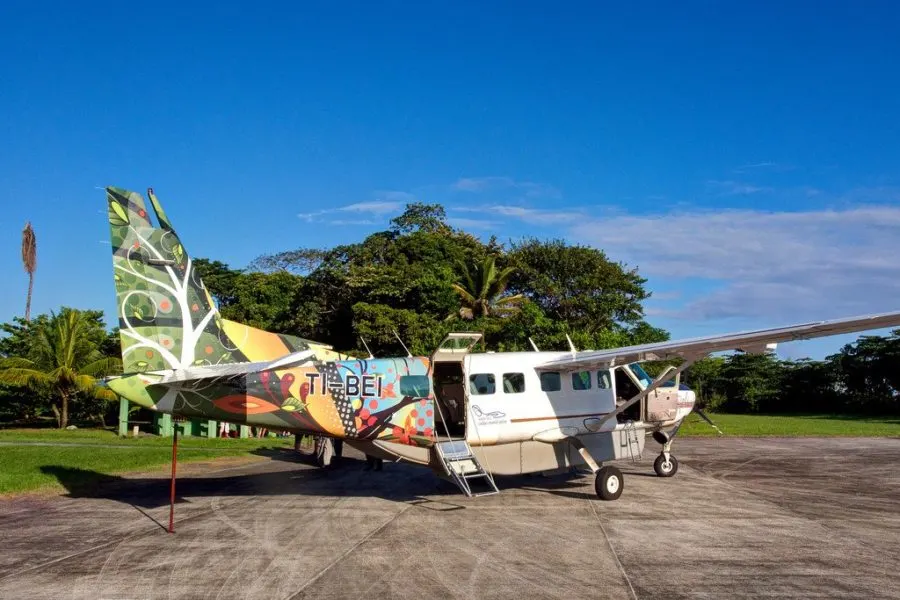 Tortuguero, Costa Rica
Rainforest covered mountains stretched out into the distance. My small single-engine plane began its descent towards a sliver of runway in the middle of all the green.
I was on my way to Tortuguero National Park in Costa Rica. A remote area of wilderness only accessible by boat or aircraft. Despite its out-of-the-way location, it's the country's 3rd most visited park.
We landed, I grabbed my bag, and strolled over to a water-taxi waiting along the canal nearby. Waterways and canals weave their way throughout Tortuguero — making boats the main method of transportation here.
Costa Rica Travel Restrictions 2021
Costa Rica is open to most travelers again, including American tourists. However you do need proof of your COVID-19 vaccination(s) or a negative test result before being allowed entry.
Many hotels, attractions, and private tours are open with new health & safety protocols in place, and you still have to follow certain guidelines.
You can find the latest updates on traveling to Costa Rica here.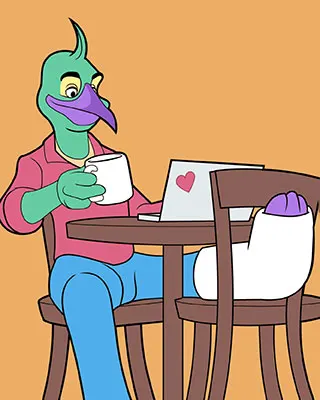 Get Travel Insurance
Protect yourself from injury, illness, or theft. SafetyWing offers affordable travel insurance that covers COVID-19 too!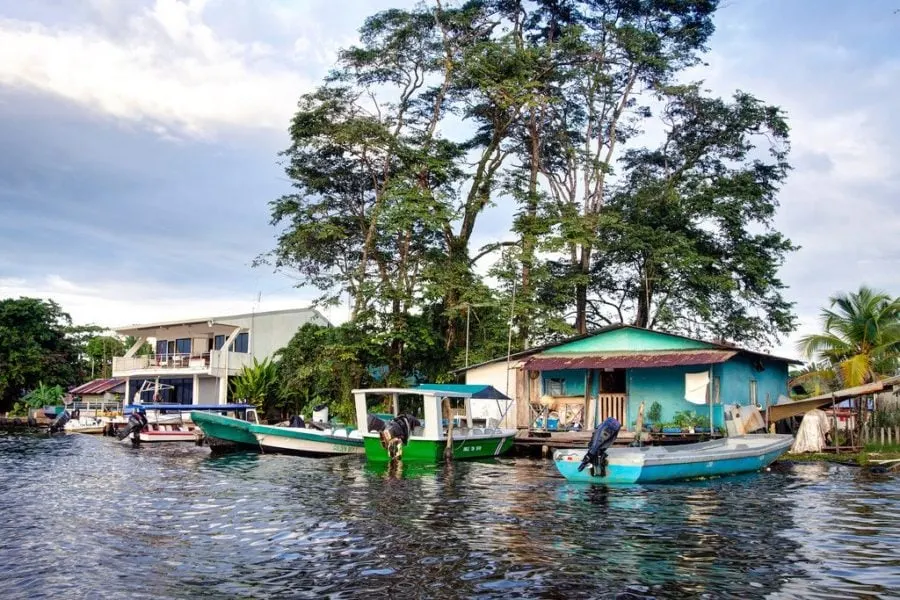 Visiting the Jungle
Our boat slowly puttered through Tortuguero Town. With colorful homes constructed right on the edge of the water, most residents can swim in their front yard. My destination was Evergreen Lodge, comfortable and environmentally friendly cabins located on the edge of the National Park.
There's a network of pristine rainforest trails behind the property, allowing guests to look for wildlife. Which is exactly what I did as soon as I arrived.
The path was lined with ancient trees rising into the sky searching for water & sunlight while vines and other vegetation filled in any gaps. Parts of the trail include narrow suspension bridges that hang above tropical swampland.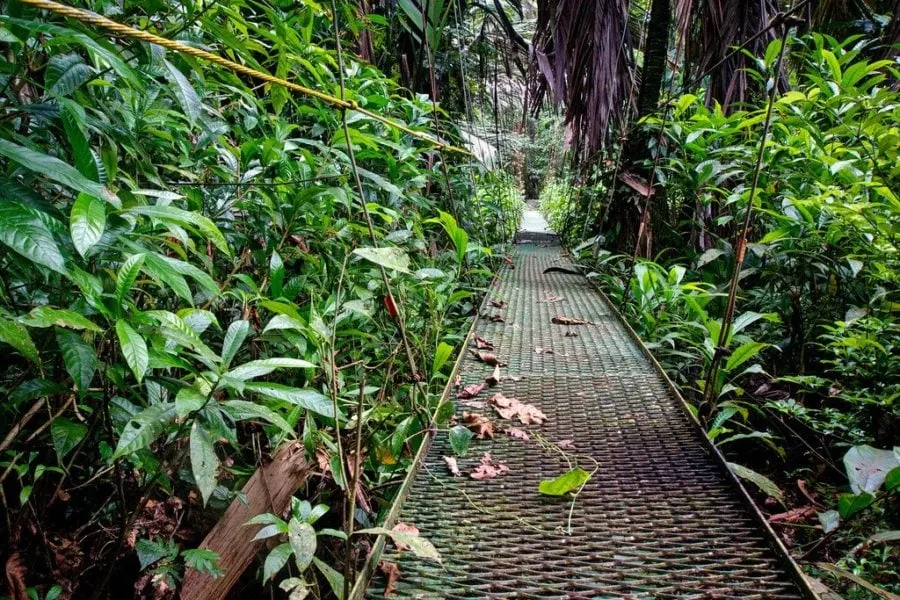 Keep Your Eyes Peeled
It was on these twisting trails that I was lucky to spot one of my favorite creatures, a tiny Strawberry Poison Dart Frog. At only a few centimeters long, these frogs can be pretty difficult to find under thick jungle canopy that blocks the sunlight above.
However this particular one happened to jump from the trail into a pile of leaves as I approached, the sudden movement giving it away. I managed to get a few quick shots before it disappeared again into the underbrush.
Colorful dart frogs secreet toxins from their skin as a defense mechanism.
In fact the reason they're called dart frogs is because indigenous groups would coat blowdarts with the poison for hunting. So don't eat this strawberry…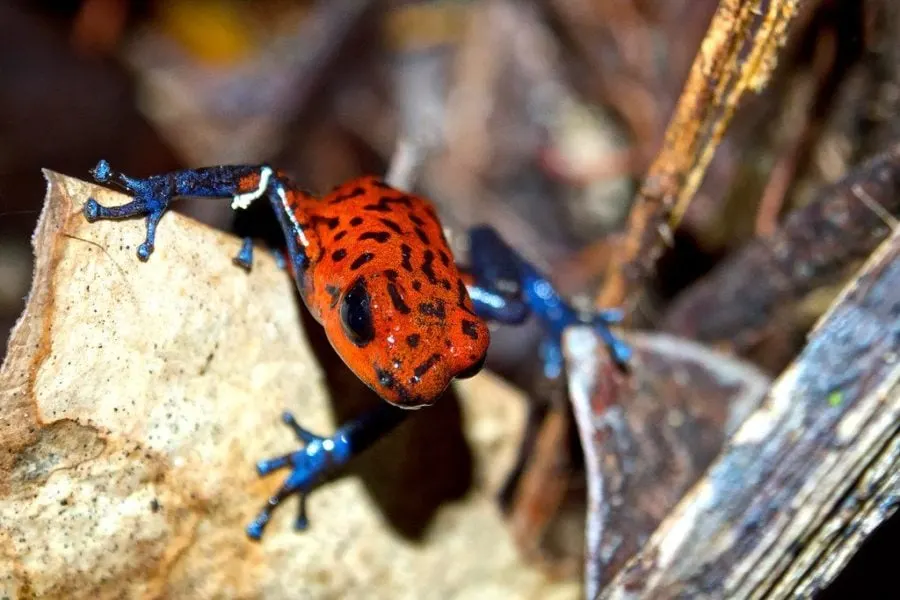 Monkey Business
Tortuguero National Park is home to 3 species of monkeys, and I saw them all. Howler monkeys hoot & holler from the treetops like imaginary monsters from your worst nightmares. They work great as natural alarm clocks!
But in reality these animals aren't as scary as they sound.
Spider monkeys and White-faced Capuchins also call the area home.
Every evening a large family of Capuchins would swing through the treetops around the cabins on the hunt for food. If you happen to be eating outside, and not paying attention, it's possible to lose your meal! These furry critters are smart.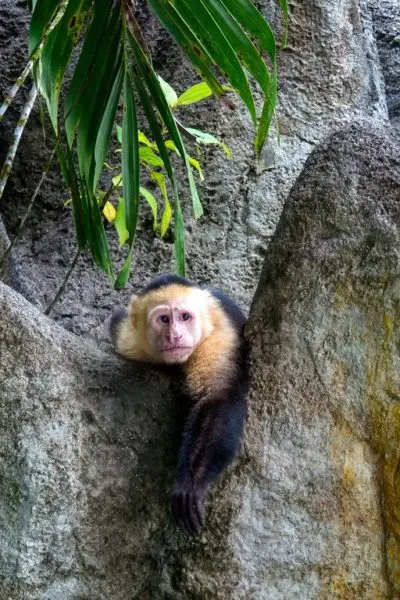 Touring the Canals
In the afternoon I joined local guides Michael & Eddie for a boat trip through the water canals that make up Tortuguero. As we stopped at a dock to pay the park entrance fee, a giant male green iguana could be seen on shore.
A few meters away from the iguana, a baby crocodile was sunning itself on a downed tree.
We weren't even in the park yet and I was spotting animals all over the place!
Armed with a pair of Swarovski CL Pocket binoculars, I was able to easily spot colorful tropical birds like the Keel-Billed Toucan and endangered Green Macaw perched high in the trees along the edge of the water.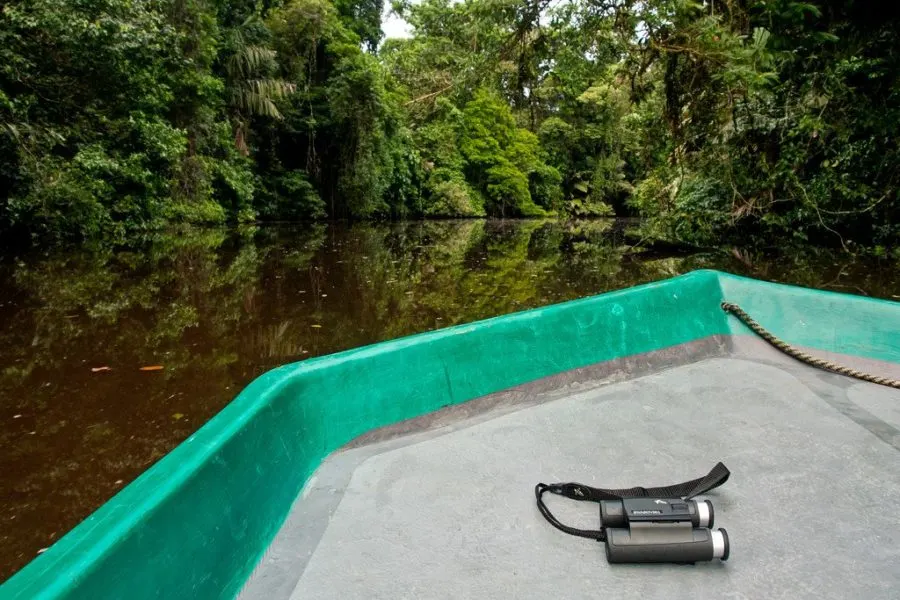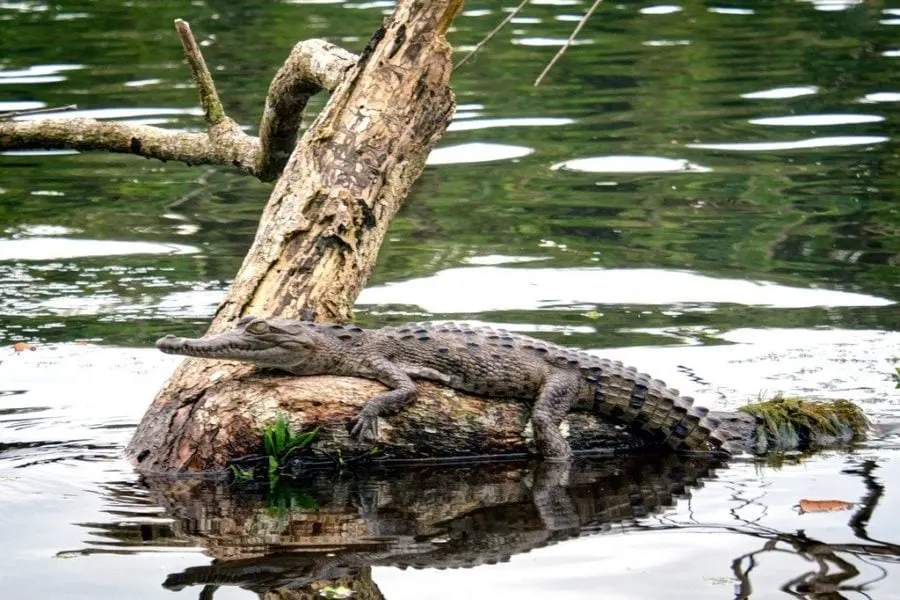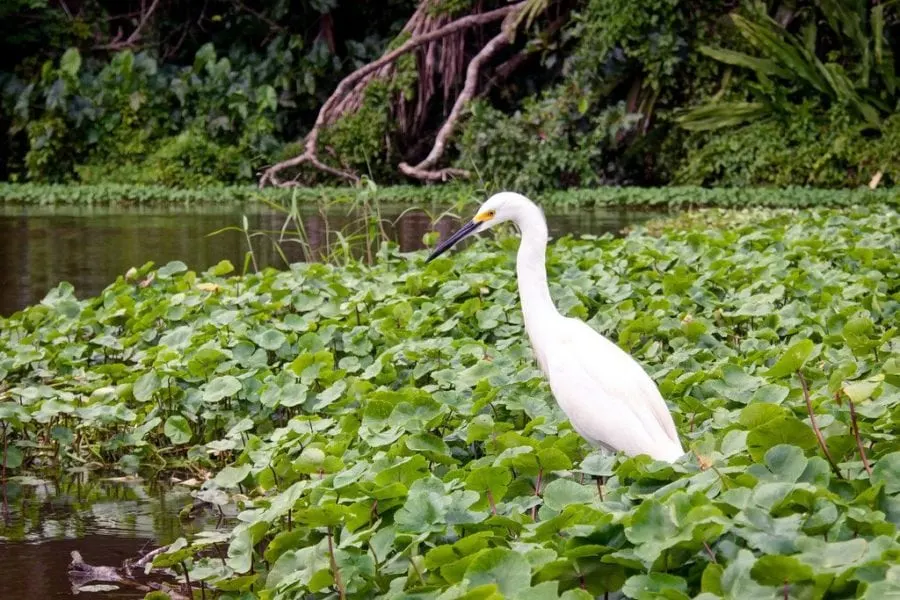 Animals Everywhere
What else did I spy on the 2 hour safari trip through Tortuguero? All kinds of birds, like the Snowy Egret, Bare-Throated Tiger Heron, and Anhinga. We found a few speckled Caimans (in the crocodile family) and a Black River Turtle too.
Along with all the wildlife, simply cruising slowly through the jungle canals listening to the animals was very peaceful and relaxing.
Back at the lodge I feel into a deep sleep as powerful evening rains poured down over my cabin. They don't call it a rainforest for nothing!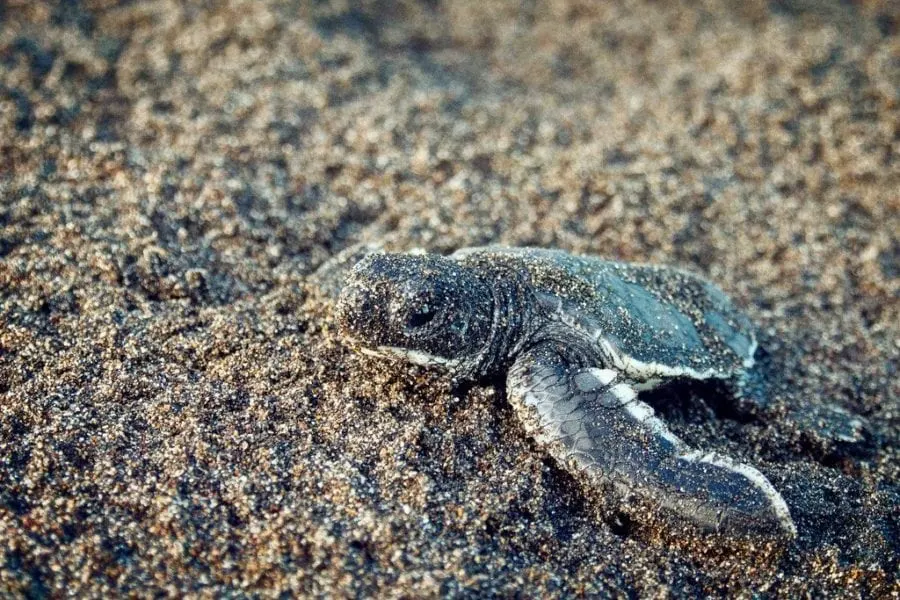 Sea Turtle Surprise
The most popular reason to visit Tortuguero National Park is an army of Green Sea Turtles that lay their eggs on the black sand beaches each year. However most of the baby turtles hatch in September & October.
As this was early December, I was too late to witness babies running for the ocean. Or so I thought…
Before I caught my flight out in the morning, Henry from Evergreen asked if I'd like to join him to search for any delayed hatchlings. With his 16 years of wildlife guiding experience, we might just have a chance.
After an hour of searching old nests with him, we found some. A sea turtle can lay about 100 eggs in a "clutch", and this particular nest had 3 stragglers. I watched them run awkwardly through the sand into waves as the morning sun rose.
A wonderful end to my Tortuguero wildlife experience in Costa Rica. ★
READ MORE COSTA RICA TRAVEL TIPS
I hope you enjoyed my guide to wildlife safari through Tortuguero National Park! Hopefully you found it useful. Here are a few more wanderlust-inducing articles that I recommend you read next:
---
Are you planning a vacation to Costa Rica soon? Join the conversation on Facebook, Instagram, or Twitter to share!