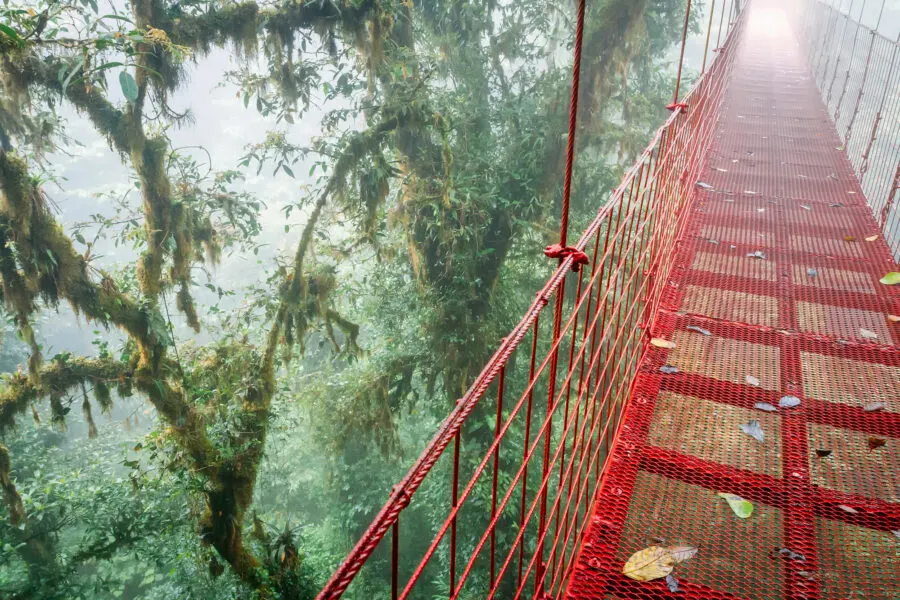 Monteverde, Costa Rica
Everything drips. The mist is cool and heavy, dampening our faces with every step. This is what it's like to explore Monteverde Cloud Forest in the heart of Costa Rica.
The sky overhead is long gone. The horizon is a distant memory. All around us, the forest fades in and out as a thick, glowing mist ebbs and flows.
Huge gnarled trees come into view, descending to ground level to become huge roots I couldn't get my hands around, snaking across the forest floor like deep-sea cables.
We're in Costa Rica's Monteverde Cloud Forest Reserve, on the Sendero Del Rio trail, hiking deeper into this eerie half-light. Every surface is damp and slippery, and most are coated in thick green moss, decades in the making.
The mist shows no signs of burning away, even though the sun is getting higher in the sky. I have to remind myself why. We're nearly 2 kilometers above sea level – and this isn't mist, they're clouds!
Costa Rica Travel Restrictions 2022
Costa Rica is open to most travelers again, including American tourists. However you do need proof of your COVID-19 vaccination(s) or a negative test result before being allowed entry.
Many hotels, attractions, and private tours are open with new health & safety protocols in place, and you still have to follow certain guidelines.
You can find the latest updates on traveling to Costa Rica here.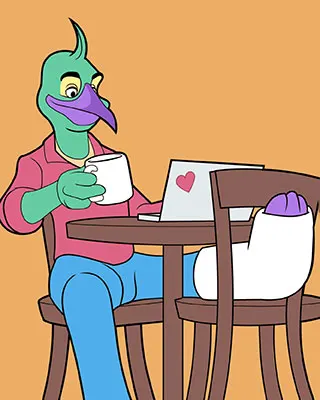 Get Travel Insurance
Protect yourself from injury, illness, or theft. SafetyWing offers affordable travel insurance that covers COVID-19 too!
Monteverde Travel Guide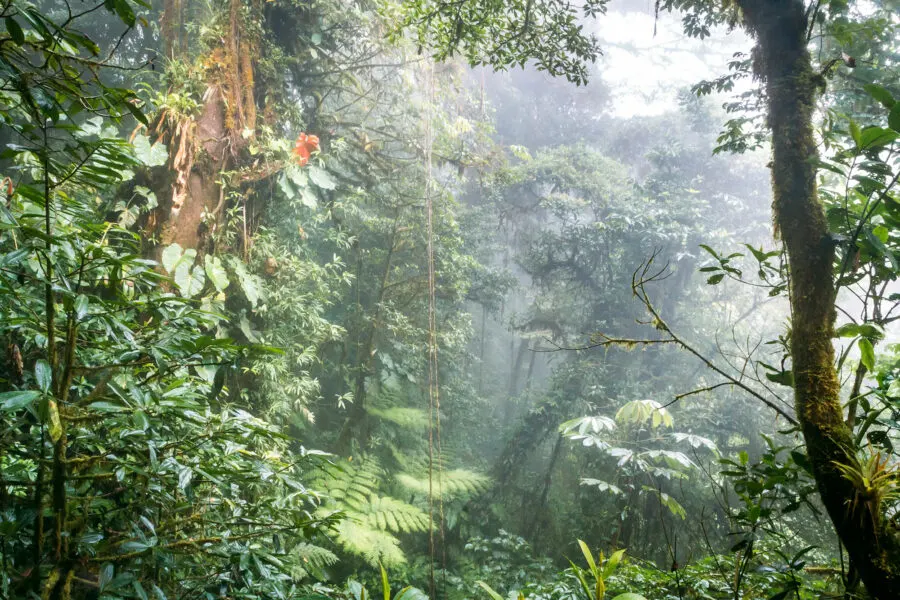 Midway along Costa Rica's Cordillera de Tilarán mountain range, and a short distance away from the town of Santa Elena, nature has been having the mother of all parties since the turn of the century.
Across 10,500 hectares (26,000 acres) of what was designated Monteverde Cloud Forest Reserve in 1972, the biodiversity is insane.
Costa Rica is famously rich with animal and plant life, due to its position on a land-bridge between huge continents and because of its tropical climate – but Monteverde turns it up to eleven.
On a short walk into the forest, it's possible to see thousands of species of plant life (500 different kinds of orchids alone), hundreds of types of birds (including the famous Resplendent Quetzal), monkeys, and some of the weirdest and most wonderful-looking insects in the entire world.
Opening Hours & Entry Fees
Monteverde Cloud Forest Biological Reserve is open daily from 7am to 4pm. The drive to Monteverde from the nearby town of Santa Elena takes about 15 minutes.
Monteverde Entrance Fee: $50 USD per person and $12 USD per child (6 to 12 years old)
A Short History Of Monteverde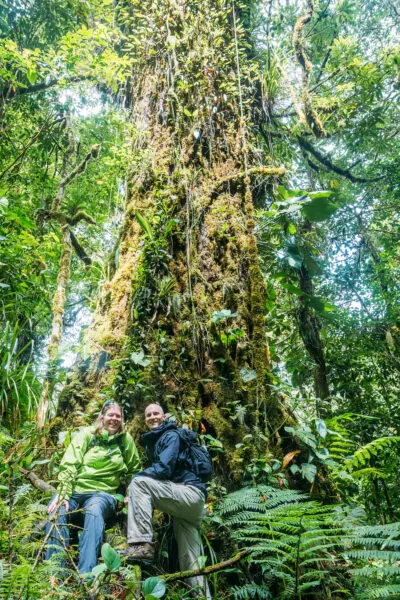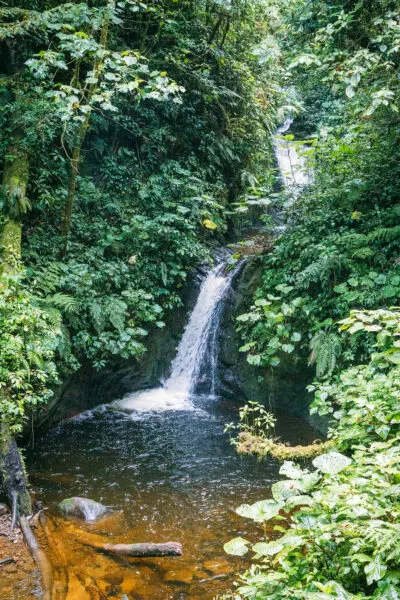 Monteverde is well named (it means green mountain) – and since the 1960s, biologists from around the world have been transfixed by this incredible ecology, displaying unrivaled natural beauty and diversity.
It was created by a group of Quakers who fled the United States to avoid the Army draft.
The use of violence for political reasons clashed with their moral code & belief system, and Costa Rica had just abolished its military – and this quiet, lush corner of the country was perfect for them.
For the first ten years, the only visitors were scientists and bird-watchers.
Today it gets around 70,000 visitors a year, and is one of Costa Rica's most popular attractions. However my friend Abby and I were visiting just before Costa Rica's rainy season kicked in, and there was hardly anyone else around.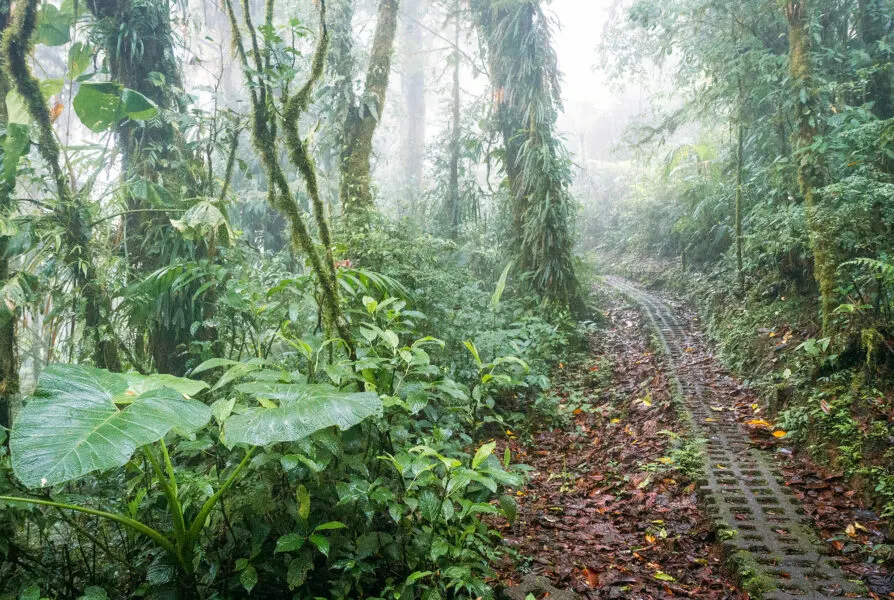 Wildlife & Plant Life In Monteverde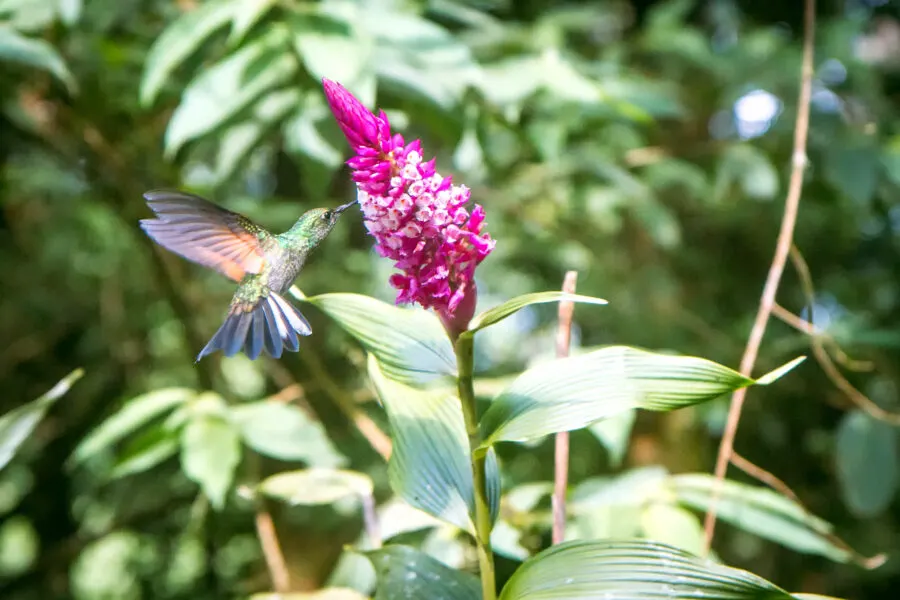 Monteverde has an incredibly diverse collection of plants and wildlife that call it home. There are about 1200 species of amphibians, 400 types of birds, 6 different wild cats (like jaguars & pumas!) as well as tapir, coatis, monkeys, sloths, and more.
Spotting any of the bigger animals might be difficult, as they are hard to see in the thick forest, and many keep far away from humans (especially the big cats). But we did see their tracks in the mud!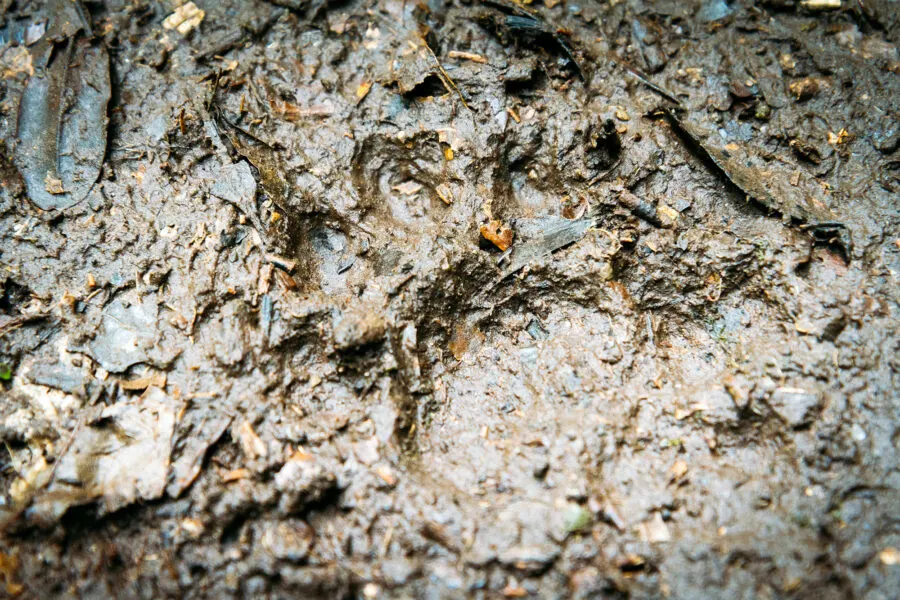 Many of the trails in Monteverde are raised up on walkways made of concrete blocks or wood.
They've been constructed like this to support the popularity of the park – and, of course, to keep your feet dry in such a wet environment.
A Beautiful Costa Rican Wilderness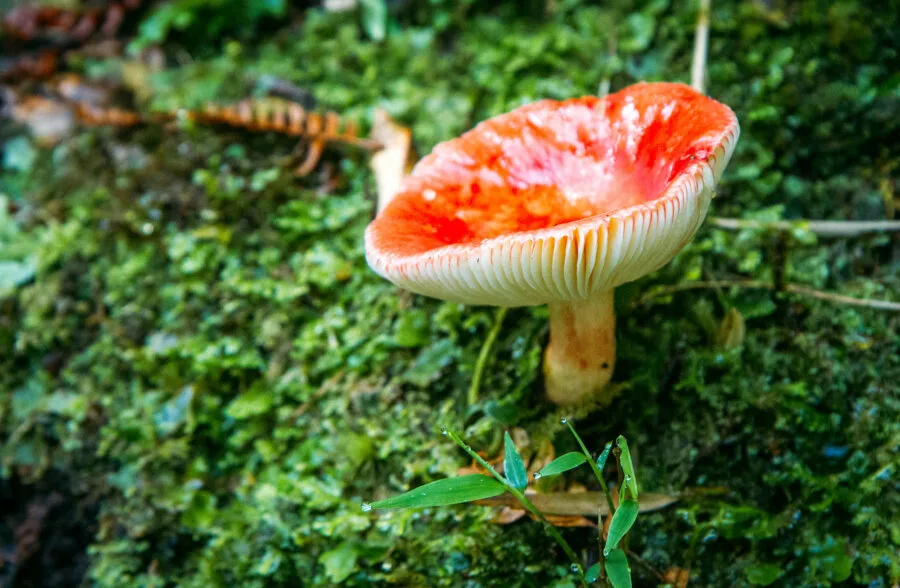 We spent about 3-hours hiking the trails around Monteverde, enjoying the wet and increasingly endangered cloud forest environment.
The Monteverde Biological Reserve consists of 6 main trails. Some are short and only take about 10 minutes to complete while others are up to a mile long.
There are about 13 km of trails in total, and that only makes up 3% of the park. The rest is protected and only accessible to scientists & researchers.
One big highlight was walking across an incredible 300ft tall canopy suspension bridge through the clouds.
While the reserve lacked much visible mammal wildlife during our visit, the plant & insect diversity was incredible. This part of Costa Rica is a balm for the senses. It's a beautiful, meditative way to spend a morning.
Here and there, splashes of color too: a blue bird glimpsed as it darts past, a bright red mushroom pokes out of the branch-strewn green forest floor.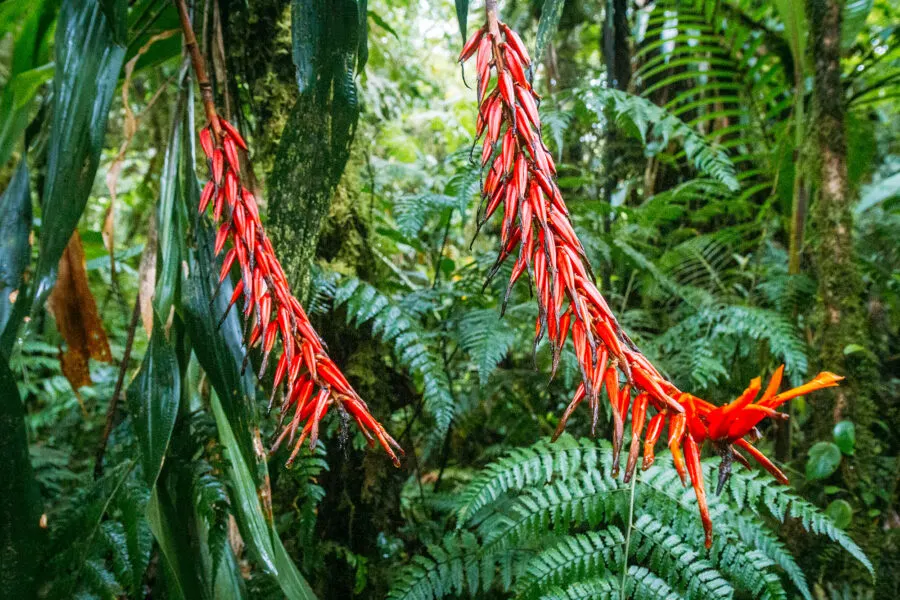 Getting To Monteverde
Rental Car
The best site to book your car is Discover Cars. They search both local and international car rental companies to help you find the best possible price. This is the easiest way to rent a car for driving in Costa Rica.
SAN JOSE – Monteverde is 138 km (3 hours) from San Jose by car.
LIBERIA – The cloud forest is 116 km (2 hours) from Liberia by car.

Monteverde Cloud Forest Reserve is located just outside the town of Santa Elena, about 6km (3.5 miles) away.
By Bus
If you're starting from Costa Rica's capital city of San José, your cheapest route north to Monteverde is by bus via Transmonteverde for about $6 USD.
From Juan Santamaria Airport in Alajuela, the best place to catch the Monteverde Costa Rica bus is to take a taxi to the Villa Bonita bus station – otherwise, you'll need to head into the city centre.
If you're coming from the north (maybe from the Nicaraguan border), there are plentiful bus options from Liberia. The quickest route is to take three buses: Liberia to Canas, Canas to Tilaran, and Tilaran to Monteverde.
Monteverde Shuttle Bus
If you don't have a rental car, you can also take a local shuttle bus to Monteverde from Banco Nacional in Santa Elena at 6:15 AM, 7:20 AM, and 1:15 PM. It costs about $5 USD round trip.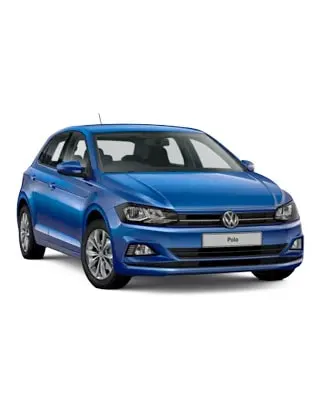 Rent A Car In Costa Rica
Search both local and international car rental companies to help you find a good deal.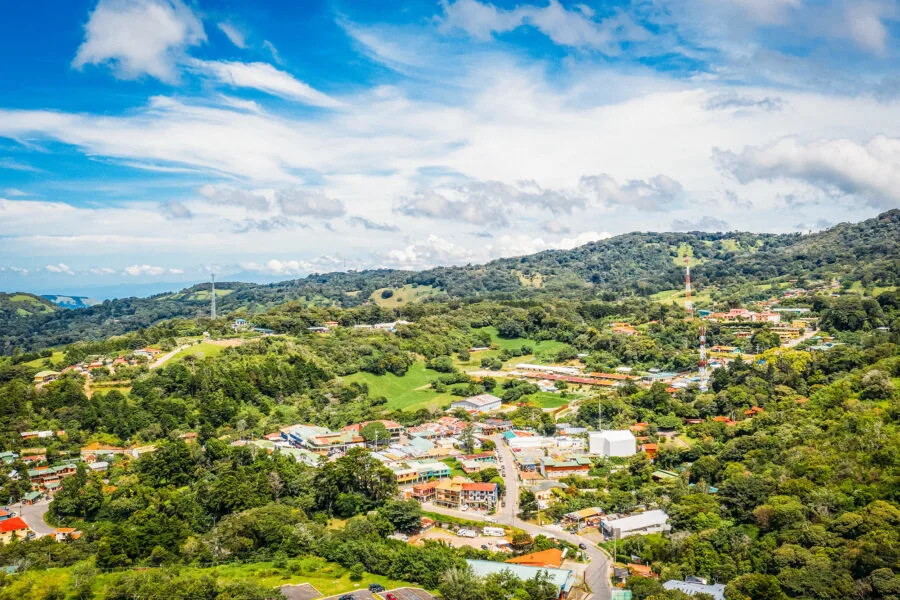 Where To Stay In Santa Elena
For sheer convenience, the best place to stay should be in the nearby village of Santa Elena, around 6km from the entrance to the cloud forest itself. If you're wondering where to stay near Monteverde, here are my recommendations:
---
BEST ACCOMMODATION IN SANTA ELENA
---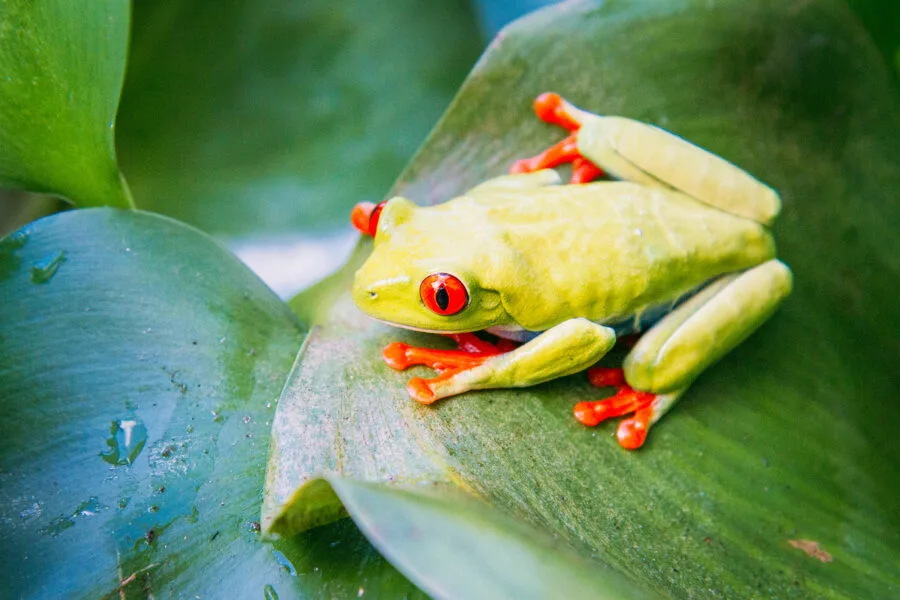 Useful Monteverde Travel Tips & Advice
I recommend arriving to Monteverde right at 7am if you want to avoid other tourists, and to experience the cool morning fog/clouds which sometimes burns off by the afternoon.
The only bathrooms at Monteverde are by the entrance, so make sure to go before you start walking!
Monteverde is an extremely wet and humid place. I might be worth bringing a rainproof cover for your camera. And a rain proof jacket for yourself!
Bring lots of water, preferably in an environmentally friendly filtered water bottle.
Monteverde's trails are well maintained, and suitable for people of all ages. The hiking is not difficult.
Expect to spend 3-4 hours walking if you want to see the whole reserve.
The nearby Monteverde Butterfly Garden has 30 different butterfly types, plus a collection of spiders.
Monteverde Trail Map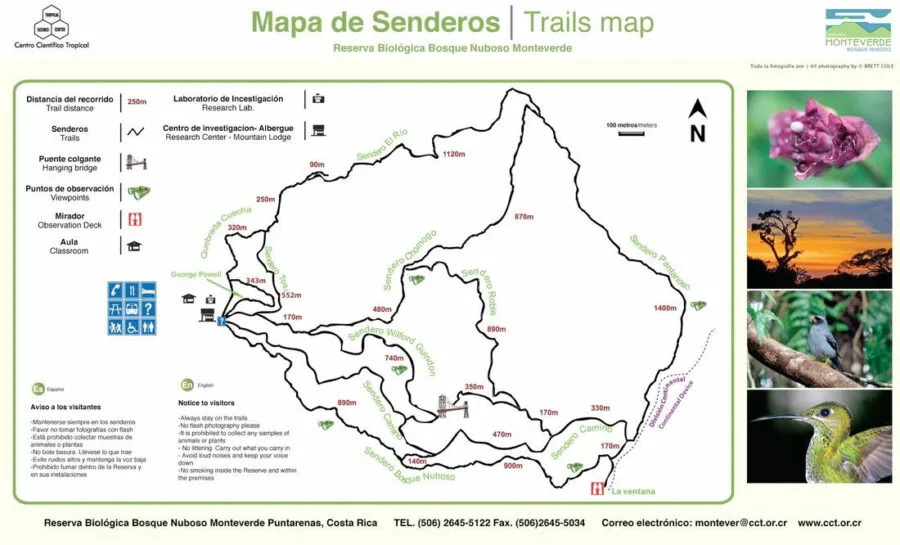 ---
Enjoy This Article? Pin It!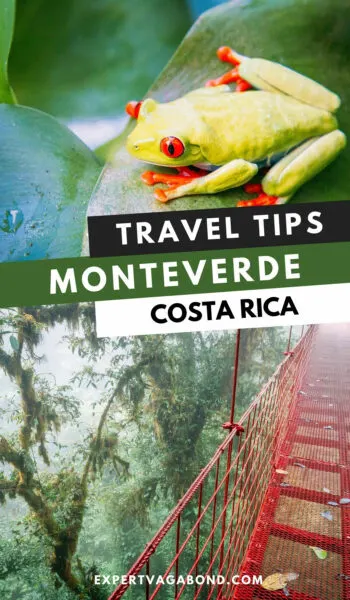 ---
READ MORE COSTA RICA TRAVEL TIPS
I hope you enjoyed my guide for visiting Monteverde, Costa Rica! Hopefully you found it useful. Here are a few more wanderlust-inducing articles that I recommend you read next:
---
Have any questions about Monteverde cloud forest in Costa Rica? What about other suggestions? Join the conversation on Facebook, Instagram, or Twitter to share!