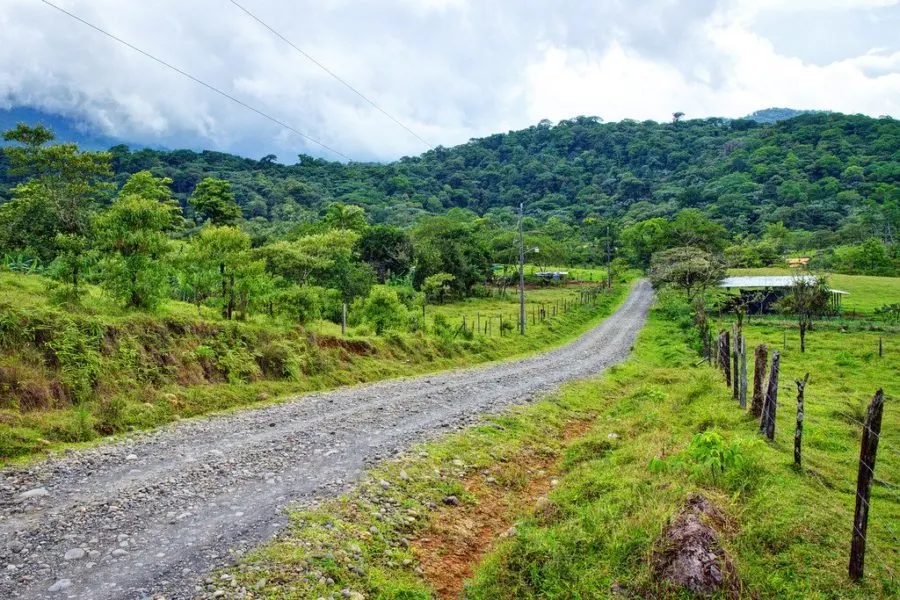 Guatuso, Costa Rica
Hidden within the cloud forests of Costa Rica's Tenorio National Park, the magnificent bright blue Rio Celeste Waterfall will take your breath away!
After doing some of the more typical tourist activities in Costa Rica like visiting Monteverde Cloud Forest and whitewater rafting in Turrialba, I wanted to find an activity that was a little more off the beaten path.
I heard a rumor about a secret waterfall located in the North of the country, and decided it would be worth checking out. It was 5 hours by bus from San Jose to reach the town of Guatuso on the Eastern edge of the reserve.
That was followed by an hour long ride in a local bus filled with little old ladies who stared at me the whole way.
Once at the tiny village of Rio Celeste, it's a 2 mile hike up the steep dirt road leading into Volcano Tenorio National Park.
Costa Rica Travel Restrictions 2021
Costa Rica is open to most travelers again, including American tourists. However you do need proof of your COVID-19 vaccination(s) or a negative test result before being allowed entry.
Many hotels, attractions, and private tours are open with new health & safety protocols in place, and you still have to follow certain guidelines.
You can find the latest updates on traveling to Costa Rica here.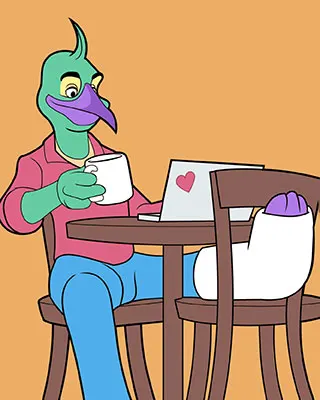 Get Travel Insurance
Protect yourself from injury, illness, or theft. SafetyWing offers affordable travel insurance that covers COVID-19 too!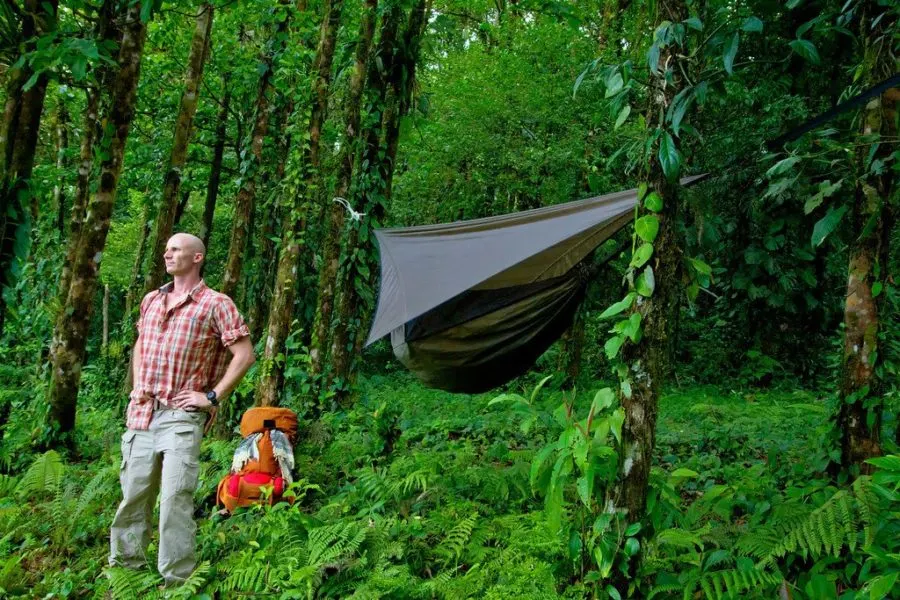 Camping In The Cloud Forest
After half a day of travel, drenched in sweat & ready to pass out, I finally made my way into the entrance of the park and paid $4 to hang my camping hammock in the trees. Access to bathrooms & showers was included, and they even had a small restaurant.
Summertime is rainy season in Costa Rica, and the sky often opens up in the afternoons. Luckily I had my hammock set up before the daily deluge began.
Although I did scare off at least 5 snakes in the process.
The next few hours were spent lazily swinging from my dry cocoon while reading a book and listening to the family of howler monkeys screaming directly above me.
Finally I threw in some earplugs and fell asleep.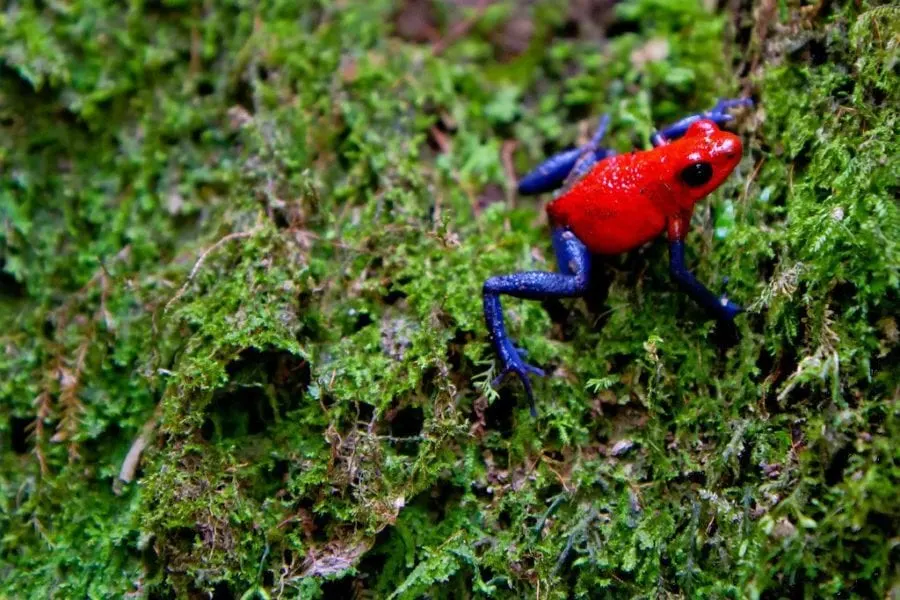 Hiking To Rio Celeste
The next morning it was time to rise with the sun and began a journey into the forest in search for the famed waterfall. The 45 minute hike sent me through a scenic canopy of trees alive with curious white-faced monkeys, colorful red poison dart frogs, singing birds, and fluttering blue morpho butterflies.
Not a bad way to start the day.
But the best was yet to come.
I heard the roar of the waterfall before I saw it. Slipping and sliding down the muddy trail I rounded a bend and suddenly stopped cold…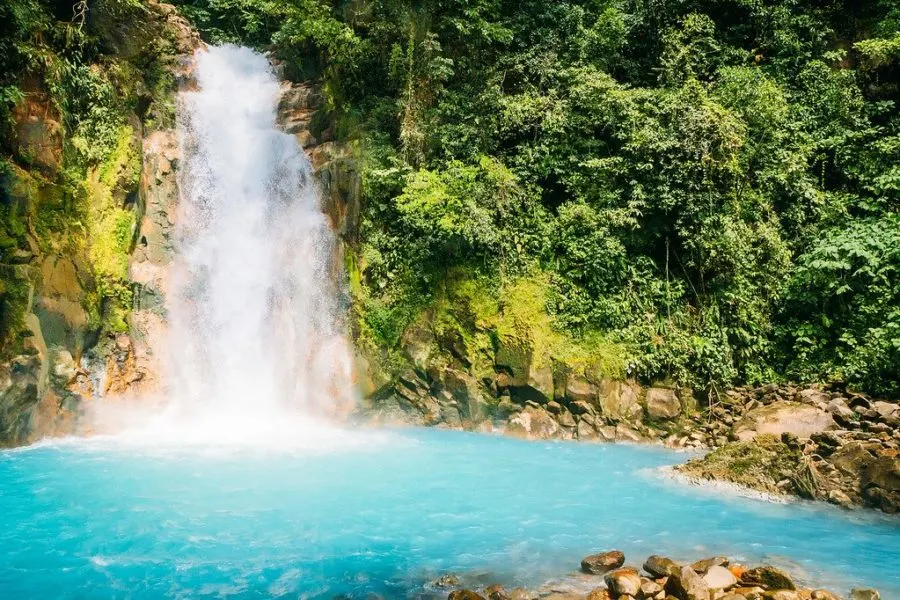 Was This For Real?
I couldn't believe my eyes. It looked like something out of a fairytale story. A powerful river came crashing 60 feet down from the trees above into a dazzling pool of turquoise blue water. It created a cold mist that floated through the air around me.
Rarely does my mouth drop open dumbfounded at the beauty of a place!
Standing alone in the middle of an emerald green forest transfixed by this beautiful bright blue wonder of nature, I had another one of those special surreal moments that all travelers long for.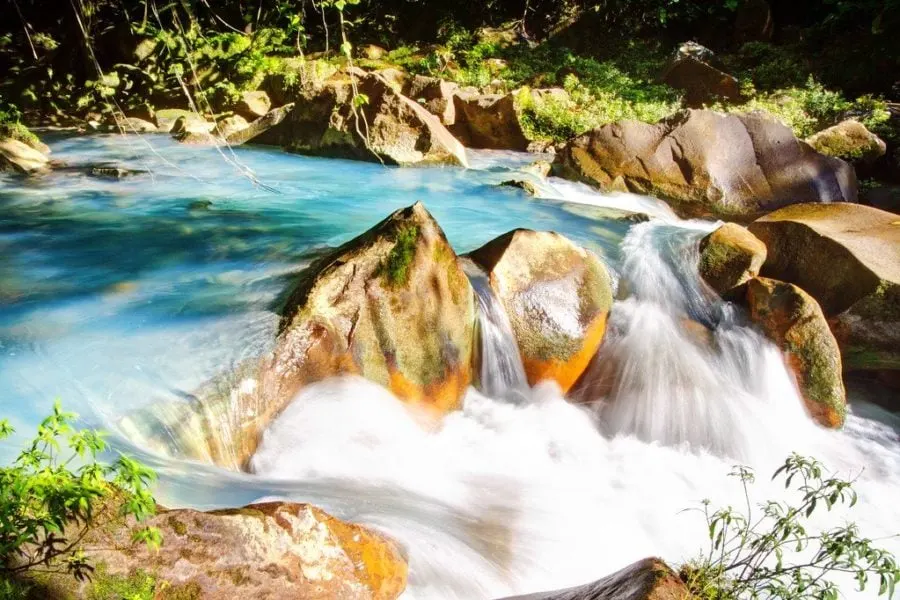 Swimming At Rio Celeste
I couldn't wait to take a dip in that cold water! It felt great after my early morning hike. The intense color of the pool is created by volcanic minerals in rocks underneath.
The rest of my day was spent climbing rocks and playing in the vibrant blue liquid. There is a pretty strong current at the base of the waterfall that pushes you away, so it's impossible to swim too close to the powerful cascade of water.
A few other people stopped by the falls that day, but for the most part I had this magical place all to myself. My adventure was complete with a dip in natural hot springs further up the trail.
While it's definitely not the easiest place to visit without a car, a trip to Costa Rica's Rio Celeste waterfall is a fantastic travel experience. ★
Watch the Video:

Rio Celeste Waterfall
READ MORE COSTA RICA TRAVEL TIPS
I hope you enjoyed my guide on Rio Celeste Waterfall in Costa Rica! Hopefully you found it useful. Here are a few more wanderlust-inducing articles that I recommend you read next:
---
Have any questions about Rio Celeste waterfall? Are you planning a trip to Costa Rica? Join the conversation on Facebook, Instagram, or Twitter to share!