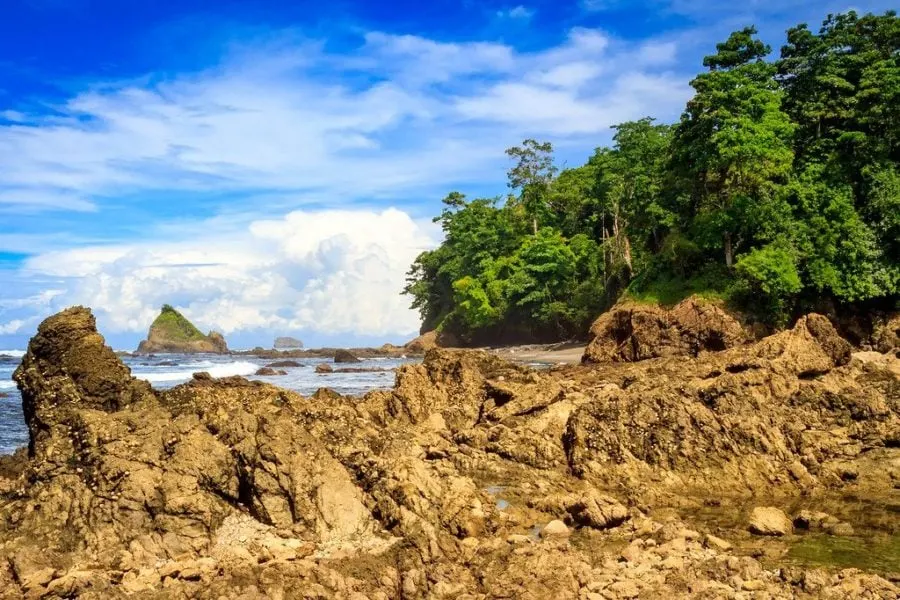 Puerto Jimenez, Costa Rica
Corcovado National Park is a remote environmental reserve in Coast Rica with great hiking past deserted beaches, waterfalls, pristine rainforest, and plenty of wildlife.
UPDATE: The rules changed in 2014, and unfortunately you can no longer hike Corcovado National Park alone. Visitors must be accompanied by a guide.
Costa Rica has many different & beautiful National Parks located around the country. Road tripping from park to park while driving through the country is a great way to spend your trip.

While Corcovado isn't the easiest national park to visit, it's certainly been my favorite so far.
There is no road access to the park's boundaries. You either have to hike in, arrive by boat or fly in on a small bush plane.
I opted for the most exhausting and least expensive option. My own two feet!
A physical challenge for sure — but it turned out to be a wonderful choice. After 4 days of solo-trekking through Corcovado, I was able to meet a wide variety of wild animals I'd never seen before.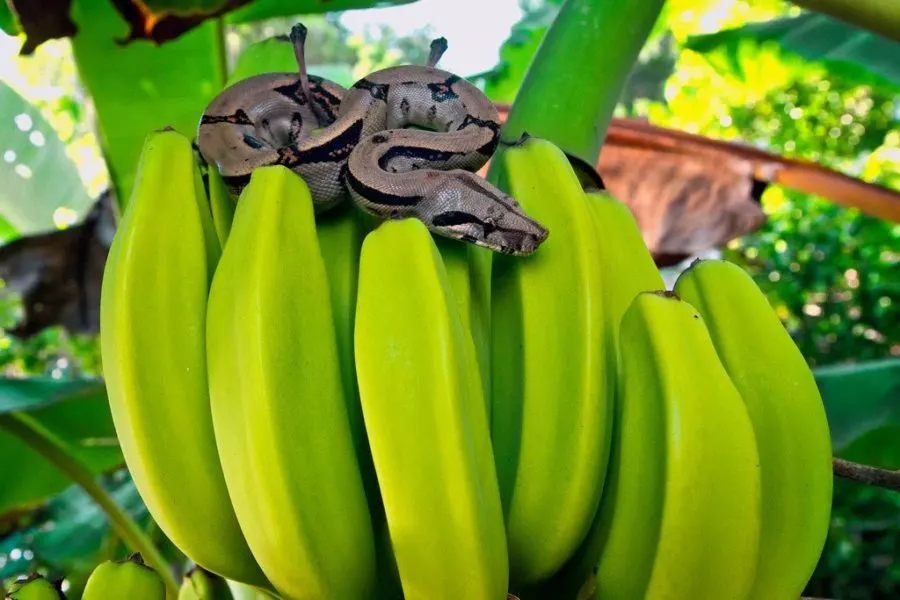 Corcovado National Park
My journey into Corcovado began in the village of Puerto Jimenez. Camping in the reserve is only allowed at ranger stations, and the few spots available can be booked up for weeks in advance.
After securing the proper documents for entry, I was forced to wait around town for 5 days before I could begin my adventure into Corcovado as all the camping spots were full.
A small price to pay for what I was about to experience.
When it was time to leave, I jumped into the back of a livestock truck filled with local families for a bumpy 3 hour drive over a rutted jungle road towards the village of Carate.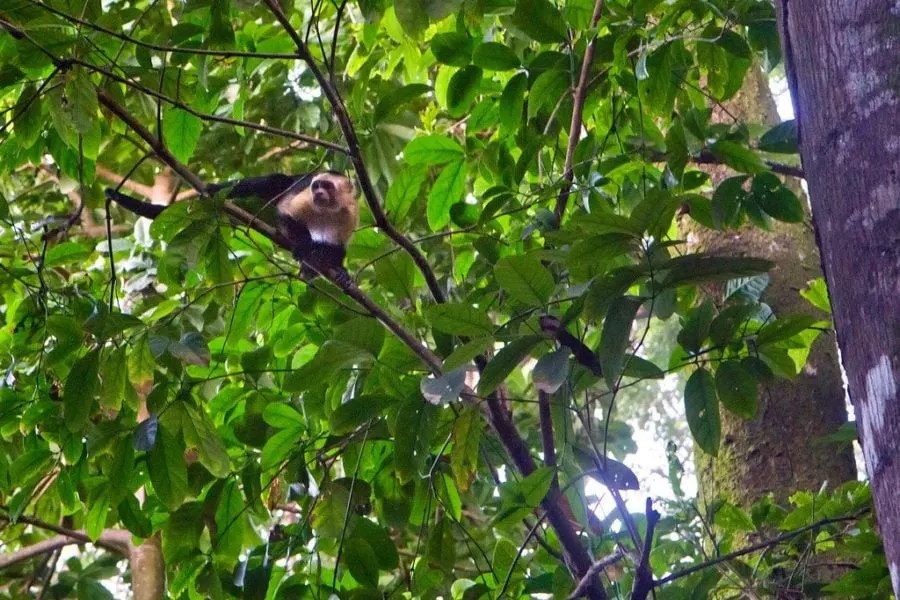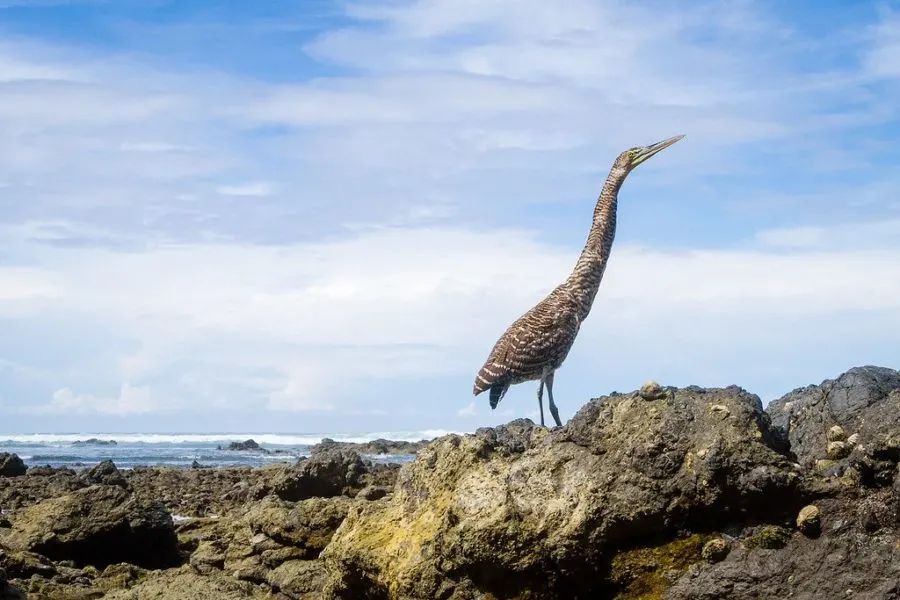 Hiking Along The Beach
Once I arrived at Carate I re-checked my gear, food, water, and set out for the first day of hiking on a beach through pouring rain. Arriving the La Leona Ranger Station park entrance about an hour later, the storm continued to pound down as I set up camp.
A wet afternoon was spent wandering around nearby trails in the rain watching spider monkeys get angry at me, gangs of scarlet macaws flying overhead, a toucan, and some frogs.
There's something special about hiking under the rainforest in pouring rain!
Halloween Crabs & Coatis
After a comfortable night's sleep in my camping hammock, I rose before sunrise on the second day to prepare for the long trek ahead. A 9 hour hike over secluded beaches and through winding rainforest trails to the Sirena ranger station.
Right away more animals came out to greet me on my travels. The first was a large family of about 20 Coatis digging for a delicious breakfast of Halloween Crabs.
While those colorful crabs looked kinda tasty, I had a long trip ahead of me and couldn't join them. But the sky was finally clear and I was off to a great start.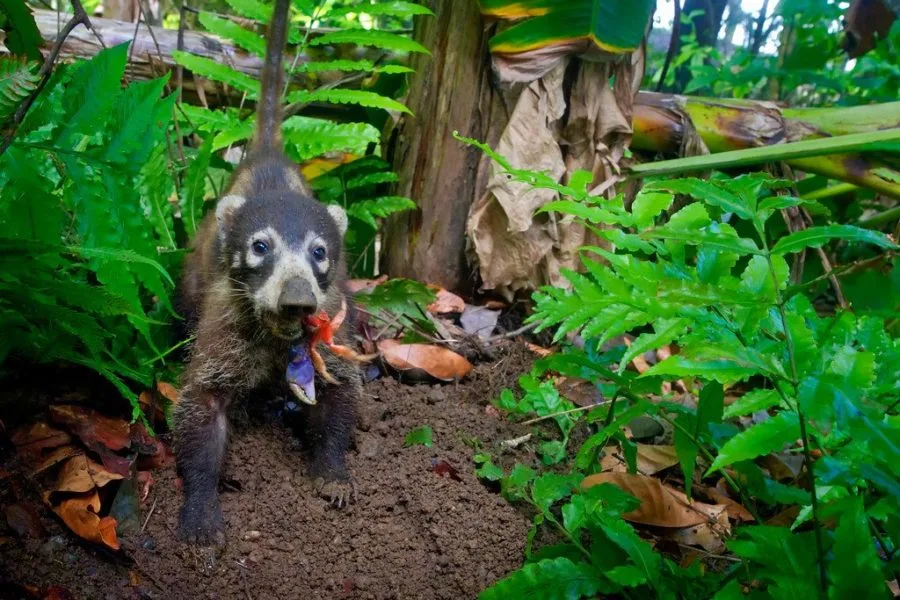 Wild Animals Everywhere!
As the sun rose higher, Spider Monkey families continued to angrily squawk at me while shaking the trees & branches over my head. I eventually spotted some White Faced Capuchin monkeys too. They were not nearly as pissed-off with my presence…
Spider monkeys need to take some anger management classes.
Hiking further into the jungle, a brown snake of some kind darted out from under the leaves near my feet. Luckily it wasn't in a striking kind-of mood!
The dark & humid rainforest trail eventually led back to the beach where the sun proceeded to relentlessly beat me into submission. Trekking for miles over soft sand under the burning sun with a pack full of food, water, camping, and camera gear is pretty exhausting…
I secretly hoped the rain would come back!
Sections of beach were absolutely covered in hermit crabs, making it look alive. Beautiful groups of Scarlet Macaws were having conversations with each other as they flew low over my head.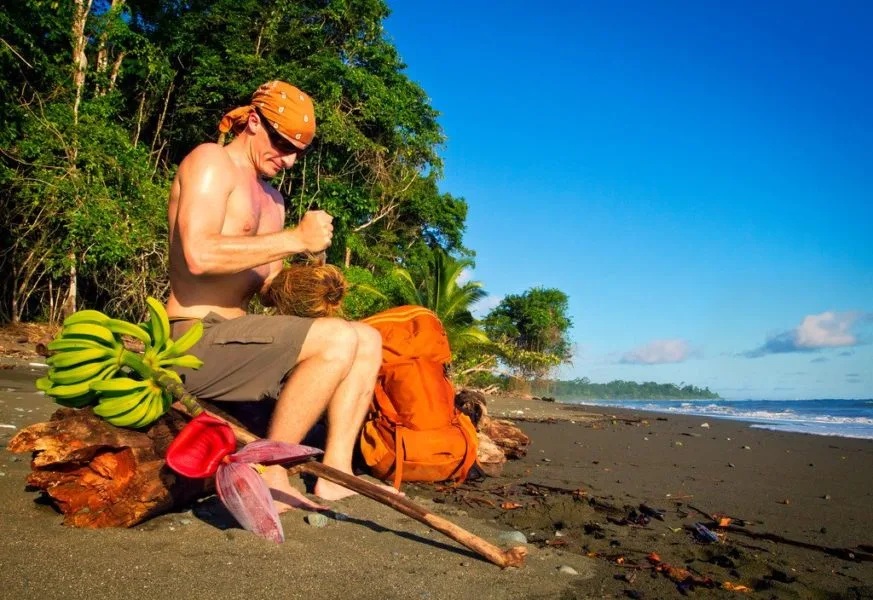 Alone In The Wilderness
Eventually I stopped for lunch. Resting under the shade of a large palm tree, I went for a quick swim in the pounding waves. A cold waterfall back near the edge of the trees served as my fresh-water shower.
I could get used to this.
The rest of the trip was spent crossing rivers, wading through tide-pools, losing the trail, running after Jesus Christ Lizards, climbing palm trees, and having a blast. Finally after a long & exhausting (but scenic) 9 hour day on the trail, I arrived at Sirena Ranger Station in the heart of the reserve.
Throughout the hike I hadn't seen a single person until I set up camp and made dinner with 4 others on a platform at Sirena. Howler monkeys roared at us from the trees in the twilight as I quickly fell soundly asleep.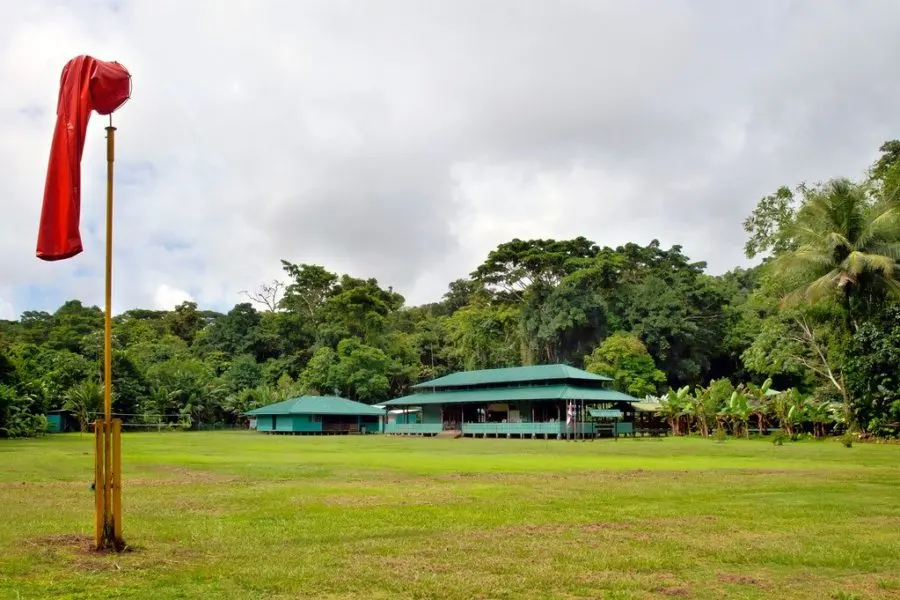 Poaching In Corcovado
The morning of the 3rd day I rose and prepared a hardy breakfast of canned tuna and refried beans wrapped in tortillas. Yum! Refreshed and ready to explore Corcovado's network of trails, I marched into the dense jungle yet again.
While shooting images of giant vine-entangled trees along the muddy banks of the Rio Claro, I was surprised when a group of armed local men came trudging by. I said hello as they took off their boots and began to cross the river.
Only then did I notice that two of the men were in handcuffs!
Unfortunately poaching & illegal gold mining in Corcovado is a constant problem. The park rangers had arrested 2 young men and were leading them out of the forest. It was comforting to see that Costa Rica's laws were being enforced to protect the area.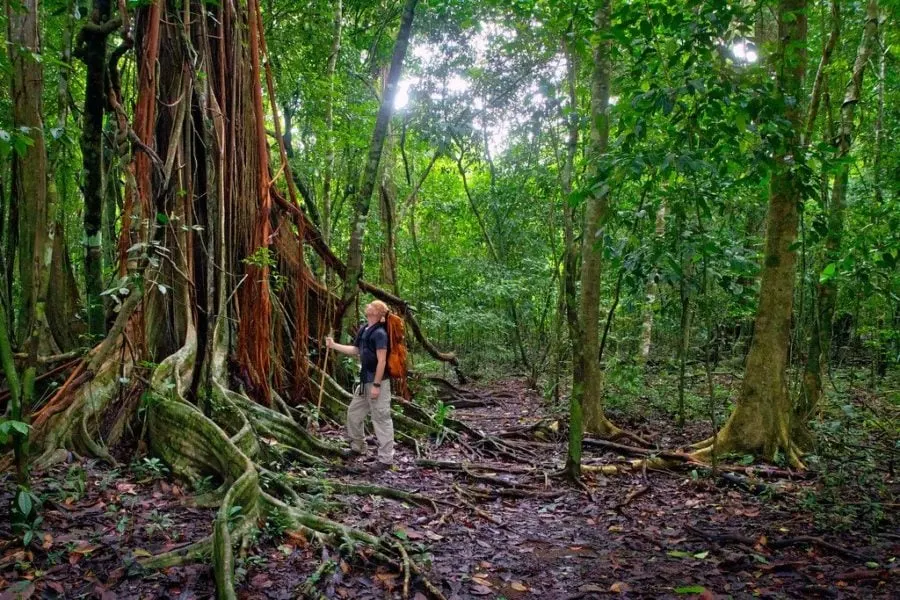 Crocodiles & Sharks
There are several river crossings on the way to Sirena, and they can be dangerous to cross at high tide. Not only can the water be up to your neck, but 12 foot (4m) long Crocodiles and aggressive Bull Sharks are often found in the rivers feeding on schools of fish.
This is why proper timing of your hike with tidal charts is so important, as I was about to find out.
I decided to follow a trail that led me to the Rio Sirena. The tide was starting to rise, but there seemed to be enough time to cross it, explore the other side for a bit, then get back before the river monsters came out to feed.
So after removing my boots and finding a tree branch to help support me in the deep water, I started across.
Suddenly a pair of eyes broke the surface in front of my legs!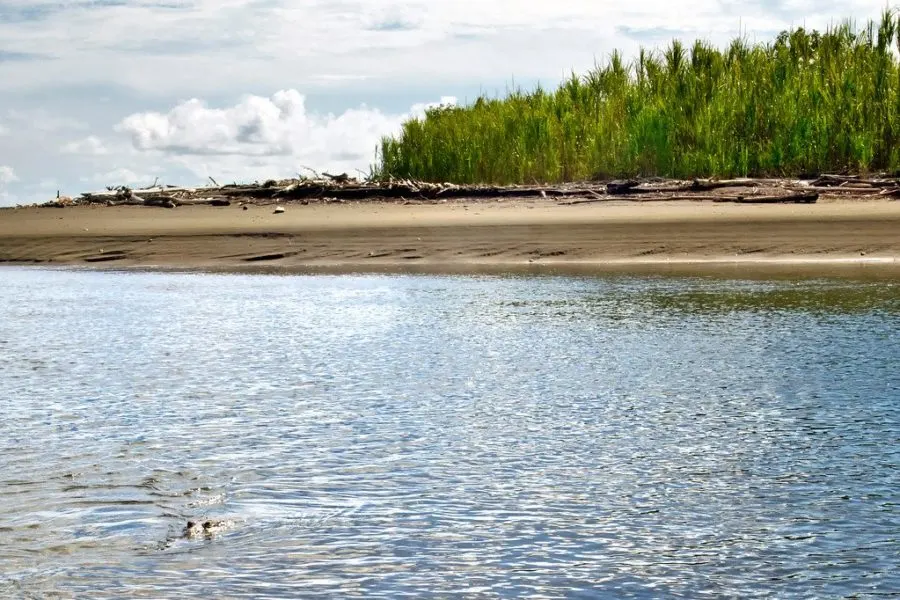 River Crossing Danger
A large Crocodile was staring me down less than 3 feet (1m) away. After freezing for a second not sure what to do, I slowly backed out of the water, pulled out my camera, and took a photo.
Unfortunately my river crossing attempt had been canceled.
I waited for high-tide to see if I could spot some bull sharks swimming into the mouth of the river looking for fish. It wasn't long before I saw fins darting over the water in the area I had been planning to cross!
What the #%@$ is That!?
The sun had started to set, which meant it was time to head back to the ranger station for the night. Secretly hoping to see a Puma or Jaguar before I left the next day, my senses were on high-alert.
Without warning something came crashing through the jungle behind me.
I turned just in time to see a giant beast disappear towards the beach…
Running back out the way I came, I found the strange animal eating on the edge of the sand. It looked like a crazy combination of pig, donkey, and anteater rolled into one.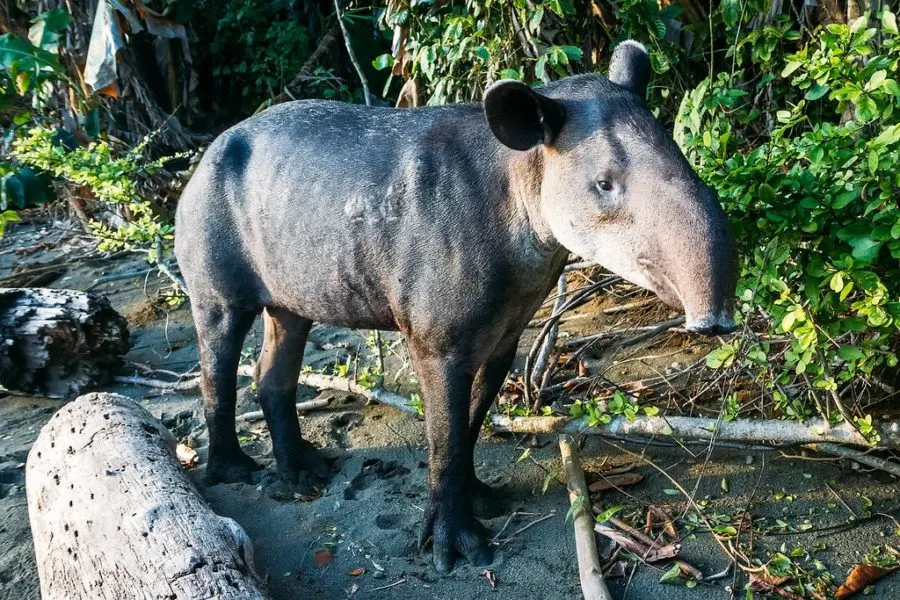 Baird's Tapir
The animal is called a Tapir, and I was surprised at how big it was. At almost 4 feet tall, and at least 6 feet long, it's the largest land mammal in Central America.
It's also in danger of extinction due to hunting & loss of habitat.
I watched this guy munch on leaves for a while, and soon it wandered right up next to me. It's snout moves around independently like an elephant's trunk, which looks quite funny up close.
I think he was trying to chat with me. Another new rainforest animal friend!
Amazing Corcovado!
Finally on the 4th day it was time to part with the animals and return to civilization. But there were still plenty of things to see along the trip back. This is a complete list of all the animals I saw after 4 fun days of trekking through Corcovado National Park:
Not included in the list are other frogs, snakes, fish and birds that I couldn't identify.
After an 7 hour trek back to the village of Carate, I greedily slurped down a few tasty beers and fired-up my last Nicaraguan cigar while waiting for the dreaded 3 hour truck-ride-from-hell back into town.
Making new friends with the rainforest animals in Corcovado National Park was definitely a unique backpacking experience that I will not soon forget. ★
UPDATE: The rules changed in 2014, and unfortunately you can no longer hike Corcovado alone. Visitors must be accompanied by a professional guide.