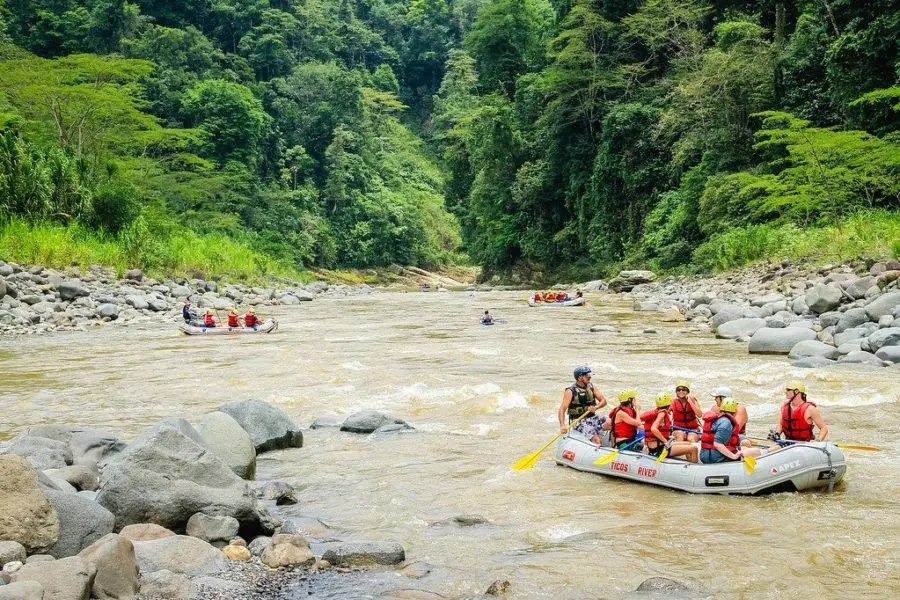 Turrialba, Costa Rica
National Geographic Magazine rated Costa Rica's Rio Pacuare as one of the top 5 best whitewater rafting spots in the world. Riding the river's class IV rapids was a wild experience!
The town of Turrialba is well know for it's scenic landscape and fast-moving rivers.
In fact, the World Rafting Championships were held here in October 2011.
My good friend Abby and I love to play on rivers. So we wanted to experience some of the world-class rafting that Costa Rica is known for and grabbed a local bus into town for a few days.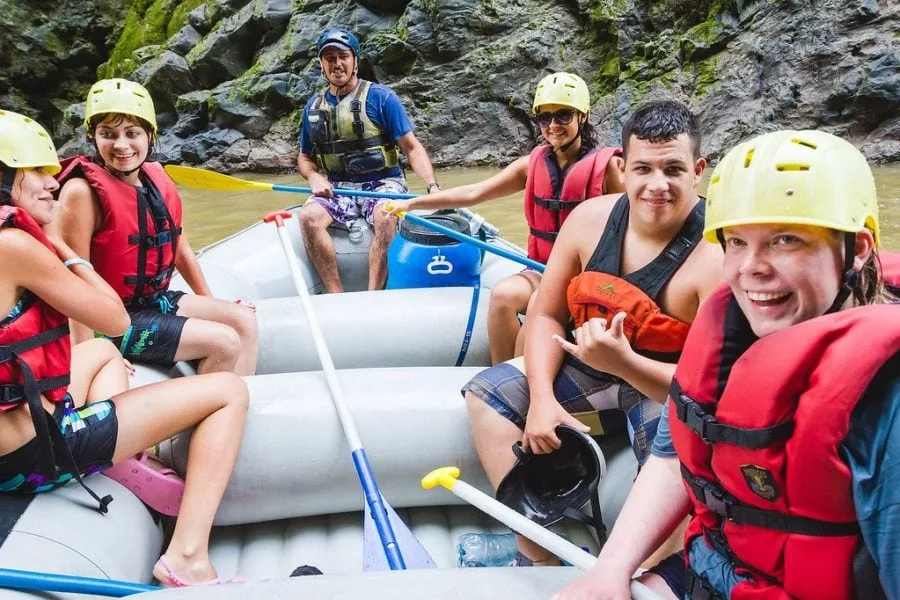 Tico's River Adventures
There are a lot of large rafting companies running trips down the Rio Pacuare, as it's a popular tourist attraction. I'm not a huge fan of giant tour companies.
Most are just profit-machines, churning through people as fast as they possibly can. It usually makes for a crappy, overpriced and rushed customer experience.
Luckily I found a small, local, family run operation called Tico's River Adventures.
Roberto, the energetic & friendly owner, picked us up outside our hostel Spanish By The River in Turrialba. We met the rest of our rafting team at his home.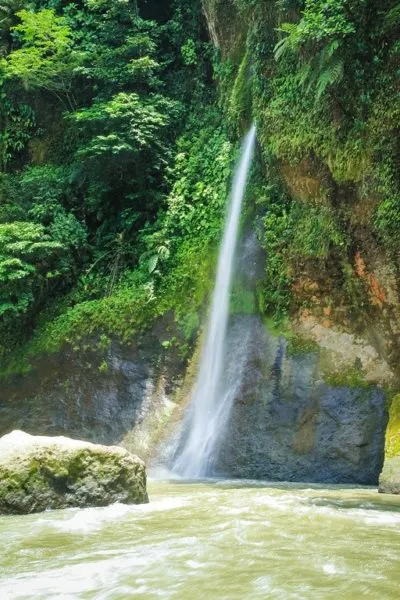 Rafting the Pacuare River
First we had a nice scenic road-trip through the Costa Rican countryside before we arrived at the mighty Pacuare. Our rafts were waiting for us on the river's edge.
While gearing up with lifejackets, helmets, and paddles, our guide Jeovany gave us a quick safety briefing. Before we could run the big class IV rapids we'd need to practice pulling each other out of the water.
"I can't promise anything" was Jeovany's response when I asked if the rafts often tipped over…
Our rescue practice consisted of jumping into the cold murky-brown water while 1 or 2 others would grab the "victim" by their lifejacket and haul them back on board. It's harder than it looks to get back in, even with someone else's help! ;)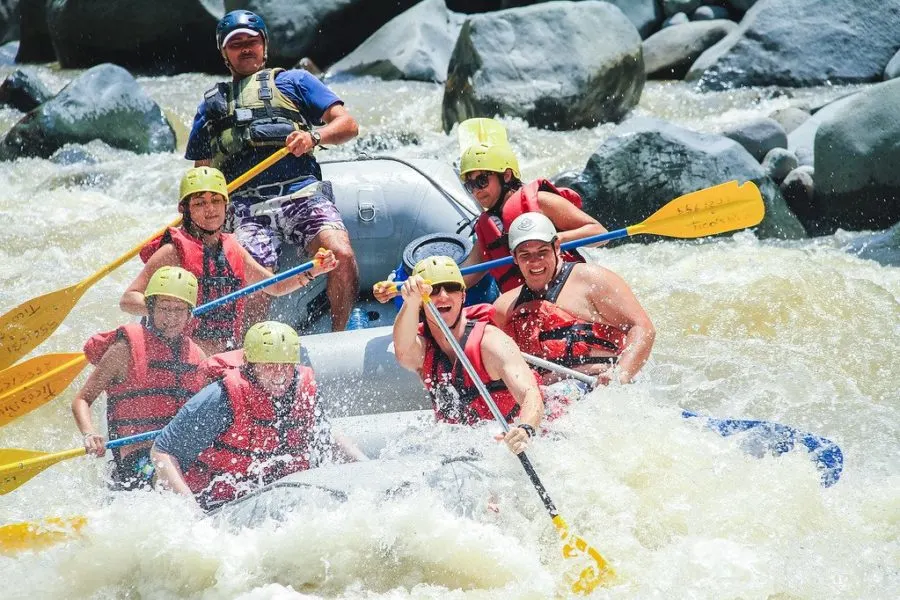 Wild Waterwater Ride
The first section of rapids came upon us immediately, and it never slowed down much after that. This whitewater roller-coaster had us bouncing all over the place as our raft plunged down through 11 different class III & IV sections with names like:
Doble Piso (Double Floor)
Rodeo
Pele el Ojo (Peel the Eye)
Dos Montañas (Two Mountains)
Roca Magentica (Magnetic Rock)
Graduacion (Graduation)
Suddenly without warning we were pinned backwards on a boulder, getting slammed with the raw power of the whitewater. It's a good thing we practiced our rescues earlier!
The whole raft was about to flip us into the swirling cauldron of water… but finally at the last second we managed to break ourselves free before the situation got ugly.
Now completely soaked and high on adrenaline – it took some effort to slow down & appreciate the stunning scenery around us. Thick jungle on both sides, steep canyon waterfalls, and brightly colored Blue Morpho butterflies fluttering past.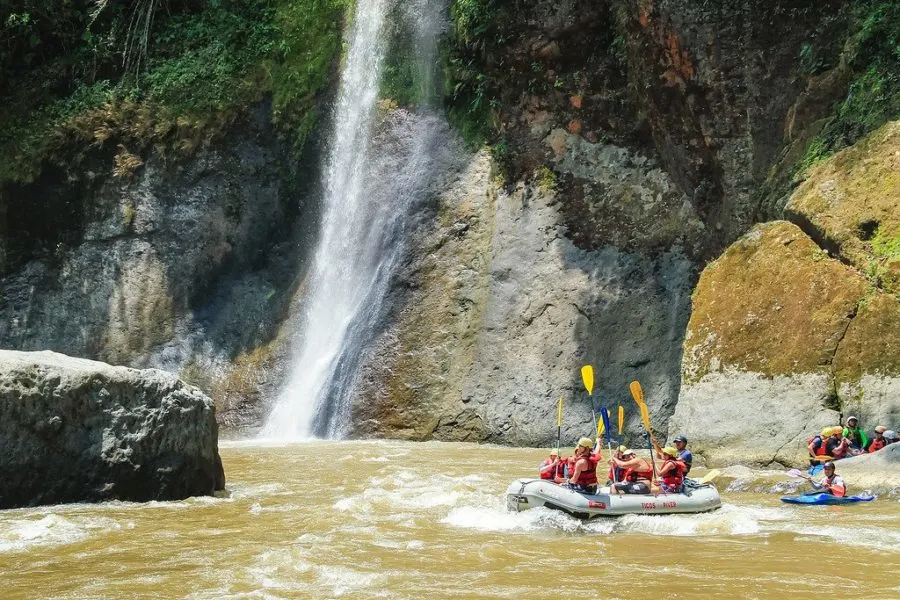 Jumping Into The River
After more intense whitewater action we stopped to take a break on the bank of the river and chow down on a large lunch consisting of sandwiches, salad, and cookies. Returning to the water once again, the raft gained speed as we floated into a narrow section of canyon.
Letting a few other rafting groups pass us, we were able to jump out to go swimming and climb up a 10-20 foot cliff to dive in and cool off.
Our guide pointed out a group of local indigenous kids playing by the water's edge. The Chirripó indians who live in this part of the forest use a cable to cross the river overhead in a metal basket.
More swimming kids greeted us at the end of our day-long 18 mile river adventure, where we all jumped out to finally relax and order a much-needed beer at the riverside bar.
While I'm certainly no rafting expert, after my experience on the Pacuare I do believe National Geographic had it right.
What a great workout too! My arms were sore for days… ★
---
Enjoy This Article? Pin It!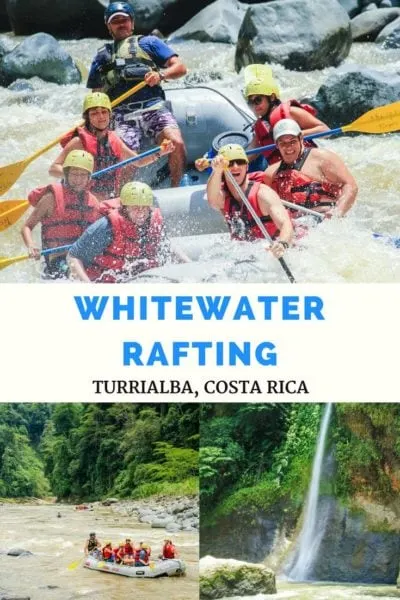 ---
READ MORE COSTA RICA TRAVEL TIPS
I hope you enjoyed my guide on Whitewater Rafting in Costa Rica! Hopefully you found it useful. Here are a few more wanderlust-inducing articles that I recommend you read next:
---
Do you want to go whitewater rafting in Costa Rica? Have any questions? Join the conversation on Facebook, Instagram, or Twitter to share!