Cancun, Mexico
Total gas! Total gas! I obeyed Memo's command and punched the accelerator to the floor. Our car rocketed up to 120 mph in a matter of seconds.
I promise this travel blog isn't turning into "Lifestyles of the Rich & Famous". I am neither rich nor famous. Far from it.
You'll still find me living out of a backpack, eating road cheese, smuggling monkeys over the border, and hanging out at garbage dumps.
I'm also a big fan of public transportation, especially the rooftops of school buses.
Yet living my life as a vagabond, I will always take full advantage of ANY interesting opportunities that come my way. I'm definitely not going to pass on a chance to try something new.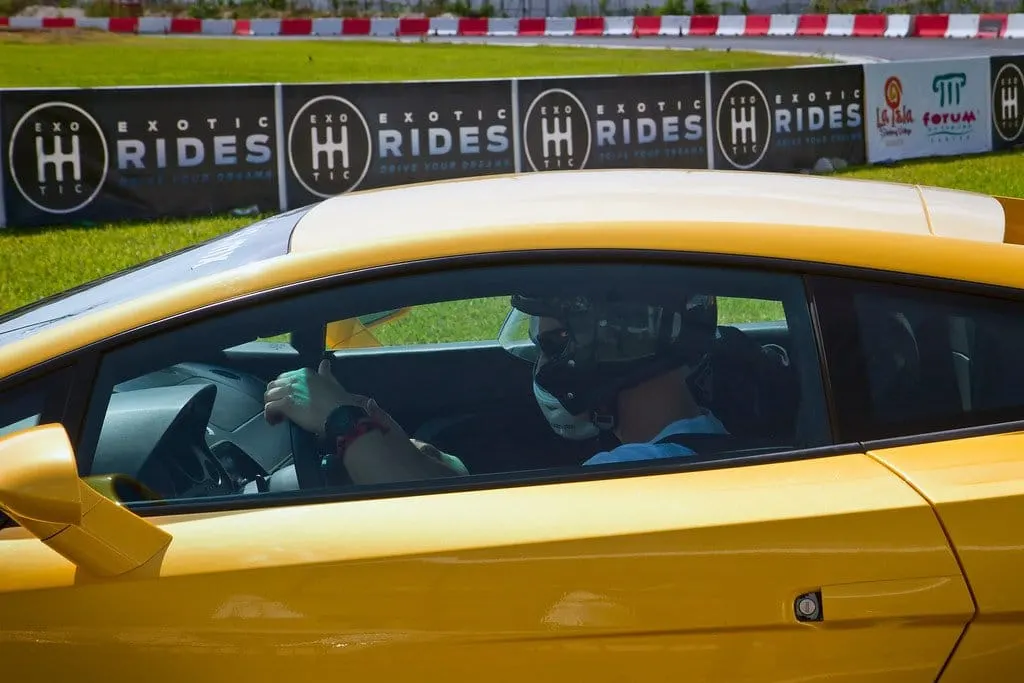 Addicted to Adventure Travel
Crazy new experiences are exactly what an adventure travel junkie like me lives for!
So when someone at Exotic Rides Mexico gave me the keys to a $200,000 exotic luxury car and told me to drive it as fast as I could around a race track, you can guess my response:
"Thank you tiny infant baby Jesus."
Well, of course, I'm now going to share what that experience was like.
I know, I know. You're probably thinking:
"Matthew, you are way too generous to us. We don't deserve this unselfish act of love."
Don't say I never did anything nice for you…
Driving A Lamborghini Gallardo
This is actually not my first time driving one of these cars. In my previous life, I worked a bit as an exotic used-car photographer at dealerships around Miami. Bet you didn't know that job existed, did you?
Often I'd need to drive the cars to a separate location for photos. So I've driven some pretty incredible machines — like the Rolls Royce Phantom, H1 Hummer, Bentley Continental, Ferrari F430, Aston Martin Vantage, and of course the Lamborghini Gallardo (very popular in Miami).
One time I even got to drive Paris Hilton's custom $600,000 Mercedes McLaren!
But all of these driving experiences were at normal speeds on city streets. The real fun is driving high-end cars on a track, something I've never done before. Until now.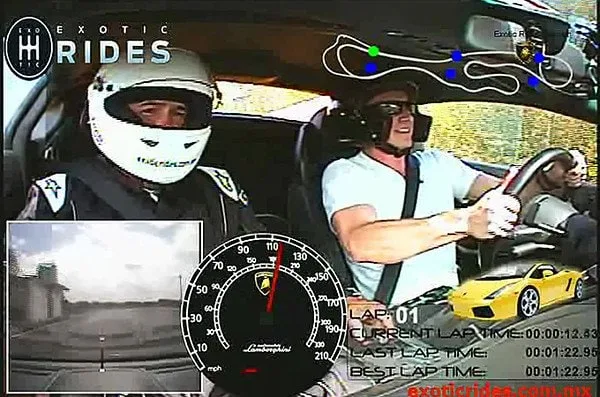 Exotic Rides Mexico
You don't need to be a rockstar to experience what a luxury vehicle is capable of. At Exotic Rides in Cancun Mexico, even a schmuck like me can race around pretending to be Ricky Bobby in a ridiculously expensive super car! :)
You have your choice between a few different models, including the Ferrari F430, Lamborghini Murcielago, Audi R8, and Mercedes-Benz SLS AMG.
It was tough to choose, but I went with the 500 horsepower Lamborghini Gallardo.
After a short 15 minute class on proper driving position & safety (sit close with easy control of pedals, hands on steering wheel with thumbs up, braking at cones before corners, etc.) it was time for a few test laps in a Camaro to learn the layout of Cancun's 2 kilometer race track.
The track isn't just a big oval like you see at NASCAR, but an eclectic mix of wide turns, sharp s-curves, and straightaways.
Only 2 Rules…
With the recognition laps done, I strapped on my helmet and jumped into the driver's seat of the Lamborghini. My instructor's name was Memo. He's a professional race car driver.
In fact the next day he had to fly to Mexico City to compete in a race. I was about to learn from the best!
Before we sped off, he told me the rules. There were only two:
Rule #1: Have fun.
Rule #2: Don't frighten me.
I decided not to tell him about all the vehicles I've crashed in the past. There was that motorcycle incident in Nicaragua, and a messy volcano boarding experience that ended with blood.
The less he knows the safer he'll feel with me behind the wheel…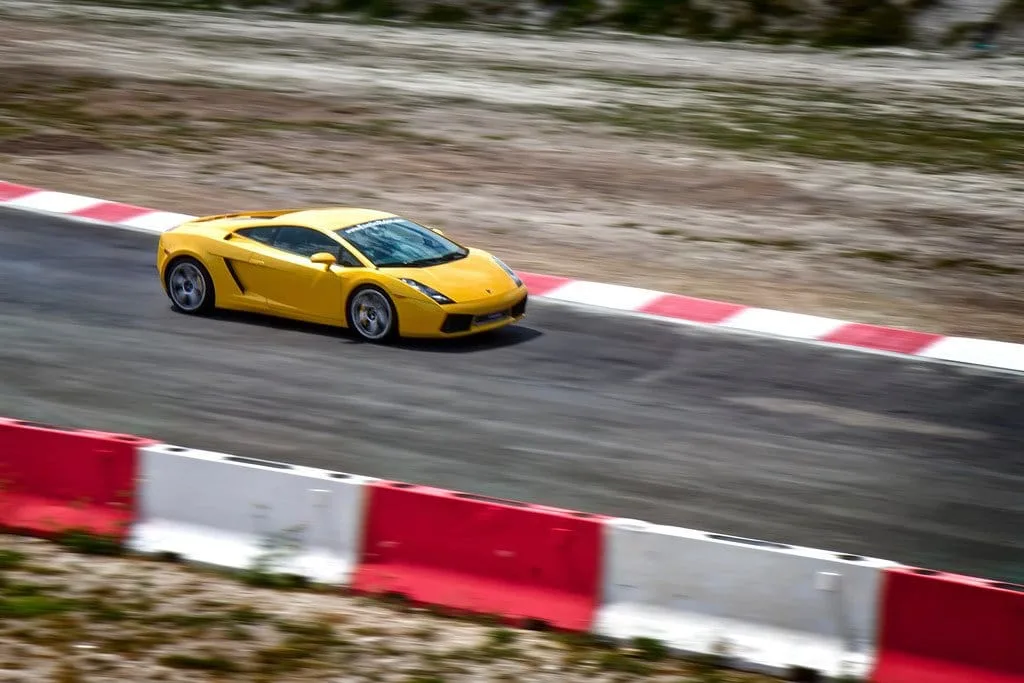 Off to the Races
I hit the gas and we launched the bright yellow Lamborghini like a missle. Throughout the course Memo told me when to speed up, and when to hit the brakes.
Some strategically placed cones aided me as a visual reference. The key to racing is braking before the curves, and accelerating through them.
The whole track is used while driving. Starting wide and rocketing around the corners as close to the edge as you can get.
The Lambo's tires would screech around turns at 50 mph, and we'd push the car up over 110 mph on the straightaway.
If the track was a bit longer, I could have easily gone faster in this powerful machine. But by the time you hit 110/120 mph, you need to brake again for the curves.
"I wanna go fast." ~ Ricky Bobby, from Talladega Nights
Incredible Adrenaline Rush!
We did 5 laps around the Cancun race track in the Lamborghini that day. I was able to improve my lap time by 3 seconds using Memo's expert driving advice.
I stepped out of the car with a giant shit-eating grin on my face, adrenaline still pumping through my veins. It was everything I hoped it would be and more.
Do you smell something crispy & delicious? It's not the tailpipe you're smelling.
It's a little bit of… SHAKE & BAKE! Shake & bake all day long. :lol:
Special thanks to my friend Elizabeth for some of the photos!
Watch Video:

Racing a Lamborghini


(Click to watch Racing a Lamborghini on YouTube)

[su_box title="Travel Planning Resources for Cancun, Mexico" style="noise" box_color="#333333″ title_color="#FFFFFF" radius="3″ class="resource-box"]
Company: Exotic Rides
Cost: $388
Packing Guide
Check out my travel gear guide to help you start packing for your trip. Pick up a travel backpack, camera gear, and other useful travel accessories.
Book Your Flight
Book cheap flights on Skyscanner, my favorite airline search engine to find deals. Also read my tips for how I find the cheapest flights.
Rent A Car
Discover Cars is a great site for comparing car prices to find the best deal. They search both local & international rental companies.
Book Accommodation
Booking.com is my favorite hotel search engine. Or rent local apartments on Airbnb ($35 discount!). Read my post for tips on booking cheap hotels.
Protect Your Trip
Don't forget travel insurance! I'm a big fan of World Nomads for short-term trips. Protect yourself from possible injury & theft abroad. Read more about why you should always carry travel insurance.
[/su_box]
READ MORE MEXICO TRAVEL TIPS
I hope you enjoyed my guide to racing exotic cars in Cancun, Mexico! Hopefully you found it useful. Here are a few more wanderlust-inducing articles that I recommend you read next:
*This experience was made possible with help from Exotic Rides Mexico. However, as you probably know by now, all opinions & thoughts are my own. Learn More..