Vancouver Island, Canada
The second half of my Vancouver Island road trip took me to the island's West coast, and the fun little hipster surf town of Tofino. It's a lush wilderness outpost on the edge of the sea.
I was on a self-drive road trip with Canada By Design — their Coastal Cultural Explorer Tour of Vancouver Island.
Which means I was following a basic itinerary, while my accommodation, a rental car, and some activities were included in the price.
This 8-day journey across Canada's Vancouver Island was mixed with adventure, a taste of First Nation's culture, and dramatic Pacific Northwest scenery.
Yet I was on my own, taking my time to enjoy this road trip at my own pace.
Driving To Tofino
For the first half of the journey, I'd explored parts of Vancouver Island's East coast. Today's drive was a long one (about 6 hours) which took me across the island from Telegraph Cove to Tofino over the stunning Pacific Rim Highway.
I managed to drop into some native art galleries, hiked an ancient old-growth rainforest, and enjoyed beautiful mountain scenery and lakes along the way.
First Nations Art Galleries
During this road trip around Vancouver Island, I'm constantly reminded of the deep history of the landscape, first populated by the peoples of the First Nations around 7,000 years ago.
Driving into Courtenay, I stumble upon a K'ómoks native longhouse, decorated with a colorful mural featuring an eagle & whale. These cedar buildings were often shared by extended First Nations families, everyone participating in daily tasks like preparing food, building canoes, etc.
At I-Hos Gallery, local people express their identity through art. This gallery, with its masks, wood carvings, intricate prints and textiles, is designed to tell stories as much as please the senses.
Stories of origins, about their technological and spiritual relationship with the natural world, about how they lived, how they died, and how they endured to become modern descendants of First Nations cultures.
Goats On A Roof!
My eyes started to play tricks as I entered the town of Coombs. What first looked like a green hill with goats appeared to become the roof of a long, wood-pannelled building.
I found them. Vancouver Island's famous "Goats On The Roof!"
In the 1950s, Kristian Graaten and his wife, Solveig, left Norway and emigrated to British Columbia.
When they decided to build a market in the mid-70s, Kris used the Norwegian tradition of lining roofs with grass/sod. It may sound eccentric, but this roof traps the warmth of the building, reducing heating bills up to 25%.
It's also soundproof, easy to maintain, and the perfect place to keep your pet goats! Which has turned into a huge tourist attraction for his roadside Coombs Old Country Market, a fun location to stop for lunch.
[su_row class=""]
[su_column size="1/2″ center="no" class=""]

[/su_column]
[su_column size="1/2″ center="no" class=""]

[/su_column]
[/su_row]
Hiking Cathedral Grove
A twenty-minute drive west, and things got even more vertical. If you've never seen a majestic Douglas Fir, your first sight can be overwhelming.
Imagine the average fir tree, the kind you'd hang your Christmas ornaments on. Now double it in size. Now double it again. Maybe a third time. Now you're getting close – but maybe not close enough, since a fully-grown Douglas fir can reach 225 ft / 75 m into the sky!
At the heart of MacMillan Provincial Park stands Cathedral Grove, home of the densest collection of these trees. It's an opportunity to stretch your arms around their trunks, failing to make it even halfway (the widest has a circumference of 27 ft / 9 m).
When you stand there in the quiet, gazing up towards the distant canopy where the treetops meet the sunlight, it feels unchanging, like time itself has stopped to listen. Some of these trees are 800 years old.
Welcome To Tofino
Making it across the width of Vancouver Island, I finally arrive to the quirky Pacific coastal town of Tofino. A place I've heard so much about.
Tofino is the gateway to Vancouver Island's wildest and most spectacular scenery, and in the summer, it's an enormously popular destination for visitors, greatly multiplying its small local population of 2,000.
Pacific Rim National Park is right next door, a 500-kilometer expanse of rainforest trails, rugged wave-battered coastlines and pristine beaches.
However it's best to visit in the summer months, as winter conditions can get a little fierce (it's a haven for storm-watchers in the winter).
Tofino is ideal for hiking, surfing, hanging out at the beach, wildlife viewing, or just strolling down boardwalk paths through pacific northwest temperate rainforests.
Whale Watching & Hot Springs
You can't visit Tofino and not go whale watching! But I'll give you a tip, rather than take a dedicated whale watching trip, join the Hot Springs Cove Tour with Remote Passages.
Because there's a very good chance you'll see whales (and other wildlife) on your way to the hot springs. Like I did. It's like two tours in one.
As part of the Maquinna Marine Provincial Park, Hot Springs Cove gets its name from the nearby Ramsay hot springs (it hits up to 50 C / 110 F in places), which are only accessible by boat or float-plane.
The trip had us speeding through the waves in an inflatable zodiac, stopping to watch playful Orcas (don't call them killer whales!), large sea lions, sea otters, and even a black bear fishing for crabs on the coastline.
After the boat ride, it was time to relax by soaking in these steaming-hot natural pools & waterfalls while enjoying an epic view.
Surfing Around Tofino
If you surf, or want to learn, Tofino is a good place to hit some waves. In fact they call themselves the Surf Capital of Canada. Although keep in mind this is the Pacific Northwest, and chilly 50 – 60 F water means you'll want a wetsuit.
There are a few surf-shops in town that can outfit you with a board, wetsuit, and even a surfboard car rack. I stopped into Long Beach Surf Shop and rented a longboard for a morning surf session at Chesterman Beach.
Tofino is a surfer's paradise – so if you've been following my surfing adventures, you can imagine my reaction to these miles and miles of surfable coastline, reliable beach breaks, and uncrowded waves.
There are a few good surf-spots in the area, and waves for all abilities. Long Beach is a popular spot, a 15-km stretch of undeveloped coastline that's regarded as the park's most photogenic.
Chesterman Beach and Cox Bay are two more. Winter usually has the better swells, and fewer tourists — but crazier weather and colder water too.
Places To Stay & Eat
As part of my Coastal Cultural Explorer Self-Drive Tour, accommodation in Tofino was included at the stunning cliffside Middle Beach Lodge.
For good food, I recommend checking out Wolf In The Fog for dinner, and Tacofino for a delicious food truck experience at lunch.
Tofino has a super fun farmer's market every Saturday, where you can sample all kinds of good food, or pick up some locally-made artwork/crafts.
If you're looking for a great place to watch the sunset with a beer and some fresh oysters, check out Tofino's Ice House Oyster Bar. Thank me later. ★
Bonus Video! Vancouver Island Road Trip
Subscribe to my YouTube Channel for new Adventure Travel Videos!
(Click to watch Vancouver Island BC – Road Trip on YouTube)
[su_box title="Travel Planning Resources For Vancouver Island" style="noise" box_color="#333333″ title_color="#FFFFFF" radius="3″ class="resource-box"]
Packing Guide
Check out my travel gear guide to help you start packing for your trip. Pick up a travel backpack, camera gear, and other useful travel accessories.
Book Your Flight
Find cheap flights on Skyscanner. This is my favorite search engine to find deals on airlines. Also make sure to read how I find the cheapest flights.
Rent A Car
Discover Cars is a great site for comparing car prices to find the best deal. They search both local & international rental companies.
Book Accommodation
Booking.com is my favorite hotel search engine. Or rent apartments from locals on Airbnb. Read more about how I book cheap hotels online.
Protect Your Trip
Don't forget travel insurance! I'm a big fan of World Nomads for short-term trips. Protect yourself from possible injury & theft abroad. Read more about why you should always carry travel insurance.
Recommended Guidebook: Lonely Planet Pacific Northwest
Suggested Reading: Island Of Dreams
[/su_box]
Enjoy This Post? Pin It!
[su_row class=""]
[su_column size="1/2″ center="no" class=""]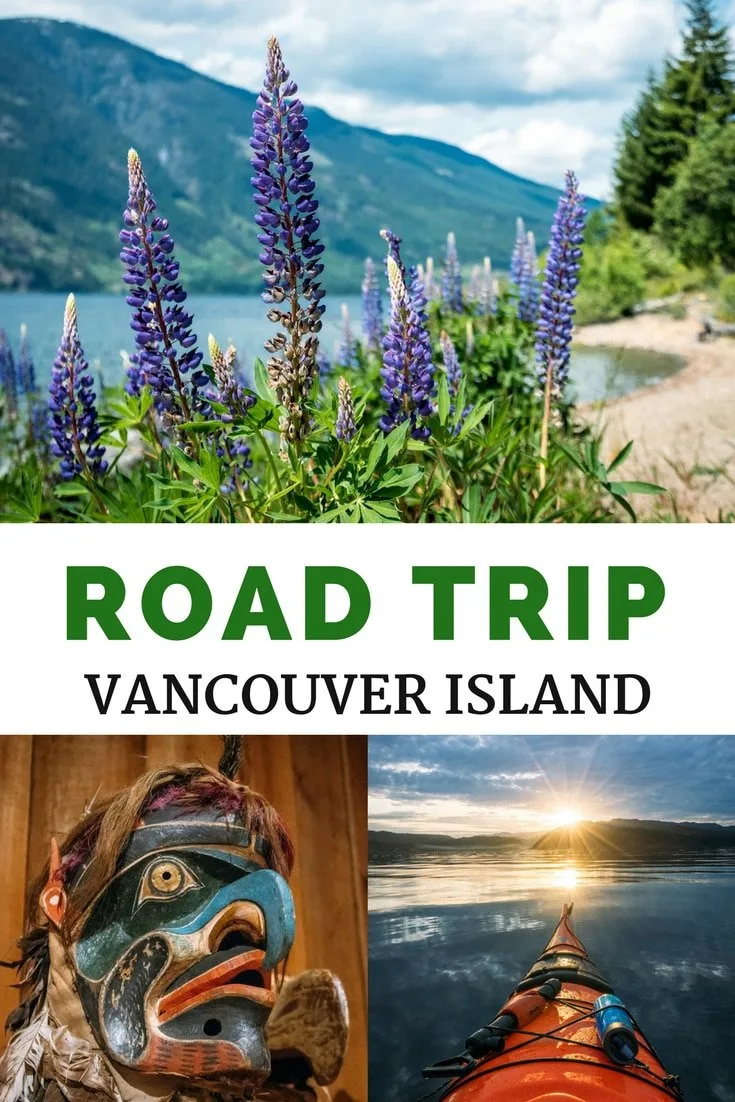 [/su_column]
[su_column size="1/2″ center="no" class=""]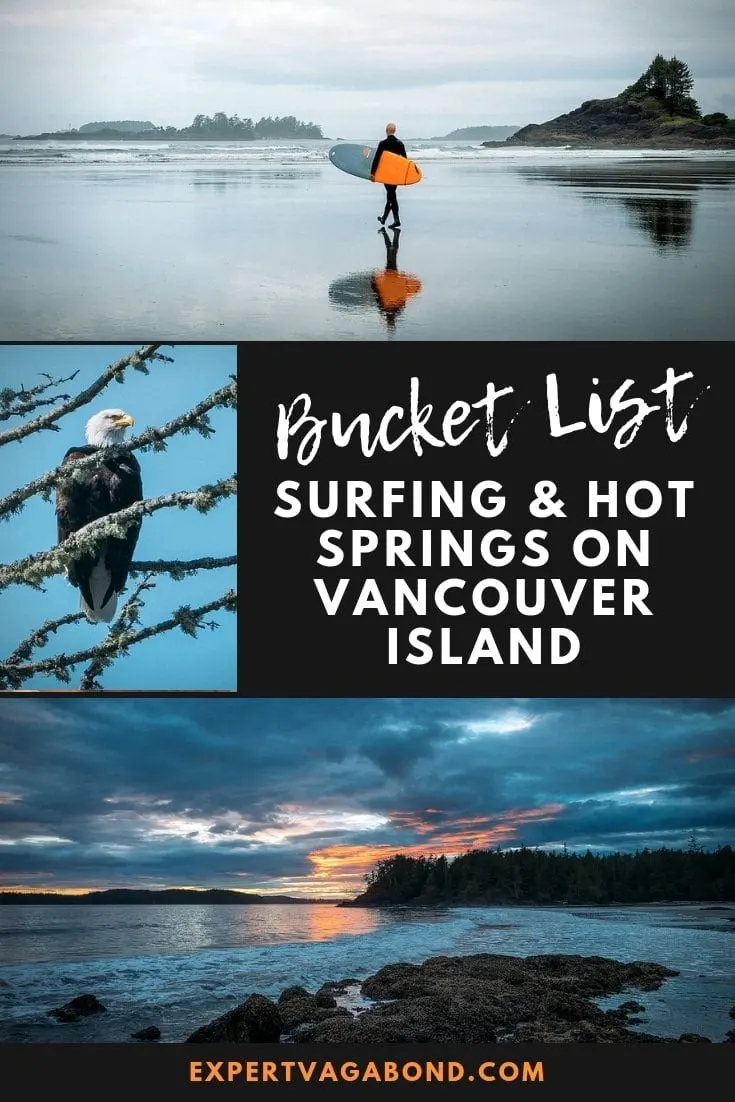 [/su_column]
[/su_row]
READ MORE CANADA TRAVEL TIPS
I hope you enjoyed my guide on Vancouver Island! Hopefully you found it useful. Here are a few more wanderlust-inducing articles that I recommend you read next:
Have any questions about visiting Vancouver Island? Are you planning a trip? Join the conversation on Facebook, Instagram, or Twitter to share!