Vancouver Island, Canada
Just when we're about to give up searching, a group of humpback whales pop their heads above the water, feeding on a school of fish swimming in the turbulent coastal currents. Then they dive below, flashing us glimpses of massive tails.
But the whales come later in this tale. My first impression of Vancouver Island is not whales, but trees. So many trees.
They rise in a green wall on each side of the road, or fall away to reveal incredible views of cliffs, rivers, inlets, the straits that separate it from the mainland, or the endless sweep of the Pacific to the west.
There's no doubt about it: Vancouver Island is a natural wonderland.
I arrive to the island by ferry, just a 2 hour journey from the city of Vancouver to Nanaimo. After driving off the boat, I grab some breakfast at a coffee shop in town, and begin my 8 day Vancouver Island road trip.
Canada By Design Self-Drive Tour
This is not your typical road trip. I took a self-drive tour with Canada By Design – specifically, their 8-day Coastal Cultural Explorer, starting and ending in Vancouver.
As you'd imagine, the itinerary takes in all the most beautiful spots on this mesmerizing, rugged stretch of coastline – but as the title suggests, it's also designed to open your mind as well as your eyes, giving you a taste of the inhabitants' rich, culturally fruitful relationship with this vast expanse of natural beauty, both now and in the past.
While some aspects of the trip have been planned (accommodation, rental car, and a few activities) I'm basically free to move at my own pace, and take side-excursions whenever I see something fun along the way.
Canada By Design's local experts put together a general itinerary for me to follow along with recommendations. But there is plenty of free time to figure stuff out on my own too — and have a real adventure.
As someone who prefers independent travel over group tours, this is an ideal mix of convenience and freedom.
I don't have to worry about the more tedious aspects of planning a trip, and can just relax and enjoy the discovery of a new travel destination.
Exploring Quadra Island
My first stop is Quadra Island, which crumbles off Vancouver Island on the eastern side, marking the passage northwest into Johnstone Strait.
Many hundreds of years ago, long before Europeans set foot on these shores, it was called "Tsa-Kwa-Luten" – gathering place in the Kwak'wala tongue.
Based on the relics and carvings discovered in this area, it was well-named.
I spent my time wandering around the island, hiking some trails, photographing wildlife like deer and bald eagles, and rented a sea kayak with Quadra Island Kayaks to paddle along the coast.
Sea kayaking is a popular sport here – there's tons of varied coastline to explore.
I saw seals playing off the side of my boat, and watched jellyfish float under the surface of the water. Some of the smaller islands also have colorful starfish clinging to the rocks.
Tsa-Kwa-Luten Lodge
My home for 2 nights is Tsa-Kwa-Luten Lodge, located within a large peaceful forest on the coastline of Discovery Passage. The lodge, owned by the Laichwiltach people, is built on the site of a former First Nations village.
It's decorated with indigenous art from the area, and surrounded by wildlife like deer, bald eagles, and seals. In the early morning at low-tide, you can find ancient petroglyphs carved into rocks on the shoreline.
A short drive away from the lodge is the Nuyumbalees Cultural Center, which displays an array of Native artifacts of cultural, artistic and historic value to the Kwakwaka'wakw people.
Potlatch masks, totem poles, ceremonial costumes, and more. The craftsmanship was incredible!
Wildlife & History In Telegraph Cove
Driving further North, my next stop was the tiny former lumber/canning community of Telegraph Cove. With a population of only 20, this is one small town!
However it feels like a picture postcard, nestled on the edge of a tiny bay in the middle of the Pacific North West wilderness. These days tourism is the main draw, wildlife fans visit for access to excellent whale watching, grizzly bear viewing, sea kayaking, and fishing.
In the morning I met with Mike Willie, owner of Sea Wolf Adventures, for a local whale watching & First Nations cultural experience on his inflatable zodiac speed boat.
Mike is a member of the Musgamakw Dzawada'enuxw First Nation, and his family has lived off this land for generations.
U'mista Cultural Center
Before we go looking for humpback whales, Mike takes me to Alert Bay and the U'mista Cultural Center to learn about some sad history.
In 1884, the Canadian government outlawed the most important of all ceremonies performed by Canada's First Nations – the Potlatch – to assimilate and acculturate the country's indigenous people.
Half a century of arrests and confiscations later, cultural treasures of the Kwakwaka'wakw remained scattered.
Today U'mista works to promote the Kwakwaka'wakw language and culture, and to preserve the heritage of the 5,500 Kwakwaka'wakw making a living in and around modern Vancouver Island.
The center sits next to a recently demolished Indian Residential School, a tragic part of Canada's history.
Whale Watching In The Rain
So after a somewhat depressing yet eye-opening experience learning about Canada's indigenous First Nations history, it was time to cheer up and head out on the whale watching part of our wildlife & cultural trip.
Mike knows these waters like the back of his hand, and it wasn't long before we came across a pod of three giant humpback whales feeding on fish along a roiling tidal current.
It was mesmerizing watching the massive animals crest the surface of the water, arching their back in the "hump" shape they're named after, before diving into the depths with a flick of their large tail fins.
Humpbacks are about as large as a school bus, growing up to 60 feet long and weighing 40 tons!
Strathcona Provincial Park
I had some more time to venture off my itinerary, so I decided to visit Vancouver Island's largest provincial park, called Strathcona. The park is known for it's many lakes, mountains, waterfalls, and glaciers.
The drive through Strathcona Provincial Park was spectacular, tons of amazing scenery to take in on the winding mountain roads. Not very busy at all, I was able to stop at a few overlooks and a waterfall called Myra Falls.
Much of the park was empty, too far for most Vancouver Island tourists to venture, but well worth the trip if you have the time! If I had more myself, I would have loved to do some overnight hikes in the area.
Road Tripping Vancouver Island
After experiencing the nature, wildlife, and culture of North Eastern Vancouver Island, it was time to drive to the opposite coast and see what the West side had to offer.
Make sure to read PART 2 of my Vancouver Island road trip, where I visit an ancient rainforest, take a dip in some natural hot-springs, catch a glimpse of orcas and bears – plus give cold-water surfing a try. ★
Bonus Video! Vancouver Island Road Trip
Subscribe to my YouTube Channel for new Adventure Travel Videos!
(Click to watch Vancouver Island BC – Road Trip on YouTube)
[su_box title="Travel Planning Resources For Vancouver Island" style="noise" box_color="#333333″ title_color="#FFFFFF" radius="3″ class="resource-box"]
Location: Vancouver Island, Canada
Self-Drive Tour: Canada By Design
Packing Guide
Check out my travel gear guide to help you start packing for your trip. Pick up a travel backpack, camera gear, and other useful travel accessories.
Book Your Flight
Find cheap flights on Skyscanner. This is my favorite search engine to find deals on airlines. Also make sure to read how I find the cheapest flights.
Rent A Car
Discover Cars is a great site for comparing car prices to find the best deal. They search both local & international rental companies.
Book Accommodation
Booking.com is my favorite hotel search engine. Or rent apartments from locals on Airbnb. Read more about how I book cheap hotels online.
Protect Your Trip
Don't forget travel insurance! I'm a big fan of World Nomads for short-term trips. Protect yourself from possible injury & theft abroad. Read more about why you should always carry travel insurance.
Recommended Guidebook: Lonely Planet Pacific Northwest
Suggested Reading: Island Of DreamsPlaces
[/su_box]
Enjoy This Post? Pin It!
[su_row class=""]
[su_column size="1/2″ center="no" class=""]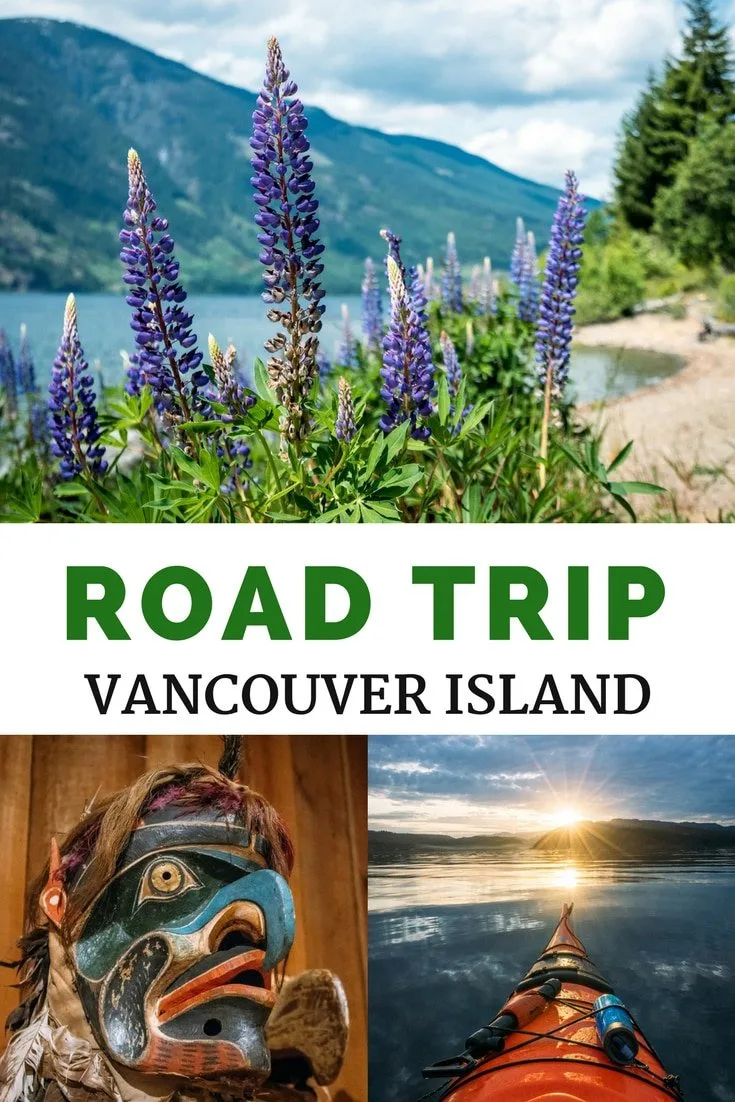 [/su_column]
[su_column size="1/2″ center="no" class=""]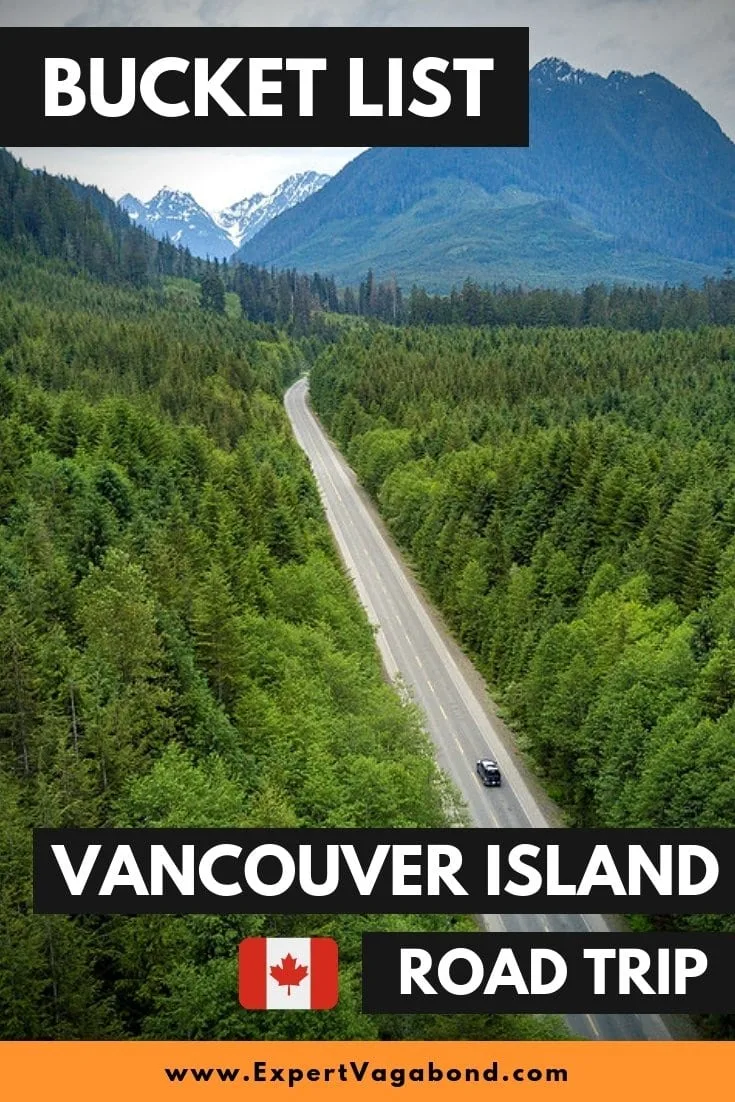 [/su_column]
[/su_row]
READ MORE CANADA TRAVEL TIPS
I hope you enjoyed my Vancouver Island road trip guide! Hopefully you found it useful. Here are a few more wanderlust-inducing articles that I recommend you read next:
Have any questions about visiting Vancouver Island? Are you planning a trip? Join the conversation on Facebook, Instagram, or Twitter to share!