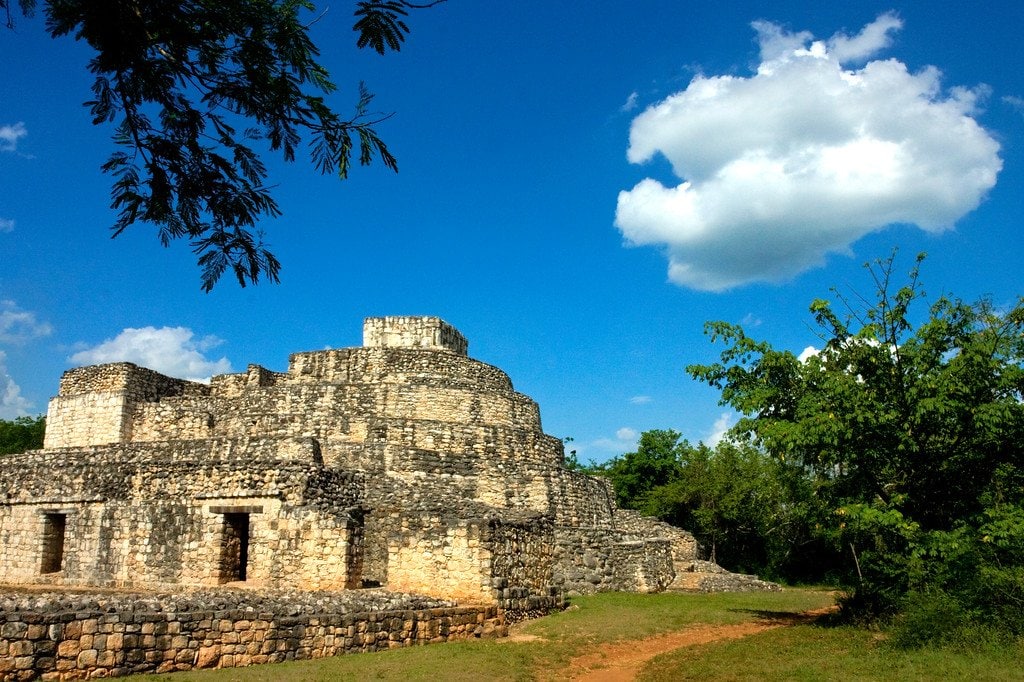 Valladolid, Mexico
Ek' Balam is an ancient Mayan city located on the Yucatan Peninsula of Mexico. I decided to visit the pre-Colombian site for the day.
I took a collectivo, these taxi-vans that wait around until there are enough people going to the same place before it leaves. It's the cheapest way to get around in Mexico. I headed out onto the street to look for one.
On a typical day, I'd get asked 3 different times by collectivo drivers if I wanted to go to Ek' Balam while out walking around. But for some reason this morning I couldn't find any!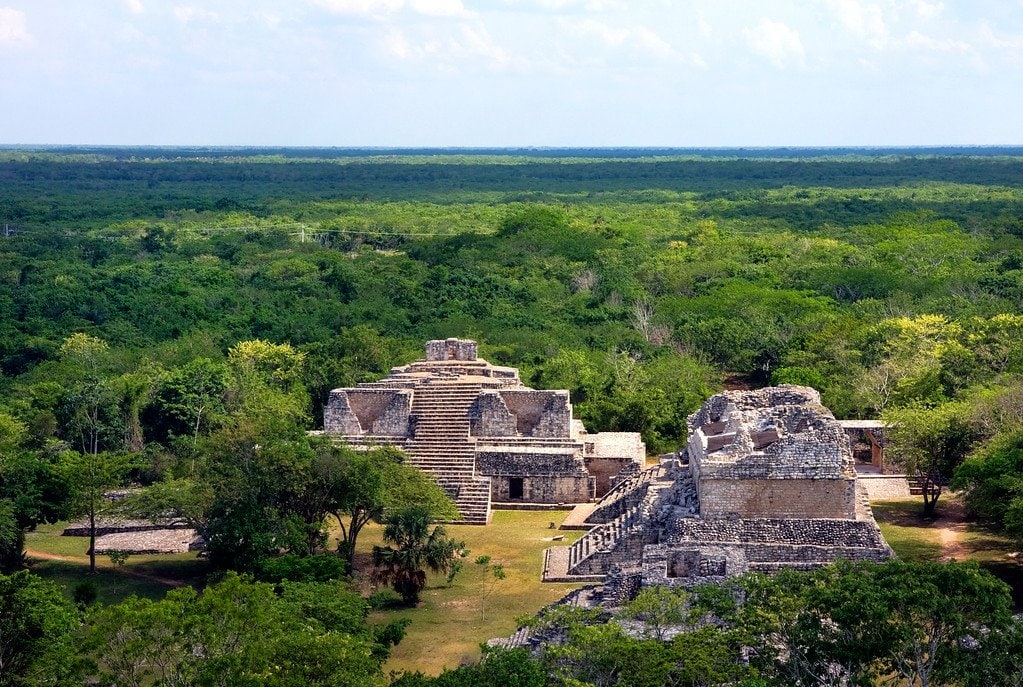 Packed Valladolid Taxi Ride
I gave up and decided to find a taxi. I talked a taxi driver into cramming all 5 of me into his tiny 4 passenger car. For $40 pesos each, he would drive me over to the ruins (a 30 minute drive), and wait there 3 hours to drive me back into town.
On the ride in I could see and smell burning forest. Our driver told me they are clearing the land to build more tourist facilities in the area.
This is kind of sad, as I think the sites lose their mystery when they start adding giant bus parking lots and hotels all over the place.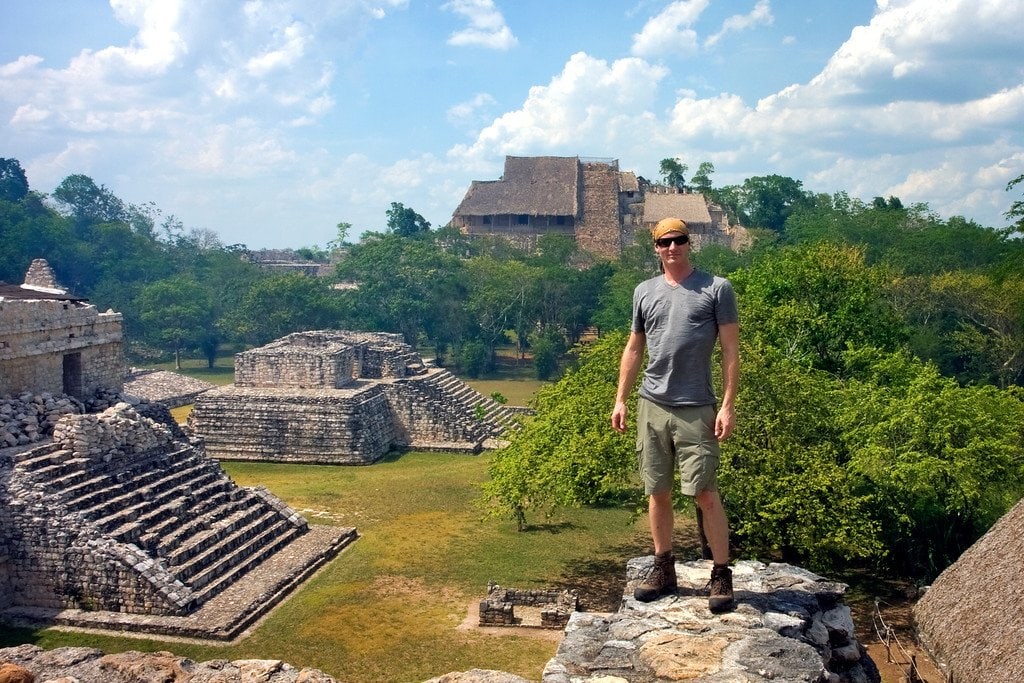 Mayan Ruins Of Ek' Balam
The ruins themselves were very impressive. It's estimated they were built around 800 A.D. The name Ek' Balam means "Black Jaguar" in the Mayan language.
The main Acropolis structure is 95 feet high, and the stairs are very steep. It was quite a workout to hike up it.
One of the great things about this site is that you can still climb on all the ruins. Another plus is that it isn't as heavily visited as some other ruins in the area, and if you go early, you can often be the only people there.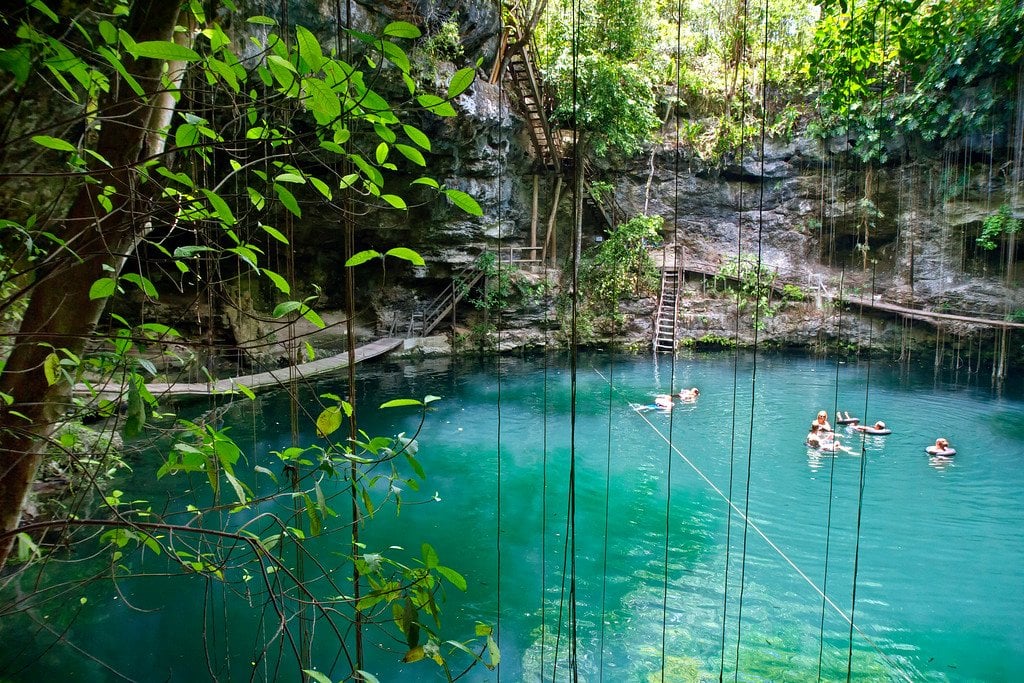 Swimming X'Canche Cenote
Right next door to the ruins is a cenote called X'Canche, a sink hole in the ground filled with fresh water. This cenote is about 1 mile away though, and because it was closing soon, we had to rent bikes to get to it in time for a swim before it closed.
Swimming in the cenote was cool. It had a suspension bridge and a rope swing too. This was not inside a cave like other cenotes I'd visited in Mexico, or places like Rio Secreto. A roof opened up to the sky. We swam for 25 minutes before they closed it up for the day.
Travel Planning Resources for Valladolid
READ NEXT: Things To Do In Playa Del Carmen
Have any questions about Ek Balam? What about other suggestions? Drop me a message in the comments below!