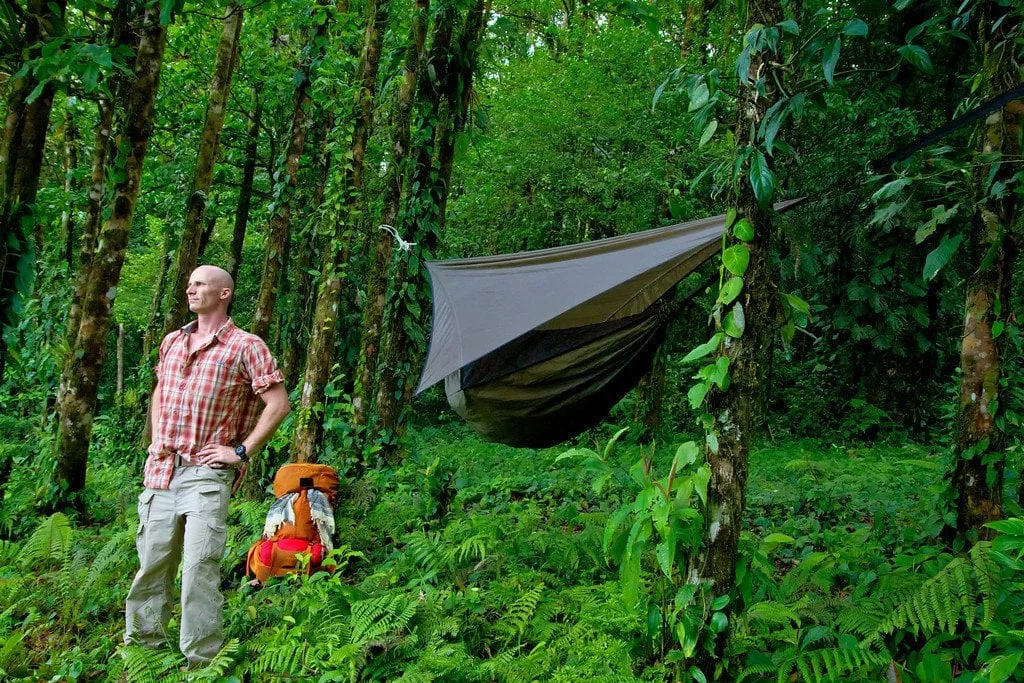 Gear Review
If you do a lot of camping while you travel, you should consider a camping hammock. Hennessy hammocks are the ultimate lightweight, packable, go-anywhere shelter.
Hammock Camping
Coming in at around 2 lbs. (depending on the model) a Hennessy Hammock is an ultralight backpacker's dream. No need to find a flat surface to camp on, no ground tarps, no aluminum poles, and it only takes 3 minutes to set up!
With a camping hammock, you can strike camp pretty much anywhere with a few trees. Feel like camping on the slope of a mountain? No problem! What about on the bank of a river? You bet!
In fact with a few small rock climbing nuts, you can even use it to hang yourself from rock outcroppings. No trees or rocks nearby? While not perfect, it will work as a traditional bivy-sac too.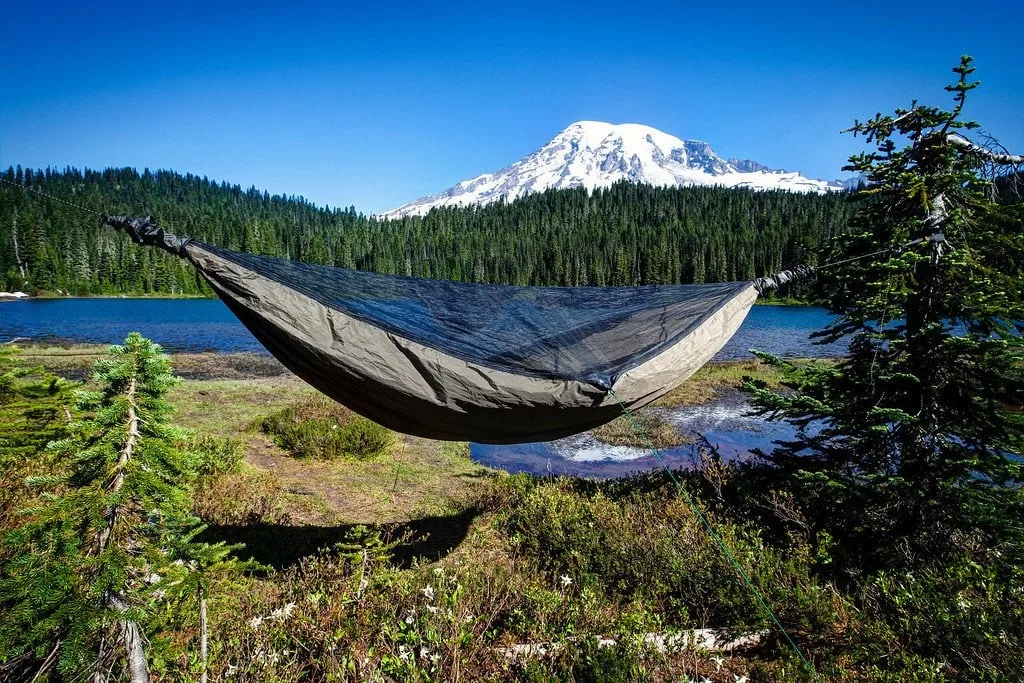 Getting Comfortable
Sleeping in a Hennessy hammock does take a few nights to get used to if you're new to hammocks. The key is to lay in it diagonally, which allows you lay almost completely flat.
Once you get the hang of it though, I find it MUCH more comfortable than sleeping on the ground.
Where Do You Store Gear?
I place my backpack into a large black trash bag to prevent it getting wet (and hide the bright orange color), place it under the hammock, and secure it to a zipper on my bug net with heavy-duty (50lb or greater) braided fishing line.
The fishing line is almost impossible to see unless you're looking for it, so if anyone ever tried to run off with my bag, it would yank the hammock and wake me up. Never had a problem so far.
Some hammock campers also hang their backpacks from the line with a carabiner. Just make sure it has some kind of protection from the rain.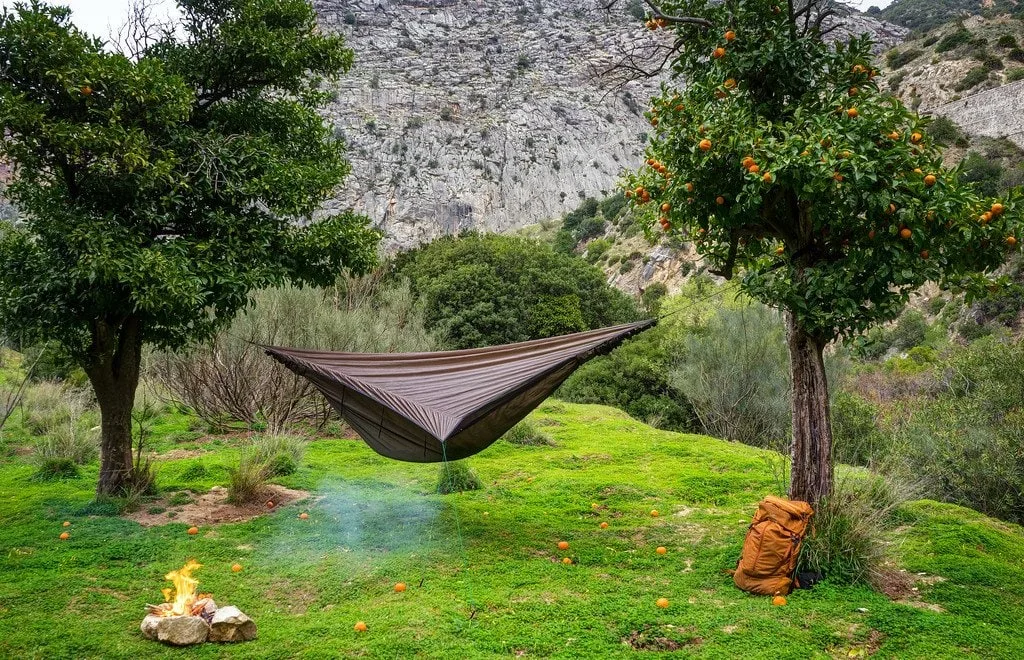 Lightweight & Functional
The Hennessy includes a built-in bug net, lightweight rain cover, and overhead pockets and clips for hanging your stuff. A camping hammock can work as an all-purpose 3 season shelter when used with a sleeping bag in colder weather.
I've personally used my Hennessy during a sleet storm in New Hampshire, stealth camping on the side of the road in Mexico, as a rainy-season shelter in Costa Rica's jungle, sleeping behind churches while hitchhiking across the United States, and inside Panama's notorious Darien Gap among many other places.
Conclusion
The Hennessy camping hammock is a fantastic piece of gear for travelers or backpackers who plan to camp a lot during their adventures. You'll never go back to sleeping in a tent again!
More Information
Product: Hennessy Camping Hammock
Cost: $199
Useful Notes: I've had my hammock custom modified so the attached bug-net can be zipped out when not needed. If you'd like to do the same, check out a company called 2Q ZQ Hammock Specialties
READ NEXT: Ultimate Travel Gear Guide
Do you like to go camping when you travel? Have you used this hammock? Join the conversation on Facebook, Instagram, or Twitter to share!
Disclosure: Some of the links in this post are "affiliate links." This means if you click on the link and purchase the item, I will receive an affiliate commission. Regardless, I only recommend products or services I use personally and believe will add value to my readers.
[su_box title="Travel Planning Resources" style="noise" box_color="#333333″ title_color="#FFFFFF" radius="3″ class="resource-box"]
Packing Guide
Check out my travel gear guide to help you start packing for your trip. Pick up a travel backpack, camera gear, and other useful travel accessories.
Book Your Flight
Book cheap flights on Skyscanner, my favorite airline search engine to find deals. Also read my tips for how I find the cheapest flights.
Rent A Car
Discover Cars is a great site for comparing car prices to find the best deal. They search both local & international rental companies.
Book Accommodation
Booking.com is my favorite hotel search engine. Or rent local apartments on Airbnb ($35 discount!). Read my post for tips on booking cheap hotels.
Protect Your Trip
Don't forget travel insurance! I'm a big fan of World Nomads for short-term trips. Protect yourself from possible injury & theft abroad. Read more about why you should always carry travel insurance.
[/su_box]
READ MORE TRAVEL TIPS
I hope you enjoyed this article about the Hennessy Camping Hammock! Here are a few more wanderlust-inducing articles that I recommend you read next: