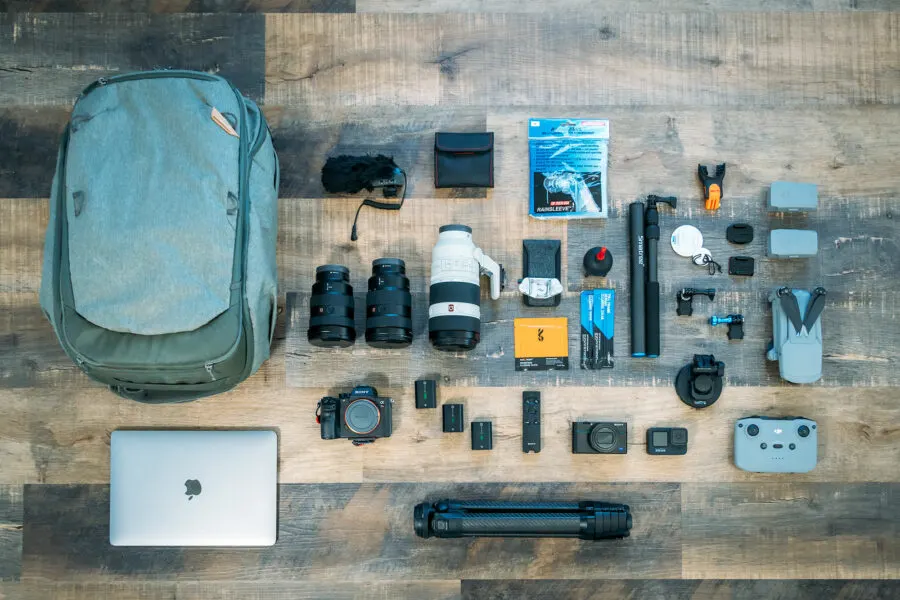 Travel Photography Gear
I've been working as a travel photographer & blogger for 10-years, so I get a lot of questions about what kind of photography gear I use. Take a peek inside my camera bag!
Now, when you're reading this list, please understand that I'm a working professional freelance photographer. I own a lot of gear. Much more than I first started with.
Most travelers don't need backup cameras, drones, and multiple lenses.
If you're simply interested in a good portable camera for traveling, make sure to check out my complete guide to the best travel cameras for every budget.
I also share some photography gear recommendations for beginners at the end of this post, and you can check out my personal Amazon Shop to see all my photography & travel gear.
Keep in mind that I don't pack absolutely everything on this list in my camera bag all the time, instead I pack according to each trip and shooting scenario.
My Travel Photography Gear In 2022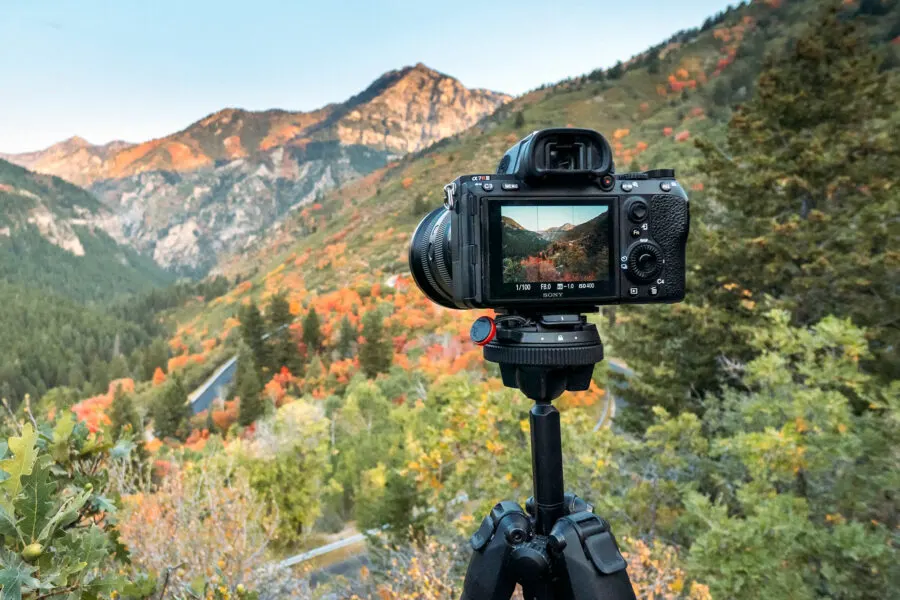 I was a Canon fanboy for years and started my backpacking adventures back in 2010 with the Canon 7D. However, when Sony came out with their smaller (and superior) mirrorless A7 line, I made the switch.
Since then I've been using Sony cameras & lenses for the past 6-years.
Sony's camera & sensor technology is often far ahead of competitors these days — in fact, even Nikon uses Sony sensors in their cameras!
The Sony A7R III is built for high-end landscape photography with a massive 42.4-megapixel full-frame sensor. This sensor is HUGE! But the camera body isn't, which is pretty incredible.
Frankly, this is far too much camera for most travelers though.
If you are trying to save some money, another great option is picking up a used Sony A7 III or Sony A6600. Both are amazing cameras for travel photos.
Camera Lenses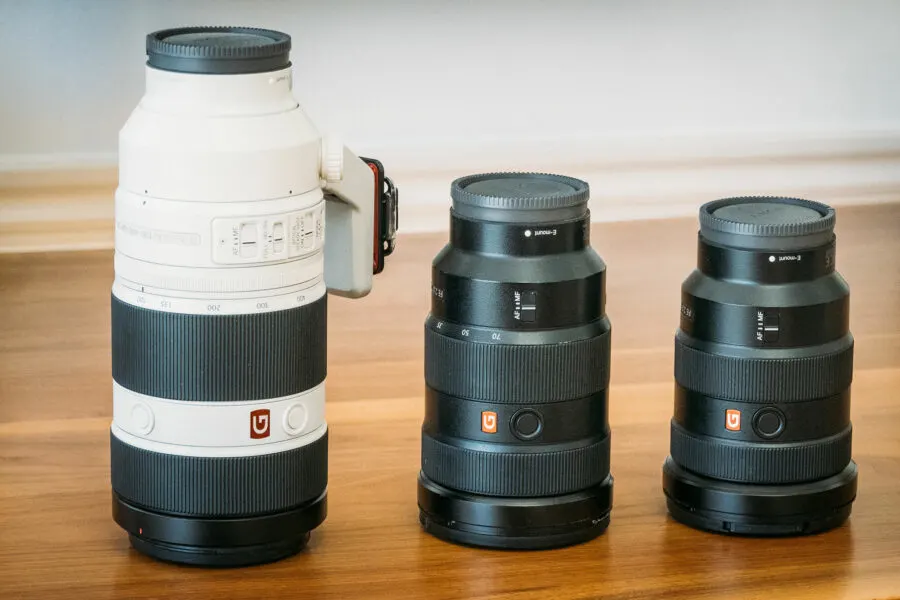 The 16-35mm F2.8 is the lens that's on my camera 75% of the time. As a landscape photographer, I love shooting wide to capture as much of a big landscape as possible.
But you can also get decent portraits out of it zoomed in to 35mm and stopped down to F2.8. This lens works well for night and star photography too.
There is a less expensive version of this, the Sony 16-35mm F4 which is another decent option too.
Occasionally I need a little more reach. Or, I only have space for one lens (like on bigger hiking trips), and want the best of both worlds.
The 24-70mm F2.8 isn't quite as wide, but often wide enough for most landscapes. With the added ability to zoom in to small subjects far away, or to compress the background making mountains "look" bigger.
This is also my go-to portrait lens for taking photos of people!
The 100-400mm F4.5 is my wildlife photography lens, outdoor portraits, or to compress big mountain ranges. I don't use it that often, and don't bring it along on every trip. If weight is an issue, it's usually the first to be left behind.
But if I have a particular shot in mind that requires a telephoto, I'll bring it.
By adding a Sony 1.4X teleconverter, I can increase the range to 560mm (which is nice for safari photography).
Additional Photography Equipment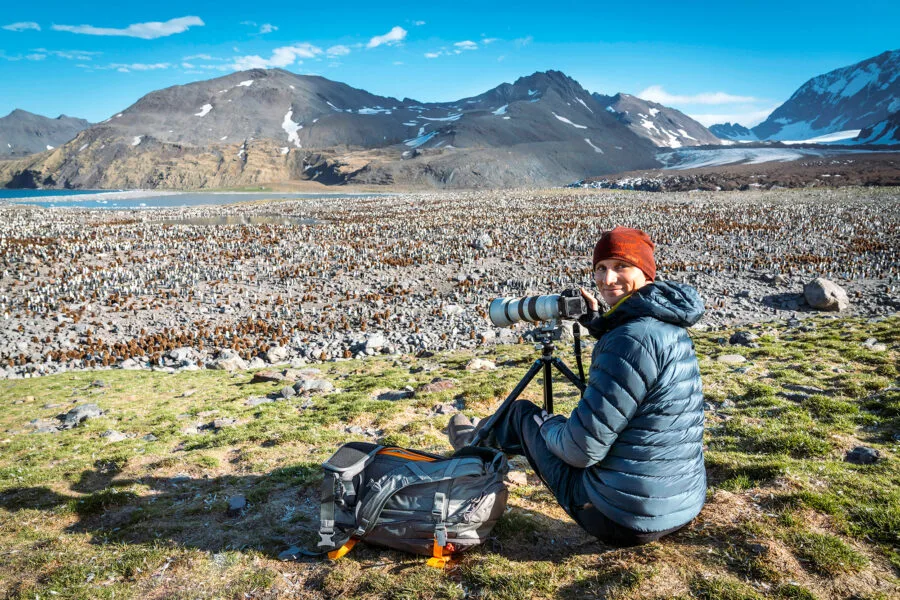 For a long time, I only traveled with one camera. But as I began getting hired for professional photography gigs, I realized that a backup camera was a wise investment.
The Sony RX100 is a tiny point & shoot pocket camera with professional features. It offers full manual control, and the ability to shoot in RAW format.
I also use it for shooting time-lapses, vlogging, and for certain situations where I don't want to bring my large camera with me. Like sketchy parts of town, into bars/nightclubs, etc.
For most travelers, this would be a perfectly fine primary travel camera too! It's super small, but super powerful. It even has a 200mm zoom for wildlife!
I've been using a GoPro since I started traveling ten years ago. I've owned almost all the models! Currently, I travel with the GoPro Hero 9.
GoPro cameras are great at capturing hands-free action or "b-roll" and you can attach them to almost anything. Plus, they are waterproof and shockproof!
I use my GoPro for surfing, mountain biking, hiking, snowboarding, snorkeling, scuba diving, cliff jumping, interior and exterior moving-vehicle footage, and more.
Just owning a GoPro is not enough to get great images and video. The magic of these cameras is in the multitude of accessories that are available for them!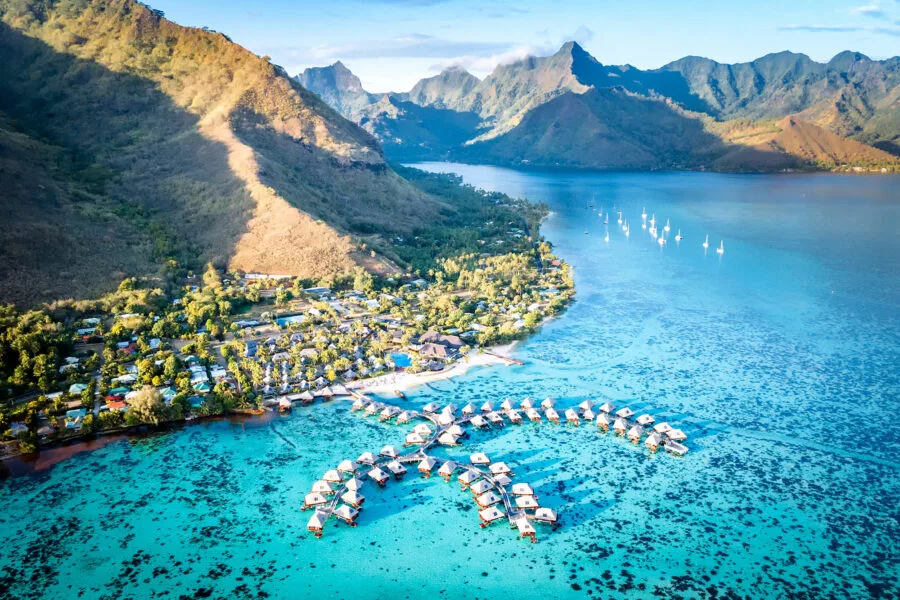 The perfect tool for capturing aerial photography and video, while costing much less than renting a helicopter! Drones have really come a long way.
I couldn't be happier with the DJI Mavic Air 2.
It flies super fast, is extremely reliable, and shoots high-quality RAW photos and 4K video. Not to mention it folds up crazy small!
The 360-degree sensors help stop you from running into things while flying, so you can concentrate on the shot. Active track and intelligent flight modes can do a lot of the work for you.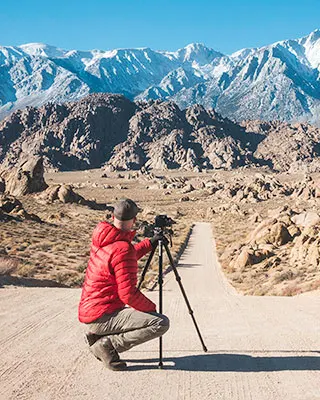 Top Online Photography Courses
Want to improve your photography? Fancy gear is nice, but learning from other photographers is a better investment.
Camera Bags For Travel Photography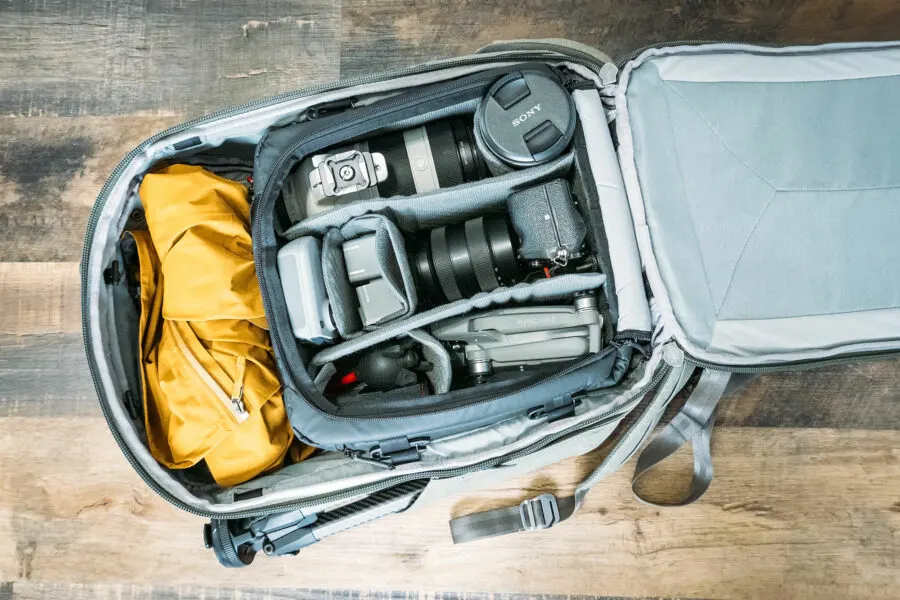 It took me a while to find a great camera backpack that I really loved, and I went through many different ones.
I finally found a winner in the Peak Design Travel Backpack. It holds everything I need it to, sits comfortably on my back, and has the perfect amount of weatherproofing and gear protection.
You can strap on a tripod, hiking poles, and other day-hiking gear. There's a dedicated laptop pocket, room for a jacket and snacks, plus it opens from the back for easy access on the ground. It's perfect to carry-on airplanes or walk around a city with my photo gear.
Now, it's not really set up for long-distance trekking or overnight camping though. For that, I use a different setup.
This is a special lens pouch, and the large size is big enough to keep a 100-400mm zoom lens safe & secure.
Or you can fit two smaller lenses in it (with a divider) or even a drone.
I use this specifically for long-distance trekking adventures, when I want to bring along an extra lens or my drone, but I also need to carry a regular hiking backpack filled with food, clothing, and camping gear.
It's also handy for safely packing a camera lens in my suitcase, if my camera bag is going to be too heavy for some smaller airplane flights (specifically tropical islands!).
My Lightweight Camera Tripod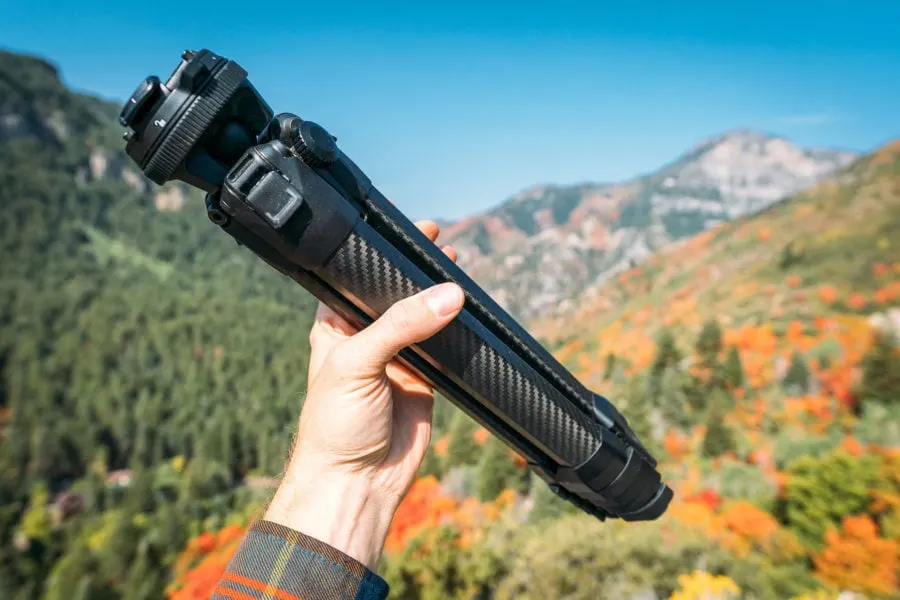 As a landscape photographer, a solid yet lightweight travel tripod is a key piece of my photography equipment.
I use my Peak Design Travel Tripod (full review here) to stabilize the camera in low light situations and with high f-stop settings (for maximum focus range). It allows me to get shots I just can't achieve hand-held.
Sunsets, sunrises, the northern lights, star photography, and motion blurred waterfalls are just some of the situations where having a tripod is important.
I also use it to film myself for vlogs, as well as to shoot travel selfies when I'm hiking on my own. There are cheaper tripod options available, which I share in my guide to the best travel tripods.
Favorite Camera Accessories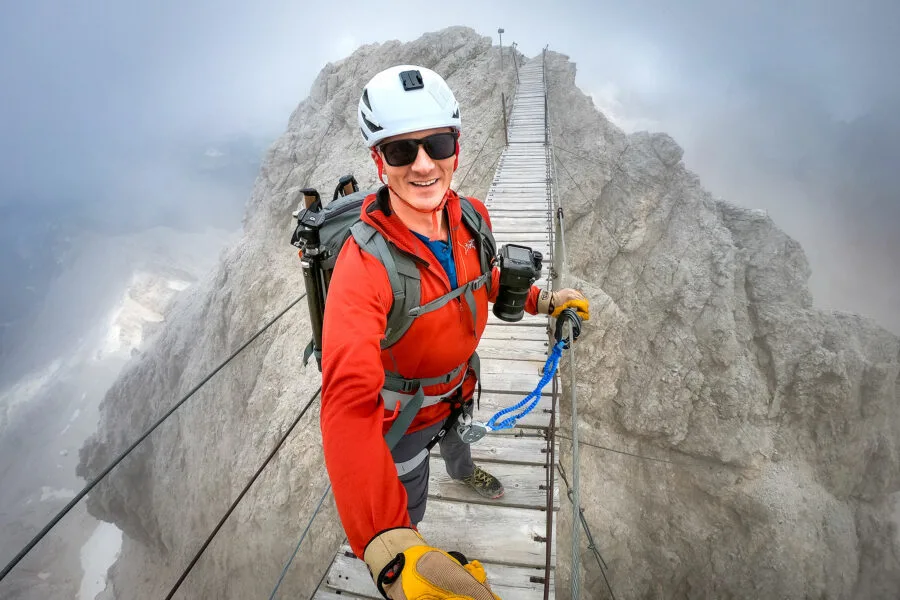 I love this thing so much! Basically, the Peak Design Capture Clip allows you to "clip" your camera onto your belt, or on the shoulder straps of a backpack, for easy access (and to keep your hands free).
I use it constantly for day hikes, long-distance trekking, walking around cities, and basically, anywhere I know I'll want quick access to my camera. While I still use a camera strap sometimes, this is the primary way I carry my camera. You can even run with it!
It's also a great photography gift idea, if you're unsure what a photographer would want.
HINT: If you have a larger camera, the Peak Design Pro Pad makes carrying it on your belt MUCH more comfortable.
When I'm not using my Peak Design camera clip mentioned above, I snap on this Peak Design Leash Camera Strap and sling it around my shoulders it like you'd wear a rifle.
The Peak Design quick release system allows me to easily remove the strap if it's getting in the way, or snap it right back on. Adjusting the strap length is also super fast. It's pretty minimal and doesn't take up much room in a camera bag.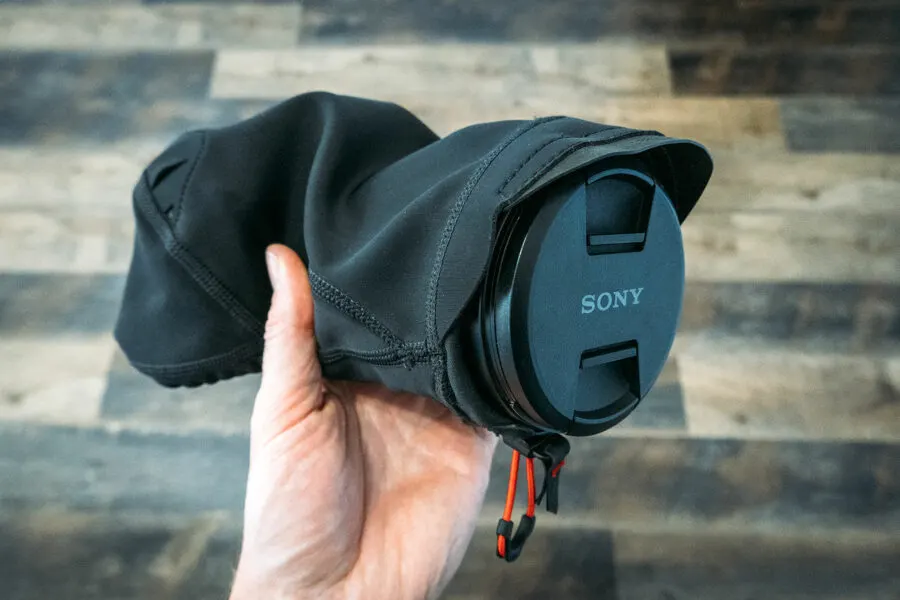 Camera Rain & Snow Protection
So, if I'm carrying my camera on my backpack straps, what happens if it starts raining? While my Sony A7R III has decent weather sealing, in bad weather I throw on my Peak Design Shell Rain Cover. This helps protect my camera from the elements, while also keeping it ready to access.
Now if the rain or snow is REALLY coming down, or I'm shooting near the ocean (like in Antarctica), or maybe under a waterfall, I also pack a simple plastic rain sleeve like this.
External Microphones
For video, the internal microphones on cameras just aren't very good. In fact, they're pretty terrible. Because audio is SO important for creating a good video, I pack two different external microphones.
One is the Sennheiser MKE 400 Shotgun, which goes on the top of my camera. Great quality, and very small.
The other is the Tascam DR-TL Lavalier. This goes on my body, so I can get great audio even if the camera is far away, the room has a lot of echoes, or if it's super windy out. You can than easily sync the audio to the video later while editing.
LED Video Light
This tiny but powerful Aputure ALM9 LED Light mounts to the camera's hot-shoe and allows me to shoot video at night. It takes up almost no space and can be recharged via USB cable.
Camera Lens Filters
Lens filters help you achieve certain photography effects that just aren't possible with software yet. Think of them as sunglasses for your camera.
I carry a Hoya Fusion One Polarizing Filter to help reduce glare & reflections on water, glass (like through helicopter windows), and to darken up the blues and clouds in a sky.
I also carry a Tiffen Variable ND Filter (neutral density) which cuts down the amount of light going into the camera to different degrees, depending on how much you spin it. Why? To create special effects like motion blur in a waterfall, even when it's sunny outside.
Wireless Remote
One of my favorite pieces of gear is the Sony Bluetooth Remote. This allows me to shoot photos or video remotely, when I'm away from my camera.
I used to own a wireless radio intervalometer remote, but newer Sony cameras have the time-lapse function built into their camera software (FINALLY!), so it is no longer needed.
However I do still like to shoot photos of myself, or group photos, with the ability to auto-focus, and this Bluetooth remote does that perfectly without any special camera attachments!
Memory Cards
Because I shoot in RAW, with very large camera files, I use very fast memory cards. I own a mixture of Sony High-Performance 64GB and SanDisk Extreme Pro 64GB class 10 cards which read/write at around 300 mb/s.
Spare Batteries
There is nothing worse than running out of battery power during an epic photography moment! That's why I always carry spare batteries for my cameras.
I own 4 batteries for my Sony A7R III, 2 batteries for my Sony RX100, 3 batteries for my drone, and 3 batteries for my GoPro.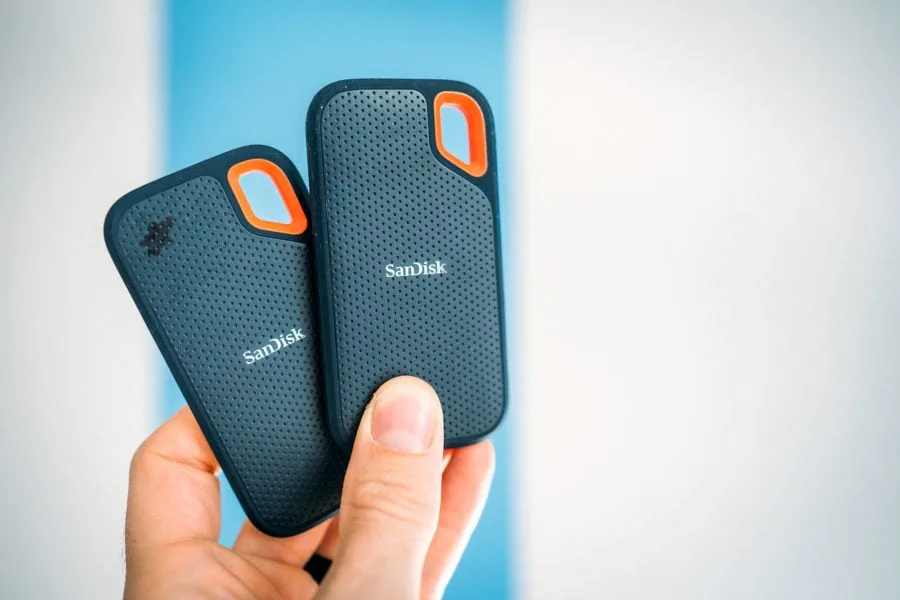 Portable Hard Drives
I travel with an Apple Macbook Air 13″ with a 2TB SDD, which is usually plenty of room for the images & video I shoot on any given trip.
To back that up, I also pack a super small 2TB Sandisk Extreme Portable SSD. Once I get back "home", I move everything over to a larger desktop RAID system.
Cold Weather Protection
I bought a cold-weather jacket for my camera a while back, for a few winter projects I was working on. Like camping on a frozen lake in Manitoba, and snowmobiling through the Russian wilderness.
It keeps your camera, batteries, lens, and your hands nice and toasty while shooting outdoors in below-zero temperatures. It's a bit of a specialty product, and only makes it into my bag when I know I'll be shooting in very extreme weather conditions.
Clear Accessory Pouches
I own a few Think Tank Camera Accessory Pouches to keep all my cables, battery chargers, and GoPro Accessories organized. The clear sides allow me to quickly figure out what's inside.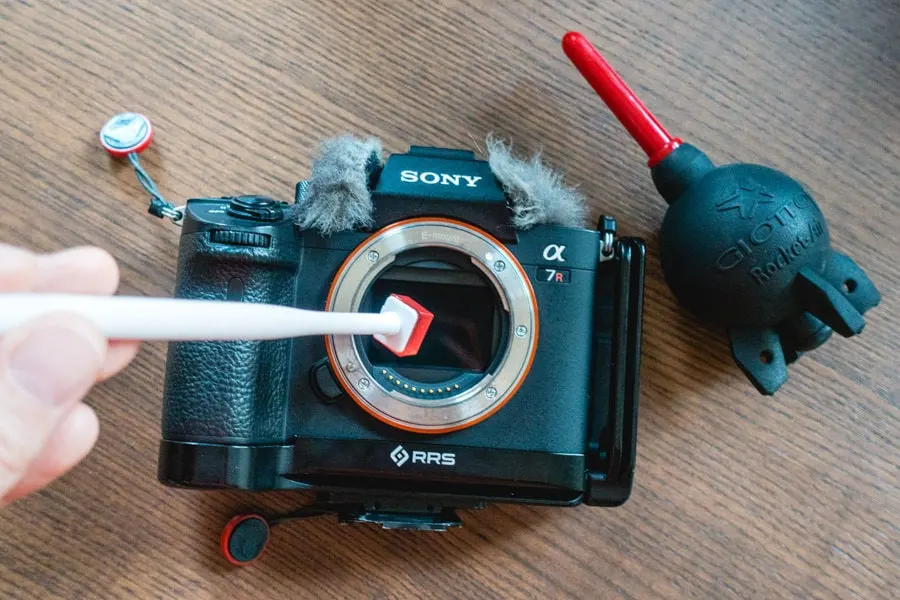 Camera Cleaning & Maintenance
Microfiber Lens Cloths
There's nothing worse than a foggy or smudged camera lens! I pack no less than 3 of these K&F Concept Microfiber Lens Cloths on every trip. Two go in my camera bag, one goes in my pocket for easy access.
I always end up losing them too, so it never hurts to have more than you need laying around.
Air Blower
The problem with changing your lenses on mirrorless cameras is that the mirror is exposed to the elements, and they're a magnet for dust. Dust on your sensor leaves you with "dust spots" on your photos (or worse, video).
A few quick bursts of air with this Camera Air Blower on your sensor can help clear that dust away.
Sticky Sensor Stick
When the air blower doesn't work, and the dust on my sensor is too stubborn to blow away, I break out the big guns, my Eyelead Sensor Stick. It's kind of like a gummy bear on a stick that pulls the dust away.
Budget-Friendly Camera Kit Examples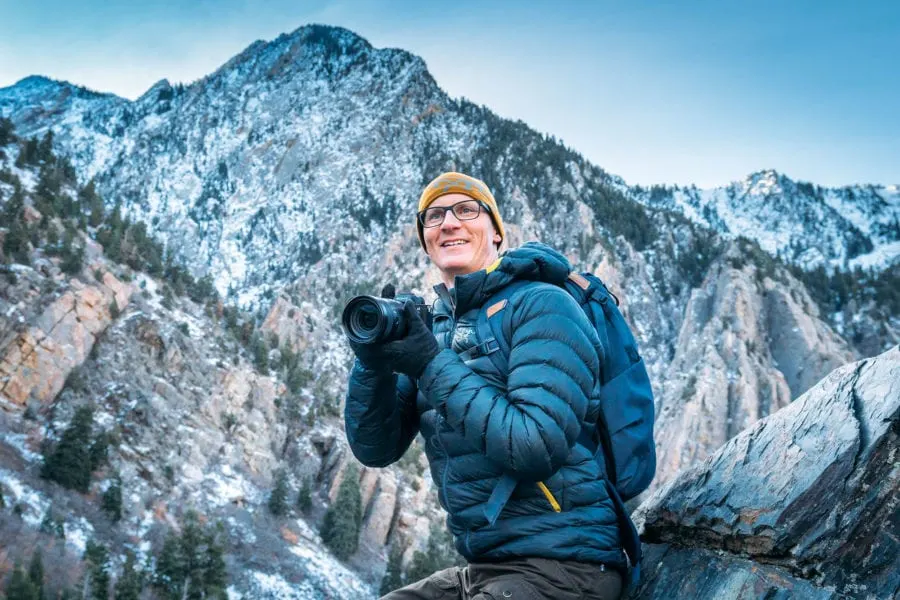 Yes, I own a lot of camera gear now. But that wasn't always the case.
When I first started traveling, all I used was a Canon 7D, a wide angle zoom lens, a tripod, and a GoPro.
If you are still new to travel and adventure photography, don't get discouraged by this giant list of gear-porn that I've accumulated over the years!
I do this professionally, so I can afford to go a little crazy.
For those of you traveling on a tighter budget, I've put together my ideal "starter travel photography kits" below — which won't cost you an arm and a leg.
The Minimalist Backpacker Kit
Travel Photography Enthusiast Kit
Improving Your Travel Photography
Ok! That was a big post. But people kept asking about my gear, so there you go.
However please remember that gear isn't everything.
The best way to improve your travel photography is to practice as much as possible and learn new skills.
Even after ten years doing this, I'm still learning new techniques to get better.
Joining some online photography classes can really help you improve your images, as well as learn about the business side of photography.
Finally, check out my top travel photography tips for beginners too! ★
---
Enjoy This Article? Pin It!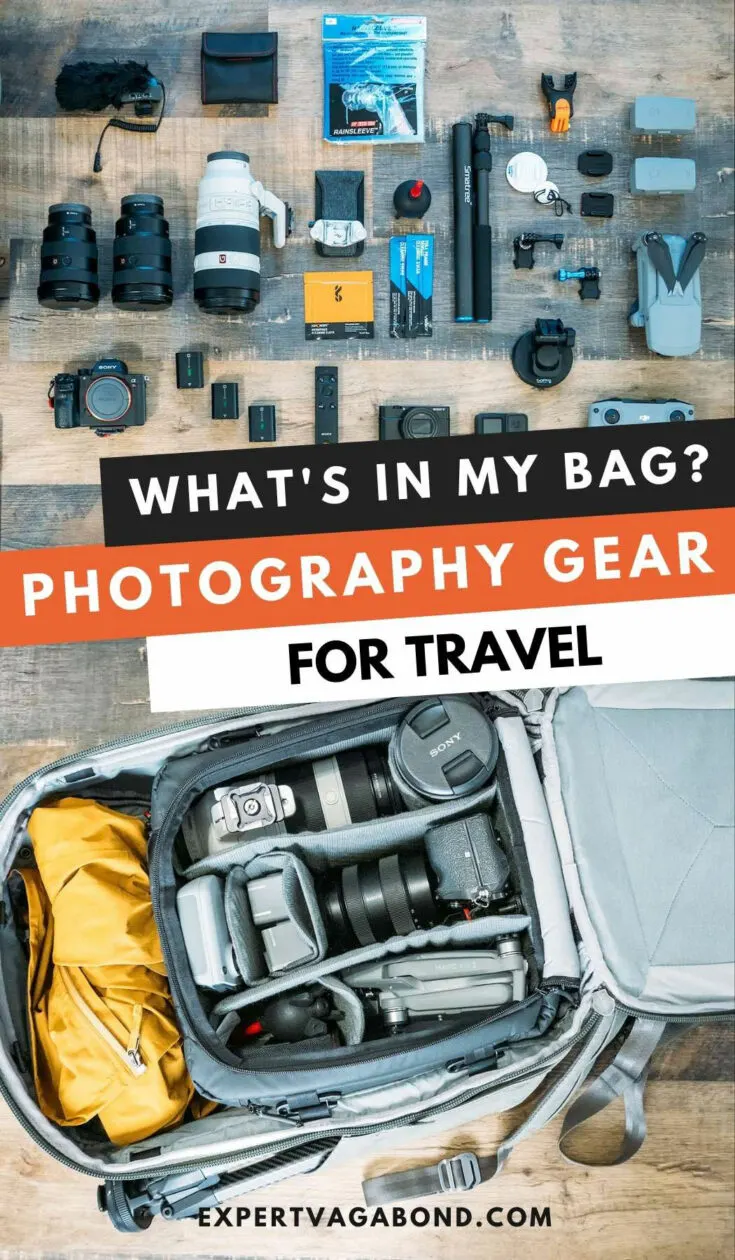 ---
READ MORE TRAVEL PHOTOGRAPHY TIPS
I hope you enjoyed my travel photography gear guide! Hopefully you found it useful. Here are a few more wanderlust-inducing articles that I recommend you read next:
---
Have any questions about my travel photography gear? What do you pack in your camera bag? Join the conversation on Facebook, Instagram, or Twitter to share!