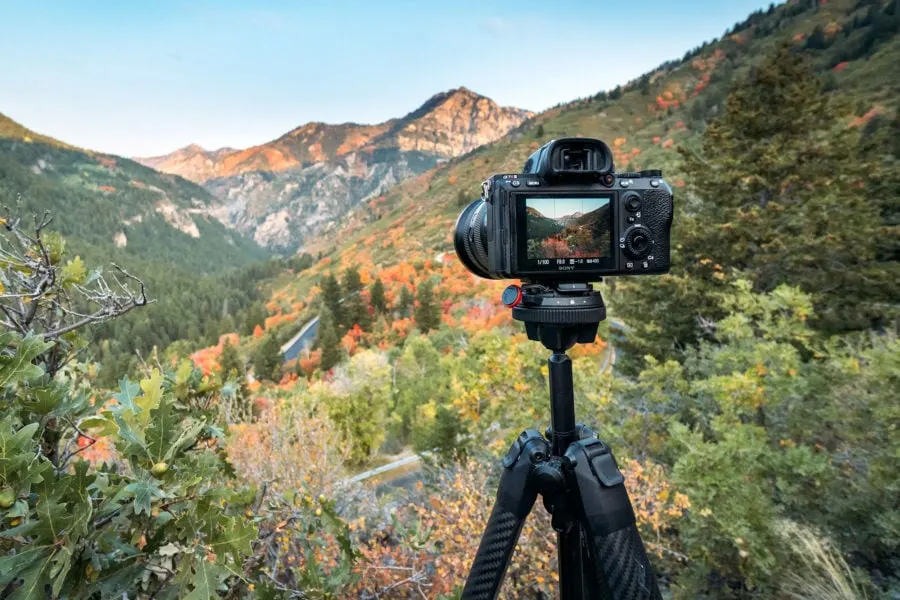 Photography Gear Review
After 4-years of development, the Peak Design Travel Tripod is finally out! Here's why I think it's the best lightweight tripod for travel & backpacking adventures.
If you're a frequent traveler like me, or enjoy hiking out into the backcountry with your camera, finding a great lightweight travel tripod can be a difficult task.
You want it to be sturdy of course — but small, lightweight, and easy to pack too.
I've owned many travel tripods over the years, but Peak Design's new Travel Tripod is the closest I've found to perfection — lightweight, compact, and an innovative design makes it the best lightweight tripod on the market right now.
If you're looking for a high-quality tripod for travel & backpacking, it's a great choice!
Below I'll give you a rundown of its features, the how to use it, and some of the reasons it's become one of my favorite pieces of photography gear.
Peak Design Travel Tripod Review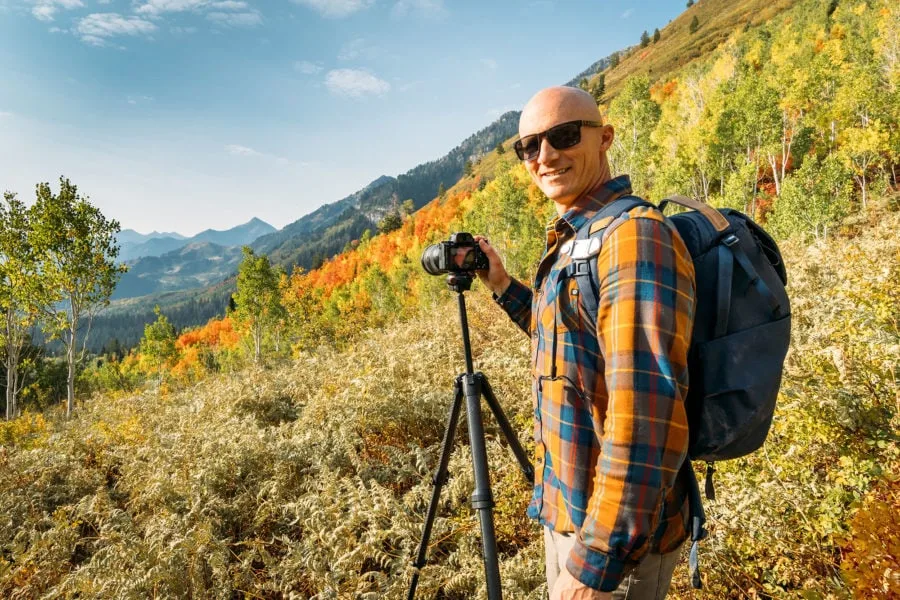 The Travel Tripod is available in two versions and price points — aluminum ($350) and carbon fiber ($600). I own and have been using the carbon fiber version since July, and it became a mainstay in my travel photography kit.
I'd say I pack it on 75% of my photography trips these days, due to its compact nature. It's really easy to travel with compared to other tripods!
Tripod Specs & Features
Weight (Carbon Fiber Version): 2.81 lbs (1.27 kg)
Weight (Aluminum Version): 3.44 lbs (1.56 kg)
Maximum Height: 60″ (152 cm)
Minimum Height: 5.5″ (10 cm)
Folded Length: 15.2″ (39 cm)
Load Capacity: 20 lbs (9.1 kg)
Tripod Leg Sections: 5
The Ultimate Travel Tripod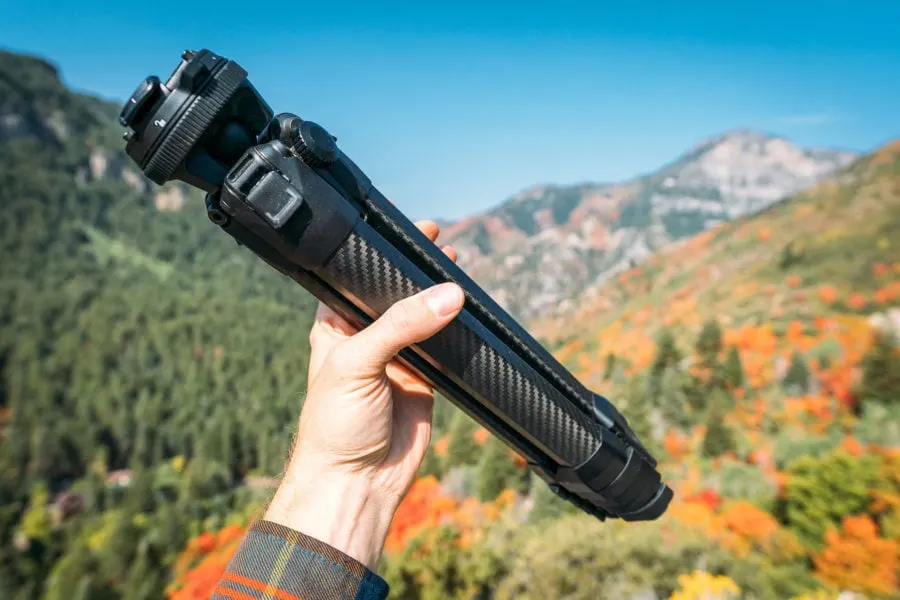 My favorite feature of the Peak Design Travel Tripod is just how small & sleek the tripod is when fully collapsed — there is no wasted empty space!
I don't know how they did it, but the tripod's folded diameter is very small, so it can fit into a water bottle pocket on the side of a backpack (or even INSIDE a camera backpack).
The tripod's legs have five sections with a lever lock for each. Its maximum height is 60" inches (152.4 cm) with the center column raised. This is actually very tall!
Because I'm six feet tall, with most travel tripods I have to bend over quite a bit to look into my camera, but not this one. Which is pretty amazing with how small it packs down!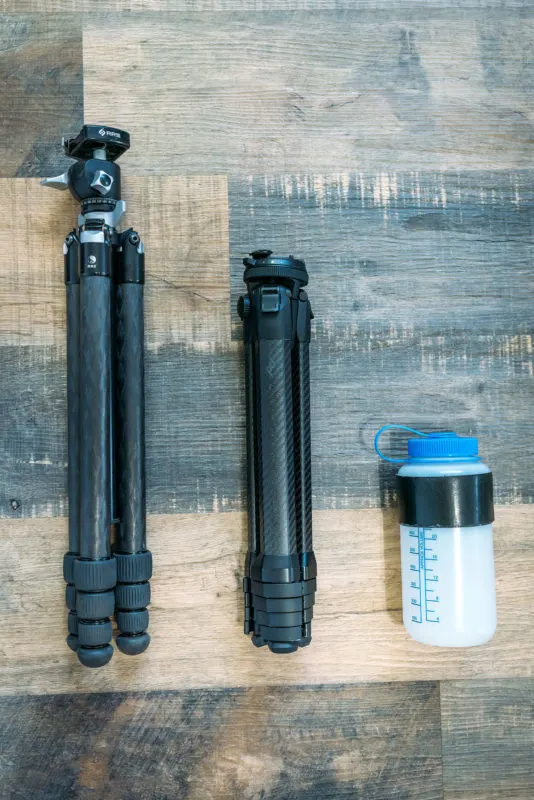 Its minimum height with the collapsed legs extended wide ("low mode") is 5.5" (14 cm). In "table top mode" the maximum height is 22.5" (57.2 cm) with the center column raised and 13.125″ (35.9 cm) with the center column down.
Lightweight Yet Stable
As for weight capacity, it easily carries most cameras and lenses. Including a 70-200mm telephoto lens. It's incredibly sturdy even with the tripod leg sections fully extended.
In fact, this is what's most surprising about the tripod. Many lightweight travel tripods with several leg sections can be wobbly and unstable in the wind — this one is not!
Peak Design's special omni-directional ball head is another great feature. It is ARCA SWISS compatible and has a standard camera plate, an adjustment ring, locking ring, quick release, and a tiny bubble level built right in.
It also features two removable pins that make it L-bracket compatible. The ball head is detachable from the center column as well (I'll talk more about this below).
The Travel Tripod In Action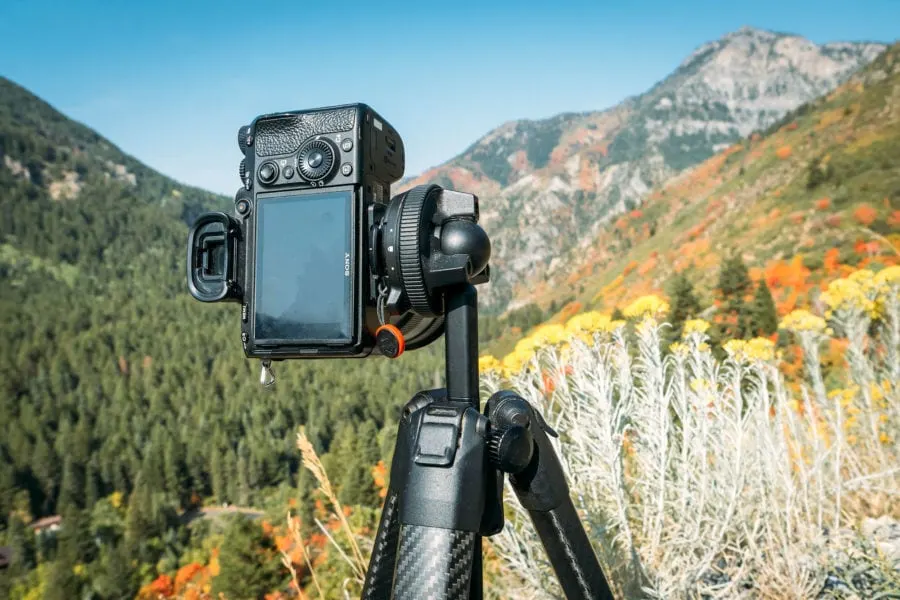 Setting up the Peak Design travel tripod is simple. The cam levers are easy to open and lock very securely so there's little chance of them opening accidentally.
The tripod won't slip on most surfaces thanks to its rubberized feet (if you shoot in icy or snowy conditions and want more grip, Peak Design sells a spiked-feet set for $25).
A small adjustment knob controls the raising and lowering of the center column. The adjustment ring is smooth and easy to operate. A locking ring prevents the quick release from being used accidentally.
There is a detachable hook on the bottom end of the center column that you can hang your bag on for even more stability.
Removable Center Column
The ball head is detachable from the center column. This allows the tripod to go into "low mode" (5.5" or 14 cm from the ground), which is perfect for wide angle, macro, or creative shots.
It also gives you the option of using Peak Design's universal head adapter, which you use to attach a third-party tripod head, like one with video pan & tilt controls.
You can also make the tripod weigh even less! The company sells ultralight conversion kit, which consists of three special feet that transforms it into a table-top tripod. Perfect if you are trying to save weight on a long-distance backpacking trip!
Other Cool Peak Design Features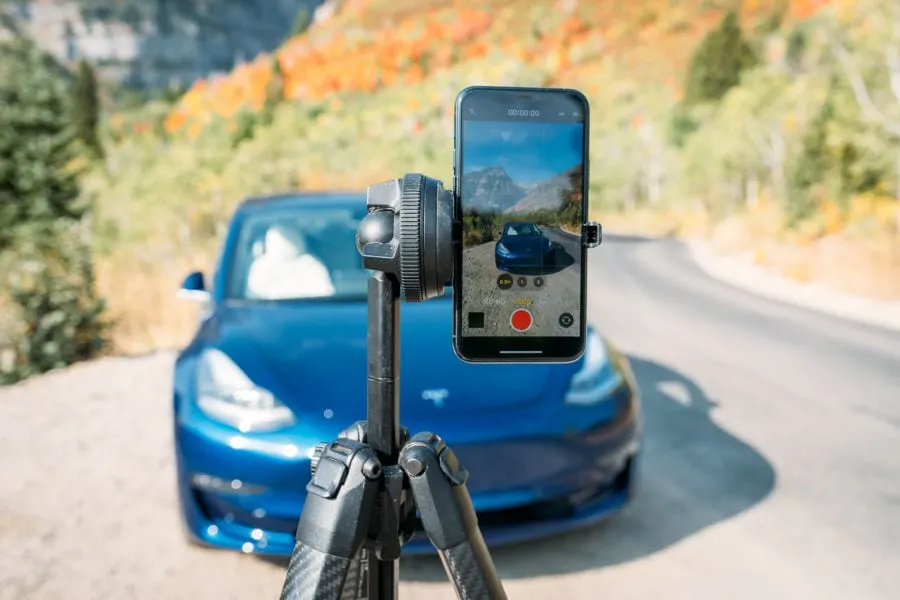 Hex Wrench Tool
The tripod has a hex wrench tool mounted to a removable leg clip holder, plus a bushing removal tool (used for maintenance and stored in a hidden pocket in the tripod case).
The hex wrench is for attaching the plate to the camera, to remove the two pins on the ball head plate, and remove the ball head from the center column. Not something I personally do on a regular basis.
Secret Mobile Phone Mount
The travel tripod comes with a a very cool mobile phone mount, stored in the bottom of the center column above the detachable hook (a magnet keeps it from falling out when you remove the hook!).
It snaps easily onto the ball head and grips phones securely.
I find its great for shooting Instagram Stories of yourself on the go, and for Instagram or Facebook Live posts. No need to lug around a separate iPhone tripod mount!
A Lifetime Guarantee!
Yup, that's right. If your travel tripod ever breaks, Peak Design will send you a new one! This alone is worth the slightly higher price tag on these incredible tripods.
If any part of your Peak Design travel tripod becomes non-functioning or defective, they will repair or replace it with a fully-functioning one in the same or better condition.
Unfortunately it doesn't include cosmetic wear & tear — I'm rough on my equipment!
A Few Downsides…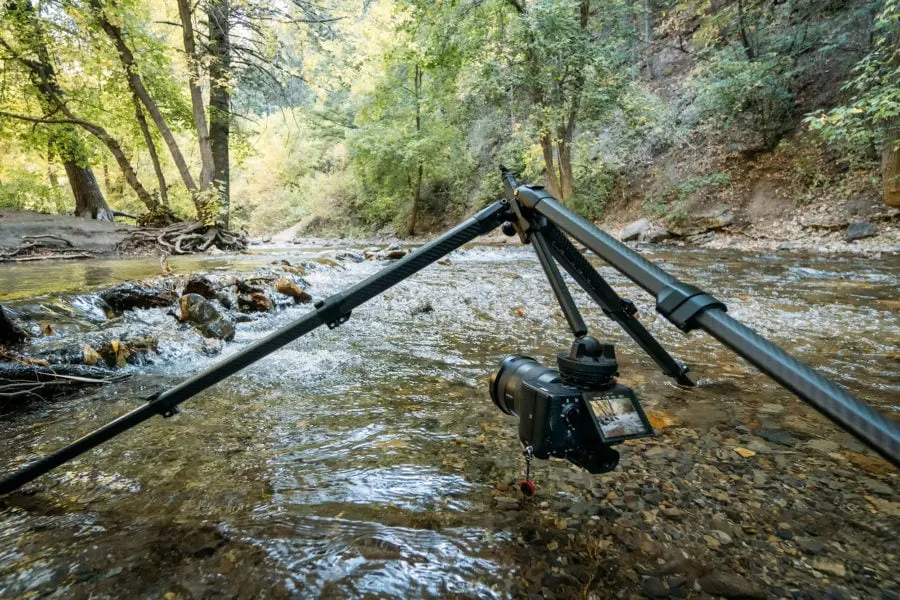 Despite all of the great features of the Peak Design travel tripod, it does have a few minor disadvantages. One is that the legs only have two leg angles — tall or very low, there's no middle angle. Many tripods usually have 3-angles.
Not a huge deal, as you can create a 3rd angle by adjusting two of the legs to low angle, and the third to high angle.
Another potential issue is the lack of a panning knob. For video work, or some kinds of landscape photography work, you might want to replace the included ball head with one that allows panning (which you can totally do!)
The hex wrench tool is pretty easy to lose. I've already lost mine once, so now I just keep it in my camera bag rather than attached to the tripod.
Finally, the awesomeness of this travel tripod comes at a price. The aluminum model is $350 while the carbon fiber model costs $600. Not the most expensive tripods out there, but not exactly cheap either.
My Favorite Travel Tripod Right Now
The Peak Design Travel Tripod is a great piece of photography gear. Its compact size and low weight make it ideal for traveling, backpacking, and every-day photography.
It's stable, well designed, and securely supports the vast majority of cameras, even your smartphone. And if you have a favorite ball head, simply swap it in using the ball head adapter.
While not cheap, it's an outstanding lightweight tripod overall. It will keep your camera secure and your back happy while traveling and hiking! ★
---
Enjoy This Article? Pin It!
---
READ MORE TRAVEL PHOTOGRAPHY TIPS
I hope you enjoyed my review of the Peak Design Travel Tripod! Hopefully you found it useful. Here are a few more photography articles that I recommend you read next:
Have any questions about the Peak Design travel tripod? Are you planning on buying one? Join the conversation on Facebook, Instagram, or Twitter to share!