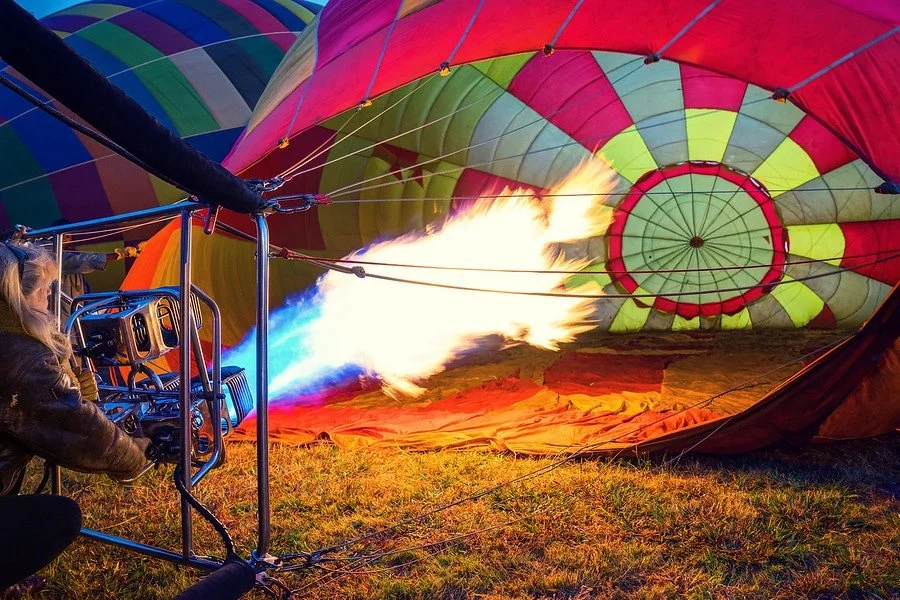 Magaliesberg, South Africa
We're flying! Heat from a giant 8 foot flame warms the top of my head as our multi-colored balloon effortlessly lifts off the ground and into the early morning breeze.
The beautiful Magalies River Valley fully revealed itself as we rose into the sky with the sunrise. The area is only an hour North West of Johannesburg, the capital of South Africa.
It's also home to the Cradle of Humankind. A very large number of ancient ape-man fossils have been found in limestone caves dating back 3.5 million years ago. We all have quite a bit of history in this area!
They are some of the oldest fossils of human ancestors ever discovered.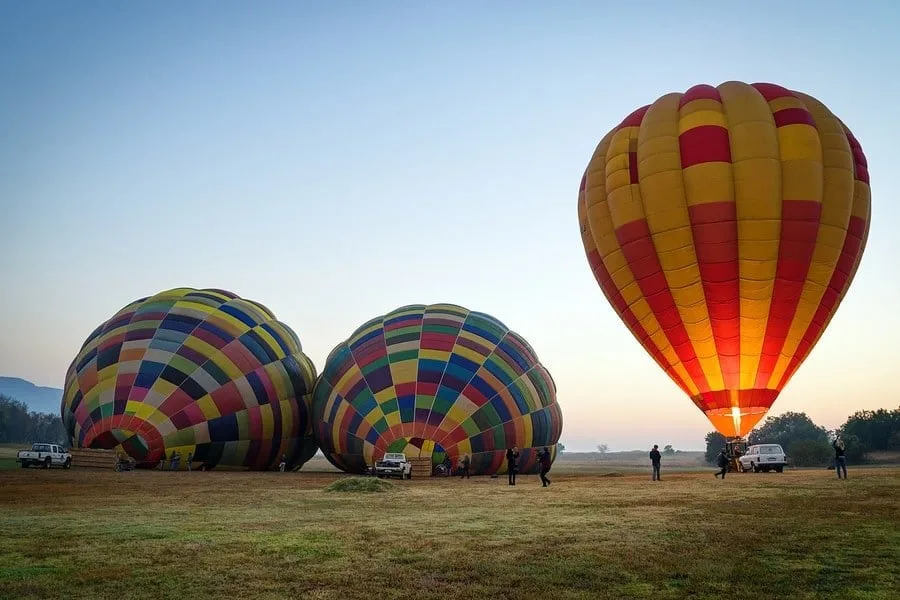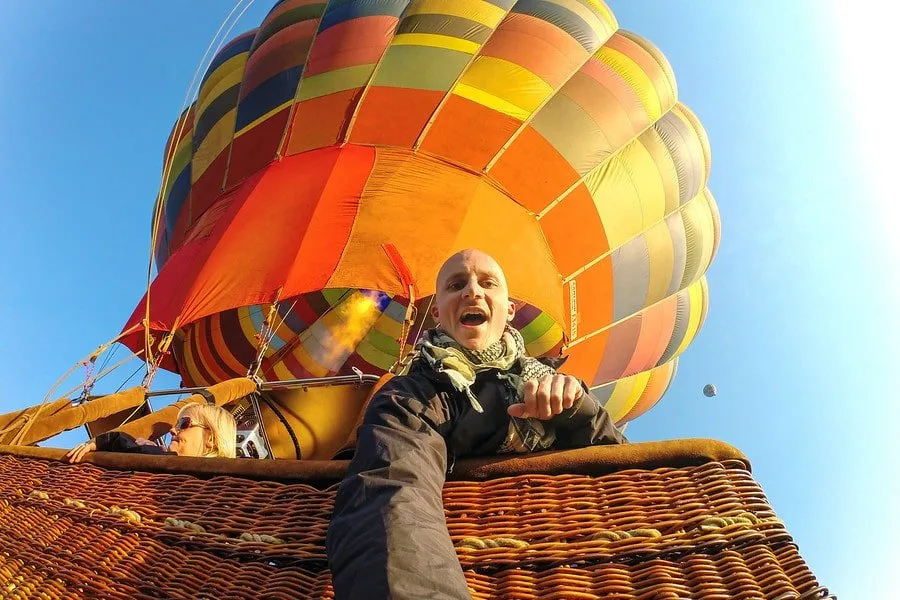 Hot Air Balloon Experience
I'd never flown in a hot air balloon before, and wasn't quite sure what to expect. After waking up at 4am and driving to Bill Harrop's "Original" Balloon Safari launch site, we were treated to coffee & cookies around an open fire in the darkness as our balloons were assembled in a field.
Large fans are used to pump cold air into the balloon. When it's partially inflated, the burners are fired up and the air is super-heated until the balloon stands upright.
Then eighteen (yup!) people climb into a large wicker basket, our pilot in the middle. He continues to heat the air with flame until we float off the ground.
Once you realize you're in the air, profound silence is the first thing you notice. Between occasional blasts of fire from the burner, there is no sound. No propeller, no engine, just the birds. Yet soon we are hovering half a mile above the ground, traveling slowly with the wind.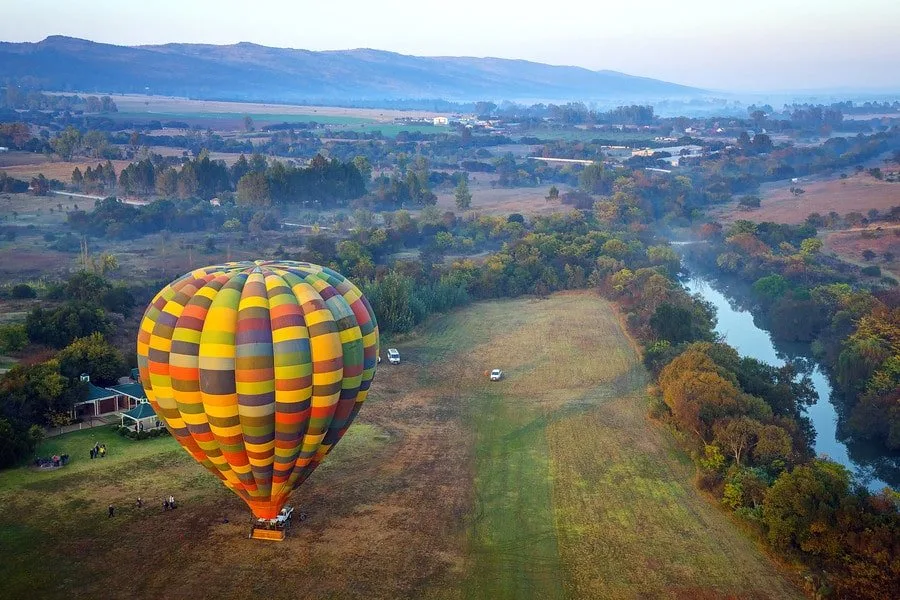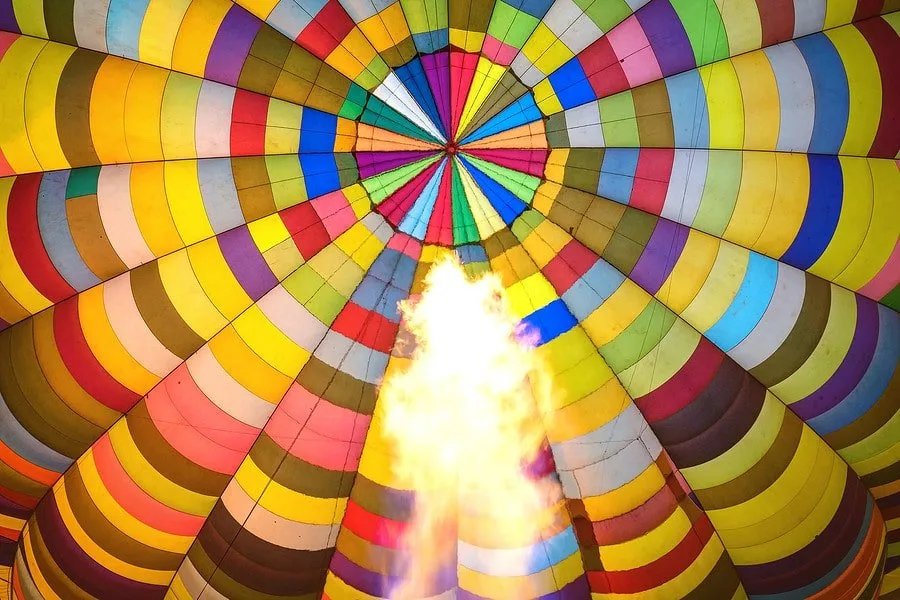 How Do They Work?
Hot air ballooning is the earliest form of flight — invented in France back in 1793. While flying in a balloon might feel like magic, the science behind it is pretty simple.
Hot air is lighter than cool air, so it rises. The pilot heats air inside the nylon balloon using tanks of liquid propane attached to a burner. Blasting fire into the balloon to make it rise.
Aside from the burner controls, there's also a cord that opens a parachute valve at the top of the balloon that lets hot air escape. The pilot uses this to slow down an ascent, or decrease altitude.
Surprisingly, pilots can manipulate the balloon's direction somewhat too. Forward speed and direction are only determined by the wind, but wind changes direction & speed at different altitudes. This gives the pilot a little control.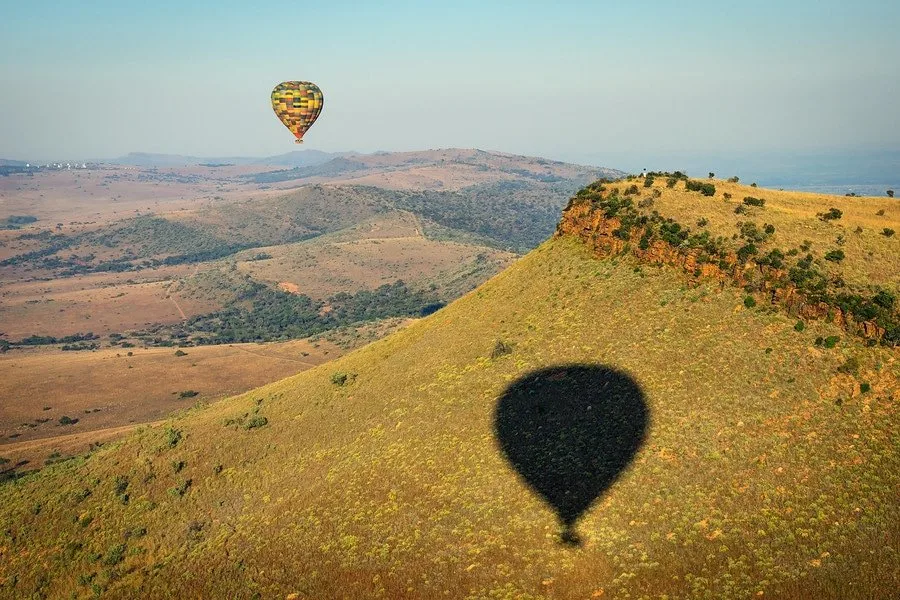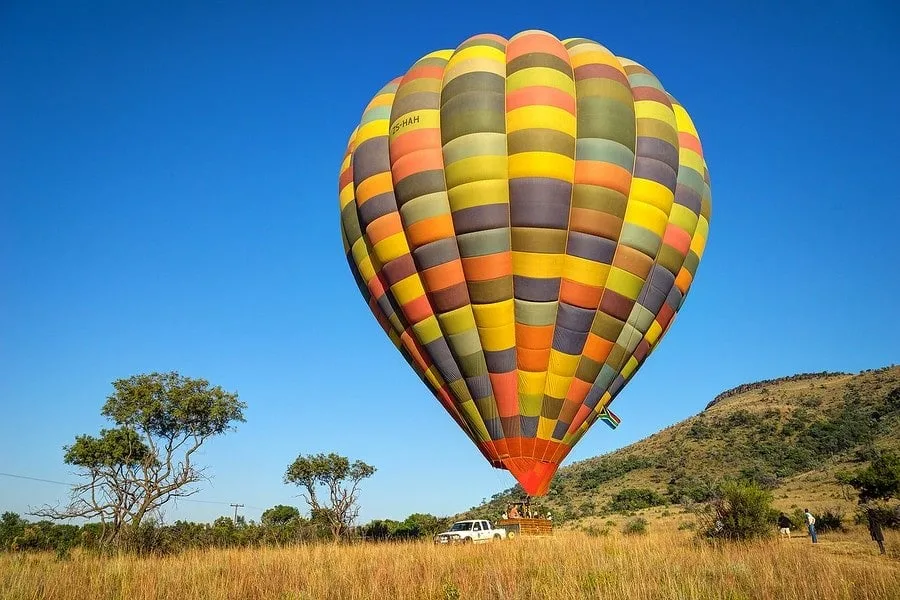 Soaring Above The Landscape
Cruising across a diverse landscape of forests, rivers, fields, and low mountain ridges at sunrise, we were able to spot some wildlife. Warthogs and Springbok (a type of antelope) ran through the trees below us.
Apparently, there are Giraffes too, but they didn't come out to play.
We began our descent into a game reserve after an hour of flight. Everyone holds on as the basket bounces across the ground before finally settling. To celebrate a successful journey, a champagne toast to the sound of warthogs fighting in bushes nearby.
Flying a hot air balloon over the Magalies Valley in South Africa was a peaceful and scenic experience that I hope to repeat in future destinations. ★
Watch Video:

Hot Air Balloon Safari

Subscribe to my YouTube Channel for new Adventure Travel Videos!

(Click to watch Hot Air Balloon Safari – South Africa on YouTube)

[su_box title="Travel Planning Resources For Magaliesberg, South Africa" style="noise" box_color="#333333″ title_color="#FFFFFF" radius="3″ class="resource-box"]
Accommodation: Valley Lodge
Company: Bill Harrop's "Original" Balloon Safaris
Cost: R1365 (about $132 USD)
Packing Guide
Check out my travel gear guide to help you start packing for your trip. Pick up a travel backpack, camera gear, and other useful travel accessories.
Book Your Flight
Find cheap flights on Skyscanner. This is my favorite search engine to find deals on airlines. Also make sure to read how I find the cheapest flights.
Rent A Car
Discover Cars is a great site for comparing car prices to find the best deal. They search both local & international rental companies.
Book Accommodation
Booking.com is my favorite hotel search engine. Or rent apartments from locals on Airbnb. Read more about how I book cheap hotels online.
Protect Your Trip
Don't forget travel insurance! I'm a big fan of World Nomads for short-term trips. Protect yourself from possible injury & theft abroad. Read more about why you should always carry travel insurance.
[/su_box]
Enjoy This Post? Pin It!
[su_row class=""]
[su_column size="1/2″ center="no" class=""]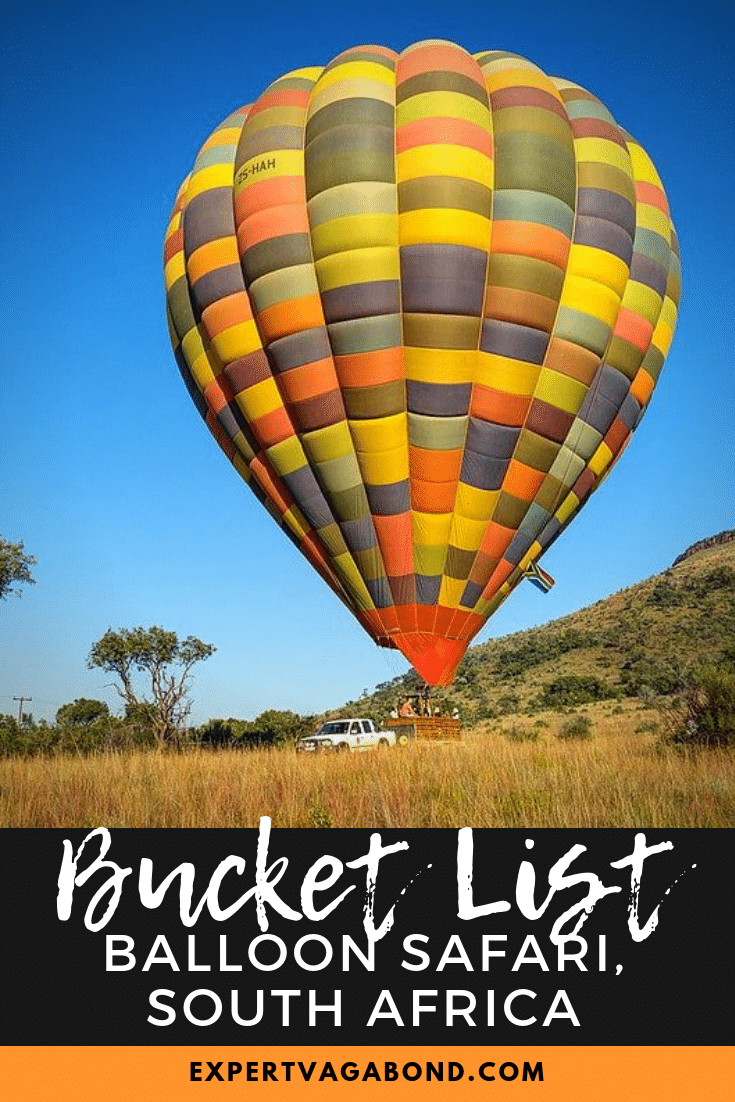 [/su_column]
[su_column size="1/2″ center="no" class=""]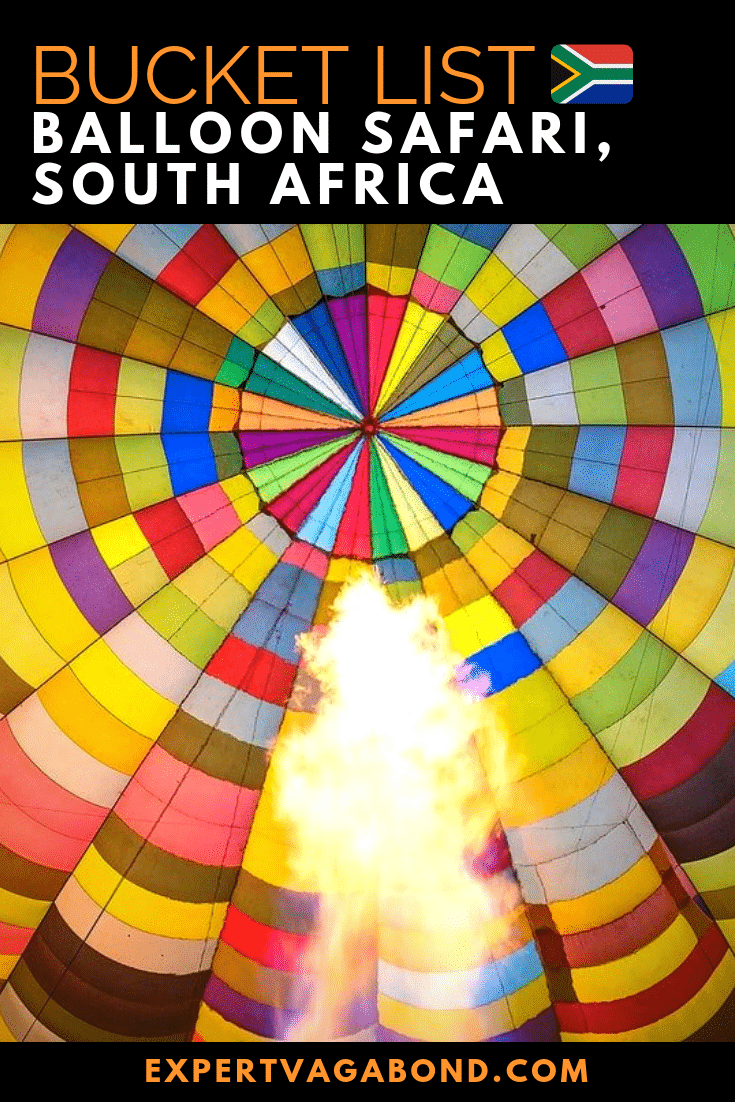 [/su_column]
[/su_row]
READ MORE SOUTH AFRICA TRAVEL TIPS
I hope you enjoyed my guide on the Balloon Safari in South Africa! Hopefully you found it useful. Here are a few more wanderlust-inducing articles that I recommend you read next:
Ever ridden in a hot-air balloon before?