Bangkok, Thailand
The skyscraper's 43rd floor is the most haunted of them all. Treading carefully over piles of debris, I pick my way through musty darkness praying I won't vanish into a hole.
It happened in the bathroom. One morning a local photographer who was climbing the tower happened to smell something rancid and went to investigate.
That's when he discovered the body.
Sathorn Unique Building
Bangkok's Sathorn Unique skyscraper was supposed to become a premium luxury apartment complex with amazing views of the Chao Phraya River.
That was until this massive construction project was suddenly abandoned due to the collapse of the Thai Baht during Asia's 1997 Financial Crisis.
Left to rot in neglect, the unfinished skyscraper eventually became a home for drug addicts, homeless vagrants, and wild dogs.
The Haunted Skyscraper
This mysterious abandoned skyscraper rises 49-stories into the clouds high above downtown Bangkok. It's official name is Sathorn Unique, but locals refer to it as "The Ghost Tower". Most people keep their distance.
They believe the building is haunted, and for good reason.
Dead bodies seem to turn up here on a regular basis.
There's also a 2nd twin building down the street called Lebua State Tower, an exact copy of this one. However while that skyscraper thrived (featured in The Hangover 2), Sathorn Unique has been cursed to ruin for the past 20 years.
Weird Tourist Attraction?
People have been visiting this abandoned skyscraper for years, climbing over an outer fence or bribing one of the homeless inhabitants to open a locked gate to the stairwell.
However a few months before I arrived, the body of a Swedish backpacker was found hanging from a bathroom on the 43rd floor, discovered by a Thai photographer there to capture the sunrise.
After this incident, the building's owner decided to make it safer (and earn some cash) by opening the ghost tower to tourists so they don't break in.
Exploring The Ghost Tower
The narrow stairwell of Sathorn Unique is claustrophobic and littered with rubbish. A few bare lightbulbs cast a dull glow on some floors, others are pitch black, making the climb hazardous.
After the first 10 floors is when I began to sweat.
It's like climbing an indoor mountain, stopping to rest while exploring the abandoned, windowless luxury apartments decorated with graffiti and million-dollar views of the city below.
Dusty hallways are flooded with puddles of standing water, construction equipment, old shoes, broken toilets, electrical wires and more.
Piles of debris make it difficult to spot holes in the floor. Pieces of the ghost tower occasionally fall into the streets below as it descends into neglect.
Incredible Panoramic Views
By the 49th floor I'm completely drenched in sweat and breathing heavily. It takes about 30 minutes of constant climbing to reach the top. The roof is a mess with steel rebar and broken concrete all over the place.
But the views over the city of Bangkok? Amazing!
A panoramic urban skyline stretches out before your eyes — filled with skyscrapers of all shapes & sizes, the BTS train system, narrow city streets congested with traffic, and barges loaded with goods floating down the Chao Phraya river.
Your reward for the challenge of scaling the tower is a beautiful sunset.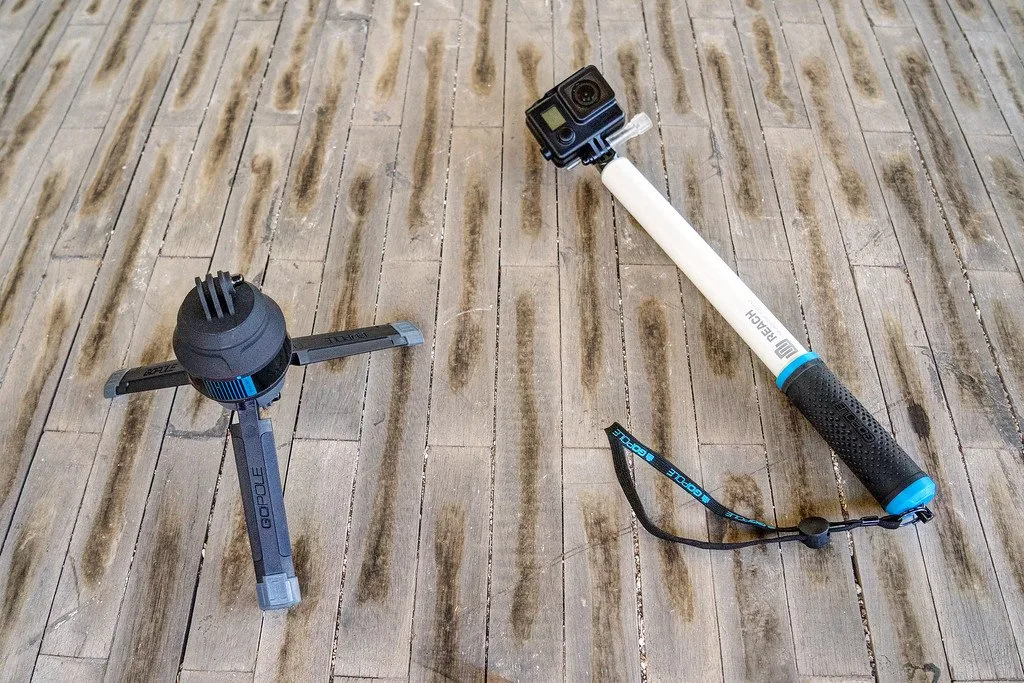 Where to stay in Bangkok?
---
Budget
Check prices on: Booking.com | HotelsCombined | Agoda
Mid-Range
Padi Madi Boutique – Small stylish hotel right next to a metro station and various dining options.
Check prices on: Booking.com | HotelsCombined | Agoda
Fancy
Check prices on: Booking.com | HotelsCombined | Agoda
[su_note note_color="#DCEFF5″ text_color="#333333″ radius="3″ class=""]
I also enjoy using AirBnB from time to time. Make sure to read my article about how to find cheap hotels too.[/su_note]
---
Shooting With GoPole
To capture this adventure on video I used my GoPole Reach attached to a GoPro. It gives you some unique perspectives, including sitting on the edge of a skyscraper dangling my feet over the side!
Another cool attachment I used is the GoPole Scenelapse on the GoPole Base — this rotating timer is great for recording time-lapse sequences like the one at the end of my video below. ★
Watch Video:

Exploring Bangkok's Ghost Tower




Subscribe to my YouTube Channel for new Adventure Travel Videos!

(Click to watch Abandoned Skyscraper – Bangkok on YouTube)

[su_box title="Travel Planning Resources For Bangkok" style="noise" box_color="#333333″ title_color="#FFFFFF" radius="3″ class="resource-box"]
Location: Bangkok, Thailand
Cost: 200 Baht ($6 USD)
Packing Guide
Check out my travel gear guide to help you start packing for your trip. Pick up a travel backpack, camera gear, and other useful travel accessories.
Book Your Flight
Find cheap flights on Skyscanner. This is my favorite search engine to find deals on airlines. Also make sure to read how I find the cheapest flights.
Rent A Car
Discover Cars is a great site for comparing car prices to find the best deal. They search both local & international rental companies.
Book Accommodation
Booking.com is my favorite hotel search engine. Or rent apartments from locals on Airbnb. Read more about how I book cheap hotels online.
Protect Your Trip
Don't forget travel insurance! I'm a big fan of World Nomads for short-term trips. Protect yourself from possible injury & theft abroad. Read more about why you should always carry travel insurance.
Thailand Travel Guide: Lonely Planet Thailand
[/su_box]
Enjoy This Post? Pin It!
[su_row class=""]
[su_column size="1/2″ center="no" class=""]


[/su_column]
[su_column size="1/2″ center="no" class=""]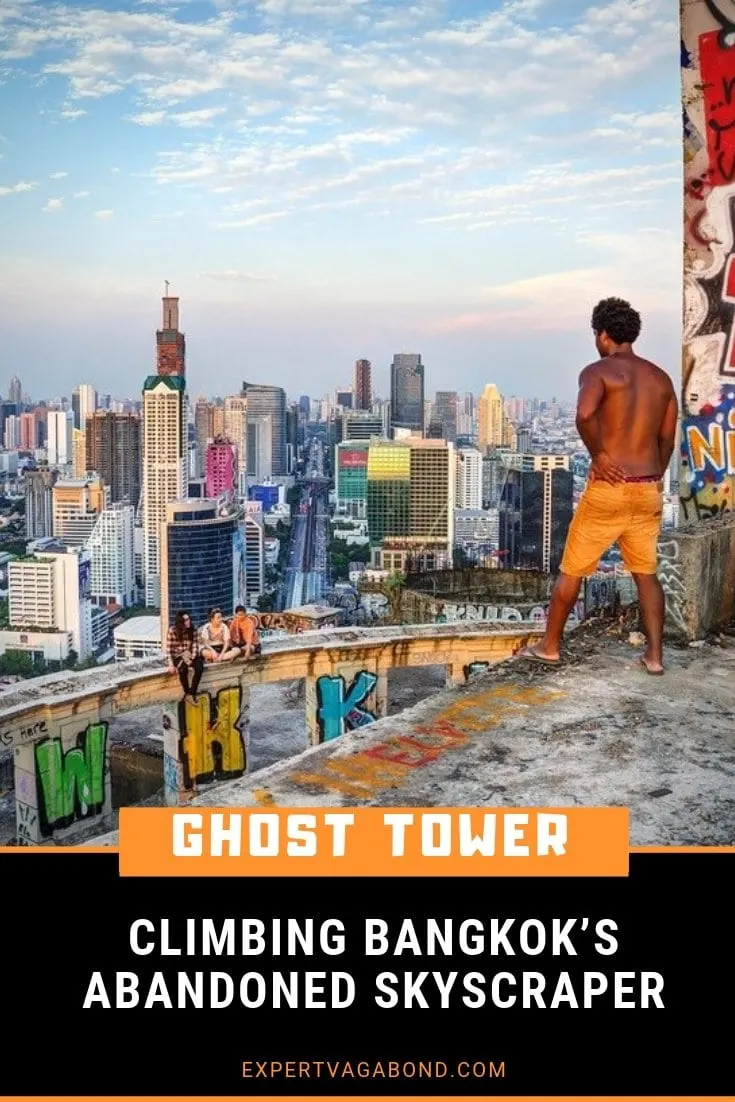 [/su_column]
[/su_row]
READ MORE TRAVEL TIPS
I hope you enjoyed my guide to Bangkok's abandoned skyscraper! Hopefully you found it useful. Here are a few more wanderlust-inducing articles that I recommend you read next:
Have you ever visited a haunted building before? Join the conversation on Facebook, Instagram, or Twitter to share!