Siargao Island, Philippines
I'm paddling away from a four foot wall of crystal blue water, rising up from the ocean and bearing down on my position. I feel a push as it catches my board, faster & faster.
In one quick motion I hop up in a crouch, knees bent, feet wide, arms out, pointing right as the peak of the wave begins to crash & churn on my left.
Dragging my right hand through the water as I race down its face to freedom.
If I had to describe surfing to someone, it would include the word ecstasy.
Surfing In The Philippines
Welcome to Siargao, a tropical island paradise known for its surfing in the Pearl of the Orient Seas. Its just one small island among the 7000 that make up the Philippines.
Yet Siargao boasts a unique mix of excellent surfing, relaxed vibes, deserted beaches, warm water, and a practically unlimited supply of fresh coconuts.
If you're a surfer, or want to learn, you really need to visit Siargao.
I spent 3 weeks exploring this little slice of heaven and didn't want to leave. That's how incredible the island is!
Siargao Island Paradise
Where is Siargao Island? It's located in the South East of the country. They have a small airport that you can fly into from Cebu, or another option is the 3 hour ferry from the city of Surigao (careful, SURIGAO and SIARGAO sound similar but are different places!).
I flew from Cebu to Siargao Island in a small plane via Cebu Pacific Airways. Once there, it's easy to jump on a shuttle to General Luna, the island's main surf-town.
The 40 minute drive provides a glimpse at life on this island as you pass simple thatched roofed homes on stilts, rice fields, lush tropical forests, barefoot children and large carabao (water buffalo) on the side of the road.
Surfing In The Philippines
What really sets Siargao apart from other islands in the Philippines is the surfing! With over 15 different surf breaks around the island, both on & offshore, there are plenty of options for every skill level.
Just rent a small motorcycle with board rack for $8 a day.
Surfboard rentals cost about the same. The selection isn't the greatest (boards are difficult to ship here), but Fat Lips Surf Shop has decent stuff.
To reach offshore breaks you need to hire a local outrigger boat, called a banca, to take you there. Round up a group or wait at the beach for other surfers to join you. It only costs about $5 per person.
Your captain will hang out on the boat (or go surfing with you) until you're finished. How cool is that? One of our captains was only 15 years old!
Siargao Surf Breaks
There are many different surf spots around Siargao. I've listed some of the most popular below. My favorites were offshore — usually less crowded due to the need for hirig a boat to reach them.
The boat ride adds to the surfing experience anyway!
Cloud 9
Cloud 9 is the most popular break on Siargao, and the location of some international surf competitions. It's a powerful high-tide reef break that produces consistent barrels both left & right. For advanced surfers only.
Quicksilver
Located next to Cloud 9, this right-hand wave is smaller, but still breaks on the same shallow reef. It can often be crowded.
Stimpy's
If you like lefts, Stimpy's is great. It's a 10 minute boat ride offshore, which means it can be less crowded. There are actually two breaks here, the inside one is larger. Best at low to mid tide.
Rock Island
Nearby to Stimpy's is Rock Island, pictured in the first image. A similar setup only this one is a right, and only good when the wind is just right. It's a sweet spot for photos with that giant rocky outcropping in the background.
Daku Reef
Daku is another offshore right-hand break, about 10 minutes by boat from the local fish market. When it's good, this is one of my favorite waves. The current is strong though, so it can be a long paddle back after you catch one.
Cemetery
I actually never made it out to Cemetery. Located in front of an actual cemetery, it's a long 15 minute paddle from shore. But if you're willing to get out there, you'll be rewarded with no crowd. Best at low tide.
G1
Many surfing classes go here, as well as locals, so it can be crowded. It's a 15 minute motorcycle ride away from General Luna. G1 breaks both left & right, and is best at high tide. There is another break right beside it too.
Riding Waves With PrAna
Before traveling to the Philippines for my Siargao surfing trip, the adventure enthusiasts at PrAna hooked me up with their colorful Seaton Board Shorts, which I wore almost every day!
No need for a shirt and shoes while island hopping in the Philippines…
Surfing has quickly become my favorite adventure sport. It's not easy to learn, but with a few lessons and lots of practice, you'll be completely hooked.
The better you get, the more addicted you become.
It's the challenge of learning to read and move with the water. Making split-second decisions in a fast-paced environment. The threat of danger should a wave send you crashing into the reef below.
The unmatched feeling of accomplishment after a successful ride!
Visiting Siargao
While the waves are rockin' at Siargao year round, most people who visit for surfing do so in the fall (September/October). You'll find all kinds of guesthouses, bungalows, and surf resorts around General Luna for as low as $10 a night.
I stayed at a few different places, but my favorite was Kermit Surf Resort. Proper island-style accommodation with a super friendly hostel-like vibe & common area. They make excellent wood-fired pizza and other authentic Italian dishes (the Philippines is not really known for its food).
In fact writing about Siargao is just convincing me to go back.
The slow pace of life, cheap accommodation, incredible surfing, lack of tourists, and laid back attitudes makes it one of my favorite island destinations. Oh, and did I mention the epic sunsets every afternoon? ★
[su_box title="Travel Planning Resources For The Philippines" style="noise" box_color="#333333″ title_color="#FFFFFF" radius="3″ class="resource-box"]
Location: Siargao Island, Philippines
Packing Guide
Check out my travel gear guide to help you start packing for your trip. Pick up a travel backpack, camera gear, and other useful travel accessories.
Book Your Flight
Find cheap flights on Skyscanner. This is my favorite search engine to find deals on airlines. Also make sure to read how I find the cheapest flights.
Rent A Car
Discover Cars is a great site for comparing car prices to find the best deal. They search both local & international rental companies.
Book Accommodation
Booking.com is my favorite hotel search engine. Or rent apartments from locals on Airbnb. Read more about how I book cheap hotels online.
Protect Your Trip
Don't forget travel insurance! I'm a big fan of World Nomads for short-term trips. Protect yourself from possible injury & theft abroad. Read more about why you should always carry travel insurance.
Recommended Guidebook: Lonely Planet Philippines
Suggested Reading: When The Elephants Dance
[/su_box]
Enjoy This Post? Pin It!
[su_row class=""]
[su_column size="1/2″ center="no" class=""]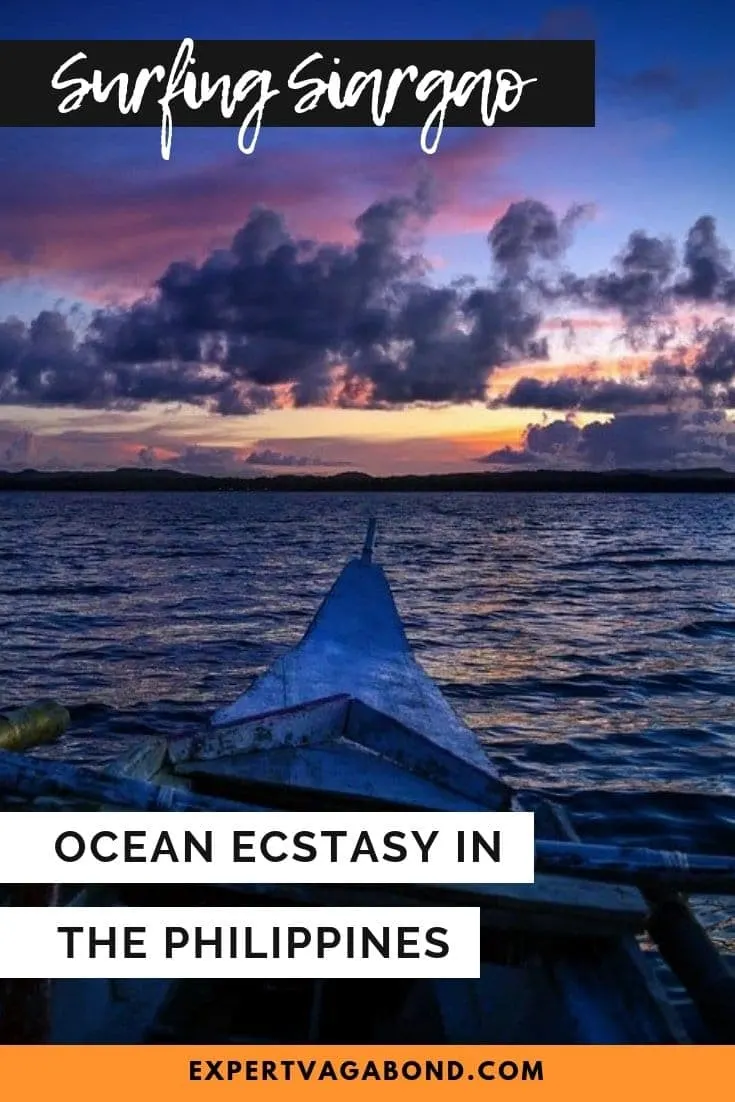 [/su_column]
[su_column size="1/2″ center="no" class=""]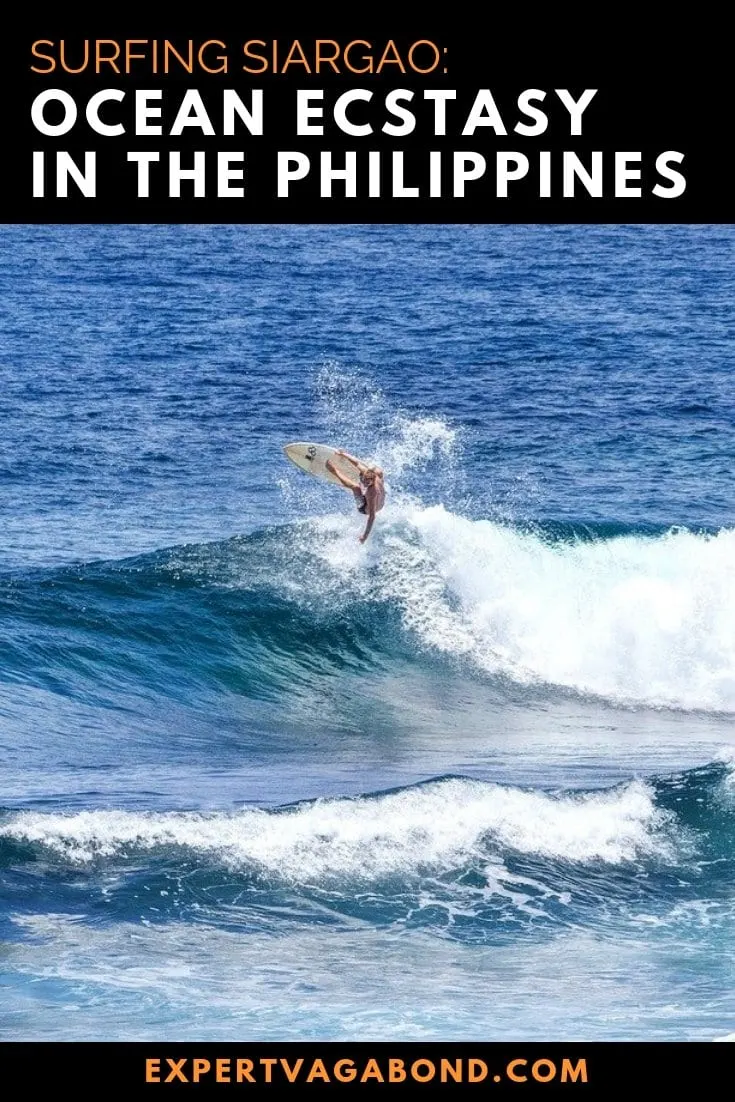 [/su_column]
[/su_row]
READ MORE TRAVEL TIPS
I hope you enjoyed my guide to surfing Siargao! Hopefully you found it useful. Here are a few more wanderlust-inducing articles that I recommend you read next:
Have you ever been surfing before? Would you try it? Join the conversation on Facebook, Instagram, or Twitter to share!