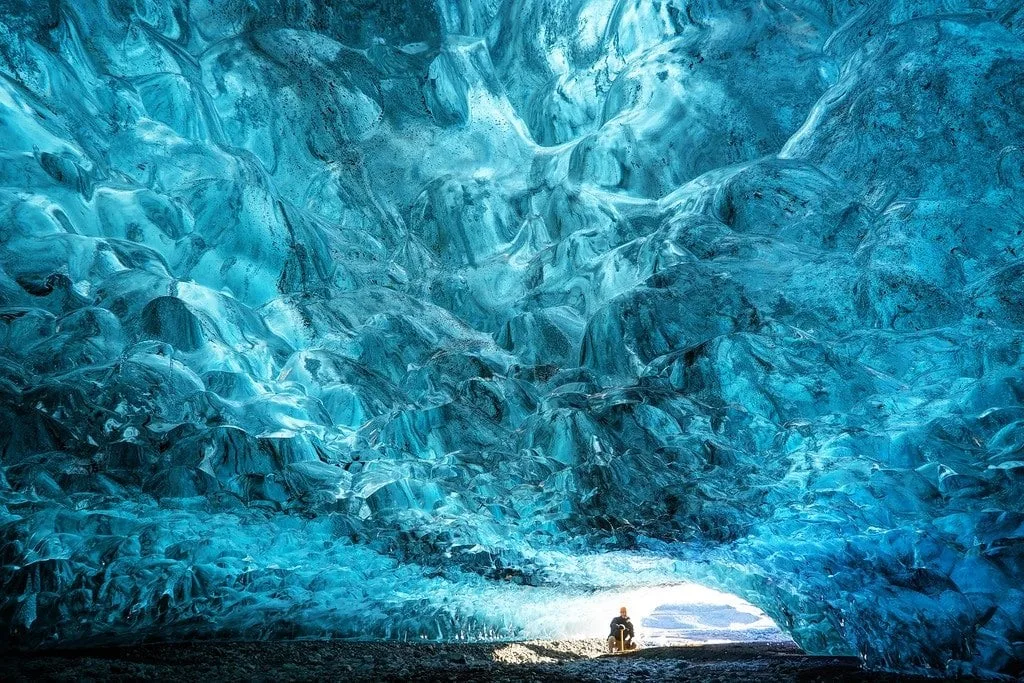 Vatnajokull Glacier, Iceland
In the winter months, Iceland's incredible ice caves can be explored. Walking through a brilliant cathedral of frozen crystal blue waves. Superman would feel right at home!
When the Man of Steel wants to get away from the hustle & bustle of Metropolis, he flies to his "Fortress of Solitude" hidden in the Arctic. A magnificent crystal castle built using Krypton alien technology.
What if I told you Superman's crystal ice caves are real?
Deep under Iceland's massive Vatnajökull glacier, beautiful caves of ice are formed by rivers of melt-water.
Too dangerous to visit in the spring & summer due to a threat of collapse, cold winter temperatures strengthen the ice and make exploration possible.
A fellow photographer convinced me to go during my Iceland road trip.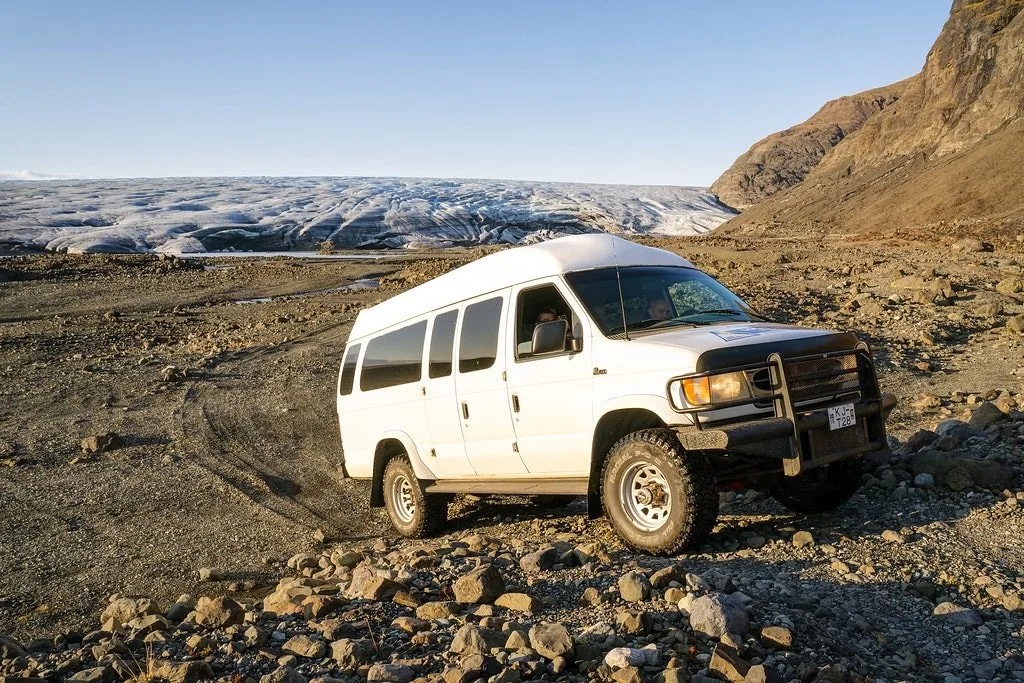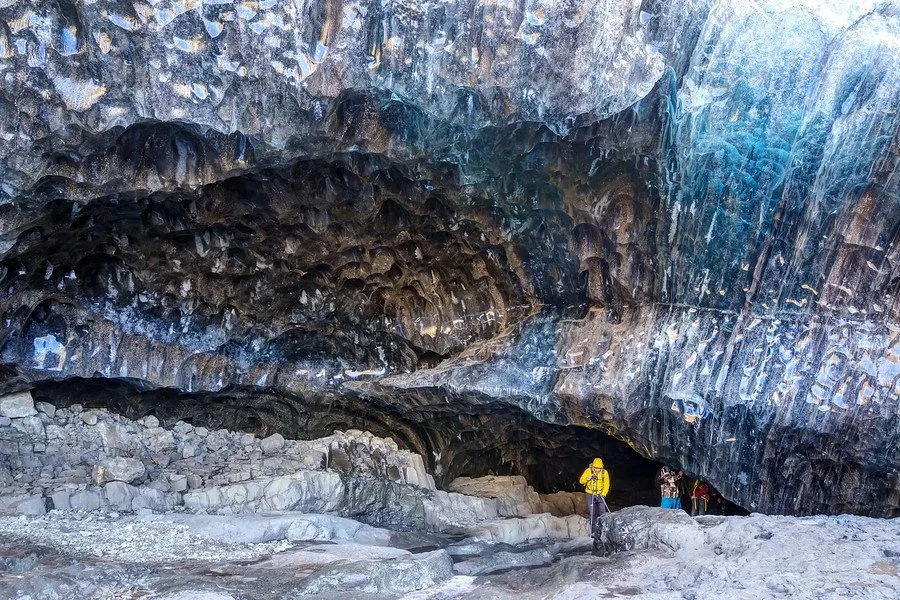 Photographing Iceland's Ice Caves
Iceland's incredible glacier ice caves move or completely disappear with the shifting ice sheet each year. However one man seeks them out and guides people to their location.
Expert local guide Einar Sigurðsson has been running photography tours into these icy caverns for the past 20 years, and knows the glacier better than most. His family has a long history here.
Driving over rugged Icelandic terrain and through small rivers in Einar's 4×4 van, snow covered Vatnajökull glacier appears in the distance. The ice has retreated a lot over the past few years, so it takes longer to reach the edge.
We begin our ice cave adventure by strapping on helmets and ducking into a small entrance, forced to crawl on the cold, black volcanic dirt.
Once inside though, the views are absolutely breathtaking.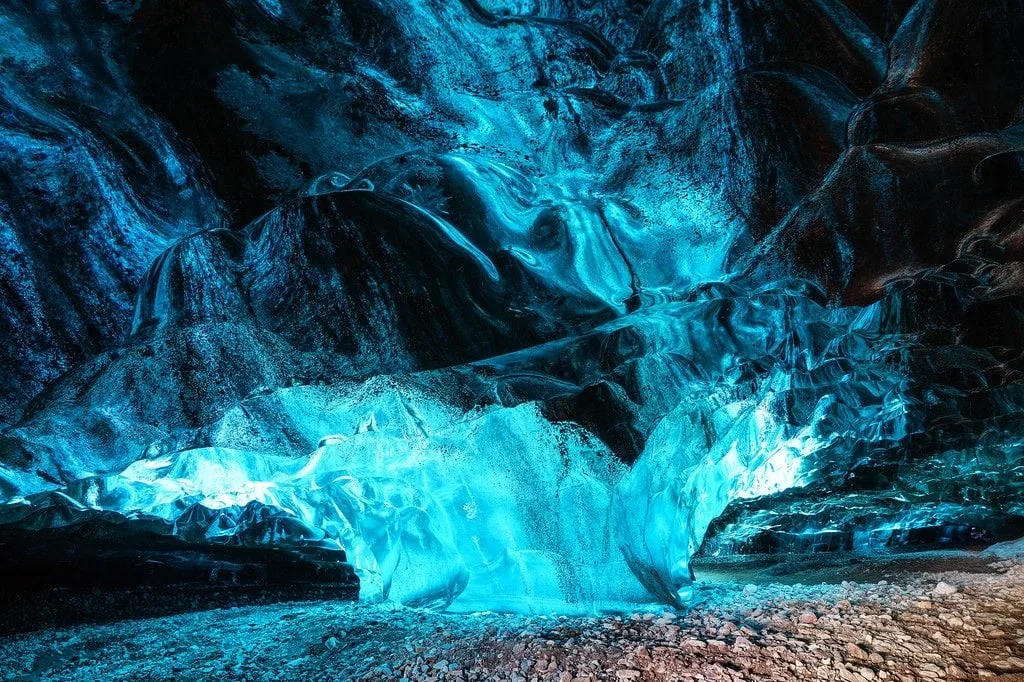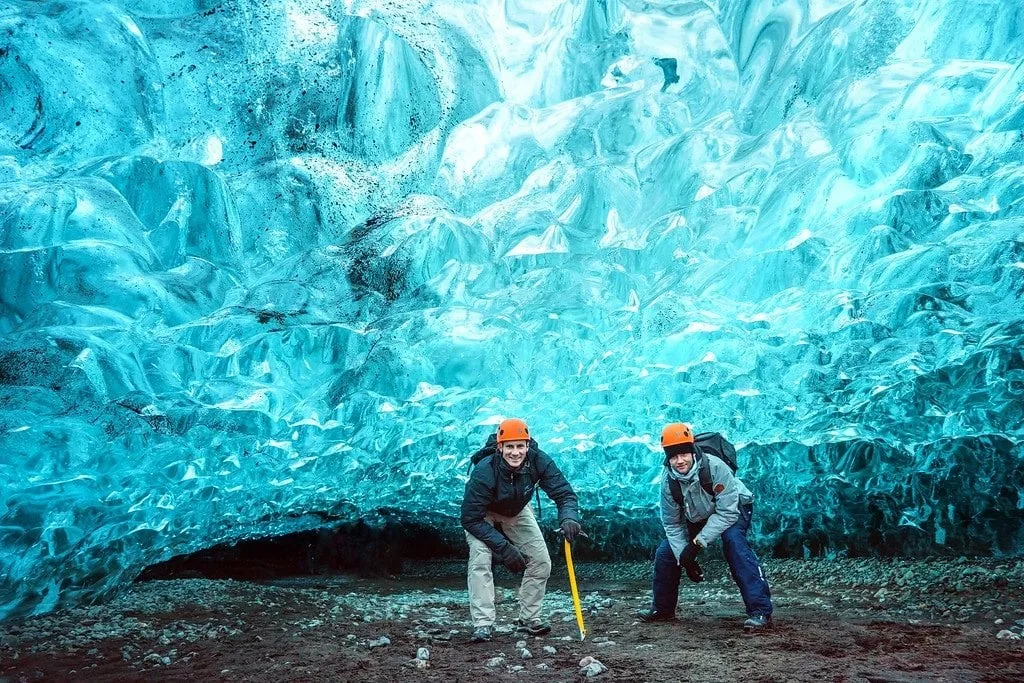 Amazing Blue Caverns Of Ice
A long tunnel of ice boasting many different shades of translucent blue, white, and inky black stretches out before us. Thousands of years of snowfall compressed into frozen sculpted waves over our heads.
Gradually the tunnel grows large enough with room to stand up.
This densely packed glacial ice glows blue due to a lack of air bubbles which normally scatter colors of the spectrum as sunlight filters down from above. Layers of black volcanic ash are trapped in these ice formations, a remnant from previous eruptions.
We spent a few hours exploring the cave, setting up our tripods for the perfect shot. It was nice to be in here with a group of fellow photographers who understand the importance of patience & attention to detail.
When Einar discovers a new ice cave, he names it. This happened to be called the "Northern Lights Cave", named after ribbons of deep blue frozen water surrounded by black ash.
It looked very similar to Iceland's aurora borealis dancing in the night sky.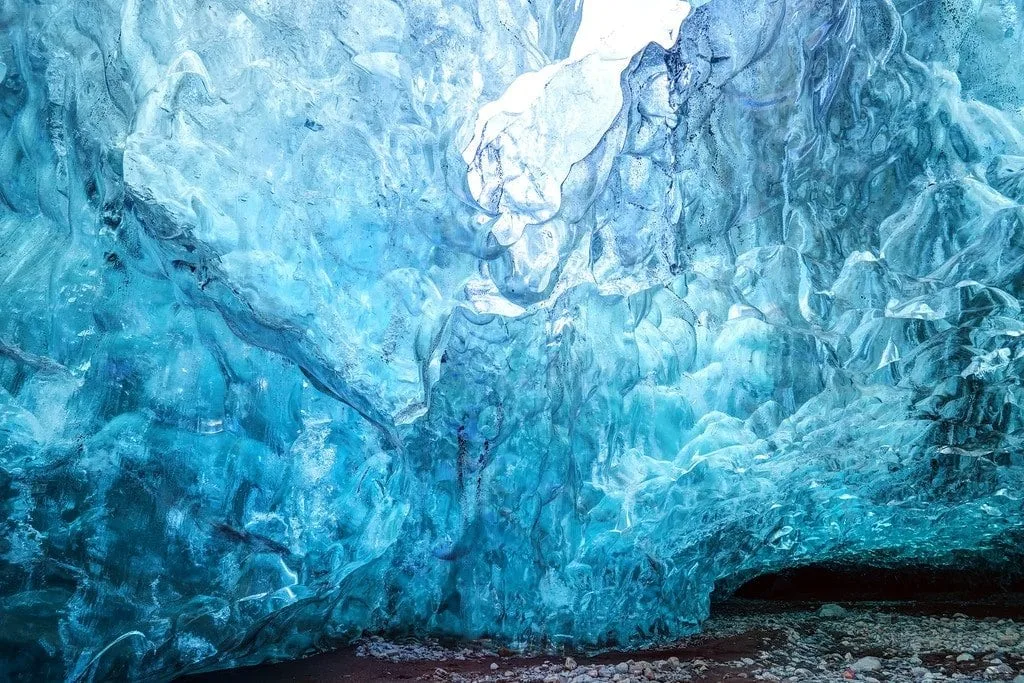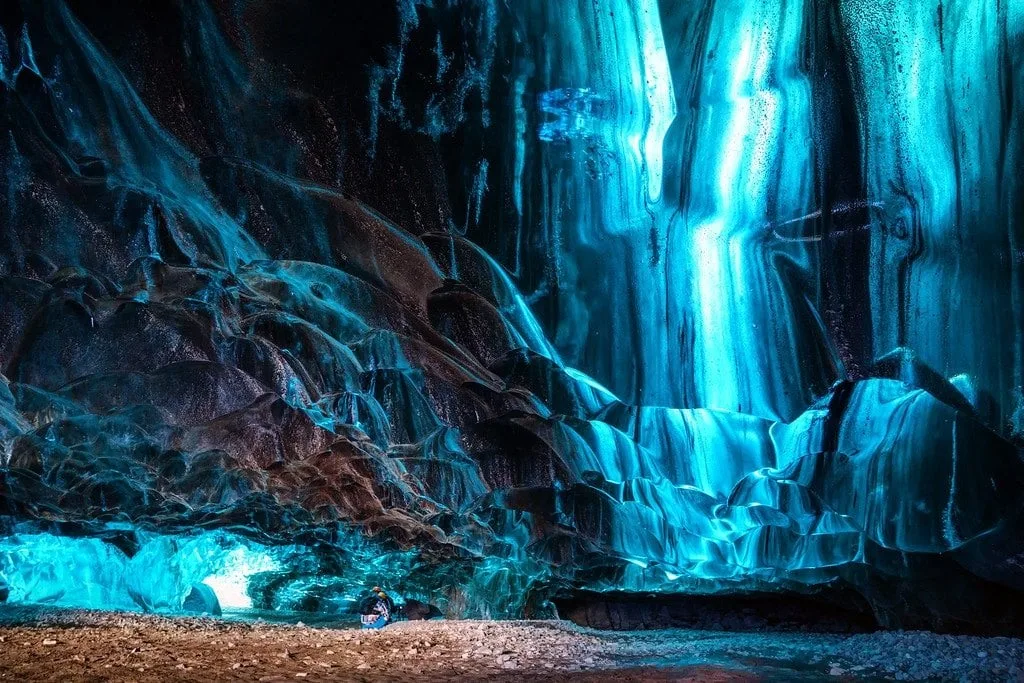 Vatnajökull Glacier in Iceland
Covering 8100 square kilometers (5000 square miles) Vatnajökull Glacier is the largest icecap in Europe by volume. The ice is up to 1000 meters thick in some places.
Located in the South East, Vatnajokull covers over 8% of Iceland.
There are seven different volcanoes hidden underneath the glacier. I actually flew over one of them while it was erupting, called Bardarbunga Volcano. This unique combination of fiery volcanoes & icy glaciers is why Iceland is called The Land of Fire & Ice…
Superman sure picked a great spot for his vacation home!
Exploring and photographing Iceland's crystal ice caves was an incredible experience. If you're traveling through Iceland in the winter, you really should't miss them.
Nature's phenomenal beauty never ceases to amaze me. ★
Where To Stay Near The Ice Caves
The closest town to the ice caves is Höfn, about an hour away. If you're wondering where to stay in Iceland for a trip to the caves, here are my recommendations:
---
WHERE TO STAY AROUND HOFN
---
[su_note note_color="#DCEFF5″ text_color="#333333″ radius="3″ class=""]
FREE AIRBNB COUPON CODE!
Have you ever considered short-term apartment rentals? It's a great way to save money! Click here to learn how to get $35 off your first booking.
[/su_note]
---
Enjoy This Article? Pin It!
---
READ MORE ICELAND TRAVEL TIPS
I hope you enjoyed my guide to Iceland's ice caves! Hopefully you found it useful. Here are a few more wanderlust-inducing articles that I recommend you read next:
---
Have any questions about Iceland's ice caves? What about other suggestions? Join the conversation on Facebook, Instagram, or Twitter to share!