San Pedro La Laguna, Guatemala
While traveling through Guatemala I spent 3 weeks taking Spanish classes and staying with a local family on Lake Atitlan. Here's a rundown of my experience.
Guatemala is one of the best countries in the world to visit if you'd like to learn Spanish. It's not too far from the United States, classes are inexpensive, and locals naturally speak slowly without using too much slang.
Plus, if you'd like to learn Spanish fast, there's no better way then to be totally immersed in the culture & language for an extended period of time.
I decided to study in the town of San Pedro La Laguna on Lake Atitlan, located in the Guatemalan Highlands of the Sierra Madre mountains.
This massive lake is surrounded by volcanoes, colorful wildflowers, and traditional Maya villages. A picture perfect setting to learn Spanish.
Spanish School In Guatemala
I went to Cooperative School San Pedro on Lake Atitlan (Lago de Atitlan). It's a true cooperative started by a group of experienced Spanish teachers who believe they have a responsibility to their community.
In general it's recommended to take at least 3 weeks of Spanish classes to get a basic grasp on the language. You can choose between 3-6 hours of instruction per day, either morning or afternoon classes.
Homestays are available or you can find your own accommodation.
I paid $205 USD per week for 4 hours of class per day, 5 days per week, which also included my homestay plus 3 meals a day. It was a great deal!
Lake Atitlan has a laid-back hippy vibe, and the landscape around the lake is breathtaking with many outdoor activities nearby. However Antigua & Quetzaltenango (Xela) are also popular towns for learning Spanish.
Xela is a larger city, while Antigua is a bit more touristy.
Friends of mine have recommended ICA Spanish School in Xela and Antigua Plaza School in Antigua if you're looking to stay there instead.
Typical Day At Class
There are a few different options for class schedules, however I choose 4 hours of one-on-one Spanish instruction per day, five days a week. My teacher was Flori, a local woman who's been teaching for years.
She always seemed upbeat and excited to teach as we sat in the shade overlooking Lake Atitlan.
After a general evaluation of my Spanish skills (almost non-existent in my case), Flori gave me a refresher course on rules of Spanish and helped improve my vocabulary using fun games and written exercises.
There were homework assignments every night too…
My Spanish quickly improved with regular daily instruction, and I was finally able to communicate with my Guatemalan host family and other locals.
Three weeks of class wasn't enough to become fluent, but traveling through Central America was MUCH easier because I could understand a lot more and make myself understood.
Even though I probably sounded like a 5 year old!
The Homestay Experience
While taking Spanish school in Guatemala I stayed with the Bixcul-Pichilla family in their small two-story cinderblock home nestled at the bottom of Volcano San Pedro.
It was super difficult to communicate at first, as they don't speak any English. Only Tzujill (a local Mayan language) & some Spanish.
I had my own bedroom, and the family of 5 shared 3 others. We also had a basic kitchen and open-air courtyard. Living this way was an eye-opening experience for me, very different from the "comfortable" American lifestyle I'm used to.
There was a bathroom in the courtyard, and a sink area used for washing clothes, cleaning dishes, brushing teeth, shaving — pretty much everything.
Water was delivered via pipes once or twice a week, where it's stored in drums for later use. Occasionally it would run out if we used too much.
Activities Nearby
Like I mentioned earlier, the Lake Atitlan area is full of cool things to do. So when I got sick of trying to memorize new Spanish words, I'd take a break and get outside for a Guatemalan adventure!
Volcano Hikes
Lake Atitlan is surrounded by volcanoes. Hiking these is a great way to get some exercise and capture epic photos of the landscape. Two of the most popular hikes are Volcano San Pedro and La Nariz de Indio.
Lake Kayaking
Rent a kayak and explore Lake Atitlan up-close. Or if you're feeling REALLY adventurous, find a local fisherman willing to rent out his traditional wooden canoe. They aren't easy to navigate!
Scuba Diving
Yes, you can go scuba diving under the lake here, and apparently there's interesting stuff to see. Like freshwater crabs, underwater volcanic hot-vents, and flooded hotels. ATI Divers is located in the town of Santa Cruz.
Coffee Tours
Coffee is a big deal in Guatemala, and the nutrient-rich volcanic slopes around Lake Atitlan are covered in coffee farms. A coffee tour allows you to experience the fascinating coffee production process from start to finish.
Maya Villages
There are 12 Maya villages spread out around the shores of Lake Atitlan, with many only accessible by boat or on foot. My favorites were Santiago, San Juan, and San Marcos. Walk the cobblestone streets, visit old churches, watch a local basketball game, and experience some Maya culture.
Community Outreach
Many of the Spanish schools in San Pedro give back to the community with social aid projects, and you can volunteer to help out by bringing food or building supplies to poor local families in need.
Tips & Advice For Studying Spanish
Panajachel is the main transportation hub for the Lake Atitlan area. A bus from Guatemala City to Panajachel takes 3-4 hours. Once at the lake, the best way to travel from village to village is by lancha (boat taxi). Prices vary, but are generally around 15-25q ($2-3 USD).
The temperature around Lago Atitlan fluctuates between 50 – 80 degrees (F), so it can get chilly at night. Larger towns like Panajachel & San Pedro have ATMs, but not all of them do.
When picking a Spanish school in Guatemala, keep a lookout for schools that funnel money into social aid projects for the local community. I'd also recommend staying in a homestay for the same reason, that money goes a long way towards improving the lives of your host family.
For additional recommendations, talk to people who've actually attended the school you are interested in. Search travel blogs or online forums like Lonely Planet to read reviews of other schools. ★
[su_box title="Travel Planning Resources For Guatemala" style="noise" box_color="#333333″ title_color="#FFFFFF" radius="3″ class="resource-box"]
Location:
San Pedro La Laguna, Guatemala
Spanish School:
Total Cost:
$90 – $225 USD per week depending on hours/homestay
Packing Guide
Check out my travel gear guide to help you start packing for your trip. Pick up a travel backpack, camera gear, and other useful travel accessories.
Book Your Flight
Find cheap flights on Skyscanner. This is my favorite search engine to find deals on airlines. Also make sure to read how I find the cheapest flights.
Rent A Car
Discover Cars is a great site for comparing car prices to find the best deal. They search both local & international rental companies.
Book Accommodation
Booking.com is my favorite hotel search engine. Or rent apartments from locals on Airbnb. Read more about how I book cheap hotels online.
Protect Your Trip
Don't forget travel insurance! I'm a big fan of World Nomads for short-term trips. Protect yourself from possible injury & theft abroad. Read more about why you should always carry travel insurance.
Recommended Reading: Lonely Planet Guatemala
[/su_box]
Enjoy This Post? Pin It!
[su_row class=""]
[su_column size="1/2″ center="no" class=""]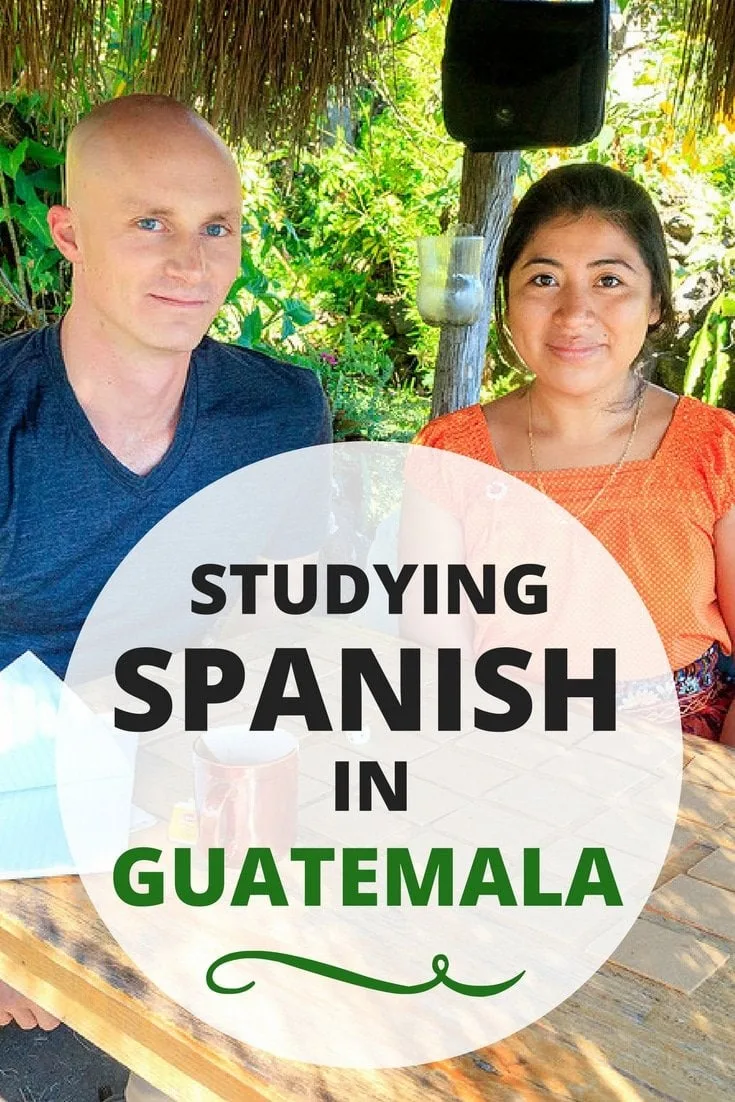 [/su_column]
[su_column size="1/2″ center="no" class=""]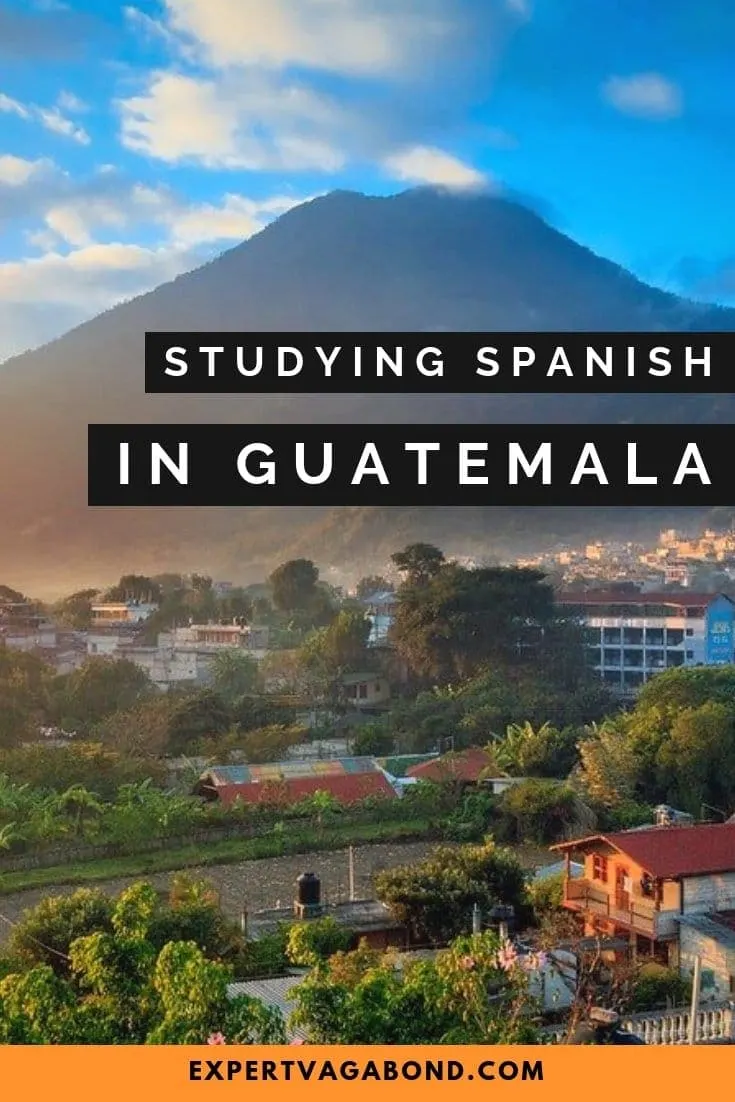 [/su_column]
[/su_row]
READ MORE GUATEMALA TRAVEL TIPS
I hope you enjoyed my guide on studying Spanish in Guatemala! Hopefully you found it useful. Here are a few more wanderlust-inducing articles that I recommend you read next:
Any other questions about studying Spanish in Guatemala? Are you interested in traveling here? Join the conversation on Facebook, Instagram, or Twitter to share!