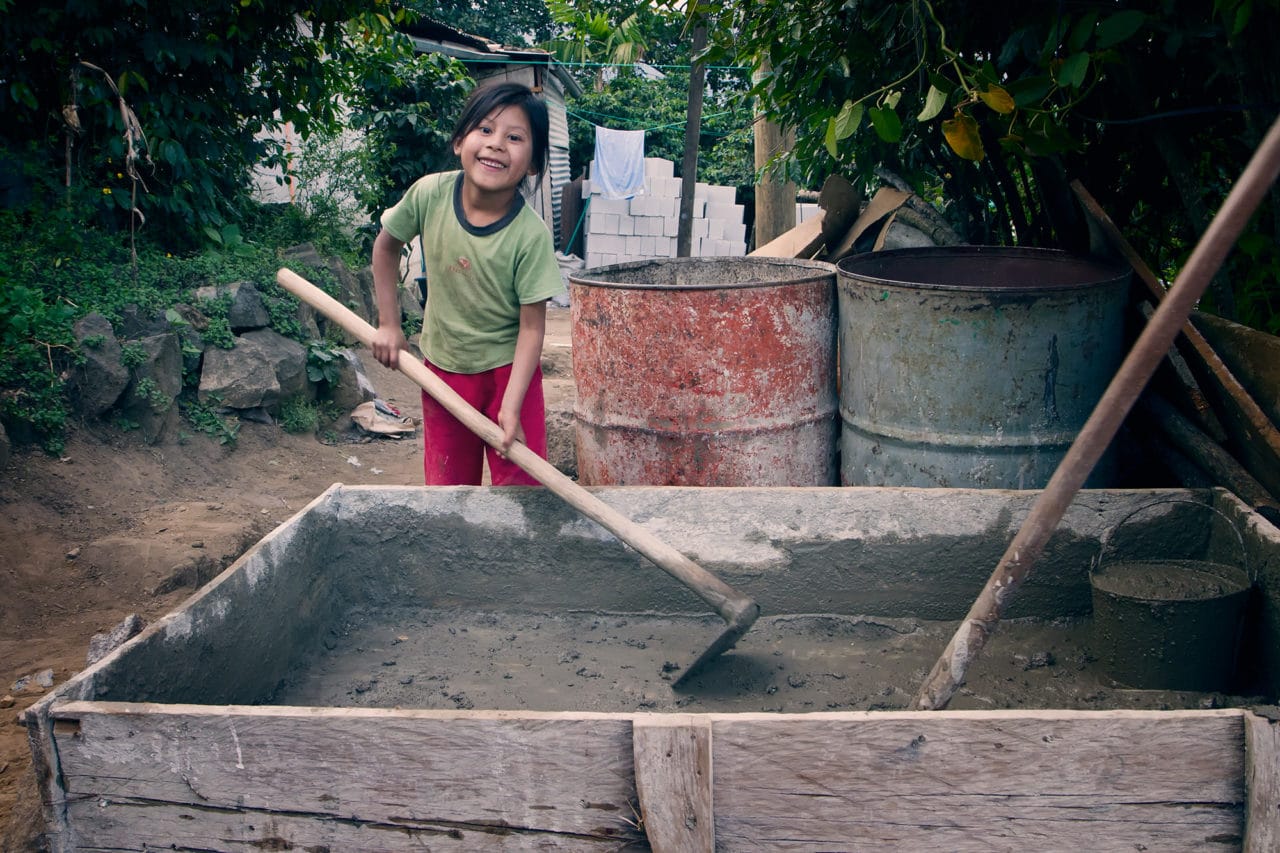 I'd like to introduce you to 6-year-old Dolores. She is helping her family build a new home in the small town of San Pedro la Laguna, Guatemala.
If you didn't already know, once a month I find a local charity in the country I happen to be traveling in and make a donation to help them out. Some of the money comes from me, and some come from the readers of my travel blog, like you.
This month, our donations went to Escuela Cooperativa's Kamoon Project. Kamoon means "Do Something Together" in the local Mayan language of Tzujill. The project's goal is to build simple homes for families that need help the most in the town of San Pedro on Lake Atitlan.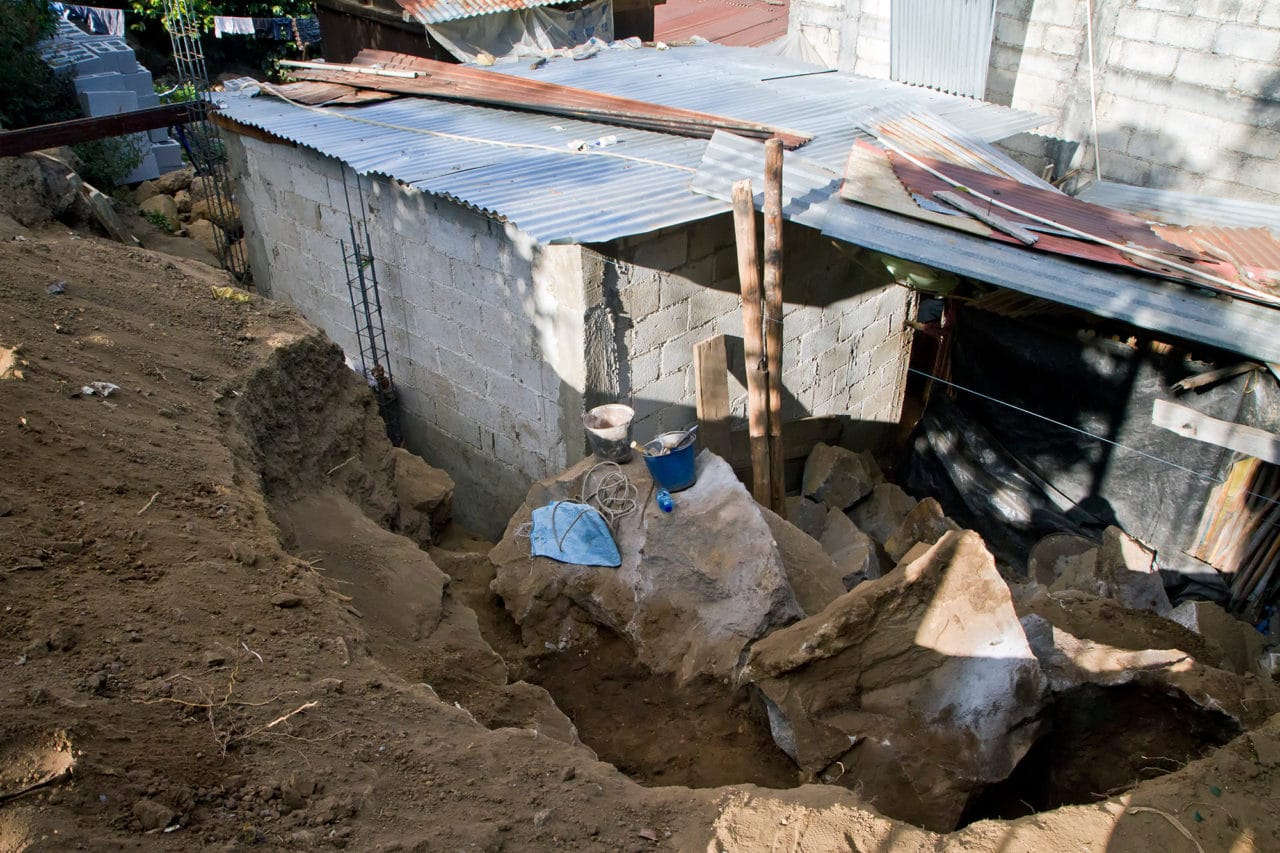 This is the construction of a new home for the Ujpan-Tuch Family. Right now, all 8 members live in that one cinderblock room you can see in the photo above. The other buildings you see around it belong to other families. This cinderblock room is new, previously the family lived in a homemade from corrugated aluminum and corn stalks.
The mound of dirt and boulders will be cleared away to make space for 2 more rooms like the first. Because the land is full of giant boulders, these need to be broken up by hand into smaller pieces before they can be cleared away. It's a lot of work!
Eventually, there will also be the second floor with 2 rooms for the kids and a single bathroom for the whole house.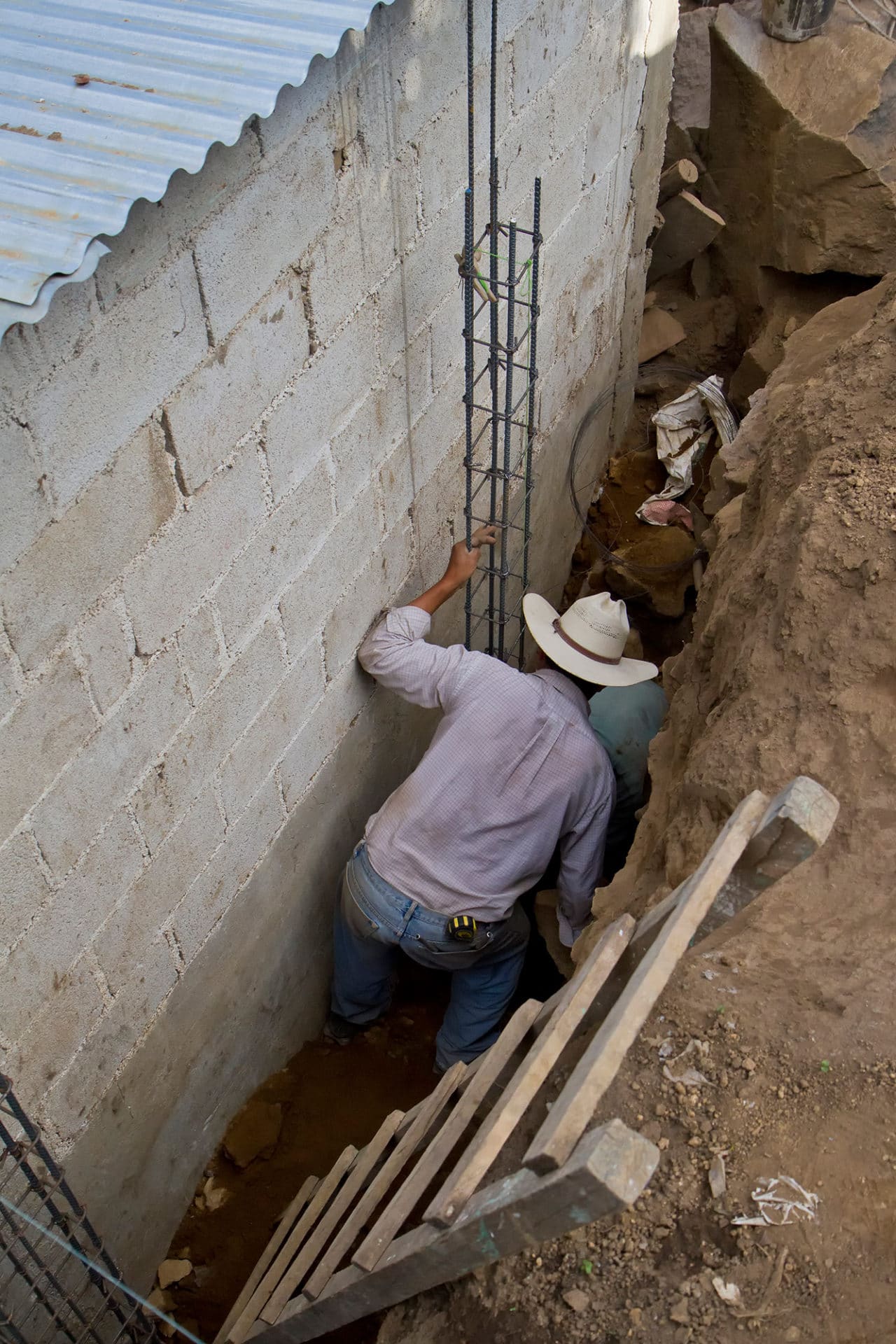 The whole project will cost $9000 US dollars to build, and they've raised about 70% of it so far. Our contribution of $110 US is not much, but it certainly helps towards the goal. I want to sincerely thank everyone who made a donation through this website. :)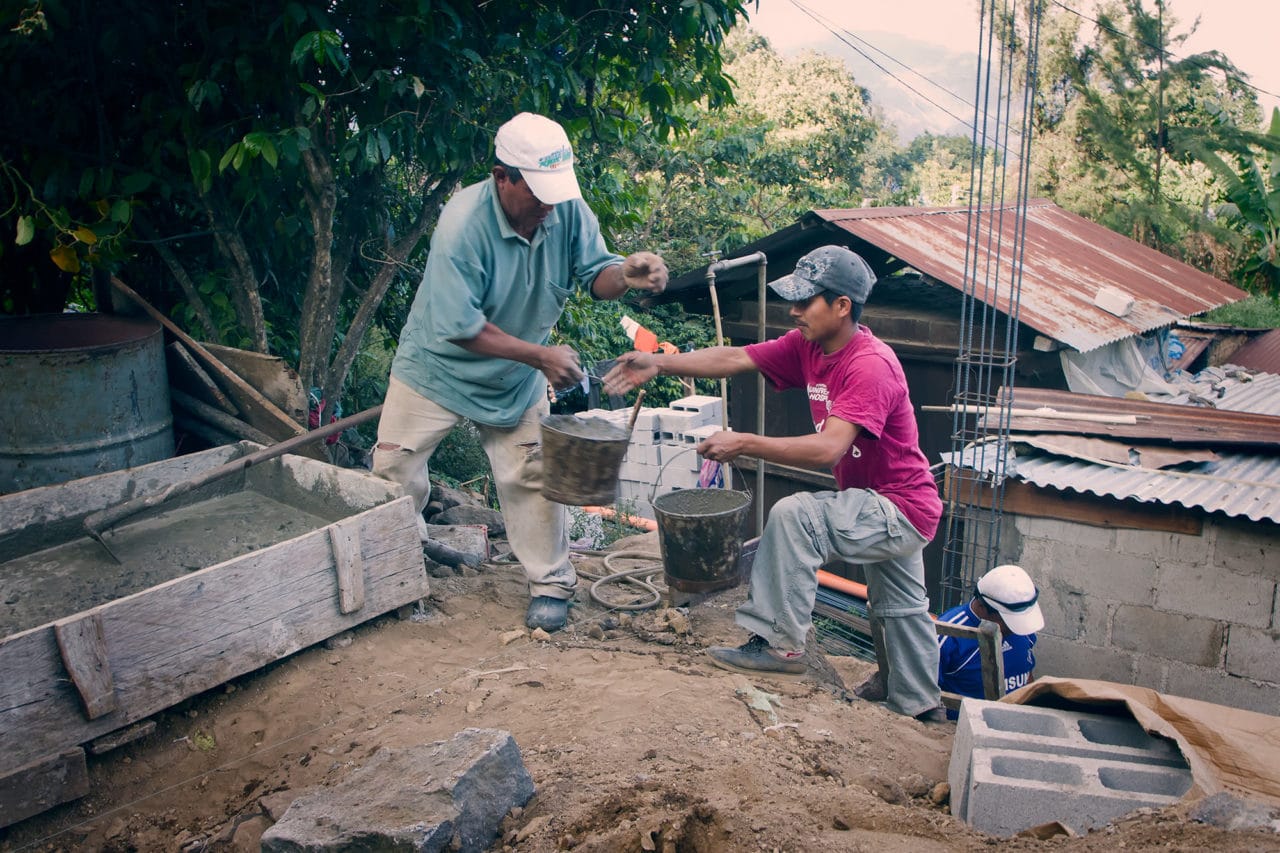 Your money goes a long way in this country. The father of the household, Luciano, is a coffee farmer. He is the sole provider for the family of 8, and his income is $40 Quetzales a day ($5 US). He wanted me to thank everyone for him. When he's not working the coffee trees, he's helping with the construction of his home, along with his whole family.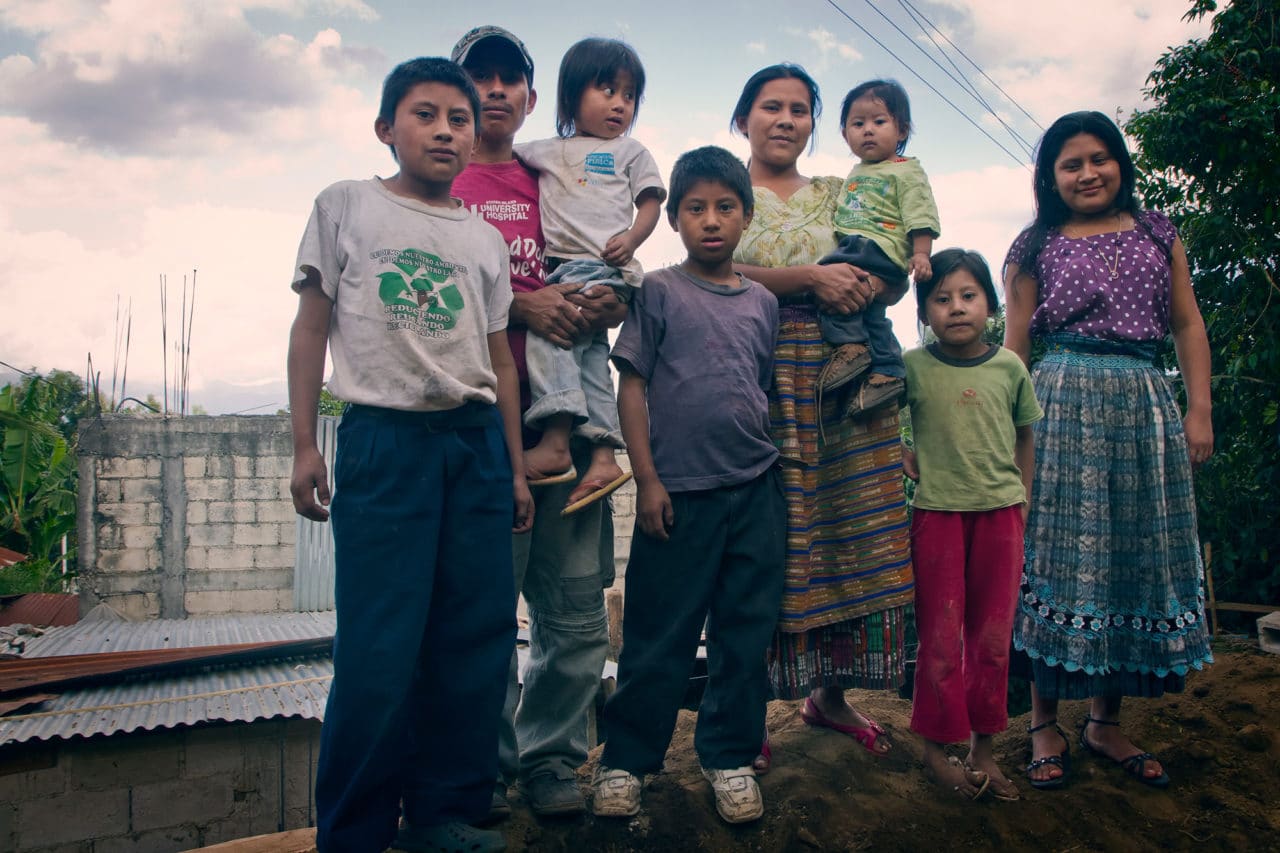 Finally, I'd like to introduce you to the family we helped out this month. From left to right: Nicolas (11), Luciano (Father), Ana Candelaria (3), Francisco (8), Florinda Ester (Mother), Andrea (1), Dolores (6), Maria (14).
Travel Planning Resources for Guatemala
Packing Guide
Check out my travel gear guide to help you start packing for your trip. Pick up a travel backpack, camera gear, and other useful travel accessories.
Book Your Flight
Book cheap flights on Skyscanner, my favorite airline search engine to find deals. Also read my tips for how I find the cheapest flights.
Rent A Car
Discover Cars is a great site for comparing car prices to find the best deal. They search both local & international rental companies.
Book Accommodation
Booking.com is my favorite hotel search engine. Or rent local apartments on Airbnb ($35 discount!). Read my post for tips on booking cheap hotels.
Protect Your Trip
Don't forget travel insurance! I'm a big fan of World Nomads for short-term trips. Protect yourself from possible injury & theft abroad. Read more about why you should always carry travel insurance.

READ MORE GUATEMALA TRAVEL TIPS
I hope you enjoyed my story about the Escuela Cooperativa Kamoon Project! Hopefully you found it useful. Here are a few more wanderlust-inducing articles that I recommend you read next: