The city of Antigua was once the Capital of Guatemala. That was before major earthquakes destroyed most of it in the 1700's.
Today it's a picturesque town that attracts many local and international travelers.
I met the Vice President of Guatemala himself!
I've spent a few days here so far, and even though there are more tourists than some other places I've been to in Guatemala, there's a reason for it. Antigua is very easy on the eyes!
It's a colorful town, with many interesting ruined churches and monasteries to gaze at every few blocks.
The area is tranquil and surrounded by mountains & volcanoes. December weather in Antigua is cold at night, but warm and sunny during the day.
The streets are filled with people and activity, it's fun to just aimlessly walk around.
Antigua has many great restaurants too, but for Guatemalan standards, they're a bit on the expensive side. Street food is plentiful though, and a trip to the market can score you a great meal for about $15 Quetzales ($1.80 US).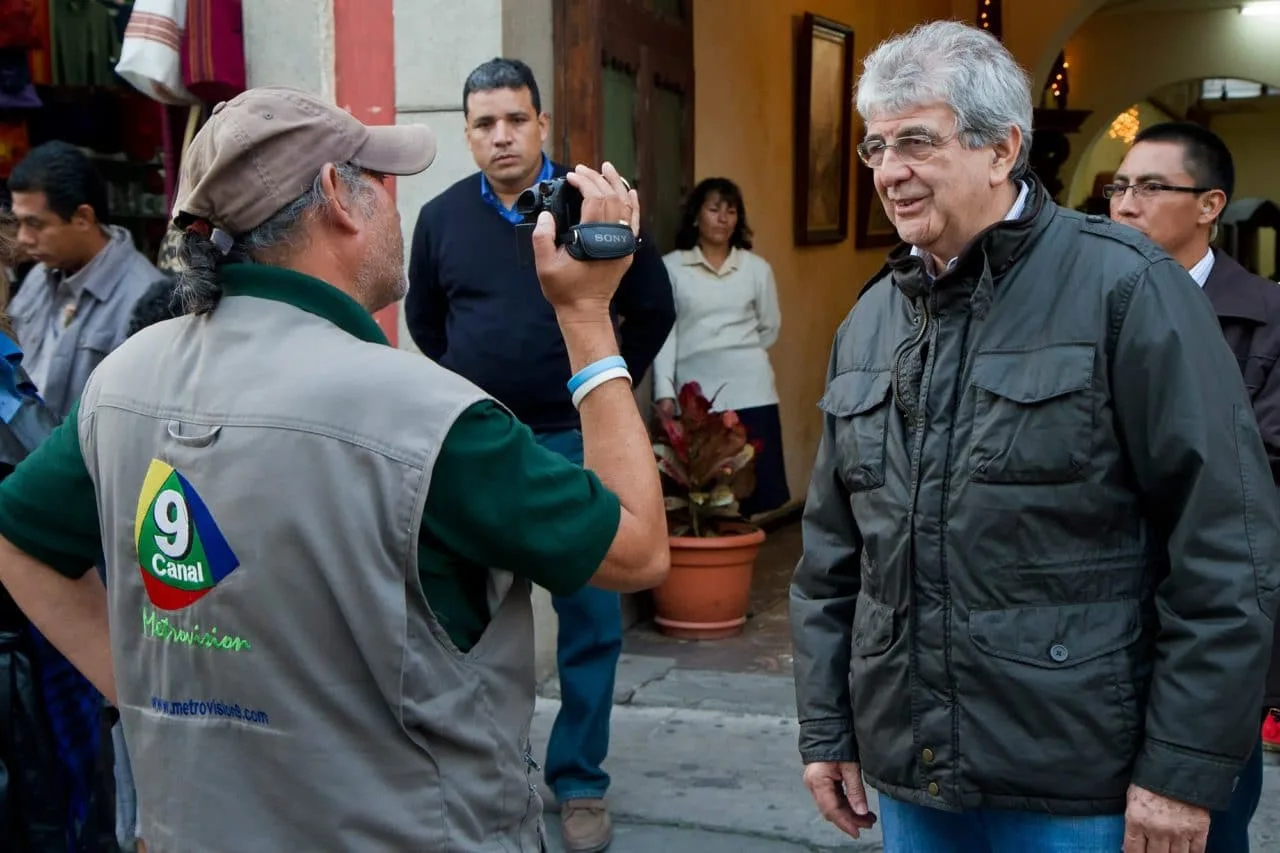 I met the Vice President of Guatemala the other day! His name is Dr. José Rafael Espada, and his security convoy stopped so he could go furniture shopping with his wife.
With a crowd of onlookers and heavily armed G-2 men (Guatemalan Secret Service) surrounding him, he waved me over for a chat in the presence of a small news crew.
We talked in English for a few minutes about my travels, then he left with his body guards.
The best part was I didn't find out who he was until AFTER I got done speaking with him! I just saw all the security, the news crew, the crowd, and assumed he was someone I should get photos of.
While we spoke to each other I pretended like I knew him, but later I had to ask a local: "who was that I just met?".
The guy I asked thought it was hilarious.
I'll be spending Christmas here in Antigua, and it should be a good time. I can tell there will be a lot of festivities. It will be tough not having family or close friends around, but that's sometimes the price you pay for long-term travel.
[su_box title="Travel Planning Resources for Antigua Guatemala" style="noise" box_color="#333333″ title_color="#FFFFFF" radius="3″ class="resource-box"]
Good Place to Sleep: Villa Esthela
Good Place to Eat: Tras la Puerta Verde (9a Calle & 2 Avenida Sur)
Tips: Check out Cafe No Se on the East end of town for a chill bar/lounge/cafe to hang out. If you get sick of tourists, walk to the other towns close by for a change of pace.
Packing Guide
Check out my travel gear guide to help you start packing for your trip. Pick up a travel backpack, camera gear, and other useful travel accessories.
Book Your Flight
Book cheap flights on Skyscanner, my favorite airline search engine to find deals. Also read my tips for how I find the cheapest flights.
Rent A Car
Discover Cars is a great site for comparing car prices to find the best deal. They search both local & international rental companies.
Book Accommodation
Booking.com is my favorite hotel search engine. Or rent local apartments on Airbnb ($35 discount!). Read my post for tips on booking cheap hotels.
Protect Your Trip
Don't forget travel insurance! I'm a big fan of World Nomads for short-term trips. Protect yourself from possible injury & theft abroad. Read more about why you should always carry travel insurance.
[/su_box]
READ MORE GUATEMALA TRAVEL TIPS
I hope you enjoyed my guide to the pretty town of Antigua Guatemala! Hopefully you found it useful. Here are a few more wanderlust-inducing articles that I recommend you read next: