Lanquin, Guatemala
After a picturesque hike through the Guatemalan jungle, I found paradise. The natural limestone bridge and turquoise blue pools of Semuc Champey had revealed themselves.
From the town of Lanquin, the national park of Semuc Champey is a bumpy and winding 40-minute pickup-truck ride into the jungle—and definitely not for the faint of heart (or the carsick).
Standing in the back of the truck, you get a great view of the scenery around you while thumping along the road.
Then the Cahabòn River comes into view for the first time.
As far as whitewater rafting and kayaking go, this river is pretty much as good as it gets in Guatemala. Stretching about 196 kilometers, it winds through caves and jungles, and snakes through the Semuc Champey land bridge.
Not to mention the river's color—which is incredible—a strong bright turquoise blue that sharply stands out from the surrounding green jungle.
Though not totally undiscovered by tourists, Semuc Champey still definitely feels like a hidden wonder!
A Jungle Paradise
After arriving to Semuc Champey and entering the park, a short but steep 45-minute hike will put you high up in the cliffs where you can look down at the beautiful limestone shelf far below.
This view is the money shot, so prepare accordingly. Some water still passes over the top of the shelf, which creates the magnificent blue-green pools and small waterfalls.
Hiking back down the other side of the viewpoint, you'll meet up with the water itself. A short walk up-river reveals where the water rushes underground.
A few people have fallen in here before, never to be found again… so be careful!
Because of the risk, the park hired a guy to stand near the hole with a whistle to warn people when they get too close to the edge.
But putting all this aside, Semuc Champey is a must-visit if you're traveling to Guatemala.
Semuc Champey Pools
Semuc Champey is a natural waterpark in the middle of nowhere. Some areas are deep enough to dive into from high points on the limestone shelf—but make sure you double check the depth yourself before diving in!
Since the water is so clear, you can see everything —- fish swimming in the pools, the rock surfaces, the sandy ground.
Semuc Champey's limestone formations include little caves too, and you can swim into them and look out from underneath a waterfall. After a little exploring, I found one cave that was only accessible by swimming to it underwater.
In general, there's no shortage of hidden enclaves at Semuc Champey, so be sure you leave enough time for adequate exploration.
Temperature-wise, the water is comfortable without being too warm, and provides much-needed refuge from the Guatemalan heat.
History Of The Area
Semuc Champey (which means "sacred water" in the Maya language) has always been renowned for its swimming spots, along with its 300-meter limestone formation under which the Cahabón River flows.
Despite the difficulty in getting here, Semuc Champey remains an attraction for visitors and locals alike.
The nearby town of Lanquín, established in 1540 (!), is home to about 16,500 people and situated at 380 meters above sea level.
Culturally speaking, this region of Guatemala is founded on the basic principle of q'eqchi'—which involves a deep respect of one's natural surroundings and people.
Keep this in mind as you travel through, and the land will treat you as you treat it!
Guatemalan Adventure
Although incredible, visiting the limestone pools at Semuc Champey is only part of the great Guatemalan adventure you can have, where every town and bumpy journey presents another chance to experience a rich, vibrant culture.
After spending the day diving from waterfalls, swimming into caves, and chasing fish around, it was time for me to head back to the town of Lanquin—a lovely little tropical enclave in its own right.
Because I didn't go with a tour, I needed to hitch a ride back with someone.
On the way out of the park, I ran into another group of international travelers who had the same idea, and so we all started walking back to town after waiting for a while without seeing any trucks drive by.
We found a roadside bar and ordered a few cervezas while we waited. Roadside bars are common in Guatemala, and they present fantastic opportunities to meet fellow travelers and practice your Spanish.
Stone Fire Pizza!
One truck finally stopped, and we tried to bargain with the driver on a price. Our efforts failed when he suddenly drove off without us!
It was getting dark, and we really didn't want to walk 9 km (14 miles) through the jungle at night. Generally speaking though, it isn't too difficult to hitch a ride in Guatemala. Just be sure you use good judgement, agree on a price beforehand, and never forget to smile.
Luckily another truck came by eventually, and we quickly agreed to his inflated price because sacrifices, sometimes, are necessary to make while traveling!
After getting dropped off in the center of town, I walked back to my hostel to enjoy another beer and some delicious stone-fire oven pizza. This was the perfect way to end an adventure at Semuc Champey National Park.
How To Get to Semuc Champey
Your first order of business is to get to Lanquin. If you're coming from Flores, Antigua or Guatemala City, you have the option of traveling by bus—which can take up to 12 hours.
The shortest trip would have to be from Guatemala City, which still will run about 6-8 hours.
Semuc Champey is only about 10 kilometers from Lanquin, but those 10 kilometers are particularly difficult to travel (which is, of course, all part of the fun).
In Lanquin, you'll find a number of pick-up trucks ready and eager to take travelers to Semuc Champey. Many of these trucks are part of hostels, but pretty much anyone can hitch a ride with one of them.
The 40-minute drive to the pools is a ridiculously winding, bumpy journey, but the destination is well-worth any bruises gained in the process.
Where To Stay In Semuc Champey
If you're wondering where to stay in Semuc Champey, here are my recommendations:
[su_row class=""]
[su_column size="1/2″ center="no" class=""]
[su_box title="BUDGET" style="default" box_color="#333333″ title_color="#FFFFFF" radius="3″ class="accommodation-box"]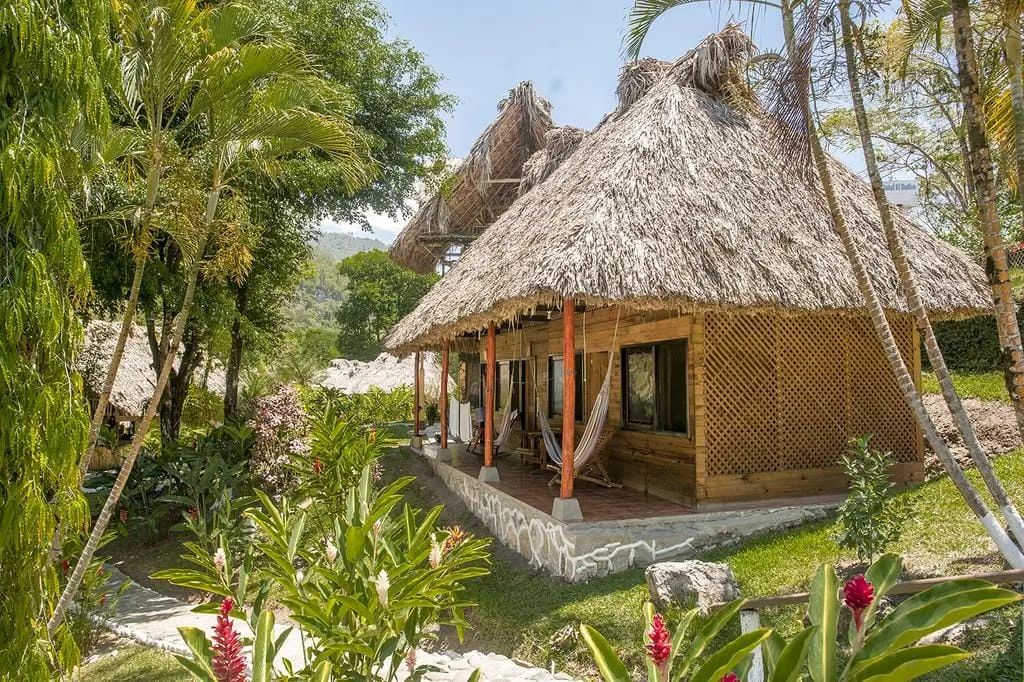 Hostel El Retiro Lanquin
Great location close to town, with a selection of different room types. Cool terrace and good food too!
Check Prices / Read Reviews
[/su_box]
[/su_column]
[su_column size="1/2″ center="no" class=""]
[su_box title="BUDGET" style="default" box_color="#333333″ title_color="#FFFFFF" radius="3″ class="accommodation-box"]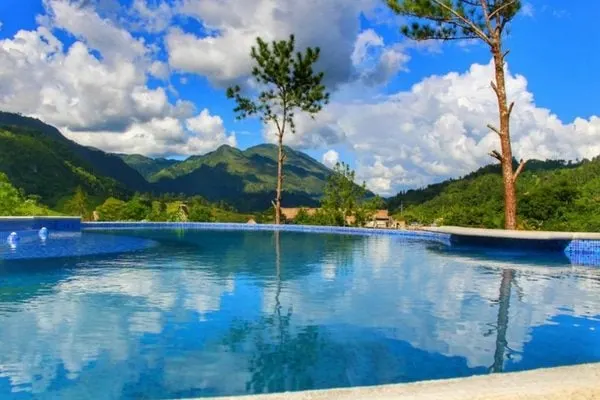 Hostal Vista Verde Lanquin
Located 5.6 km from Semuc Champey, here you can sit by the infinity pool and enjoy the stunning surroundings.
Check Prices / Read Reviews
[/su_box]
[/su_column]
[/su_row]
[su_row class=""]
[su_column size="1/2″ center="no" class=""]
[su_box title="BUDGET" style="default" box_color="#333333″ title_color="#FFFFFF" radius="3″ class="accommodation-box"]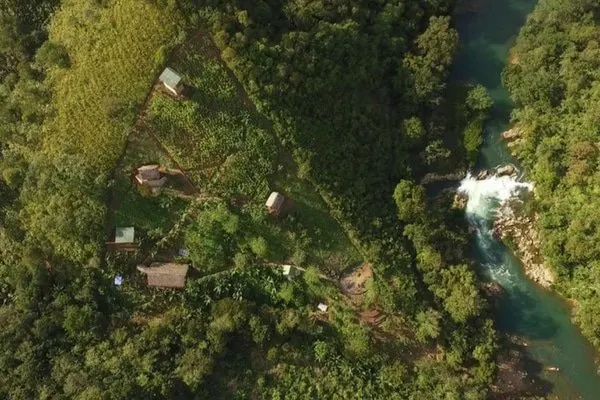 Ch'i Bocól Community Hostel
Just 2 minutes walk from the beach, this accomodation is known for its friendly staff and great food.
Check Prices / Read Reviews
[/su_box]
[/su_column]
[su_column size="1/2″ center="no" class=""]
[su_box title="BUDGET" style="default" box_color="#333333″ title_color="#FFFFFF" radius="3″ class="accommodation-box"]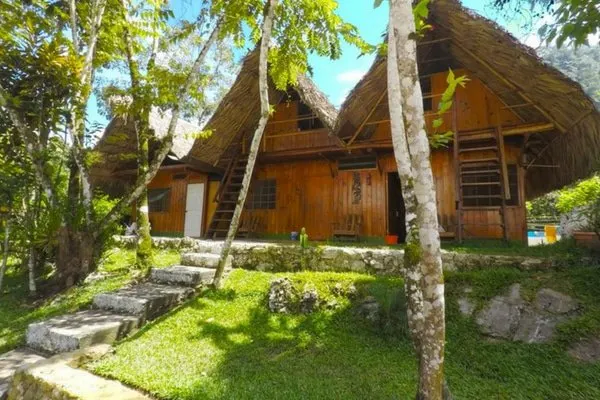 El Portal De Champey
9 minute walk from Semuc Champey, El Portal De Champey features views of the mountain and great hospitality.
Check Prices / Read Reviews
[/su_box]
[/su_column]
[/su_row]
[su_note note_color="#DCF5DC" text_color="#333333″ radius="3″ class=""]
COUPON CODE! For a special $30 off your next Booking.com hotel stay over $60, make sure to use my special link.[/su_note]
Tips For Visiting
Because of the effort and time involved in getting to both Lanquin and Semuc Champey, making it a day trip is more or less impossible.
If you're trying to squeeze as much adventure as you can out of things, consider a 3 or 4-day journey down the river that can be paired with caving and visiting the Quirigua Mayan ruins.
Also, make sure you bring enough cash to Semuc Champey, as there is no ATM there (the closest is in Lanquin). The entrance fee to the park is roughly $6 USD.
You don't need to go with a guided tour, however they do make getting to the park a bit easier. ★
[su_box title="Travel Planning Resources for Semuc Champey, Guatemala" style="noise" box_color="#333333″ title_color="#FFFFFF" radius="3″ class="resource-box"]
Accommodation: Zephyr Lodge
Cost: $6 USD entry fee
Packing Guide
Check out my travel gear guide to help you start packing for your trip. Pick up a travel backpack, camera gear, and other useful travel accessories.
Book Your Flight
Book cheap flights on Skyscanner, my favorite airline search engine to find deals. Also read my tips for how I find the cheapest flights.
Rent A Car
Discover Cars is a great site for comparing car prices to find the best deal. They search both local & international rental companies.
Book Accommodation
Booking.com is my favorite hotel search engine. Or rent local apartments on Airbnb ($35 discount!). Read my post for tips on booking cheap hotels.
Protect Your Trip
Don't forget travel insurance! I'm a big fan of World Nomads for short-term trips. Protect yourself from possible injury & theft abroad. Read more about why you should always carry travel insurance.
[/su_box]
READ MORE GUATEMALA TRAVEL TIPS
I hope you enjoyed my guide to swimming in Limestone Pools at Semuc Champey! Hopefully you found it useful. Here are a few more wanderlust-inducing articles that I recommend you read next:
Have any questions about Semuc Champey? How beautiful does this place look?! Join the conversation on Facebook, Instagram, or Twitter to share!