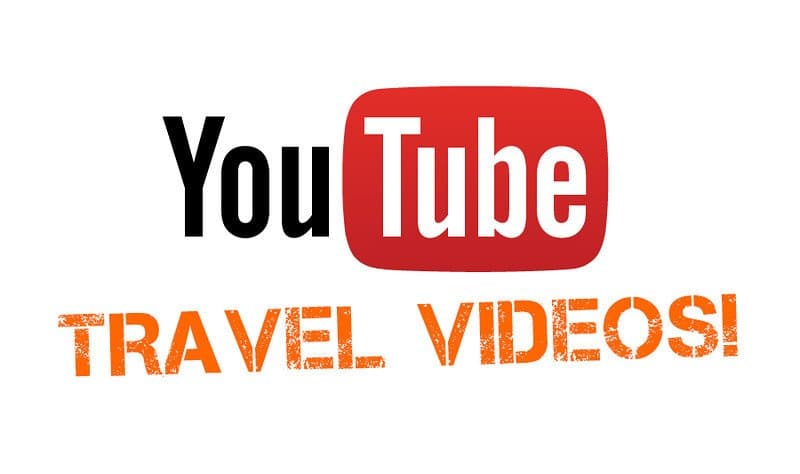 Check out these amazing YouTube travel videos from around the world. YouTube's best travel channels will inspire you to explore new countries and cultures.
Travel videos are a wonderful diversion during a boring work week. Forget the typical stuff you always find on TV, and tune regularly to watch these funny & inspiring YouTube travel channels!
The following channels (listed in no particular order) are some of my favorites. They are run by individuals for the most part, not big brands. Although there are plenty of cool travel YouTube videos produced by large companies too.
Notably from Lonely Planet, Trip Films, and the Travel Film Archive.
I hope the short travel films you'll find on these channels will encourage you to start planning your own crazy adventures around the world.
Don't forget to subscribe for regular updates from these travel vloggers!
Best YouTube Travel Channels For 2019
Yeah, that's me! Before I share my favorite YouTube travel vloggers, I wanted to introduce you to my channel first. Shameless self-promotion.
Do you love epic adventure travel from off the beaten path?
Well, you'll love my channel! I've been traveling around the world for the past 9 years — doing things like hitchhiking across the United States, scuba diving around the world, trekking in Afghanistan, photographing northern lights in Iceland, and more.
Let me show you how to travel the world, break out of your comfort zone, and open your mind to new possibilities.
Watch Expert Vagabond On YouTube →
---
Best Ever Food Review Show
Sonny is traveling the world searching for crazy and weird foods to try while sharing the experience with others. He loves exposing viewers to new cultures, food and customs — and is great at making it very entertaining.
He also just got his own show on the Travel Channel! Congrats buddy!
Watch Sonny On YouTube →
---
Fun For Louis
I was surprised I hadn't stumbled upon Louis' youtube travel videos earlier! He publishes DAILY vlog updates about his life as he explore many corners of the world on fun adventures.
One of his recent adventures took him on a 3 month round the world trip, in a four seater plane through 22 countries! He continued to create videos every step of the way to produce an independent feature-length documentary with footage from the flight, and the vision of driving influential change in the world.
---
Sonia's Travels
Sonia has one of the most well-produced travel shows on the web. She searches for the "secret code" of a destination, and shares her discoveries with you in these fun & engaging videos from around the world. Her personality shines through in each one.
She uploads fantastic travel tips every other Thursday, from her pro packing advice to the best beaches to visit in Brazil. Sonia is a must-follow if you are dreaming of your next getaway.
---
Vagabrothers
Marko and Alex are a pair of travel addict brothers who film their experiences to share with others. Learning about the world through the people in it. Their personality and humor will have you tuning in on a regular basis.
Some of my favourite videos include How to survive long haul flights and Minimalist DIY Travel Essentials. These guys have an endless supply of travel knowledge.
---
The Planet D
Dave & Deb have been traveling the world for 8 years, getting into all kinds of crazy adventures. From cycling through Africa to camping in Antarctica, they record it all on video for us to see.
They live by the motto "Adventure is for Everyone" and their travel videos are filled with fun, humour, inspiration and information. Delve into the culture, and meet the people in 100+ countries on all 7 continents.
---
Fearless & Far
Another new find for me, Mike is probably putting together some of the best travel videos on YouTube. He's got a creative eye for video work, and presents topics in a fun & personable way.
He is an extreme adventure travel YouTuber and filmmaker, highlighting the craziest places to go, and the wildest travel experiences out there. To give you a little taste, he has documented Exploding Hammers festivals, frog poison rituals, scuba diving graveyards… to name a few.
---
Hopscotch The Globe
The videos you'll find on Kristen's channel help you experience a place through her eyes, and it's often pretty damn funny. She also publishes interesting how-to videos. Like how women can pee standing up. You know you want to watch…
Kristen & Siya are about to embark on the biggest adventure of them all, as they prepare to welcome baby Hopscotch The Globe to their travel team! Congratulations guys!
---
Travel Yourself
Cailin is a Halifax travel blogger and vlogger who puts together entertaining video-diary pieces full of useful tips & information on popular places & events around the world. She travels by herself, meeting plenty of friendly people along the way.
Once you step into her channel, there is no returning. You will be sucked in by her positive energy and love for new travel experiences. Start here, and prepare to spend the next few hours exploring her content!
---
Tourist 2 Townie
Gareth shares videos from his experiences living like a local in different countries for a few months at a time, as well as his charity projects. Plus the occasional absolutely hilarious international music video.
He believes in traveling deeper to truly understand foreign communities through the people and culture that define them. My favourite video of his has to be the Samurai Training in Kyoto, Japan.
---
Hey Nadine
Nadine's travel-related channel simply records her having fun exploring different parts of the world. Her energy is infectious, and the videos make you feel like you're traveling with her.
Her travels have recently taken her to India, where she documented her entire experience to give you everything you need to know before you visit this colorful country. From her top tips on Jaipur, to the realities of traveling in Mumbai, her channel is packed with inspiration that will make you want to book a flight right now!
---
Migrationology
Mark loves to travel, and he loves to eat. But beware, he makes everything look so delicious, so be prepared for hunger to hit you pretty hard!
After graduating from university, he decided to travel for food (why not right?). Along the way, he met his wonderful wife, who now travels the world with him, finding the best food and documenting every delicious bite. The two are now based in Thailand so you can expect to drool over plenty of Thai food videos.
---
Sam & Audrey TV
Sam & Audrey are full time travelers who share their adventures in markets, eating street food, visiting temples, and much more. My personal favourites are their supermarket shopping videos from different countries.
They also create travel guides highlighting the best places to visit, local foods worth eating and tips on how you can save money on your trip. Their goal is to inspire you to travel and eat delicious local cuisine wherever you're visiting – and it's working! These guys have inspired my travels on many occasions.
---
Gabriel Traveler
Gabriel Morris has been wandering around the world for almost three decades, visiting five continents and more than fifty countries. He posts videos regularly chronicling his adventurous travels and provides practical info and tips for travelers.
He recently celebrated 3 decades of travel over on his Youtube channel, where he showcased some of the wonderful photos he has taken along his journey.
---
Wolters World
Wolters World Gives Honest 1st Hand Travel Advice to Help Fellow Travelers Get the Most out of Their Travel Experience. He discusses the Best & Worst parts of traveling so that you can be better prepared for your vacation in a way that helps you know more about the culture & people of the city, country, or region you are going to visit.
From The Shocks of Traveling to a new country, to the Do's & Don'ts of travel, you will love Wolter's uploads every Wednesday & Saturday.
---
GRRRLTRAVELER | Christine Kaaloa
Christine is an American solo traveler, sharing video travel guides, foodie adventures, cultural shock and travel tips on how to travel alone and survive travel, one country at a time. Her video on how to use an Asian squat toilet has already brought in almost 400,000 views!
Many travelers have recommended Christine's informative videos to me, making her one of my go-to Youtubers for travel advice and inspiration.
---
Sailing La Vagabonde
This Australian couple had a dream of circumnavigating the globe by sail boat. Now they have sailed over 50,000nm across many oceans!
Through their videos, they hope to inspire others to explore alternative options of living and to spread ocean awareness. They make videos every single Monday, but if you don't want to wait until then, I recommend starting with this video.
---
Gone with the Wynns
Jason and Nikki Wynn are perpetual travelers, Sailors, RV'ers and modern day documentarians. They traded in everyday life to satisfy their wear-out-your-shoes sense of adventure.
Their endless positivity will keep you coming back for more as they search, explore, discover, grow, learn out in the open waters. Their hope is to inspire you to find your next adventure; whether it's a long weekend or a perpetual one like theirs!
---
The Endless Adventure
Eric & Allison are a travel couple on a journey to find the most interesting places and unique foods this planet has to offer! They've traded in their steady paycheques and permanent home for a life of travel and adventure.
Their most popular uploads include some of the tastiest food from around the world and their recent adventures will make you want to pack your bags for Japan immediately! Don't say I didn't warn you, hunger and wanderlust await you if you tune in to their content.
---
Rick Steves' Europe
Rick Steves advocates smart, affordable, perspective-broadening travel. He helps American travelers connect much more intimately and authentically with Europe — and Europeans — for a fraction of what mainstream tourists pay.
Rick is also a best-selling travel author and host of public television's "Rick Steves' Europe" and public radio's "Travel with Rick Steves.", so there is no end to the information you can get from his content. He dives deep to give you invaluable knowledge for your next trip.
---
What Doesn't Suck?
Half French, half American, this expat couple know a thing or two about travel. They create epic travel videos that highlight the best experiences around the world – or in their words, the experiences "that don't suck."
They are currently living in Dubai and highlighting the best this amazing city has to offer as well as the incredible and exotic places you can easily escape to from the UAE. Their love for travel is contagious and their "48 hours in…" series will give you some serious inspiration for new places to visit around the world.
---
Aileen Adalid
Aileen Adalid quit her corporate job in the Philippines to pursue her dreams. Today, she's a digital nomad living a sustainable travel lifestyle (entrepreneur + blogger + vlogger) and inspiring her community to do the same.
I'm not the only one who loves Aileen's travel videos. She's been featured in publications like BBC, National Geographic, Business Insider, Cosmopolitan, Lonely Planet and more. Nice work! One of my favourite videos of hers is the Fox Village in Miyagi Zao.
---
Lost LeBlanc
After quitting his job to travel the world, Christian picked up his camera to tell the story of unconditionally pursuing his passion for filmmaking and travel.
His videography and editing skills are incredible and one look at his Youtube comments will show you just how much of an inspiration he is to his followers. The Lost LeBlanc community is growing rapidly for good reason.
---
Kara & Nate
I just stumbled upon Kara & Nate's youtube travel videos recently and I have so much to catch up on! They share their adventures through daily vlogs on YouTube (making a whopping 6 videos every single week).
This husband and wife duo have been traveling full time for over 2 years and they have goal to travel to 100 countries by 2019 – they're not far off!
---
Romina
Romina was born to travel and has been exploring the world with her parents since she could crawl. Those adventures instilled in her a passion for trotting the globe and learning about new cultures. Romina's videos focus on her personal experience and the comedy of traveling while she films, stars and edits them herself.
Romina is a strong advocate in wildlife education and has a personal goal to show her audience that through travel, we can learn about these animals without taking them out of their homes in a fun and interactive way.
---
Drew Binsky
Drew first got the travel bug when he studied abroad in Prague and moved to South Korea to teach English, here he started his travel blog (drewbinsky.com). Since 2012, he's been to 135+ countries and has a goal to visit every country before turning 30!
If that doesn't convince you to watch his awesome travel videos, maybe the fact that he holds 2 Guinness World Records will! Intrigued? Me too!
---
PsychoTraveller
Originally from Birmingham, England, Aly has been discovering the world for over 4 years straight. She is a psychology graduate with a love for Pho and red wine. Whether she's throwing herself into a novel or from 14,000ft out of a plane, she looks at adventure big and small and says "Let's do this!"
PsychoTraveller is more than just travel, its a platform to inform and inspire people of all ages to live the life they want to live. PsychoTraveller showcases through weekly videos her life on the road, the people she meets, the food she tastes as well as the highs and lows behind living as a digital nomad.
---
The Bucket List Family
The Gee family are just your average young family exploring the planet ;)
When they were faced with the decision on whether or not to take the typical next step in life and "grow up", build a house and settle into careers, they chose the path less taken! They started their family Youtube channel simply because "We feel like we still have so much to learn about life and happiness before we can set up our future life and home."
From breakfast with Giraffes in Kenya, to snorkeling with humpback whales in Tonga, this adventure loving family will make you think twice about settling down!
---
Allan Su
I recently stumbled upon Allan's youtube travel videos and can't seem to look away! His content is focused on capturing his travel experiences while creating helpful travel videos to inspire others to travel more. His work consists of travel vlogs, travel guides, and a sprinkle of filmmaking content, from the Faroe Islands to Japan, and plenty of stops in between.
One of his recent films documents his 10 day road trip around Iceland's famous Ring Road route. In this spectacular video, he perfectly captures the essence of Iceland and makes his incredible film making skills look effortless!
---
JOIN ME ON YOUTUBE!
I hope you enjoyed my choices for some of the best YouTube travel channels to follow! Feel free to share your favorites in the comments, and remember to check out my channel too: YouTube.com/expertvagabond
Thanks so much for reading, and happy travels! ★
READ MORE TRAVEL INSPIRATION & TIPS
I hope you enjoyed my guide to the best YouTube travel vlogging channels to follow! Hopefully you found it useful. Here are a few more wanderlust-inducing articles that I recommend you read next:
Do you have any favorite YouTube travel channels? Did I miss any? Drop me a message in the comments below!