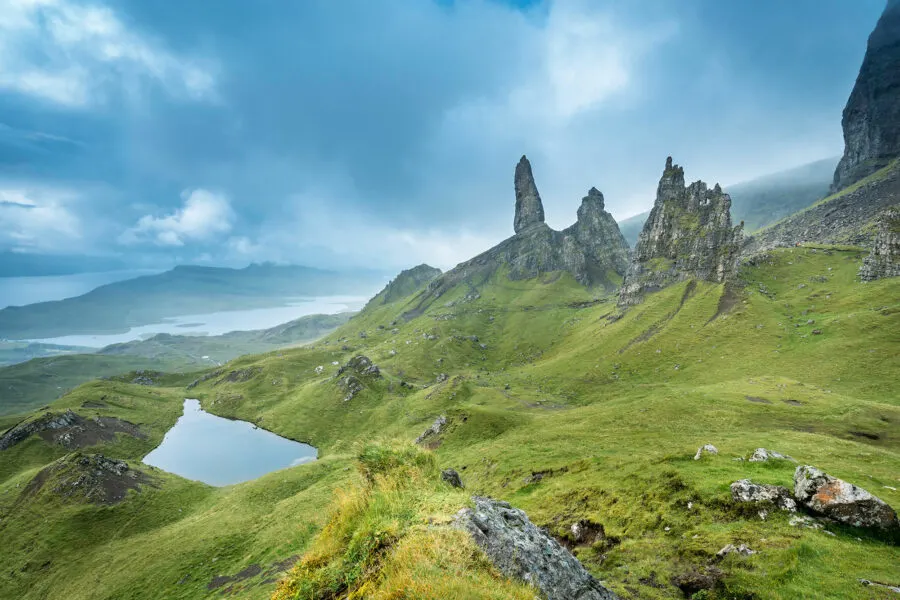 Isle of Skye, Scotland
The Isle of Skye's dramatic landscapes are some of the best in Scotland. Here is how to plan the perfect road trip vacation on the Isle of Skye.
When most people think of visiting Scotland — Edinburgh and Loch Ness are probably the first spots that come to mind.
While both are nice, I think a road trip up through the beautiful Scottish Highlands and then to the Isle of Skye is far better.
The scenery on Skye is rugged, breathtaking, and raw.
I recently road-tripped around Scotland's Isle of Skye region to experience one of the United Kingdom's most adventurous and scenic travel destinations for myself.
In this travel guide I'll help you get the most out of a self-drive Isle of Skye adventure. Learn how to prepare, where to stay, and the best things to see!
My Isle of Skye itinerary is completely free! I've worked hard putting it together for you. If you find it useful, please use my affiliate links when you book hotels, rental cars or activities. I'll get paid a small commission, at no extra cost to you! Thanks.
Isle Of Skye Highlights Map
HOW TO USE THIS MAP: Above you'll find a map of my itinerary for the Isle of Skye in Scotland. Click on the top left of the map to find separate layers marking the route and points of interest. You can hide and show different layers, or click icons on the map to see the names of places I mention in this travel guide. "Star" the map to save it to your own Google Maps, or open the map in a new window for a larger version. Enjoy!
Scotland Travel Restrictions 2022
Scotland is open to most travelers again, including American tourists. However you do need proof of your COVID-19 vaccination(s) or a negative test result before being allowed entry.
Many hotels, attractions, and private tours are open with new health & safety protocols in place, and you still have to follow certain guidelines.
You can find the latest updates on traveling to Scotland here.
Isle Of Skye Travel Guide
If photography and exploring mountain landscapes are your thing, then you'll love road tripping around the Isle of Skye in Scotland.
The area is steeped in myth and legend — a place where giants and fairies roam. Bloody clan battles were fought here, and ancient castles still stand.
You'll feel like you've been transported into an epic fantasy novel.
The island of Skye is split up into a series of peninsulas. For the purposes of this guide, I'll cover the Trotternish Peninsula in the East, the Waternish Peninsula to the West, and the Black Cuillin Hills region of the South.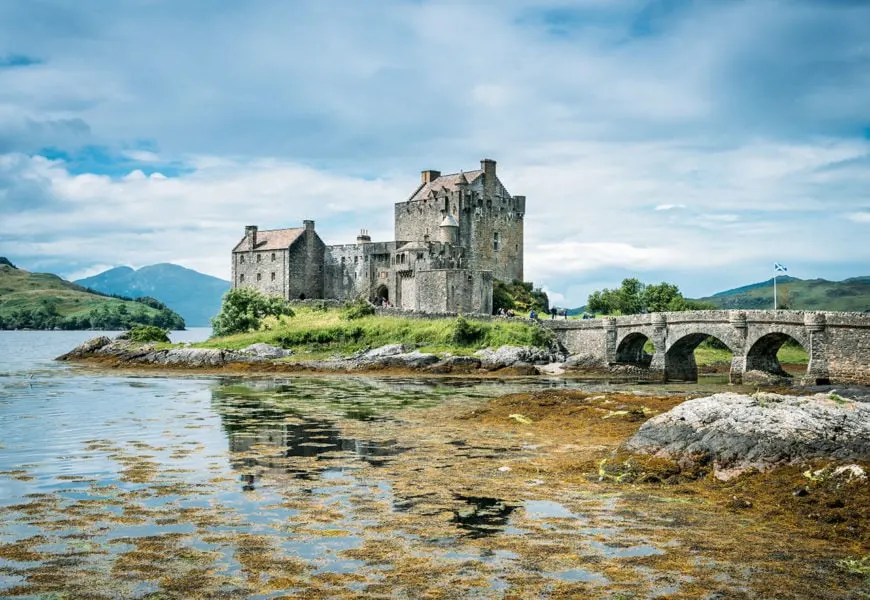 When To Visit Skye
You're bound to get some rain whenever you go, but the best season for traveling to the Isle of Skye is summer. There's a slightly better chance for dry weather between April and mid-June.
However, summer is also high-season. The roads will be more crowded, and accommodation is more difficult to find.
How Long Should You Stay?
You can drive around the Isle of Skye in half a day without stopping. But because there's so much to see, I recommend spending at least 2 full days.
Plus you should schedule an additional half day to drive up from Fort William, and another half day to get back.
Combine your Skye road trip with a few days in the Highlands near Fort William, plus a full day in Edinburgh or Glasgow, and you've got yourself a wonderful week-long vacation in Scotland!
Weather On The Isle Of Skye
The Isle of Skye is like much of Scotland, and gets a lot of rain. The wettest months are September – January (October is the wettest). March – June is pretty dry. The warmest months are May – September, with average highs in the mid 50's to low 60's (7-13°C).
Best Things To Do On The Isle Of Skye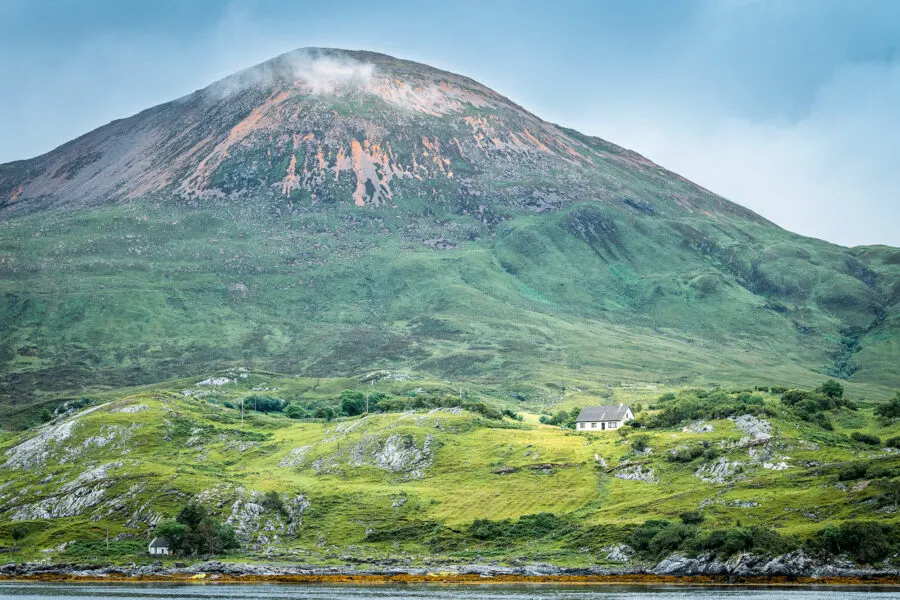 1. Explore The Village Of Portree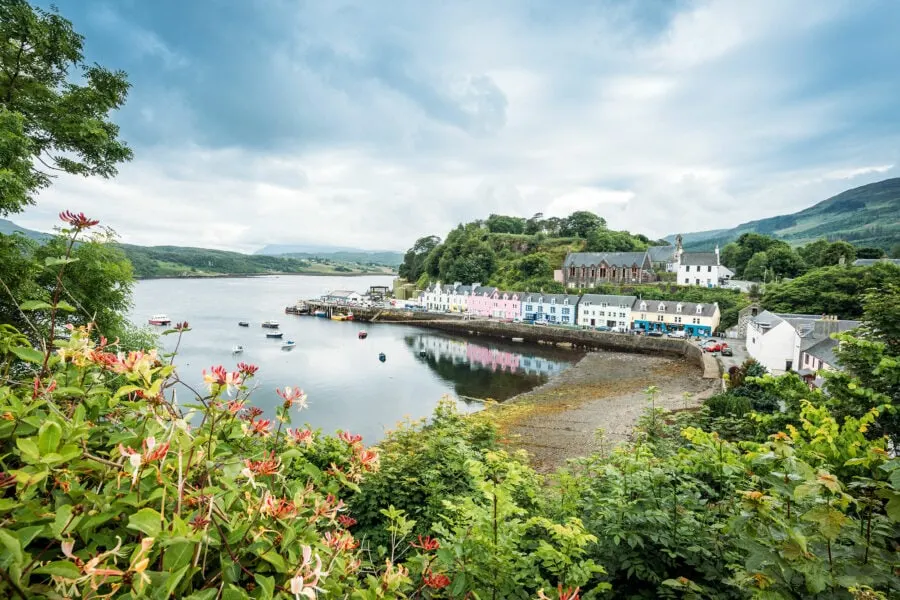 The pretty village of Portree overlooks a sheltered bay on the eastern side of Skye, and is the area's capital — full of little cafes, pubs, supermarkets, hotels, tourist information, shops and more.
Founded 200 years ago, this colorful fishing village has become a tourist hub now that the Isle of Skye is such a popular destination in Scotland. It's a great place to stop for supplies, grab a coffee, eat lunch, and just enjoy all the colorful homes before continuing on your road trip.
2. Walk Across Sligachan Bridge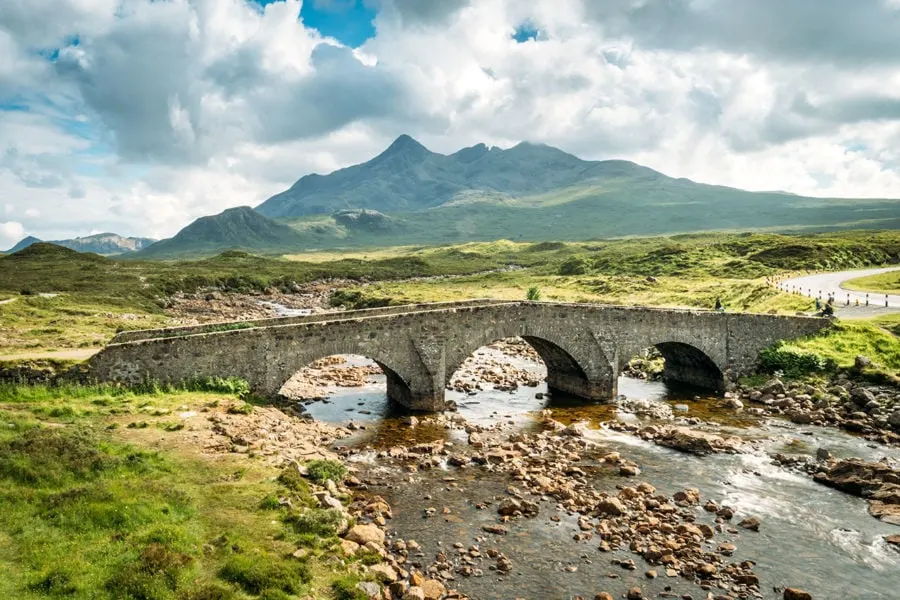 Sligachan is a small village located at the base of the Black Cuillin mountains. It's been a hub for climbers and travelers to Skye since 1830, forming a major crossroads to other parts of the island.
The old stone bridge at Sligachan is probably the most photographed spot on Skye. Legend has it the cold waters beneath the bridge grant eternal beauty to whoever dips their face in for 7 seconds…
3. Visit The Fairy Pools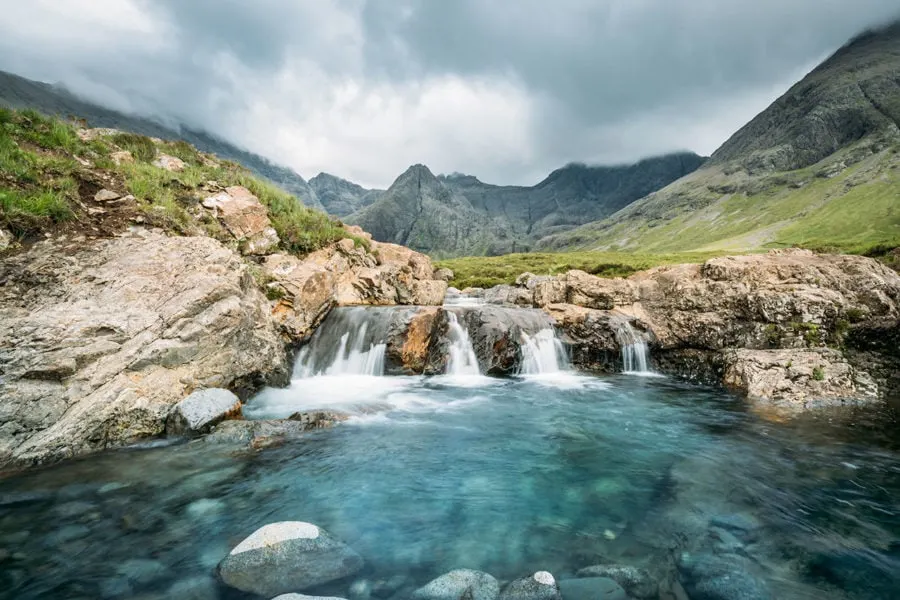 The Fairy Pools are a long series of small waterfalls and beautiful crystal blue pools cascading down from the Black Cuillin range. Hiking from the car park takes 30-40 minutes depending on high up you decide to venture.
If you want to go for a swim, feel free to jump in! The icy cold water might just take your breath away — but so will the views.
4. Hiking The Black Cuillins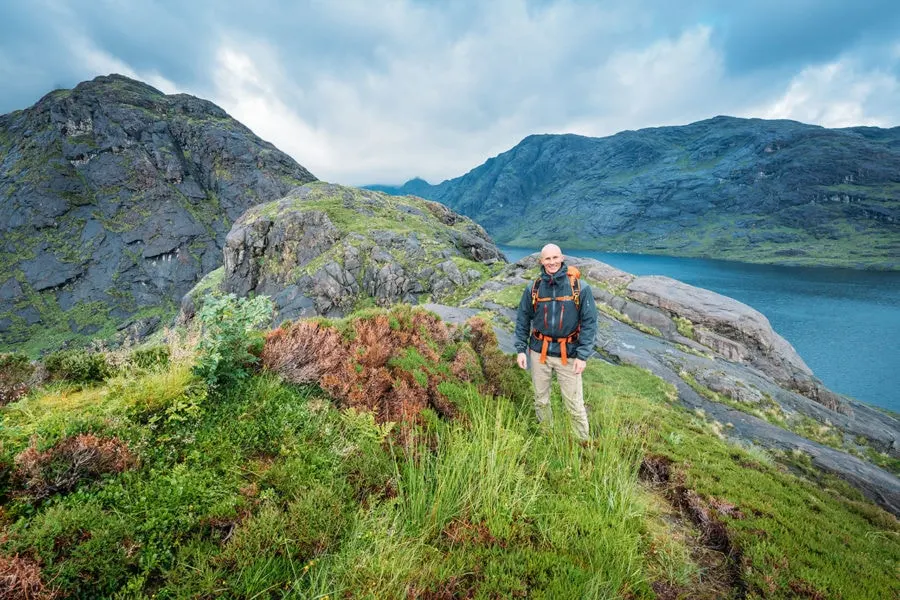 A series of 36 imposing peaks huddled together at the southern end of Skye, the Black Cuillins have been a hiking and climbing mecca for 150 years. Dark rocky formations that seemingly rise straight out of the sea.
A narrow 12km ridge-line scramble called the Black Cuillin Traverse can be tackled in 2 days with equipment.
We decided to take the Bella Jane Ferry from Elgol to the base of the mountains and spent a morning hiking around Loch Coruisk. When the weather is clear, you can hike to the summit of Sgurr na Stri for the best view in the United Kingdom.
The Skye Trail is a long-distance hiking route that covers incredible mountain & coastal scenery across the island, which takes about 7 days to complete.
5. The Old Man Of Storr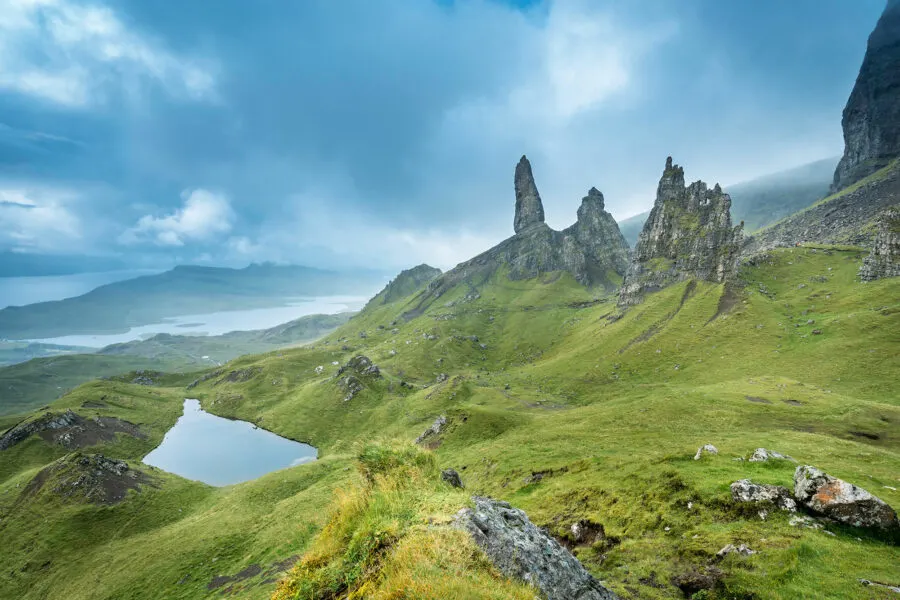 You can't visit the Isle of Skye without hiking up to the Old Man of Storr. Large pinnacles of rock that rise from the ground, this location has been used as a backdrop for many movies, including the sci-fi thriller Prometheus. Legends say the rocks are fingers of a dead giant.
A muddy trail leads up to the rocks and takes about 45 minutes (one way) from the parking area below. The Old Man is often covered in clouds, but it's not too far from Portree, so you can always come back later in the day and try again when it's clear.
6. Experience The Quiraing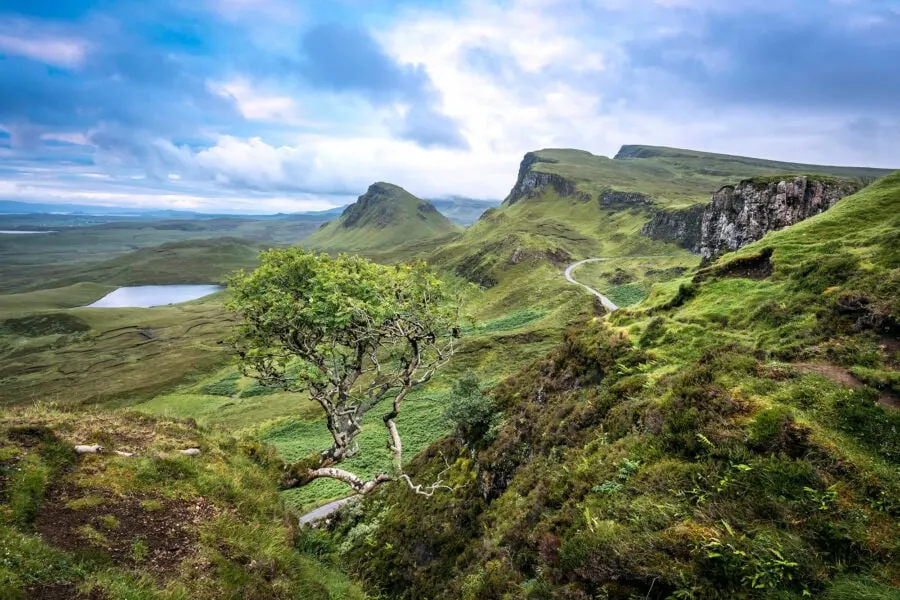 Definitely my favorite location on the Isle of Skye, The Quiraing is an other-worldly landscape where huge landslides have created a series of strange cliffs, jagged pinnacles, and plateaus. Trails crisscross the area, and it's a great spot for hiking.
A steep winding road leads up to the top of the plateau, with excellent views of the coast below. On a clear day, you'll see the Islands of Raasay and Rona too. Take a stroll along the steep cliffs, but be careful, it's a long way down!
7. Kilt Rock & Mealt Falls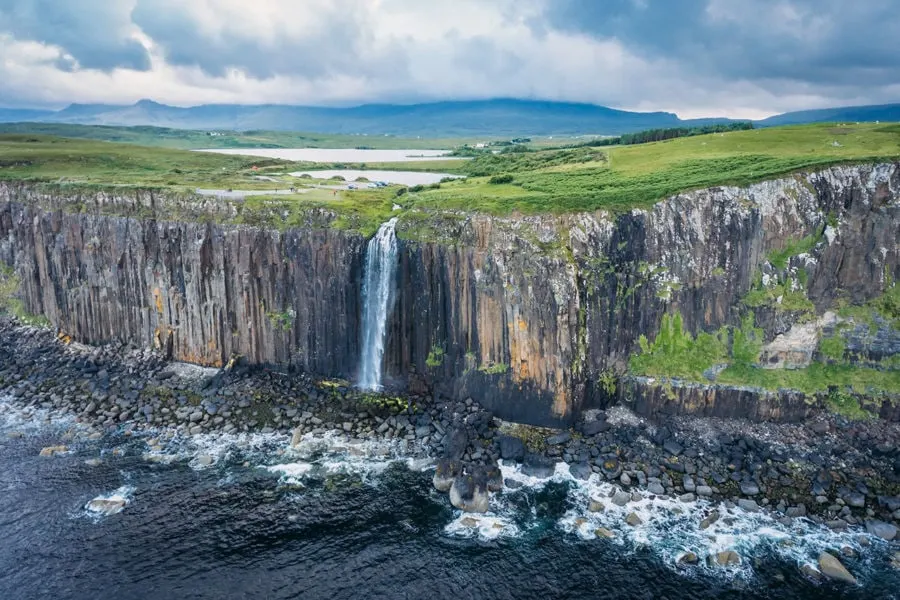 Located off the A855 coastal road, there is a viewpoint on the edge of the cliffs here called Kilt Rock. The massive Kilt Rock Cliffs sort of resemble a Scottish kilt, hence the name.
Mealt Falls is a long waterfall that cascades off the cliffs into the ocean below. You need to lean your head out to get a good photo (or bring a drone!).
8. Explore The Fairy Glen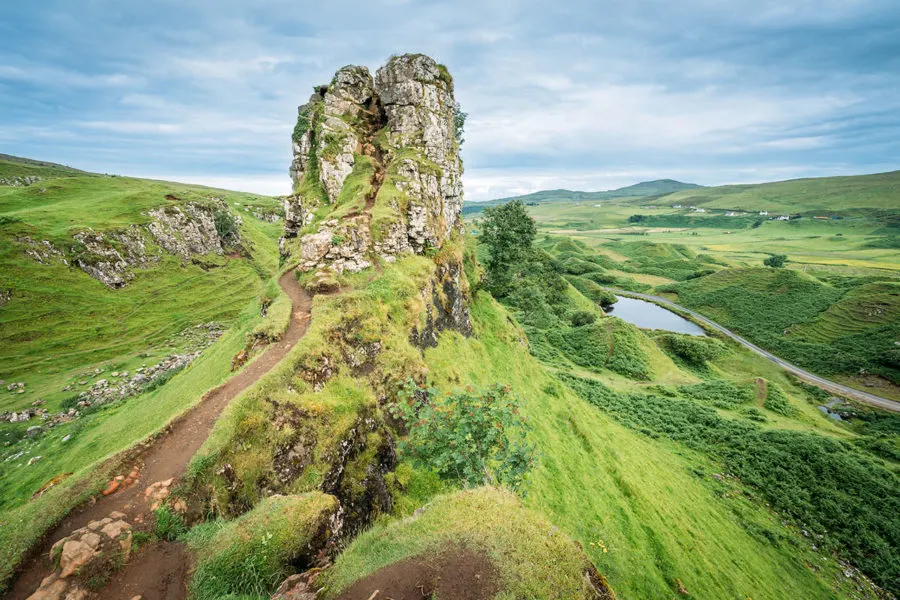 A strange and magical place, the Fairy Glen (An Cnocan) is hidden away off the main road near the village of Uig. It's a miniature green valley with odd, perfectly conical hills, gnarled dwarf forests, and packs of grazing sheep.
Hiking the maze of trails, you'll find a new wonder around every bend. Like white stones arranged in concentric circles on the valley floor. A lone rock tower rises above it all, with excellent views of the enchanted landscape below. If fairies do exist, this is their kingdom for sure!
9. The Neist Point Lighthouse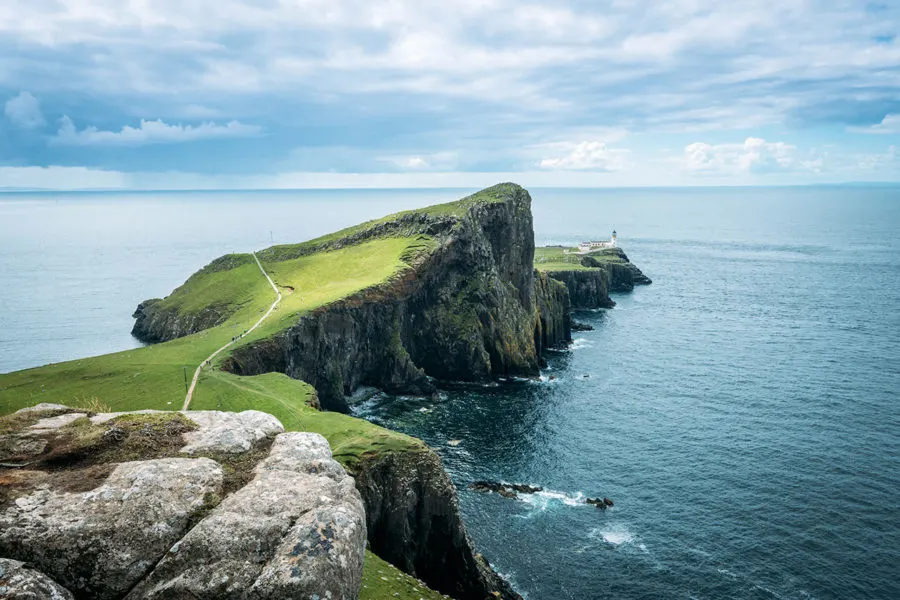 Located on the most Westerly point of Skye, Neist Point is a finger of land stretching out into the sea with a powerful 480,000 candle powered lighthouse on the tip. Massive cliffs ring the coast here, and it's a wonderful photography spot, especially around sunset.
A walking path takes you all the way to the lighthouse if you want some exercise. It gets very windy on these cliffs, and there have been cases of tourists falling to their deaths. So be very careful near the edges.
10. Visit Dunvegan Castle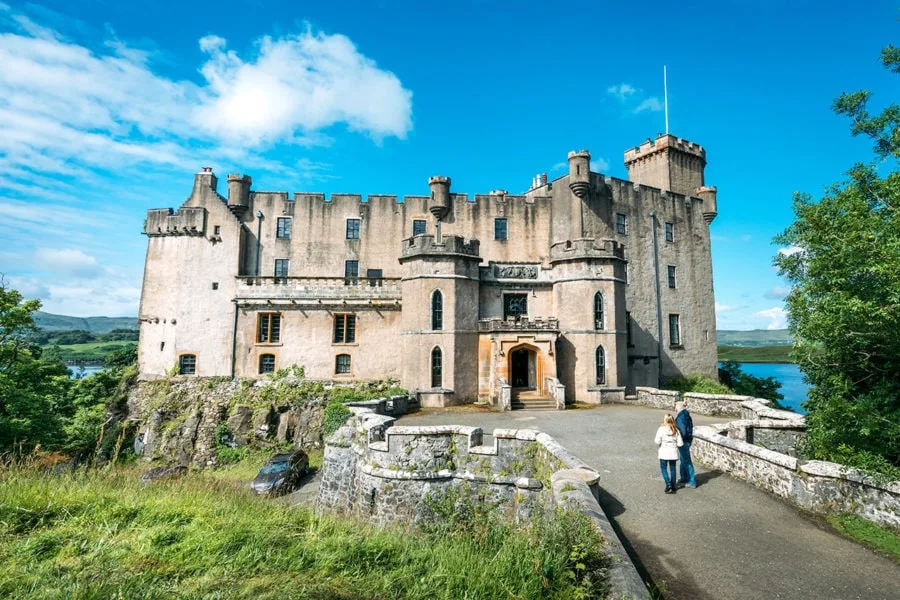 A magnificent castle perched on the edge of a lock, Dunvegan has been the ancestral home to the Chiefs of Clan MacLeod for over 800 years. Still owned by the MacLeods, it's pretty cool that you can walk through their home, and it's full of old heirlooms and paintings.
One of the treasures on display is the mystical Fairy Flag, a sacred banner with miraculous powers. Supposedly given to the clan by the queen of fairies, legend says when unfurled during battle, the MacLeods would always defeat their enemies.
11. The Talisker Whisky Distillery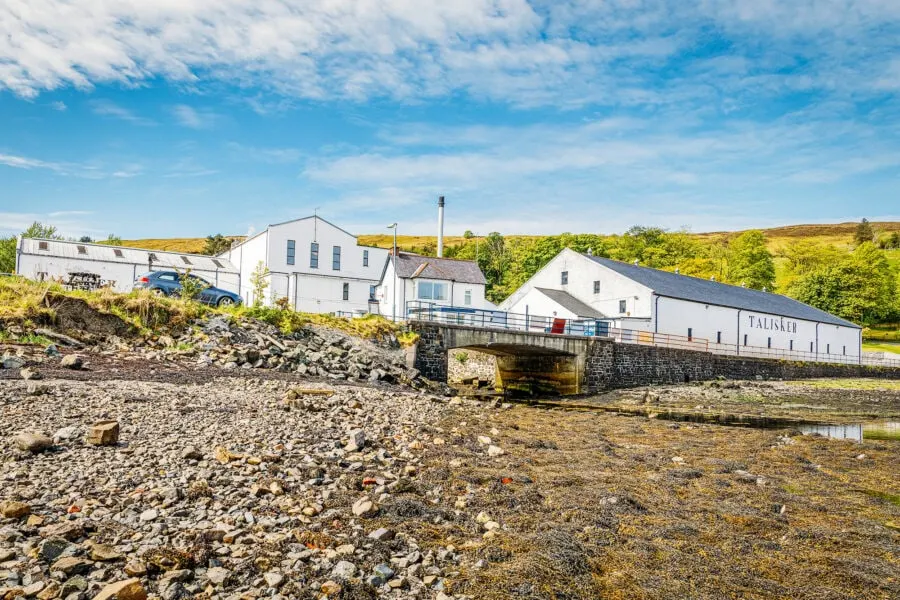 The Talisker Distillery is an unmissable highlight of the Isle of Skye, and has been on the island since 1831. Scotland is famous for its whisky around the world. The flavor of a whisky changes depending on where in Scotland it was distilled and whiskeys like Talisker brewed on the islands have a strong, peaty taste.
This is my personal favorite type of whisky, and it seems writer Robert Louis Stevenson agreed. In one of his poems, he says "The king o' drinks, as I conceive it, Talisker, Islay, or Glenlivet."
12. Rubha Hunish Viewpoint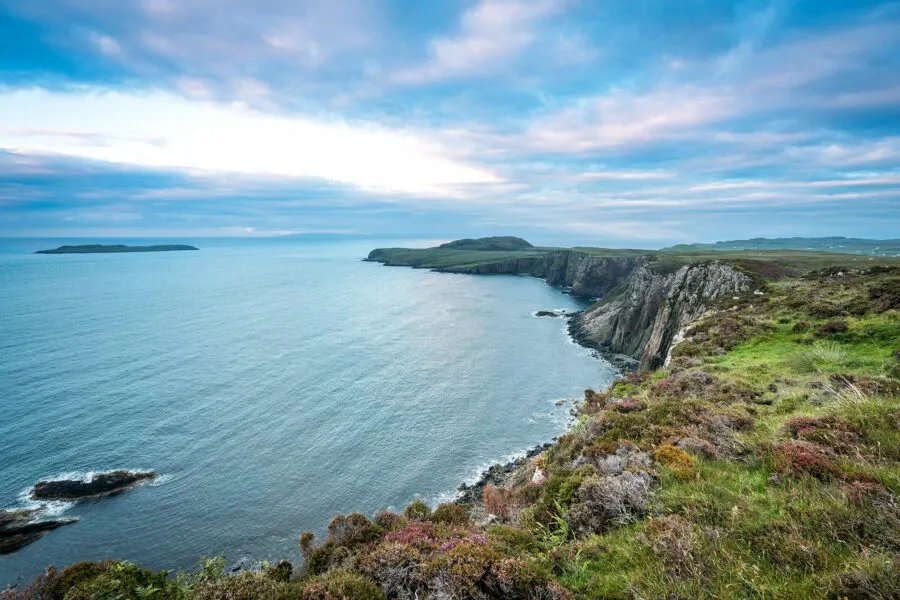 Rubha Hunish is the northernmost point of Skye, and is a wonderful place to go walking for seabird and marine mammal spotting on a moorland path.
The full hike is about 8.5km and is a great spot to see Minke Whales, Orcas and Humpbacks due to the very deep water right offshore.
Dolphins and seals are also frequent visitors, and on a clear day, you might get some nice views out to the Orkney Islands. There's also a bothy up there if you want to spend the night camping.
13. Road Cycling Around Skye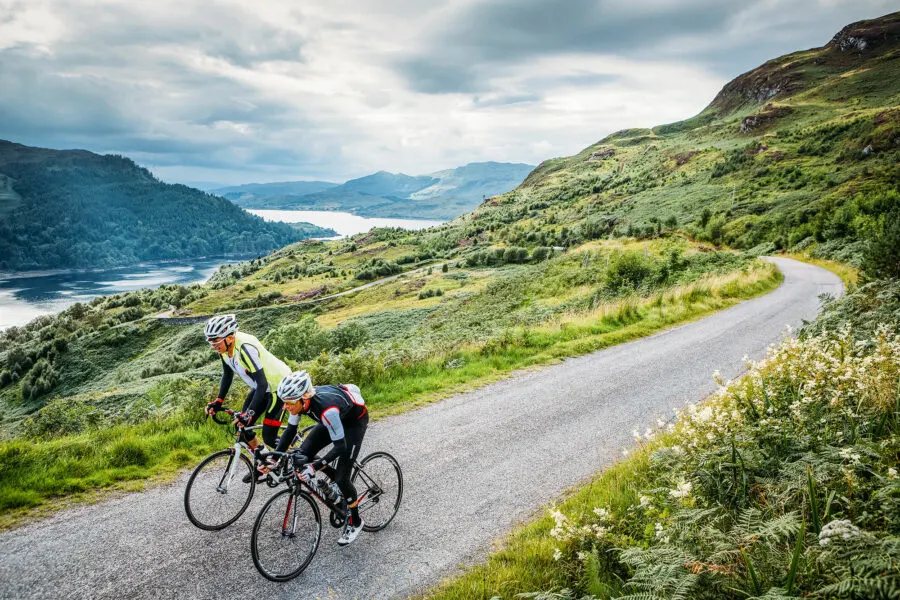 Road cycling tours are a very popular activity on the Isle of Skye due to the island's paved winding roads and amazing scenery. A support vehicle can take your gear to the next town where it's waiting when you arrive to spend the night.
14. Check Out Elgol Beach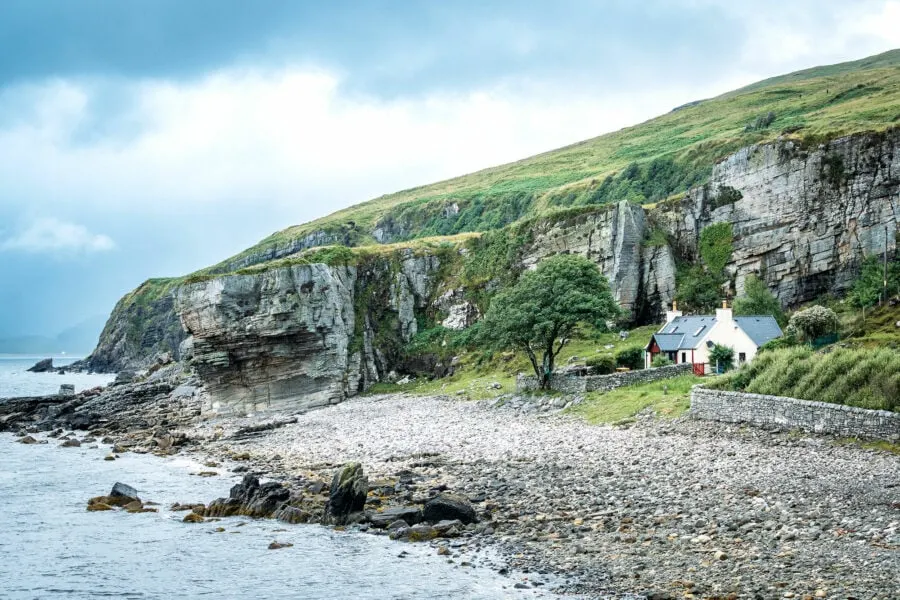 Elgol Beach is one of the hidden highlights of the Isle of Skye that many people miss, however I highly recommend stopping at this small seaside town during your trip.
From Elgol you can jump on a ferry to spend the day hiking the Black Cullin Mountains, or visit the stunning Loch Coruisk.
15. Meet A Highland Cow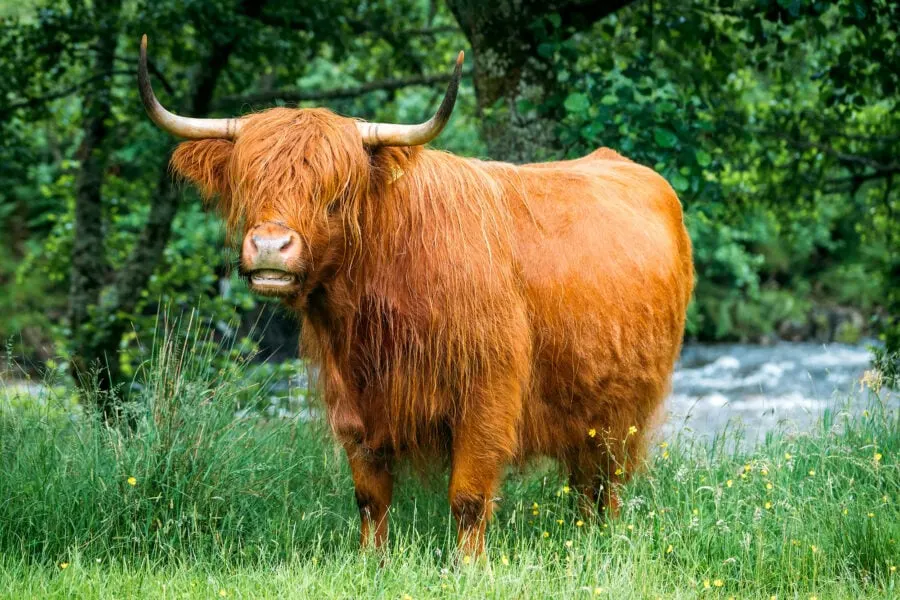 Highland cows, or coos, are one of Scotland's most famous animals. They have distinctive horns and long, woolly coats that can be a range of colors, including red.
Highland cows are raised primarily for their meat, and were bred specifically to withstand the harsh weather conditions in the Scottish Highlands.
You'll find the these funny animals in fields all along the highlands, including some in the Isle of Skye. Just don't get too close!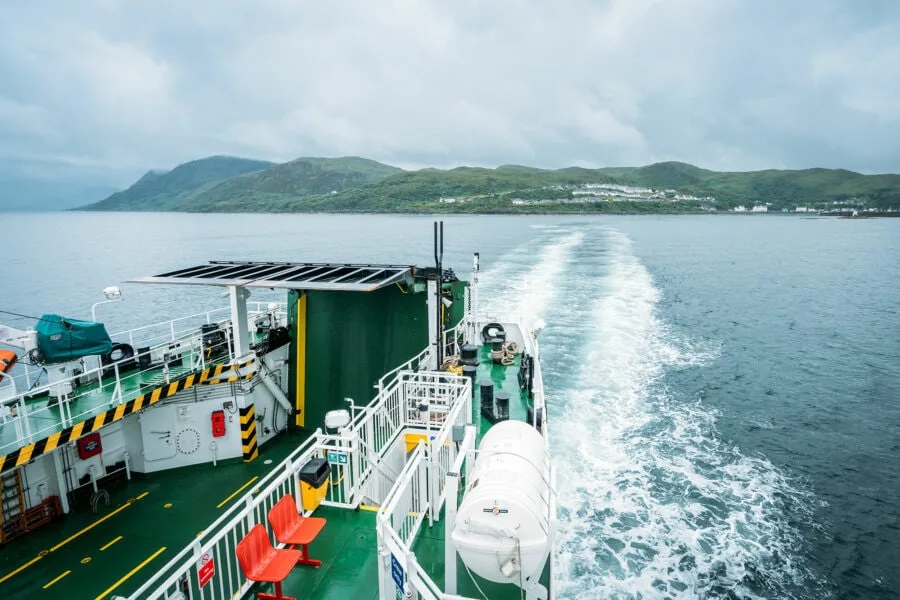 Getting To The Isle Of Skye
The most common way to get to the Isle of Skye is to fly into Glasgow, rent a car, and drive up through the highlands from there. It takes 5-6 hours. I flew into Edinburgh, took a train to Glasgow, and then started driving. Fort William is a great place to stop for a night in the highlands to help break up the drive.
Renting A Car
The best site to book your rental car is with Discover Cars. They search both local and international car rental companies to help you find the best possible price. This is the easiest way to rent a car for driving in Scotland.
Mallaig Ferry
From Fort William, drive 1 hour West on route A830 to the small fishing town of Mallaig and catch the 30 minute long Skye Ferry to Armadale.
Skye Bridge
From Fort William, head North on routes A82 and A87 to the Skye Bridge, a trip that takes about 1.75 hours non-stop. But you will certainly want to stop with so much to see on the route. Like the incredible Eilean Donan Castle.
To mix it up a bit, I recommend trying them both. I started my road trip riding the Mallaig ferry over and finished it driving back on the Skye Bridge.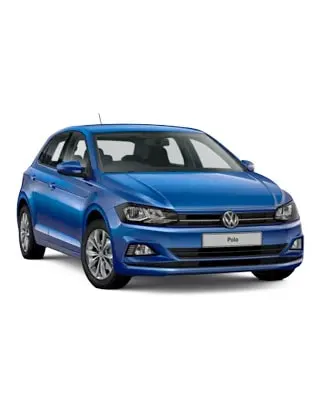 Rent A Car In Scotland
Search both local and international car rental companies to help you find a good deal.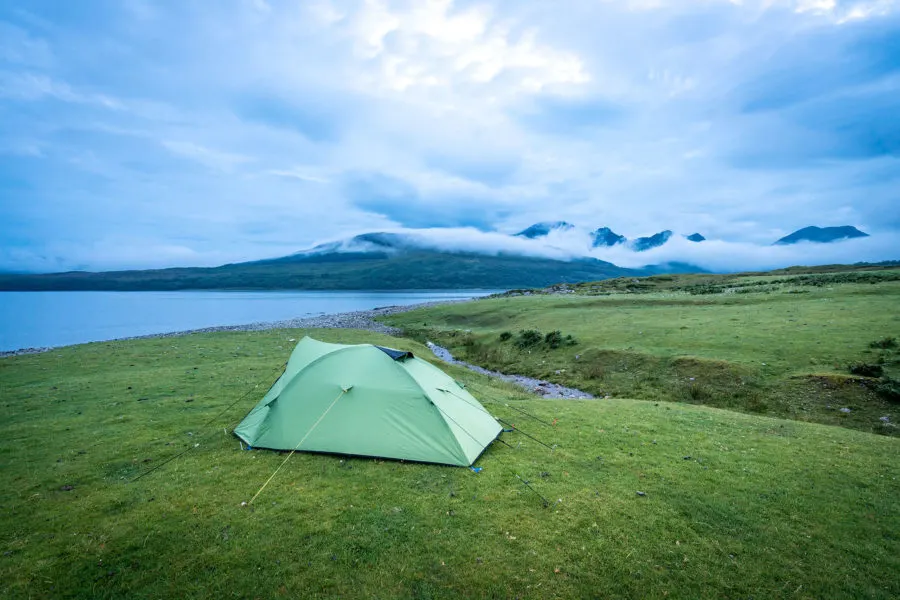 Where To Stay On Skye
The Isle of Skye is a small island, so it doesn't have a ton of accommodation options. During the summer high season, accommodation can be sold out. So book well in advance! If you're wondering where to stay on the Isle of Skye, here are my recommendations:
---
BEST ACCOMMODATION ON ISLE OF SKYE
---
Camping Options
Here is a good list of official campsites on the Isle of Skye. Wild camping is allowed, as long as you follow Scotland's Outdoor Access Code. There are a few "bothys" too — wilderness cabins free for hikers to use.
We spent one-night camping on the coast at Camas Malag, and another night at the Rubha Hunish bothy on the edge of a massive coastal cliff.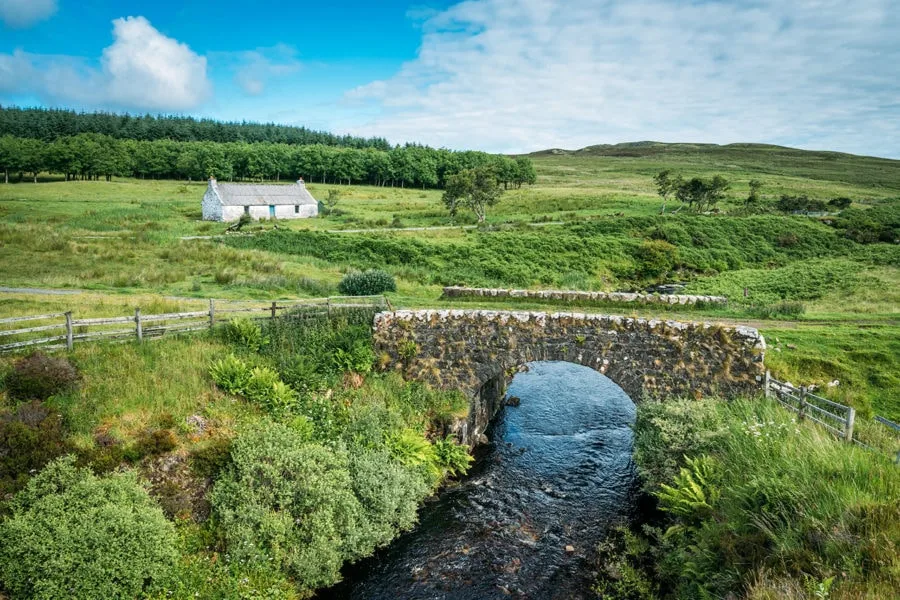 Isle Of Skye Travel Tips
Google's typical driving times are not what they seem, due to all the scenic stops, it can take 2-3 times as long as you think.
The weather changes quickly on the Isle of Skye, so it's wise to keep some waterproof travel gear (jacket, pants) packed with you at all times.
Roads are narrow, often without shoulders, and most back roads are single lane. If you're not used to driving in Scotland, it can be nerve-wracking.
Single land roads have special passing areas every 400 meters or so. Proper etiquette is the car closest to the turn-off pulls over first.
You should be able to fit a 2-day road trip on a single tank of gas starting from Fort William. But are 4 gas stations just in case you need to fill up.
Mobile internet on the Isle of Skye is pretty bad. In Broadford and Portree you'll have 3G, but outside the major towns there's a good chance you won't have a signal at all. Vodafone and O2 seem to have the best coverage.
The Isle of Skye is a small island, so accommodation must be booked well in advance, especially in the high season of summer.
---
Enjoy This Article? Pin It!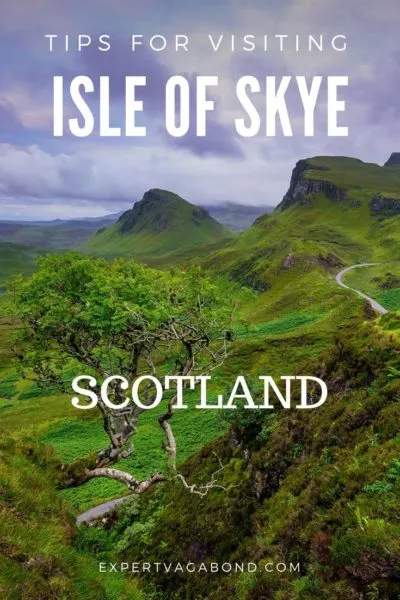 ---
READ MORE SCOTLAND TRAVEL TIPS
I hope you enjoyed my guide on the Isle of Skye! Hopefully you found it useful. Here are a few more wanderlust-inducing articles that I recommend you read next:
---
Have any questions about traveling the Isle of Skye? What about other suggestions? Join the conversation on Facebook, Instagram, or Twitter to share!