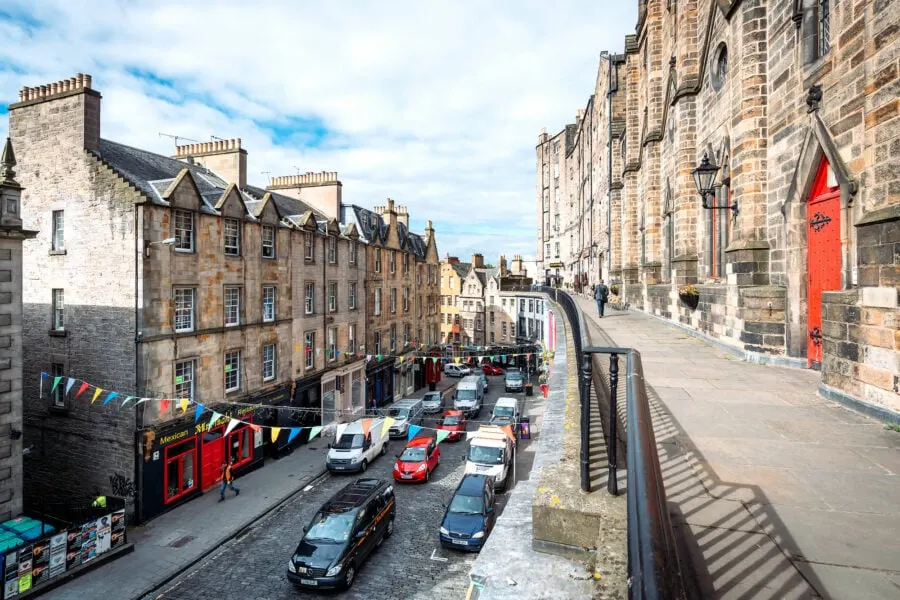 Edinburgh, Scotland
Home to scholars, authors, philosophers and murderers — Edinburgh Scotland is an ancient city like no other. Built at the base of a volcano, the capital boasts a dark & twisted history.
Edinburgh Scotland has quickly become a vibrant hub of art, theater, and creativity in recent years, with some great world festivals and events.
You can also catch a glimpse of every century on every street in Edinburgh. It's like walking into one of your favorite books!
From the Royal Mile to Arthur's Seat, a stroll through the city will take you time-traveling through Scotland, with medieval architecture and dark alleyways full of rich history…
I've traveled to Edinburgh many times now, and it's become one of my favorite international cities. It might seem small, but there's a lot of cool things to do.
Because most travelers visiting Scotland spend some time in the capital, I wanted to recommend a few fun and unusual things to do in Edinburgh, no matter what time of year you visit.
Edinburgh Highlights Map
HOW TO USE THIS MAP: Above you'll find a map of highlights in Edinburgh, Scotland. Click on the top left of the map to find separate layers marking the route and points of interest. You can hide and show different layers, or click icons on the map to see the names of places I mention in this travel guide. "Star" the map to save it to your own Google Maps, or open the map in a new window for a larger version. Enjoy!
Scotland Travel Restrictions 2021
Scotland is open to most travelers again, including American tourists. However you do need proof of your COVID-19 vaccination(s) or a negative test result before being allowed entry.
Many hotels, attractions, and private tours are open with new health & safety protocols in place, and you still have to follow certain guidelines.
You can find the latest updates on traveling to Scotland here.
Best Things To Do In Edinburgh Guide
1. Visit Edinburgh Castle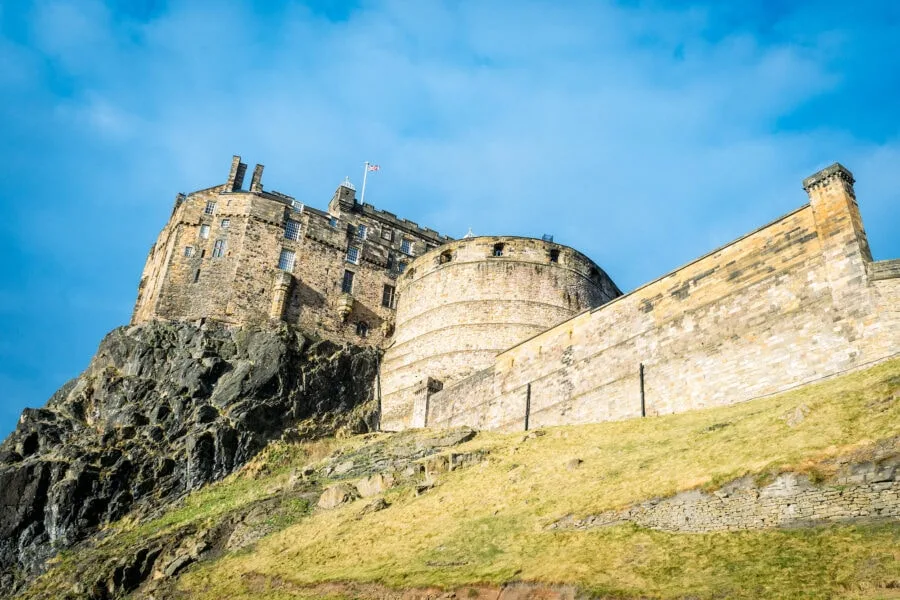 Overlooking the entire city, the world-famous Edinburgh Castle is the most iconic historic site in Scotland.
With parts of this magnificent building dating back to the 12th century, it's clear to see why it was voted as the top UK Heritage Attraction in the British Travel Awards and is Scotland's number one paid-for tourist attraction.
Not only can you take a guided or self-guided audio tour of the castle and it's dramatic history, but you can also visit the National War Museum where you will discover 400 years of Scotland at war through personal accounts, military artifacts, and treasured collections.
On top of that, the castle is home to the oldest crown jewels in the British Isles, it is built on top of an extinct volcano, and every day at 1pm they fire off a canon to mark the time.
2. Walk The Royal Mile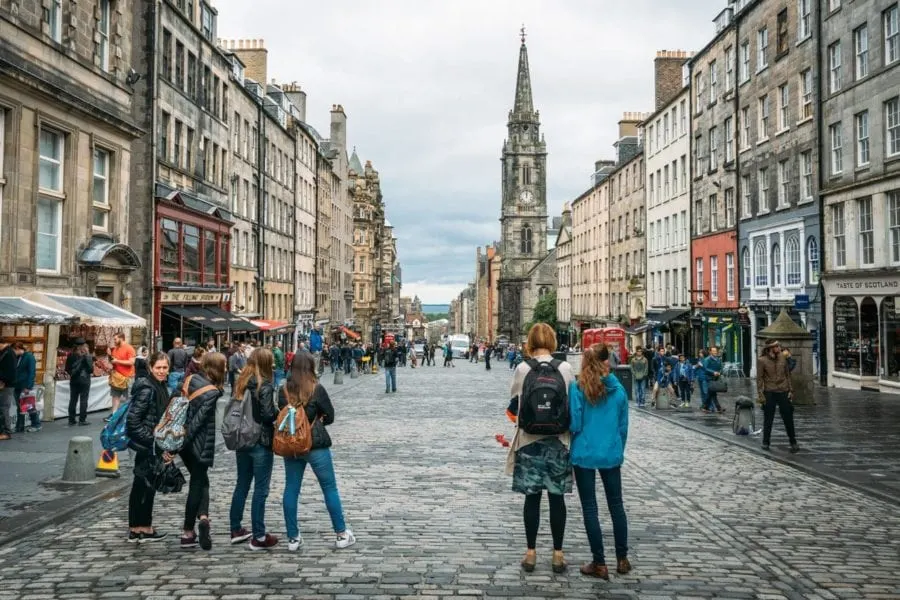 When you've finished admiring the history and grandeur of Edinburgh Castle, head on down the street and walk the Royal Mile. This is one of my favorite FREE things to do in the city.
The Royal Mile is considered the historic heart of Edinburgh. A cobblestoned street lined with ancient taverns, cathedrals, parliament, shops, and the dark narrow alleyways that helped inspire Robert Louis Stevenson's famous book The Strange Case Of Dr. Jekyll And Mr. Hyde.
The route connects two royal residences Edinburgh Castle and the palace of Holyrood House, with tons of interesting things to do and see along the way.
Buy yourself a traditional Scottish kilt, or stop into the Scotch Whisky Experience to learn about (and taste of course!) a wide variety of flavors from different parts of the country.
My personal favorite is Laphroaig, a single-malt peaty flavored whisky from Islay.
3. Eat Some Sheep Guts!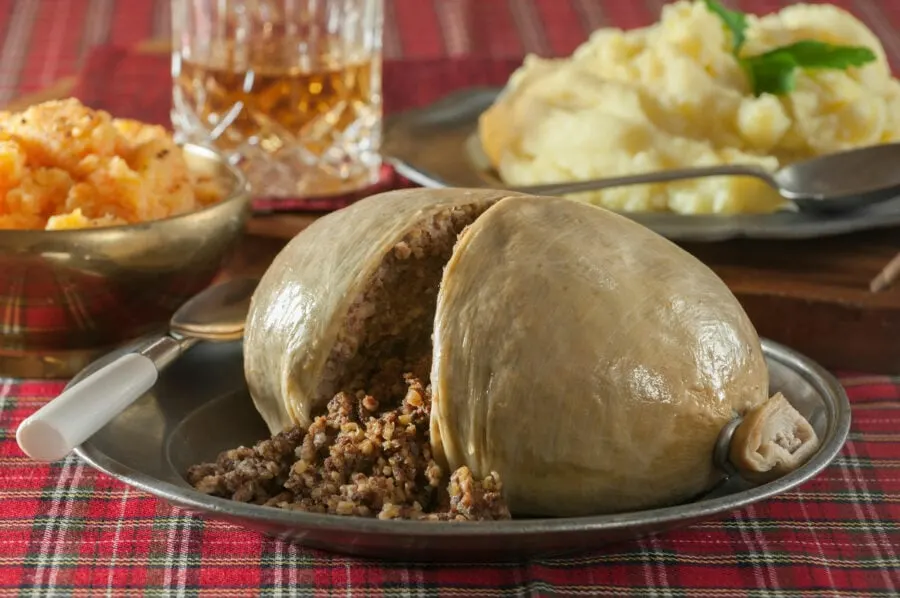 Haggis is a savory pudding of Scottish origin, containing sheep's heart, liver, and lungs, minced with onion, oatmeal, suet, spices, and salt, traditionally encased in the animal's stomach. Still feeling hungry?
The traditional way to eat this classic Scottish dish is with sides of "neeps & tatties" (turnips and potatoes).
In other parts of Scotland, you'll find traditional 'salt & vinegar' when you walk into a local takeaway, but Edinburgh locals choose to go down the 'salt & sauce' route. Nobody really knows what flavor the sauce is, but apparently, you can't go for fish and chips without it!
Last but not least, Deep Fried Mars Bars. Don't knock it until you've tried it, and once you've tried it I am sure you will happily knock that one off your bucket list and never feel the need to do it again…
READ MORE: Road Tripping The Scottish Highlands
4. Ghost Hunting In Graveyards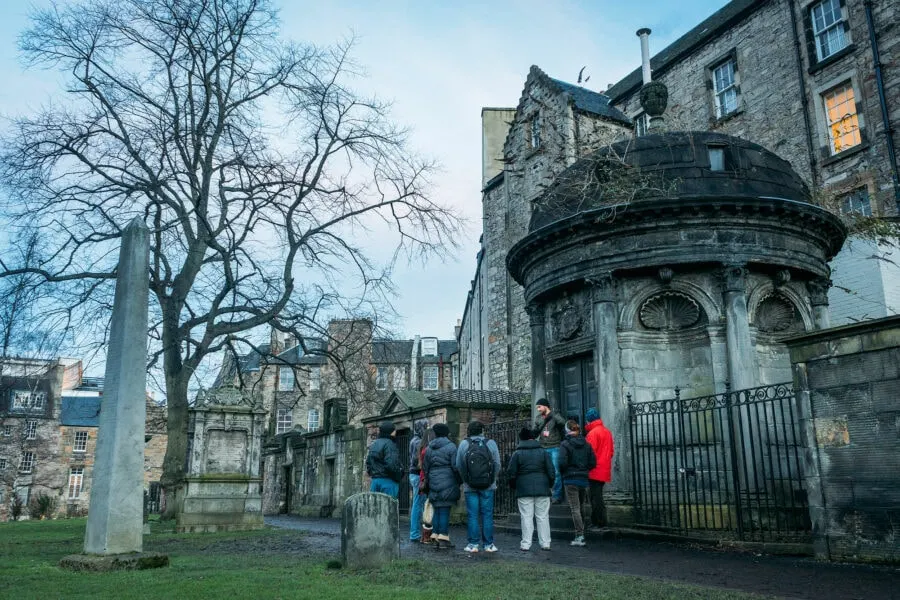 If only the dead could talk. Well in Greyfriars Kirkyard Cemetery they not only talk to you, but will also bite, kick, and attempt to strangle you!
Regarded as one of the most haunted places in the world, Greyfriars holds about 400,000 corpses piled into the shape of a hill overlooking the city.
It's literally a mountain of bodies, and many of these people did not die well… some weren't even dead yet when they were buried here!
George MacKenzie is the most famous and "active" resident, nicknamed the MacKenzie Poltergeist. He's been known to cause bruises, burns, scratches, and even broken bones on his living victims!
There have been 450 documented attacks — it's a ghost hunter's paradise.
Another notorious cemetery is Canongate Graveyard, where you'll find the resting place of some of the city's most famous figures, including David Rizzio, the lover of Mary Queen of Scots. Or even James Douglas, 3rd Marquess of Queensberry – the infamous Cannibal of the Canongate.
5. Edinburgh's Street Performers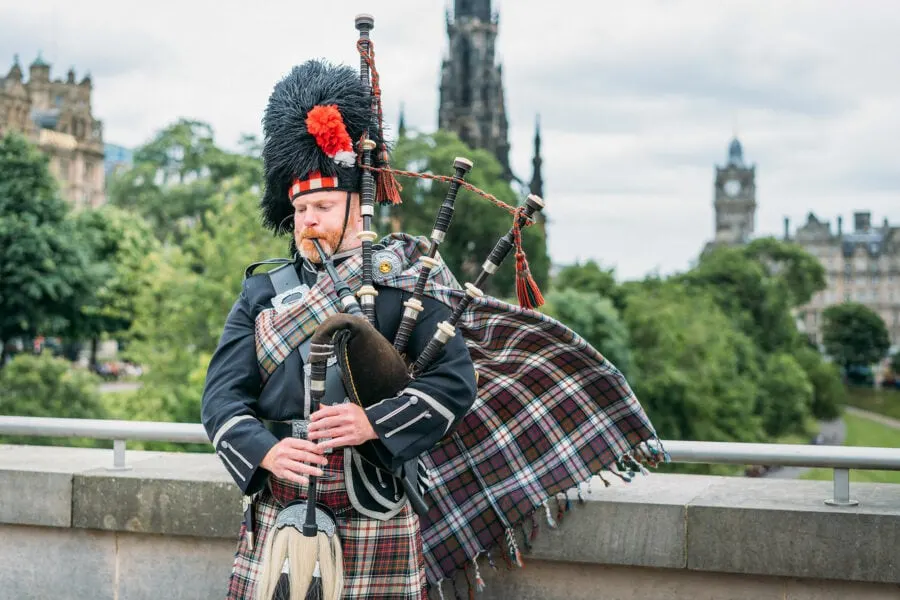 Edinburgh is known internationally as the Festival City, with 11 major events taking place throughout the year. Five of these events take place in the month of August, transforming the city into one big street party!
One of the most famous of them all is the Fringe Festival – The world's largest arts festival which attracts thousands of performers to take to hundreds of stages (and streets) all over the city.
If you somehow don't find a festival happening when you're visiting Edinburgh, there's always the street performers who will put on a show for some spare change.
6. Wander Down Princes Street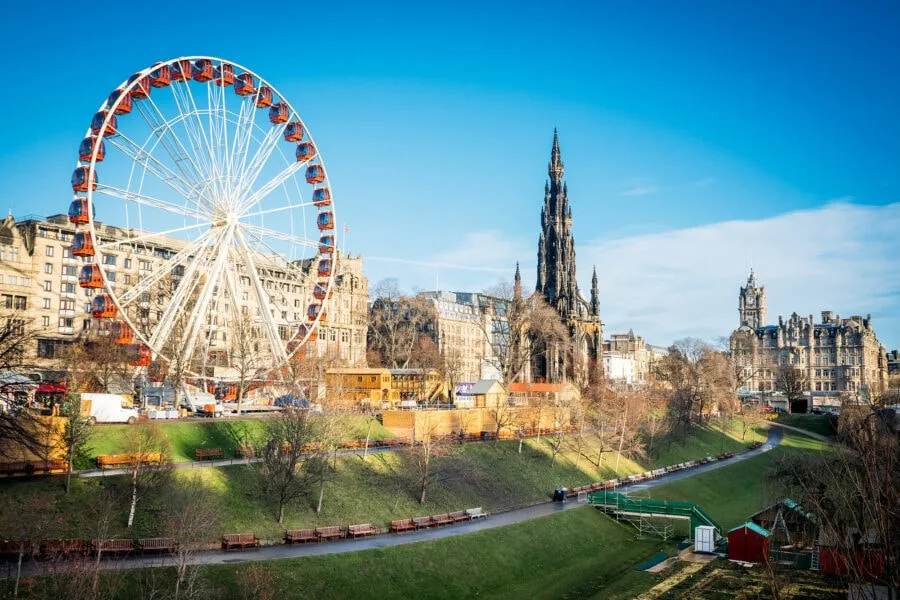 One of the main streets in the heart of Edinburgh is called Princes Street. This is where to go for some shopping. Princes Street also has a number of local landmarks nearby.
Here you will find gorgeous views of Edinburgh Castle from a large park called Princes Street Gardens, a number of galleries, the Scott Monument, and more.
During my visit, there was a fun giant Ferris wheel on the street, however I'm not sure that's a permanent installation.
7. Take A Guided Walking Tour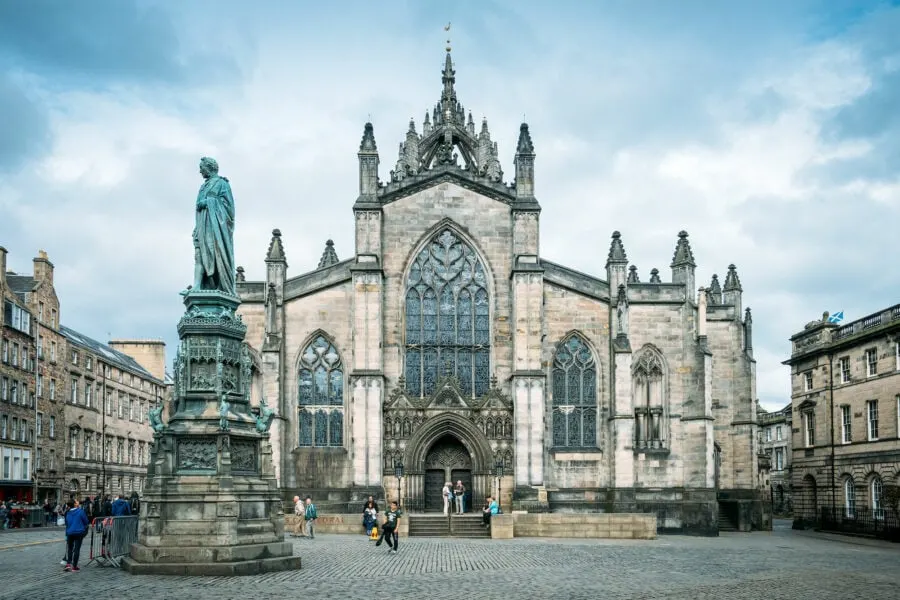 There are many different guided walking tours through Edinburgh if you want to learn about the city and its history, but if you want to learn more about a specific character… Harry Potter to be exact, then where better than the birthplace of this world-famous book!
The Potter Trail will give you your own wand when you join your robed guide on a journey to discover the magical locations that inspired many characters and scenes.
Not only will you catch a glimpse of where JK Rowling wrote the books, but you'll also see where Lord Voldemort is buried, take a trip down Diagon Alley, and have a chance to be sorted outside the school which inspired Hogwarts.
The best part about this tour is that it's completely free of charge!
8. Hike Up Calton Hill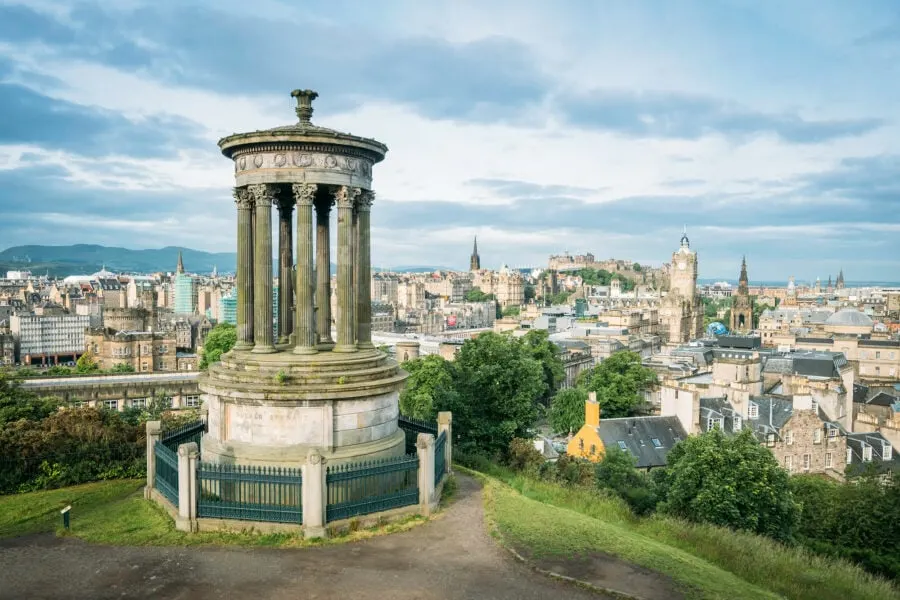 If you're a photographer looking for a great view of the city, this is my favorite spot for sunrise in Edinburgh if you're lucky with clear skies!
Located just past the East end of Prince's Street, Calton Hill is home to many monuments like the National Monument Of Scotland, the Nelson Monument, the Dugald Stewart Monument, and the City Observatory.
The Scottish Government itself is located at the base of the hill at St. Andrew's House. The hill is also used for special events throughout the year, like the Beltane Fire Festival held on April 30th.
Just know the hill has a reputation for seedy characters and the occasional crime. So I'd recommend visiting with more than one person, and not late at night!
9. Scotland's Royal Military Tattoo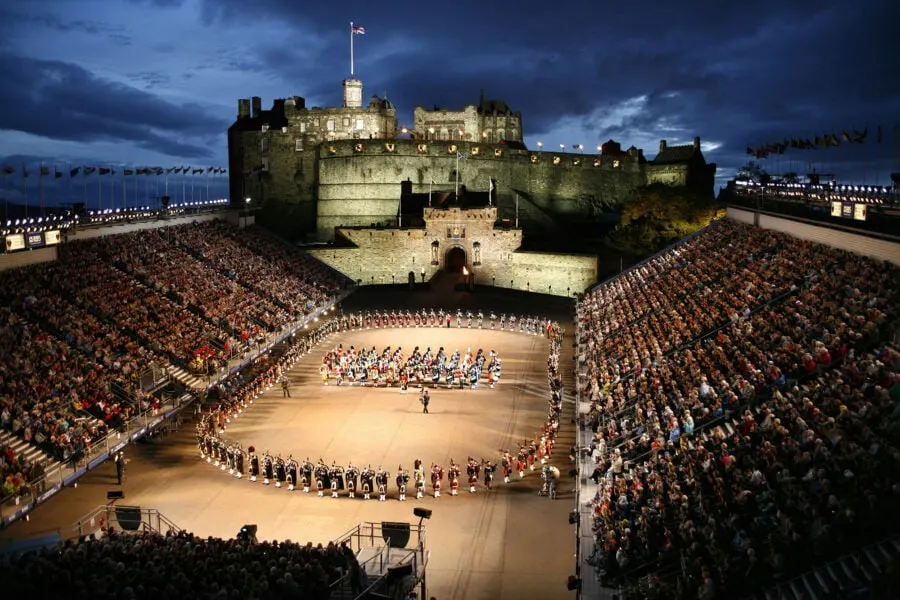 Edinburgh's Royal Military Tattoo held each August attracts more than 1,200 performers from over 48 countries, so you can be sure to expect a world-renowned experience like no other.
Showcasing the talents of military bands and performers from every corner of the globe, the Tattoo has been televised in more than 40 countries, with an annual television audience of over 100 million viewers.
These incredible performances happen every weekday evening and twice on Saturdays throughout the month of August.
The whole thing is set in one of the most incredible venues of all time, Edinburgh Castle, so nothing beats watching it in person! Tickets sell out fast, so I'd recommend booking them in advance before your trip.
10. Explore Edinburgh's Haunted Underground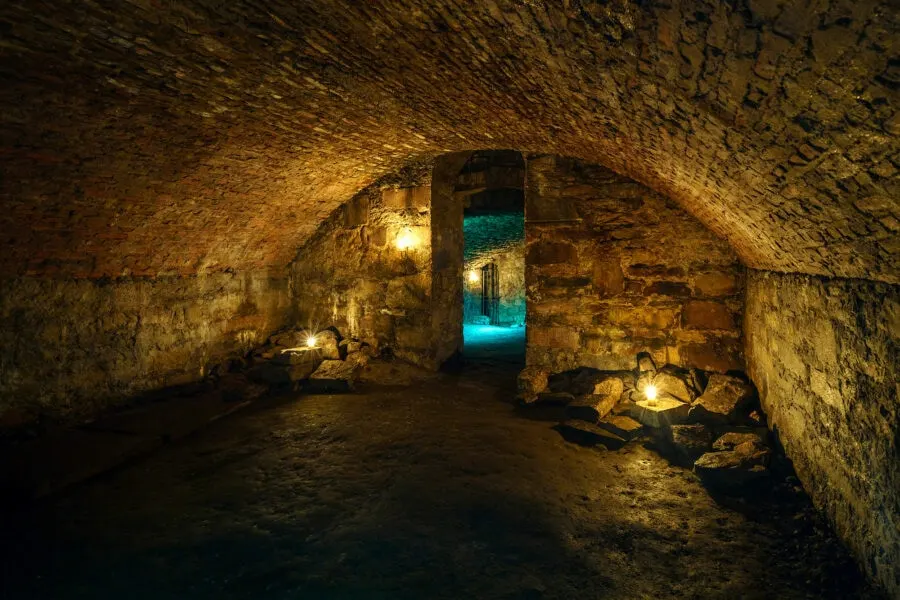 Edinburgh is renowned for its dark and twisted past — home to some of the most haunted places in the world. The narrow streets of the city's old town provide the perfect setting for stories of cannibals, body snatchers, and ghosts.
But what lies below is even more terrifying! Beneath the streets of Edinburgh lies a maze of creepy underground tunnels and vaults that were once used for untold horrors — robberies, torture and murder.
The vaults were once a haven for the poorest of Edinburgh's citizens, as well as a hideout for criminals. The Blair Street Underground Vaults, and Mary King's Close are just some of the closed-off areas you can visit by booking one of Edinburgh's spooky underground ghost tours.
11. Climb The Scott Monument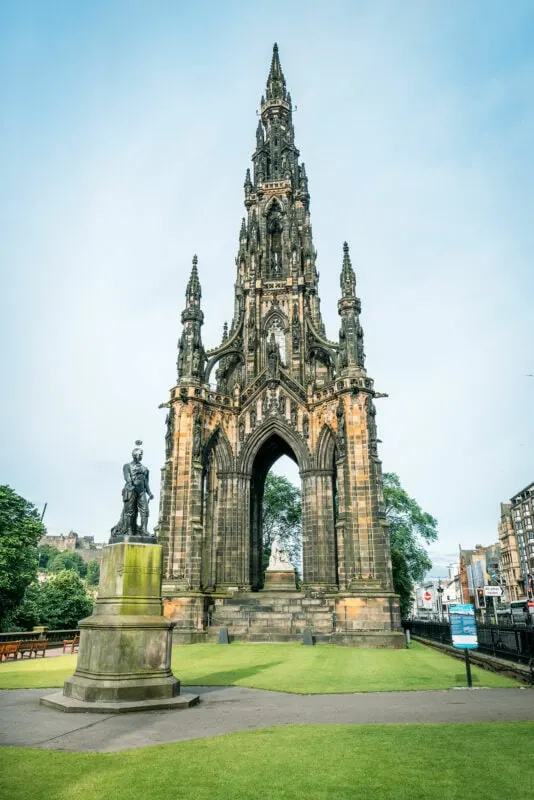 The iconic Scott Monument is among the largest monuments to a writer anywhere in the world and is undoubtedly one of the first things you will see on your arrival in Edinburgh.
Standing tall in the center of the city, the monument was created after the death of Sir Walter Scott in 1832.
Make sure to bring your camera, because each of the 4 floors gives you incredible panoramic views over Edinburgh, only getting better with each stair that you climb.
Delve into the history of Scott, one of Edinburgh's finest writers, in the monument's Museum Room on the first floor, or in The Writers' Museum nearby, which is free from Wednesday to Sunday.
12. Visit Camera Obscura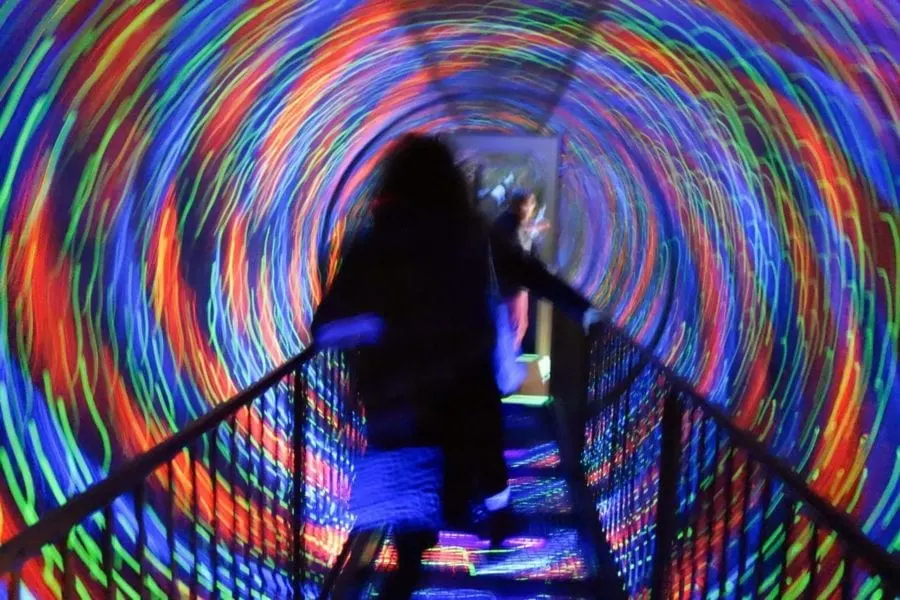 Waiting in line outside Camera Obscura you'll find excited children ready to dive into an array of illusions, tricks, and puzzles.
But you'll also find a bunch of over-excited, fully grown photographers who come for the Camera Obscura itself, a Victorian invention that eventually led to the modern camera.
In 1850s Edinburgh, cinema hadn't been invented yet, but the locals were left speechless by Maria Short and her life-like moving pictures of the city.
A lot has changed since then, but the team at Camera Obscura are still collaborating with artists, inventors, and technical wizards, to bring you even further into their world of wonder and delight.
13. Catch A Show At Bedlam Theatre
Scotland's Bedlam Theatre building houses the oldest student-run theater in Britain. It was named after the Bedlam Mental Institute that used to be nearby.
Once the New North Free Church built in 1849, it was eventually given to Edinburgh University who turned it into a fun 90 seat student theater to perform plays and improv comedy.
If you'd like a little dose of local Scottish comedy while you're visiting, this is the place to be. When Edinburgh University is in session, you can catch The Improverts every Friday night at 10:30pm.
14. Greyfriars Bobby Dog Statue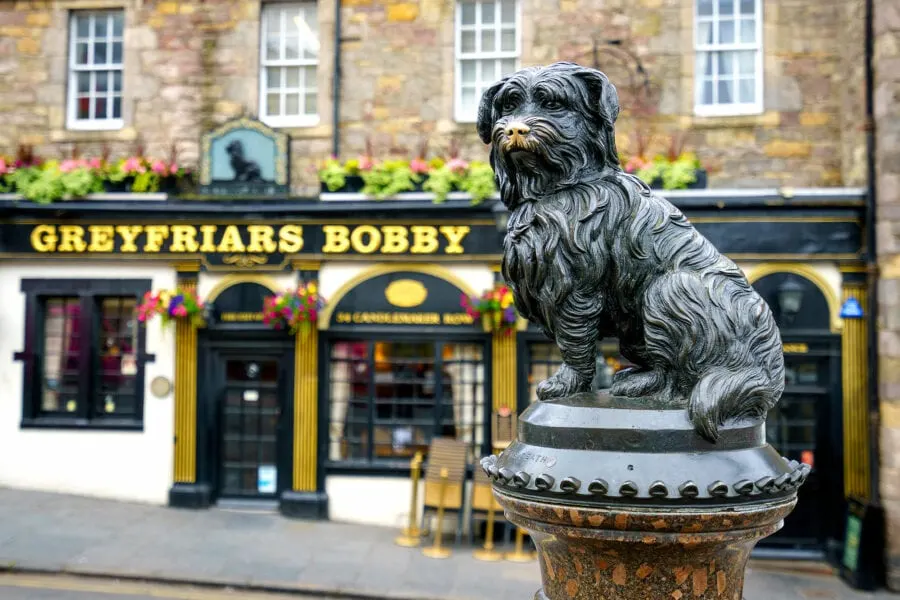 Just outside the Greyfriars Kirkyard Cemetary, you may notice the statue of a Skye terrier dog, dedicated to the legend of Greyfriars Bobby.
After his owner died, this little dog would visit his grave every day for the next 14 years! When the dog finally died in January 1872, it was laid to rest near his owners own grave.

Now, there are rumors the story is false, created by the cemetery's caretaker to drum up tourism, and the dog that stood outside was just a stray. But who knows.

The statue to Greyfriars Bobby sits in front of a pub with the same name, at the corner of Edinburgh's Candlemaker Row and George IV Bridge.
15. Scottish National Galleries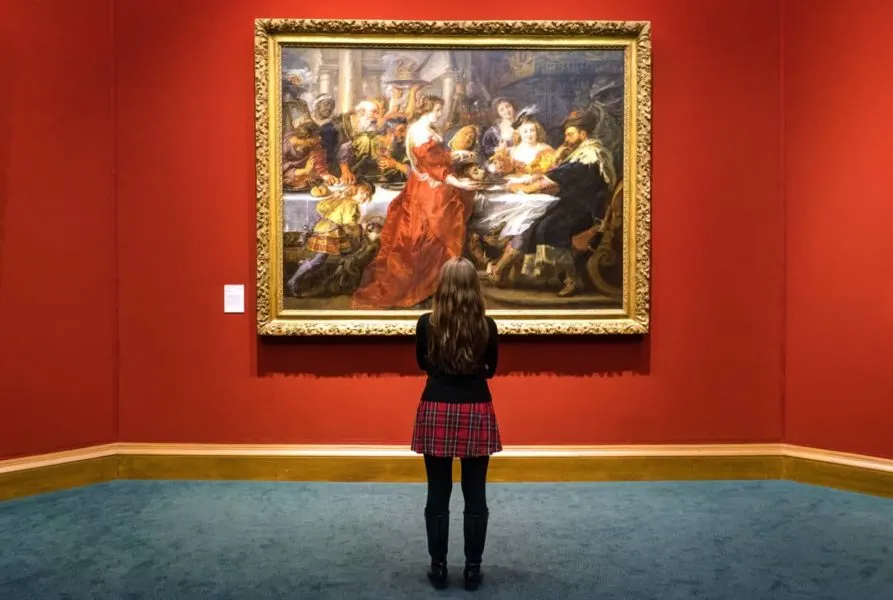 Located in the heart of Edinburgh, the Scottish National Galleries are home to some of the best collections of fine and modern art in the world, including masterpieces by Botticelli, Raphael, Rembrandt, Vermeer, Turner, Monet, and Van Gogh, amongst many others.
If that wasn't enough, the galleries themselves are some of Scotland's most beautiful buildings, with neoclassical architecture dating back to the 1820's.
The Scottish National Gallery, Gallery of Modern Art and the Portrait Gallery are the perfect locations to get lost in on a rainy day in Edinburgh, with endless art collections, exhibitions, and events taking place every week.
16. Unwind In A Famous Bookshop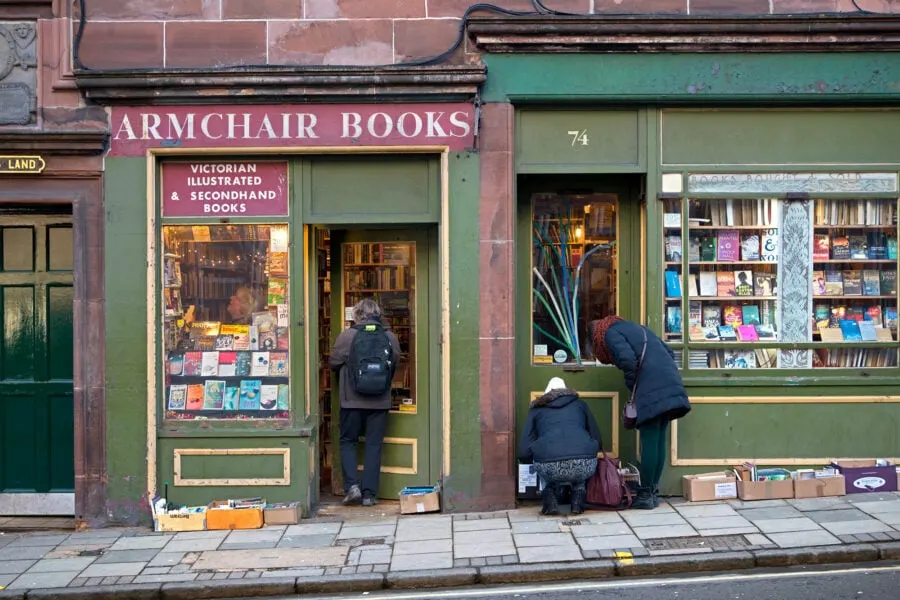 Edinburgh is home to some of the most famous authors of all time, so it's no surprise that the city became the world's first UNESCO City of Literature back in 2004. So if you're looking for a fun Edinburgh attraction, visiting one of its old bookstores is a nice way to pass some time.
With Edinburgh Castle as the backdrop, it's clear to see how storytellers such as J.K Rowling, Robert Louis Stevenson, and Iain Banks found inspiration in this historical city.
Head down to the famous Armchair Books or 'McNaughtan's Bookshop & Gallery', grab a book, find a quiet corner, a comfy couch and you are set for a day of delving into the minds and imaginations of Edinburgh's finest authors.
17. Cycle From City To Sea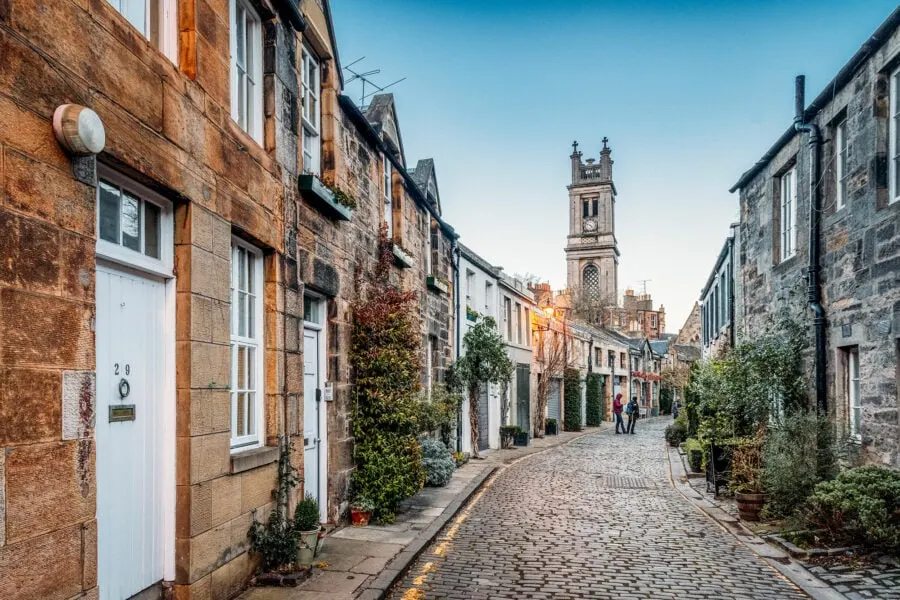 Although Edinburgh is known for its dramatic landscape and incredible architecture, you'll find some of the most breathtaking views as you wander just beyond the city boundaries.
Pick up a rental bike in the city center and make your way through Stockbridge and Leith, down the course of the Union Canal river.
You'll get to experience the traditional Scottish scenery that many tourists miss out on during their time in Edinburgh.
Make sure to stop off in one of the many towns along the way such as the ancient Dean Village, and warm up with a nice cup of coffee, before hitting the fresh seaside breeze.
18. Hike Up Arthur's Seat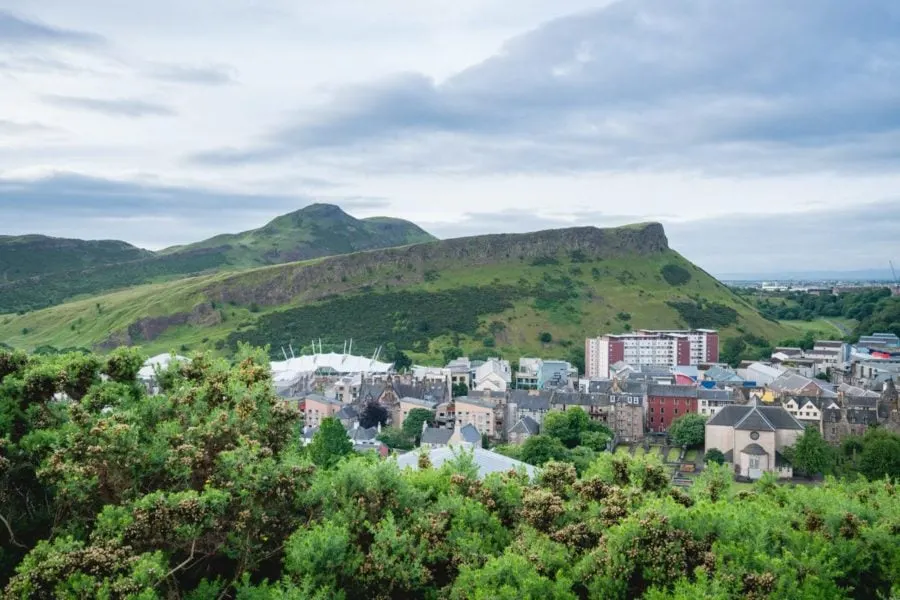 This historic city is also a fitness junkie's dream, with mountains, forests, seaside escapes and former active volcanoes on its doorstep. Just minutes away from Edinburgh city center, is the famous Arthur's Seat.
As you climb to the top, the basalt rock below your feet is a constant reminder that this incredible hill was once overflowing with lava more than 350 million years ago.
At a height of 251 meters, Arthur's Seat looks out over the city, providing some of the best views of the Castle and the Old and New Towns.
It is a moderate hike, with different routes depending on the level of difficulty you want, so even if you don't have a lot of experience, it's definitely worth the trek. If you plan your climb for a clear day, you can even catch a glimpse of the highlands in Northern Scotland.
19. The Royal Yacht Britannia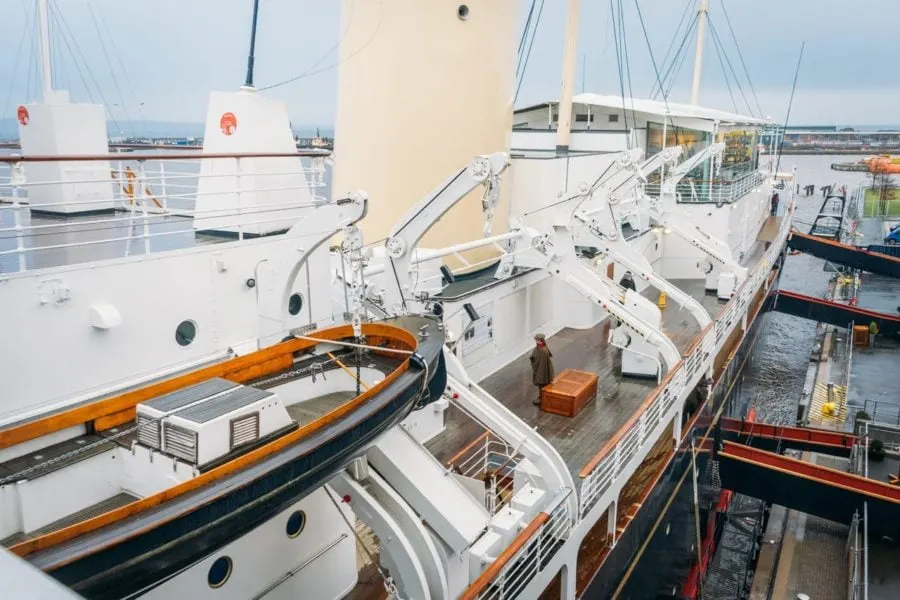 Once you have explored the city center, it's time to delve into some of the incredible local neighborhoods! Ask any of the locals and they will point you in the direction of Leith, Edinburgh's creative, diverse and buzzing waterfront town.
It is believed that this hot spot is home to some of the best culinary experiences in Scotland, and is renowned for its traditional pubs, seafood bistros, galleries, and thrift shops.
While you're there, take a walk along the riverside and you will discover the award-winning Royal Yacht Britannia – the former floating residence to Her Majesty The Queen and the Royal Family for over 40 years, which has sailed over 1,000,000 miles around the world.
20. Pink Flowers At The Meadows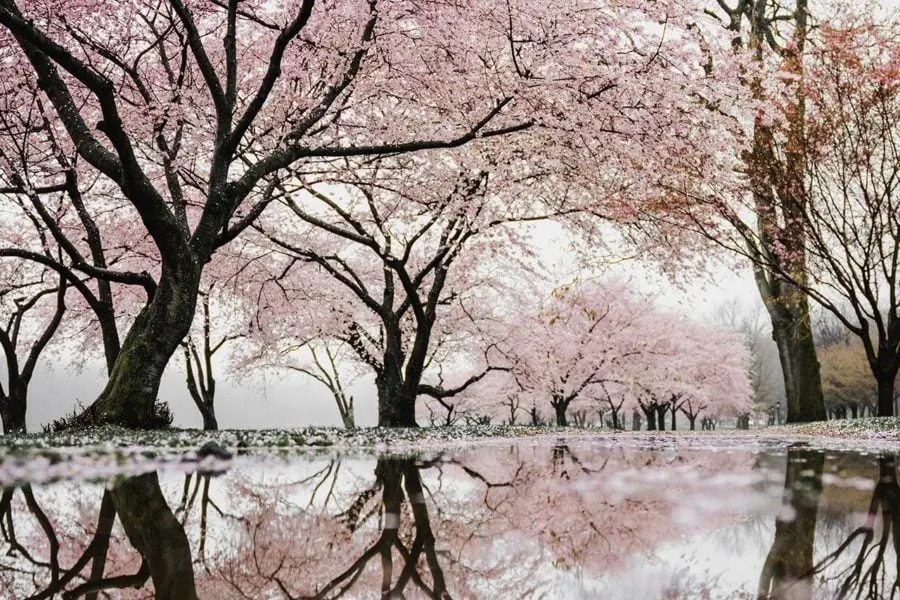 Located beside Edinburgh University's central campus, The Meadows are famous among the locals for being the go-to spot to relax and unwind within the hustle and bustle of the city center.
On a warm spring or summer's day, this large green space is filled with students, families and tourists all soaking in the beauty of pink cherry blossoms as they come into bloom.
Soon after, the pink petals begin to fall and scatter themselves like a blanket covering the Meadows.
If you're planning your trip to Edinburgh later in the year, autumn is just as beautiful as the green leaves that line the avenues transform into many different shades of red as they prepare for the winter snow.
21. Grab A Slice In Civerinos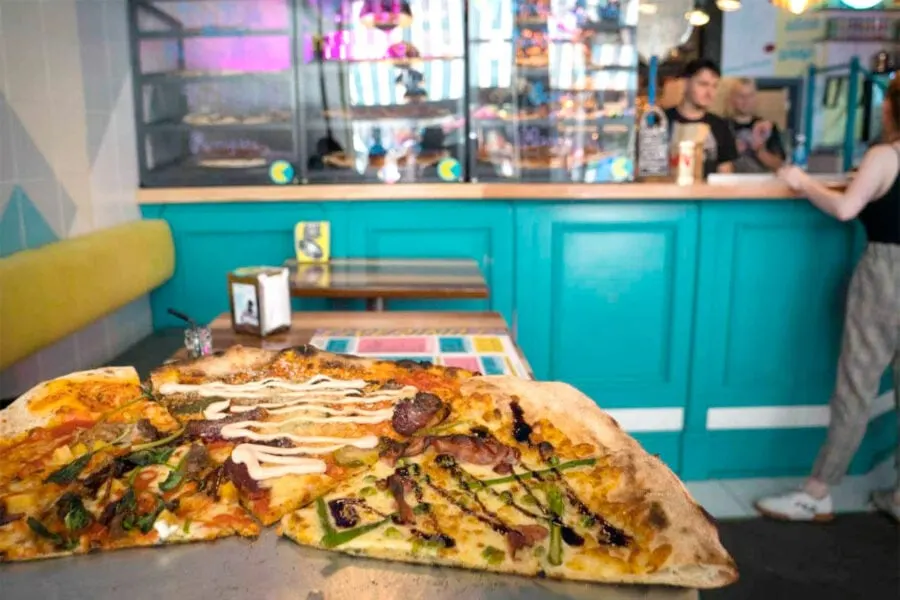 Just a stone's throw from The Meadows, you will find a little pizza joint with a big crowd. Civerinos seems to be everyone's favorite 'neighborhood pizza bar'.
They sell by the slice, but if you're really feeling like you want to leave in a food coma, you can try 5 different varieties and get the 6th slice for free.
My personal recommendation would be the classic Civerinos Slice or the Menace to Society, but they are always adding new additions to the menu so you never know what to expect!
22. Celebrate At Hogmanay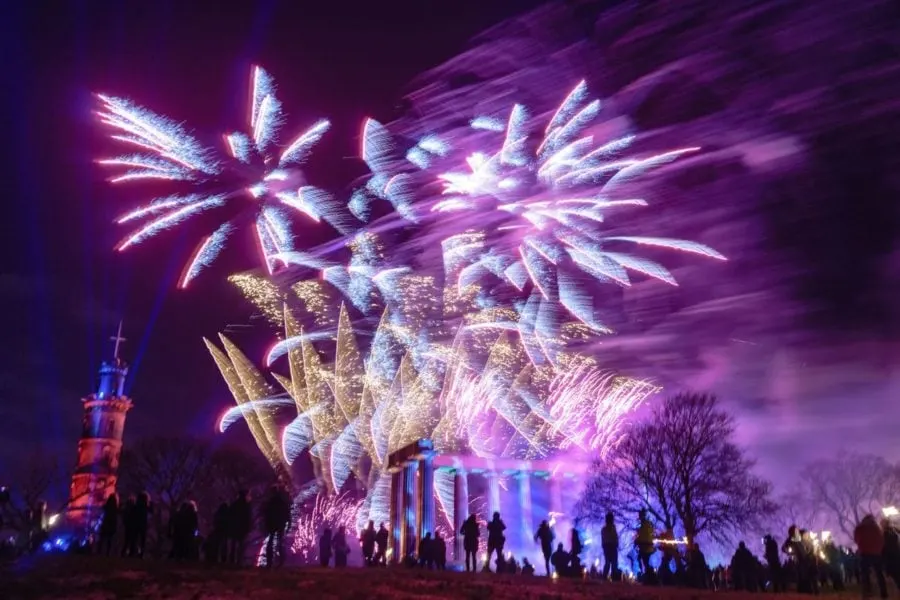 The Scottish certainly know how to throw a party, so there is no better place to ring in the new year. Forget about new years eve, the Hogmanay celebrations take over the city for 3 full days of spectacular events, great music and amazing crowds from every corner of the globe.
Grab a fire-lit torch and join in with the thousands of annual marchers who take to the streets or marvel over the incredible fireworks and live music at Edinburgh Castle.
And if you feel the need to re-energize after the madness? Spend the first day of the new year leaping into the freezing waters of the River Forth for the Loony Dook! It's a bit crazy, but tons of fun.
23. Visit Holyrood House Palace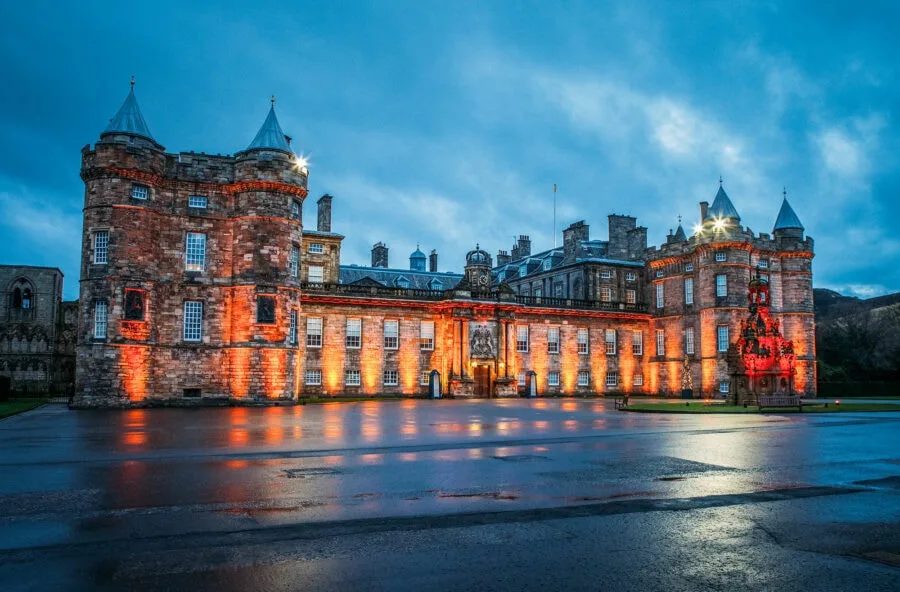 Holyrood Palace is the place where British monarchy stays when they're in town, located near Edinburgh Castle. The palace was built in 1678 and has been the home for many kings and queens. It stands at the end of Edinburgh's Royal Mile.
You can visit this historic palace to see what royal life in the 17th century looked like. There's a lot of history here too, like when the personal secretary for Mary Queen of Scots was murdered by her husband in 1566.
Check out the State Apartments which are still used today by the British Royal Family when they visit the area, and enjoy a classic British afternoon tea the Palace cafe.
The palace is usually open from 9:30am to 4:30pm, and an adult ticket costs £16.50.
24. Stop By Blackness Castle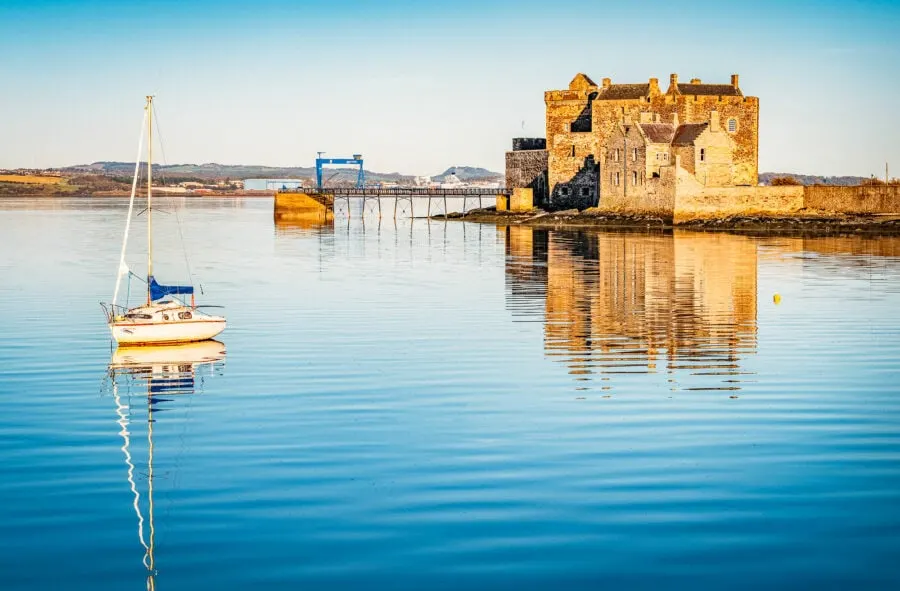 Blackness Castle is a 15th-century fortress built by one of Scotland's most powerful families, the Crichtons. It's been a filming location for many projects, including Mary Queen of Scots (2018) and the Outlander Series.
The castle was one of the most advanced artillery fortifications of its time, fitted with multiple defensive towers and thick stone walls. It sits on the edge of the River Forth.
Blackness Castle is a 35 minute drive from Edinburgh in the town of Blackness. You can book tickets online here, which cost £6.00 for an adult.
25. National Monument of Scotland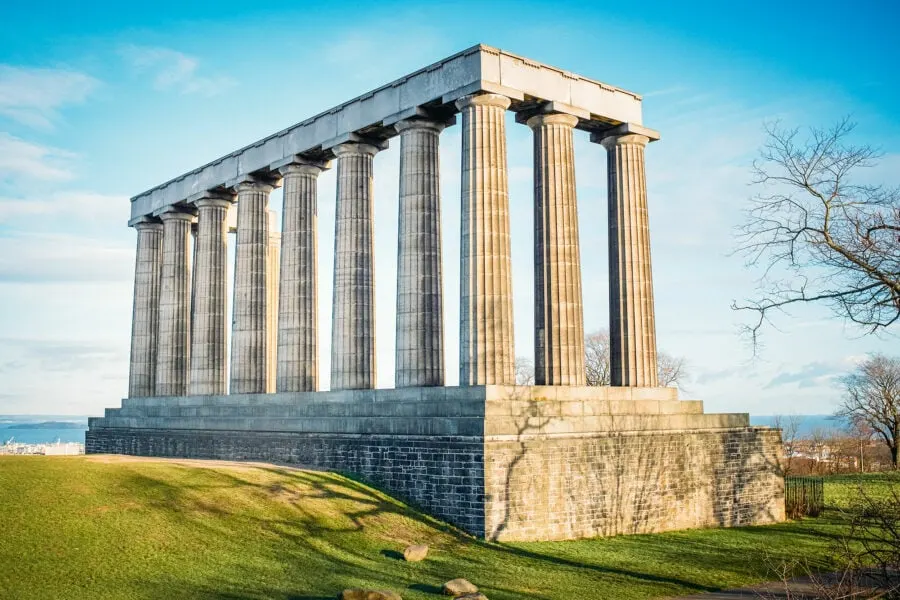 The National Monument of Scotland was built on the top of Calton Hill, mentioned earlier in this guide. The monument was created to commemorate Scottish soldiers who fought in the Napoleonic Wars.
Built in 1829, the monument is a popular tourist attraction, however because it's technically unfinished, Edinburgh locals have mixed feelings about it. But the hill gives you some amazing views over the city.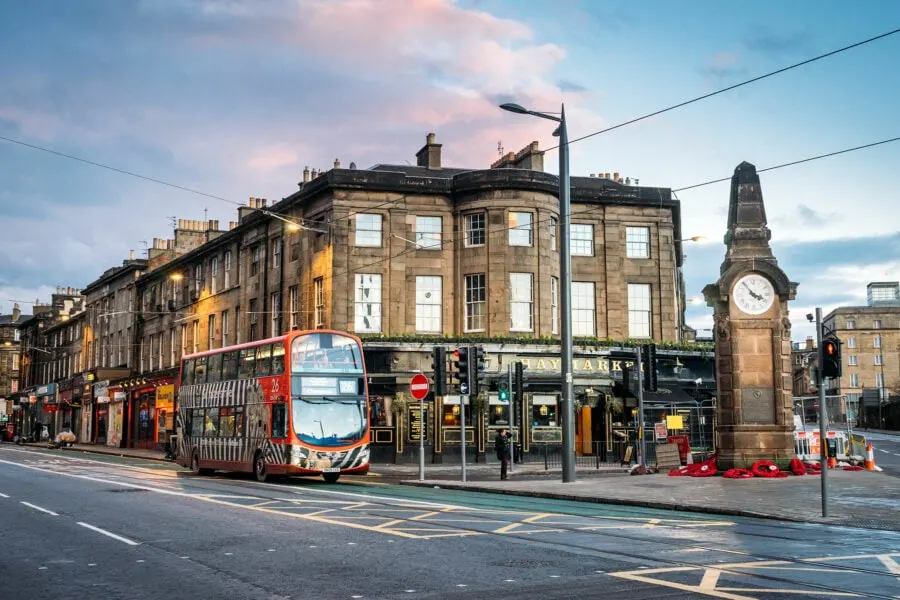 Getting To Edinburgh
Most people get to Edinburgh after flying into Edinburgh International Airport. Search for the cheapest flights to Edinburgh on Skyscanner.com. The city is 8 miles away, so after arriving you can take the Airlink Express Bus into Edinburgh itself. The ride takes about 25 minutes, costs £4.50 ($6.20) one way, and they run every 10 minutes or so.
Rental Car
The best site to book your rental car is with Discover Cars. They search both local and international car rental companies to help you find the best possible price. This is the easiest way to rent a car for driving in Scotland.
Train
Edinburgh's Waverley Train Station is centrally located within the city, and easy to reach from other parts of Scotland or London itself. The trip from London takes about 4.5 hours, and only an hour from Glasgow. You can purchase train tickets from the ScotRail website.
Bus
It's very easy to get around Edinburgh by bus. There are two main companies, Lothian & First. They both use the same bus stops. Tickets start at £1.60.
Taxi
With several taxi ranks situated throughout the city, you'll never find it difficult to catch a ride while out exploring Edinburgh.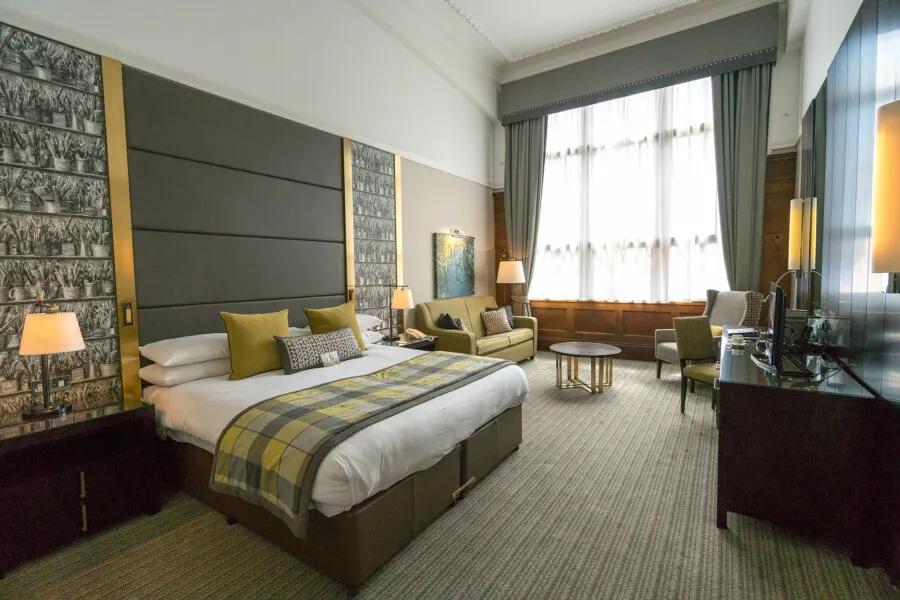 Where To Stay In Edinburgh
Although Edinburgh is a small city, there is a wide variety of accommodation available at all price points. Here are some suggestions for where to stay while you're in town.
---
BEST ACCOMMODATION IN EDINBURGH
---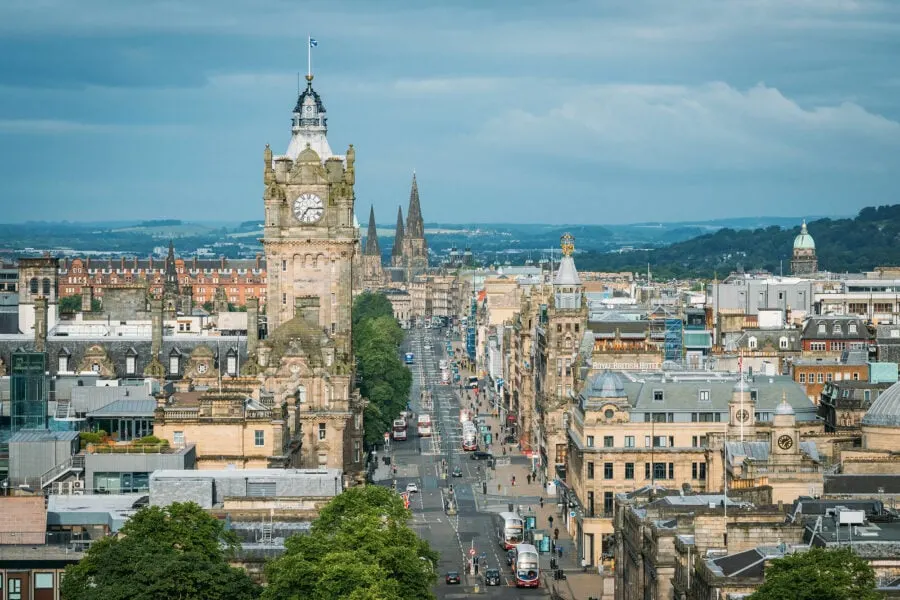 Edinburgh Scotland Travel Tips & Advice
Make sure to have the exact coins ready for your Edinburgh bus trip, as they do not give you change. Unlike some of the other transportation methods, you can't pay by bank card or smartphone.
The best time to visit Edinburgh for sunshine is between May and August, with warmer temperatures and tons of festivals (especially August for festivals). If you visit during December and January, the city is much quieter and you might get to experience some winter snow.
Scottish pounds are slightly different to the English version, so be aware that you may have difficulty using Scottish pounds as currency in other parts of the United Kingdom.
Edinburgh Airport is about 35 minutes away from the city center. The easiest way to get into the city is by using the airport bus (Fare: Single £4.50, return £7.50) or the tram line (single £6.00, return £8.50). They both depart for the city every 10 – 15 minutes.
---
Enjoy This Article? Pin It!
---
READ MORE SCOTLAND TRAVEL TIPS
I hope you enjoyed my guide on what to do in Edinburgh Scotland! Hopefully you found it useful. Here are a few more wanderlust-inducing articles that I recommend you read next:
---
Any questions about things to do in Edinburgh? Do you have other suggestions? Join the conversation on Facebook, Instagram, or Twitter to share!