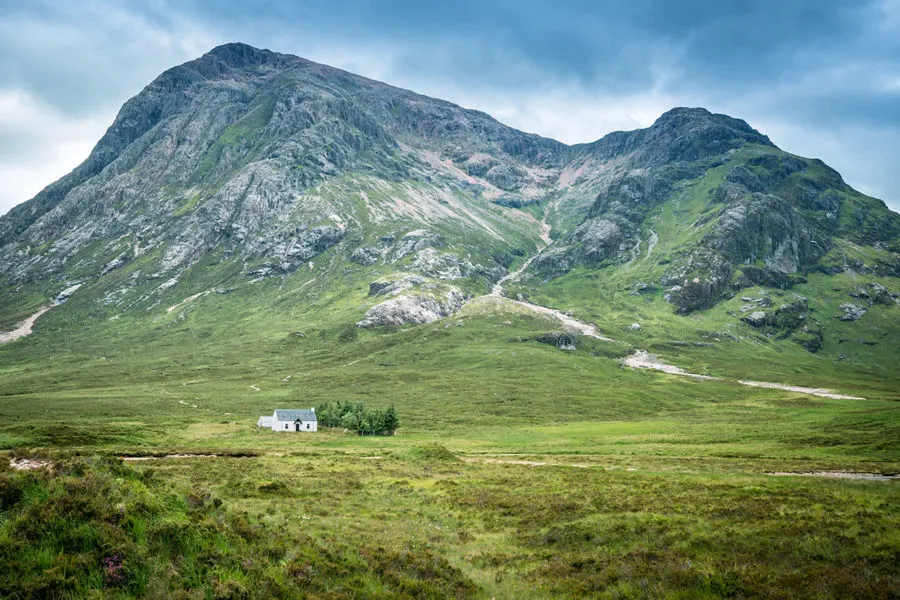 Highlands, Scotland
The Scottish Highlands are just as beautiful as you've imagined. Here are my tips for exploring the best of the highlands on your Scotland road trip adventure.
The Scottish Highlands have been on my bucket list for years. After returning from a wonderful 4-day road trip through the region of Lochaber and the West Highlands, I wanted to share my itinerary for the Scottish highlands with you.
Why should you visit the Highlands of Scotland?
Well, if you're a fan of hiking majestic mountain ranges, floating mist-covered lochs, or exploring ancient forests, then you'll love the Highlands of Scotland.
This region in Scotland north-west of the Highland Boundary Fault (between Helensburgh & Stonehaven) provides travelers with fantastic landscape photography opportunities and a hearty dose of Scottish charm.
If you're planning to visit Scotland, I wanted to recommend a few fun and unusual things to do in the Scottish Highlands, no matter what time of year you visit.
Scottish Highlands Map
HOW TO USE THIS MAP: Above you'll find a map of highlights in the Scottish Highlands. Click on the top left of the map to find separate layers marking the route and points of interest. You can hide and show different layers, or click icons on the map to see the names of places I mention in this travel guide. "Star" the map to save it to your own Google Maps, or open the map in a new window for a larger version. Enjoy!
Scotland Travel Restrictions 2021
Scotland is open to most travelers again, including American tourists. However you do need proof of your COVID-19 vaccination(s) or a negative test result before being allowed entry.
Many hotels, attractions, and private tours are open with new health & safety protocols in place, and you still have to follow certain guidelines.
You can find the latest updates on traveling to Scotland here.
Scottish Highlands Road Trip Itinerary
1. Setting Out from Glasgow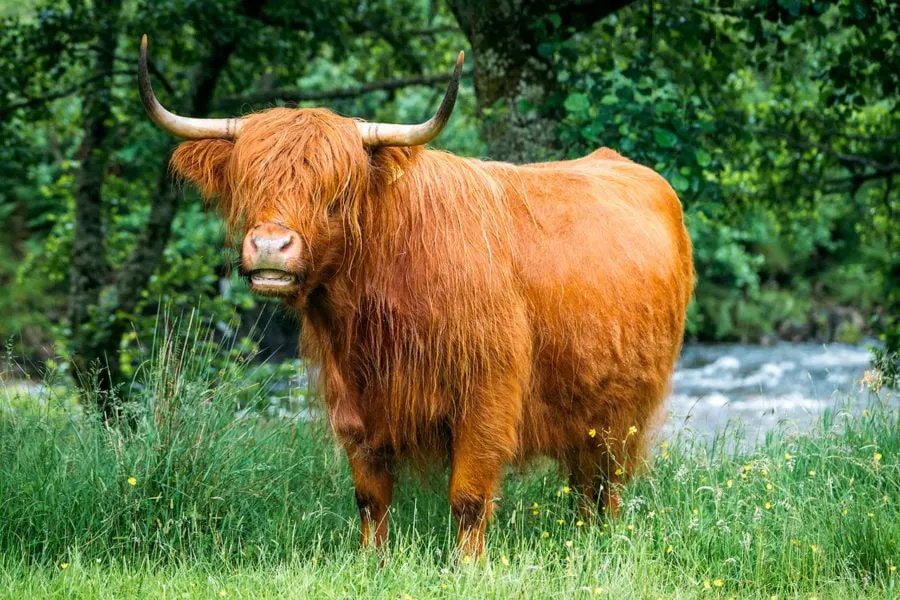 My Scottish Highlands road trip itinerary began in Glasgow after taking the train from Edinburgh. From there, I rented a car and began driving up to Fort William along route A82 on my way to the Isle of Skye in early July.
The area of Lochaber around Fort William is considered the outdoor adventure capital of Scotland and the United Kingdom. So I spent most of my time there.
The Scottish landscape was exceptionally green after weeks of rain.
Weather in the Highlands of Scotland is often cold, windy, and rainy — however don't let that dissuade you, these conditions also produce some very dramatic scenery for photography.
There's tumultuous history in the countryside too… dark tales of epic clan battles and murderous plots. Mythical legends of lake monsters, fairies, and goblins! Learning about the history was half the fun.
2. Beautiful Loch Lomond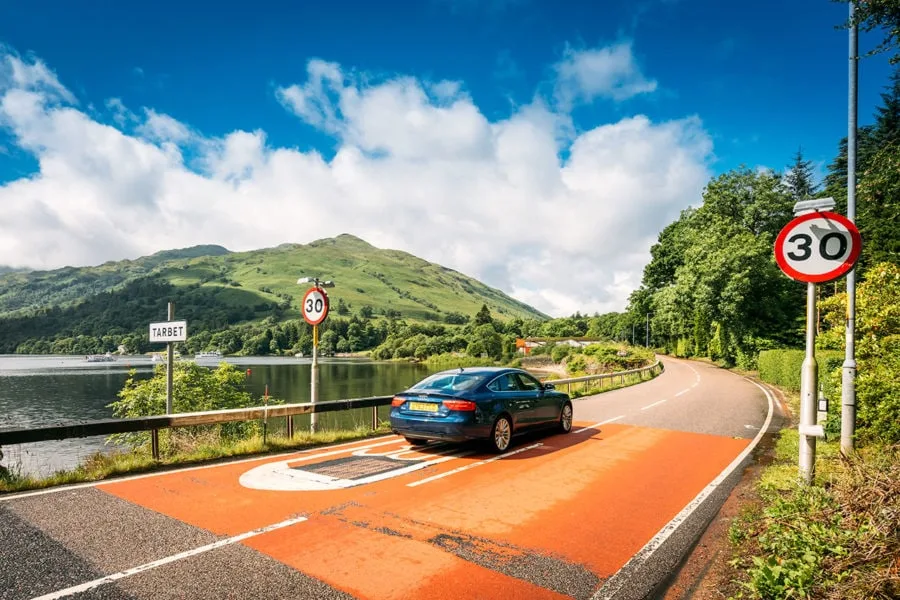 My first stop on the drive from Glasgow into the Highlands was the town of Balloch on the banks of Loch Lomond. This area is part of Loch Lomond and The Trossachs National Park.
It was raining pretty heavily, so we didn't stick around too long, but I did walk aboard the Maid Of The Loch, a fantastic 60-year-old paddle steamship currently undergoing renovation.
Further up the road, make sure to pop into the 300-year-old (and some say haunted) Drovers Inn for traditional Scottish food or a dram of whisky (as long as someone else is driving!).
This quirky & historic stone lodge sits directly in front of a steep mountain waterfall. Stepping inside the building feels like stepping back in time…
3. Driving Through Glen Etive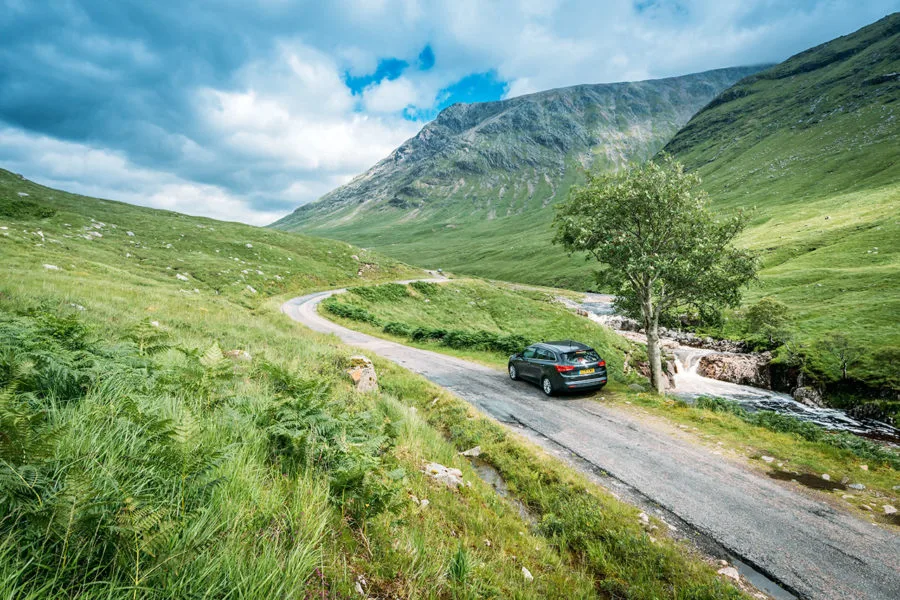 A winding single track lane passing into the narrow valley of Glen Etive will have any driving enthusiast grinning from ear to ear. It's a wonderful little side trip while driving through the Scottish Highlands.
You've probably already seen Glen Etive before, but didn't know it. The landscape was a filming location for the popular James Bond movie Skyfall, where James takes his iconic Aston Martin DB5 out for a drive.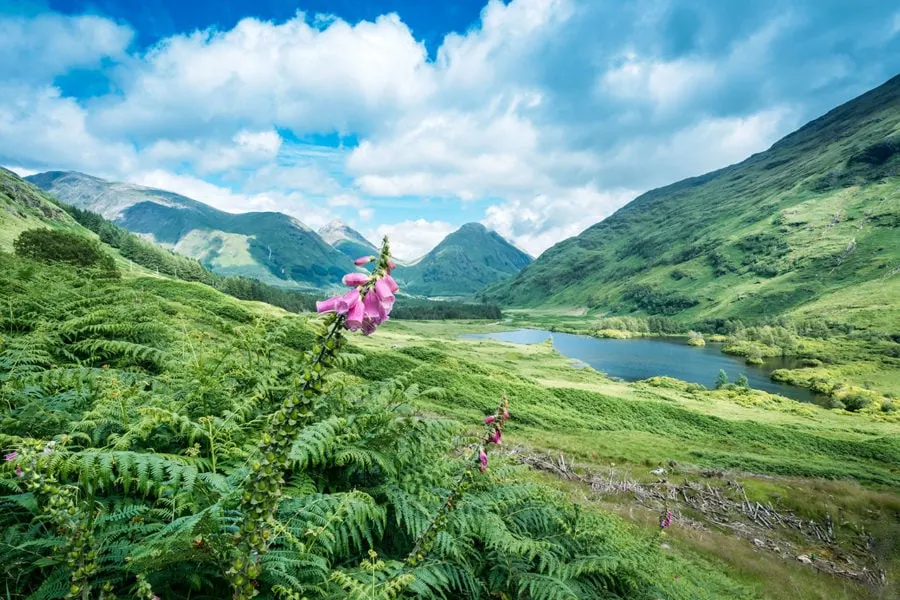 The icy cold Etive River passes beside the road, and for the more adventurous, it's a great place to go cliff jumping. Hiking or kayaking (with your own gear) around Loch Etive at the end of the road is another option.
Wild camping is popular in the glen, but PLEASE remember to leave no trace. It would be a shame to ruin such a beautiful landscape with trash from disrespectful campers…
4. Hiking The Scottish Highlands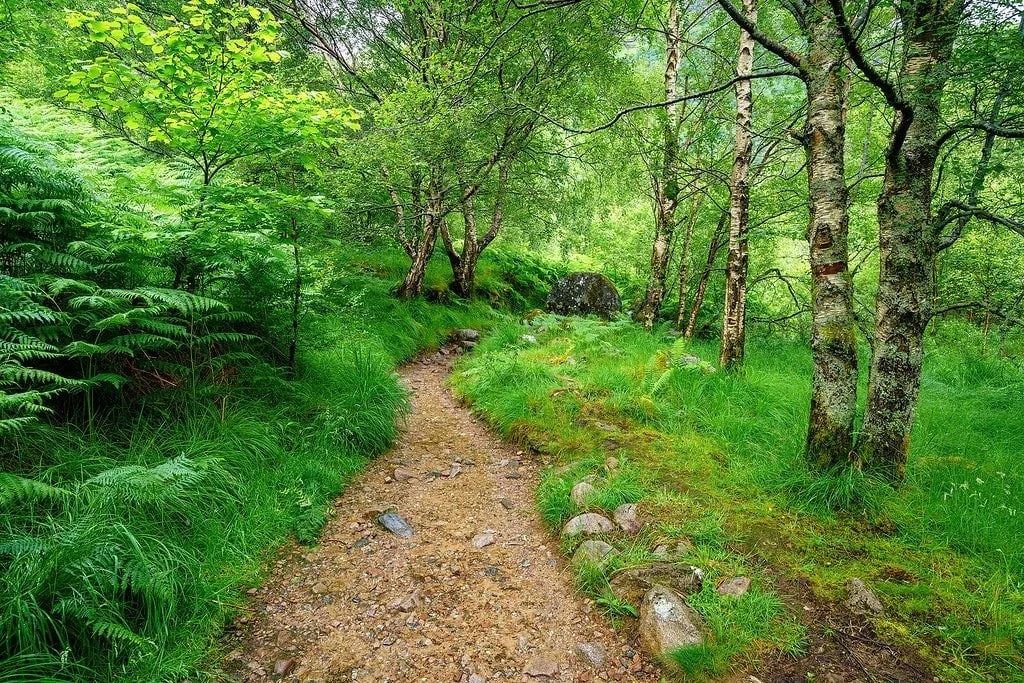 If you're a hiker, the Scottish Highlands have trails for all levels. Lochaber is home to Ben Nevis, the United Kingdom's highest mountain at 4,416 ft (1,346 m).
Munro bagging is a popular activity — summiting mountains over 3,000 feet.
For those who enjoy long-distance treks, the West Highland Way stretches some 96 miles through the best of the Highlands and takes most hikers 5-7 days.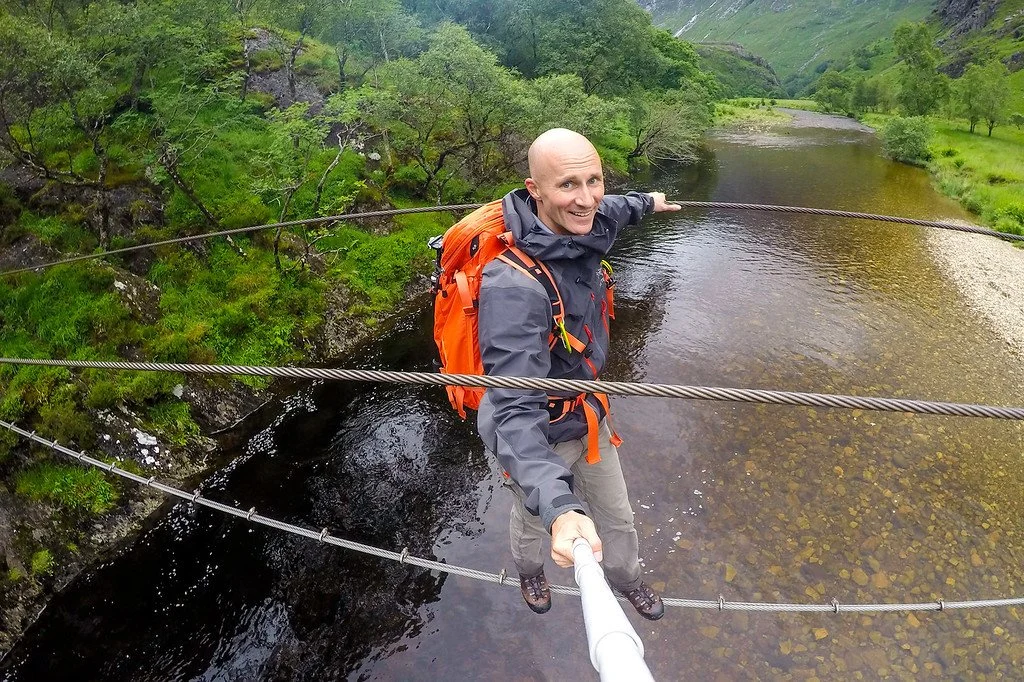 You can carry everything with you, or hire a company to transport the bulk of your gear to guesthouses ahead of your arrival.
Countless shorter day hikes can be found in the area too.
One of my favorites was Steall Falls and Nevis Gorge, where the trail follows a mountain river funneling into a narrow rocky gorge. It ends with Scotland's 2nd highest waterfall dropping over 300 feet.
5. The Dark History Of Glen Coe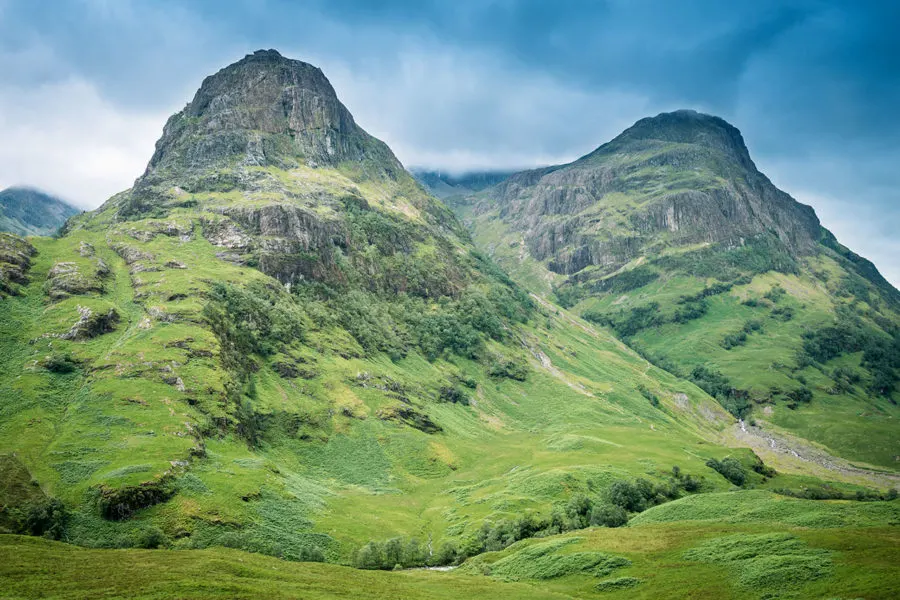 Widely considered one of the most beautiful areas of the United Kingdom, the spectacular valley of Glen Coe has a haunted past — a 17th-century massacre of 38 members of the MacDonald Clan in the snow.
Another 40 women & children died of exposure when their homes were burned to the ground.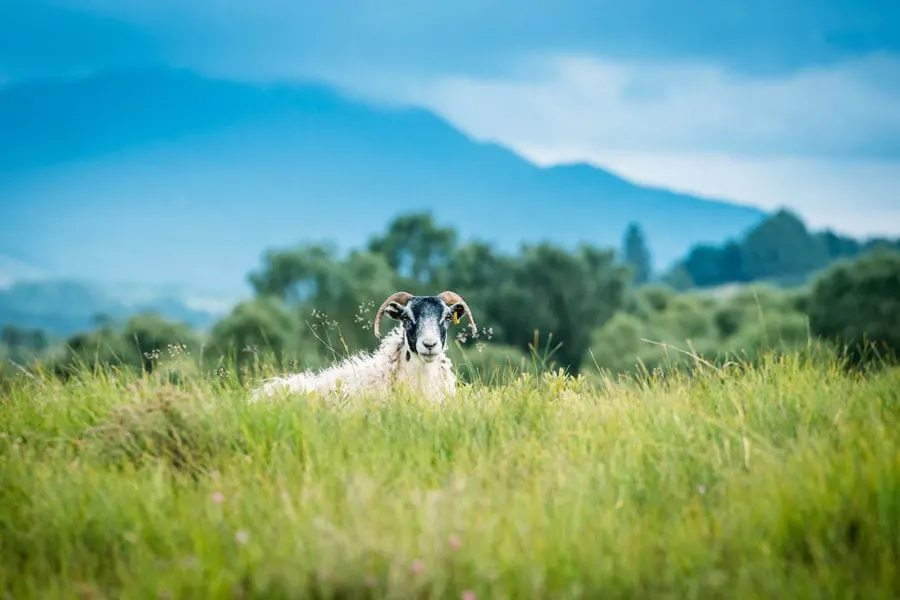 Yet the landscape is equally as haunting as its past. Driving around the towering peaks of the "Three Sisters" under foreboding clouds & drizzling rain, you can feel the weight of sadness on this place.
Pull off in a parking area for photos, or spend an afternoon hiking some trails. Further on is the village of Glencoe, where you can find lodges, cafes, or restaurants to help break up the drive.
6. The Jacobite Steam Train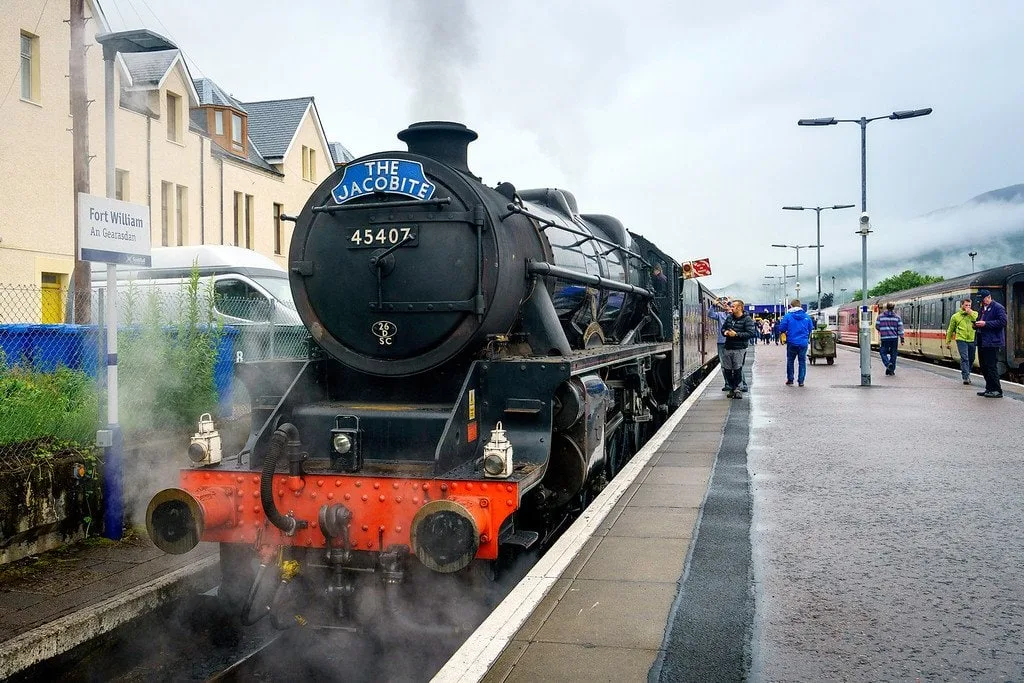 Remember the Hogwarts Express from Harry Potter? Well, that train really exists! The Jacobite Steam Train has been called the most scenic train journey in the world, and for good reason.
Starting in Fort William, this 84 mile journey takes passengers deep into the Highlands, ending at the small fishing village of Mallaig.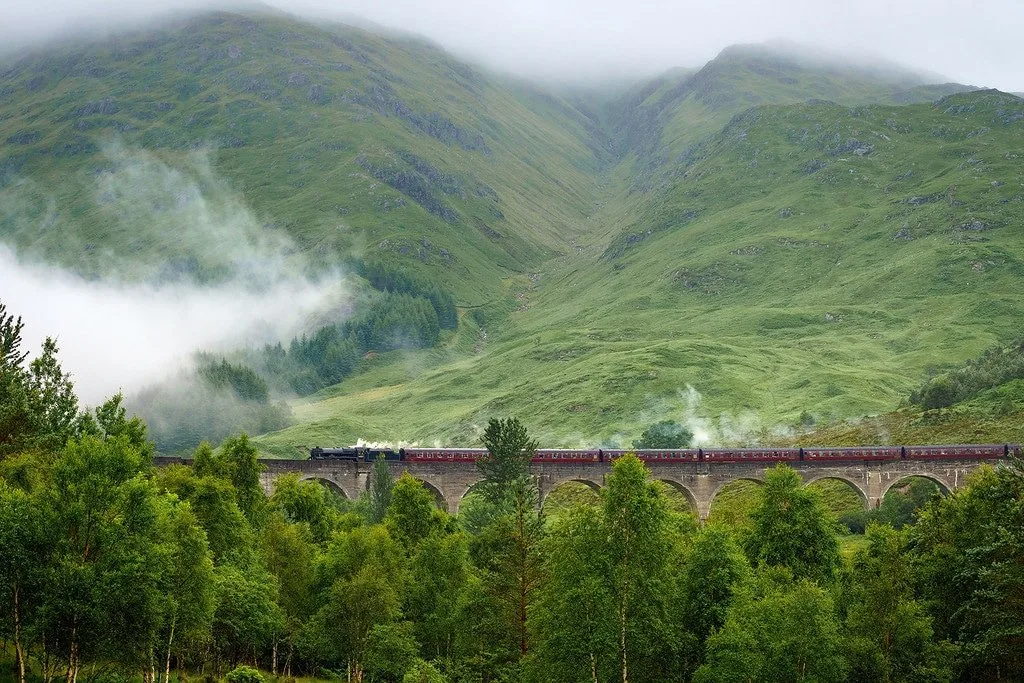 Along the way it travels across old stone bridges, through misty mountain passes, and past deep freshwater lochs.
Tickets sell out fast, but if you're driving nearby, you should stop at the lookout over Glenfinnan Viaduct, where the train passes around 11am and 3pm for wonderful photo opportunities!
7. Monster Spotting At Loch Ness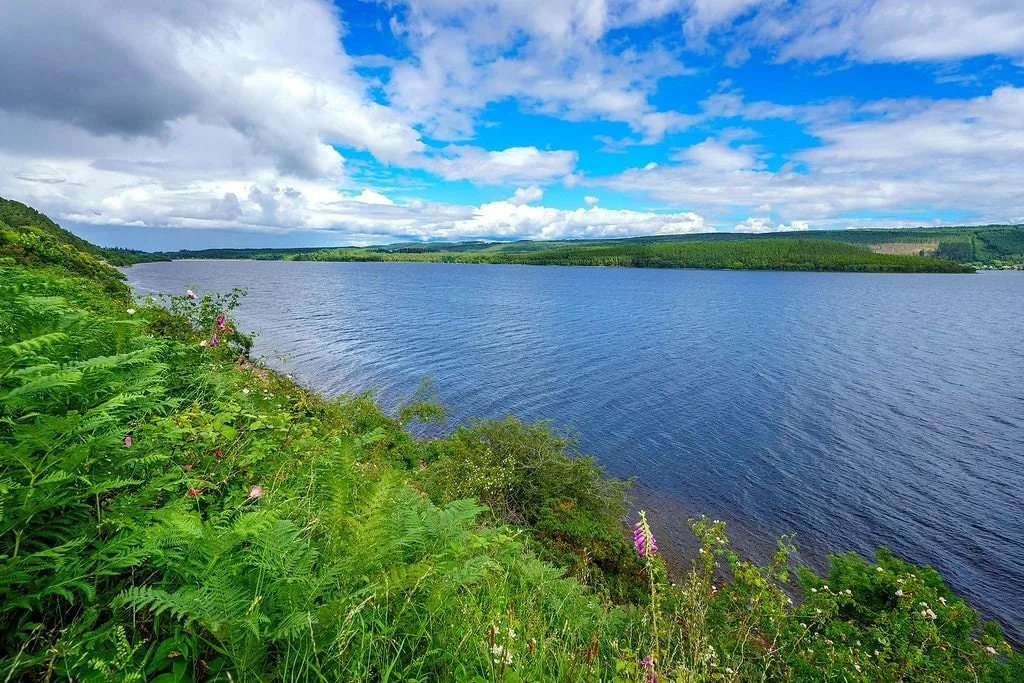 Loch Ness is a deep, cold, and very murky lake in the heart of the Scottish Highlands near the town of Inverness. For years locals and tourists have reported witnessing a large unidentified creature with a long neck swimming through the water.
A popular activity is sailing across Loch Ness to the ancient ruins of Urquart Castle, searching for the Loch Ness Monster (aka Nessie) along the way.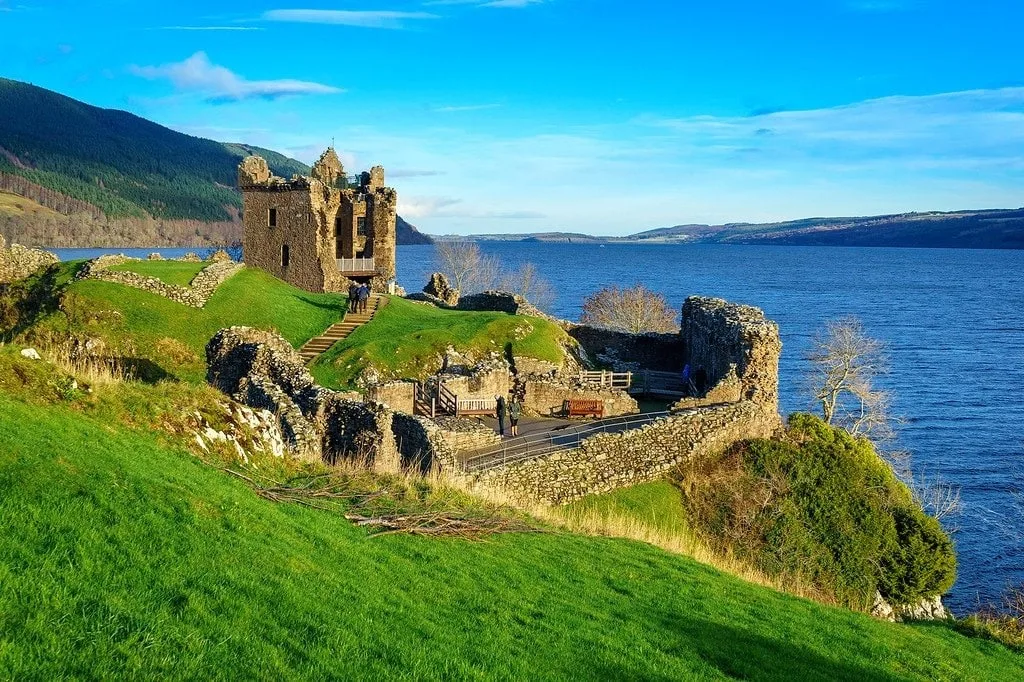 I stopped by Loch Ness while driving back from Skye to catch a train to Glasgow at the end of my journey.
Some people believe Nessie is a plesiosaur, a dinosaur who's survived to modern times by living isolated from the sea within the loch.
What do you think? Is the Loch Ness Monster real?
8. Mountain Biking The Nevis Range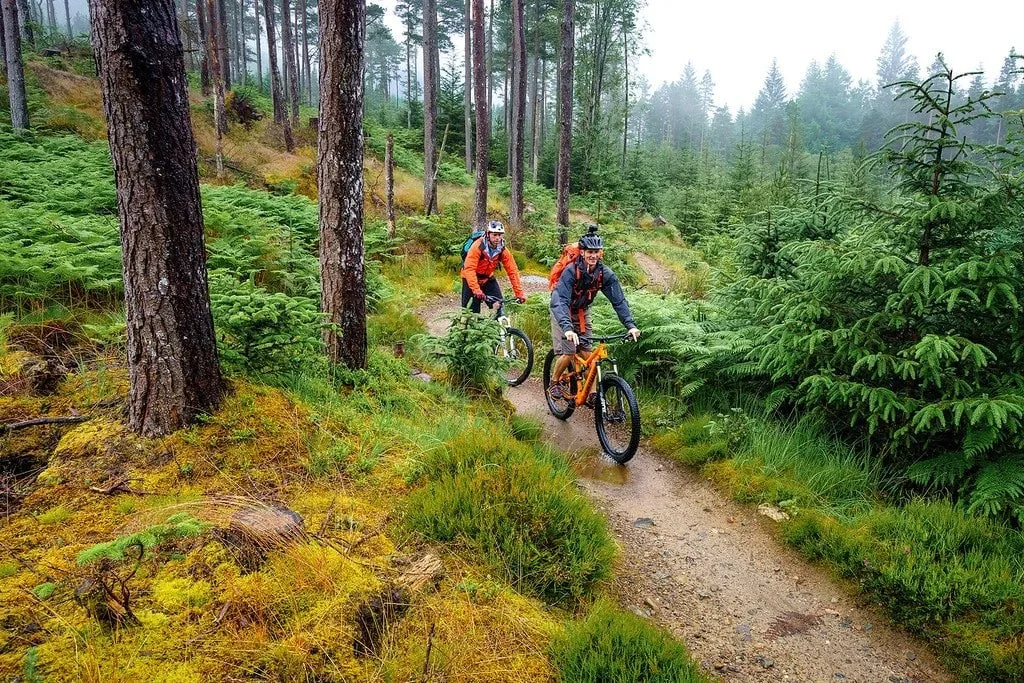 Under the shadow of Ben Nevis, the UK's highest mountain, lies the Nevis Range mountain bike trails. They have trails for all levels, from relaxing forrest routes to white-knuckle World Cup downhill tracks.
You can rent all sorts of different bikes and protective gear from £25 – £60 per day, and either cycle uphill through the cross country trails on your own, or ride the gondola lift up to the world-class downhill trails.
I spent the morning riding the "Witches Trails", a fun mix of single track and wider trails that wind through the trees, with the occasional wooden boardwalk or ramp. A low mist had the forest looking particularly eerie.
Scotland is home to quite a few professional mountain bikers, including Danny Macaskill, the star of an epic short YouTube film called "The Ridge" shot on the Isle of Skye. It will make your heart race!
9. Ancient Castles & Cathedrals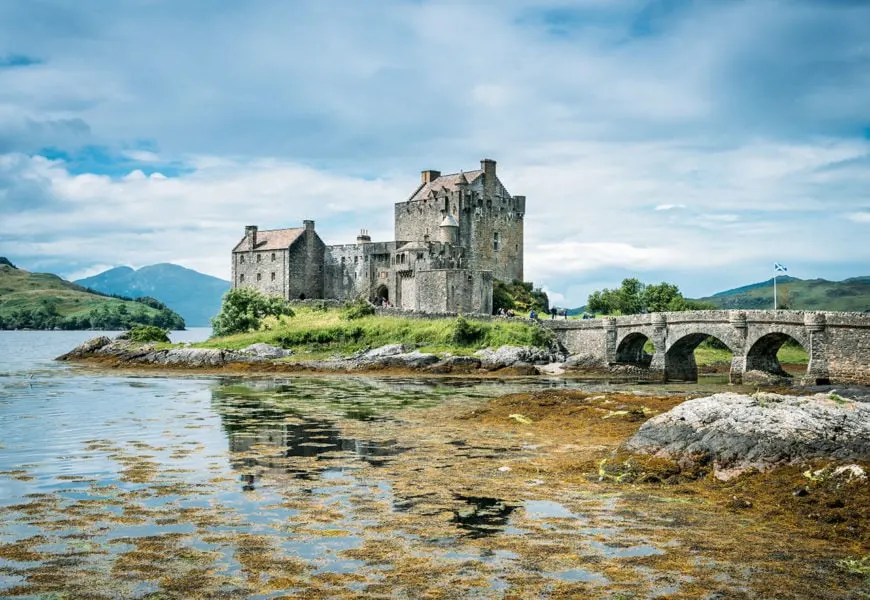 It goes without saying that Scotland is overflowing with its share of magnificent castles. There are literally hundreds of them, both ruined and active residences.
Scotland's castles were built as military fortifications, and there are plenty of epic battle stories or sensational legends to learn about once you visit them.
I had the chance to visit a few, like the incredibly picturesque Eilean Donan, the MacLeod family stronghold of Dunvegan in Skye, and the ruins of Urquhart Castle along Loch Ness.
If you're a fan of old stone churches too, make sure to stop by Glenfinnan Church, St. Andrews, and St. Johns of Ballachulish as you drive through the Highlands.
Getting Around The Highlands
Rental Car
The best site to book your rental car is with Discover Cars. They search both local and international car rental companies to help you find the best possible price. This is the easiest way to rent a car for driving in Scotland.
By Train
Traveling by train is a wonderful way to see the Scottish Highlands. You can find train schedules on the ScotRail website. But while traveling by train is possible, there aren't many stops in the highlands, so you'll miss a lot without a car.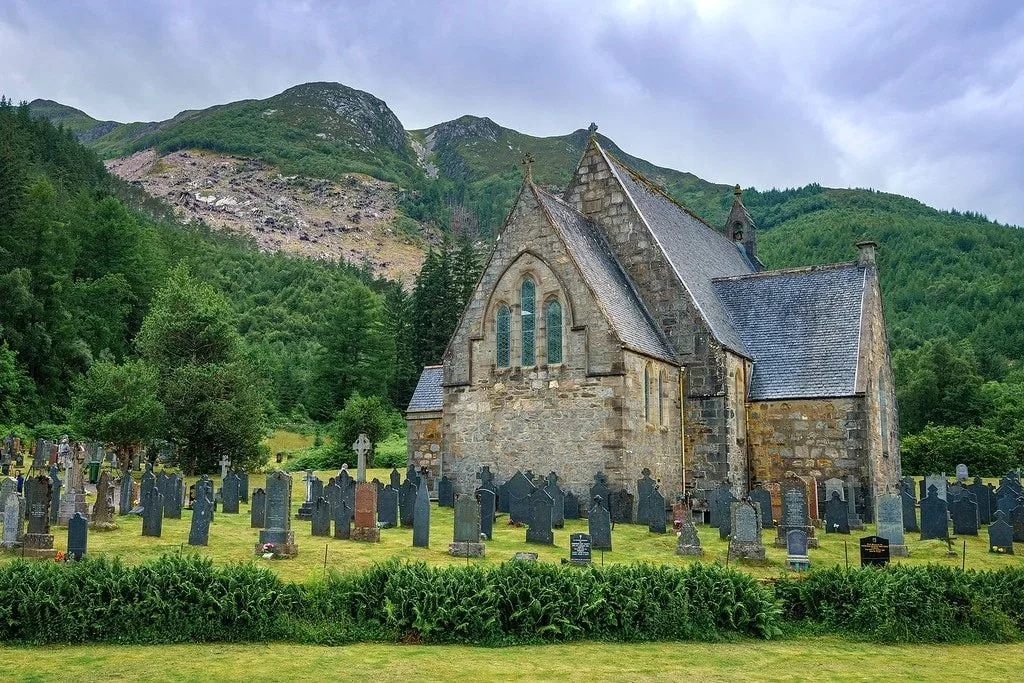 Where To Stay In Scotland
The unofficial capital of the Scottish Highlands is the town of Fort William. During the summer high season, hotels here can sell out fast so it's important to book in advance! If you're wondering where to stay in the Scottish highlands, here are my recommendations.
---
BEST ACCOMMODATION IN SCOTTISH HIGHLANDS
---
Camping Options In the Highlands
Wild camping is allowed all over the Scottish Highlands, as long as you follow Scotland's Outdoor Access Code. Remember to leave no trace! There are a few "bothys" too — wilderness cabins free for hikers to use.
Weather In The Scottish Highlands
Scotland's weather is famous around the world! Famous for being bad. Yes, you'll probably encounter some rain on your trip. But you might see the sun too!
The weather can change quickly from day to day, or even the same day. The best time to visit Scotland is in the summer months, generally May – September. May & June are the driest/warmest months.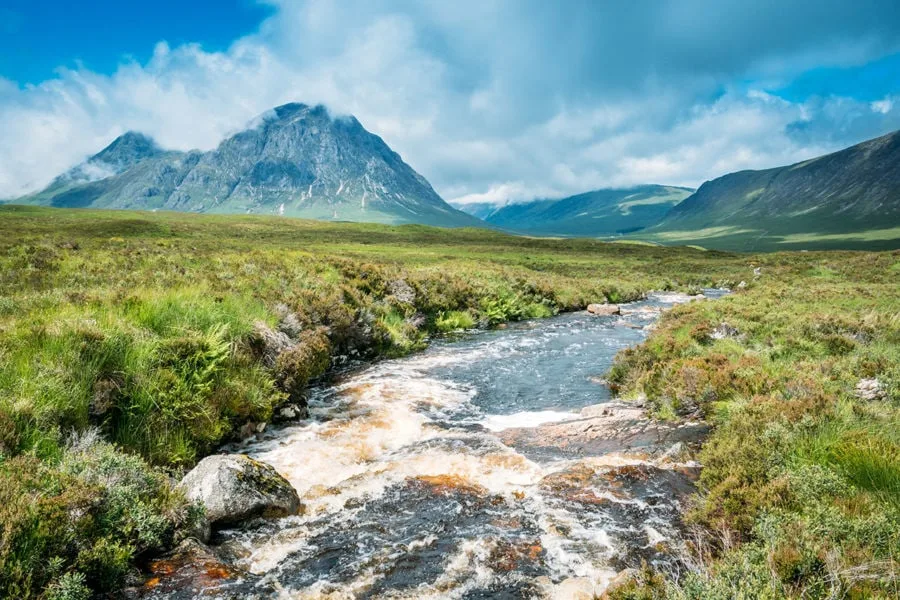 Scottish Highlands Tips & Advice
Once you visit the Scottish Highlands, the area will remain etched in your memory long after you've returned home. Here are a few tips to consider before you arrive, to ensure you have a great trip.
Everyone thinks of Scotland and the UK as expensive places to visit. While that may have been the case a few years ago, right now the exchange rate is almost equal (thanks Brexit!).
Scotland is often wet. So make sure to pack waterproof gear because the weather can, and does, change very quickly year-round.
While the drive from Glasgow to Fort William only takes about 2.5 hours, you'll want to set aside more time to explore! I recommend at least 3 days in the Highlands, if not more.
Don't be afraid of the food! Yes it's greasy, heavy, and often made of animal guts. I recommend trying Haggis, Blood Sausage, and a Scottish Breakfast.
You may find some single-lane roads — with two-way traffic. It can be dangerous if you aren't paying attention. Watch for little pull-offs on the side of the road to let other cars pass.
---
Enjoy This Article? Pin It!
---
READ MORE SCOTLAND TRAVEL TIPS
I hope you enjoyed my guide to exploring the Scottish Highlands! Hopefully you found it useful. Here are a few more wanderlust-inducing articles that I recommend you read next:
---
Have any questions about traveling the Scottish Highlands? What about other suggestions? Join the conversation on Facebook, Instagram, or Twitter to share!